The craft industry was once an essential part of Oman's economy, with artisanal skills handed down from generation to generation. It is artefacts such as pots from Bahla, decorative chests, silver bracelets, khanjars and coffee pots that most embody the spirit and identity of Oman; they are tangible samples of its ancient tradition and heritage.
The khanjar
The khanjar is a curved, sheathed dagger that encapsulates and symbolises the Omani male identity. In the past, the khanjar had a practical purpose and served as an essential piece of weaponry used to protect against wild animals or the enemy. The khanjar itself can be broken down into four pieces: blade, handle, sheath and attaching belt, and different skills are required to fashion each piece. Price is primarily determined by the material used in its handle and sheath and the quality of the blade.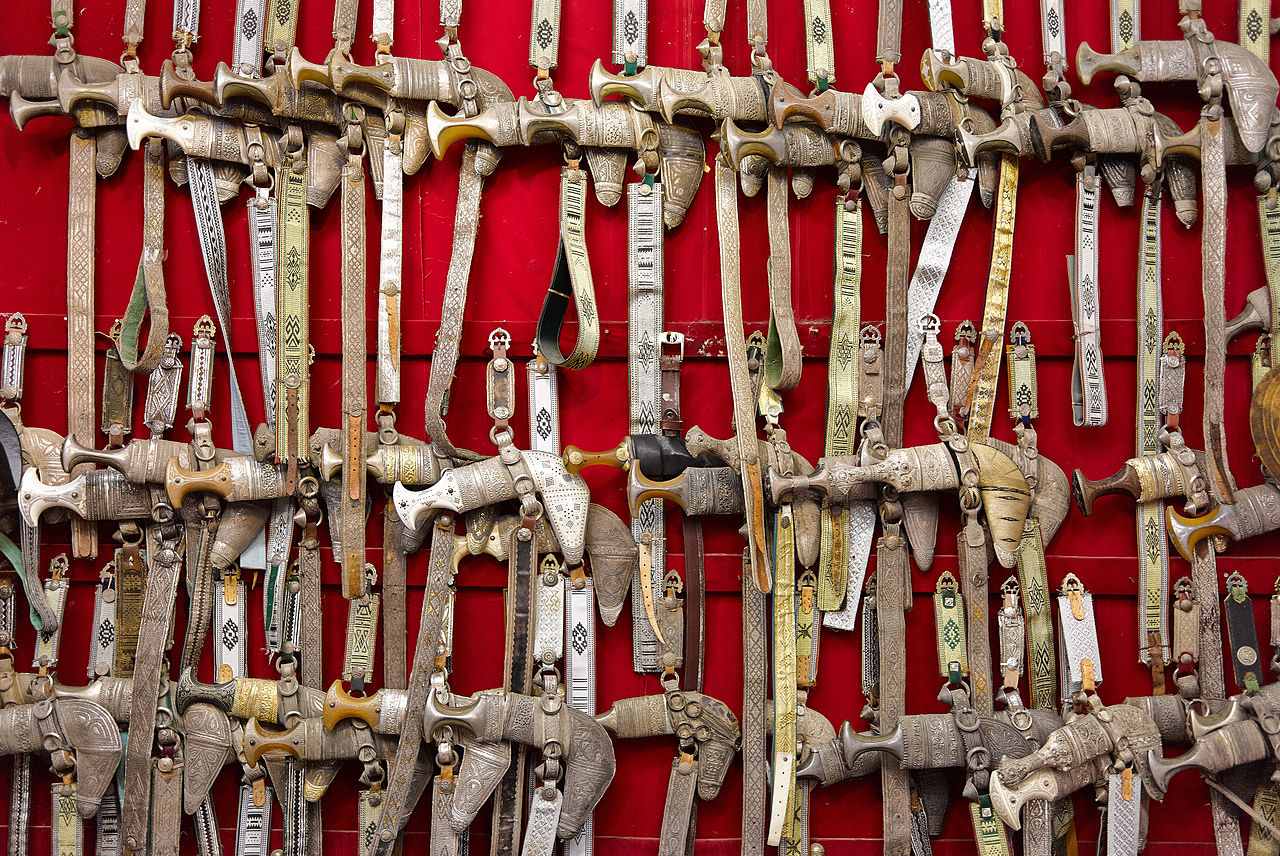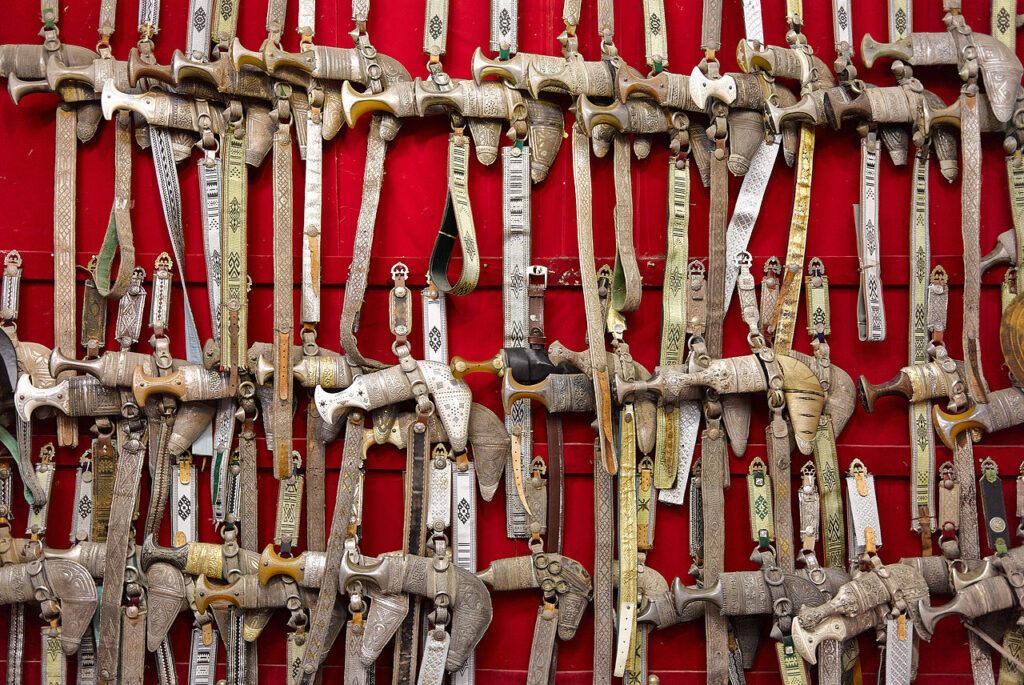 Today it is valued and respected, and proudly worn as part of a male Omani's traditional dress on special occasions and required for official ceremonies. Together with two crossed swords, an image of the khanjar, along with its waist belt, is used on the Omani flag and is the national emblem.
Omani doors
In Islamic architecture in Oman the door or gateway to a building is often the most elaborately decorated feature. All the effort is concentrated on the façade side of the door; from the inside it is often quite plain. Oman does not have the right kind of indigenous tree for carving, so the wood was usually imported – perhaps teak from Burma, India or sometimes hardwood from Africa. Omani carpenters then carved their motifs, often opting for traditional floral patterns of roses, Oman's favourite flower, and date palms. These days, alas, there are few Omani carpenters left and most wood is carved by Indians imitating local designs.
Old Omani doors have become popular with expatriates and tourists who like to turn them into coffee tables. There are two things to look out for if you want to tell the difference between an old door and a new one: colour and texture. Old rosewood or teak (200 years old) is dark with a deep redness to it. Young wood looks more orange. Some dealers stain the doors darker to disguise their age, but this masks the grain of the timber. Newly carved doors also have a sharp feel to their carving and edges, while old doors will have gained the smoother finish that comes from wear and exposure.
Mandoos
These are Omani chests that have been traditionally used to store valuables. Good-quality ones were traditionally made from either rosewood or teak, and they are inlaid with brass plates or studs in Islamic and geometric designs.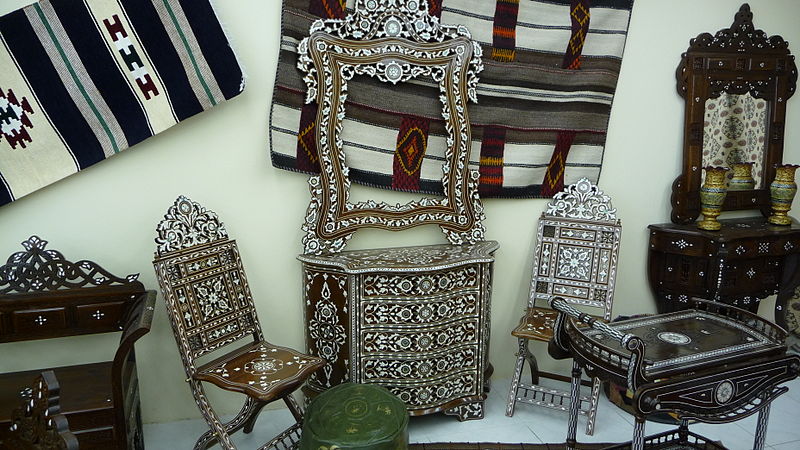 Sometimes referred to as bridal chests or ships chests, today mandoos can be bought in a variety of sizes – some as small as a jewellery box. You will see them as decorative furnishings all over Oman, in hotels, official buildings, offices and private homes.
Majmars
Majmars, made from clay, are traditional hand-painted incense burners. These delightful handicrafts are ubiquitous and make the perfect gift or keepsake from Oman.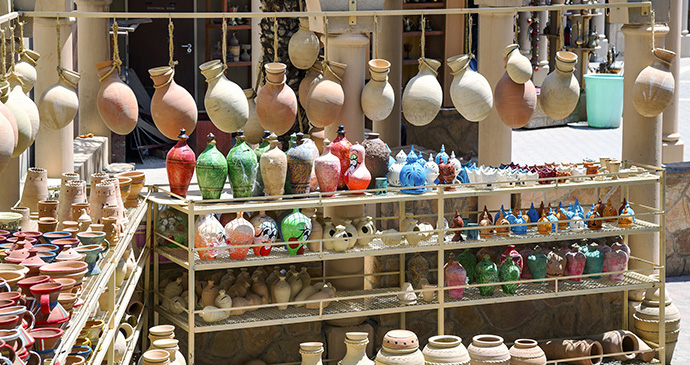 Salalah's frankincense suq (in Dhofar), Mutrah Suq (in the capital) and Nizwa Suq (in the Ad Dakhiliyah) are prime locations for these items. Some made in Dhofar are painted in bold colours.
Rose water
Rose water, extracted from the Damask rose, is used extensively in Oman in the preparation of halwa, as well as in perfumes, incense, and in traditional medicines. The rose is grown on the Sayq Plateau of Al Jabal Al Akhdar; it is thought to have been introduced there from Persia.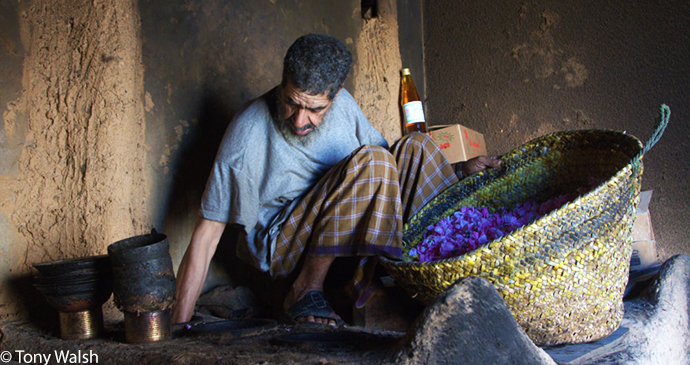 The rose petals are simmered in water for several hours and the resulting condensed rose water is stored for over a month to allow any sediment to settle before the product, unique to Oman, is bottled and sold.
Silver
Oman has a long silversmithing heritage. The metal has been used for centuries and expertly handcrafted into articles of jewellery and ornaments, perhaps the most famous of which is the khanjar. In the past, wealthy Omani men wore decorative silver. They carried keys on silver chains, had silver money holders, tweezers in silver cases, silver toothpicks and ear cleaners on silver chains, and used silver for the scabbard or sheath of weapons.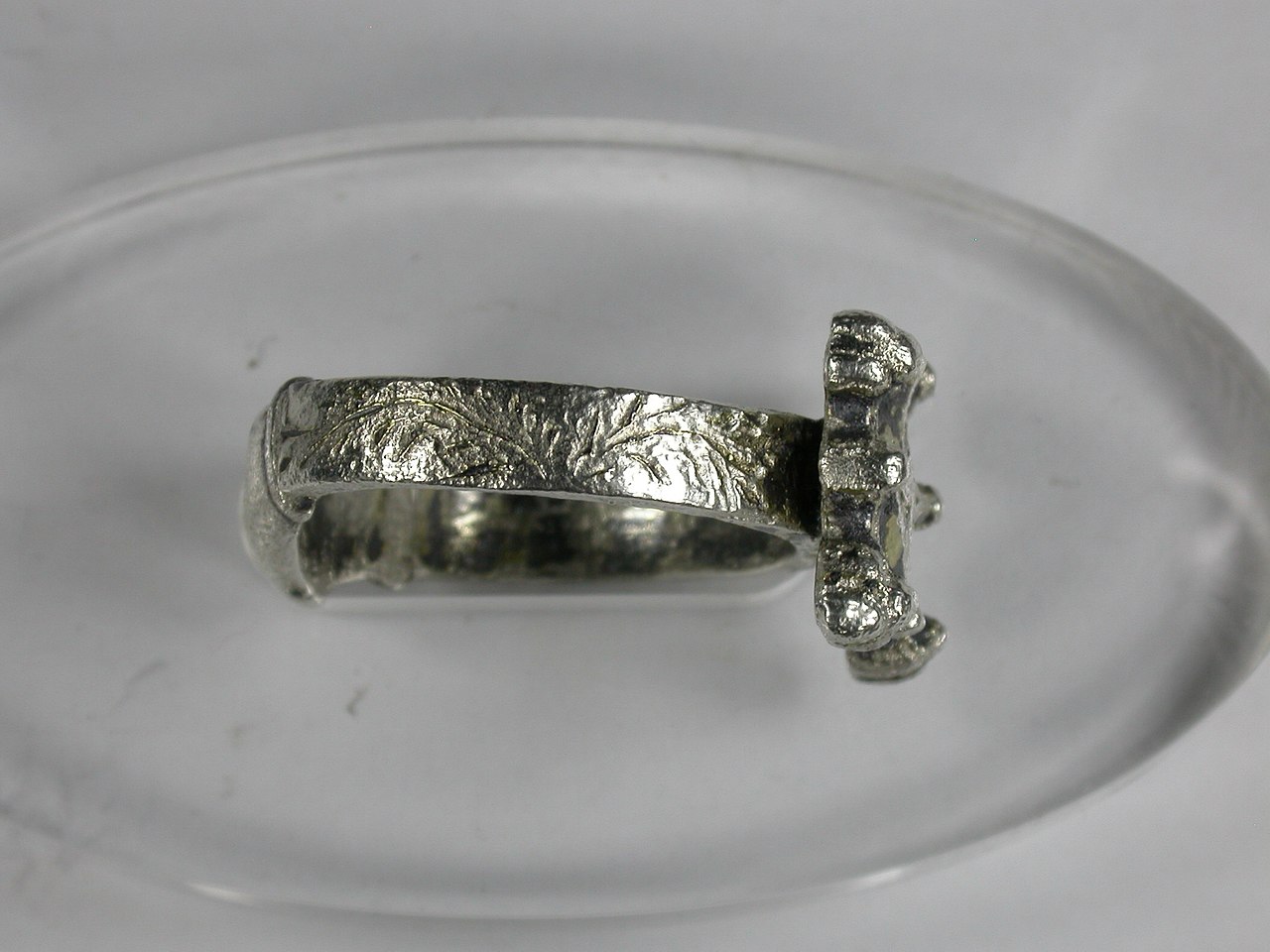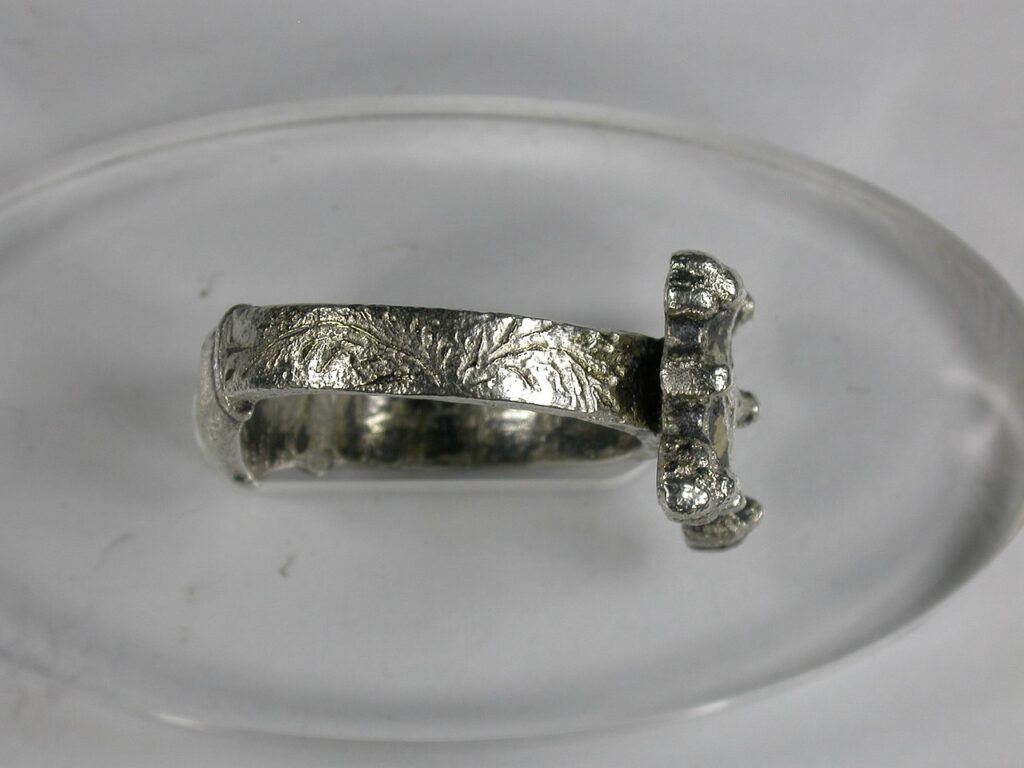 Most of the old silver jewellery was unfortunately melted down before traders realised the value of antique silver pieces, so there is remarkably little genuine old silver left. Experienced Omani silver dealers can tell by the design whether a khanjar or piece of jewellery is from Al Batinah, Ash Sharqiyyah or Dhofar. Today, women's necklaces and bracelets play an important part in marriage ceremonies in Oman – a bride's dowry is expected to contain a certain amount of jewellery, traditionally silver.
---
More information
For more information, check out Tony Walsh's guide to Oman: