Written by Bradt Travel Guides
The craft industry was once an important part of Oman's economy, with artisanal skills handed down from generation to generation. It is artefacts such as pots, decorative chests, silver bracelets, khanjars and coffee pots that most embody the spirit and identity of Oman; they are tangible samples of its ancient tradition and heritage. Here are just a few that you will undoubtedbly see on your travels.
The khanjar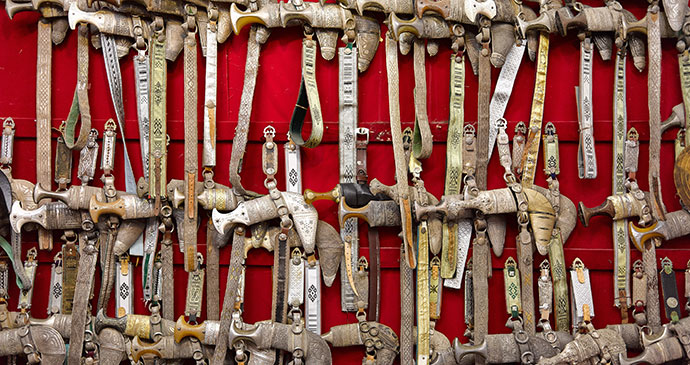 Traditional ivory or rhino horn handles have been mostly replaced by sandalwood and silver © Richard Bartz, Wikimedia
The khanjar is a curved, sheathed dagger that encapsulates and symbolises the Omani identity. In the past the khanjar had a utilitarian purpose, and served as an essential piece of weaponry used to protect against wild animals or the enemy. Today it is valued and respected, and proudly worn as part of a male Omani's traditional dress on special occasions and for official ceremonies.
Omani doors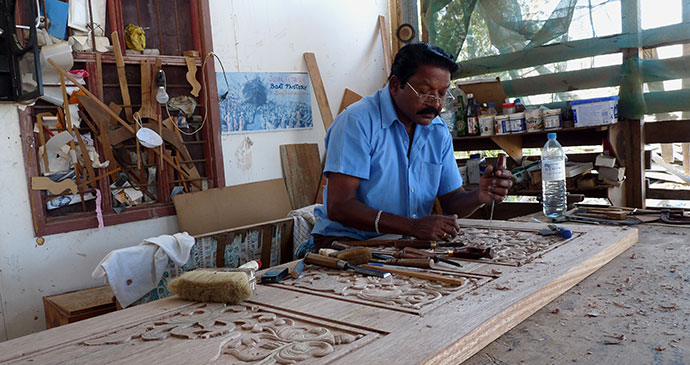 Intricate wood carving has long been an Omani trademark © Ji-Elle, Wikimedia
In Islamic architecture, the door or gateway to a building is often the most elaborately decorated feature. All the effort is concentrated on the façade side of the door; from the inside it is often quite plain. Oman does not have the right kind of indigenous tree for carving, so the wood was usually imported – perhaps teak from India or Zanzibar. Omani carpenters then carved their motifs, often opting for traditional floral patterns of roses, Oman's favourite flower. These days, alas, there are few Omani carpenters left and most wood is carved by Indians imitating local designs.
Mandoos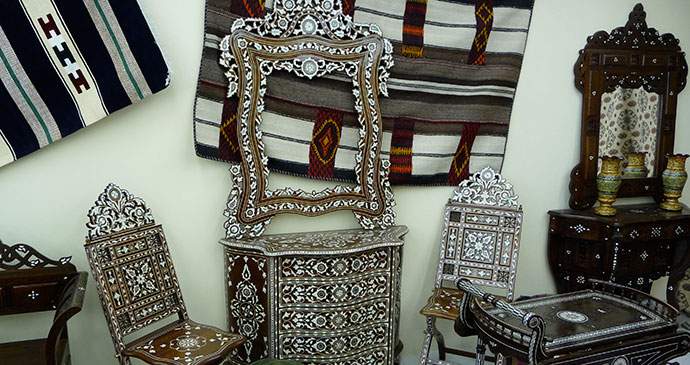 Traditional Omani furniture is often elaborately decorated © Rudolf Tepfenhart, Wikimedia
These are Omani chests that have been traditionally used to store valuables. It is said that this stemmed from a Portuguese tradition that Oman inherited when it was invaded in the 16th century. Today, mandoos can be bought in a variety of sizes and are usually made from either walnut or rosewood. On the surface they are inlaid with brass, gold or silver, in Islamic and geometric designs, and sometimes decorated with precious stones.
Majmars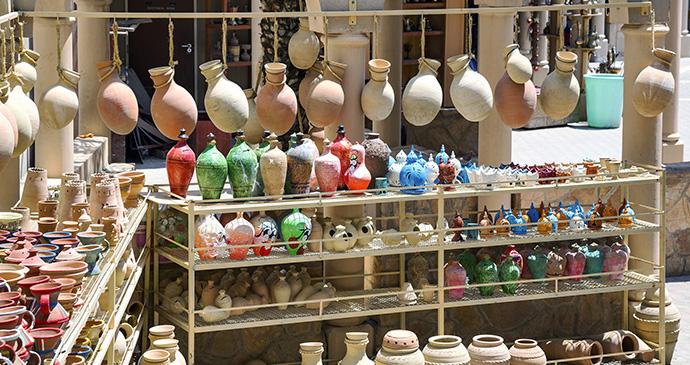 Pottery is for sale in most Omani markets © Zwawol, Dreamstime
The traditional hand-painted clay incense burners have had a revival after being used as packaging for Amouage's new frankincense-based perfume Salalah. Dhofari women make the pottery and then hand-paint it, thereby helping to supplement their family incomes. Frankincense and a majmar frankincense burner are ubiquitous, and make the ideal souvenir of your travels here.
Rose water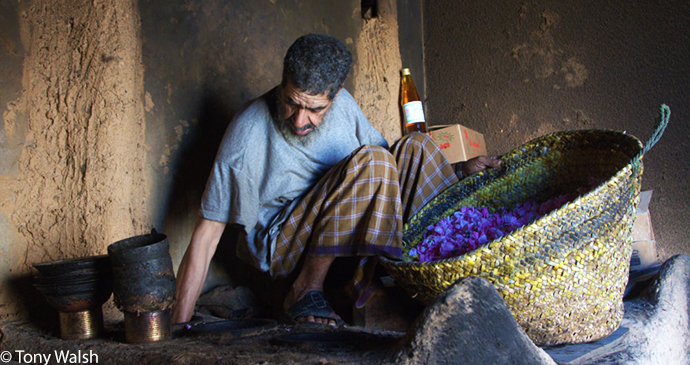 Omani rose water is extracted from the Damask rose © Tony Walsh
Rose water is used extensively in Oman in the preparation of halwa (a traditional sweet) as well as in perfumes, incense, qahwa and in traditional medicines. The rose is grown on the Sayq Plateau of Al Jabal AlAkhdar; it is thought to have been introduced there from Persia. After simmering the rose petals in water for several hours, the resulting condensed rose water is stored for over a month before the product is bottled and sold.
---
Tempted to visit? Get 10% off our Oman guide here: