Taiwan is a hiker's dream. The island's mountains are numerous, steep and extremely scenic, yet the vast majority of trails demand no technical climbing skills, meaning there is truly something for every taste and ability on offer. Yangmingshan National Park has plenty of family-friendly paths, while Yushan and Shei-Pa national parks offer multi-day treks through expedition country.
Our friends at Taiwan Tourism share their highlights:
Yushan
Yushan National Park, Taiwan's largest and mostly unspoilt land-based reserve, is located in the mountains east of Chiayi and embraces 3,952m-high Yushan (more commonly known in English as Mount Jade). Dedicated mountaineers flock from afar to tackle this 11-peak massif and appreciate some of the best alpine views in East Asia from its summit.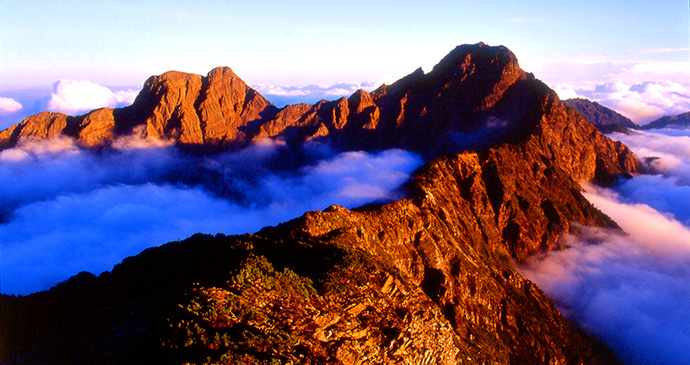 The Yushan mountain range and Main Peak are generally tackled within two days from the national park trailhead, though determined hikers can do it in one. The hike to Paiyun Lodge, where two-day hikers spend the night, is straightforward and very enjoyable. Rising very early the next morning allows visitors to view the sunrise from the Main Peak, after which you'll return along the same route.
Those planning a single-day ascent should note that park rules state they must reach the Paiyun Lodge point before 10.00 and set off again by 11.00. The 2.4km journey from the lodge to the summit takes even the fastest hikers well over an hour, as the trail is steep, unstable, icy and full of seemingly never-ending switchbacks. Rich reward awaits, however, after the treeline is passed, revealing views over scores of high mountains. Once you reach the summit, you can pat yourself on the back for reaching East Asia's highest point.
Alishan National Forest Recreation Area
When people talk about Alishan, they're usually referring to this 1,400ha reserve. It's an excellent place for people who don't consider themselves hikers but want to experience mountain woodlands, as a network of clearly signposted trails winds through sublime forest, and before you know it, your gentle stroll has become a three-hour circuit.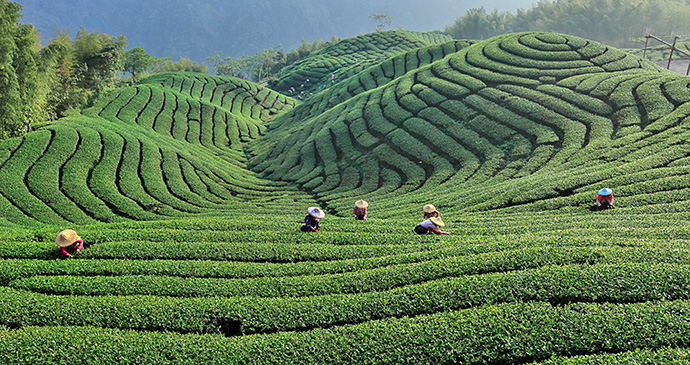 The reserve encompasses tea-growing areas and indigenous villages as well as the eponymous forest recreation area. 
Xueshan
Shei-Pa National Park is a climber's paradise, boasting 51 peaks over 3,000m within its boundaries. Despite being home to Xueshan (Snow Mountain), Taiwan's second-highest peak, the park is often overlooked by those who come to the island specifically for hiking and have their sights set on Yushan.
Even if you're here only because you couldn't get permits for Mount Jade, there's absolutely no reason to feel you're settling for second-best. Hiking up Snow Mountain is far too good an experience to be considered a consolation prize; in terms of scenic and ecological variety – not to mention pleasurable exertion – it's every bit as good as its taller compatriot.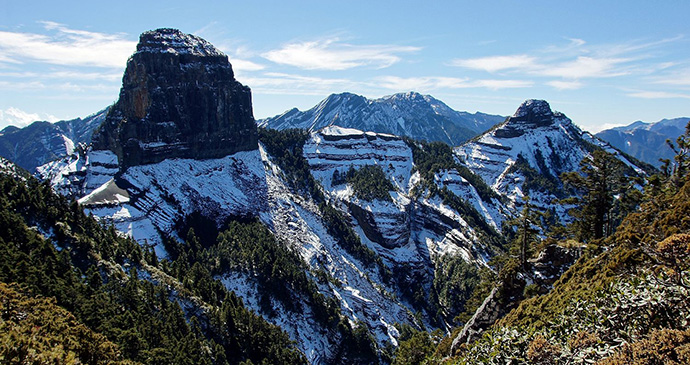 Climbing to and returning from the peak can be done in two days, although some spread the hiking over three days by stopping at Chika Cabin just a few kilometres up from the farm on day one. If on a two-day outing, Xueshan's East Peak (3,201m) is visited on the first day and hikers bed down further along the trail at the 369 Cabin. Many hikers set out from 369 Cabin well before dawn and try to reach the top, 4 hours' walk away, before sunrise.
The trailhead for the standard hike to Xueshan's Main Peak is located at Wuling Farm, one of Taiwan's most popular high-mountain recreational farms, situated about 30km from the fruit-growing village of Lishan on the Yilan County branch of the Central Cross-Island Highway. Also known as Wuling National Forest Recreation Area, the farm bursts into a riot of colour all year round as flowers bloom in spring, leaves change colour on the maple trees in autumn, and cherry blossoms flower in the winter, making it well worth a visit even if the ascent of Snow Mountain isn't on your itinerary.
Closed in by conifer-carpeted mountainsides, the valley was cleared and settled long ago by retired servicemen who had come over to Taiwan with the Republic of China military after the Chinese Civil War ended in the late 1940s. Renowned for decades thereafter for high-quality fruit production, Wuling is now a dedicated centre for tourism in the area; many hikers will spend a night in the valley before and/or after their journey up/down to Xueshan. Accommodation options include a five-star hotel, simple lodge-style hotel, cabin and camping facilities, recently voted as the island's best. 
Visitors may also enjoy the 4.3km hike to Taoshan Waterfall, which starts at the farm. The concrete footpath, shaded by pine trees, climbs gradually to 2,250m above sea level and ends with a grand view of the 50m-high falls cascading down like a twisting white ribbon of silk.
Taroko Gorge
The top attraction in eastern Taiwan, and one not to be missed, is Taroko Gorge, a stunning natural composition of immovable rock and rushing water. The geological processes that created Taroko Gorge began hundreds of millions of years ago with the accumulation of undersea sediment and volcanic lava, materials that eventually became the area's trademark layers of marble, schist and gneiss.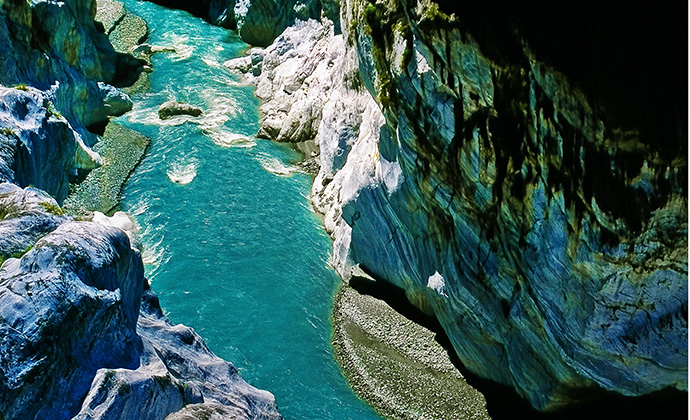 The ruggedly majestic Taroko National Park centres on the gorge and is mapped by a compelling network of trails, some following the main gorge, others heading off up secondary canyons. Perhaps most popular is the Baiyang Trail, which begins with a long tunnel that cuts straight through a mountain into a secondary gorge. It ends at two close-knit suspension footbridges leaping across separate deep-cut clefts below a lofty twin cataract that plunges ethereally from vertigo-inducing heights.
The crown jewel for passionate hikers, however, is the Zhuilu Historic Trail. Billed as the gorge's most challenging and rewarding hike, the trail starts from Cimu Bridge and winds up a track so narrow that two hikers do not have room to pass. It is not for casual walkers, but those who relish a challenge will be rewarded at the end with superb views from a footbridge suspended across the gorge near Swallow Grotto.There are good accommodation options right in the gorge itself, ranging from five-star hotels, hostels and cabins to first-come, first-served campsite facilities.
Taipingshan
Located in the mountains just south of Yilan County's Yilan Plain, between the Pacific Coast and the Lanyang River Valley, the sublime, sprawling Taipingshan National Forest Recreation Area was historically one of Taiwan's three largest logging areas. The Japanese built narrow-gauge lines throughout the Taipingshan region to facilitate timber extraction.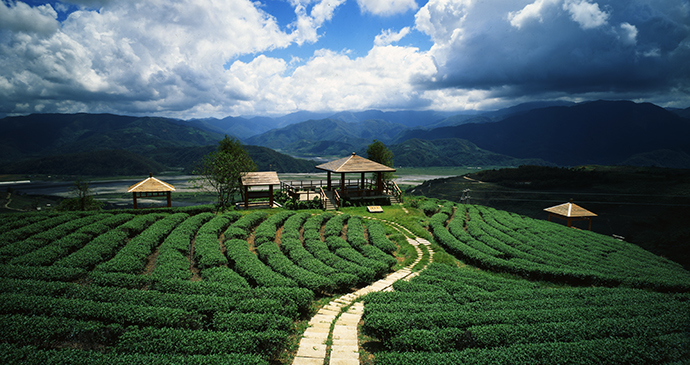 Relics of this now-defunct industry still litter the roadsides, forest trails and the main visitor area. A number of the longer walking trails are archeological treasure troves, boasting sections of old track, cableways, logging railway equipment and other historical skeletons left behind once the orginial railbeds were no longer in use. The most popular of the historical relics is the 3km-long Bong Bong Train narrow-gauge line; the term 'bong-bong' refers to the sound made as its cars trundle over the tracks and takes riders through dense coniferous forest to the main facility area.
Jiaming Lake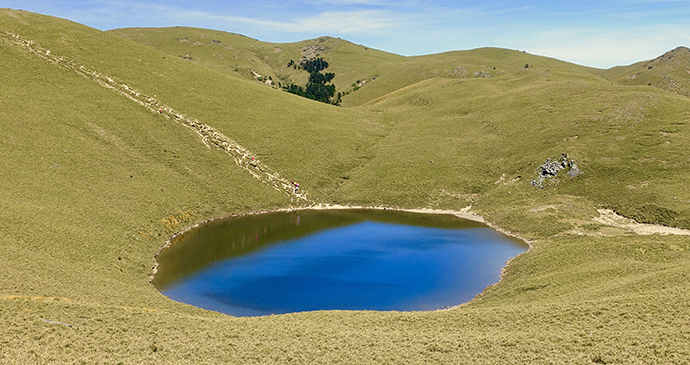 Jiaming Lake is Taiwan's second-loftiest mountain lake, a sublime body of water that fills a meteor-impact crater 3,310m above sea level. It is often referred to as the teardrop of an angel, formed by a glacier movement during the most-recent ice age. Accommodation options include an excellent campsite around the back of the police station at Xiangyang with shower and kitchen facilities, as well as mountain huts along the trail to the lake.
The walk from Xiangyang area winds gently through pine forest to the first mountain hut, the Xiangyang Cabin, but from there it steepens considerably until you reach the second cabin, the Jiaming Lake Hut, after emerging from the forest cover. The trek to the lake and back can be tackled in one day and one of the bonuses of this hike is the high likelihood of seeing deer coming to the lake to drink.  
More info about the best hiking areas in Taiwan
Want to find out more about the best hiking areas in Taiwan? Check out our comprehensive guide: