The Great Bradt Travel Quiz
To celebrate the launch of Daniel Austin's The Travel Quiz Book, we're inviting teams of travellers from around the world to join us on Zoom to test their travel knowledge.
With questions and brain-teasers to suit all ages and abilities, from the fun to the fiendish, The Great Bradt Travel Quiz will have you scratching your head and dreaming of far away.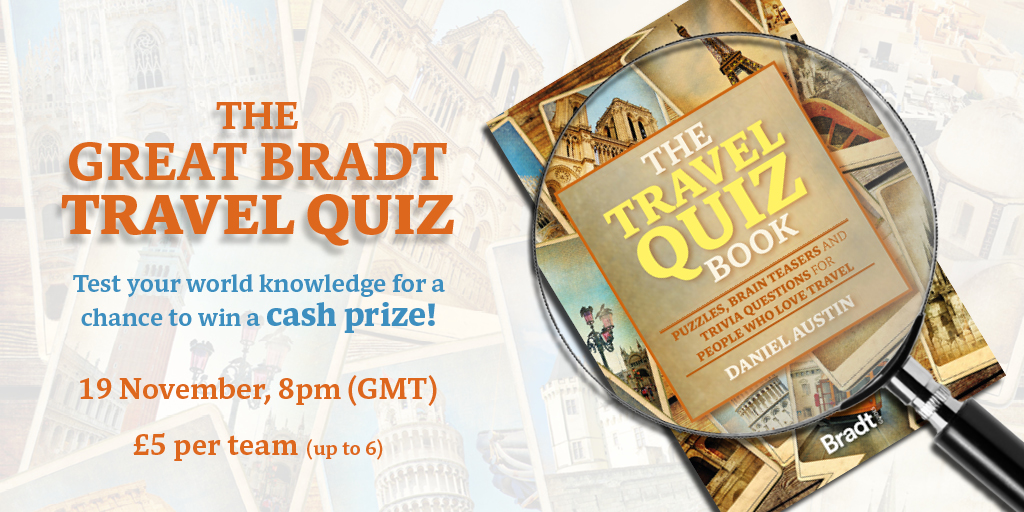 Bradt on Britain
Read our latest articles from around the United Kingdom
See the widest range of UK travel guides available anywhere
Latest features
Inspirational stories from around the world
Time to start planning a trip to the Caribbean's Nature Island.
Places you can visit now
Comprehensive guides to exceptional places around the world
Many nations are beginning to open their doors to tourists once more.
Stay safe and enjoy hassle-free travel
Wildlife
Read about the world's fascinating and fanciful flora and fauna
---
Sign up to the Bradt Guides newsletter
Subscribe and enjoy 30% off!
For people who seek the extraordinary: less-obvious experiences, less-visited places and a more thoughtful approach to travel.
We've partnered with Tiplr.com – a platform where travellers can share reviews and build their own bespoke trip guides.
Membership comes with a range of benefits – from free books to a concierge service. It's the club for serious travellers!
If you've a tale you want to see in print, we can make it happen with our new contract publishing imprint, Journey Books.
---
Slow travel
Get under the skin of destinations on your doorstep