Written by Bradt Travel Guides
From the laid-back capital city of Montevideo to historic estancias (ranches), Uruguay is a destination that has much to offer. Whether you're only visiting for a week or you've got a bit more time to spare, check out our sample itineraries to guarantee that you make the most of your time there. These are feasible by bus or with a rental car.
One week
Almost every trip to Uruguay starts in Montevideo, the country's friendly capital, where Art-Deco shopfronts and cosy tango tavernas sit alongside modern high-rises and lively beachfront discoteca. Spend a few days exploring the city at its own pace – take a laidback stroll along its waterfront boulevard (known as the rambla), head to the sprawling Mercado del Puerto for some asado-grilled steak or pay a visit to one of the dozens of museums on offer.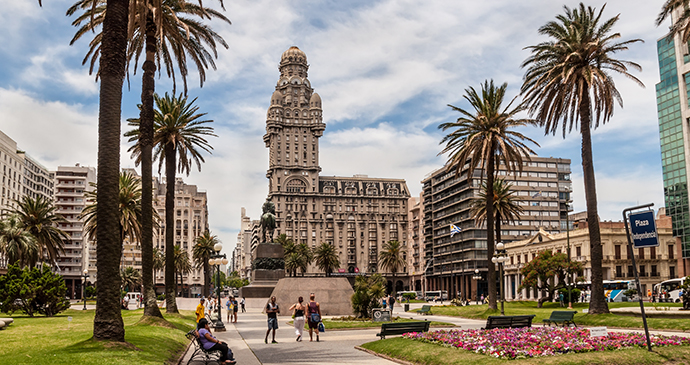 Begin your trip in Montevideo © byvalet, Shutterstock
From there, head east along the coast to one of the many beaches – there's plenty to suit all tastes and budgets. La Paloma is the most developed resort in Rocha and one of the most popular with the surfing comminty, whilst the more bohemian La Pedrera is home to hip cafés, trendy hotels and architect-designed houses, making it popular with the arty crowd. If you're seeking isolation, the tranquil Cabo Polonio is one of the most alluring destinations in Uruguay. And for those wanting luxury, the small fishing village of José Igancio has recently been transformed into one of the world's most chic and exclusive holiday destinations, with boutique hotels, superb restaurants and an array of stunning modern houses.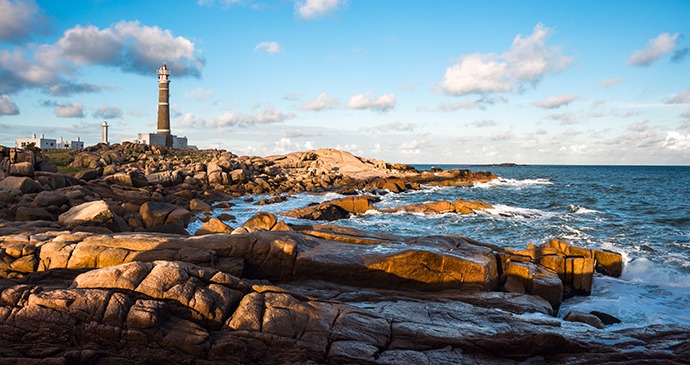 Cabo Polonio is one of the country's finest beaches © Ksenia Ragozin, Shutterstock
Next, head inland to Minas and back to Montevideo via the Canelones wineries, where you can sample some of the country's finest wines from one of 270 or so wineries, all of which are small, family-run private businesses.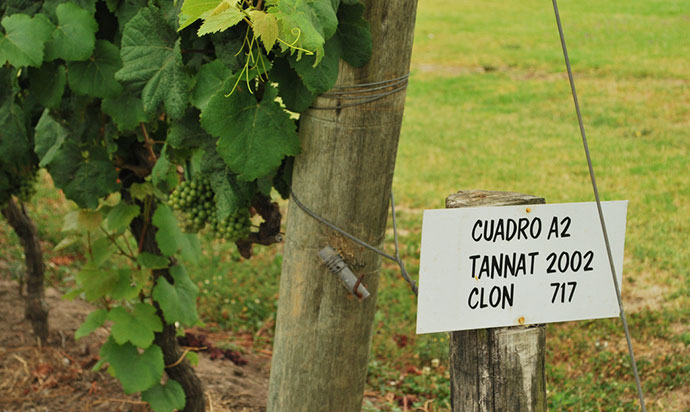 Sample a Uruguayan tipple at one of the 270 wineries in the Canelones region © Ana Raquel S. Hernandes
If you have time, add on an extension westward to Colonia and visit the Calle de los Suspiros, the most photographed street in Uruguay.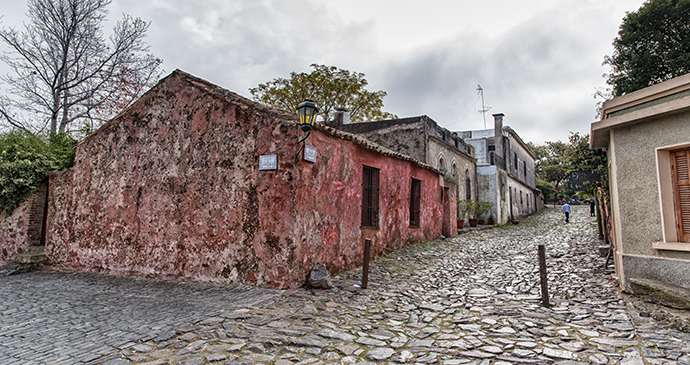 Visit Calle de los Suspiros, the most photographed street in Uruguay © LMspencer, Shutterstock
Two weeks
From Montevideo go west to Colonia and Carmelo, where you can visit the town's famous and picturesque swing bridge which is still occassionally hand-cranked. Continue on to Fray Bentos and discover Uruguay's rich industrial history by paying a visit to the fascinating industrial heritage museum, housed in the former meat-packing plant.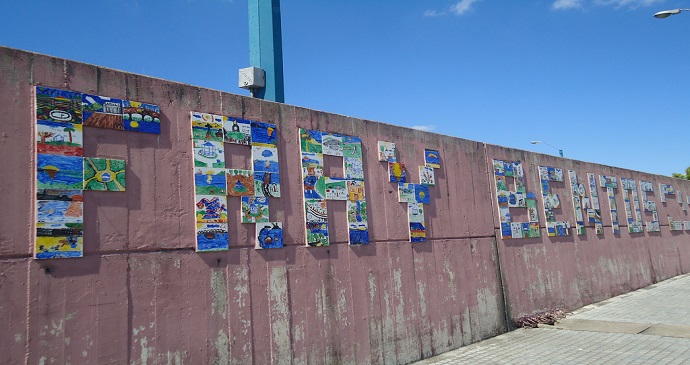 The meat-packing plant at Fray Bentos is now an industrial heritage museum © Fernando Pangaré, Flickr
Follow the litoral north to Paysandú or Salto, then head east to Tacuarembó, the eponymous capital of Uruguay's largest department. Here, pay a visit to the Catedral San Fructuoso and the nicely restored Intendencia, which has an unusual Neoromanesque façade and a blue-and-yellow tiled steeple. Another notable feature of the city is its centros de barrios on the outskirts of town, architecturally striking focal points for each quarter, which include health or sport centres.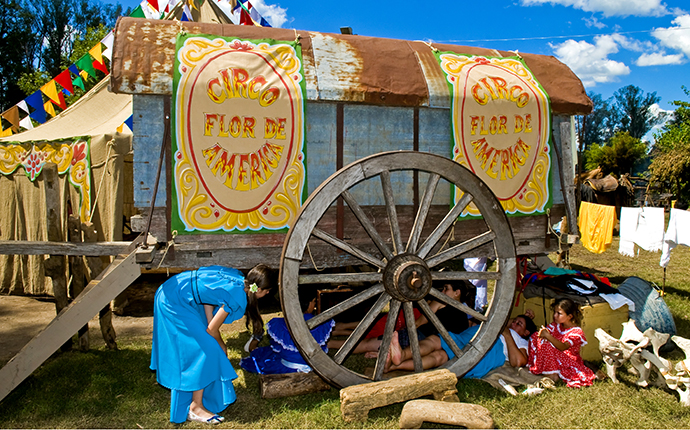 Tacuarembó is definitely worth visiting © Kobby Dagan, Shutterstock
From here either go south to Montevideo via the Canelones wineries, or via Minas, an attractive city surrounded by hills, to the beaches of eastern Uruguay and then back to Montevideo, maybe with a day trip to some wineries from there.
Three or more weeks
From Montevideo go west to Colonia, Carmelo and Fray Bentos. Then follow the litoral north to Paysandú or Salto, where you can stop off at the Termas del Daymán hot baths. These are the largest and liveliest of all the hot baths in Uruguay, with families and busloads of youngsters pouring in on summer weekends. Here you'll find the hottest water of the Uruguayan springs (up to 44°C, from the Aquifer Guaraní, 2km down). If you're looking to relax, there's also sauna and hydromassage available.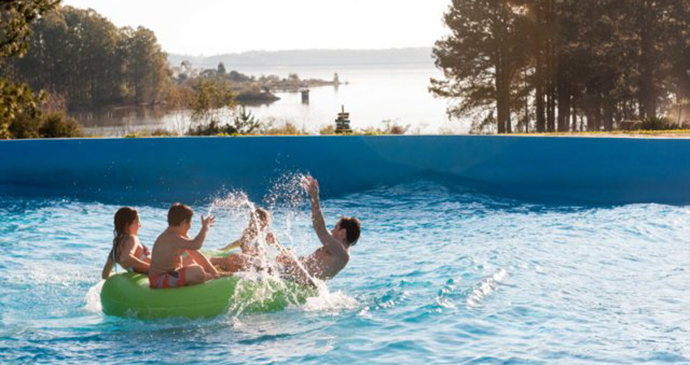 Stop off at Termas de Daymán whilst in Salto © Leonardo Correa, Wikimedia Commons
Head on to Artigas and the larger and livelier Rivera, then south to Tacuarembó and then east to Melo where you can explore the city's central square or relax in riverside parks. You can also head to Treinta y Tres. Situated within the emptiest and most isolated area of the country, the centre of town is characterised by wide, leafy twoway streets and single-storey houses. From here, venture down to Rocha and the beaches of eastern Uruguay such as the laidback resort of Aguas Dulces.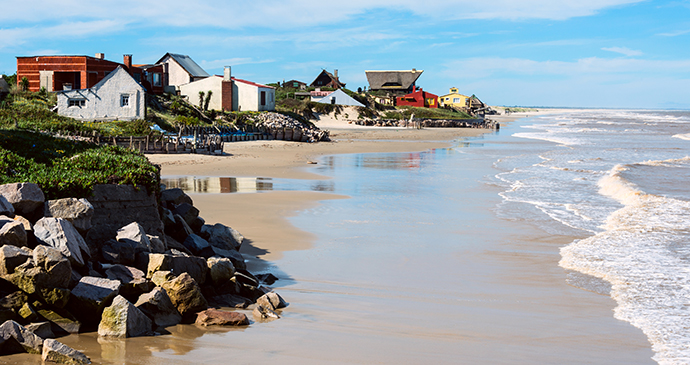 Relax on one of the beaches of eastern Uruguay such as Aguas Dulces in Rocha © Kseniya Ragozina, Dreamstime
Fianlly, head back to Montevideo, maybe with a day trip to some wineries from there.
---
Inspired to visit Uruguay? Check out our guide for more information.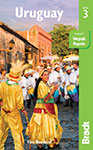 Bradt Guides Collections
Enjoy huge discounts on a series of our books – up to 40% off!