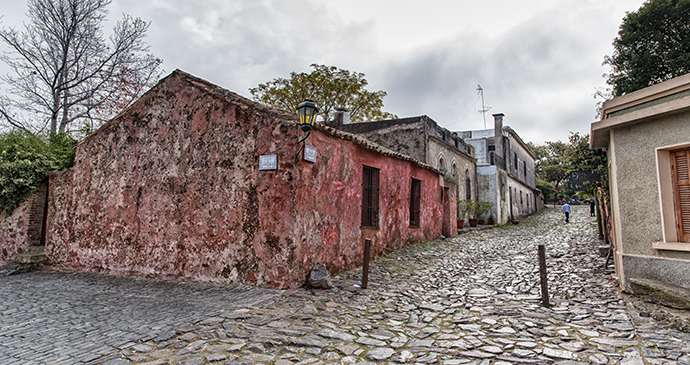 Calle de los Suspiros is the most photographed street in Uruguay © LMspencer, Shutterstock
Wander the centuries-old cobbles and UNESCO-listed homes of Colonia del Sacramento.
Colonia del Sacramento was founded in 1680 by Manuel Lobo, Governor of Rio de Janeiro, to be a Portuguese rival to Buenos Aires, directly across the River Plate. Fought over by Spain and Portugal for almost a century (changing hands seven times between 1680 and 1778), it was known as la manzana de la discordia (the apple of discord). In 1763 it was also attacked by the British, whose ship the Lord Clive was sunk and her officers hanged in the plaza. In 1750 Colonia was awarded to Spain, but Portuguese settlers resisted the handover until the Spanish captured the town in 1777, ratified by the Treaty of San Ildefonso in 1778. In 1807 the British again tried to capture Colonia. In 1818 the Portuguese seized it from pro-independence Artiguistas, and in 1826 a squadron under Admiral Guillermo (William) Brown drove off what were now Brazilian ships and bombarded the town but was unable to capture it. Until 1828, when the Brazilians left, this was a centre for smuggling (backed by the British) into Buenos Aires. In 1836 its population was just 762, plus 166 in Real de San Carlos. Colonia continued to be in the wars, being bombarded by an Argentine squadron in 1842, captured by Garibaldi and an Anglo–French force in 1845, and taken again by Oribe and the Blancos in 1848.
After the Guerra Grande, Colonia was at last free to develop as a port and regional centre, with frequent ferries from Buenos Aires. The opening of bridges across the Río Uruguay at Paysandú (1975) and Fray Bentos (1976) removed a lot of the freight that had passed through Colonia. In compensation, the government began a programme to restore Colonia's historic buildings, culminating in the old town being added to UNESCO's World Heritage list in 1995. Today, there are many boutique hotels and chic restaurants in old Portuguese houses, and many houses are owned by Argentines. The restoration work has been well done, and regulations about not altering façades have been strictly observed. Tourism is the main industry, but there's a nice sideline as a location for filming adverts and historical movies. Colonia is famed as an unspoilt and tranquil historic town; it's certainly quiet but isn't nearly as picturesque as your average French or Italian village, or as Paraty in Brazil.
Situated within the city of Colonia del Sacramento, the Calle de los Suspiros is the most photographed street in Uruguay. It is a short traffic-free lane leading down towards the Plate that is essentially unchanged from the 18th century, with its cobbles and central drain, and single-storey cottages on either side. It's named 'Street of Sighs' perhaps because convicted criminals were taken to the beach to be executed, or perhaps because of the brothels that lined the street.