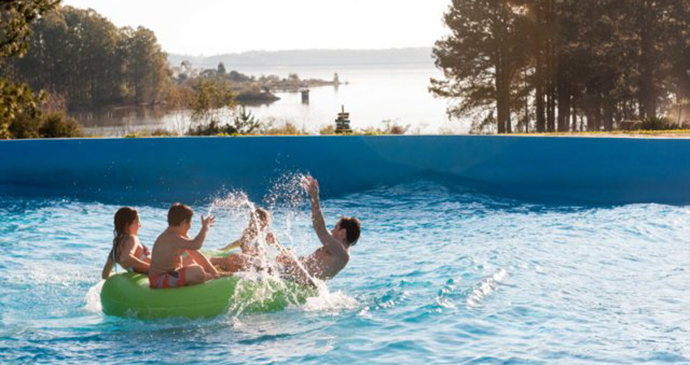 Termas de Daymán is the largest and liveliest of Uruguay's hot baths © Leonardo Correa, Wikimedia Commons
With a sauna, hydro-massage and the hottest water of any Uruguayan spring, these hot baths are the largest and liveliest of any in the country.
It's 9km south on Ruta 3 to the Termas de Daymán, the largest and liveliest of all the hot baths in Uruguay, with families and busloads of youngsters pouring in on summer weekends. This has the hottest water of the Uruguayan springs (up to 44°C, from the Aquifer Guaraní, 2km down), and in most of the ten pools of the Spa Termal it's frankly too hot to swim much; there's also sauna, hydromassage and lockers. There's cooler water immediately north at the Acuamanía water park, with slides up to 70m long, pool basketball and other games, and minigolf; the Kamikaze is a very popular closed-tube toboggan that reaches speeds of up to 60km/h. The waters are meant to be good for rheumatic, neurological and musculoskeletal disorders, and for stress. There's also the Agua Clara Parque Termal on the Rambla Circunvalación, the most modern complex here, with hot and cold showers and hydromassage, Wi-Fi and the Entre Amigos resto-pub.