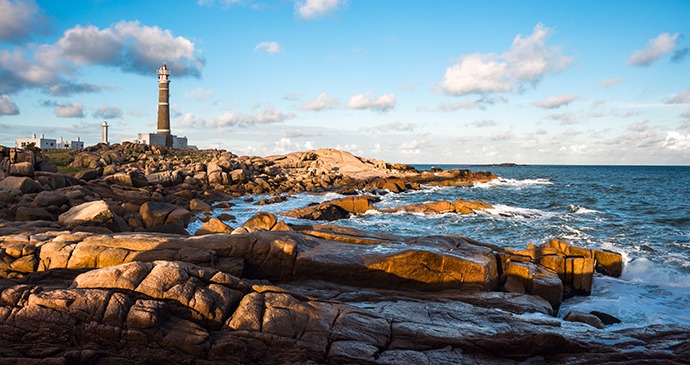 The lighthouse at Cabo Polonio © Ksenia Ragozin, Shutterstock
Chill out in a fisherman's shack or lose yourself in the dunes at Uruguay's legendary (and roadless) hippy beach colony.
Named after Joseph Polloni, captain of the Nuestra Señora del Rosario, wrecked here in 1753 (and not after a ship called the Polonio), this is one of the most alluring destinations in Uruguay for backpackers and others in search of isolation and tranquillity. It's a headland much like Punta del Este, La Paloma and José Ignacio, with brava and mansa sides; the Playa Sur (or Playa La Ensenada) offers surfers a great variety of waves, thanks to its constantly moving sandbanks, and the Playa de la Calavera (Beach of the Skull, to the northeast, so called because of the cattle slaughtered here by the indigenous people) is the only beach on the whole coast which faces east and northeast. The beaches are always virtually empty, and to the southwest you can walk all the way to La Pedrera, seeing little more than a few shanties and shipwrecks.
The area has been inhabited for 14,000 years; in the 19th century (and until 1991) sea lions were hunted for their skins, and in the 1940s, when there was a brief fashion for hunting sharks for the vitamin A found in their livers, a few fishermen's shacks were constructed. This has been a monumento natural within the Bañados del Este Biosphere Reserve since 1976. In 2009 it was declared a national park and a 'protected cultural landscape', with hunting, mining and other damaging activities prohibited and tourism more tightly regulated. The legendary squatter settlement here – a collection of shacks and cabins that have sprung up on the point near the lighthouse – will not be removed or interfered with, but a modern reception centre has been built at the main road, with a ticket desk for 4×4 access, a tourist information desk, ATM, Wi-Fi and Environmental Information Area.
The government is taking a very restrained approach to tourism, realising that while mega-complexes such as Punta del Este have their place, there's a need for diversity, and places like this are sought out by many. Cabo Polonio is developing in any case, and what was until recently a fishing village with a few hippies in summer shacks, and no fresh water or electricity (except for the lighthouse), is now a permanent settlement (population 88) with half-decent accommodation and seafood restaurants, many with generators or solar panels. Mobile phones now generally work, and some businesses even take Visa.