Written by Bradt Travel Guides
Boasting a startlingly beautiful Indian Ocean coastline studded with tranquil islands and historic towns, Mozambique is one of Africa's most beguiling destinations. Go on a game walk in Niassa Reserve, watch traditional silversmiths on Ibo or snorkel among colourful reef fish at Bazaruto. Explore the vibrant markets of Maputo, a coastal capital buzzing with Afro-Mediterranean flair – or just chill out on a swathe of pristine, deserted beach.
Beaches, beaches, and more beaches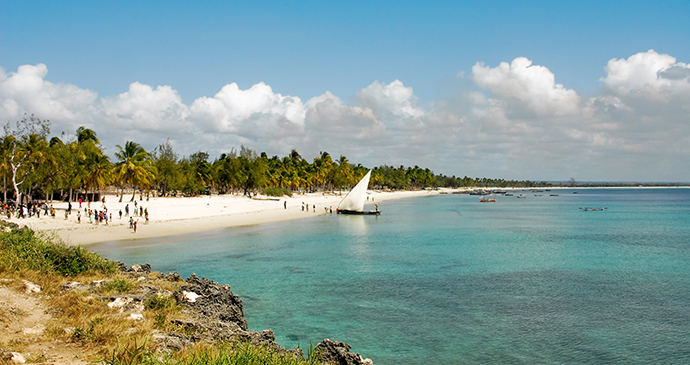 Beautiful Pangane Beach is one of Mozambique's most popular stretches of sand © Alberto Loyo, Shutterstock
White sand, sparkling turquoise waters, and palms fronds swaying in a tropical sea breeze. Beaches, in a nutshell, are what tourism to Mozambique is all about. Fringed by some 2,500km of lush Indian Ocean coastline, not to mention dozens of beautiful offshore islands, Mozambique has little competition when it comes to the accolade of Africa's ultimate beach destination. Opportunities along the coastline involve diving and fishing, whale watching and birdwatching. Much of the coastline is undeveloped meaning that travellers will find truly deserted beaches, many of which stretch for kilometres on end, even at the more built-up resorts.
Fascinating historic towns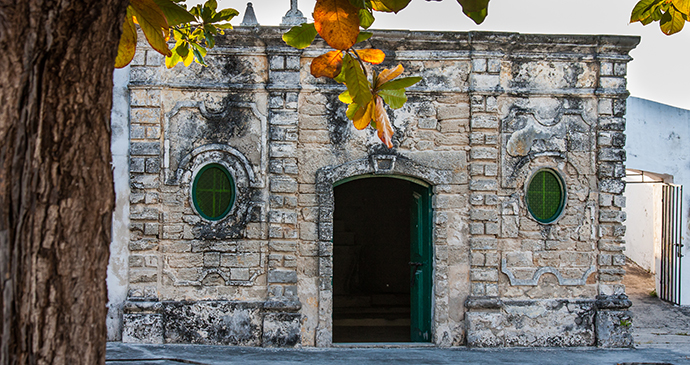 An old house made of coral rock on Ibo Island © Katiekk, Shutterstock
Sleepy, historic Inhambane would be a highlight on any African itinerary and should not be missed by travellers to Mozambique. Noted for its fine beaches, seemingly endless stands of tall coconut palms and superb marine activities, the coast around Inhambane is one of the country's most important tourist hubs yet facilities are sufficiently spread out that it seldom feels crowded.
Ilha de Moçambique is the oldest European settlement on the east coast of Africa and also perhaps the most intriguing and biazarre. Measuring about 3km from north to south and at no point more than 600m wide, crescent-shaped Ilha de Moçambique (Mozambique Island) houses several of the southern hemisphere's oldest extant buildings.
The small town of Ibo on Ibo Island ranks among Mozambique's most ancient settlements. The visitors who do make it to this compelling town find that wandering around the timeworn alleys and interacting with its fewer than 4,000 inhabitants invariably forms a highlight of their time in Mozambique.
Untrammelled national parks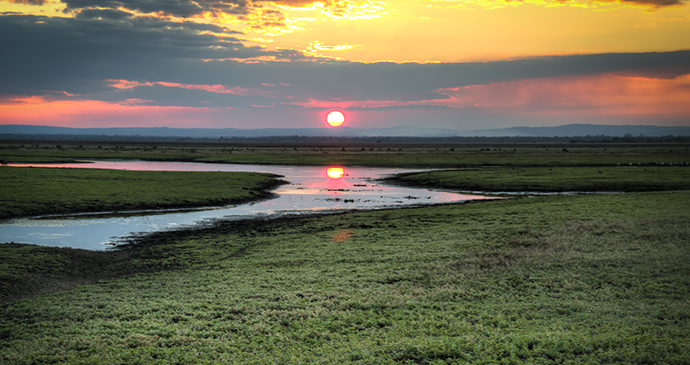 Sunset over Gorongosa National Park © nicolasdecorte, Shutterstock
A recent development in Mozambique is the upgrading and opening up of several national parks. Foremost among these is the refurbished Gorongosa National Park which extends 5,250km2 and was Mozambique's flagship conservation area in the last years of the Portuguese colonial era, when it was widely regarded as one of the finest safari destinations anywhere in Africa. Gorongosa has been through some lean times since then but is now well on the road to recovery and there is optimism that it might reclaim its place as one of the regions finest wildlife destinations, particularly following the welcome intervention of the Carr Foundation in 2004.
Furthermore, the inconceivably vast Niassa Nature Reserve is Africa's third largest wildlife sanctuary and offers as untrammelled an African bush experience as still exists in the 21st century. Guided game walks offer the opportunity to experience the African bush as its inhabitants do, on foot, without the constant roar of an engine providing an unwanted aural backdrop; while canoeing on the river – past spluttering hippos, drinking elephants and a splendid array of birds – is utterly entrancing.
An energetic capital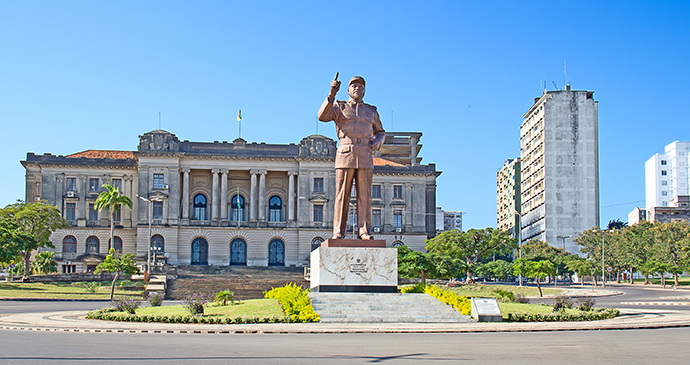 A statue of Michel Samora stands outside the City Hall in Maputo © Fedor Selivanov, Shutterstock
Maputo is the largest urban centre in Mozambique and has served as the national capital since 1898. The streets and markets are busy and energetic, and drivers tend to be courteous and somewhat less manic than in many other parts of Africa. Arrive in Maputo without prejudice and it is, quite simply, a most likeable city – as safe as any in Africa, and with a good deal more character than most. The avenidas, lined with jacaranda, flame and palm trees and numerous street cafés, have a relaxed, hassle-free, Afro-Mediterranean atmosphere that is distinctively Mozambican. They are flanked by attractive old colonial buildings in various states of renovation and disrepair which gives the impression that this is a city with not only a memorable past but also a bright future.
Lago Niassa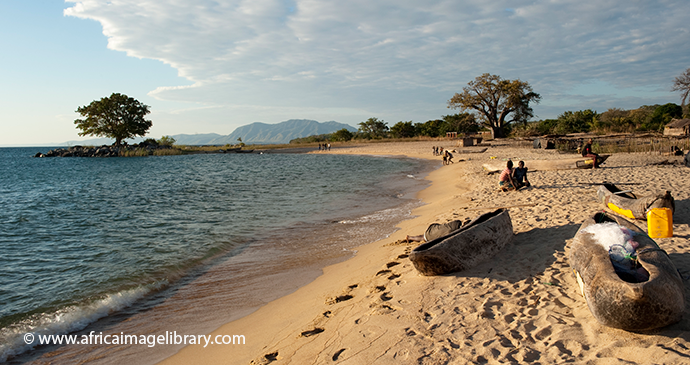 Dugout canoes on Lake Niassa's scenic beach © Ariadne Van Zandbergen
Better known to outsiders as Lake Malawi, Lago Niassa is the third-largest lake in Africa (and ninth largest in the world), running for 585km from north to south, and up to 75km wide from east to west. It is a remarkable body of water, lying at the southern end of the Rift Valley system, the immense geological scar that cuts through Africa all the way from the Red Sea to the Zambezi Valley. Up to 700m deep, it is hemmed in by the dramatic mountains of the Rift Valley escarpment, which tower more than a kilometre above its surface in places. Known for its thrillingly clear water and relatively low pollution levels, it probably harbours a greater variety of fish than any other lake in the world, including hundreds of endemic cichlid species.
---
If you would like to find out more about these activities and others in Mozambique, pick up our guide with a 10% discount: