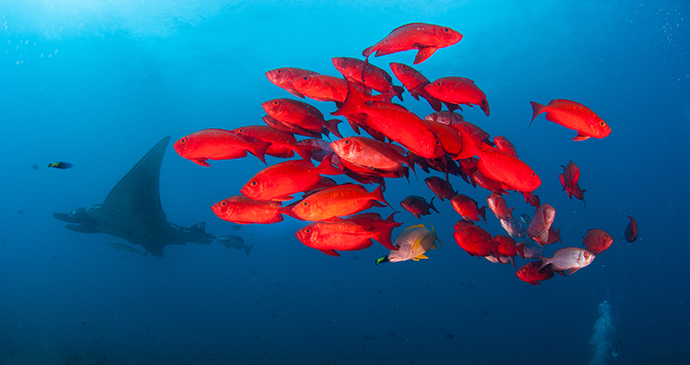 Red fish swimming in front of a manta ray: the diving and snorkelling around Inhambane is legendary © Fiona Ayerst, Shutterstock
Noted for its fine beaches, seemingly endless stands of tall coconut palms and superb marine activities, the coast around Inhambane is one of the country's most important tourist hubs, studded with dozens upon dozens of homely self-catering resorts, smarter beach lodges, busy backpackers and rustic campsites, yet facilities are sufficiently spread out that it seldom feels crowded.
The most popular resort in the region is Tofo, whose lovely beach is overlooked by a small village packed with lodges, restaurants, dive centres and other amenities catering to travellers.
More remote and unspoilt, but difficult of access without a private 4×4, are the relatively undeveloped Barra Beach and Guinjata Bay. Whichever beach you head for, however, the diving and snorkelling around Inhambane are legendary, and there is no better place anywhere for submarine encounters with manta rays and whale sharks.
Soak up Inhambane's Mediterranean atmosphere, with its blend of African, Muslim and Portuguese architecture.
The twin gateways to the region are the towns of Maxixe and Inhambane, which lie a few kilometres apart on opposite sides of Inhambane Bay, and are linked by a regular ferry service but otherwise have little in common. Where Maxixe, straddling the EN1 some 470km north of Maputo, is large, modern, functional and unmemorable, the sleepier and smaller Inhambane is undoubtedly the most architecturally characterful town in southern Mozambique, and worth more than the fleeting visit most travellers accord it en route to Tofo or the other beaches.