The eponymous capital of Inhambane Province lies on the eastern shore of Mozambique's Inhambane Bay, an attractive natural harbour formed by a deep inlet at the mouth of the small Matumba River. It is the oldest extant settlement between Maputo and Beira, and one of the more substantial, with a population estimated at 82,000 and a distinctly Mediterranean character, thanks to its spacious layout of leafy avenues lined with eye-pleasing if faded colonial buildings.
There is an abundance of NGOs operating out of town which may partly explain the good selection of eateries and other tourist amenities. This, in short, is an unusually pleasant and characterful town, and while most travellers treat Inhambane as nothing more than a passing stop en route to the nearby beaches at Tofo and Barra, it is worth an overnight stay, possibly before crossing the bay to Maxixe to catch an early morning bus north or south.
What to see and do in Inhambane
Inhambane today is anything but the bustling trade centre that it once was – it is difficult to think of a more tranquil town anywhere on the East African coast. The seafront itself is very pretty, particularly at sunset, though swimming in the murky water might not be such a great idea.
Most of the older buildings are clustered around an open square at the jetty end of Avenida da Independência, and can be visited on foot within an hour or so. It's a pleasant walk just for the sake of the architecture, a peculiar mix of classic Portuguese with African and Muslim influences. The following buildings are of special note.
Church of Our Lady of Conception
Probably the most distinctive building in Inhambane, this Catholic edifice stands on the site of an earlier wooden church shown on the original 17th-century Portuguese plan of the town. The present building was constructed between 1854 and 1870, and its striking clocktower dates to the 1930s, when the clock was donated by a wealthy local family.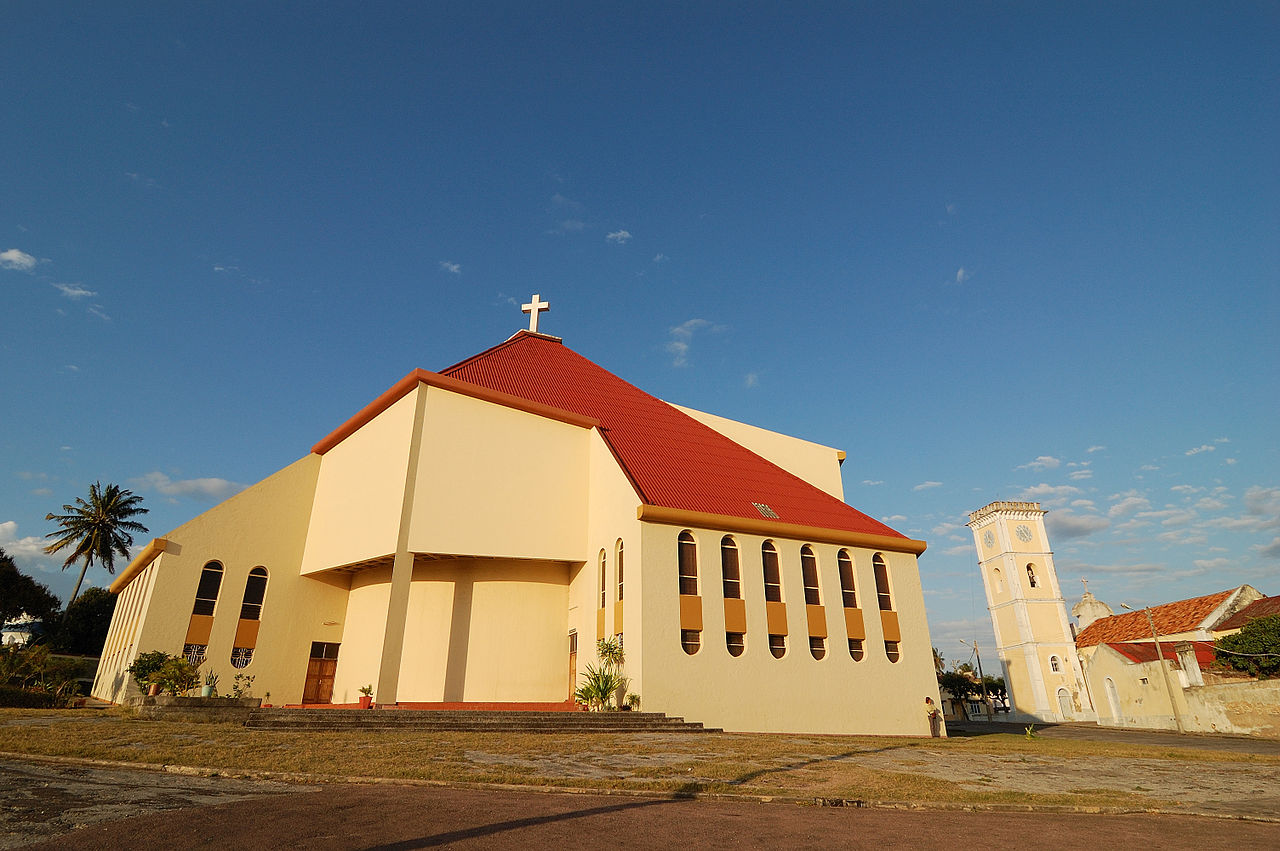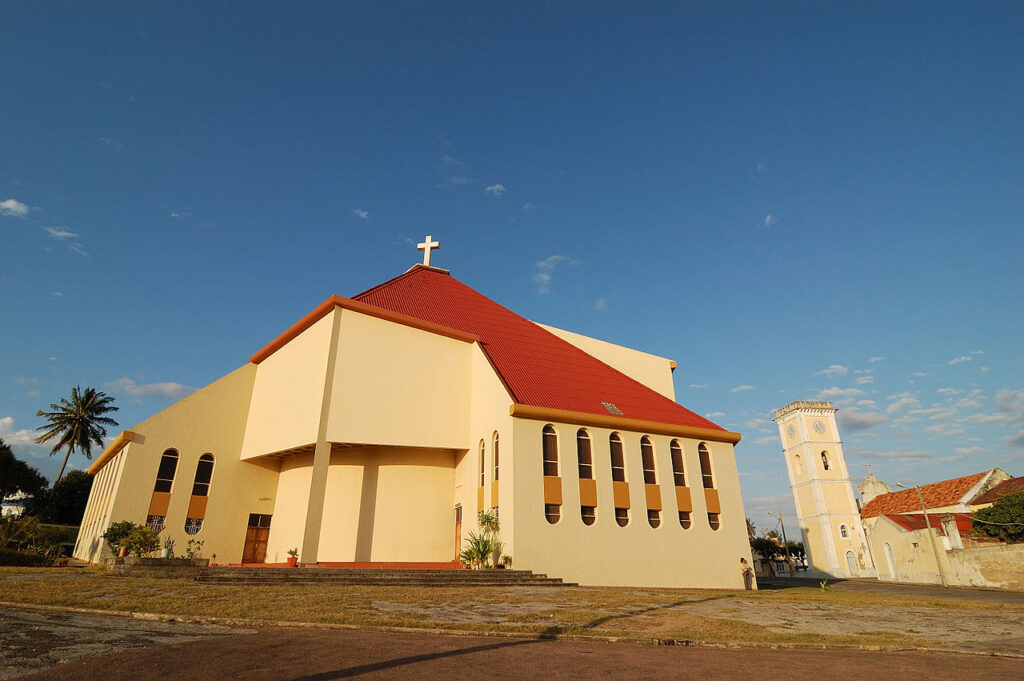 The church fell into disuse in the late 20th century, but was partially restored – apart from the collapsed roof – and now serves as a library, with a few English and other European-language books. It is the only building on one side of the street (which was surely named with deliberate irony), while the squat modern cathedral towering over it opposite is the only building on the other.
Museu de Inhambane
Though not exactly a 'must see', this moderately diverting museum, established in 1988, probably deserves 15 minutes of your time.
It houses a seemingly arbitrary selection of African musical instruments and household items, imported oddities (such as vintage radios and trunks) and displays relating to the history of the railway, as well as some photographs of the town taken in the 1920s. Some explanations are in English, but mostly in Portuguese.
Ship's Lookout Building
Situated a block up from the jetty, this was built between 1940 and 1950 in a style known as Streamline Moderne, a development from Art Deco. Its lines supposedly resemble those of a ship's prow, and it is now a general store. The Ciné-Teatro Tofo dates from the same period and is in the same style.
Old and new mosques
Situated near the corner with Rua da Mapai, the old mosque is an attractive small building, originally built between 1840 and 1860 using French brick and stone quarried near Maxixe; it was restored in 1928 and again in 1985.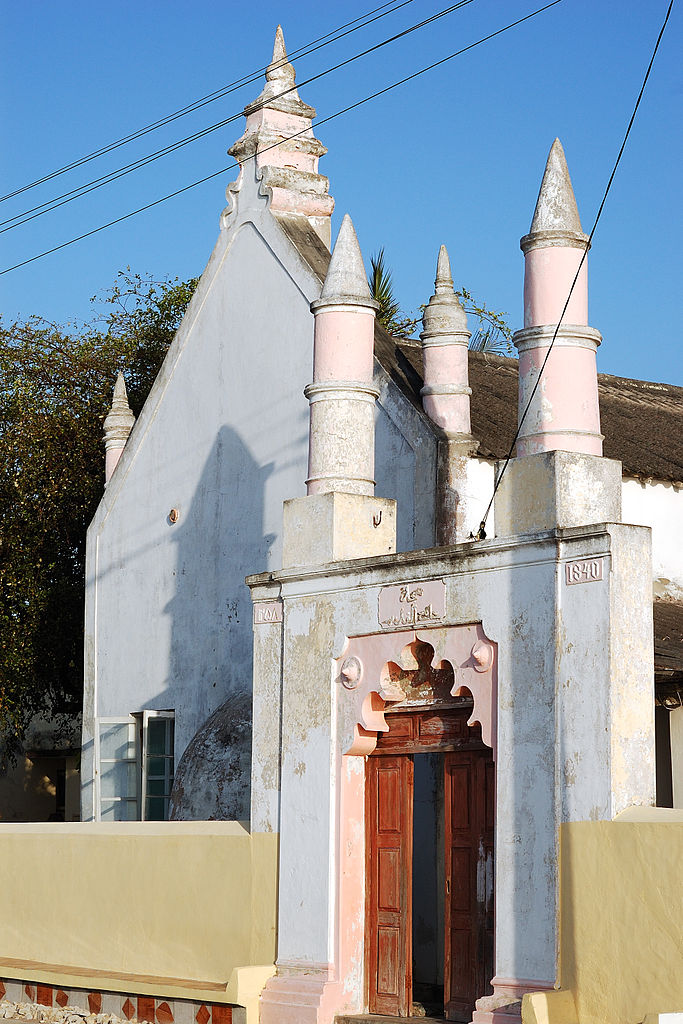 Just a short walk up the street, is the new mosque, Massdjid Nuro Muhamad, completed in 1970, also worth a look, with decorative minarets and a green-painted dome. Visitors are welcome at both mosques, provided they are dressed appropriately.
Hoffman House
With its ornate façade and wraparound balconies, this two-storey building is one of the most ostentatious in Inhambane, brightly painted in bubble-gum pink and blue.
Built in the late 19th century using stones quarried near Ilha de Moçambique, it was originally the home and shop of the merchant Oswald Hoffman and later served as a hotel, while today it's home to a printing press.
Escola 7 de Abril
Built as a school in the late 19th century (a function is still serves today), this building is notable for its classical lines and extended front archway.
The municipal office on Avenida da Independência is similar in style and vintage, as is the waterfront TDM office diagonally opposite the port.
Casa dos Arcos
Built in the late 19th century, possibly as a church or hotel, the enigmatic 'House of Arches' was extended to a second floor, reached via an internal spiral staircase, in the early 20th century and boasts several interesting classical features, including arched doors and windows, crescent-shaped nooks and stone columns.
Travel to Inhambane
Situated 470km north of Maputo and 260km past Xai-Xai, Inhambane is isolated from the rest of the Mozambican mainland by Inhambane Bay – indeed, while the town is less than 3km from Maxixe (on the opposite side of the bay) as the gull soars, the road distance between the two towns is around 60km.
The only land access to Inhambane is via a well-maintained surfaced 30km feeder road that branches northeast from the N1 at Lindela, about 30km south of Maxixe, and carries on through the town to Tofo and Barra beaches. For this reason, public transport to/from all destinations further north leaves and arrives from Maxixe, which is connected to Inhambane by regular ferries. These run from around 05.30 to 22.30, the crossing takes an extremely pleasant 20 minutes or so, and tickets (around US$0.15 one-way) are bought at a ticket window at the base of the pier.