Extending over 4,067km² at the southern end of the Rift Valley, Gorongosa National Park was Mozambique's flagship conservation area in the last years of the Portuguese colonial era, when it was widely regarded as one of the finest safari destinations anywhere in Africa, rivalling the Serengeti for its prodigious concentration of wildlife.
Gorongosa has been through some lean times since then, particularly during the post-independence civil war, but it is now well on the road to recovery and, following the welcome intervention of the Carr Foundation in 2004, there is some cause for optimism that it might yet reclaim its place as one of the region's finest wildlife destinations.
Realistically, Gorongosa has some way to go in attaining this goal. For aficionados of the Big Five, there is a sporting chance of encountering lion and elephant, which are both increasing in number and reasonably habituated to vehicles, but buffalos are scarce, leopards are predictably furtive and rhinos are – no less predictably – extinct. Still, even as things stand, Gorongosa is unquestionably the best non-marine wildlife-viewing destination in Mozambique, with the floodplains around Chitengo in particular supporting large and rapidly increasing herds of waterbuck, reedbuck, impala and other antelope.
If most safari-goers might need a little persuasion to give Gorongosa a try, birdwatchers should have no such qualms: the park's tangled bush and mesmerising waterways are literally teeming with avian activity, and there is the added bonus of potential day visits to nearby Mount Gorongosa and its eagerly sought endemic race of green-headed oriole.
Exploring Gorongosa National Park
While it used to be permissible to explore the park with your own 4×4, such access was suspended in 2015.
Instead, visitors to Montebelo Gorongosa Lodge and Safari (Chitengo Camp) can sign up for reasonably priced guided game drives for US$40/40/45 per person every morning, noon and afternoon, respectively, or full-day drives for US$110 per person. Other tours on offer include a Gorongosa Mountain and coffee project day trip, for US$120 per person, canoe safari on the Pungué River for US$50 per person (min 2 people), walking safari for US$55 per person (min 2 people), boat safari on Lake Urema for US$55 per person (min 3 people), and a community bicycle tour for US$30 per person.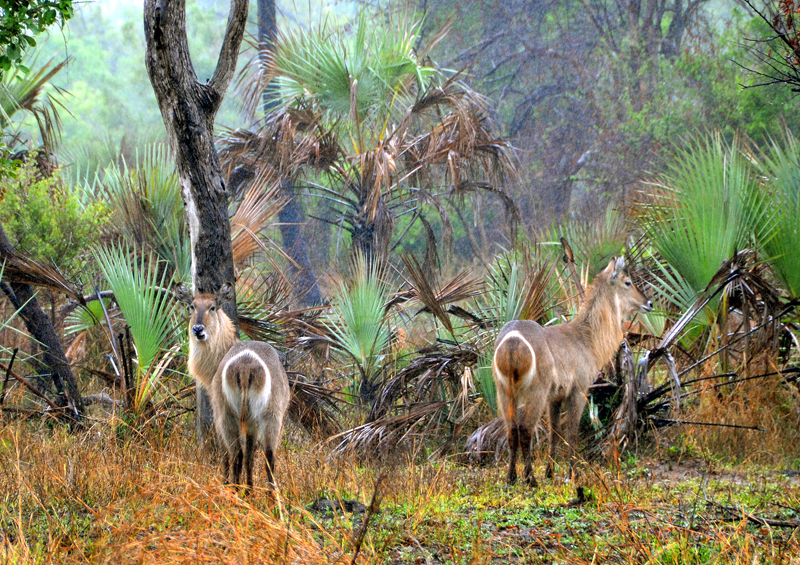 Should self-drive permission return, an excellent short drive from Chitengo follows Road 1 north to the Mussicadzi floodplain, from where you can follow Road 4 up the east side of the plain or Road 9 up the west side. While you are heading out this way, be aware that the pan alongside Road 1 between the junction with roads 2 and 3 is a favoured drinking hole for the shy but beautiful nyala and sable antelope.
On the floodplain, you'll see plenty of waterbuck, reedbuck, impala, oribi and warthog in this area, as well as a dazzling selection of waterbirds, and most likely a few troops of baboon (officially listed as yellow baboon, but some experts believe that the population here is intermediate with the Chacma baboon and may warrant a unique subspecific status).
Travel to Gorongosa National Park
Gorongosa National Park lies to the north of the N6 and the main entrance gate can be accessed by heading along the N1 north from Inchope for 40km until you reach the clearly signposted turn-off to the right. From here it is 10km to the entrance gate, where you need to stop to pick up a gate pass before driving another 18km to Chitengo, the site of the park headquarters and Montebelo Gorongosa Lodge, where the gate pass must be shown and entrance fees paid at reception.
Except after heavy rain, Chitengo can be reached in most vehicles, but take it easy on the bends – there are some very corrugated stretches. Note that while fuel may sometimes be sold to guests at Chitengo, this is not a formal service and it is best to arrive with a full tank (last fill-up points coming from north and south respectively are Vila Gorongosa and Inchope).