Let's face it, most children (and plenty of adults too) don't like geese. It all stems from those early encounters with nipping, hissing farmyard ganders. Many of us grow up believing all geese are basically evil and should be given as wide a berth as possible. But all that posturing and aggression is mainly due to the fact that domestic geese are large, clumsy birds with nowhere to hide when they feel threatened. A wild goose is completely different.
For starters, you give it space. Lots of space. Vast floodplains. Whole estuaries. There's no question of a close encounter. Wild geese are best appreciated en masse, filling an entire landscape – or skyscape – with yelping, babbling, murmuring hordes of a thousand or more birds. To witness such a spectacle, however, you need to know how to plan a proper wild goose chase.
Timing is everything. During summer, the geese nest in the Arctic. It's only when they've raised their goslings on the tundra and the brief window of a polar summer begins to close that they fly south. Several species migrate to Britain, bolstering resident populations of greylag and Canada geese, plus a small breeding contingent of barnacle geese.
The numbers are extraordinary. Well over half a million migrant geese hunker down on our mudflats and marshes each winter, including 91,000 'barnies', 102,000 brents, 88,000 greylags, over 500,000 pink-foots and 13,000 white-fronts.
Greenland, Svalbard and Iceland must seem very quiet when they've gone. It's only when you hear a superflock of geese flying from their winter roosts out on the saltmarshes of the Solway Firth to grazing pastures further inland that you fully appreciate the scale of these goosey gatherings: the soft thudding of their wings, the honking hubbub. So, woolly hats and gloves on, binoculars at the ready – let the wild goose chase begin.
Coast with the most
Drive just 13km south of Dumfries along the A725 and you reach goose heaven at Caerlaverock National Nature Reserve. Stretching 16km along the northern shore of the Solway Firth, this soggy mishmash of mudflats, sandbanks and saltmarsh is the winter refuge for the entire Svalbard population of 33,000 barnacle geese.
As you weave through narrow lanes on your way to the small car park at Hollands Farm (DG1 4RS), take a peak through gateways to see if you can spot any geese in the fields beyond. Barnies are grazing birds, moving between estuary and pasture to roost and feed.
At Hollands, put your wellies on and walk south along a hedgerow-lined track. You may see winter thrushes like fieldfare and redwing feeding on hawthorn berries, but soon the path opens out into the big-sky country of the Solway Firth. A boardwalk burrows into a dense swathe of reedbed. Pause for a moment to check for hen harriers wafting over the feathery seedheads, then set off through the rattling stems.
Soon, you'll reach the edge of the vast, open saltmarsh (known as merse). There's a hide here if you need to shelter from the keen wind; otherwise simply pan your binoculars across the saltmarsh, looking for the distinctive piebald heads of barnacle geese. At any moment, a flock may take flight, but dawn and dusk are the best times to witness long skeins of geese etched across the sky.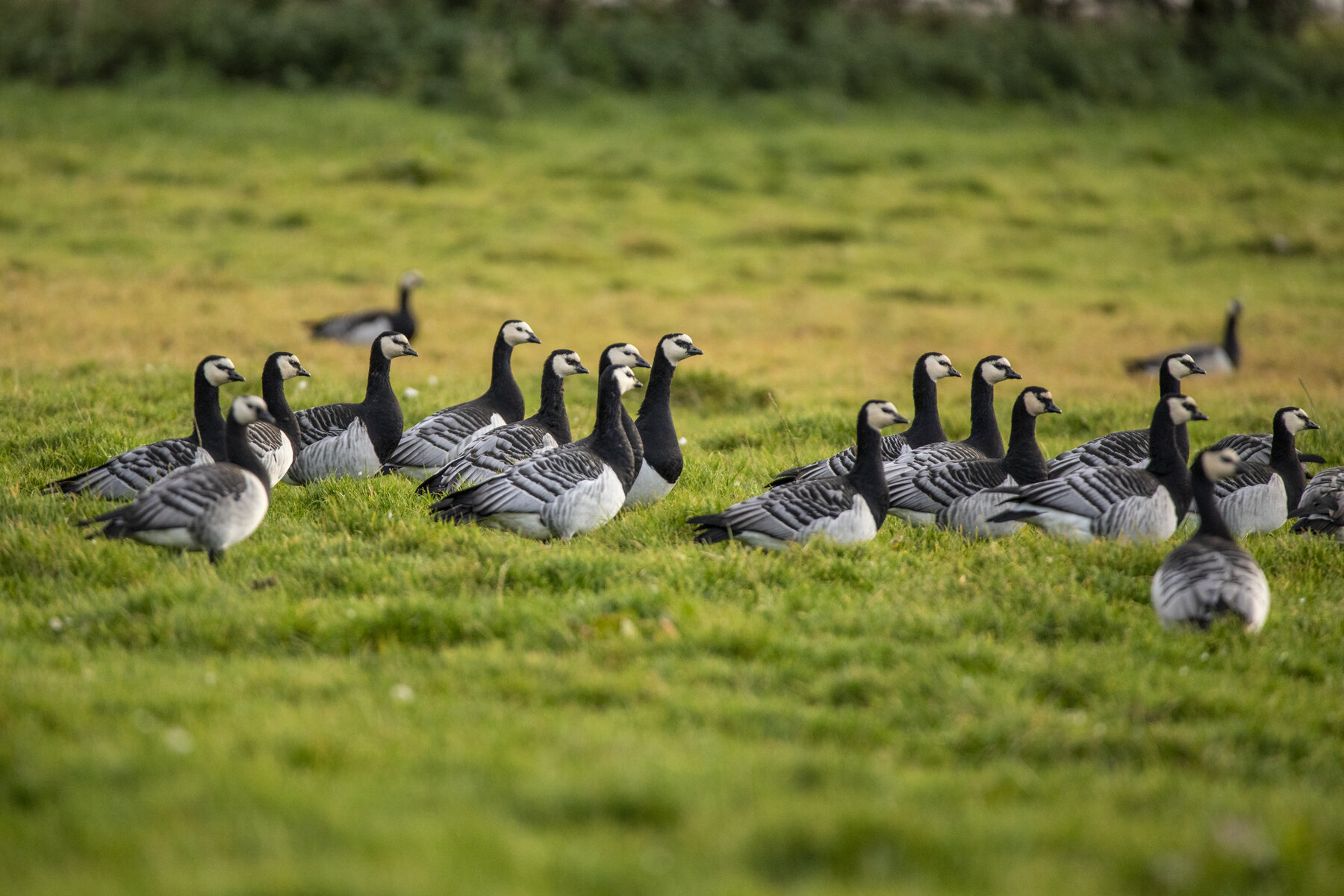 After walking back through the reedbed, turn right and follow a footpath that skirts (often waterlogged) fields to reach the Caerlaverock Wetland Centre. As well as warming up in the café, you can find out more about the 3,200km migration of the Svalbard barnies. They're joined here by up to 200 whooper swans that have migrated 1,300km from Iceland, travelling in family groups with up to six cygnets. Wardens feed them daily at 2pm at the Whooper Pond outside the Sir Peter Scott Observatory, pointing out other winter visitors, like pink-footed geese.
If you time your visit to coincide with high tide, be sure to also visit the wetland centre's Saltcot Merse Observatory, which offers superb views over the saltmarshes to the Solway Firth and Lake District fells beyond. Thousands of waders are forced off the mudflats by the rising waters – a feathery furore that doesn't go unnoticed by predators like the peregrine falcon.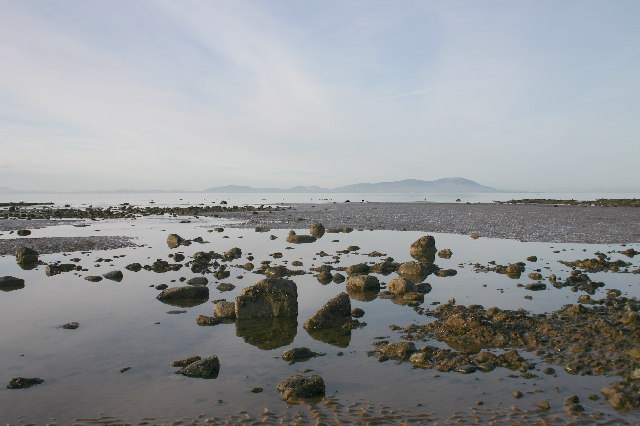 After leaving the wetland centre, follow the road back to Hollands Farm, checking the fields for barnies as you go. It's a 40-minute drive, via Dumfries, to reach RSPB Mersehead Reserve – the next stop on your wild goose chase. Like Caerlaverock, it provides ideal feeding and roosting grounds for migrant geese.
As well as a visitor centre and hides, the reserve has two trails – one leading through wetlands and fields (carefully managed to provide winter stubble for finches, larks and sparrows); the other tracing the coast, where you could see raft s of sea duck, like scaup and scoter.
Don't want your wild goose chase to end? Head over to the Cumbrian side of the Solway Firth where the Solway Coast AONB includes the RSPB Campfield Reserve and a discovery centre at Silloth.
More adventure
Don't worry if the Solway Firth is too far-flung for your wild goose chase – the autumn exodus from the Arctic scatters wildfowl right across Britain. At Holkham National Nature Reserve, 3km west of Wells-next-the-Sea, Norfolk, up to 40,000 pink-footed geese, 4,000 brent geese and 13,000 wigeon gather each winter. In Gloucestershire, Slimbridge Wetland Centre attracts 30,000 overwintering wildfowl, including large numbers of white-fronted geese and Bewick's swans.
As well as Mersehead and Campfield on the Solway Firth, other RSPB reserves renowned for large winter flocks of geese include Berney Marshes, Snettisham and Titchwell Marsh in Norfolk. Or you could head north of the Solway Firth to RSPB Scotland reserves such as Insh Marshes and Vane Farm – or try Islay for a Hebridean island adventure in search of barnacle geese. Also in Scotland, Montrose Basin reserve can see over 80,000 pink-footed geese on the Esk Estuary.
Practicalities
Dumfries is the gateway town to the north shore of the Solway Firth, with both the B724 and B725 providing access to the Caerlaverock National Nature Reserve. Parking is available at either Castle Corner or Hollands Farm. The two sites are linked by the Merse March and Reedbed Ramble footpaths (about 3km one-way). Alternatively, park at the WWT's Caerlaverock Wetland Centre.
To reach the RSPB Mersehead Reserve, take the A710 from Dumfries through the villages of New Abbey, Kirkbean, Prestonmill and Mainsriddle. The reserve is signposted just before the village of Caulkerbush. Remember to dress warmly and take wellies with you. There are cafés and toilets at the wetland centre and RSPB reserve. Dumfries has plenty of accommodation, or you could stay at Caerlaverock Farmhouse right in the heart of the WWT reserve. Ideal for families, the five-bedroom property has its own observation tower from where you can spy on geese and swans in the ponds below.
---
More information
For more information, check out William Gray's guide: