Between Zodiac sea crossings, dog-sledding adventures and tranquil polar nights gazing out towards nature's end, exploring this remote archipelago will never fail to enchant you. Here are seven exciting things to do on in Svalbard.
Spot Arctic wildlife
Svalbard is a land where polar bears outnumber people. Protected since 1973, there are now an estimated 3,000 of them in the area of Svalbard and Franz Josef Land, which together share the same polar bear sub-population. They are generally solitary animals but can gather during the breeding season, or when they pick up the scent of something as tempting as a rotting stranded whale. Other mammals that can be found include pinnipeds – walruses, seals and the like – and whales.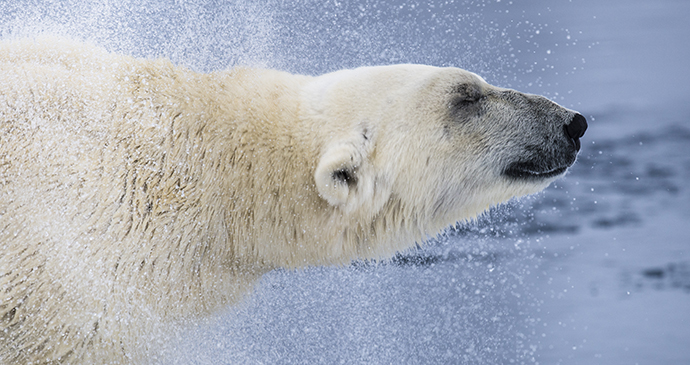 There are more polar bears than people in Svalbard © Roy Mangersnes, www.nordnorge.com
For ornithologists and birders, the archipelago remains of great interest. There are few breeding grounds easily accessible from Longyearbyen – something of a blessing for the birds, perhaps. Although the number of species is modest (around 130 observable species have been recorded), the number of individuals within some species is high (there are over a million little auk), leading to a relatively inflexible and fragile ecosystem.
Step back in time at a Soviet-era mining town
The towns of Pyramiden and Barentsburg, once mining towns, are fascinating places in which to get a sense of Svalbard's Soviet past. After the collapse of the Soviet Union in 1991, the remote Russian settlements in Svalbard fell on hard times as supplies became irregular and unreliable. Shortages were clear to see: the range of food available dwindled and supplies were often past their best even before they arrived, fuel was in short supply and the mines couldn't afford much-needed spare parts.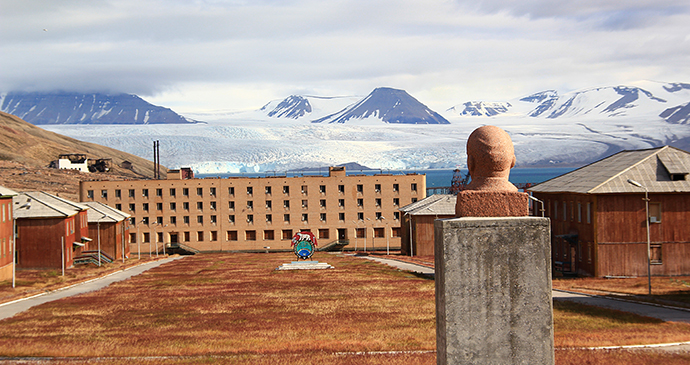 Pyramiden, once a mining settlement, is now a ghost town © Marcela Cardenas, www.nordnorge.com
The enduring lack of supplies for the mines took its toll: improvisation, including the use of a cheaper but less safe type of explosives, caused a devastating coal dust and methane explosion in the Barentsburg mine in 1997, killing some 20 workers and setting parts of the mine ablaze, while the violent pressure wave ruined installations in the mine tunnels over a wide area.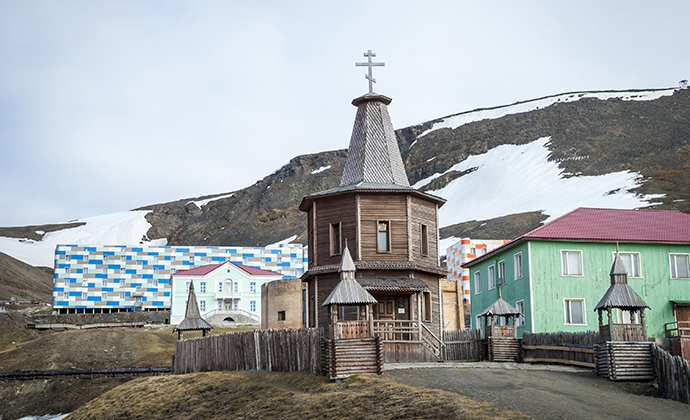 An Orthodox chapel in Barentsburg commemorates the mine catastrophe © Ana Flasker, Shutterstock
Today, in Barentsburg, Eastern Bloc architecture is still present, with several hundred inhabitants living in a single communal concrete block of flats, built in the Khrushchyovka style. Modern renovations are beginning to take place, however, with the most recent being a full facelift of the Barentsburg Hotel, hospital, mining administration buildings, many housing buildings and the sport and cultural building. Visitors can reach Pyramiden by taking a full day's snowmobile journey from Longyearbyen where a ghost town, completely abandoned during wintertime since 1998, awaits them.
Visit the most northerly capital in the world
The northernmost settlement of the world, with normal family life year-round and a wide range of facilities, is Longyearbyen on Spitsbergen with around 2,100 inhabitants. Accordingly, Svalbard can also claim the northernmost hotel, newspaper, post office, swimming pool, regular civilian airport, full-service campsite, locomotive, cable car, kebab shop – you get the picture.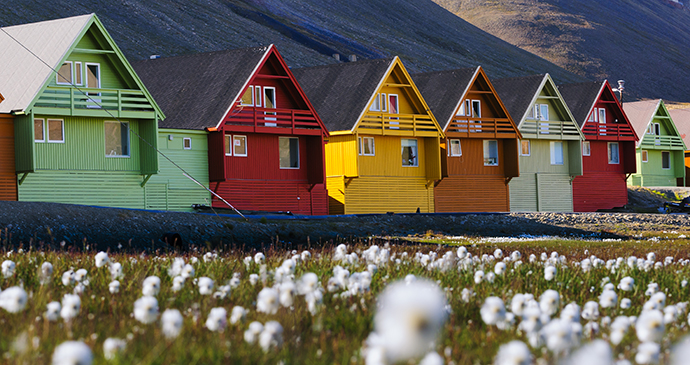 Longyearbyen is the world's most northerly capital © DonLand, Shutterstock
While the impressive range of facilities here might surprise, it should be kept in mind that anything lacking in Longyearbyen is just an 1½ hours' flight away on the mainland; supplies and assistance from a neighbouring community are readily available if needed.
Admire picture-perfect glaciers
Around 60% of Svalbard today is covered by ice, though this varies throughout the year. One of the most beautiful glaciers found here is Magdalenefjord – a popular stop for cruise ships and the most photographed of Svalbard's landmarks. It has a definitive alpine feel, with steep sides and a glacier sliding into the sea.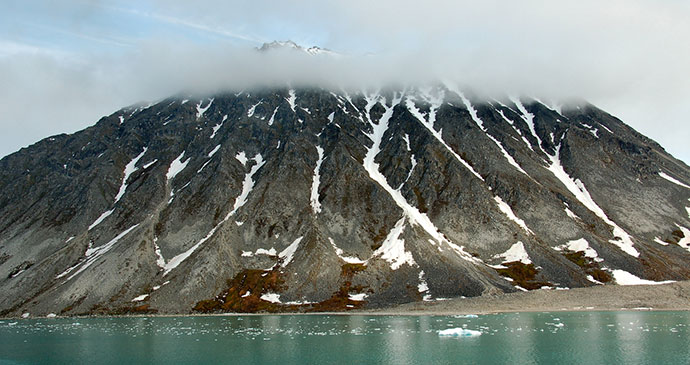 Magdalenefjord is Svalbard's most photographed landmark © James Stringer, Flickr
Hornsund, where numerous glaciers terminate into the fjord's several side arms, is also a highlight. Experienced alpinists who wish to ski over the glaciers should visit from April to mid-June, when most crevasses are still full of snow and the melts have not yet fully started.
Travel by dog sled or snowmobile
There are a number of ways to travel round Svalbard that may appeal to the adventurous. The dog sledging season runs from the end of February to well into May. Tours allow visitors get the feeling of driving a sledge, with some programmes offering sledging between cabins. However, as a means of transport, snowmobiles are hard to match – with a dog sled you may need two days for the distance you can cover by snowmobile in just an hour.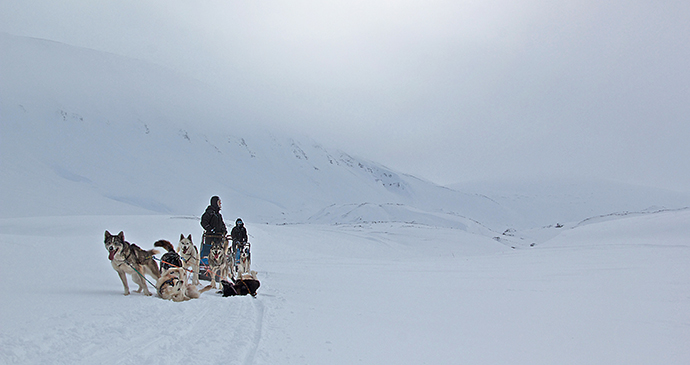 Dog sledging season runs from February until May © Marcela Cardenas, www.nordnorge.com
The best season for snowmobiles is usually April – before this time, it may be very cold and snow and ice cover may still be poor, while from early May onwards the risk of serious snowmelt increases considerably.
Explore the remote archipelago of Franz Josef Land
Taking an organised tour to Franz Josef Land has a touch of the pioneer spirit about it – especially as the archipelago was closed to visitors for roughly 60 years. There are places here where no man has ever set foot, even to this day. It is probably one of the best places for seeing big mammals – polar bear, walruses and also some whale species. As for the landscape, this is a place for minimalists, being mostly dominated by ice on land and sea. Icebergs are bigger here on average than in Svalbard.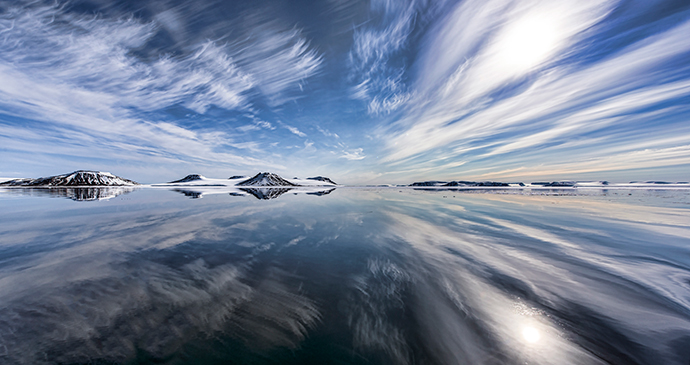 There are areas of Franz Josef Land where no man has ever set foot © Christopher Michel, Wikimedia Commons
Where land is free of ice, it often forms stark contrasts – with some spectacular rock faces and natural rock sculptures, and with surprising demonstrations of how life can adapt to these harsh conditions, including some astonishingly vivid colours displayed by some of the flowers and lichens. For enthusiasts of polar history, Franz Josef Land is a must due to the well-preserved remains from the pioneer days of Jackson, Nansen, Wellman, the Duke of Abruzzi, Ziegler, Sedov, and so on.
Experience the polar night
Technically, the polar night begins in Longyearbyen in late October and lasts until the second part of February. However, the polar nights that feel the most special – when it is true night all around the clock, a phenomenon that only occurs this far north – can be experienced from mid-December to the beginning of January. This is quite a contrast to northern Scandinavia, where although the sun may not technically rise for days or even weeks at a time, there is still always some light at midday, even around 21 December.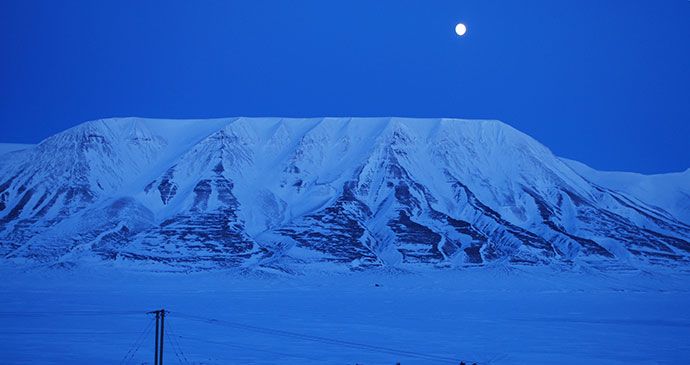 The polar night can be a special experience © PaterMcFly, Wikimedia Commons
For 24 hours of true night, you have to travel as far north as Svalbard; you may even be lucky enough to see the northern lights in the middle of the day since it is sufficiently dark. With a clear sky though, even the stars can provide enough light in this clean air for easy hikes over the snow-covered tundra – it is quite surprising what can be seen at night, once one's eyes have adapted to it. The moon, too, can be rather special – if it is close to full, it stays above the horizon most of the day and casts a magic and surprisingly strong white light on everything.
---
More information
For more information, see our guide to Svalbard: