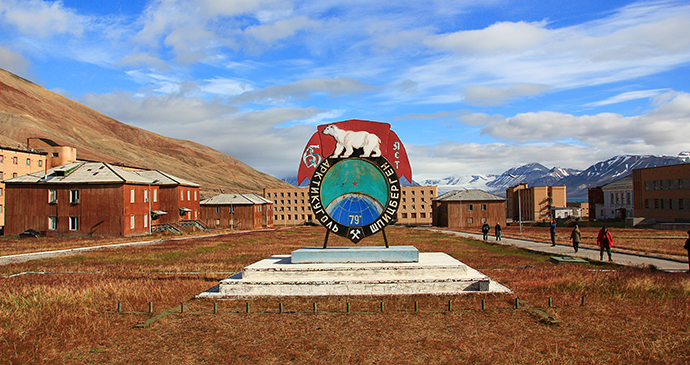 The second Russian mining settlement, Pyramiden, is now an abandoned ghost town © Marcela Cardenas, www.nordnorge.com
Make the full day's snowmobile journey from Longyearbyen to this Russian mining ghost town.
During the 1990s, a modest tourist industry began to develop in Pyramiden, receiving day visitors from Longyearbyen. The hotel was reopened for the summer seasons of 1999 and 2000 on a provisional basis since, by then, the water and heating systems had already been destroyed by winter frost. However, with few long-term prospects and the necessary marketing efforts, the Russian mining company failed to make a go of tourism.
During wintertime, Pyramiden has been completely abandoned since 1998, while in summer, a small team of Trust Arktikugol staff is based here – originally funded by the Russian state to clean up the area, but in reality they simply removed any equipment that could be reused in Barentsburg and collected scrap metal that was then sold by the Arktikugol management to Western buyers. Little maintenance has been done by Trust Arktikugol. Instead, damage has been caused by using explosives for dismantling metal structures as quickly as possible, which at the same time shattered nearby windows. Perhaps even more worrying is the neglect of the protective gravel walls, which guide floodwater around Pyramiden, since the settlement is built within the delta of several streams, which are prone to violent flooding during the period of snowmelt. Today, these walls have been all but washed away and floods have already started to destroy the settlement. Although Russia has rediscovered the value of its strategic outposts in the High Arctic, Arktikugol management has shown little real interest in conserving the original settlement, preferring instead to find a new Pyramiden, inclusive of attractive subsidies.
Renewed activity in the area is certainly possible, not least given the Russian oil industry's plans to explore and possibly exploit the oil and gas deposits discovered just 10km from Pyramiden across the fjord. Another option would be the albeit ambitious idea of transforming Pyramiden into a base for international research and ecotourism. There have been some half-hearted attempts over the past few years to jumpstart tourism to Pyramiden, which is certainly a step in the right direction.