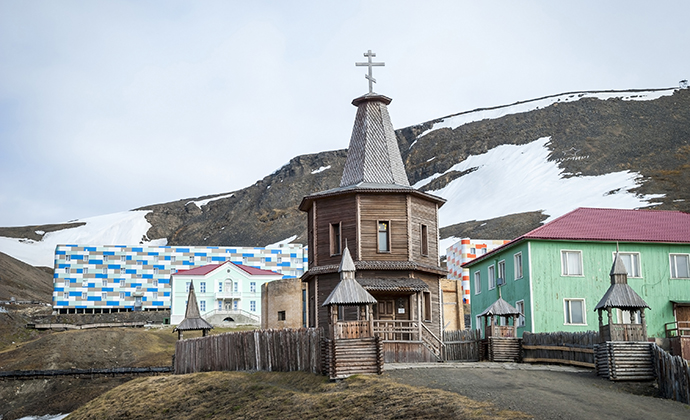 The traditional wooden Orthodox church is a feature of Russian Barentsburg © Ana Flasker, Shutterstock
This flatlining Russian coal-mining township beckons with Soviet-era charm and camaraderie in contrast to its colourful modern renovations.
Since 2000, Russia has refocused its interest on the Arctic and its strategic value. Subsidies for Trust Arktikugol have increased (though efficiency has not), though sadly the standard of living in Barentsburg still remains lower than in Soviet times, despite considerable donations of clothes, old computers, and so on by the Norwegians. At least the kindergarten and the primary school have been reopened, though in a very improvised way. Russian research is on the increase and plans were underway to establish a new mine at Colesbukta. Russia bullied Norway over laws that normally require detailed documentation on effects on the environment. The new mine was intended to be connected by road to Barentsburg and to replace the current Barentsburg mine, which was limited in its reserves and geologically difficult. Because Barentsburg's stocks were so depleted and the last mine still in operation had run into recent geological difficulties, a new mine was appealing. However, in 2014 these plans were cancelled and it looks like the new mine will not go ahead.
The Rusanov Memorial Hut on Rusanovodden, Colesbukta, is also worthy of mention. Rusanov's Svalbard travels, before World War I, were the precursors to Russian settlement and mining in the area. Unfortunately, written information is in Russian only.
Changes in Russia's presence in Svalbard take time – not least because rival interests are competing for the lucrative funds granted by Moscow. In the meantime, Barentsburg and especially Pyramiden continue to decline, only increasing future renovation costs. With sufficient investment in infrastructure and proper management, Barentsburg could be the site of Svalbard's most attractive port as an additional source of income, due to its proximity to the open sea and low amount of winter drift ice, making it a suitable place for a service port for fishing and other marine activities in the area. With the new road to Colesbukta, it would also be possible to extend this to Longyearbyen and thus to the island's main airport. However, such an ambitious project seems rather remote when one looks at the decaying Barentsburg of today.
Barentsburg received a heavy dose of Eastern Bloc architectural realism during its initial construction. The several hundred inhabitants live in a single communal concrete block of flats, built in the Khrushchyovka style, a rather unappealing design that represented an early attempt at industrialised and prefabricated building, with elements (or panels) made at concrete plants and trucked to sites as needed. The structures were originally considered to be temporary housing until the Soviet housing shortage could be alleviated by mature Communism, though in Barentsburg these were given rounded edges to lessen the impact of the bitter winter wind and a large central mosaic depicting the Svalbard landscape populated by heroes of Norse legends. Barentsburg's most recent visible renovation is a full facelift of the Barentsburg Hotel, hospital, mining administration buildings, many housing buildings and the sport and cultural building. The colourful tiled façades give the place more of a contemporary pre-fab look and feel – a rather out-of-place aesthetic that feels half-IKEA kitchen unit, half-1960s space station. Slowly, the settlement seems to be losing the dilapidated Soviet charm that once lent it an exotic edge.