Written by Bradt Travel Guides
The largest African carnivore and undisputed number one land predator, the lion is the one animal that everybody wants to see on safari. It is the most sociable of the large cats, living in loosely structured prides of typically five to 15 animals. Lions are not very active by day, they are most often seen lying in the shade looking the picture of regal indolence. They normally hunt at night, and their favoured prey consists of buffalo and medium-to-large antelope such as Uganda kob.
If you're keen to see the king of the cats, here's where you should be heading:
Tanzania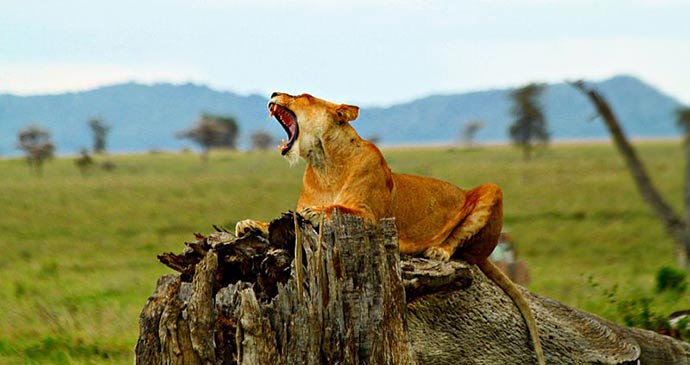 Serengeti National Park is Tanzania's oldest, largest and most famous © SajjadF, Wikimedia Commons
Tanzania is Africa's ultimate safari destination. An estimated 14,000–15,000 lions still roam the country, a figure four-times greater than that of the nearest contender (South Africa with around 3,500), and the Serengeti is undoubtedly the best place in the world for lion sightings. However, the Ngorongoro Conservation Area reputedly supports the densest concentration of predators in Africa. The resident lion population has fluctuated greatly ever since records were maintained, partly as a result of migration in and out of the crater, but primarily because of the vulnerability of the concentrated and rather closed population to epidemics. The crater's lions might be encountered just about anywhere, and are generally very relaxed around vehicles.
Kenya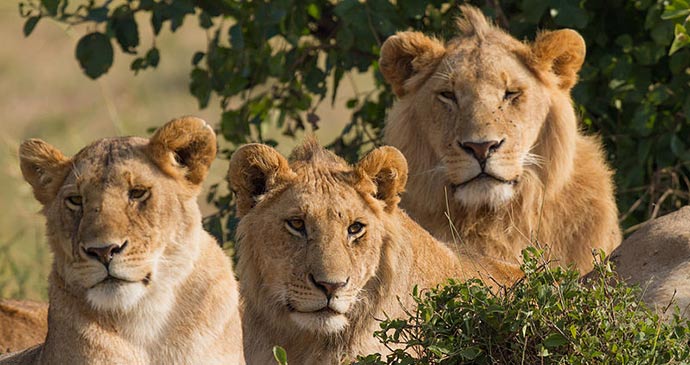 Kenya is undoubtedly one of the world's finest wildlife destinations © Benh LIEU SONG, Wikimedia Commons
Lions are common in several Kenyan reserves, nowhere more so than the Masai Mara. An estimated 250–300 lions have territories within the reserve's boundaries, one of the highest population densities anywhere in Africa, and good sightings are practically guaranteed, with a high chance of encountering prides comprising a dozen or more individuals on a kill. A word of warning, though: the Masai Mara has a reputation for being too touristy and overcrowded, and it's certainly not unusual to find yourself jogging for space with half a dozen other vehicles circling a lion pride.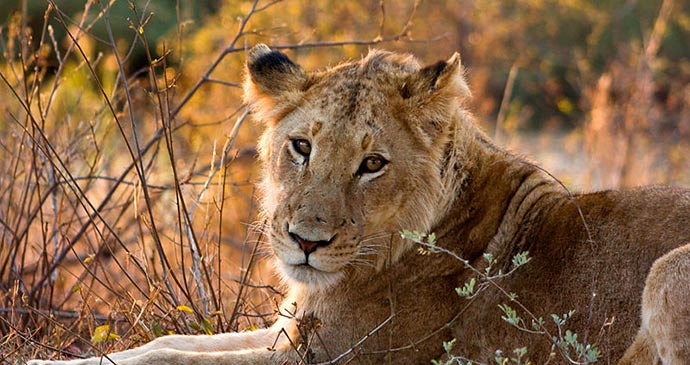 South Africa is among the last places in Africa where a two- to three-night stay comes with a near guarantee of ticking off all the so-called Big Five © freestock.ca/Wikimedia Commons
The main attraction of Kruger is of course its abundant wildlife, which includes significant populations of all the members of the eagerly sought Big Five, and it has southern Africa's largest lion population, hosting an estimated 1,500 to 2,000 predators. The Central Kruger is the best part of the park for lion kills, which also often attract jackals and hyenas, and the open habitat is ideal for cheetah that can be seen within a 10km radius of camp.
Uganda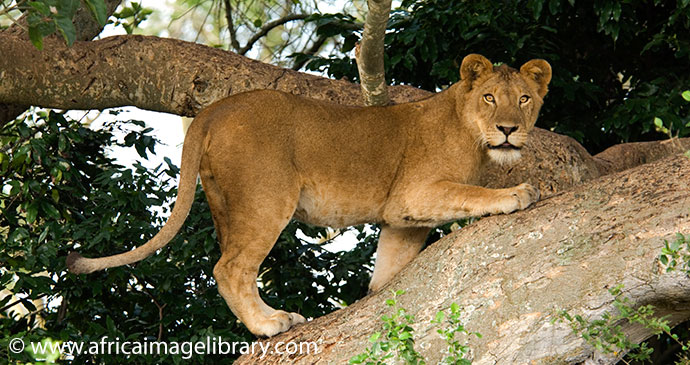 Head to Uganda for a chance to catch a glimpse of tree-climbing lions on the open Ishasha plains © Ariadne Van Zandbergen, Africa Image Library
Ishasha ranks among the most alluring game-viewing areas anywhere in Uganda. It supports a population of tree-climbing lions that comprised around 40 individuals a while back, but is said to have halved in number in recent years. Around 20 specific individual trees are favoured, which makes it quite easy to locate the lions when they are up in the canopy. The behaviour might be observed throughout the year but it is most frequent during the rainy seasons. Lions are most likely to be seen in arboreal action in the heat of the day, descending back to the ground well before dusk.
Namibia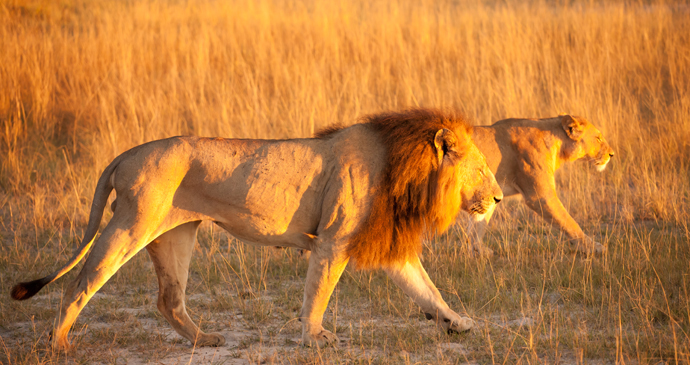 Etosha excels during the dry season when huge herds of animals can be seen amidst some of the most startling and photogenic scenery in Africa © nicolas poizot, Shutterstock
Etosha National Park, Namibia's best-known nature reserve, dominates this region and centres upon the huge 6,000km2 Etosha Pan – a blinding white expanse of dry clay. Most of southern Africa's large mammals occur here, and lions are no exception, who tend to pray on the vast herds of zebra and wildebeest found in the park.
Zambia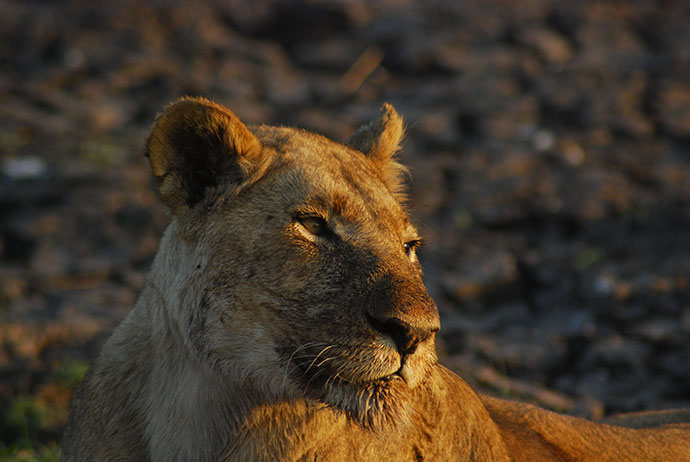 The Kafue National Park is one of the world's largest national parks, covering some 22,400km² © Tricia Hayne
Lions occur throughout Zambia, and are very common in the larger parks with better game densities- Luangwa (North and South), Kafue and lower Zambezi. Lions are relatively widespread in Kafue National Park, but the larger males are increasingly uncommon, with inevitable consequences for numbers as a whole. On the Busanga Plains, prides – including the so-called Busanga pride, notable for climbing trees – stalk through nervous herds of puku and lechwe nightly, using the natural drainage ditches for cover with deadly efficiency.
Rwanda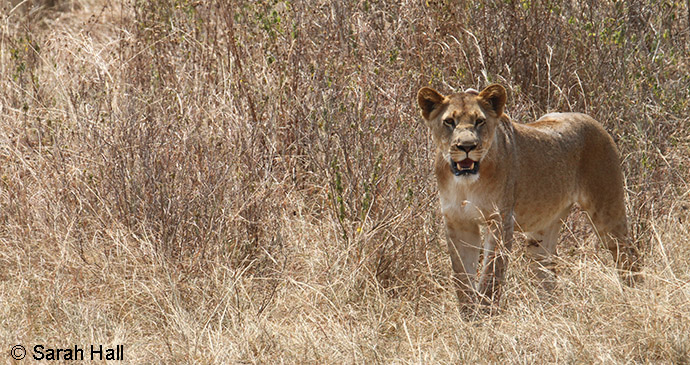 The Akagera National Park is Rwanda's only savannah reserve © Sarah Hall, Akagera National Park
Rwanda is a country often associated with gorillas, but in Akagera National Park, its counterpart to the famous savannah reserves of Kenya, Tanzania and the like, there's plenty of big game-viewing opportunities. For the best part of two decades, lion sightings here had been little more than the stuff of rumour, but with the June 2015 reintroduction of seven lions (two males and five females) flown in from reserves in South Africa, Akagera is once again home to the most charismatic member of the Big Five. Two more males were brought in in 2017, and signs indicate that they're all settling in nicely – nearly a dozen cubs have been born here since the reintroductions began.
---
Get 10% off all our titles, all the time: