Hemmed in by the swooning Indian Ocean beaches of the Swahili Coast, overlooked by the sensational snow-capped peaks of Mount Kenya and Kilimanjaro, and scarred by the mile-deep continental schism that is the Great Rift Valley, this is a land of exceptional scenic variety and beauty.
Kenya is one of Africa's main tourist destinations offering stunning landscapes and prolific wildlife. The game reserves are Kenya's biggest draw: the Masai Mara is the place where the world's greatest wildlife spectacle unfolds annually as millions of wildebeest cross the Mara River from Tanzania's Serengeti plains, while Lake Nakuru is seasonally fringed bright pink when up to two million flamingos flock around its shallow waters.
The desert reserve of Samburu is the place to see 'unusual' desert-adapted wildlife such as Grevy's zebra, the boldly marked reticulated giraffe and the long-necked gerenuk antelope. The scenery is ever-changing and ranges from idyllic palm-fringed beaches to lush jungles and stark deserts to the snowcapped peaks of Mount Kenya and Kilimanjaro.
Although the natural history of Kenya is out of this world, it is the Kenyan people that will pull visitors back over and over again. The cultural melting pot that makes up Kenya's citizens includes proud traditional pastoralists such as the Masai and lesser known Samburu as well as the ancient Islamic culture of the Swahili people, who have inhabited the coastal regions of east Africa since ancient trading times.
When to visit Kenya
Kenya can be visited at any time of the year, but several factors might influence the timing of a holiday, depending to some extent on your interests and preferences. An equatorial location means that Kenya doesn't experience the seasonal extremes associated with higher latitudes, and temperatures tend to be influenced as much by altitude as by time of year. That said, the few degrees difference that separates the hottest months of December to March from the coolest months of May to August make a tangible difference to comfort levels along the coast, and most people will find the cooler weather more tolerable. Unlike temperatures, precipitation in Kenya tends to be highly seasonal: approximately two-thirds of the annual rainfall comes during the long rains (late February to early June, peaking in April), which is a poor time to be at the coast or hiking on Mount Kenya, and there's usually also quite a bit of rainfall during the short rains (October and November). Other months are generally dry.
For most visitors, Kenya's main attraction is its wildlife, and here several seasonal factors come into play. In pure game-viewing terms, the main dry season, starting in late June, is the best time to be on safari. This is when the wildebeest migration is centred on the Masai Mara, usually crossing from the Serengeti in late July or August, and spending the next three months grazing the plains bare before they return southward in October. In other reserves, August to October is the toughest time of year for most large mammals, but it offers the best conditions for wildlife, as thirsty animals concentrate at lakes and other perennial sources of drinking water, most noticeably in Amboseli and Samburu-Buffalo Springs. However, the best game-viewing seasons are also the peak tourist seasons, so those seeking a more tranquil safari might prefer to visit at another time of year. For birdwatchers, the avian activity peaks during the northern winter (October–May), when many resident species shed their drab eclipse plumage to emerge in full breeding colours, and more than 100 species of Palaearctic migrant are present.   
What to see and do in Kenya
Big Five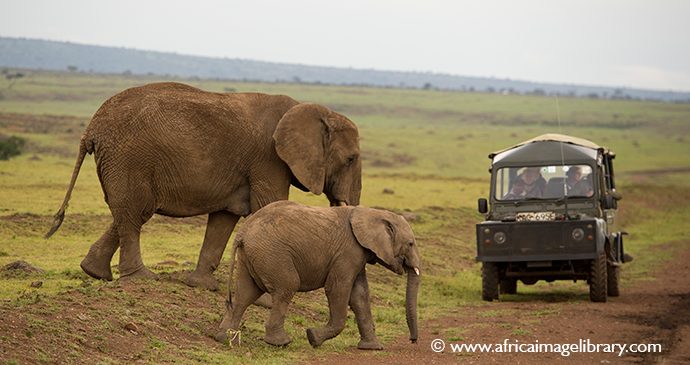 Specialised tour operators or travel agents will be able to put together a safari package to meet your requirements. SafariBookings is a good place to start if you want to view and compare Kenya safari holidays. This website offers an online marketplace for safari packages offered by both local and international companies. 
Aberdares/Mount Kenya National Park
A trio of 'tree hotels' where you can watch elephant and rhino at close quarters, alongside monkeys, giant forest hog and other forest creatures.
Amboseli National Park
The best elephant viewing in Kenya, with Kilimanjaro providing a majestic backdrop. Plenty of other mammals and birds, too.
Masai Mara National Reserve
This Kenyan extension of the Serengeti offers superlative big cat viewing and hosts the wildebeest migration from August to October. SafariBookings also offers a directory of Masai Mara safari holidays. 
Coast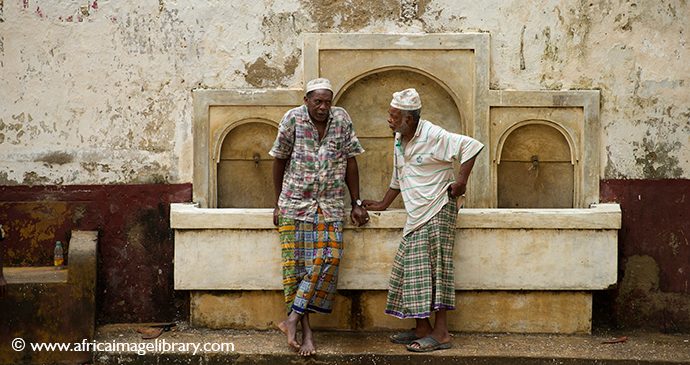 Lamu
The most profoundly traditional Swahili town on the East African coast seduces most visitors, and is ideal for travellers seeking a holistic cultural experience rather than a beach resort.
Mombasa
The largest coastal port in Kenya is the site of historic Fort Jesus and the gateway to superb and uncomplicated beach holiday destinations such as Diani, Nyali and Bamburi.
Watamu
This scenic resort overlooks superb coral gardens and is close to the jungle-clad Gedi Ruins and endemic-rich Arabuko-Sokoke Forest. Perfect for nature-lovers who want to combine beachfront hedonism with snorkelling, diving and/or forest walks.
Other wildlife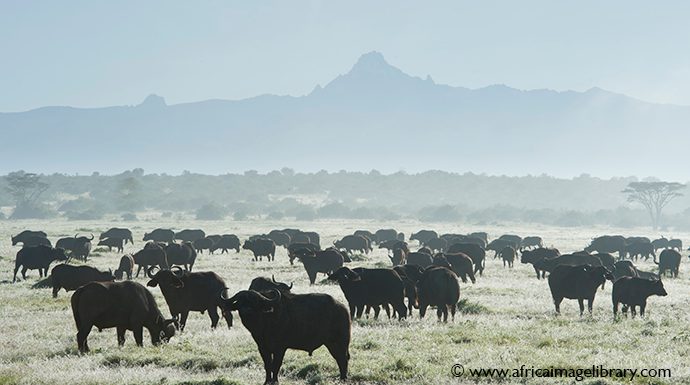 Laikipia Plateau
This vast network of contiguous private reserves north of Mount Kenya is studded with small exclusive lodges and supports a wealth of wildlife including the country's largest populations of black rhino, Grevy's zebra and African wild dog.
Samburu-Buffalo Springs National Reserves
Excellent cluster of semi-desert reserves notable for protecting many large mammal and bird species that are rare further south, including reticulated giraffe, gerenuk, oryx and vulturine guineafowl.
Tsavo East & West National Park
Kenya's largest national park has a dense elephant population, magnificent volcanic landscapes and great views towards Kilimanjaro.
Rift Valley lakes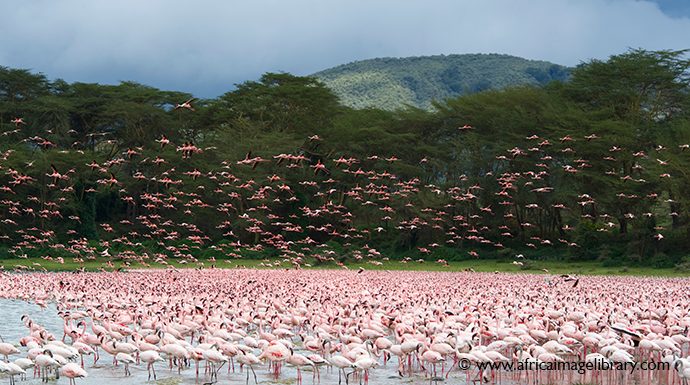 Lake Baringo & Bogoria
Only 20km apart, Baringo is known for its varied birdlife, abundant hippo and crocodiles, and walking opportunities in every direction, while Bogoria offers a dramatic setting and searing hot springs alongside large flamingo flocks that sometimes outnumber Nakuru.
Lake Naivasha
Close to Nairobi, this a perfect first stop in Kenya, offering lovely scenery, plentiful birds and great walking opportunities at Hell's Gate and Longonot.
Lake Nakuru National Park
Up to two million flamingos on a good day, and the best place to see rhinos in Kenya.
Off the beaten track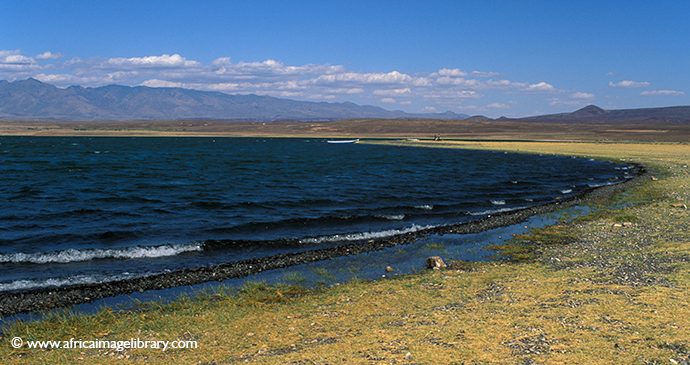 Kakamega Forest
Kenya's finest birding spot, this isolated stand of West African-type rainforest protects primates, butterflies and birds rare elsewhere in Kenya.
Lake Turkana
The most remote and vast of the Rift Valley lakes, with a spectacular desert setting, populated by a rich cast of desert nomads.
Meru National Park
A remote and little-visited park with less wildlife than some, but worthwhile for the genuinely untainted wilderness atmosphere.
---
Related books
Related articles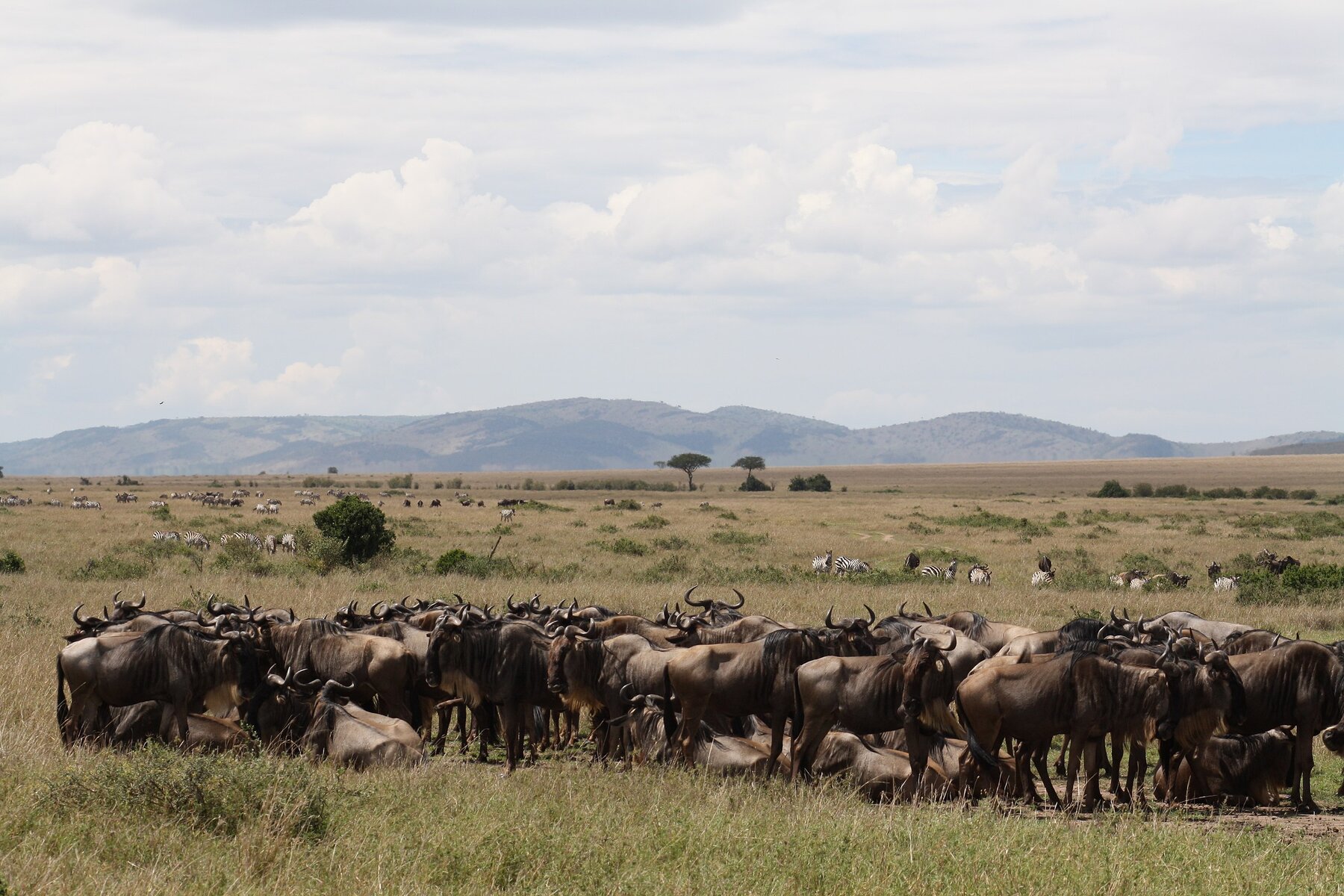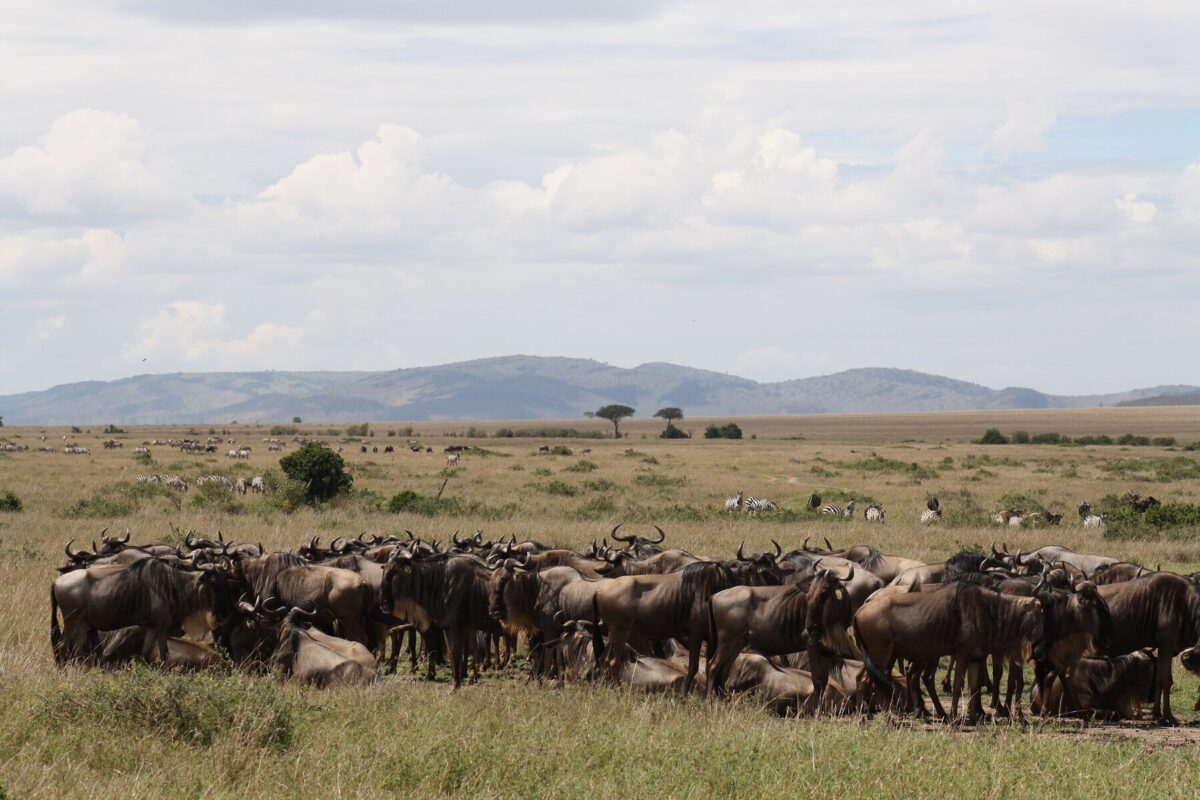 Our pick of the best national parks to visit in Tanzania, Kenya, Uganda and Rwanda.