The light on the Falkland Islands can be a photographer's dream, illuminating the clear blue skies, the deep blue sea and the abundant, extremely photogenic wildlife. Not every day is like that of course, but there are plenty of photographic opportunities.
The most frequently heard comments made by professional photographers visiting the islands indicate that they are glad they brought plenty of memory cards and they can often be seen every evening downloading and looking through the day's photographs. When taking photographs, it is important to admire the wildlife from a respectful distance – the Countryside Code guidelines suggested by Falklands Conservation are to be obeyed at all times.
Whatever your level of skill with a camera of any kind, there is no reason to leave the Islands without a collection of inspirational images to remind you of your adventures.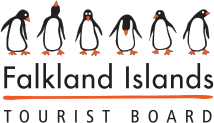 Wildlife photography
Wildlife is the most obvious theme and even without a telephoto lens, the birds and marine mammals make fascinating subject material.
Imagine huge elephant seals basking in the sunlight, lazily flicking sand with their enormous flippers; sea lions rearing their heads amongst the tussac grass; gentoo penguins carefully stealing nesting materials from neighbours; Magellanic penguins peering from burrows; seabirds graceful in flight; a stunning striated cara-cara simply looking straight at you.
Where to go
Sea Lion Island is a must on even the shortest of trips to the Falklands, but especially for those interested in photography: many of the published photographs of Falklands' wildlife have been taken here. Head to Elephant Corner where visitors can push through the tussac grass on the path of least resistance in order to reach a low promontory in the middle of the cove. The elephant seals can be viewed in safety from here and it is an excellent spot for photography.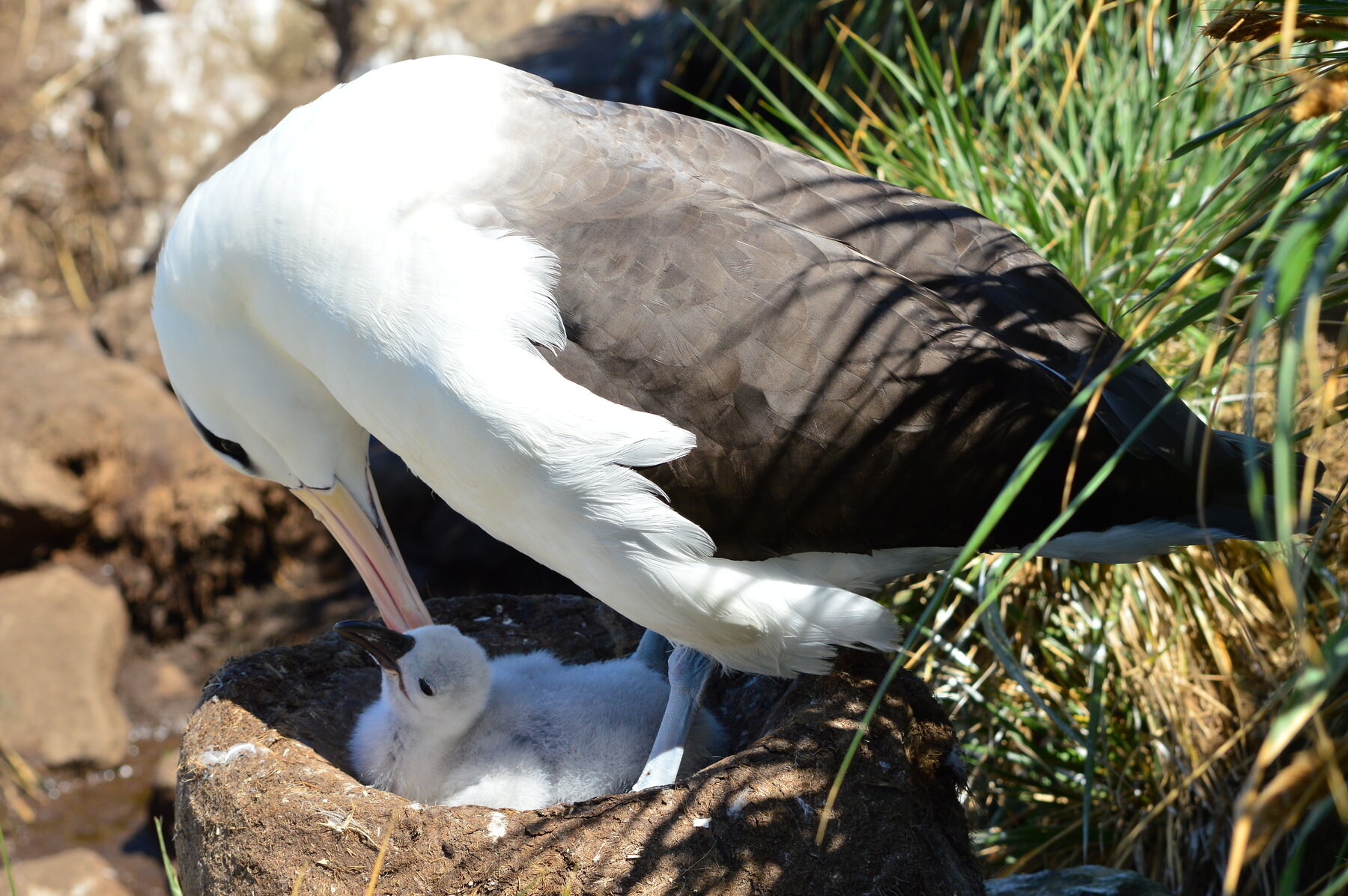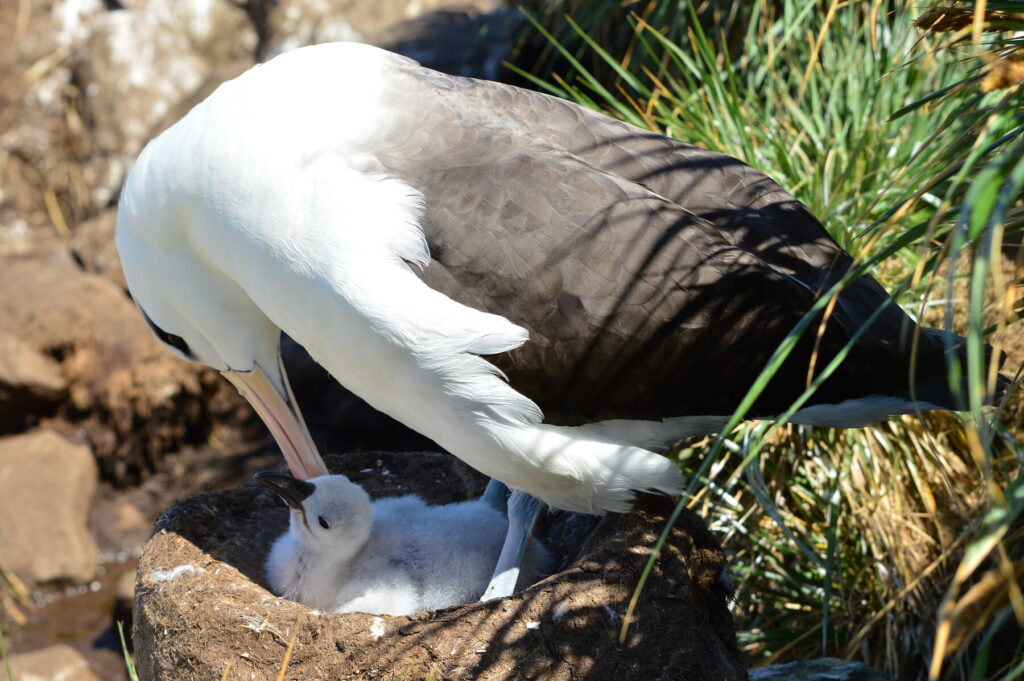 For those interested in photographing birdlife, there are a number of options. The visitor's general impression after a trip to the Falkland Islands is that it is full of birds of all shapes and sizes, and yet there are large areas with hardly any breeding birds. Predation by rats and cats has reduced the numbers of some land birds and smaller seabirds in many areas, but by visiting islands – such as Carcass and Sea Lion – where such animals have not been introduced, it is possible to see most of the breeding birds of the Falkland Islands in one trip. With even the smallest zoom, young birds are brought into sharp or fuzzy focus to create an amazing image.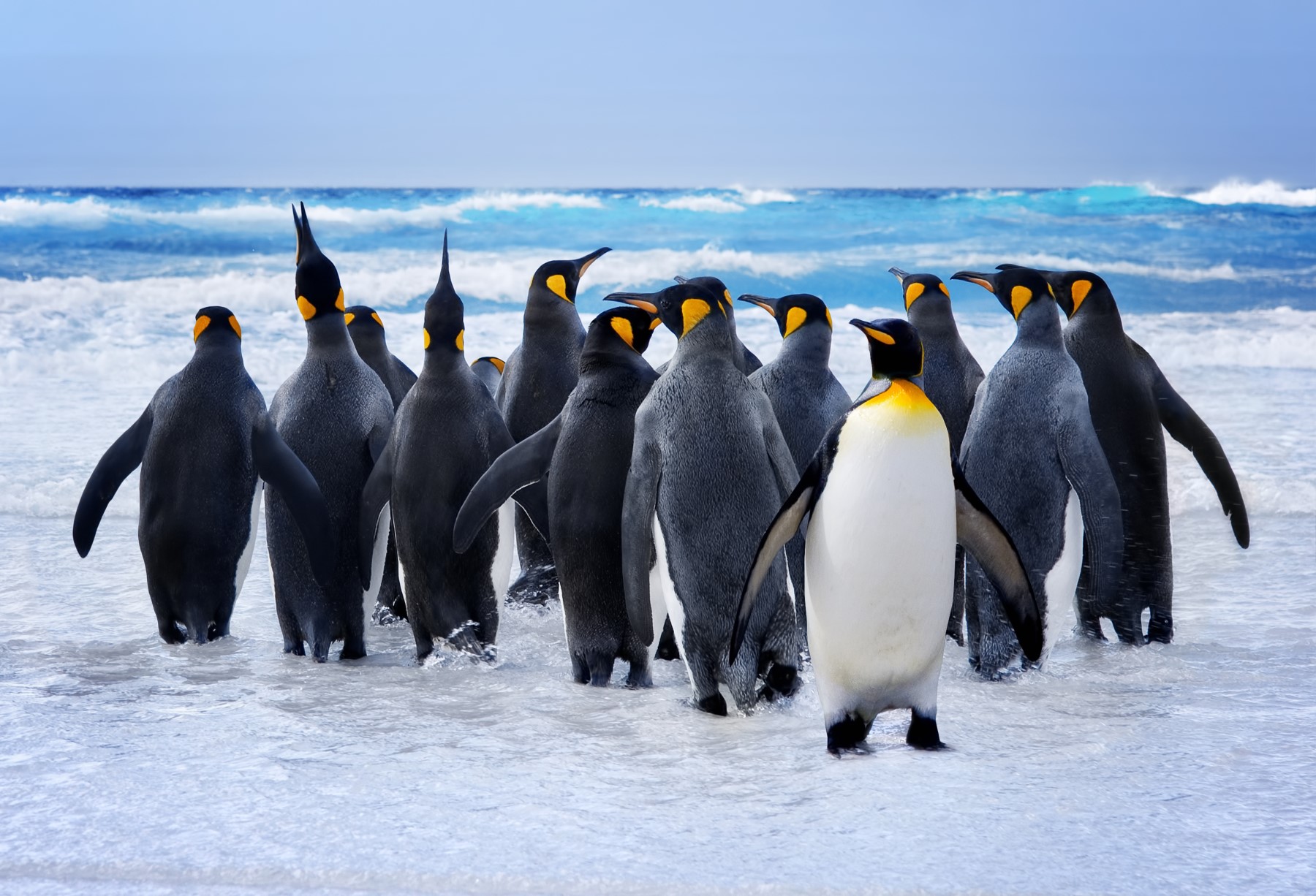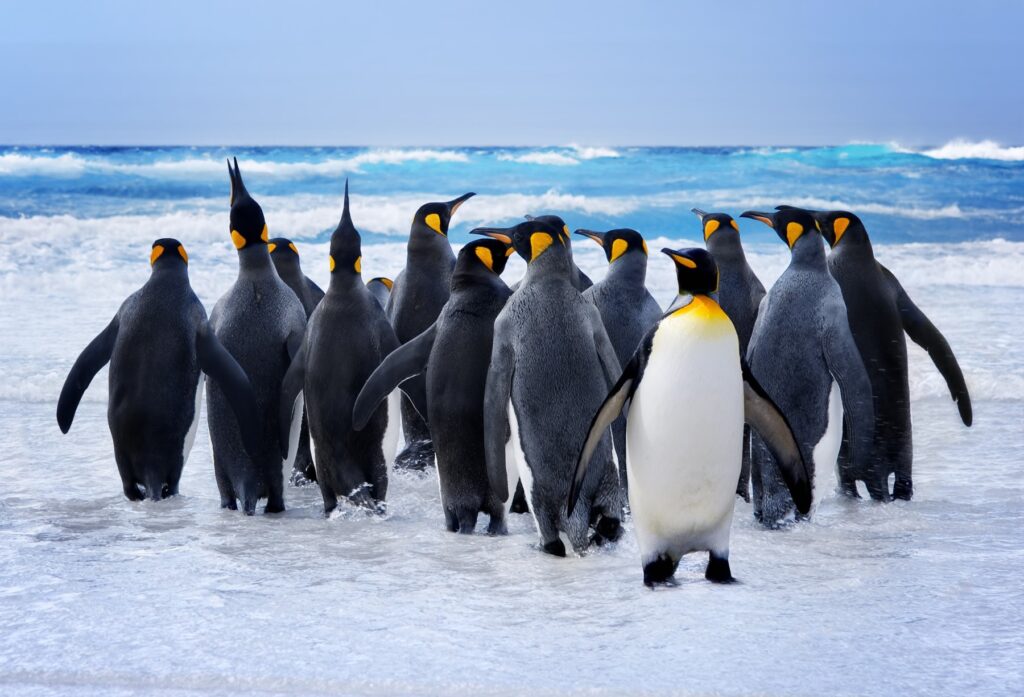 The penguin family are well represented in the Falklands, with five species nesting annually, plus the occasional vagrant from the Antarctic or sub-Antarctic islands. A visit to the king penguin colony at Volunteer Point on East Falkland is the highlight of many a trip to the islands and a favourite among photographers.
Landscape photography
It is no secret that the Falklands are home to some of the most picturesque landscapes in South America. Ever-changing light conditions, big blue skies, aquamarines of the sea and soft white sands create the perfect conditions for spectacular landscape photography.
Rolling hills, rocky ridges, open plains and seascapes provide fantastic settings and subjects in their own right. Early morning hues and night-time fiery reds, crashing cascading waves and tranquil, reflective waters are favourite themes. Colourful settlements nestle into foothills and straggle attractively along shorelines.
Where to go
The capital city, Stanley, has many buildings of interest from pioneer cottages and Christ Church Cathedral, to the striking Cape Pembroke Lighthouse and iconic Whalebone Arch.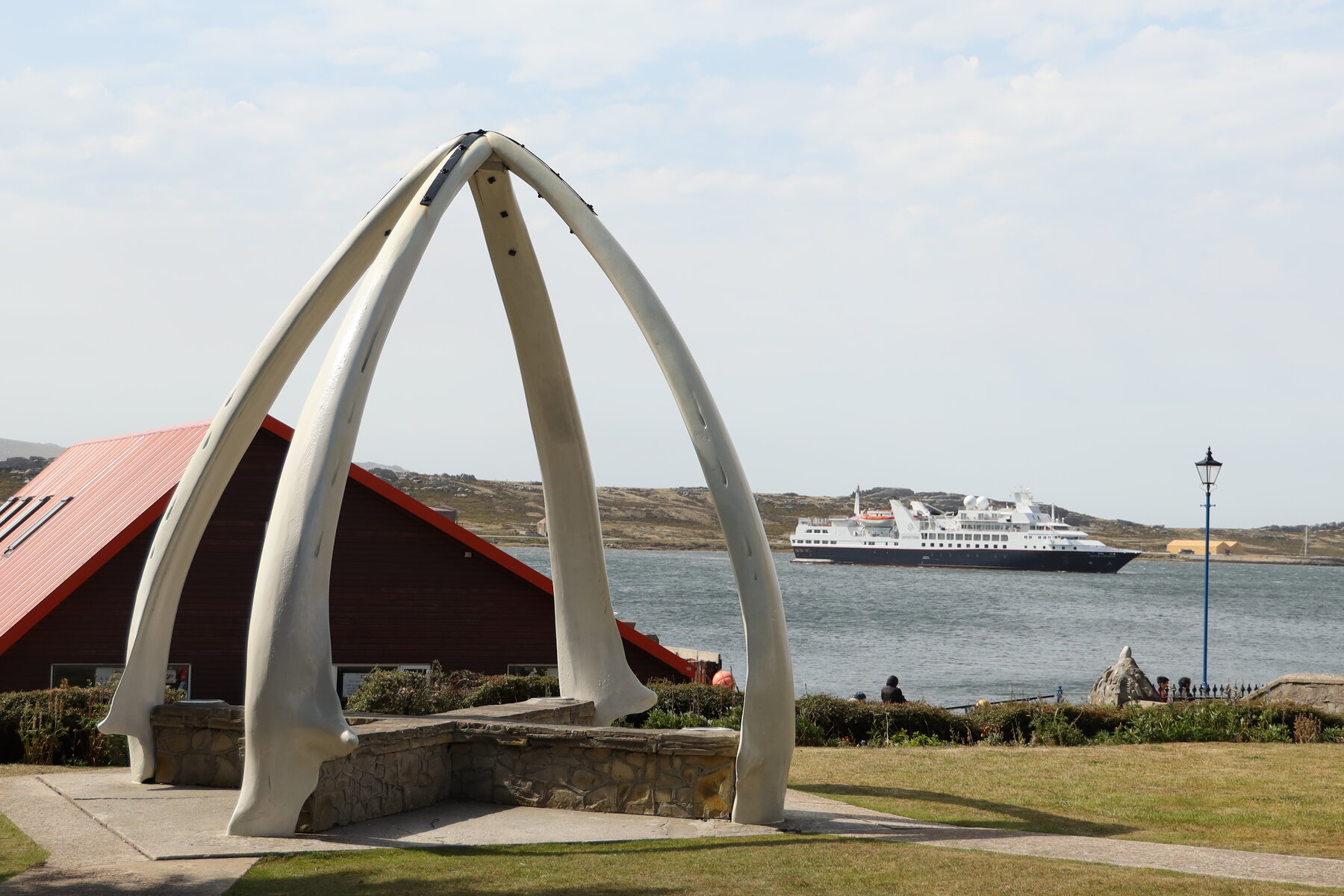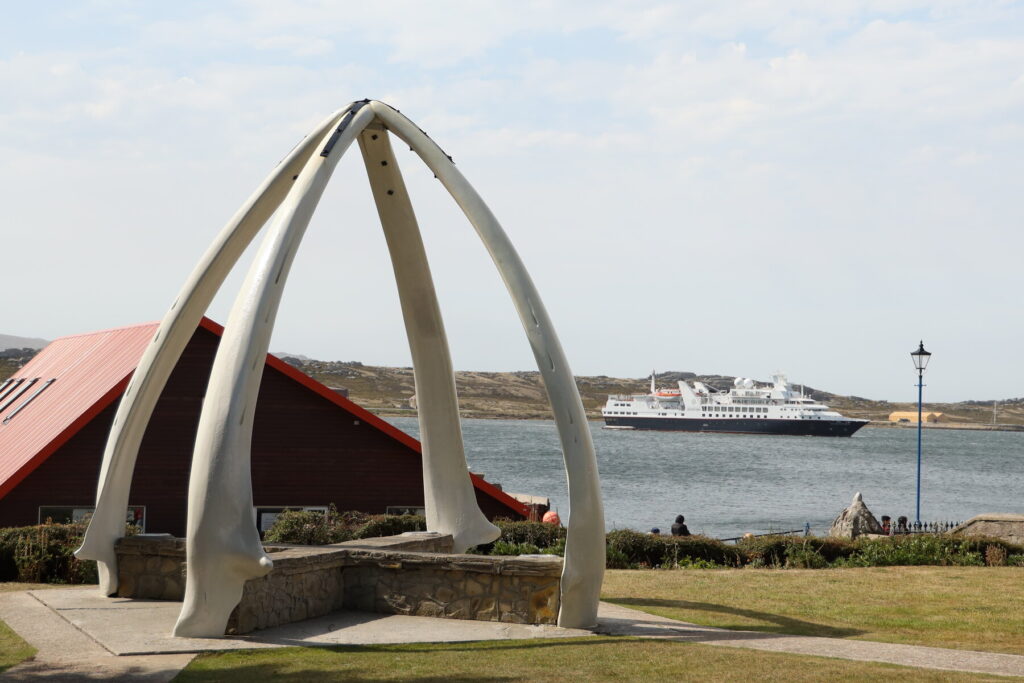 Saunders Island, lying three miles off the northwest coast of West Falkland, comprises 30,000 acres with just over 66 miles of coastline. While this is a popular spot for wildlife photographers (the area is home to many breeding seabirds, in particular black-browed albatrosses, and rockhopper penguins), it also boasts some impressive natural landscapes. The present-day settlement is situated at the base of a range of hills, the highest of which is Rookery Mountain (422m). Other impressive peaks include Mount Harston (436m) and Mount Rees (372m), both of which make excellent subjects.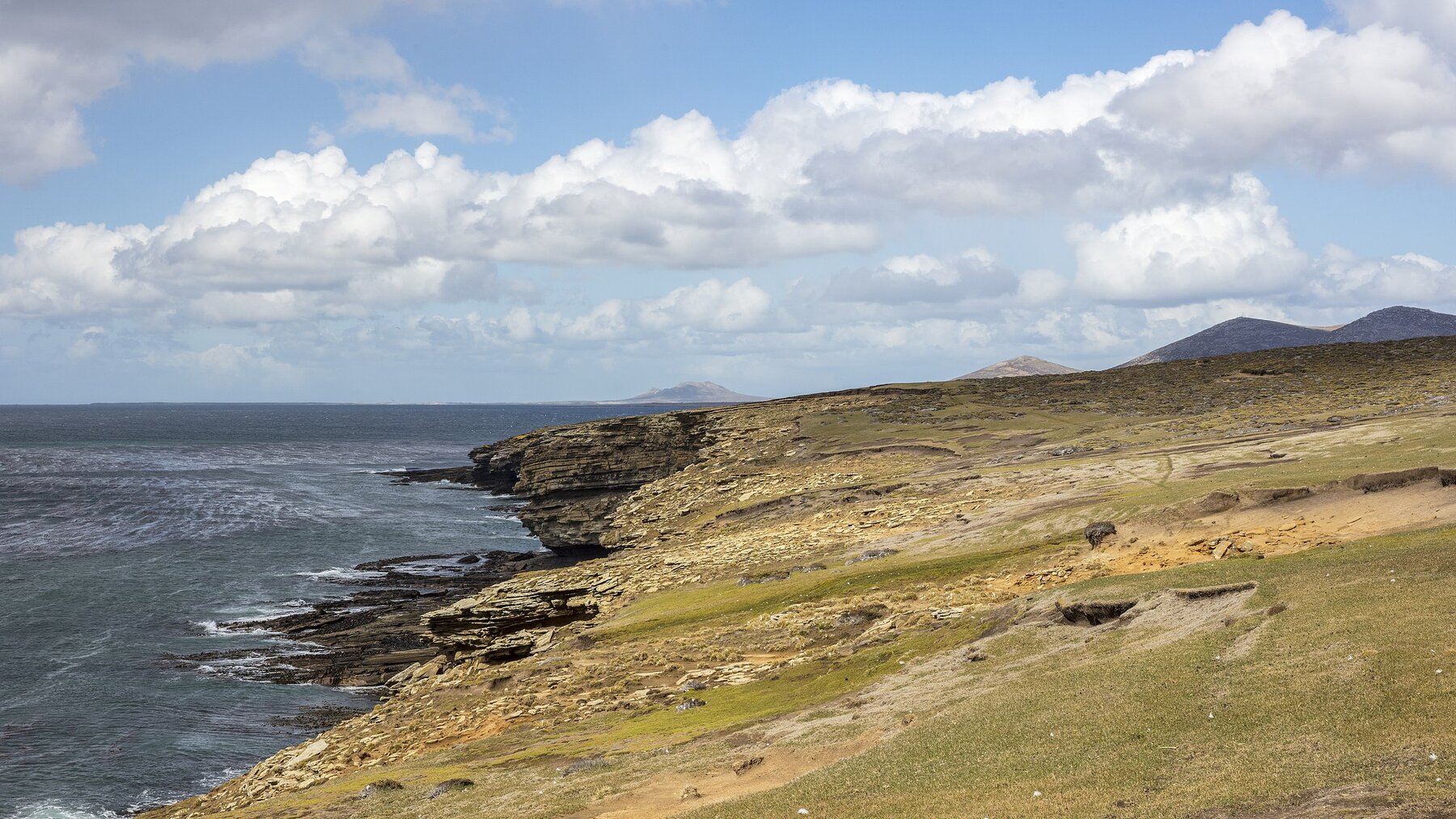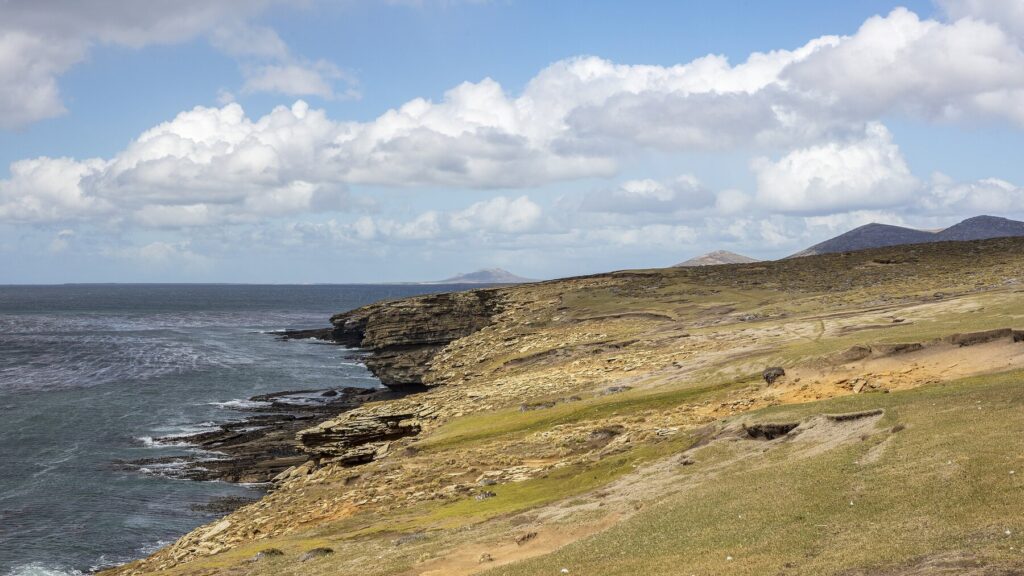 Port Howard makes a superb base from which to explore West Falkland, and offers a variety of photography opportunities. Double Stream, just over halfway to the far end of Port Howard Harbour, enters the sound in a broad expanse of stone and mud. The views from here are fantastic, looking out from Port Howard Harbour into Falkland Sound. The most adventurous travellers will make a detour up to Freezer Rocks on the side of Mount Maria, where they can photography the line of rocks jutting up through the diddle-dee and ferny vegetation in a commanding position above the settlement.
Practicalities
Spare batteries can sometimes be bought on the islands but cannot be guaranteed, and the same is true for SD cards, lens caps, filters, etc. Very long lenses are not really very useful for most of the local wildlife, as it is so tame, although they can have their uses for taking close-ups of seabirds.
Wide-angle lenses are very useful, as there are many magnificent panoramas that would make superb photographs. A good lens cloth and a dusting brush are essential on the islands. As the visitor is rarely far from the sea, salt spray is another problem to be considered.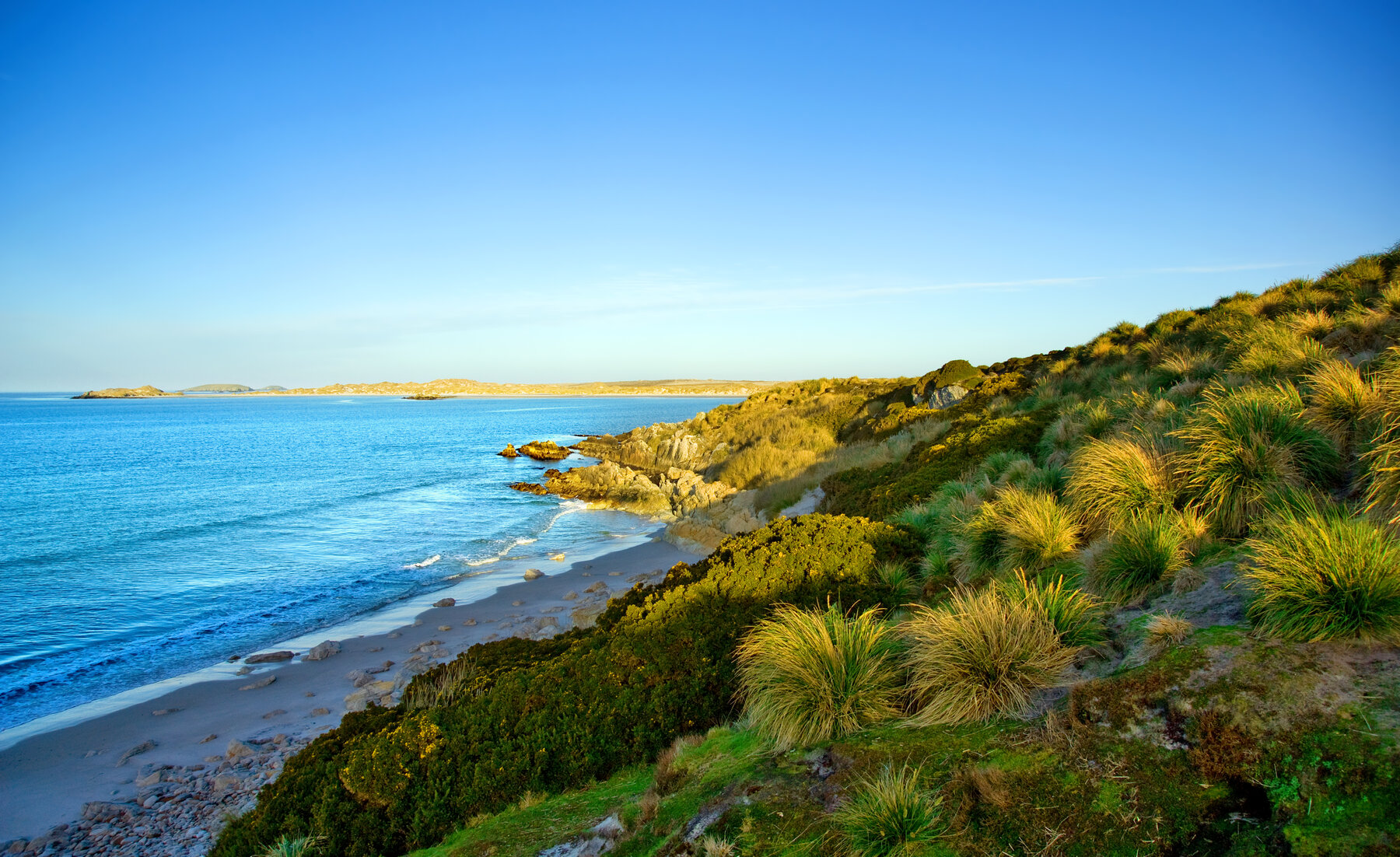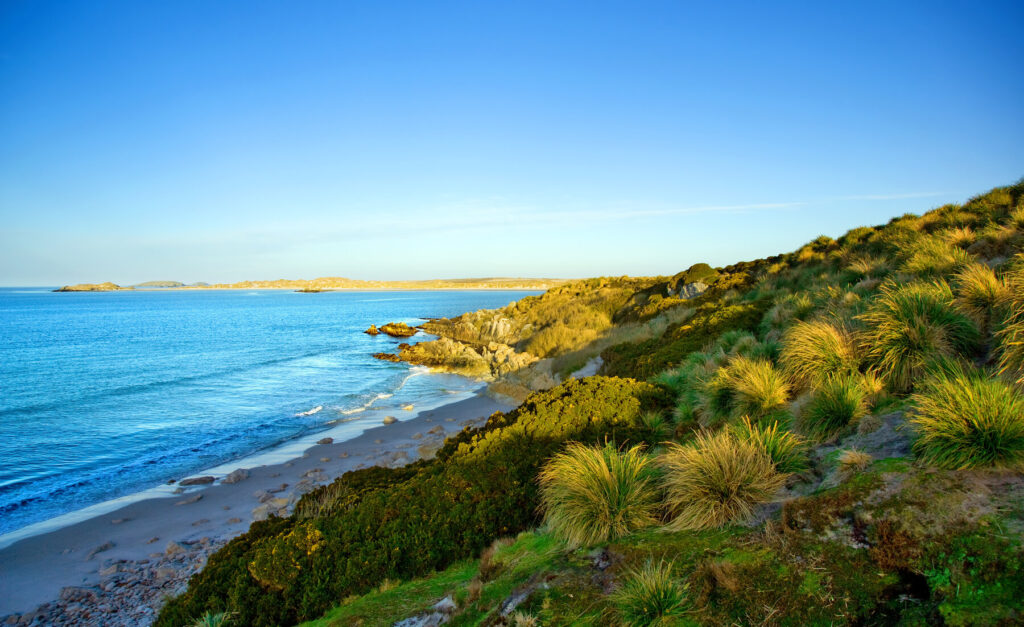 Visitors will have just as much to film whether it be on a mobile phone or a dedicated camera. Much of the wildlife is very lively, whether it be squabbling elephant seals, baby penguins or just the sea crashing on the shore. Wind noise can be a problem at times, but does add to the atmosphere of the video. As with photography, remember to keep a respectful distance from wildlife and don't interfere with their normal behaviour – it is possible to get good footage with almost any device when the sun is out in such a photogenic place.
Photography tours
There are a number of opportunities for photography enthusiasts. While it is perfectly possible to explore and photograph the islands yourself, visitors may also wish to get in contact with tour operator.
Photography tours can be organised with Design in Nature or Responsible Travel, an operator covering a wide range of holidays from photography to cultural, that market as an environmentally friendly company.
---