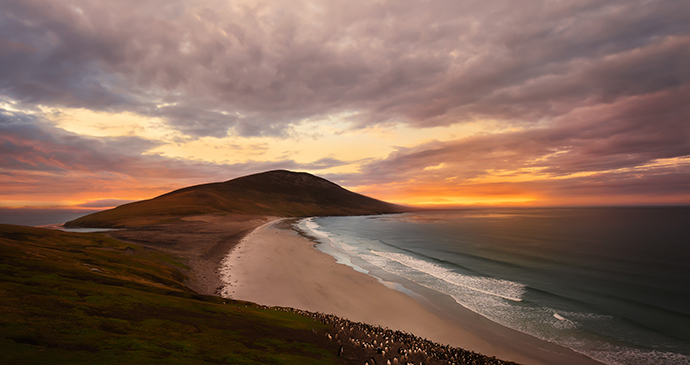 The Neck on Saunders Island is one of the islands' most impressive wildlife sites © Giedriius, Shutterstock
Although this island is best known for its black-browed albatross colonies, it is also home to the first British settlement on the Falklands.
This island, lying three miles off the northwest coast of West Falkland, comprises 30,000 acres with just over 66 miles of coastline and is operated as one farm. It is historically important in the islands as it was the site of the first British settlement in 1765. The present-day settlement is situated at the base of a range of hills, the highest of which is Rookery Mountain (1,384ft, 422m). The high cliffs to the north of this range are home to many breeding seabirds, in particular black-browed albatrosses, and rockhopper penguins. These hills are separated from the highest peak on the island, Mount Harston (1,421ft, 436m) by a sandy isthmus known as The Neck. The southwestern part of the island reaches 1,220ft (372m) at the summit of Mount Rees. The lower land between the settlement and Mount Rees has some pools and is the site of the island's airstrip. The island has become well known as being home to one of the most accessible black-browed albatross colonies on Falkland situated along the northern coasts. However, Saunders Island has much else to offer, with The Neck area in particular having a diverse selection of breeding seabirds, including a small colony of king penguins.