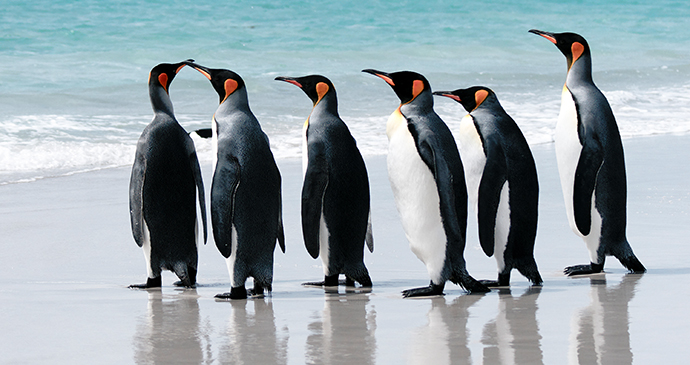 This scenic site is most famous for its king penguin colony where over 1,500 adults have been counted in recent years © Richard Burn, Shutterstock
One of the most famous wildlife sites on the islands, this glorious white-sand beach is home to the largest king penguin colony in the archipelago.
Volunteer Point is named after the Volunteer, a ship that visited the Falkland Islands in 1815. This privately owned nature reserve is on a narrow strip of short grass that connects East Falkland to the headland of Volunteer Point itself and is bordered by the two-mile-long Volunteer Beach to the north and by Volunteer Lagoon to the south. The wardens' house is at the western end of the grassy area, while the king penguin colony is at the eastern end. This colony is one of the highlights of any visit to the Falkland Islands – it is the largest colony of this species on the islands and is still increasing. There are two additional species of penguin, and many other birds breed in this fabulous scenery. As you near the site on the tracks from Johnson's Harbour, the whole area opens up spectacularly before you, revealing the lagoon, penguins and beach. It is possible to stay at the wardens' house, but the majority of visitors will come here on a day trip from Stanley. The 3-hour drive out gives you a good sense what travel was like on the Falklands in years gone by as the last section is over camp.