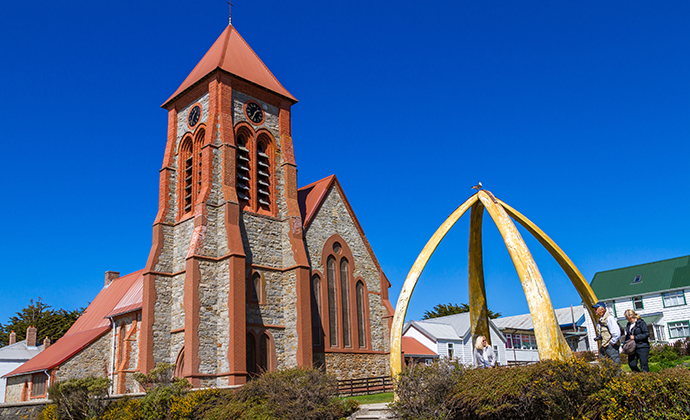 Christ Church Cathedral, and its whalebone arch, is one of the most photographed sights in the islands' capital © Piotr Andryszczak, Shutterstock
The capital of the islands offers an eclectic mix of culture, history, shipwrecks and wildlife.
Stanley is probably the smallest and most remote capital city in the world. The official existence of Port Stanley began in July 1845, when the islands' capital was moved from Port Louis to an area originally called Jackson's Harbour. It was situated on a north-facing slope in order to face the sun throughout the year. It grew dramatically during the Californian Gold Rush in the mid 1800s with this boom lasting until the 1890s. Subsequently, Stanley has continued to be the commercial centre of the islands and the main port of access. There was heavy fighting in and around Stanley during the 1982 war; the memorials are now the only evidence of this period of conflict. Since the war the capital city established a squid-fishing industry and has dramatically increased in size in direct proportion to the revenue derived from this.
The history of Stanley is perhaps best illustrated by the shipwrecks that are dotted along the seafront. These date from a time before the Panama Canal, when all shipping had to sail around Cape Horn and many ships needed some repair having being damaged by bad weather. Stanley became a major repair centre and the most badly damaged were condemned – these are the remains you see today.
A wide range of architectural styles prevails in the city, ranging from the magnificent brick-built Christ Church Cathedral, to Jubilee Villas – an imposing terrace of four tall, red-brick houses with large bay windows, to the hospital and school with their colourful roofs and white-clad exterior. Upland geese and Falkland steamer ducks frequent the waterfront, while turkey vultures and kelp gulls glide overhead. It is also one of the few places on the islands where house sparrows, introduced during the 19th century, have remained plentiful. Stanley is where many Falkland holidays start and finish, and therefore it has a good selection of accommodation and tour operators able to cater to visitors' tastes and interests.