Written by Philip Briggs and Ariadne Van Zandbergen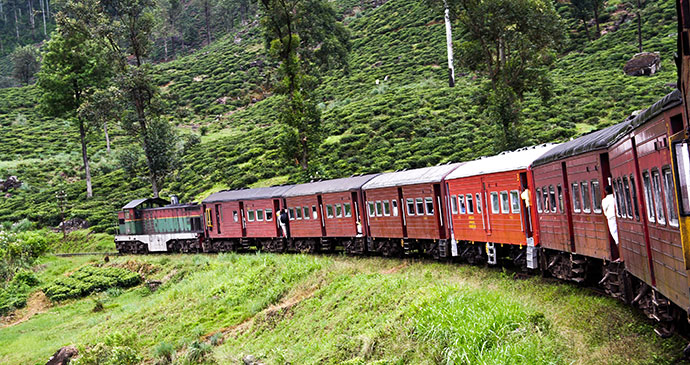 If you want to travel the scenic route in Hill Country, take the train © travelview, Shutterstock
Sometimes travelling is about the journey more than the destination. This is especially true when taking a train trip through scenic Sri Lanka. The national railway system is well equipped for getting from A to B, but a journey on any of the following is all in all a more memorable experience.
Kelani Valley Railway
The Kelani Valley Line was established in 1902 as part of a narrow-gauge line to service the rubber plantations around nearby Yatiyanthota, and it reopened in 1996 as a single-track broad-gauge line that was originally intended to continue to Ratnapura, but now stops at Avissawella. Though it is no longer a steam service, it remains non-electrified, and the diesel trains offer some fabulous views as they ascend the sharp curves slowly and with justified caution.
Viceroy Special
Depending on demand, The Viceroy sees up to four luxury coaches, painted in the bright red livery of the former Ceylon Government Railway, and outlined in gold with the CGR crest displayed on the body panels, are hauled by a steam or diesel engine along railway tracks dating back to the 19th century. The most popular trips run from Colombo to Kandy and the tea plantations of the Hill Country. The scenery is fabulous. The tracks cut through an ever-changing series of vistas that include villages, forests, cascading waterfalls, cultivated lands with paddy fields and coconut palms, and endless beaches, occasionally disappearing into darkness in tunnels carved out of solid rock. The train can be stopped on request and guests can photograph scenic beauty spots along the way.
Hill Country by rail
The four-times-daily train service connecting Colombo to Badulla via Kandy is the most pleasant way to travel through Hill Country, not only because rail is a more inherently relaxed mode of transport than road, but also because it offers some splendid views over otherwise inaccessible or difficult-to-reach vistas. The track distance from Colombo to Badulla is 290km, a 10–12- hour journey that passes through 44 tunnels (the longest being the 560m Poolbank Tunnel between Hatton and Nanu Oya). In practice, however, few travellers would cover it all in one go, and fewer still would travel all the way to Badulla, a town whose appeal to tourists is relatively limited.
More normal would be to travel the 118km from Colombo to Kandy, stop in the latter for a couple of days, then continue by rail to one (or more) other hill stations. In order to facilitate trip planning, this chapter is sequenced to follow the railway as it winds southeast from Kandy to Badulla via Hatton (for Adam's Peak), Nanu Oya (for Nuwara Eliya), Pattipola and Ohiya (both for Horton Plains National Park), Haputale, Bandarawela and Ella. If you do only one leg by train, make sure it includes the stretch between Nanu Oya and Bandarawela, which wends through vegetation so lush and scenery so dramatic it ranks as one of the world's great little train trips. This leg incorporates the railway's highest point (1,911m above sea level) 1km past Pattipola, while the 17km track between Ohiya and Haputale passes through more than a dozen tunnels, climaxing at the incredibly sited Idalgashinna station.
---
Want to learn more about Sri Lanka's railways? Check out our comprehensive guide: