Set on a fine natural harbour on the island's west coast, Sri Lanka's largest city and main commercial hub is the focal point of a metropolitan area that incorporates Sri Jayawardenepura Kotte (which replaced Colombo as official administrative capital in 1982) and whose population of five million represents about a quarter of the national total.
Colombo is an unusually safe, affordable and welcoming metropolis, with much to occupy travellers wanting to explore urban Sri Lanka on its own terms. The National Museum offers a fine introduction to the country's main archaeological sites, while the engaging inner-city districts of Fort and Pettah are steeped in history, and a growing coterie of art galleries and boutique shops lend the city an appealingly cosmopolitan aura.
Elsewhere, multicultural Colombo hosts an astonishing urban variety: historical monuments and towering modern skyscrapers, colonial churches and ancient Buddhist temples, gleaming hotels and trendy restaurants, tree-lined boulevards and mysterious lanes, glittering casinos and state-of-the-art 3D cinemas, traditional produce markets and 21st-century shopping malls…it's a fascinating place to explore at whim.
What to see and do in Colombo
Galle Face Green
The largest green space (or, much of the time, brown space) in central Colombo, Galle Face Green – not, as might be supposed, named after the more southerly port of Galle, but a derivative of the Sinhalese word gal (rock) – is an obvious place to start or end any walking tour of the city. Measuring almost a kilometre from north to south, this elevated seafront promenade was initially laid out by the Dutch, who lined the ramparts above the rocky coastline with a battery of cannons to fend off Portuguese and other maritime attacks. During the British colonial period, Galle Face Green was much larger than it is today, sprawling inland to Lake Beira, and it served as a recreational ground complete with horse-racing track, golf course and other sporting fields.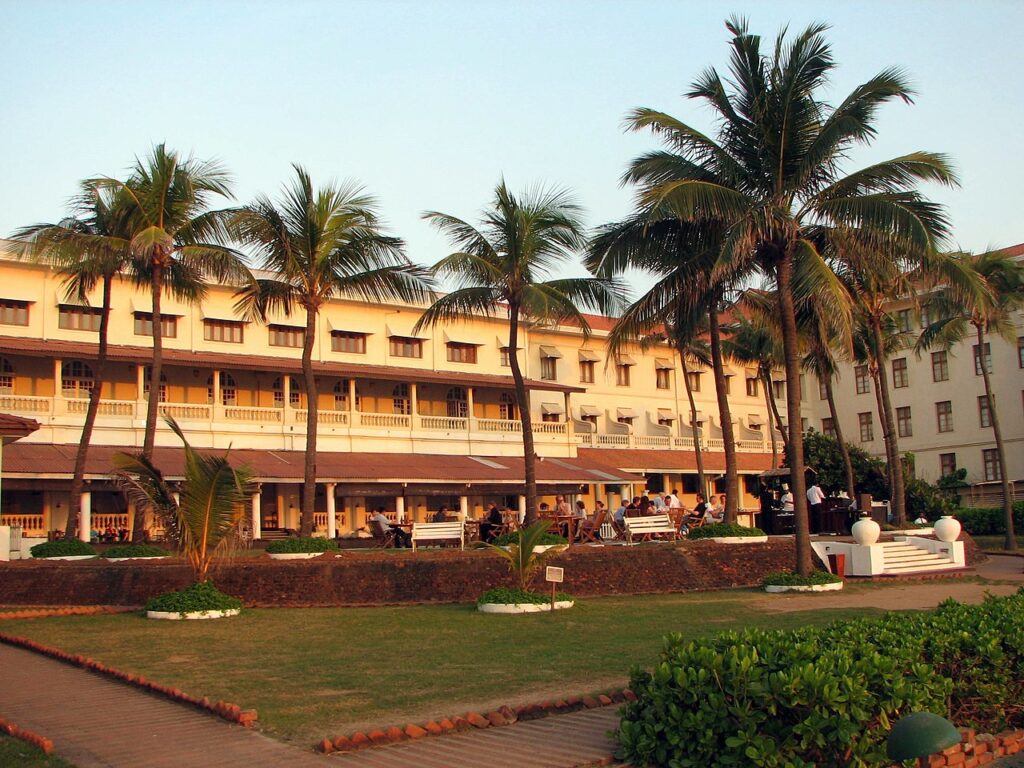 The green is prettiest and most atmospheric at dusk, being ideally located to catch the sun setting over the Indian Ocean while locals promenade companionably in the sea breeze, catch up on gossip, fly kites or knock around balls, or buy fresh snacks from night-time hawkers. Two of Colombo's most imposing colonial relicts bookend the long narrow green: the Galle Face Hotel, the city's oldest hostelry, built in 1864, and a fine place for a sundowner or snack; and the Old Parliament Building described below. In early 2022, Galle Face Green became the lively, unified 'Gotagogama' (gama meaning village), where protestors against the financial mismanagement of President Gota Rajapaksa's administration camped out.
Fort District
The most historic quarter of Colombo, Fort is traditionally regarded as the city's CBD, and it remains an important banking and commercial centre, despite having been superseded in many respects by booming suburbs such as Kollupitiya and Cinnamon Gardens. The district's titular fortifications, built by the Portuguese in 1510 and expanded by the Dutch after 1656, were later demolished, almost without trace, by the British colonists.
Old Parliament Building
Standing sentinel over the north end of Galle Face, the Old Parliament is the first building to the right as you cross from the Galle Road Bridge into Fort. An imposing forum-style neo-Baroque brownstone, it was constructed in 1930.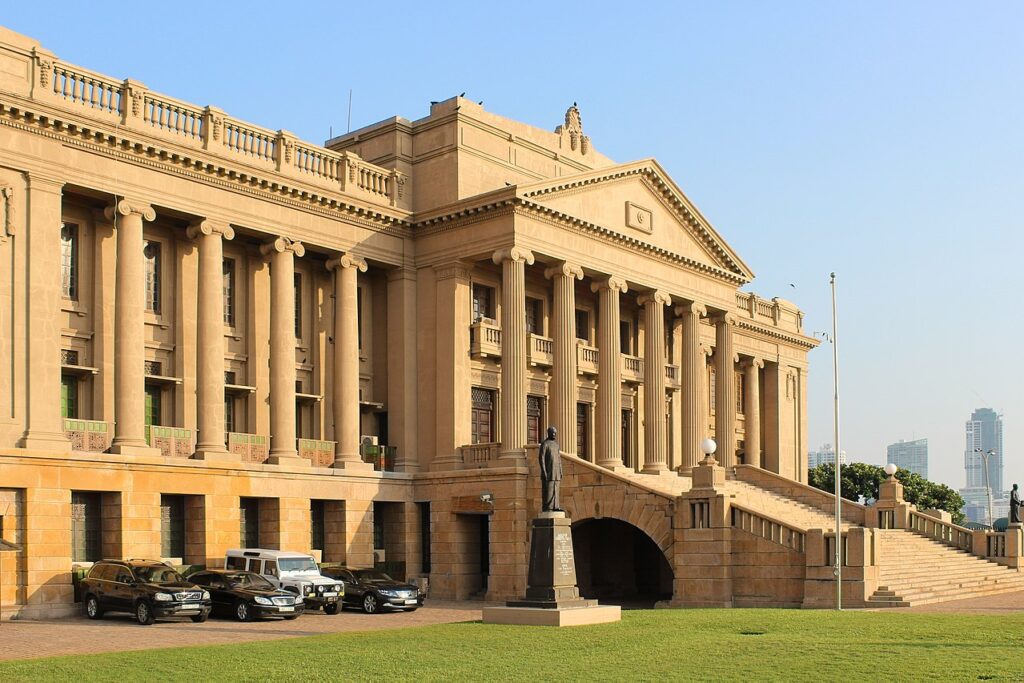 Today the building houses the Presidential Secretariat, while forming a sedate antidote to the glaring mirror-glass of the sky-scraping Bank of Ceylon headquarters behind. In its front gardens stand statues of several former Sri Lankan presidents and other leaders.
Old Dutch Hospital
Vying with the maritime museum as Fort's oldest building, the Old Dutch Hospital is clearly recognisable from two watercolour paintings made in 1771, but it is most likely a century older than this. Almost certainly, this building is the 'well-built hospital where sick Dutchmen are well-served by surgeons and slaves with medicine and plasters', as recorded by German solider Christopher Schweitzer in 1681, and the same hospital where Paul Hermann – a VOC surgeon whose vast collection of dried plants and drawings earned him the sobriquet 'Father of Ceylonese botany' – worked in the 1670s.
It served as a hospital and apothecary throughout the British colonial era, but was converted to a police station in the early 1980s, and suffered heavy damage in 1996 when the Central Bank opposite was destroyed in a suicide bombing that killed at least 91 people and left more than a hundred bystanders blind.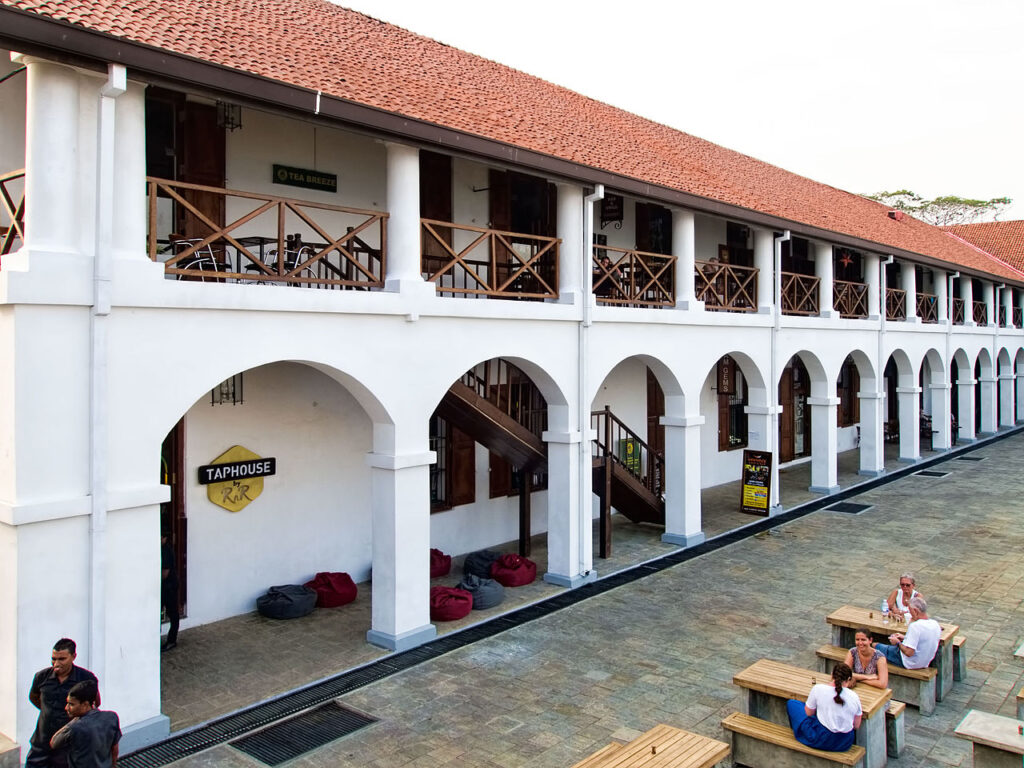 Following the end of the civil war, the timeworn building was restored under the supervision of the Department of Archaeology, to reopen as the Dutch Hospital Shopping Precinct in 2011. Now one of the main tourist draws in Colombo, it contains several restaurants and souvenir shops, but it is also of interest as a fine example of functional Dutch colonial architecture, comprising two sets of former wards and barracks, with 50cm-thick walls and red-tiled roofs supported by massive teak beams, whose wide verandas enclose a pair of large courtyards.
World Trade Center
Dominating the skies above the courtyard of the Old Dutch Hospital, Colombo's own World Trade Centre (WTC) is the city's tallest building, comprising identical east and west 40-storey towers that stand 152m tall. It was inaugurated by President Chandrika Kumaratunga on 12 October 1997, and only three days later formed the target of an LTTE bombing that left the skyscrapers unscathed, but killed 15 people and wounded more than a hundred. The twin towers, which do not have an observation deck for tourists to visit, is surpassed in altitude only by the Lotus Tower, which overlooks Lake Beira and stands 305m tall.
Presidential Palace
This magnificent two-storey residence was built in 1790 by Johan van Angelbeek, the last Dutch governor of Ceylon, on the site of a freshly demolished 16th-century Portuguese church. Van Angelbeek's granddaughter sold it to the British colonial administration in 1804, since when it has served as the residence of 29 British governors and six presidents.
Known as King's or Queen's House during the colonial era, it is hidden behind a wealth of trees and heavily guarded, but you can catch a glimpse of the grand façade through the foliage. In front of the palace stands a statue of Sir Edward Barnes (the governor responsible for much of island's development between 1820 and 1831), from which all distances ex-Colombo are measured.
Cargills Building
One of Fort's most iconic landmarks, Cargills is a two-storey department store whose striking red-and-white puce stone exterior incorporates plaster horns-of-plenty bursting with bounty, and a shady multi-arched ground-floor walkway and balustrade typical of Colombo's older buildings. The property was acquired by Cargills – Colombo's oldest store – in 1888, and the present-day building was constructed over 1902–06.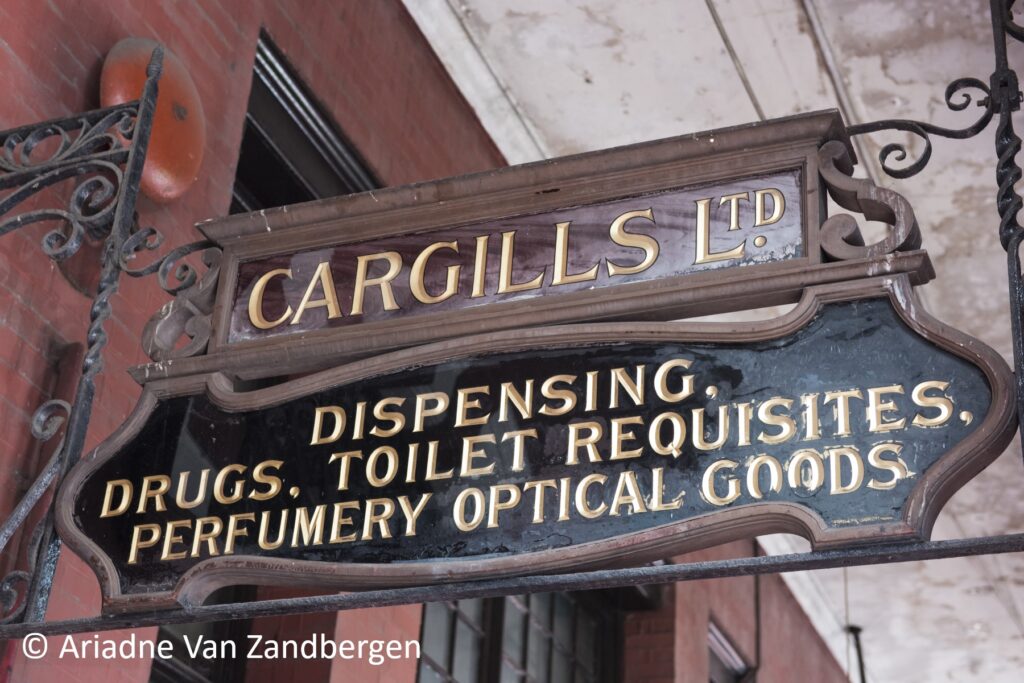 It stands on the site of a one-storey house that quite possibly started life as the first Dutch governor's residence in Colombo (the foundation stone is dated 1684) and that was occupied by Frederick North, the first British governor of Ceylon, 1798. It is unclear to what extent elements of these older structures were incorporated into the present-day building. The interior is just as impressive as the façade, with its dark wooden floors, tall ceilings and ornate arches, and it houses what must surely be the world's only colonial-style KFC outlet!
Pettah District
Situated immediately east of Fort and separated from it by a 50m wide channel, Pettah started life during the Dutch and early British periods as a select residential area, but it later came to be regarded as the 'native quarter'. The name Pettah is often said to derive from pettai, a Tamil word used loosely to describe a colony or place, but a more likely etymology is the Sinhala word pitiya (village) or phrase pita kotuwa ('outside the fort').
Today, Pettah is Colombo's haunt of the streetwise, a hectic and sprawling inner-city open-air bazaar where everything you ever wanted, and many things you never will, can be found in a motley assortment of hardware shops, garment stores and grocery stalls, all stacked high with goods that flow over on to the pavement. Reminiscent of parts of Cairo or Mumbai, the narrow streets (or, if you prefer, wide alleys) of Pettah are jammed with bargain hunters, herds of trucks, cars and bullock carts, explosive klaxons of tuktuks, and porters barking instructions to move out of their way.
Jami Ul-Alfar Mosque
Built in 1908 as a place of worship for Tamil immigrants, the striking Jami Ul-Alfar is also known prosaically as Samman Kottu Palli (Mosque for Indian Muslims) and more descriptively as Rathu Palliya (Red Mosque), owing to the giddying assortment of red-and-white stripes, chequers, jags and spirals that enliven the exterior.
A tall and ornate building, it has the slightly surreal appearance of a fairy-tale candy castle, with a façade of barbershop-pole columns supporting boldly patterned arches and windows, all topped by a trio of plump minarets whose shape was inspired by the pomegranate fruit.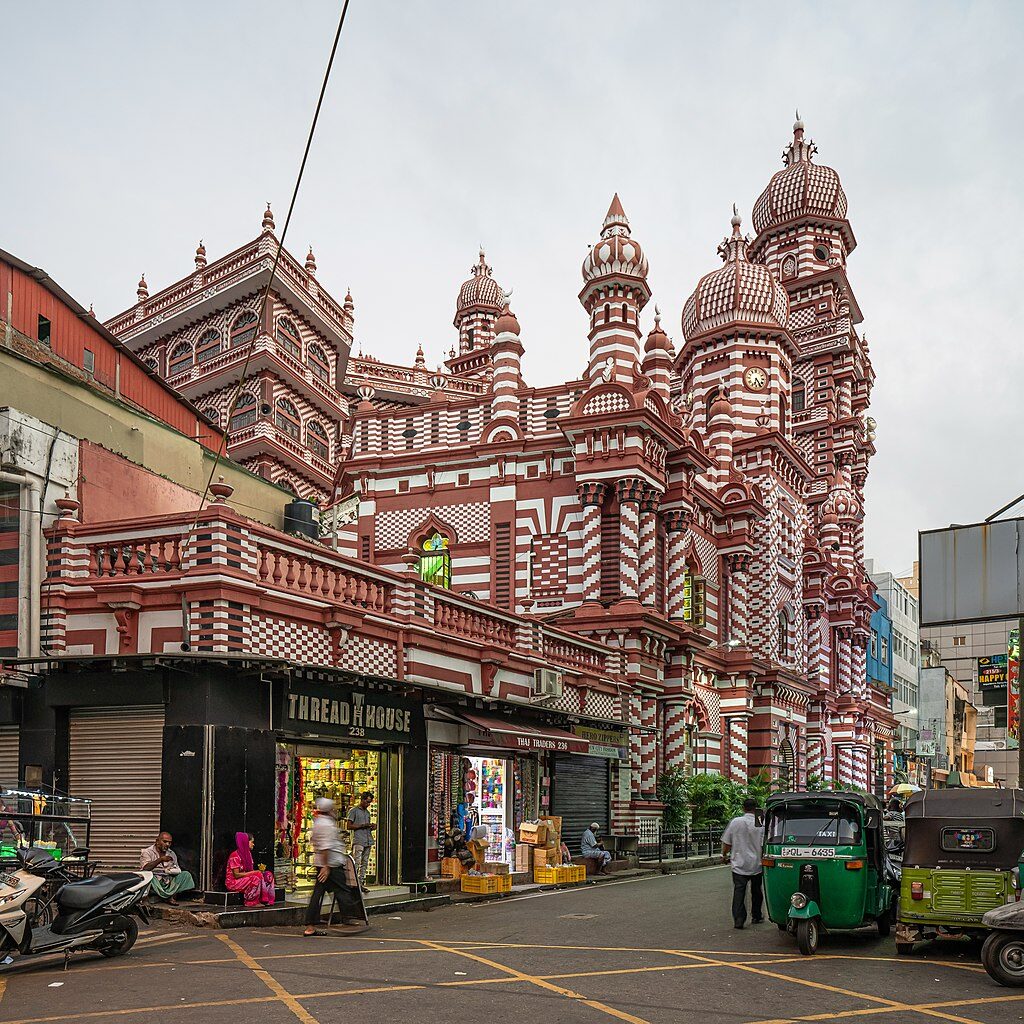 Outside of prayer times, respectfully dressed non-Muslim visitors are usually allowed inside, but women may have more difficulty gaining access. Foreigners have been barred from entering since the beginning of the pandemic, so tourists may want to contact for updates.
St Lucia's Cathedral
Located at Kotahena about 1km northeast of Pettah, St Lucia's Cathedral, seat of the Archbishop of Colombo, is the city's largest Christian shrine, with a capacity of 6,000. Its origins can be traced to 1760, when Catholic Fathers belonging to the apostolic Congregation of the Oratory of Saint Philip Neri built a rudimentary palm-roof church on the site. This was superseded by a modest brick-and-mortar church constructed in 1782 and elevated to cathedral status in 1838.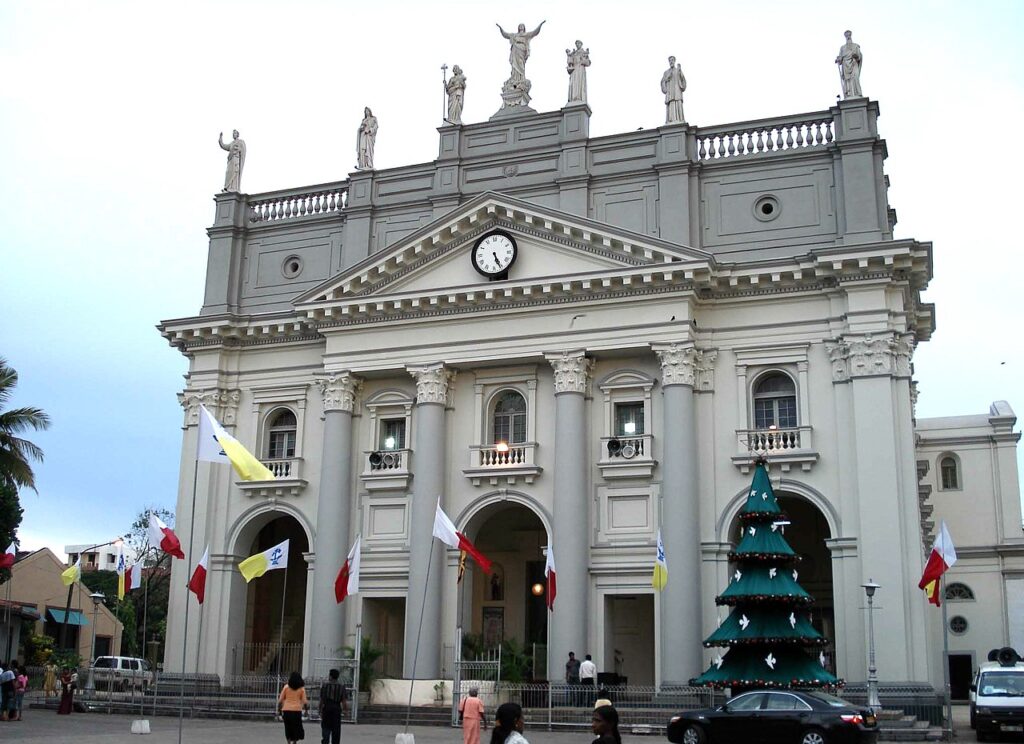 The present-day church, a Gothic replica of St Peter's Basilica in the Vatican, with a massive silver dome crowned by the cross and colonnaded façade topped with seven statues of Biblical figures, was built over 1872–81 and received a papal visit in 1995. The interior contains many beautiful stained-glass windows and statues, notably Our Lady of Kotahena, a unique dark-skinned Madonna-and-child paraded during the annual procession through Kotahena held every May.
Cinnamon Gardens
Cinnamon Gardens (also known as Colombo 07) is the city's most prestigious suburb, a leafy residential area where private colonial-era mansions and villas rub shoulders with – or peer across hedges towards – boutique hotels, art galleries, foreign embassies and lofty edifices of officialdom such as the Town Hall, National Museum and Independence Memorial.
The name Cinnamon Gardens dates to 1789, when the city bailiff Cornelis de Cock planted a 94ha tract of land, roughly corresponding to the modern suburb, with the cinnamon trees whose aromatic bark was the island's most important export crop.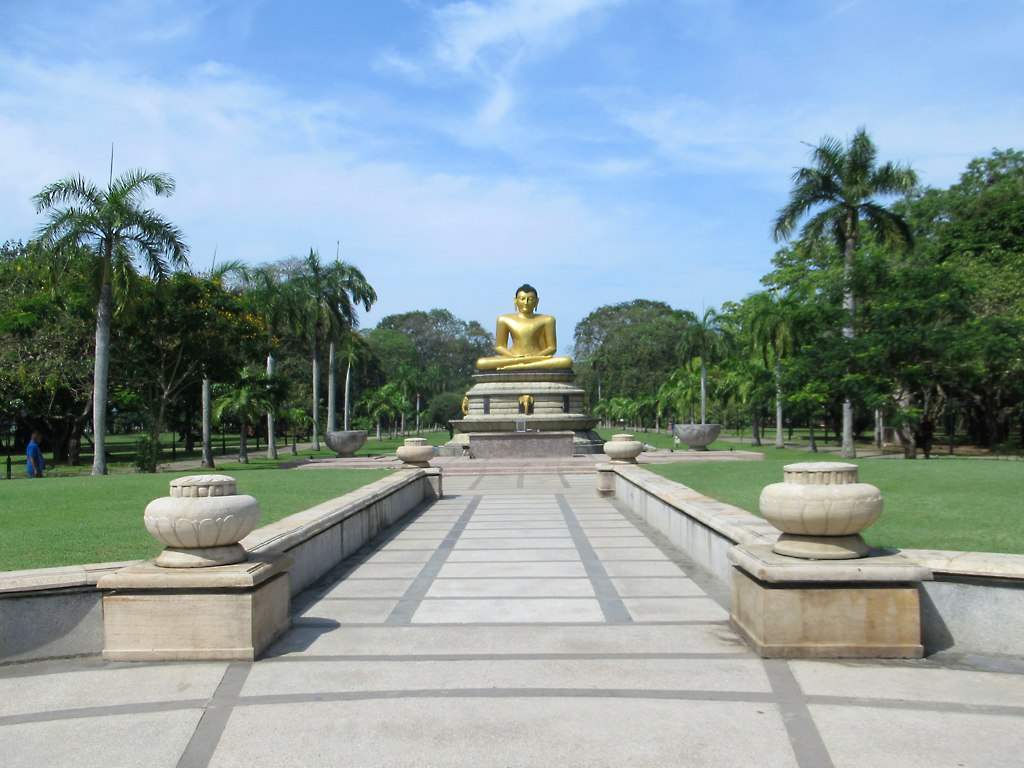 The gardens were tended carefully under Frederick North, the first British governor of Ceylon, dome and clock tower that stand more than 50m high, and a large open front lawn that runs southwest to Viharamahadevi Park. The hall doubles as the headquarters of the Colombo Municipal Council and mayoral office.
Colombo National Museum
Sri Lanka's premier museum houses a collection of 100,000 artefacts reflecting various aspects of the island's architecture, history and culture from prehistoric times to the Kandyan era. It was established by Governor Gregory in 1877 with just 800 exhibits, but rapidly expanded to fill up a purpose-built palatial Neoclassical building set in large grounds bounded to the north by Viharamahadevi Park.
The museum also houses the most important library on the island, and its green gardens incorporate a rather stuffy natural history museum (entrance included in National Museum ticket), the National Art Gallery, and a statue of Queen Victoria erected to commemorate her diamond jubilee in 1897.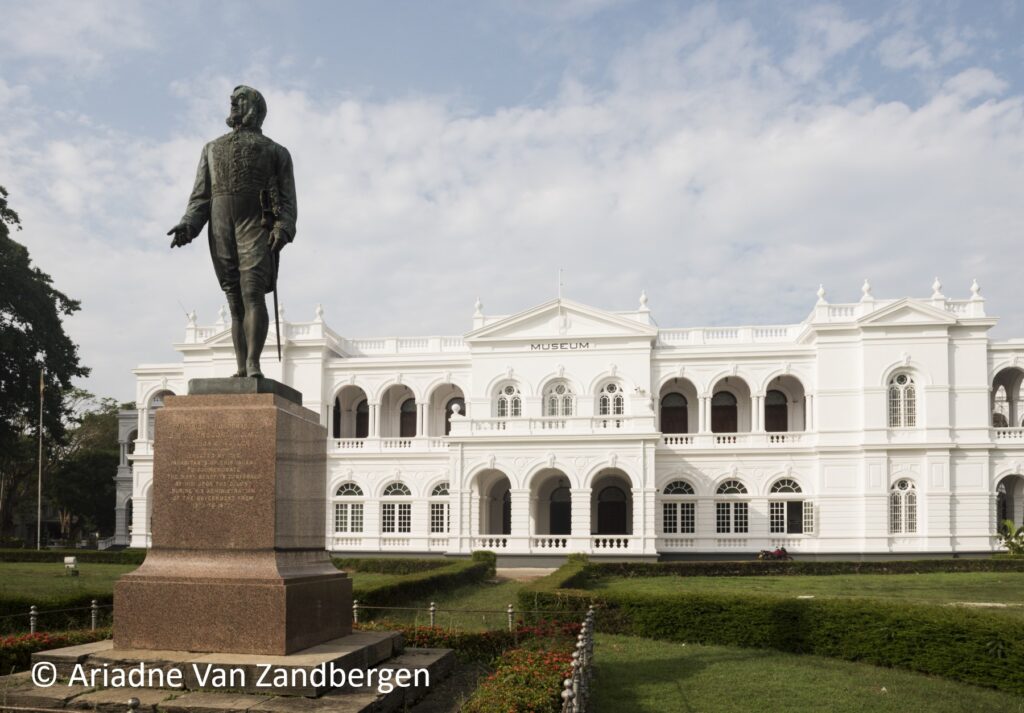 The museum is split across two floors and contains 16 galleries, several of which were recently refurbished. The museum is entered through a grand lobby dominated by one of its most celebrated treasures: the 8th-century Toluvila Buddha, a masterfully serene 1.75m-tall crystalline-limestone statue unearthed during excavations at Anuradhapura in 1900.
Most of the other ground-floor galleries focus on a specific archaeological subject, for instance cast Hindu and Buddhist bronzes, granite statues, exotic and local ceramic items, and Brahmi, Sinhalese, Portuguese and Dutch rock inscriptions spanning a period of more than 2,000 years.
Travel to Colombo
By air
The terminus for all international and many domestic flights, Bandaranaike International Airport stands 30km north of central Colombo along the nippy multi-lane Katunayake Expressway. Fresh arrivals can pick up a taxi from one of the semi-official agencies that line the arrivals hall and charge around US$15–20 for a city transfer. Any hotel or guesthouse in Colombo can arrange a taxi to the airport for a similar rate.
If you place any value whatsoever on your time, it is emphatically worth paying the nominal toll fee (around US$2 per car) to use the expressway. Note that domestic flights operated by the likes of Cinnamon Air and Helitours leave from Ratmalana Airport, which lies 18km south of central Colombo in Dehiwala–Mount Lavinia.
By rail
There are two major stations: Colombo Fort and Maradana. All northbound trains originating in Colombo start at Fort while southbound trains start at Maradana, but in practice you can board at either station, with Fort almost invariably being the more convenient. Reservations for major services such as to Anuradhapura, Badulla, Kandy, Ella, Jaffna, Trincomalee and Batticaloa can be made up to 14 days in advance at Fort's Berth Reservations Office, and seats in reserved classes between other stations (such as from Kandy to Nanu Oya) can be bought in advance at Fort as well.
By road
Regular government and private buses connect Colombo to all towns and resorts regularly visited by tourists. Locating the bus service you need is usually quite straightforward, since all three main intercity bus stations are huddled close together in Pettah a few hundred metres east of Colombo Fort railway station and Manning Market.
Running from south to north, Bastian Road bus stand is the main departure point for private buses to most destinations countrywide (the main exception being Negombo and buses that use the Southern Expressway to reach the likes of Galle, Matara and resorts in between), while the Central bus stand is reserved for all government SLTB buses, and Gunasinghepura bus stand is used by private buses to more local destinations such as Negombo and Aluthgama.
About 18km southeast of the city centre, the modern Makumbura bus stand is the place to pick up private express buses that use the Southern Expressway to the likes of Galle, Matara and the far southeast. Most air-conditioned private buses to Jaffna leave Colombo from Wellawatta Market.