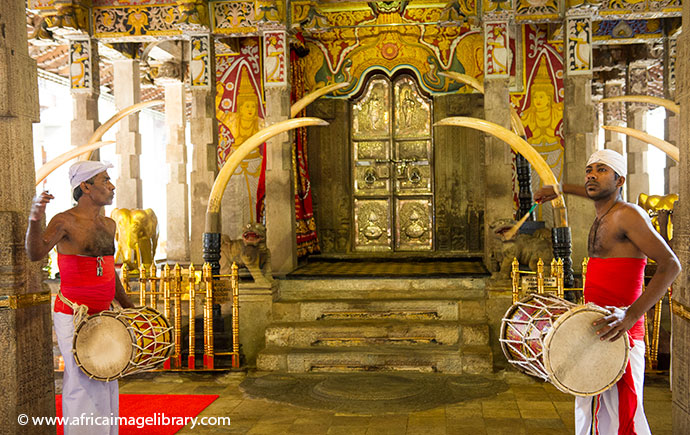 Spiritual centre of Kandy's Sacred City – inscribed as a UNESCO World Heritage Site – the Dalada Maligawa is one of the world's most venerated Buddhist shrines © Ariadne Van Zandbergen, Africa Image Library
The lovely highland city of Kandy is renowned for its sacred Temple of the Tooth and fabulous centuryold botanical garden.
As sweet and ripe for exploration as its irresistible name suggests, Kandy finds its way on to the itinerary of pretty much every visitor to Sri Lanka, and it seldom disappoints.Also known as the Maha Nuwara (literally 'Great City') or by the ancient name Senkandagala, Kandy served as the last capital of the Sinhala monarchy from the 1590s until it was signed over to Britain in 1815. It remains the capital of Central Province, and a population of 130,000 makes it the island's largest city outside the urban conglomeration centred upon Colombo and Negombo. The sacred old city – lapped by the ornamental Lake Kandy, and overlooked by the verdant slopes of the Udawatte Kele Sanctuary – is a UNESCO World Heritage Site, whose spiritual focal point Dalada Maligawa (Temple of the Tooth) ranks high among the world's most venerated Buddhist shrines. Enclosed on three sides by the jungle-fringed Mahaweli River, the greater city is studded with other historic landmarks, ranging from a quartet of ancient shrines dedicated to the city's four guardian deities, to imperious colonial edifices such as the Hotel Suisse and Queen's Hotel, to the vast and well-maintained Peradeniya Botanical Garden, which celebrates its bicentennial in 2021.