As sweet and ripe for exploration as its irresistible name suggests, Kandy finds its way on to the itinerary of pretty much every visitor to Sri Lanka, and it seldom disappoints. Also known as the Maha Nuwara (literally 'Great City') or by the ancient name Senkandagala, Kandy served as the last capital of the Sinhala monarchy from the 1590s until it was signed over to Britain in 1815.
The sacred old city – lapped by the ornamental Lake Kandy, and overlooked by the verdant slopes of the Udawatte Kele Sanctuary – is a UNESCO World Heritage Site, whose spiritual focal point Sri Dalada Maligawa (Temple of the Tooth) ranks high among the world's most venerated Buddhist shrines. Enclosed on three sides by the jungle-fringed Mahaweli River, the greater city is studded with other historic landmarks, ranging from a quartet of ancient shrines dedicated to the city's four guardian deities, to imperious colonial edifices such as the Hotel Suisse and Queen's Hotel, to the vast and well-maintained Royal Botanical Garden, which celebrated its bicentennial in 2021.
What to see and do in Kandy
Kandyan cultural shows
One of the most popular activities in Kandy is the late afternoon cultural show staged daily at several venues around the city. The shows include displays of typical Kandyan dances by men and women, in which the participants wear elaborate costumes with an extravagance of silver ornaments on ears and chests, as well as a juggling performance involving intricate twirling of lacquered wooden plates, some energetic somersaulting, daredevil displays of fire-eating and fire-walking, and a mask dance representative of low-country dancing.
The authenticity, if these things bother you, is open to question, but there is no denying that the frenetically percussive music – provided by a dervish-style drum troupe whose polyrhythms are adorned with occasional horn- and flute-like melodic flourishes – is utterly compelling. All the shows cost around US$7 per person, start at 17.00 and last for about 1 hour, an arrangement that allows audience members to move on to Sri Dalada Maligawa in time for the 18.30 puja.
Sri Dalada Maligawa (Temple of the Tooth)
Sri Lanka's holiest Buddhist shrine, Sri Dalada Maligawa houses the venerated top right canine of the Buddha, which was smuggled to Sri Lanka in the hair of a princess from Orissa in the 4th century AD, and secured as a symbol of nationhood in a succession of custom-built temples countrywide until it came to rest in Kandy in 1592.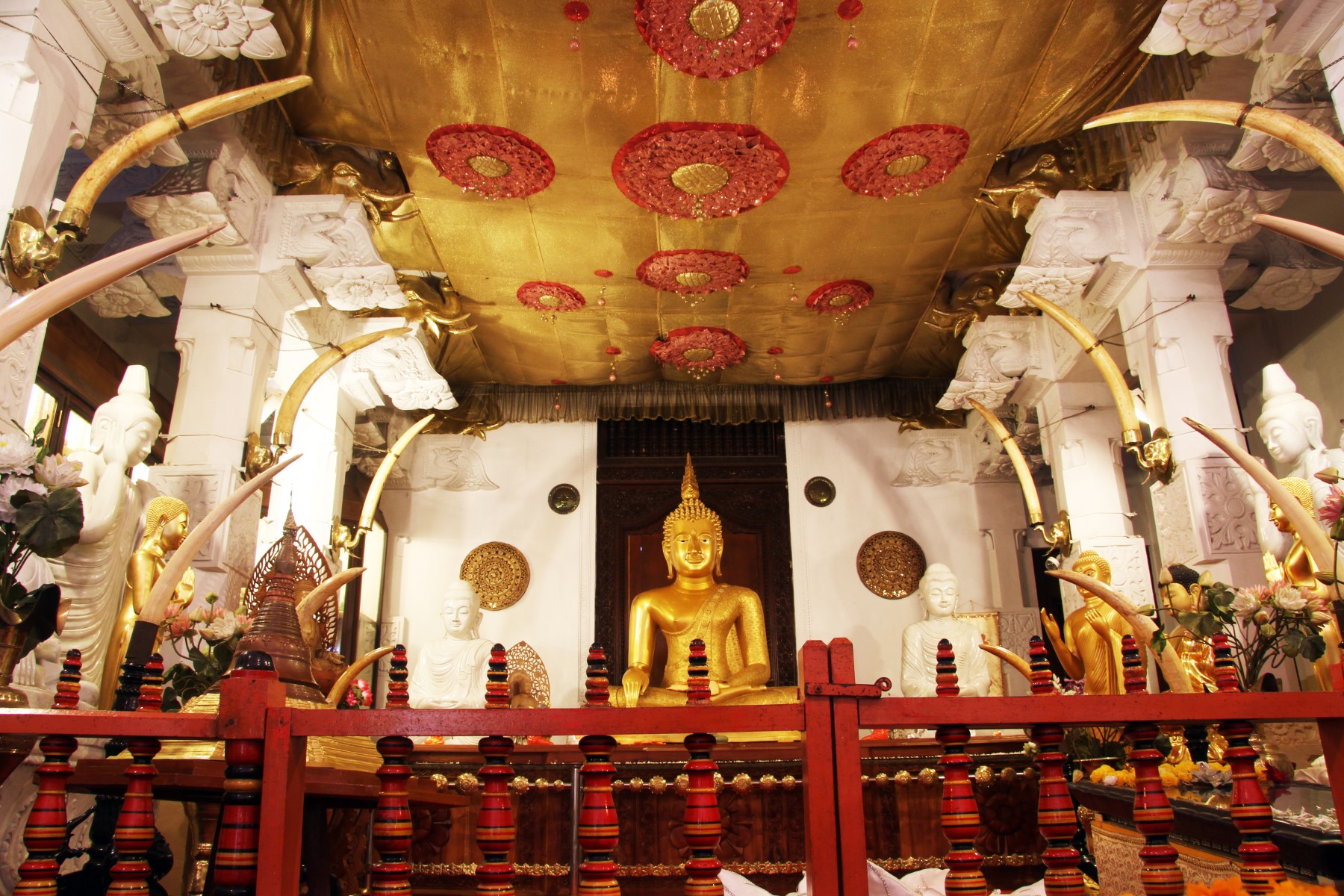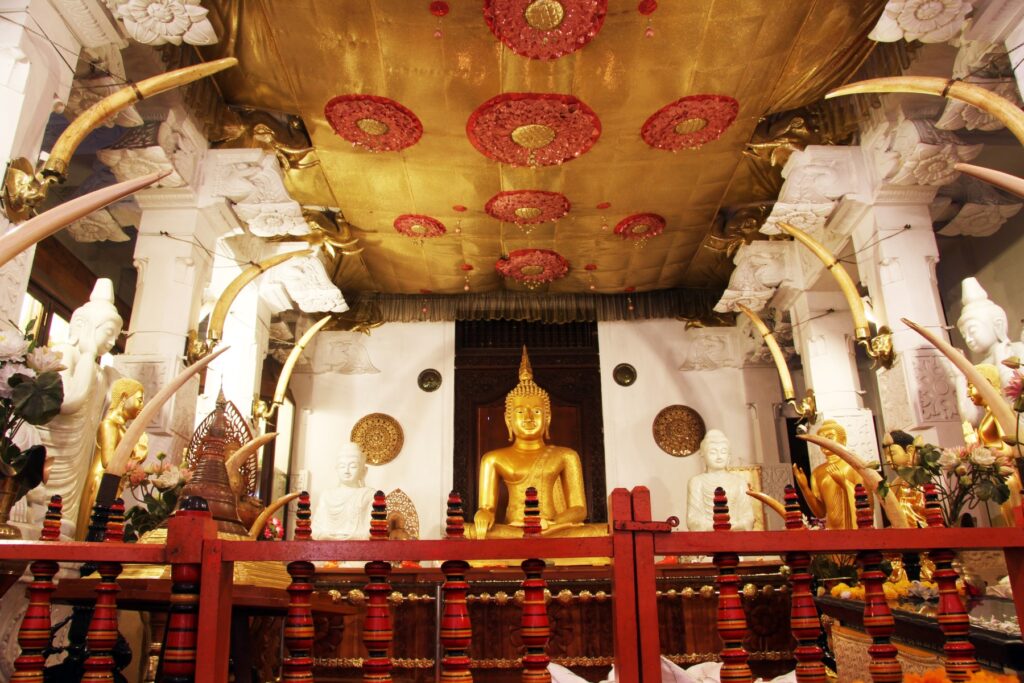 The original two-storey temple completed in 1595 by King Vimaladharmasuriya I now forms the core of an inner temple enclosed in a grander and more expansive three-storey structure built a century later by King Vimaladharmasuriya II and further expanded under King Kirti Sri Rajasinha, while the moat and other adornments were added by King Vikrama Rajasinha, the last Kandyan monarch. The tall golden canopy that shades the central relic chamber was donated by President Premadasa in the 1980s, and extensive restoration work had to be undertaken in the aftermath of the 1998 bombing.
The temple's plain but attractive white façade, set below layered Kandyan tiled roofs, is seen to best advantage from a distance (try the sloping Royal Palace Park or one of several viewpoints along Rajapihilla Road), with Lake Kandy in the foreground and a verdant backdrop provided by Udawatte Kele. Up close, the most prominent frontal feature is the Pittirippuva, an extruding octagonal belvedere that was originally built as an audience platform by King Vikrama Rajasinha and now houses a library in its base.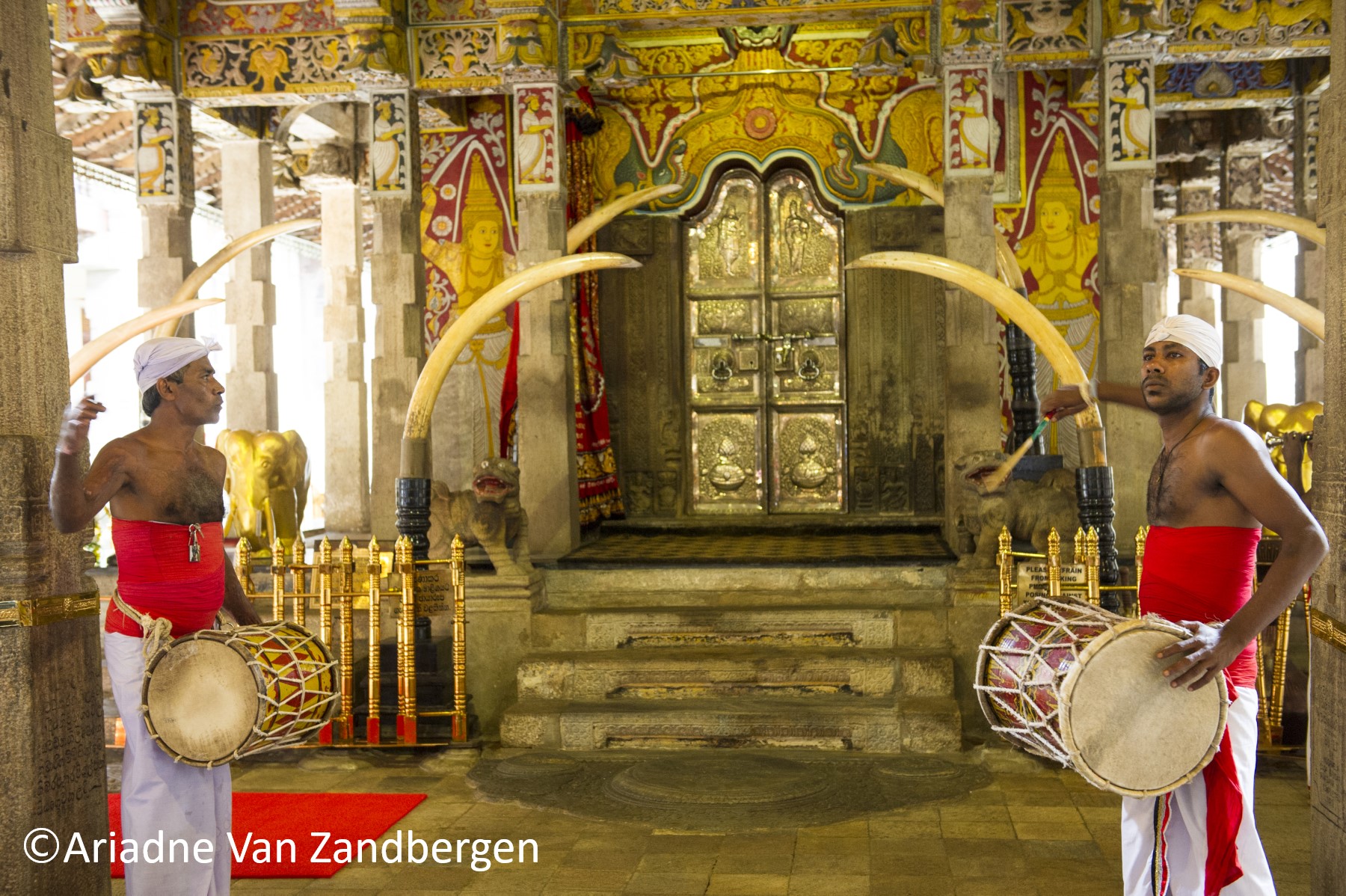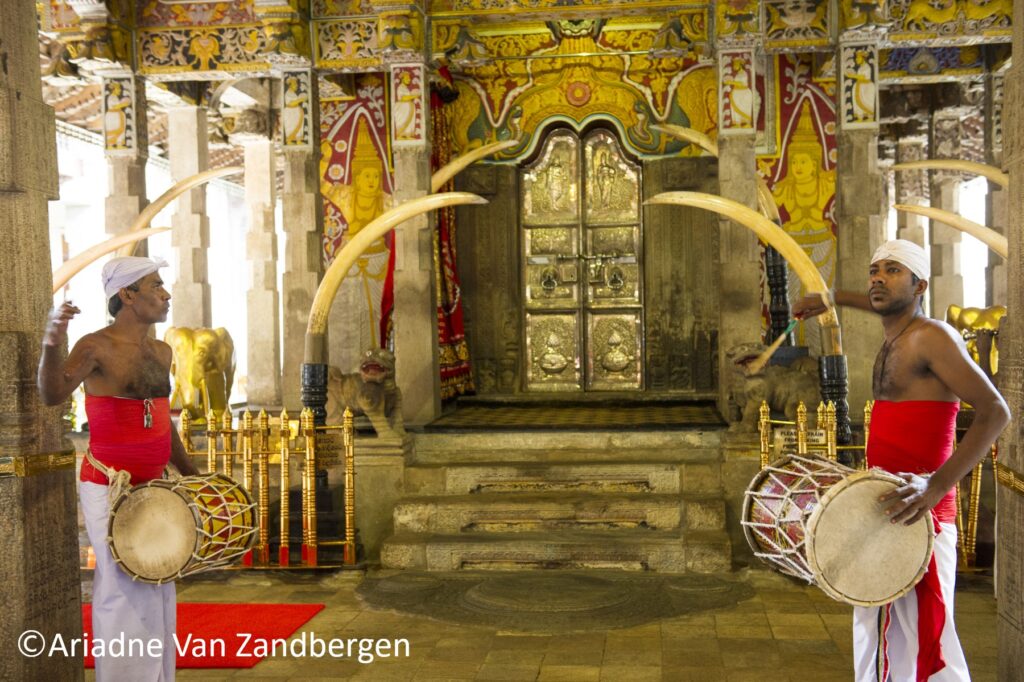 The main entrance leads across the moat and up a flight of stairs into the surprisingly small drumming courtyard, which is dominated by the inner shrine. Standing two storeys high, this handsome small building, the oldest part of the temple, is supported by engraved wooden pillars and its walls are adorned with a fantastically chaotic melange of intricate paintings and engravings (those at the rear are easier to inspect closely than the ones at the front).
Hatara Devale and Temple Square
Revered by Buddhist and Hindu residents alike, the Hatara Devale (four shrines) are each dedicated to one of Kandy's four guardian deities, namely Natha, Pattini, Vishnu and Kataragama. Three of the shrines stand clustered close together in Temple Square, the large leafy block immediately west of Sri Dalada Maligawa. The fourth, dedicated to Kataragama, stands two blocks further west, at the southern end of Kotugodella Street. Entrance to all four shrines is free.
Kandy National Museum
Renovated in 2014–17, Kandy's National Museum, which stands immediately east of the Sri Dalada Maligawa compound, is housed in the Palle Vahala (Lower Palace) built in the late 18th century as a royal harem (or, if you prefer, Queens' Palace) for the consorts of King Sri Vikrama Rajasinha. A museum since 1942, it contains more than 5,000 artefacts relating to the Kandyan period, including the original Kandyan Convention signed by the British and the Chiefs of the Kandy on 10 March 1815.
Asgiri Monastery
Founded during the 14th-century reign of King Parakramabahu IV of Kurunegala, this historic and influential Buddhist monastery once extended all the way from the hills west of the town centre to the more easterly site of present-day Trinity College. The core monastery now stands about 5 minutes' walk west of the town centre and incorporates several small temples with painted interiors.
During the Kandyan era, Asgiri served as a royal crematorium and burial ground, a tradition that started in the late 14th century when Queen Chandravati, the mother of King Sena Sammatha Vikramabahu, was cremated and buried here. The old royal burial ground and its funerary dagobas were cleared to make way for the construction of the railway line to Matale in 1880.
However, the monastery's most intriguing structure, tucked away in a leafy compound 100m north of Hill Street, is the beautiful Adhanamaluwa Gedige, which reputedly stands on the exact spot where Queen Chandravati was cremated and was built as a memorial by her son. This robust and intricately carved stone temple, set below a striking two-tiered Kandyan tiled roof, is almost certainly Kandy's second-oldest building and, as with the older Natha Devale, its architecture displays a strong Hindu influence.
Lake Kandy
It might come as a surprise to learn that the tranquil ornamental lake so integral to the modern-day Kandyan landscape was in fact completed in controversial and bloody circumstances a mere three years before the city's Sinhalese monarchy was evicted by the British. Also known as Lake Bogambara or Kiri Muhuda (Sea of Milk), it was constructed over 1810–12 at the command of King Sri Vikrama Rajasinha, who used slave labour to dam the marshes and paddy fields that skirted his capital, and was delighted when they filled up not only with water but with fish, which he fed with boiled rice from a small island (reputedly connected to the palace by a subterranean tunnel so secret its existence has yet to be corroborated).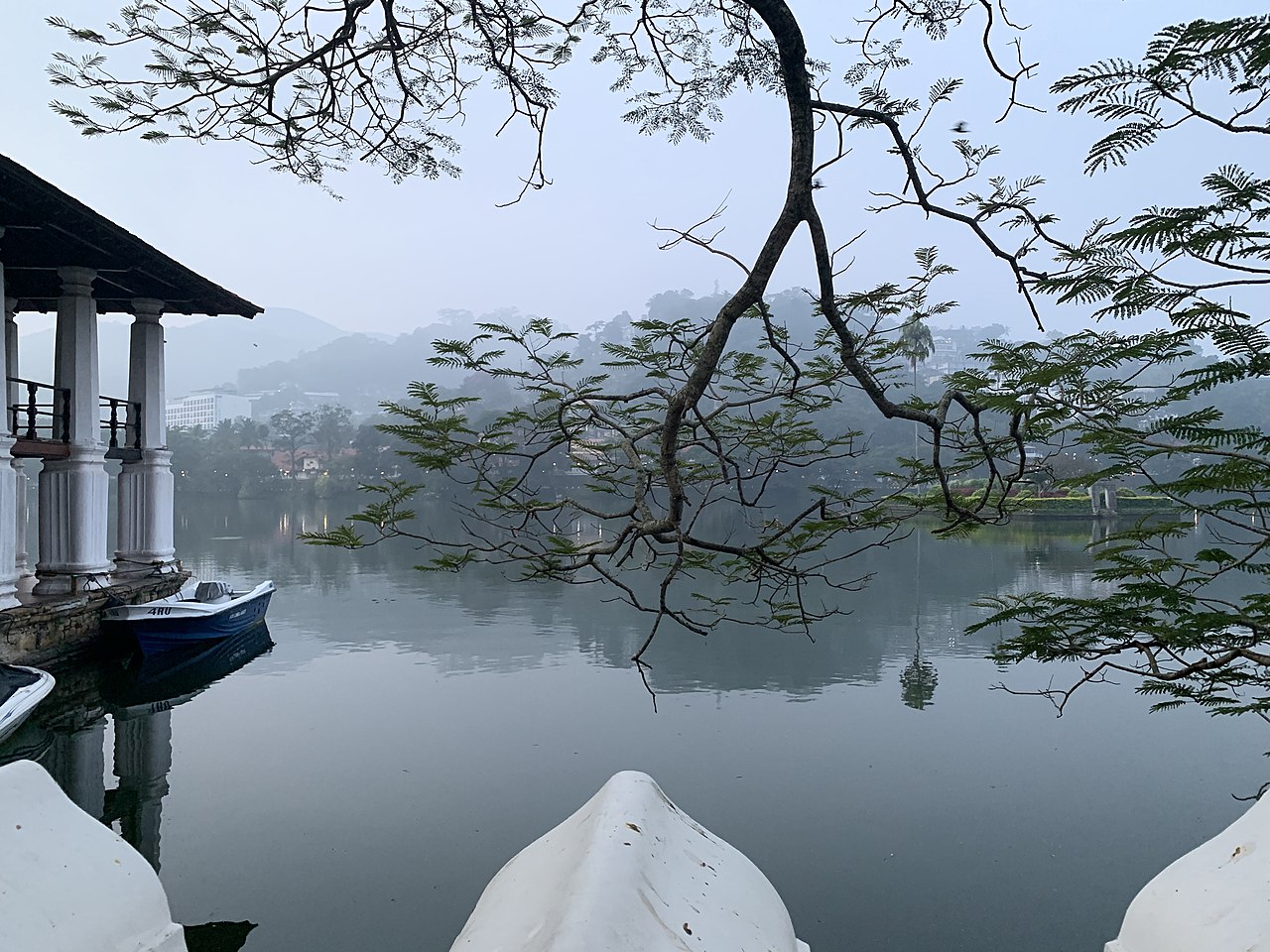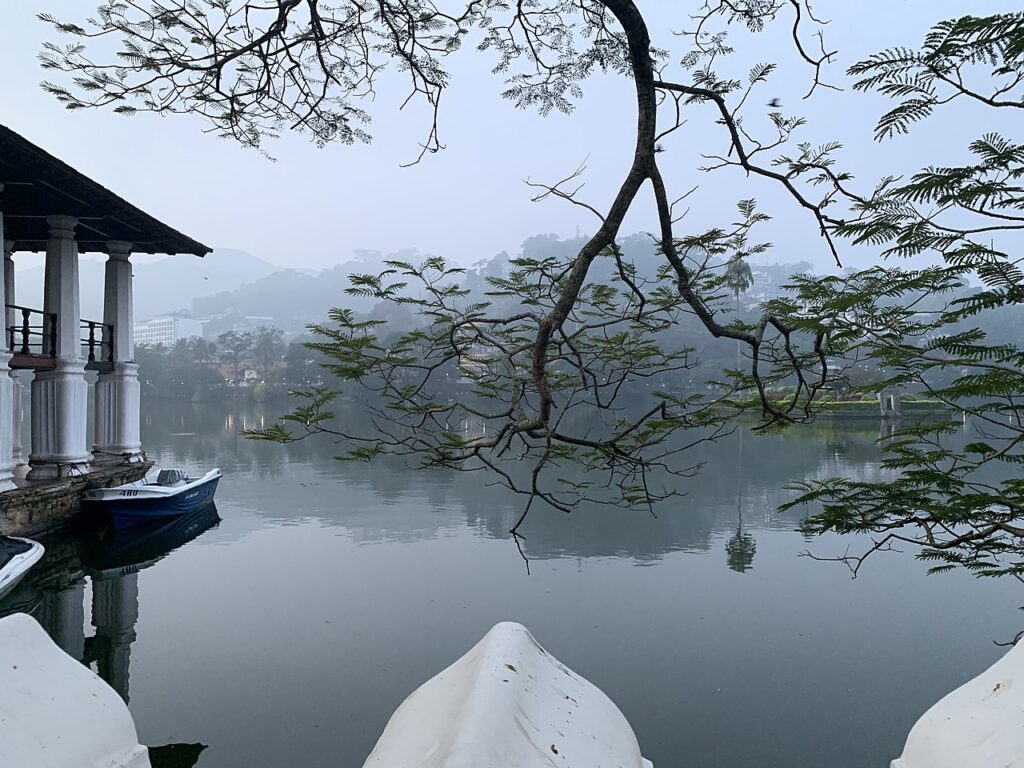 Today, the tadpole-shaped lake extends over 19ha and can be circumnavigated on foot along a shady 3.5km footpath. You'll pass several impressive Indian flying fox roosts, and should also look out for waterbirds such as spot-billed pelican, Indian pond heron, black-crowned night heron, white-breasted waterhen and various cormorants and egrets. The walk could be extended with diversions to the Royal Palace Park, Malwatta Monastery and historic Hotel Suisse, all on the south side of the lake. Unfortunately, the handsome colonnaded Ulpenge (royal bathing house) built for the wives of King Sri Vikrama Rajasinha, on a platform immediately south of Sri Dalada Maligawa, is now a police checkpoint and closed to the public.
Royal Palace Park
Busier with courting teenagers than with tourists, this 2ha park slopes upward from the southwest lakeshore to offer splendid views across the water to the old town centre and Sri Dalada Maligawa. Its official name refers to it having been the site of a palace built for King Vimaladharmasuriya I, who famously repelled two attempted Portuguese invasions of Kandy during a 12-year reign that started in 1592.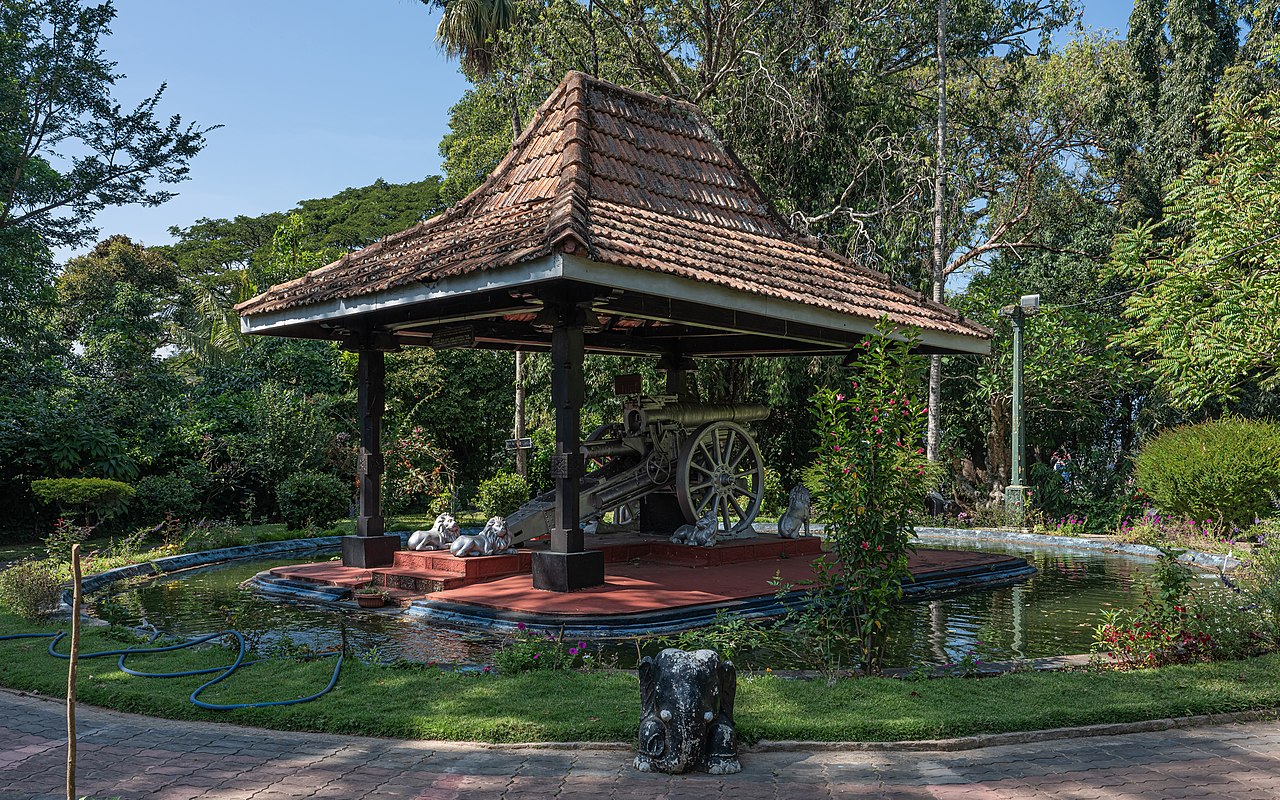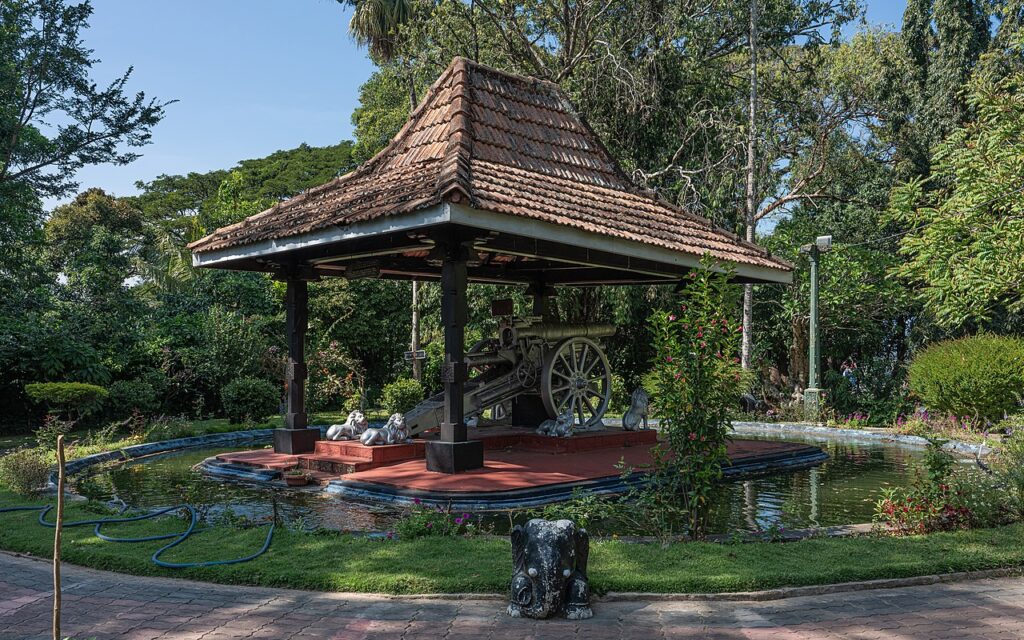 Later a lakeside terrace built by King Sri Vikrama Rajasinha, it was remodelled as a park in 1880 under the acting Colonial Secretary Herbert Wace, and is still sometimes referred to as Wace Park (or, rather confusingly, as Wales Park, reputedly also its official name for a period, in honour of the Prince of Wales). Today, pride of place goes to a Japanese artillery gun captured in Burma during World War II and now housed under a small Kandyan-style pagoda.
Malwatta Monastery
Older than Lake Kandy, whose southern shore it overlooks, this attractive monastery was established in 1753 by Sri Saranankara Sangaraja and it contains two separate temples embellished with 18th-century architectural features, as well as a venerable Chapter House and tall octagonal library. A small museum exhibits several artefacts owned by the temple's founder or dating back to that time.
Travel to Kandy
By air
Before the pandemic, Cinnamon Air seaplanes flew daily between Kandy and Colombo, Batticaloa, Bentota and Dickwella, though in most cases the short distances, high fares and more complex logistics associated with flying arguably made a train trip or road transfer more inviting. Now charter- only (but check for updates), planes land at Victoria Reservoir Airport, near the golf club about 20km east of the town centre.
By rail
The most agreeable way to travel between Colombo and Kandy is by train, with up to ten services daily (around 2½–3 hours one way). Travelling from Colombo to Kandy, try to get a seat on the right-hand side of the train, facing the engine, for the best views, or aim for the first-class reserved observation car on certain departures or check the online ticket site.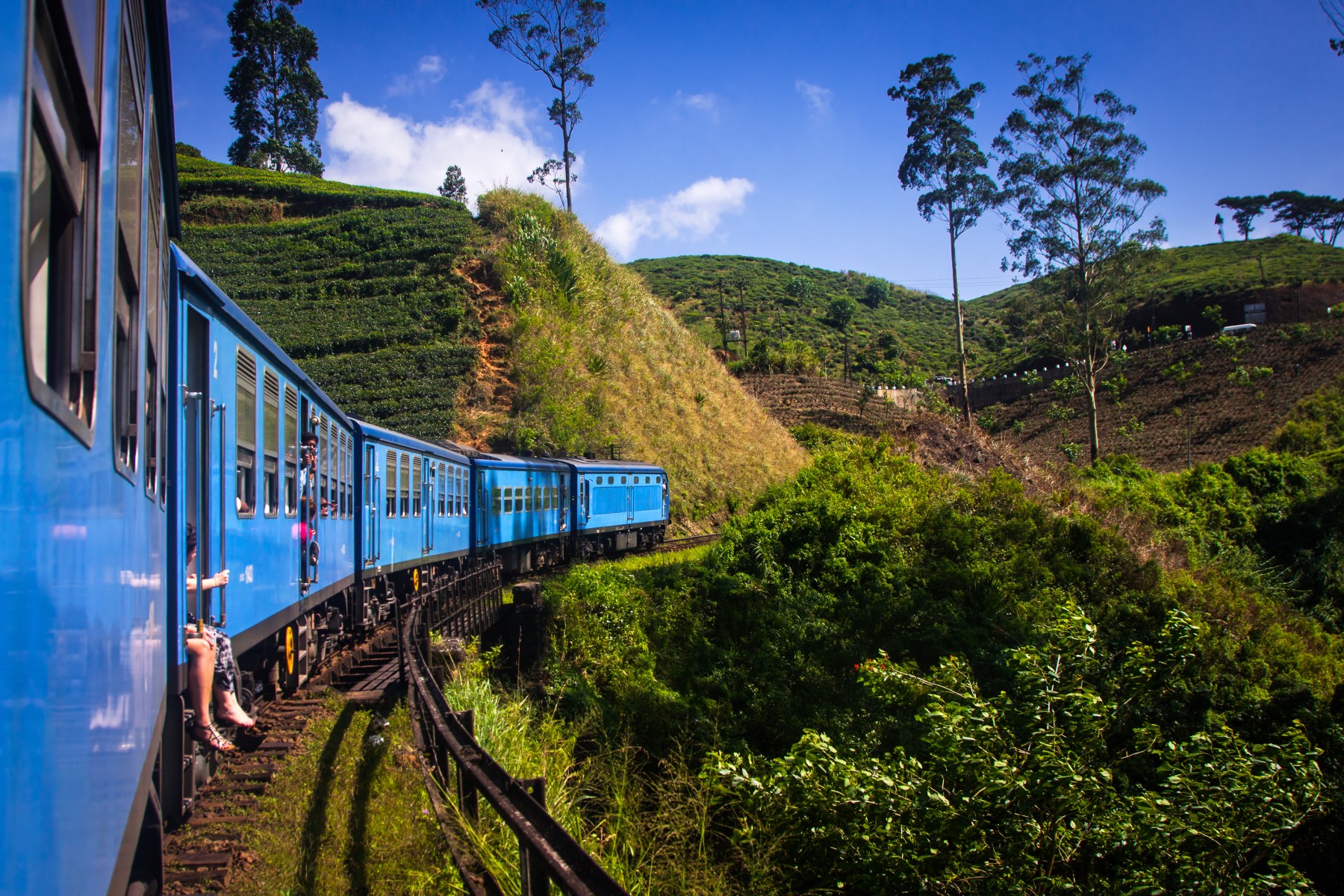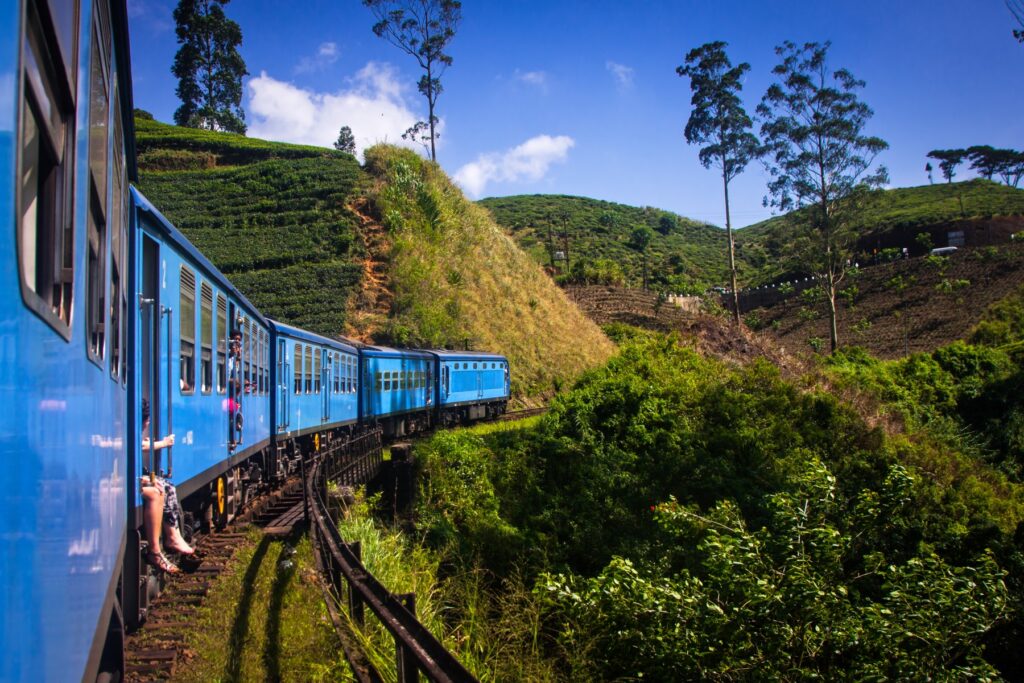 Kandy railway station stands alongside the main road to Peradeniya (and Colombo). Most Colombo–Kandy trains continue on to Badulla, stopping en route at Hatton (for Adam's Peak), Nanu Oya (for Nuwara Eliya), Pattipola and Ohiya (both for Horton Plains National Park), Haputale, Bandarawela and Ella. A secondary line running north from Kandy to Matale is serviced by half a dozen trains daily and takes up to 1½ hours.
By road
The scenic 115km road trip from Colombo to Kandy typically takes around 4 hours on the old road, depending greatly on where exactly you start, the time of day, and the volume of traffic on the city outskirts. The new expressway (Phase 1 opened early 2022) should speed up the journey while also saving time between Kandy and southern locations.
Intercity buses between Colombo and Kandy leave every 15 minutes throughout the day. Coming from elsewhere in Sri Lanka, Kandy lies 220km (6–7 hours) from Galle via Bentota (180km) and the outskirts of Colombo; 320km (8–9 hours) from Jaffna via Anuradhapura (135km/3–4 hours), Dambulla (75km/2 hours) and Matale (25km/30 minutes); 220km (5 hours) from Trincomalee via Habarana (95km/2½ hours), Sigiriya Junction, Dambulla and Matale; 140km (3–4 hours) from Polonnaruwa via Habarana, Sigiriya Junction, Dambulla and Matale.