So you want to see the northern lights, but you're not sure where to go? Here's our guide to the best places to see the aurora borealis to help you start planning your trip. 
Sweden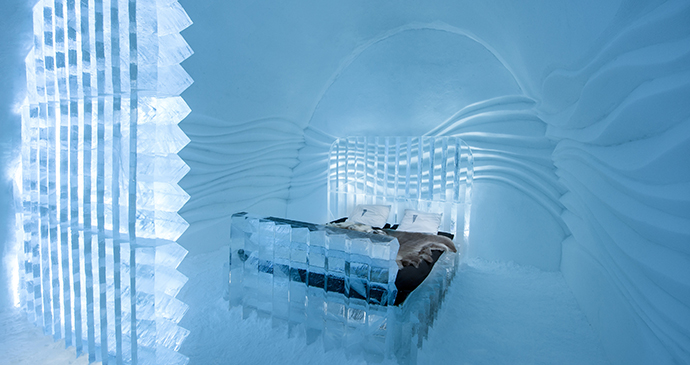 If you're aurora-seeking in Sweden you can stay in the Icehotel © Asaf Kliger, Visit Sweden
The best hub to head for in Sweden is Kiruna, which is now linked to London with Discover the World's direct flights. From there it's an easy journey by road to the dazzling sculptures of the Icehotel, and to Abisko, probably the best location in Europe for seeing the northern lights. Abisko is also on the King's Trail, with its fantastic cross-country skiing opportunities.
Norway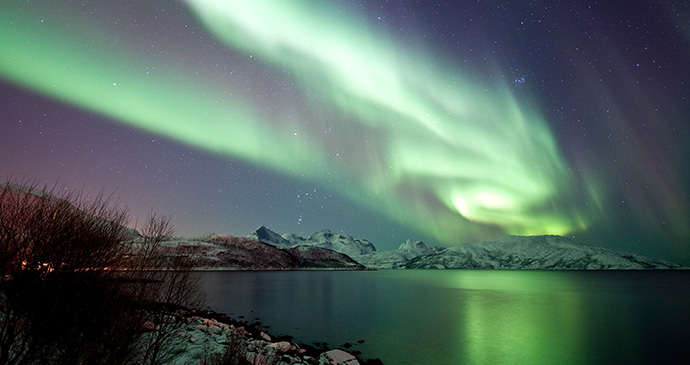 Noway's coastal areas are scenic destinations to see the lights © Northern Norway Tourist Board
The most scenic way to search out the northern lights is by sailing along Norway's coastline. Alternatively, you can fly easily to Tromsø, which enjoys an outstanding location for northern lights viewing as it's right beneath the auroral oval and, if you wish, take a short coastal day or half-day whale-watching trip from there. Alternatively, snowmobiling and dog sledding are great activities to enjoy by moonlight while keeping your fingers crossed for a light show.
Svalbard, an archipelago perched high above Scandinavia at about 80°N, is part of Norway. Its main island is Spitsbergen; the largest settlement is Longyearbyen, which has a human population of around 2,200 – and about the same number of polar bears. A winter journey to Svalbard constitutes a genuine adventure. It's certainly not the easiest destination from which to see the northern lights – to start with, the sun doesn't rise between November and mid-February. While this could be a bonus – the extended hours of darkness increase your chances of seeing the lights, after all – most winter travellers prefer to visit Svalbard from February onwards. At this time of year they still stand a good chance of seeing the aurora yet can enjoy, for example, a multi-day snowmobiling expedition with a little bit of daylight thrown in.
Finland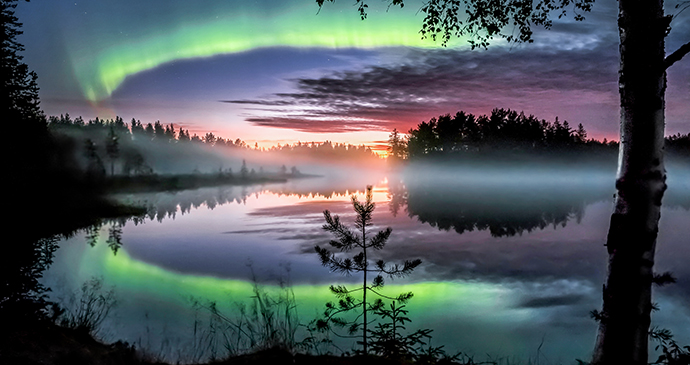 There's more to Finnish Lapland than Santa Claus. Top spots for aurora aficionados include Lake Inari on the Russian border where Nellim Wilderness Hotel sits on the lakeshore amid the taiga forest. Its 'Aurora Bubble' and 'Aurora Kota' are specially designed for viewing the lights – they have windows facing the north sky, and beds for when the lights have gone to sleep. Sister hotel Muotka Wilderness Lodge is located in the taiga forests of Finland's Saariselkä fells and Urho Kekkonen National Park. In the daytime, guests can take to the ski trails or dare each other to dip in the pool cut from the ice of the nearby river.
If ice swimming doesn't burn enough calories, try the daytime activities at Iso-Syöte Winter Hideaway. Here you can clip on your downhill skis – Iso-Syöte is home to some of Finland's best slopes. Cross-country skiing, showshoeing, husky sledding, snowmobiling, reindeer safaris and ice fishing are also on offer as well as trips to Rovaniemi's Santa Claus Village and Ranua Wildlife Park.
Iceland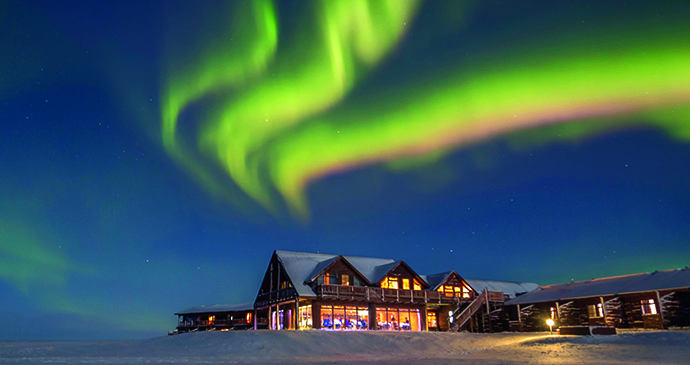 Hotel Rangá is only a 2-hour drive from Reykjavík © Discover The World
Yes, you can see the northern lights in Reykjavík if the display is intense, but the light pollution of the city prevents you from seeing the show at its best. And you don't have to travel far to escape artificial light. Hotel Rangá, for example, is located around a 2-hour drive from the city.
Alaska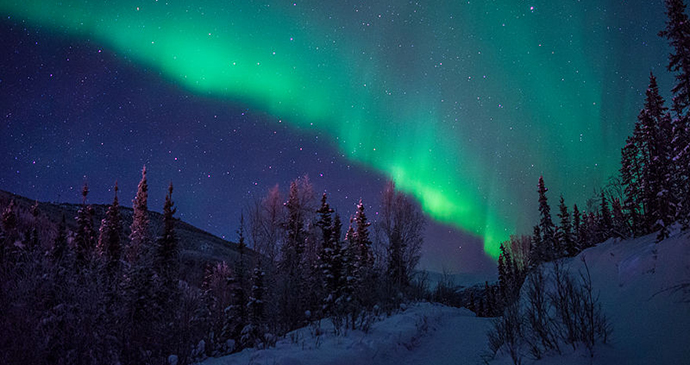 The northern lights at Chena Springs © Analogic, WikimediaCommons
Of Alaska's towns, Fairbanks is the top spot for northern lights viewing thanks to its location beneath the auroral oval; 100km outside town, the lovely Chena Hot Springs resort offers aurora viewing either from the hot springs themselves, or from the surrounding wilderness. Having come this far, however, it's worth a little extra travelling into outback Alaska. Coldfoot Camp (so named because some gold-rush stampeders got 'cold feet' here, and turned around for home) lies 175km north of Fairbanks on the Dalton Highway – a road that cuts through scenery so extraordinary that it's really a destination in itself. If you're looking for boutique loveliness and a chocolate on your pillow, Coldfoot Camp isn't the spot for you: essentially, it's a truck stop serving the drivers that haul supplies up to the oilfields at Prudhoe Bay. As such, it's full of interesting characters with forests of facial hair. It's not just the peoplewatching that makes this a fascinating stop for the night, though. A trip to the nearby village of Wiseman (population 12) offers an insight into a world away from cellophane-wrapped joints of meat and evenly shaped vegetables, and the people's love and understanding of the land they live in left me, as an urbanite, in genuine awe. Come here in the evening, and they'll conjure up a northern-lights show – weather permitting, of course.
Greenland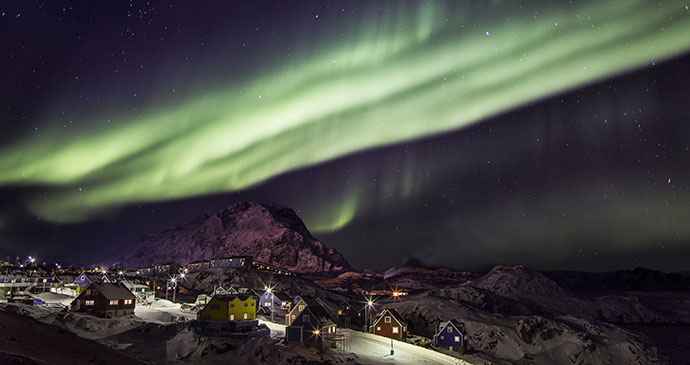 Greenland is an ideal destination for aurora sightings © Mads Pihl, Visit Greenland
Greenlandic legend relates that, when the northern lights are dancing in the sky, it means the dead are playing football with a walrus skull. Take it or leave it, Greenland's northerly location makes it an ideal spot for aurora sightings and, as its population is so sparse, it's easy to get away from the city lights. A word of warning: parts of Greenland are home to healthy populations of polar bears – don't wander off into the countryside to escape light pollution without taking local advice first.
Canada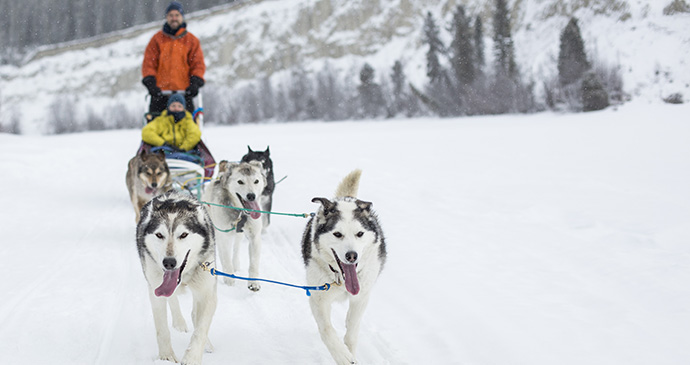 In Whitehorse you can mix aurora-viewing with dog sledding © Visit Canada
Yellowknife is renowned for its northern lights; excursions include an aurora-viewing evening from a cabin that visitors reach by snowmobiling across Great Slave Lake. For a more remote experience still, fly to the eco-lodge at Blachford Lake where you can try your hands and feet at skating, ice fishing, dog sledding and snowmobiling. Far from artificial light, it's an ideal location for aurora gazing. Alternatively, in Whitehorse, you can mix your aurora-viewing with dog sledding and sightseeing by air, then lie back in the Takhini Hot Springs and watch the sky turn green while your hair grows white with icicles. In Churchill, polar bears pose for photos in the daytime. Alternatively, for a truly wild bear-viewing experience, take a helicopter to Yukon's remote Fishing Branch Ni'iinlii Njik Territorial Park where small groups can see the grizzly bears that congregate during the autumn to feed on the spawning salmon – despite sub-zero conditions, water flows here year-round due to thermal energy stored in underground reservoirs. And once the bears have gone to bed, look up to the skies to see if the aurora's coming out to play.
---