Whether you prefer to take in the acknowledged sites or explore off the beaten track, Sri Lanka has it all in abundance.

Philip Briggs, author of Sri Lanka: the Bradt Guide
Sri Lanka is a fantastic all-round travel destination. Most people know about the sumptuous surf-lapped palm-lined beaches that line the island's long tropical Indian Ocean coastline. But the small Asian country formerly known as Ceylon – extending over an area comparable to the Republic of Ireland – has so much more to offer curious travellers than a stock beach holiday.
There are the ancient Sinhalese capitals of Anuradhapura and Polonnaruwa, where handsome domed dagobas, the tallest of which were built in pre-Christian times on a scale to rival the Egyptian pyramids, tower over jungle-bound monastic ruins adorned with centuries-old Buddhist statues and engravings.
There are exquisitely painted cave temples at Dambulla and Budugehinna, towering stone Buddha engravings at Avukana and Buduruvagala, and magnificent boulder-top royal citadels at Sigiriya and Yapahuwa.
The pretty inland city of Kandy, the most recent of Sri Lanka's dozen or so erstwhile royal capitals, is renowned for its Temple of the Tooth, which stands as a living symbol of the island's 2,400 years of Buddhist history. Contemporaneous with Kandy, yet contrasting with it in almost every respect, is the port city of Galle, a former colonial trade entrepôt – possessed in turn by the Portuguese, the Dutch and the British – whose characterful old town is protected within the largest and best-preserved of the country's time-warped European-built fortresses.
This impressive collection of cultural gems – many inscribed as UNESCO World Heritage Sites – contrasts with some lovely scenery and great wildlife viewing. The Hill Country running south from Kandy supports a cover of neat tea plantations interspersed with misty moorlands and dense rainforests teeming with plants and animals found nowhere else in the world.
An ever-growing network of national parks protects Asia's densest elephant and leopard populations, and an abundance of peacocks (often seen performing their spectacular fan-tailed mating dance on the roadside), as well as sloth bears, wild boars and plentiful deer and monkeys.
Whether you prefer to take in the acknowledged sites or explore off the beaten track, whether your tastes veer towards beach holidays, wildlife viewing, cultural sightseeing or montane hikes, and whether your priority is upmarket luxury, mid-range value for money or affordability above all else, Sri Lanka has it all in abundance.
Food and drink in Sri Lanka
Food
Restaurants
Most restaurants in Sri Lanka slot into one of four broad categories. Most expensive, and largely confined to Colombo and to a lesser extent Galle, are genuine international restaurants that deal in specific cuisines, be it Japanese, French or Bavarian, and cater almost entirely to a clientele of business people, tourists and affluent locals.
Middling in price, with mains typically falling into the US$5–10 bracket, is a rather generic selection of 'proper' tourist-oriented restaurants that tend to offer predictable menus comprising a combination of grilled meat and seafood, pasta dishes, fried noodles and rice, possibly pizzas and/or burgers, and local dishes such as rice and curry or devilled chicken or fish. Also generally associated with larger towns and more touristy areas are deli-style places serving tea, coffee, juices, sandwiches, pastries, cake and the like.
Finally, every town, no matter how small, will boast at least one and usually several dozen little local holes-in-the-wall serving rice-and-curry buffets and other Sri Lankan staples for around US$1–2 per head. The Ministry of Agriculture funds extremely inexpensive eateries island-wide through a development programme for rural women, in which they learn traditional recipes and business skills, and can access loans for starting their own restaurants. Called Hela Bojun Hala in Sinhala-majority areas and Ammachchi in Tamil-majority areas, these outdoor food courts are clean, friendly and very popular, but won't have much spoken English.
Local cuisine
Sri Lanka has a unique cuisine whose manifest South Indian roots are infused with various Malay, Portuguese, Dutch and Arab influences, and make far greater use of coconuts and seafood, as might be expected of a low-lying island with such a long tropical coastline. Sri Lankan dishes tend to be rather hot and spicy, but most tourist-oriented hotels and restaurants will modify their recipes to account for less fire-resistant Western palates. Chinese-style fried rice and noodles are a greasy staple on many local menus, while lighter snacks include fiery meat or vegetable samosas, and various deep-fried meat and vegetable cutlets. Fresh seafood is ubiquitous on the coast, and usually of a very high standard.
The staple diet is rice and curry, which differs from its Indian namesake-in-reverse in that a heap of rice is loaded on to a central plate, then surrounded by anything from five to 15 different curry dishes, each usually in a separate bowl. Another typical Sri Lankan dish is devilled meat, most often chicken or fish, which is smothered in chillies and served in a flame-red sweet-and- sour sauce with chopped leeks, tomatoes and other vegetables. It is usually cooked fresh, so can be as spicy or mild as you request, and served with rice.
Also known as appa, a hopper is a type of steamed or fried pancake made with a fermented rice-flour and coconut-milk batter. It is cooked in a bowl-shaped pan that causes the batter to pool at the bottom, so the sides are crispy and thin, while the base is thicker and softer. As with string hoppers, it is generally a breakfast dish, eaten with fish or chicken curry, though an intriguing variation incorporates an egg, fried sunny side up.
Drinks
Locally produced mineral water costs around US$0.50 per 1.5-litre bottle. The usual selection of international fizzy drinks is equally inexpensive, as is soda water, a refreshing alternative to its sugary counterparts. Also very refreshing is thambili, the golden-hued native 'king' coconut you'll see on sale at stalls around the country. The vendor will chop off the top of the coconut so you can drink the liquid from within. Freshly prepared fruit juices and smoothies are also widely available in cafés and restaurants, but you might want to ask to have it prepared with only a small amount of sugar, or none at all. Tea, as might be expected, is ubiquitous and generally of superb quality, and good coffee is served in smarter cafés, usually at a price.
Good locally brewed lager-style beer is widely available, with the main brands being Lion, Carlsberg, Anchor and Three Coins, all of which come in recreational standard (around 5% alcohol) and industrial strong (upwards of 8%) varieties. These are available in 500ml cans and recyclable 625ml bottles, and usually cost around US$1.50 in so-called wine or beer Shops (a few of which can be found clustered on the main road through most towns) but double or more in restaurants and hotels. Imported wine, often of mediocre quality, is widely available but quite pricey.
The main local tipple is arrack, a strong (30–50% alcohol) rum-like spirit made from distilled toddy (coconut palm sap) but often diluted with less pure spirits. Many brands are available, starting at around US$6 for a 750ml bottle, though purer varieties are a bit more expensive. Connoisseurs drink arrack neat or on the rocks, while others drown it with cola and other fizzy drinks.
Alcoholic drinks are generally served at mid-range and upmarket hotels and restaurants, but not at cheaper family-run guesthouses and eateries. The main reason for this is the high cost of liquor licences, a consideration that also tends to push up prices in licensed establishments. It is usually acceptable to bring your own beer or wine to an unlicensed restaurant, but you should ask first, as some smaller places – especially in Islamic areas – will be uncomfortable with the idea. Many restaurants that depend mainly on tourist custom may also have a cheaper beer and wine licence, keep beer discreetly available without including it on the menu, or will go out to buy a couple for diners who ask nicely.
Health and safety in Sri Lanka
Health
Sri Lanka is home to several tropical diseases unfamiliar to those living in more temperate and sanitary climates. However, with adequate preparation, the chances of serious mishap are small, especially now that malaria has been eradicated. And in the unlikely event you are taken ill, decent hospitals and pharmacies exist in most large towns, consultation fees and laboratory tests are relatively inexpensive, and doctors and pharmacists almost invariably speak good English. Commonly required medicines such as broad-spectrum antibiotics, painkillers and antihistamines are widely available, but anybody who has specific needs relating to a less common medical condition should bring the necessary treatment with them.
Sensible preparation will go a long way to ensuring your trip goes smoothly. Particularly for first-time visitors to Asia, this includes a visit to a travel clinic to discuss vaccinations. A full list of current travel clinic websites worldwide is available on istm.org. For other journey preparation information, consult travelhealthpro.org.uk (UK) or wwwnc.cdc.gov/travel (USA). Information about various medications may be found on netdoctor.co.uk/travel. All advice found online should be used in conjunction with expert advice received prior to or during travel.
Immunisations
Make sure all your immunisations are up to date. A yellow fever certificate is not required unless you are coming from a yellow fever endemic zone. It is wise to be up to date with routine vaccinations and boosters as recommended in the UK. This would include measles, mumps and rubella (MMR) and diphtheria, tetanus and polio. Immunisation against hepatitis A, typhoid, hepatitis B, rabies, Japanese encephalitis and TB may also be recommended, depending on length of stay and the nature of the visit. For example, those who are staying with friends and family, or who are undertaking long trips or to areas of poor sanitation are likely to be recommended hepatitis A and typhoid.
The biggest health risk used to be malaria, but this is no longer the case. Indeed, in 2016 the World Health Organization finally declared Sri Lanka to be malaria-free after a 3½-year period when no locally transmitted cases were recorded. Hence there is no reason to take anti-malarial drugs, though you might want to confirm the situation before you travel, and should still take precautions against being bitten by mosquitoes, which also carry dengue fever and the like.
Safety
Crime
Theft is not as rampant in Sri Lanka as some might expect, and street or beach muggings are fairly rare. However, pickpockets sometimes operate on buses, especially when passengers are standing close to each other, while razor blades are occasionally used to slash holes in bags or to cut the strap. Overall, though, Sri Lanka is certainly safer than most countries in Asia, and crime is far less prevalent than in most Western countries. Still, while there's no call to be paranoid about personal safety, you shouldn't be too casual about your possessions, and action such as leaving your handbag open on a train seat or your wallet peeping out of your hip pocket might be viewed as inviting trouble, especially since the protracted financial crisis may result in increasingly desperate behaviour.
Single travellers should avoid dark alleys and beaches at night. When in doubt, it is usually safest to leave valuables sealed in the hotel safe or in the mini-safe in your room. If you do get robbed and intend to claim from your insurance company, make a report to the police and get a copy of the report from them as proof of your loss.
Female travellers
On the whole, women travelling alone have little to fear on a gender-specific level, and they will generally be treated with respect and kindness by protective locals. That said, single women travellers may be worn down by unwanted male attention, such as persistent staring, inappropriate comments and flirtatiousness, and even groping. Some of these issues are most noticeable on the south and west coasts where 'beach boys' are common, as well as on crowded buses, and even hotel staff may behave poorly. Local women are treated significantly worse, which leads to complaints not being taken seriously, and Asian travellers may find they attract an in-between level of harassment.
Wearing a wedding ring and telling anyone who wants to know that you have a husband at home or waiting for you in the next town may help deflect attention. And while dress codes are relaxed enough in Colombo and other recognised resort areas, elsewhere – especially in strongly Muslim areas – it pays to dress modestly, which means covering your knees and shoulders, and wearing loose tops and skirts or trousers.
LGBTQ+ travellers
Homosexuality is illegal in Sri Lanka, a law that has seldom been enforced in recent decades, but which reflects a widespread stigmatisation of local gays and lesbians. Still, while Sri Lanka isn't a destination suited to single travellers in search of any kind of LGBTQ+ scene, homosexual couples are unlikely to encounter any problems with discrimination in hotels and other tourist institutions, provided they exercise some public discretion.
Travel and visas in Sri Lanka
Visas
Nationals of all countries except for the Maldives, Singapore and the Seychelles require an Electronic Travel Authorisation (ETA) to enter Sri Lanka, which amounts to the same thing as a visa. The ETA costs US$35 at the time of writing and can be applied and paid for by credit card at eta.gov.lk. Check the URL carefully, as scam ETA sites abound. The application must be made within 30 days of your intended date of arrival and usually takes up to one day to process, whereupon you'll be emailed a letter that you can print out and show upon arrival at Bandaranaike International Airport to guarantee entry.
If you don't have an ETA, you can buy a visa on arrival, but this means joining a tiresome queue at a special desk in the airport, and carries a small risk of being refused entry for some or other reason. Until recently, the online ETA application process was exclusively for tourist visits, but business travellers can evidently apply on the same website.
The immigration desk customarily stamps in visitors for 30 days. If you intend to stay longer, the conservative option would be to obtain a visa covering the full duration of your visit from a Sri Lankan embassy or high commission (to see a full list of consulates abroad, visit mfa.gov.lk and click on the 'missions' tab). Alternatively, you can extend your stay to 90 days at the Department of Immigration and Emigration in Colombo at any point within the original 30-day period.
US citizens may also obtain a reciprocal five-year multiple-entry tourist visa for US$135 (including the ETA), but confirm at your local consulate as this visa is only advertised by the Permanent Mission in New York City.
Getting there and away
By air
Practically all international flights to Sri Lanka land at Bandaranaike International Airport, which stands in Katunayake some 30km north of central Colombo and 10km southeast of the popular resort town of Negombo. Bandaranaike is serviced by a good selection of international airlines offering non-stop and/or reasonably direct one-stop flights to most capital cities in Europe, Asia and the Middle East. These include the national carrier SriLankan Airlines, which operates direct services to London, Paris, Rome, Frankfurt, Moscow, Singapore, Bangkok, Hong Kong, Shanghai, Beijing, Canton, Kuala Lumpur, Tokyo, Karachi, Kuwait, Riyadh, Jeddah, Doha, Abu Dhabi, Muscat, Dubai, Malé and several cities in India.
Coming from Africa or the Americas, the flight of least resistance is generally a one-stop routing through the Middle East with Emirates, Qatar or Etihad. From Australia or New Zealand, the most convenient option is through Asian cities such as Tokyo or Singapore.
Major airlines that fly to Bandaranaike include: Aeroflot, Air India, British Airways, Cathay Pacific, Emirates, Etihad Airways, Fly Dubai, KLM, Malaysia Airlines, Qatar Airways, Singapore Airlines, Thai Airways and Turkish Airlines. For a full list of airlines and flights servicing Bandaranaike, visit airport.lk.
Getting around
Distances in Sri Lanka are relatively short and the limited but useful rail system is supplemented by a network of well-maintained surfaced roads connecting all major towns and most other points of interest. This means it is very easy to get around, whether you travel with a rented car and driver, or depend on public transport, which includes an inexpensive and all-but-comprehensive bus service and an equally affordable rail network. In addition, a plethora of reasonably priced three-wheeler tuktuks can be found almost everywhere for short urban hops or local excursions.
By air
A limited network of domestic flights is available but seldom used by tourists, except to travel between Colombo and the far north- or east-coast resorts such as Trincomalee and Batticaloa. The main domestic carriers are SriLankan Airlines, Helitours, FitsAir and Cinnamon Air.
By rail
Established in the colonial era and vastly upgraded following the end of the civil war in 2009, Sri Lanka has a useful rail network comprising four main lines out of Colombo. These are the South Coast line running to Matara (and Beliatta, reaching Hambantota and Kataragama in the future) via Bentota, Hikkaduwa, Galle and Weligama, the Hill Country line running to Badulla via Kandy, Hatton and Ella, the East Coast line running to Trincomalee via Kurunegala, Maho and Gal Oya Junction as well as to Batticaloa via Kurunegala, Maho, Gal Oya Junction and Polonnaruwa, and the Northern line to Jaffna and Mannar via Kurunegala, Maho and Anuradhapura.
By road
The road network is good and extensive, and the main highways are generally well maintained, although country lanes are bumpier. There are also two excellent multi-lane toll roads in the southwest: the 160km Southern Expressway connecting the southern Colombo suburb of Kottawa to Matara via Bentota and Galle, and the 35km Katunayake Expressway linking the northern Colombo suburb of Kelani to Bandaranaike International Airport. A third tollway (Central Expressway) connecting Colombo to Kandy is being constructed in three phases, with the first section between Kurunegala and Mirigama opened in early 2022; it is expected to be completed by 2024.
By tuktuk
Also known as three-wheelers and ground-helicopters, motorised tuktuks are the most ubiquitous form of transport in Sri Lanka, swarming and weaving between larger vehicles in every town and village, and usually sitting waiting at any strategic junction countrywide.
In Colombo, most tuktuks are metered and the first kilometre incurs a charge of about Rs80, with subsequent kilometres at Rs60. Elsewhere, tuktuks are unmetered and rates are negotiable within the range set by local cartels, but you shouldn't be paying more than around US$1 per 3–4km, though in some cases you might need to factor in waiting time, or the fare for the driver to return empty.
When to visit Sri Lanka
Climate
Sri Lanka can be visited at any time of year, provided that you tweak your itinerary to allow for regional seasonal variations that are unusually divergent for such a small country. Climatically, the popular west and south coast of Sri Lanka are at their best during the winter months (December–April), when the sea is calm and rainfall is relatively low.
By contrast, the less feted but increasingly popular east coast, from Trincomalee south to Arugam Bay, is driest and most agreeable to visit during the summer months (late April–September), while the little-visited north receives the bulk of its rain over the stormy months (October-December), leaving the rest of the year quite dry. Rainfall patterns are less of a consideration when it comes to visiting Kandy and the archaeological sites of the Cultural Triangle, but ideally you would want to avoid the wettest months of October to December.
The Hill Country around Nuwara Eliya and Ella has a more even monthly rainfall spread than the rest of the country, but the wettest months are again October and November, while the driest are January to March Sri Lanka has a near equatorial location and it mostly stands at altitudes of below 100m, which means that it tends to be hot and humid throughout the year, seldom dropping much below 25°C, even at night. Because it lies in the northern hemisphere, conditions are slightly cooler and more pleasant over the northern winter, especially from December to March. The only part of Sri Lanka to diverge significantly from this sweltering tropical climate is the temperate Hill Country around Nuwara Eliya and Ella, which stands at altitudes of over 1,000m and is almost always moderate by day and cool by night.
Public holidays and festivals
Sri Lanka has only five fixed-date public holidays but another 20 (or in some years 21) variable-date ones associated with the Buddhist, Hindu, Christian or Muslim calendars. These include 12 (or in some years 13) 'poya' days, the Sri Lankan equivalent of the full-moon Uposatha observed in other Buddhist countries, held at full moon every lunar month.
Sri Pada Pilgrimage Season
Tens of thousands of multi-denominational pilgrims climb the 2,243m-high Sri Pada (Adam's Peak) to pay homage and make observance over a four-month season that runs from the Unduvap (December) Poya to the Bak (April) Poya. The Buddhapada at the summit reputedly enshrines the footprint of the Gautama Buddha. Hindus, Muslims and Christians make the pilgrimage for their own religious reasons.
Duruthu Perahera
A colourful religious pageant, complete with caparisoned elephants, torch-bearers and dancers, takes place at Kelaniya Temple, on the outskirts of Colombo, over the three days before the Duruthu (January) Poya to mark the start of the first of the Buddha's three visits to Sri Lanka.
Galle Literary Festival
Sri Lanka's premier arts festival used to be held for three days in mid-January, attracting dozens of writers and performers from all over Asia and the rest of the world. It hasn't been held since 2019 owing to an organisational shift, but check the Facebook page for updates.
Tamil Thai Pongal
Thai Pongal is an ancient thanksgiving harvest festival celebrated by Tamils and other Hindus the world over. Houses are decorated with mango and plantain leaves and the hearth is decorated with rice flour. Dates vary slightly from one year to the next, but usually it takes place over four days starting between 12 and 15 January.
Navam Perahera
Focused on Gangaramaya Temple in Colombo, this spectacular perahera with parades of dancers, elephants, whip-crackers and hundreds of Buddhist monks was first staged in 1979 but is now a major fixture on the Colombo calendar, taking place over two days building up to the Navam (February) Poya.
Sinhalese and Tamil New Year
The island's two main ethnic groups, Sinhalese and Tamil, celebrate a common traditional New Year at what was originally a harvest thanksgiving festival that marks the passage of the sun from Pisces to Aries. It occurs on 13 and 14 April. Games customary to the time and other rituals take place primarily in villages, and many people take the week off to go on holiday or visit their families, so trains and hotels will be crowded.
Vesak (May) Poya
This is a thrice-blessed day for Buddhists as it commemorates three important events in the life of the Gautama Buddha: his birth as Prince Siddhartha, his attainment of enlightenment and his death. The day is devoted to religious observances and charity, as well as being celebrated with illuminations, pageants and pandals (decorated and electrified hoardings). Celebrants set up wayside stalls to distribute food and refreshment to pilgrims and passers-by.
Poson (June) Poya
Second in importance only to the Vesak Poya, Poson commemorates the advent of Buddhism in Sri Lanka and is celebrated with religious observances in addition to illuminations and processions. Poson is particularly special at Mihintale, where the grounds fill with vendors and pilgrims.
Esala Perahera
Sri Lanka's oldest and most spectacular Buddhist festival, held over ten nights in Kandy, honours the Buddha tooth relic preserved in the Sri Dalada Maligawa (Temple of the Tooth), as well as its four guardian deities: Natha, Vishnu, Kataragama and Pattini, each of which have their own temples. During the preliminary five days, the perahera is held within the precincts of each of these five temples. The public perahera then begins, taking place over five spectacular nights with men cracking whips leading the parade, followed by men bearing flags of the various provinces of the former Kandyan kingdom.
Vel
Though not an official holiday, Vel is Colombo's main Hindu festival, with the ornately decorated Vel Chariot making its annual trip between ancient temples in the suburbs of Pettah, Wellawatta and Bambalapitiya. It takes place over July or August.
Deepavali
The festival of lights celebrated by all Hindus takes place in late October or early November and commemorates the return from exile of the heroic deity Rama.
Ill Poya
The last poya of the rainy season, the November poya also marks the end of the Vassana Samaya, a period of retreat practised by Bhikkhu monks, who stay indoors to meditate for the duration. At many temples it is marked by the Katina Cheeva ceremony, a colourful procession during which the Katina Robe and other clothes intended for the monks are carried to the temple by beneficent locals.
Unduvap Poya
Also known as Sangamitta, the year's final poya commemorates the arrival in Sri Lanka of the shoot of the sacred Bo Tree under which the Gautama Buddha attained enlightenment.
What to see and do in Sri Lanka
Adam's Peak
A monumental granite prominence that rises in pyramidal isolation above the surrounding hills, Adam's Peak is quantitatively only the fifth-highest summit in Sri Lanka, but few would question its status as the country's most imposing natural feature. As suggested by its Sinhala name Sri Pada (Sacred Footprint), the 2,243m peak is also the island's holiest summit, attracting hundreds of thousands of Buddhist pilgrims between the Unduvap (December) and Vesak (May) poyas, supplemented throughout the year by a relative trickle of fit and energetic tourists.
Climbing Adam's Peak
In theory, four different trails lead to the summit, but only two are now in regular use: the popular modern Nallathanniya Trail and to a lesser extent the ancient and tougher Ratnapura Trail. Whichever route you use, and whatever time of year, a nocturnal ascent is recommended, with the aim of summiting shortly before sunrise. Walking shoes with a good tread, or better still hiking boots, are recommended, and older or less fit travellers might also find a walking stick useful.
The mountain's windswept upper slopes can be surprisingly chilly at night, so bring plenty of warm clothing. And bear in mind that traipsing up and down 5,000-plus steps will put some strain on the leg muscles and knees of all but the fittest walkers, so plan on a couple of days' rest after the climb.
Most popular today is the Nallathanniya Trail, which was pioneered in the 19th century following the creation of a road infrastructure around Hatton, and is now the choice of most local pilgrims and practically all tourists. Starting in Nallathanniya, this is the shortest route up Adam's Peak at 7km, and it starts at a higher altitude than any of the alternatives, meaning the total altitude gain is slightly under 1,000m.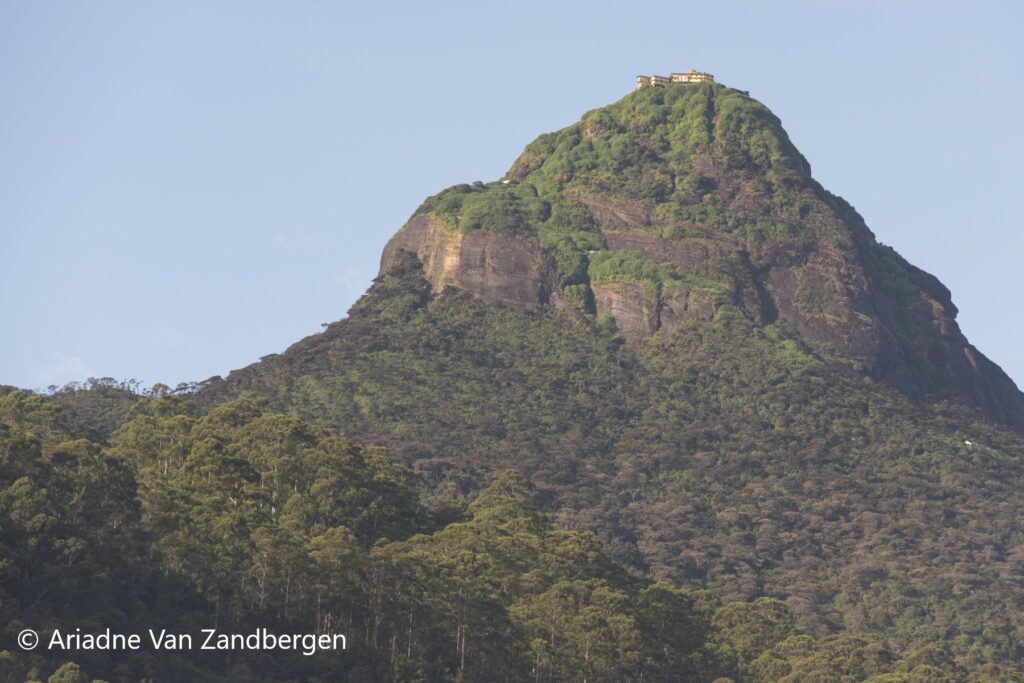 It is also the best-maintained route, paved almost in its entirety, and punctuated by police posts at 1.5–2km intervals, namely Gangulathanna, Rathu Ambalama and Idikatupana. The toughest part of the trail is the final 1km ascent from Idikatupana, which comprises an outrageously steep flight of rock steps, hemmed in by steel bars and known as the Mahagiri Damba (literally 'Great Rock Climb').
For those primarily interested in the cultural experience, the best time to climb Adam's Peak is during the five-month pilgrimage season, which runs from the December poya to the May poya. The path of uneven steps is illuminated at night throughout the season so there is no need for a guide, and there are plenty of small food stalls and tea shops to refresh hungry and thirsty travellers. The downside of climbing in season is that progress tends to be slowed by the sheer volume of pedestrian traffic, which can get a bit claustrophobic, and means you need to allow at least 4 hours for the nocturnal ascent, setting off from Nallathanniya by 01.30– 02.00.
Unless you've an insatiable appetite for crowds, try to avoid climbing on poya nights or over weekends in late December or March and April, when the procession frequently slows from a dawdle to a standstill. Things tend to be quieter and more manageable in January and February, especially on non-poya and weekday nights. During those times, finishing in 2½–3 hours is more feasible, and there is still plenty of cultural activity to observe throughout.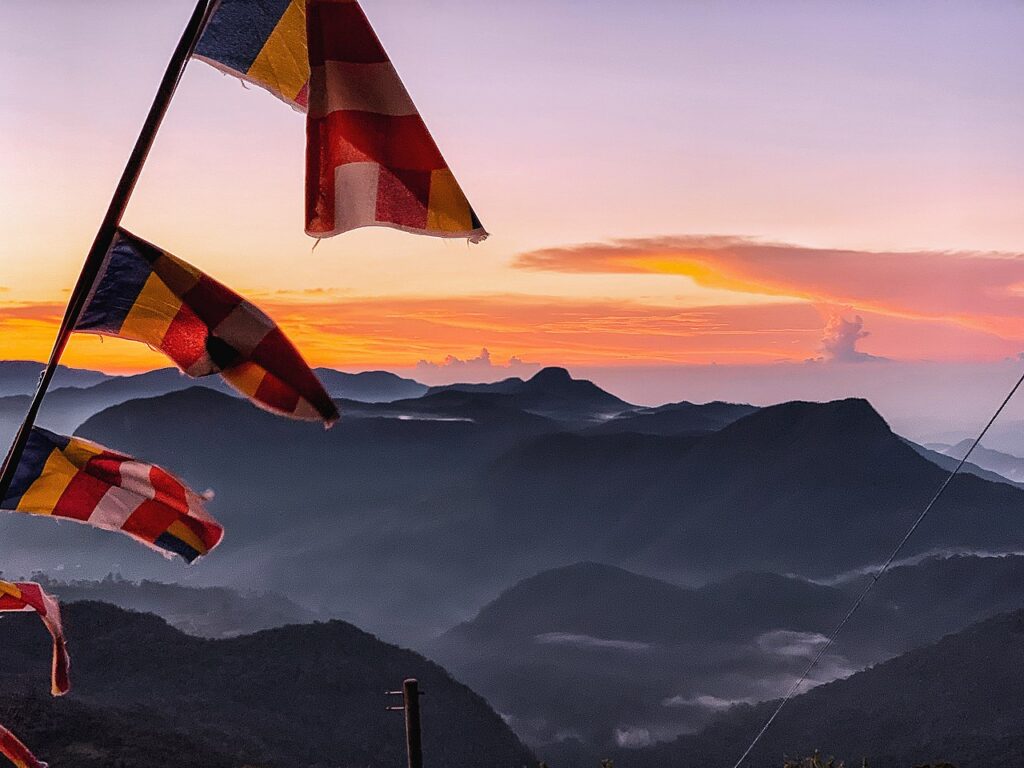 Prior to the 19th century, the main pilgrimage route up Adam's Peak, traversing sections of stone stairs set in place more than a thousand years ago, was the Ratnapura Trail, which actually starts 20km from Ratnapura at the village of Sri Pagama (altitude 250m). Some pilgrims still use this most ancient route today, believing that, as the toughest ascent, climbing around 2,000m over the course of 11km, it is also the most spiritually meritorious.
It is also open to foreign travellers who want to follow in the footsteps of Marco Polo, Ibn Battuta and dozens of ancient Sinhala kings, at least during the pilgrimage season, when regular buses run from Ratnapura to the trail head at Sri Pagama, and the whole route is lit up at night. Be warned, however, that this is a genuinely demanding ascent that takes at least 8 hours, and as such it can be recommended only to hardcore hikers.
Arugam Bay
Sri Lanka's top surfing destination and one of its most popular backpacker chill-out venues, the great curving coastline of Arugam Bay is fringed by a wide sweep of surf-kissed palm-lined white sand that runs south from Pottuvil Point. Yet despite its iconic status today, Arugam's rise to prominence has been anything but smooth. The bay first attracted the attention of travellers in the 1970s, and while some of these pioneering visitors would ride out lazily on tyre tubes, they didn't surf as such, but were attracted by the beach's solitude and undiscovered feel.
By the early 1980s, the near-perfect waves of A-Bay – as it's known to aficionados – were attracting more serious surfers, and the legend grew during the late 1980s and 1990s, when LTTE activity rendered the east coast unsafe for visitors. By the turn of the millennium, Arugam Bay had started to attract a steady trickle of adventurous surf enthusiasts, prompting a second wave of low-key tourist development, but this was curtailed by the tsunami, which flattened most of the beach resorts and claimed an untold number of lives.
Since then, tourist amenities have developed at quite an astonishing pace. Indeed, with its chilled atmosphere, tropical seaside setting, and plethora of backpacker-friendly mom-and-pop restaurants and lodges, A-Bay today feels like an embryonic Sri Lankan counterpart to Goa or Phuket.
What to see and do in Arugam Bay
Tourist activity in A-Bay is dominated by the beach, which stretches for 6km south from Pottuvil Point to Pasarichenai, interrupted only by the mouth of the Arugam Lagoon between the townships of Pottuvil and Ullae. Ironically, though, while this stretch of coast offers superb surfing, the water is generally too rough to be safe for swimming without a flotation device, the main exception being the sheltered shallow stretch of beach in front of Mambo's (at the south end of Ullae), where local holidaymakers frequently congregate to take a dip.
Further afield, there are plenty of opportunities for day excursions. For wildlife lovers and birders, highlights are a boat trip on the Pottuvil Lagoon or jeep safari into Kumana or Lahugala-Kitulana National Park, while archaeological sites of note include Muhudu Maha Temple, set right on the bay, and the more remote ruined monasteries of Kudumbigala and Magul Maha.
Surfing and beaches
The top surfing spot at Arugam Bay is the southern headland between Mambo's and the Upali Beach Resort. The best swell magnet of all the points in the region, this is where the long right-hand reef breaks to create waves in the 0.6–2m range, and – on a good day – a clean wall that barrels in the sections and gives the surfer a 400m ride right through to the inside. Close to this, between Mambo's and the tourist police station, Baby Point is ideal for beginners, also a right-hand break but with waves seldom reaching more than 1m high, is ideal for beginners.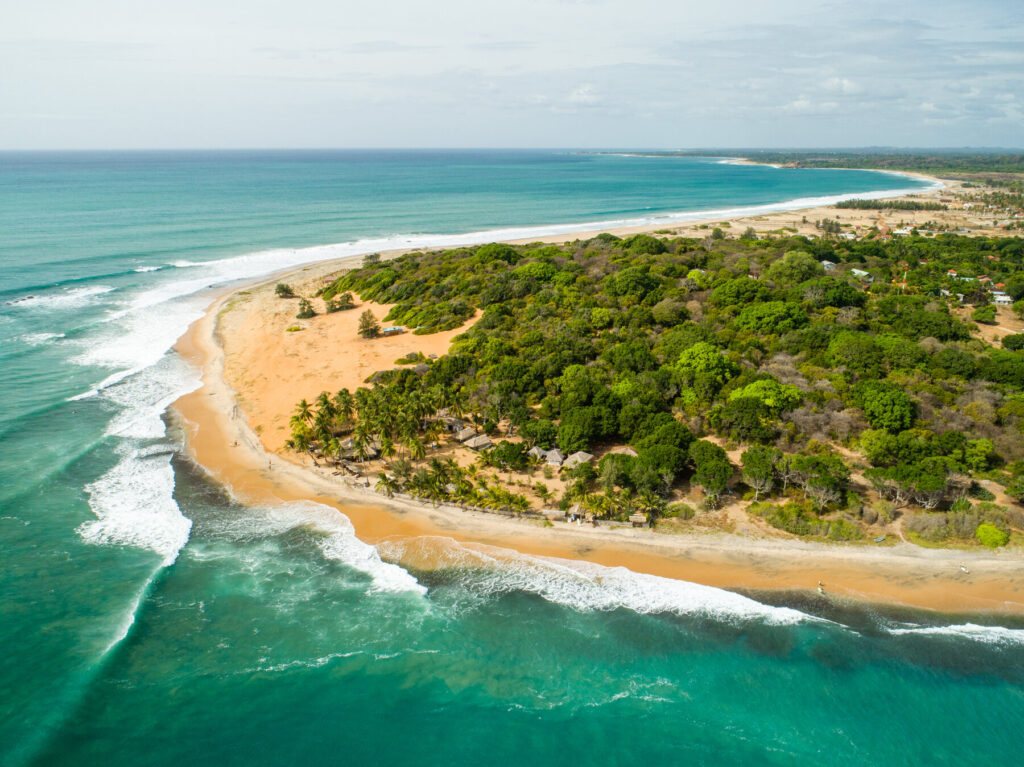 Other excellent surfing sites further afield include Pottuvil Point, whose right-hand break, best from August to November, is suited to more experienced surfers; and the more northerly Whiskey Point, which has good metre-high waves all year round. Several other good surfing spots line the coast south towards Kumana National Park. The scenic Elephant Rock beach 4km south of Ullae and Peanut Farm beach another 1.5km south of that are both good for beginner to intermediate surfers. Panama beach, close to the small town of the same name, typically has 1–1.5m-high waves suited to intermediate surfers, while Okanda beach, near the entrance to Kumana National Park, is a scenic and remote spot whose 2m waves should be attempted only by experienced surfers.
Muhudu Maha Temple
Predominantly Muslim since the early 17th century, Pottuvil is nevertheless the site of an active beachfront Buddhist temple founded by King Kavan Tissa in the 2nd century BC. Now greatly reduced in area, Muhudu Maha reputedly extended over more than 100ha in its ancient prime, and presumably many of the original buildings have been engulfed by the surrounding tall dunes. According to certain traditions, it was at Muhudu Maha rather than Kirinda that Princess Viharamahadevi came ashore and met her future husband Kavan Tissa.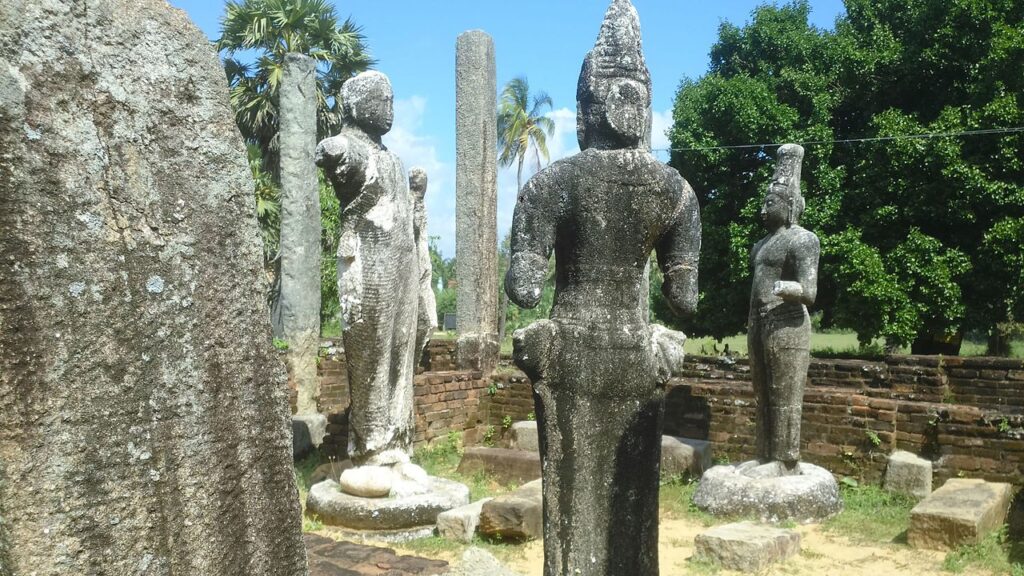 Today, the most obvious relict of the original monastery is an Anuradhapura-period image house complete with the original 3.5m-high rock-hewn pillars, and a badly damaged statue of the Buddha with two minutely hewn and well-preserved Bodhisattva figures looking back at it. The prominent white dome-top dagoba, by contrast, is a modern addition, unveiled by President Sirisena in 2015. The temple is 15 minutes' walk and signposted from just north of the bridge over Arugam Lagoon; a tuktuk from Ullae should cost around US$1–2.
Pottuvil Lagoon
This mangrove-lined estuarine lagoon supports a rich marine birdlife, and it is also a good place to see large crocodiles, water monitors and more occasionally elephants. Two-hour return boat trips to the lagoon mouth are run by the Kottukal Lagoon Ecotourism Centre from an office and jetty on the northern outskirts of Pottuvil. The excursion can be done first thing in the morning, when the birdlife is most conspicuous, or in the late afternoon, when the odds of coming across an elephant are highest.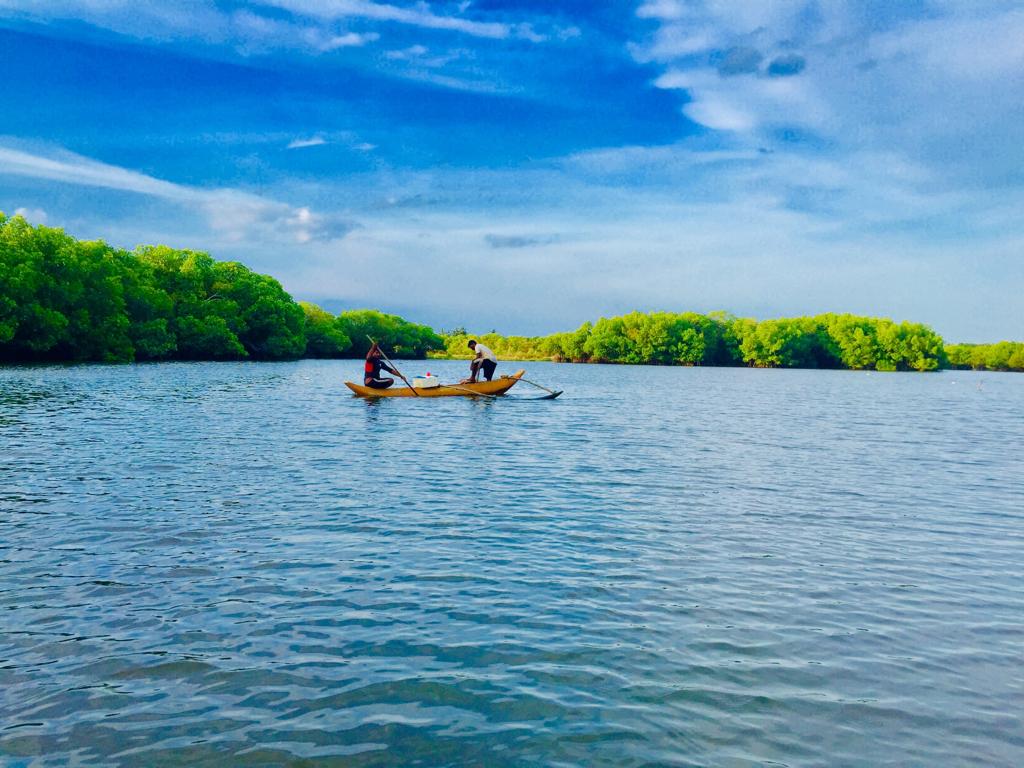 The boat trip costs US$13.50 per person, irrespective of group size, while a return tuktuk from Ullae should set you back around US$5–6. You might well get a better price by booking the whole excursion, inclusive of transport, though Ranga's Beach Hut or Ecowave in Ullae.
Colombo
Set on a fine natural harbour on the island's west coast, Sri Lanka's largest city and main commercial hub is the focal point of a metropolitan area that incorporates Sri Jayawardenepura Kotte (which replaced Colombo as official administrative capital in 1982) and whose population of five million represents about a quarter of the national total.
Colombo is an unusually safe, affordable and welcoming metropolis, with much to occupy travellers wanting to explore urban Sri Lanka on its own terms. The National Museum offers a fine introduction to the country's main archaeological sites, while the engaging inner-city districts of Fort and Pettah are steeped in history, and a growing coterie of art galleries and boutique shops lend the city an appealingly cosmopolitan aura.
Elsewhere, multicultural Colombo hosts an astonishing urban variety: historical monuments and towering modern skyscrapers, colonial churches and ancient Buddhist temples, gleaming hotels and trendy restaurants, tree-lined boulevards and mysterious lanes, glittering casinos and state-of-the-art 3D cinemas, traditional produce markets and 21st-century shopping malls…it's a fascinating place to explore at whim.
What to see and do in Colombo
Galle Face Green
The largest green space (or, much of the time, brown space) in central Colombo, Galle Face Green – not, as might be supposed, named after the more southerly port of Galle, but a derivative of the Sinhalese word gal (rock) – is an obvious place to start or end any walking tour of the city. Measuring almost a kilometre from north to south, this elevated seafront promenade was initially laid out by the Dutch, who lined the ramparts above the rocky coastline with a battery of cannons to fend off Portuguese and other maritime attacks. During the British colonial period, Galle Face Green was much larger than it is today, sprawling inland to Lake Beira, and it served as a recreational ground complete with horse-racing track, golf course and other sporting fields.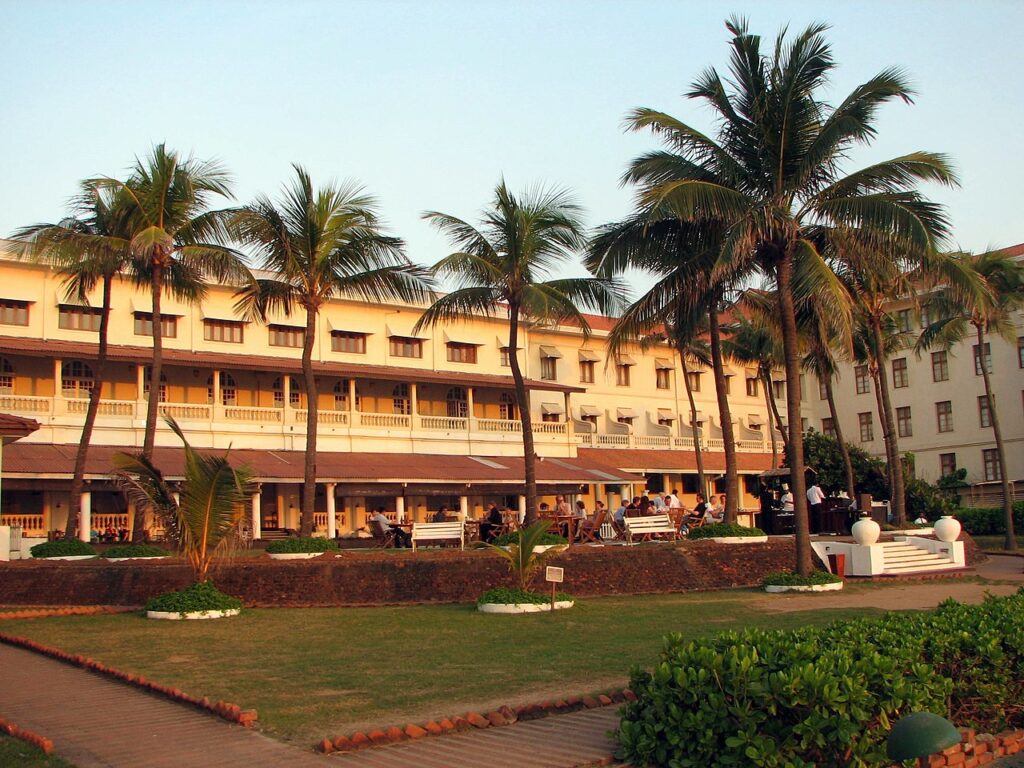 The green is prettiest and most atmospheric at dusk, being ideally located to catch the sun setting over the Indian Ocean while locals promenade companionably in the sea breeze, catch up on gossip, fly kites or knock around balls, or buy fresh snacks from night-time hawkers. Two of Colombo's most imposing colonial relicts bookend the long narrow green: the Galle Face Hotel, the city's oldest hostelry, built in 1864, and a fine place for a sundowner or snack; and the Old Parliament Building described below. In early 2022, Galle Face Green became the lively, unified 'Gotagogama' (gama meaning village), where protestors against the financial mismanagement of President Gota Rajapaksa's administration camped out.
Fort District
The most historic quarter of Colombo, Fort is traditionally regarded as the city's CBD, and it remains an important banking and commercial centre, despite having been superseded in many respects by booming suburbs such as Kollupitiya and Cinnamon Gardens. The district's titular fortifications, built by the Portuguese in 1510 and expanded by the Dutch after 1656, were later demolished, almost without trace, by the British colonists.
Old Parliament Building
Standing sentinel over the north end of Galle Face, the Old Parliament is the first building to the right as you cross from the Galle Road Bridge into Fort. An imposing forum-style neo-Baroque brownstone, it was constructed in 1930.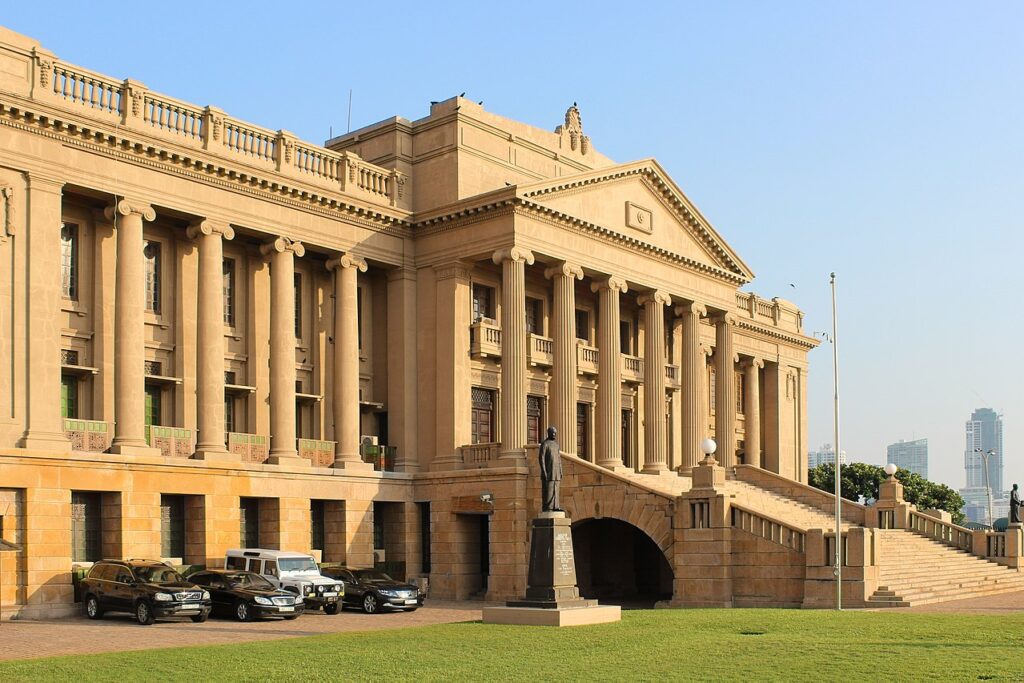 Today the building houses the Presidential Secretariat, while forming a sedate antidote to the glaring mirror-glass of the sky-scraping Bank of Ceylon headquarters behind. In its front gardens stand statues of several former Sri Lankan presidents and other leaders.
Old Dutch Hospital
Vying with the maritime museum as Fort's oldest building, the Old Dutch Hospital is clearly recognisable from two watercolour paintings made in 1771, but it is most likely a century older than this. Almost certainly, this building is the 'well-built hospital where sick Dutchmen are well-served by surgeons and slaves with medicine and plasters', as recorded by German solider Christopher Schweitzer in 1681, and the same hospital where Paul Hermann – a VOC surgeon whose vast collection of dried plants and drawings earned him the sobriquet 'Father of Ceylonese botany' – worked in the 1670s.
It served as a hospital and apothecary throughout the British colonial era, but was converted to a police station in the early 1980s, and suffered heavy damage in 1996 when the Central Bank opposite was destroyed in a suicide bombing that killed at least 91 people and left more than a hundred bystanders blind.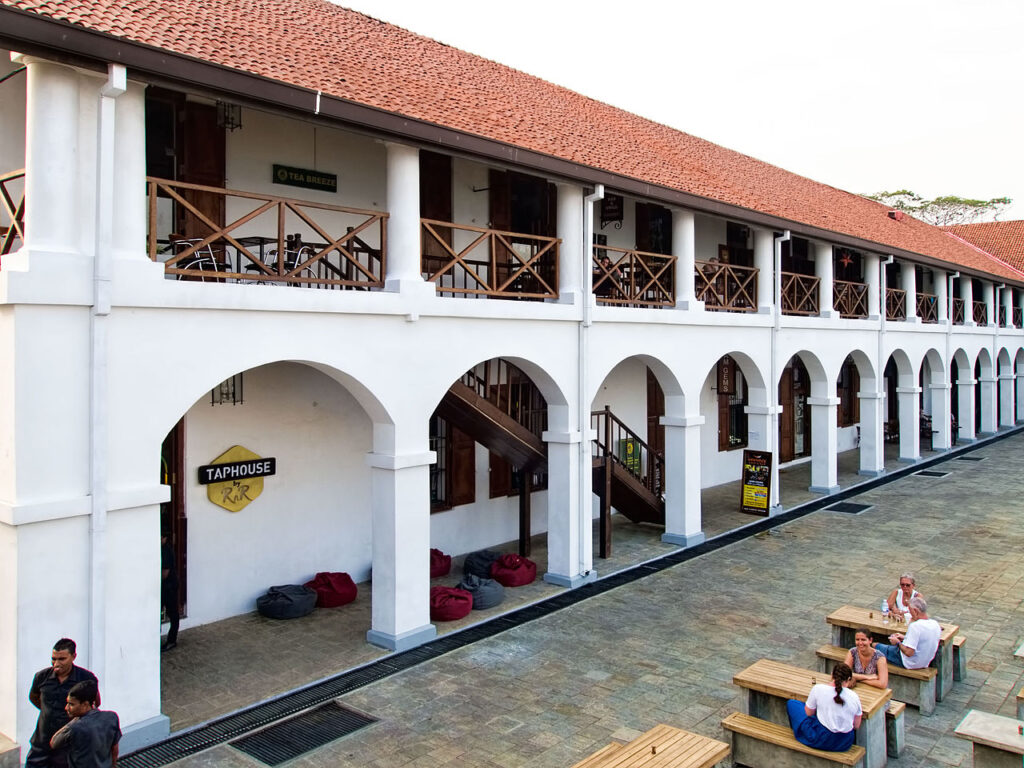 Following the end of the civil war, the timeworn building was restored under the supervision of the Department of Archaeology, to reopen as the Dutch Hospital Shopping Precinct in 2011. Now one of the main tourist draws in Colombo, it contains several restaurants and souvenir shops, but it is also of interest as a fine example of functional Dutch colonial architecture, comprising two sets of former wards and barracks, with 50cm-thick walls and red-tiled roofs supported by massive teak beams, whose wide verandas enclose a pair of large courtyards.
World Trade Center
Dominating the skies above the courtyard of the Old Dutch Hospital, Colombo's own World Trade Centre (WTC) is the city's tallest building, comprising identical east and west 40-storey towers that stand 152m tall. It was inaugurated by President Chandrika Kumaratunga on 12 October 1997, and only three days later formed the target of an LTTE bombing that left the skyscrapers unscathed, but killed 15 people and wounded more than a hundred. The twin towers, which do not have an observation deck for tourists to visit, is surpassed in altitude only by the Lotus Tower, which overlooks Lake Beira and stands 305m tall.
Presidential Palace
This magnificent two-storey residence was built in 1790 by Johan van Angelbeek, the last Dutch governor of Ceylon, on the site of a freshly demolished 16th-century Portuguese church. Van Angelbeek's granddaughter sold it to the British colonial administration in 1804, since when it has served as the residence of 29 British governors and six presidents.
Known as King's or Queen's House during the colonial era, it is hidden behind a wealth of trees and heavily guarded, but you can catch a glimpse of the grand façade through the foliage. In front of the palace stands a statue of Sir Edward Barnes (the governor responsible for much of island's development between 1820 and 1831), from which all distances ex-Colombo are measured.
Cargills Building
One of Fort's most iconic landmarks, Cargills is a two-storey department store whose striking red-and-white puce stone exterior incorporates plaster horns-of-plenty bursting with bounty, and a shady multi-arched ground-floor walkway and balustrade typical of Colombo's older buildings. The property was acquired by Cargills – Colombo's oldest store – in 1888, and the present-day building was constructed over 1902–06.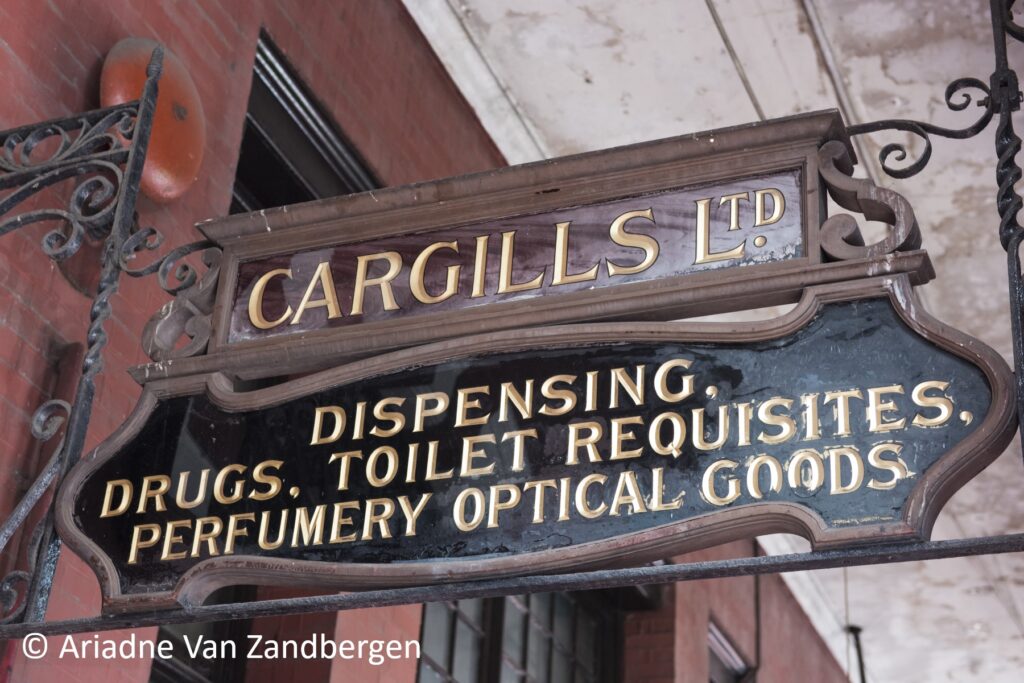 It stands on the site of a one-storey house that quite possibly started life as the first Dutch governor's residence in Colombo (the foundation stone is dated 1684) and that was occupied by Frederick North, the first British governor of Ceylon, 1798. It is unclear to what extent elements of these older structures were incorporated into the present-day building. The interior is just as impressive as the façade, with its dark wooden floors, tall ceilings and ornate arches, and it houses what must surely be the world's only colonial-style KFC outlet!
Pettah District
Situated immediately east of Fort and separated from it by a 50m wide channel, Pettah started life during the Dutch and early British periods as a select residential area, but it later came to be regarded as the 'native quarter'. The name Pettah is often said to derive from pettai, a Tamil word used loosely to describe a colony or place, but a more likely etymology is the Sinhala word pitiya (village) or phrase pita kotuwa ('outside the fort').
Today, Pettah is Colombo's haunt of the streetwise, a hectic and sprawling inner-city open-air bazaar where everything you ever wanted, and many things you never will, can be found in a motley assortment of hardware shops, garment stores and grocery stalls, all stacked high with goods that flow over on to the pavement. Reminiscent of parts of Cairo or Mumbai, the narrow streets (or, if you prefer, wide alleys) of Pettah are jammed with bargain hunters, herds of trucks, cars and bullock carts, explosive klaxons of tuktuks, and porters barking instructions to move out of their way.
Jami Ul-Alfar Mosque
Built in 1908 as a place of worship for Tamil immigrants, the striking Jami Ul-Alfar is also known prosaically as Samman Kottu Palli (Mosque for Indian Muslims) and more descriptively as Rathu Palliya (Red Mosque), owing to the giddying assortment of red-and-white stripes, chequers, jags and spirals that enliven the exterior.
A tall and ornate building, it has the slightly surreal appearance of a fairy-tale candy castle, with a façade of barbershop-pole columns supporting boldly patterned arches and windows, all topped by a trio of plump minarets whose shape was inspired by the pomegranate fruit.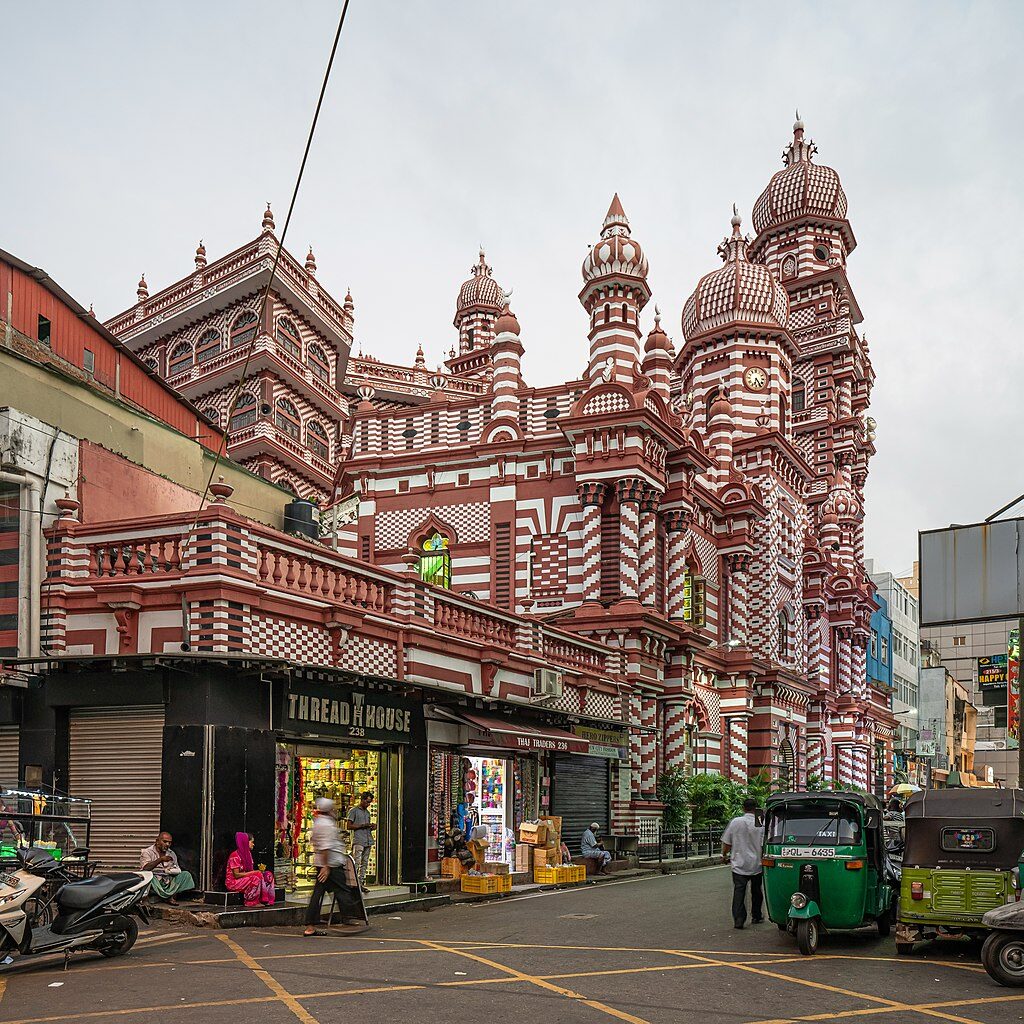 Outside of prayer times, respectfully dressed non-Muslim visitors are usually allowed inside, but women may have more difficulty gaining access. Foreigners have been barred from entering since the beginning of the pandemic, so tourists may want to contact for updates.
St Lucia's Cathedral
Located at Kotahena about 1km northeast of Pettah, St Lucia's Cathedral, seat of the Archbishop of Colombo, is the city's largest Christian shrine, with a capacity of 6,000. Its origins can be traced to 1760, when Catholic Fathers belonging to the apostolic Congregation of the Oratory of Saint Philip Neri built a rudimentary palm-roof church on the site. This was superseded by a modest brick-and-mortar church constructed in 1782 and elevated to cathedral status in 1838.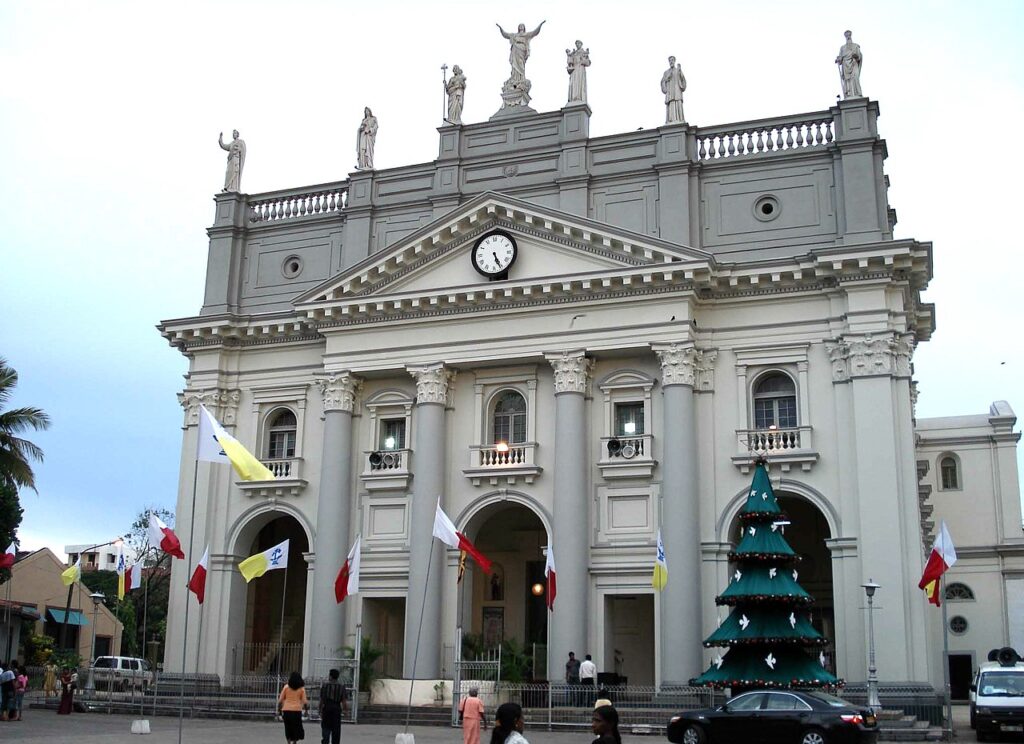 The present-day church, a Gothic replica of St Peter's Basilica in the Vatican, with a massive silver dome crowned by the cross and colonnaded façade topped with seven statues of Biblical figures, was built over 1872–81 and received a papal visit in 1995. The interior contains many beautiful stained-glass windows and statues, notably Our Lady of Kotahena, a unique dark-skinned Madonna-and-child paraded during the annual procession through Kotahena held every May.
Cinnamon Gardens
Cinnamon Gardens (also known as Colombo 07) is the city's most prestigious suburb, a leafy residential area where private colonial-era mansions and villas rub shoulders with – or peer across hedges towards – boutique hotels, art galleries, foreign embassies and lofty edifices of officialdom such as the Town Hall, National Museum and Independence Memorial.
The name Cinnamon Gardens dates to 1789, when the city bailiff Cornelis de Cock planted a 94ha tract of land, roughly corresponding to the modern suburb, with the cinnamon trees whose aromatic bark was the island's most important export crop.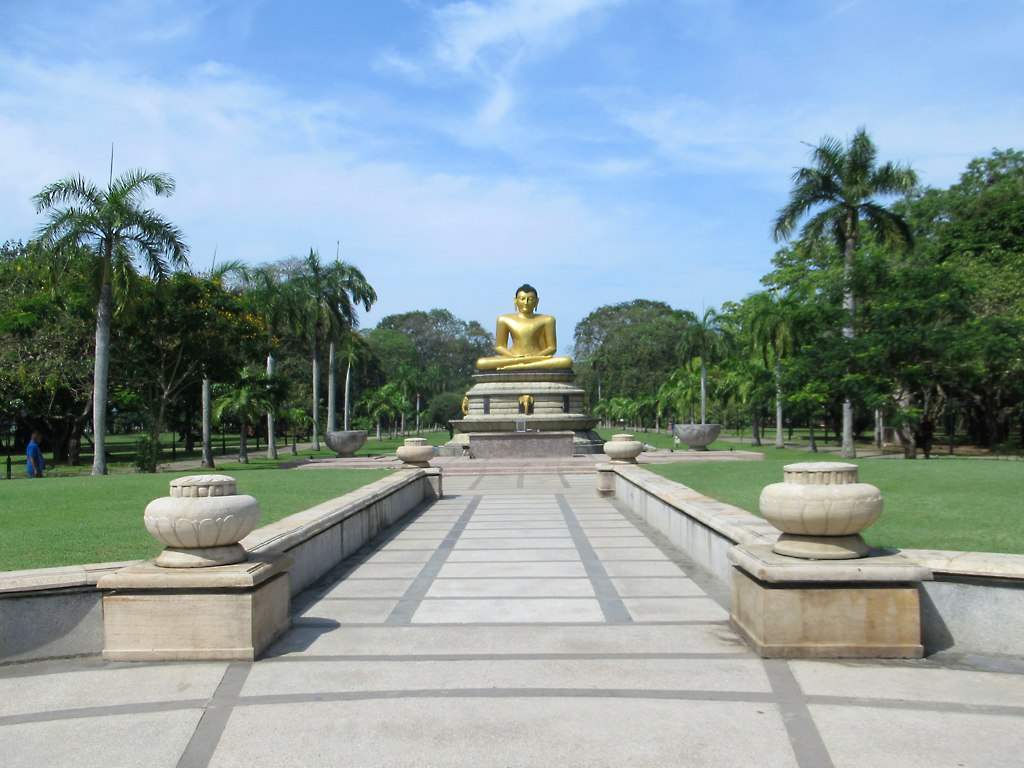 The gardens were tended carefully under Frederick North, the first British governor of Ceylon, dome and clock tower that stand more than 50m high, and a large open front lawn that runs southwest to Viharamahadevi Park. The hall doubles as the headquarters of the Colombo Municipal Council and mayoral office.
Colombo National Museum
Sri Lanka's premier museum houses a collection of 100,000 artefacts reflecting various aspects of the island's architecture, history and culture from prehistoric times to the Kandyan era. It was established by Governor Gregory in 1877 with just 800 exhibits, but rapidly expanded to fill up a purpose-built palatial Neoclassical building set in large grounds bounded to the north by Viharamahadevi Park.
The museum also houses the most important library on the island, and its green gardens incorporate a rather stuffy natural history museum (entrance included in National Museum ticket), the National Art Gallery, and a statue of Queen Victoria erected to commemorate her diamond jubilee in 1897.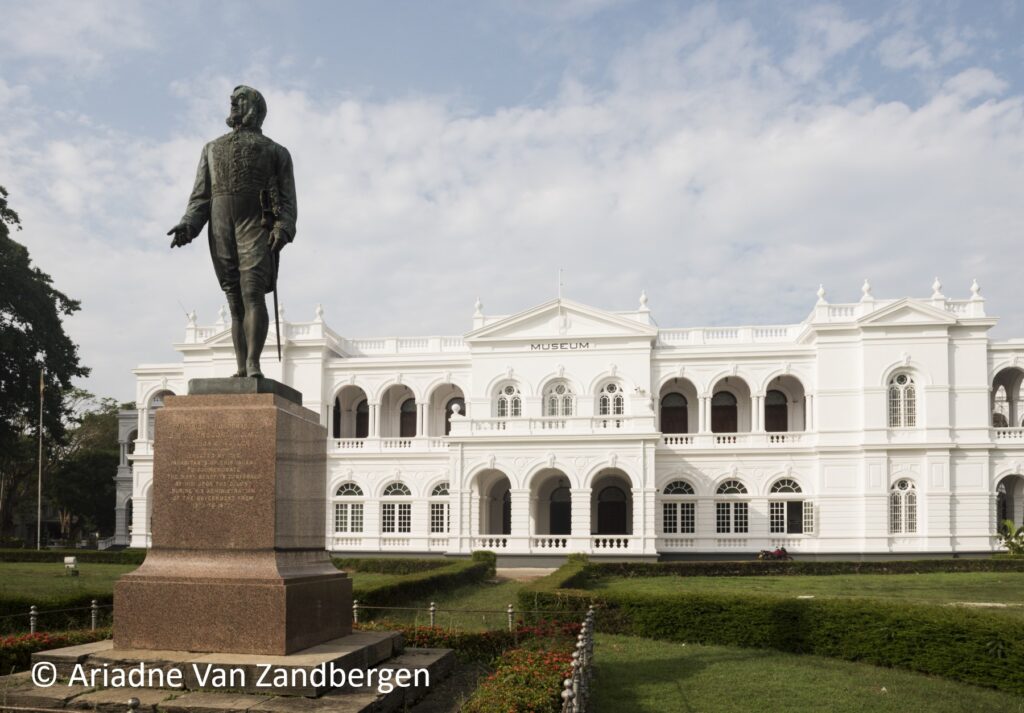 The museum is split across two floors and contains 16 galleries, several of which were recently refurbished. The museum is entered through a grand lobby dominated by one of its most celebrated treasures: the 8th-century Toluvila Buddha, a masterfully serene 1.75m-tall crystalline-limestone statue unearthed during excavations at Anuradhapura in 1900.
Most of the other ground-floor galleries focus on a specific archaeological subject, for instance cast Hindu and Buddhist bronzes, granite statues, exotic and local ceramic items, and Brahmi, Sinhalese, Portuguese and Dutch rock inscriptions spanning a period of more than 2,000 years.
Galle Fort
The history of Galle is spun around the sombre grey walls of its historic fort. These brooding hulks of stone – shipped to Sri Lanka as ballast and hauled into place by slaves from Africa – dominate this coastal city, looming gaunt against the blue sky to guard the harbour and wall off a small peninsula less than 10 minutes' walk from the modern railway and bus stations.
For four centuries the fort has stood here; the thin end of the wedge driven by European invaders to open up their conquest of the island. Generations of Portuguese, Dutch and British traders – following the sea lanes of Arab merchants – lived and died in the fort. The Dutch forbade their pilots ever to leave its walls in retirement, in case they divulged the secrets of the maritime approaches to enemies.
Even today, when the battlements are brightly lit at night, there hovers a sense of foreboding, as though ghosts of soldiers past are waiting only for the light to dim so they may march again along its ramparts. As dusk gathers, its narrowed streets and cloistered inner courtyards of shuttered mansions echo softly with the murmurings of bygone evenings. The fort is steeped in history; you will sense it from afar and feel its spell from the moment you pass through its gates.
Within the fort's 36ha confines, a grid of narrow roads is lined with Dutch and British colonial houses adapted to tropical living with colonnaded verandas and ornate gables. There are 473 houses in total, all catalogued by the Department of Archaeology, whose vigorous campaign to restore and preserve has ensured the old town retains the architectural integrity and cohesion that led to its inscription as a UNESCO World Heritage Site. Despite this, the fort's buildings have a diverse pedigree spanning almost 300 years. An estimated 50 pre-date the British occupation of 1796, and a further 104 were constructed before 1850.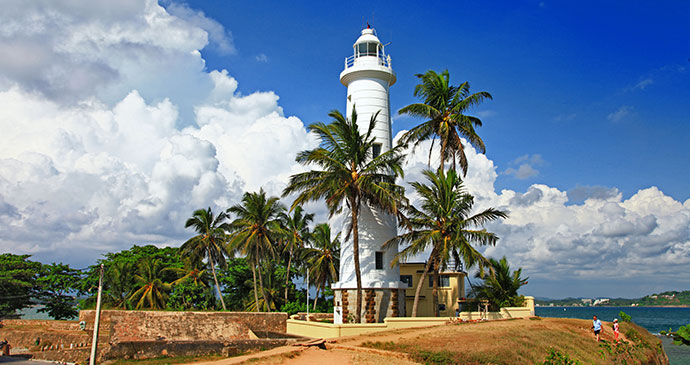 Also represented are Art Deco homes from the 1930s, earlier Art Nouveau styles (with peculiarly Sri Lankan touches), and even a few brash modern houses built before planning regulations were enforced. In recent years, a great many properties have been restored to serve as guesthouses, restaurants, swanky boutique shops or other tourist-related businesses, leading the seedy charm that once characterised Galle Fort to be superseded by a more gentrified feel.
Even so, it is these timeworn buildings, with their proud façades and mysteriously shaded interiors, that give the fort much of its intriguing character, while their down-to-earth inhabitants provide its soul.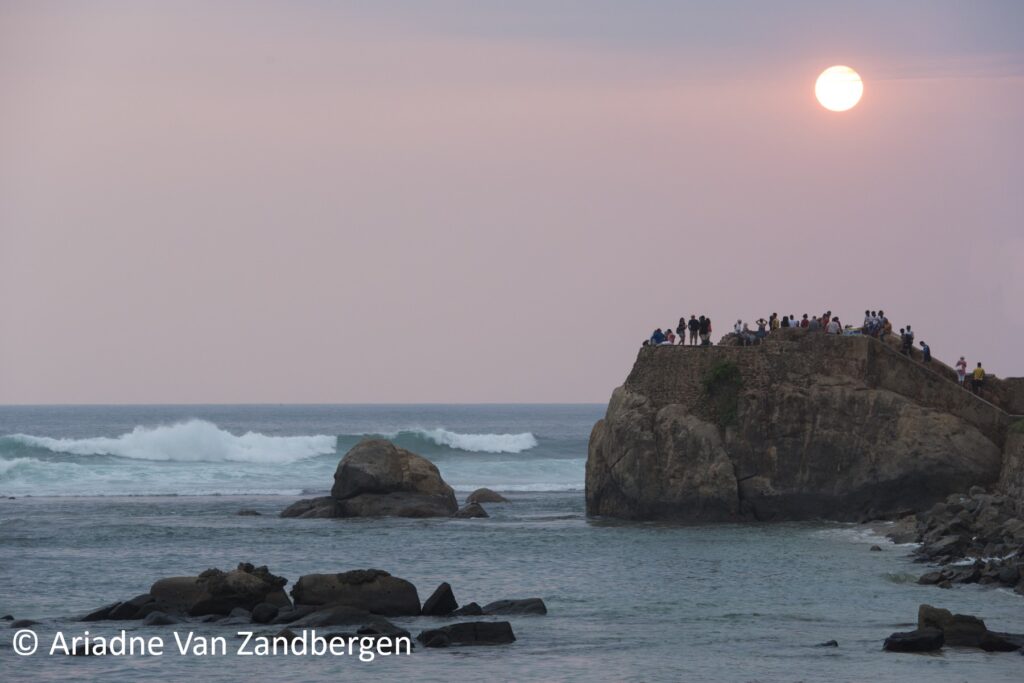 Extending over 800m from north to south and nowhere more than 600m wide, Galle Fort is easily and best explored on foot, and it is generally more fun to follow your nose than stick to a prescribed route. That said, the site descriptions below do follow a roughly 3.5km anticlockwise route around the old ramparts, starting at the Old Gate and Black Bastion, travelling west along Queen's Street and north along Church Street to the Main (new) Gate, then running along the northern and western ramparts to Sri Sudharmalaya Temple.
From the temple, the route runs inland southeast along Parawa Street and east along Pedlar Street to the Historical Mansion Museum, then south along Leyn Baan Street to the southern ramparts and Galle Lighthouse, then north along Hospital Street via the Old Dutch Hospital back to the starting point at the Old Gate. Several shorter variations are possible.
Guided 90-minute walking tours of the Fort cost around US$35 per person. The most reliable contact is Galle Fort Walks, which also offers extended tours and night-time 'ghost hunting' excursions for US$70 per person, and special cooking and children's packages.
Horton Plains National Park
Gazetted in 1988, the 31.6km² Horton Plains National Park protects a biodiverse watershed of montane grassland and dwarf forest perched at elevations of greater than 2,100m above the southern escarpment. Its best-known geographic feature is the sheer World's End Viewpoint, which offers a spectacular vista over hills and valleys to the distant south coast, and forms the focal point of a popular 9km walking trail. A UNESCO World Heritage Site since 2010, the national park also incorporates the island's second- and third-highest peaks in the form of the 2,395m Kirigalpotha and 2,357m Thotupola, both of which are accessible to hikers, though neither is as prominent as Adam's Peak 30km to the west.
The evocative highland scenery is very different from anywhere else in Sri Lanka: the undulating windswept plains possess a haunting melancholy air reminiscent of Scotland's grouse moors, while interspersing pockets of elfin cloudforest, all gnarled boughs encrusted with old man's beard lichen, have the enchanted quality of a fairy-tale setting. Biodiversity is high, with shaggy-coated sambar deer being the most conspicuous large mammal, but the park also supports a large number of endemic birds and other wildlife, most quite difficult to see on a short visit.
What to see and do in Hornton Plains National Park
World's End Trail
Roughly 10km in length, the circular World's End Trail sticks mainly to the tussocky grassland of the open plateau for which the park is named, but it also passes through patches of dwarf forest and traverses marshy areas dominated by dwarf bamboo. It is normally hiked in a clockwise direction, branching left at the junction about 500m past the visitor centre, a point that also offers a good view west across to Kirigalpotha, the highest point in the range. From here, the trail runs to 'Little' World's End, then on through a dense epiphyte-rich forest stand to World's End, an 880m drop set at the head of Sri Lanka's largest ravine.
The return leg from 'Big' World's End follows the Belihul River and its tributary streams, which feed a number of pretty montane pools. The most significant features along this stretch are the forest-fringed 20m-high Baker's Falls (named after Sir Samuel) and the Chimney Pool, a small manmade reservoir passed about 500m before you climb back to the junction where the circular trail starts. The trail is quite flat and well marked throughout, so there is no real risk of getting lost, except perhaps in extreme misty conditions, but some parts are heavily eroded and can be slippery after rain, so tread carefully.
Kirigalpotha Trail
About 6km in either direction, the least popular of the park's three trails runs directly west from the visitor centre to Sri Lanka's second-highest peak, Kirigalpotha (literally 'Milky Rock Face', in reference to its reflective white northern slope). It is a rougher and slightly steeper trail than World's End, gaining some 300m in altitude, and less well marked, but the absence of other tourists gives it a genuinely off-the-beaten-track feel and means it provides a better chance of spotting wildlife and birds.
Ecologically, the first half of the trail passes through tussocky grassland with the Belihul River and associated bogland a few hundred metres to the south, while the second half climbs through increasingly dense forest cover, before reaching the open rock face at the summit. The view from the top isn't quite so dramatic as World's End, but it provides an impressively panoramic view over the national park and environs.
Thotupola Kanda Trail
Only 1.5km in either direction, this short but relatively steep trail leads uphill from the main road 500m south of Pattipola entrance gate to the 2,357m Thotupola Peak. It passes through dense montane forest where observant visitors might well see the pygmy and rhino-horned lizards, as well as several of the endemic and highland forest birds associated with the park. As you approach the peak, the trail runs through a peculiar pygmy forest whose species composition is similar to the park's other montane forest, but with most trees coming in a kind of natural bonsai form, typically no more than 2m high.
The summit offers a good view to the lower-lying country to the east. The trail for the short climb is in generally good condition, but may be slippery in parts. Allow 11⁄2 hours for the return trip.
The Pattipola–Ohiya Road
The 11km road that connects the two gates is possibly more rewarding for wildlife than any of the walking trails, passing as it does through the full gamut of the park's habitats, but offering better visibility particularly into the forested areas. The section between Pattipola Gate and the visitor centre tends to be quite busy with traffic between 06.00 and 08.00, when day trippers arrive from Nuwara Eliya, and again from 10.30 to midday, when most of them leave. The section between Ohiya Gate and the visitor centre carries very little traffic.
There is nothing preventing you from walking any stretch of this road, nor from driving along it and using the car as a mobile photographic hide, provided you don't walk or drive off-road. Sambar deer are particularly common and often quite relaxed around vehicles in the open country between Ohiya Gate and the visitor centre. The road between Pattipola Gate and the visitor centre supports a higher proportion of forest; the Arranga Pool about 1km south of Pattipola Gate is a particularly rewarding spot for birdwatchers hoping to glimpse the rare and elusive Sri Lanka whistling thrush.
Ambewela Farm Shop
Boasting a pastoral setting on a crossroads near Ambewela village en route between Nuwara Eliya and Pattipola, this shop selling balls of cheese, jars of strawberry jam, goat's milk, bottles of ghee and other homemade dairy products is a popular stop on the return trip from Horton Plains.
Jaffna
The capital of Northern Province, Jaffna is the main historic focal point of Sri Lanka's Tamil population, and the country's ninth-largest city, supporting a predominantly Hindu population of around 90,000. Historically, politically and culturally, this most northerly outlier of Sri Lanka is something of a land apart, owing in part to its location on the Jaffna Peninsula, a 1,000km² not-quite-island connected to the rest of the country by two road causeways, one entirely artificial while the other crosses a narrow natural isthmus called the Elephant Pass.
Unlike most Sri Lankan towns with a comparable population, Jaffna has the bustling, built-up feel of a proper city. Lined with medium-rise buildings, the claustrophobic grid of narrow roads that cuts through the compact commercial centre spills over with chaotic activity: horn-blasting cars and tuktuks, weaving bicycles, and dilly-dallying pedestrians all mingle with a bouquet of spicy aromas and blasting Bollywood tunes which – together with the proliferation of Hindu temples, and occasional traffic-defying cow on urban walkabout – underscore Jaffna's cultural affiliation with the Indian state of Tamil Nadu, only 50km distant on the opposite side of the Palk Strait.
What to see and do in Jaffna
Central Jaffna
Central market
The central market on the west end of Hospital Road is alive and buzzing with mercantile activity, with Jaffna products such as hand-woven palmyrah baskets, sweet blocks of jaggery and juicy tropical fruit being of particular interest. There's also a small fish market down the south end of KKS Road, and no shortage of cheerful little eateries selling fruit juices and all manner of colourful homemade sweets and confectioneries.
Vannai Vaitheeswara Temple
Half a dozen Hindu temples are packed into the city centre, and visitors are welcome, though cameras are best left in your bag during puja services. The oldest and most attractive, Vannai Vaitheeswara Temple is an ancient Shiva shrine whose current incarnation, complete with a prominent five-tier gopuram, was built in 1790, and whose broodingly atmospheric stone-and-wood interior is free of the flamboyant flourishes associated with more modern temples.
It is busiest during the 20-day Shiva Festival and ten-day Ambal Devi Festival, which respectively climax on the full moon of March and July.
Jaffna Fort
The obvious place to start a more directed exploration of the city is Jaffna Fort, a hulking 7ha pentagon that dominates the waterfront immediately south of the commercial centre. Protected by five tall granite buttresses and enclosed by a moat along its four landward sides, the fort as it stands is essentially a Dutch edifice constructed between 1658 and 1680, but it was expanded from the original four-sided Fortress of Our Lady of Miracles of Jafanapatão built by the Portuguese over 1619–25.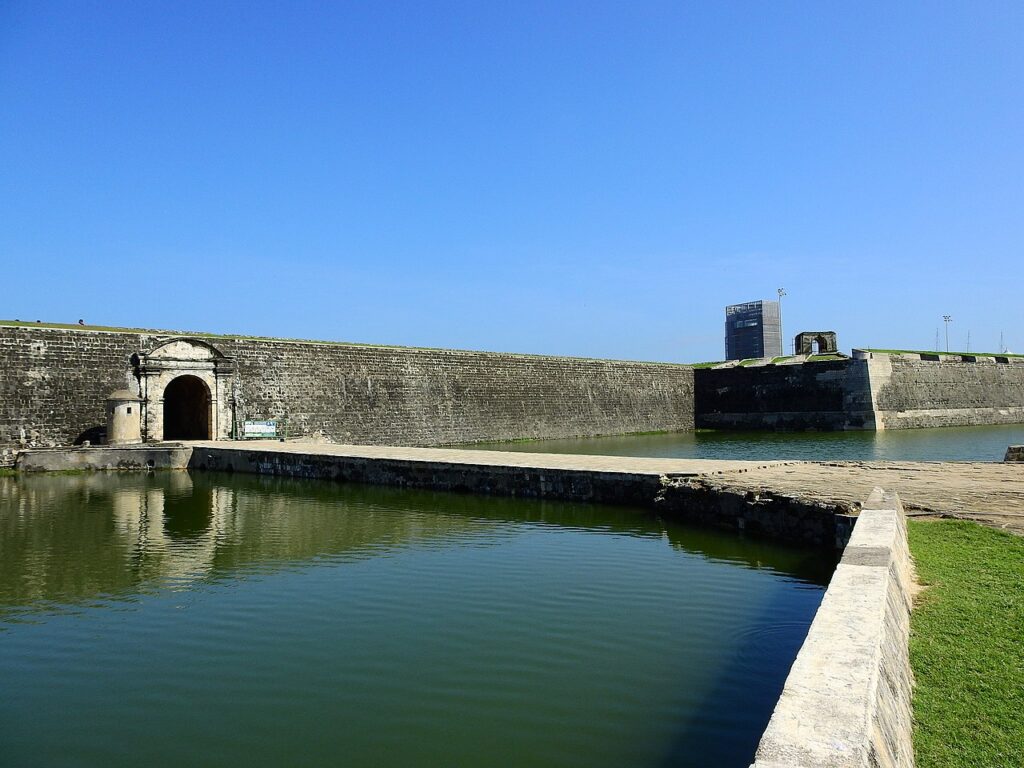 There's not much here in the way of interpretative material, but adventurous travellers might find their appetite for exploration whet by the photographs of some of Northern Province's more obscure archaeological sites displayed in the rooms flanking the main entrance.
Jaffna Public Library
Set in manicured green gardens 200m east of the fort, the Jaffna Public Library started life in 1933 as a small private book collection. By 1959, the collection had expanded sufficiently to be relocated to a handsome multi-domed three-storey Indo-Saracenic building commissioned for the purpose by Alfred Duraiappah, then the city's deputy mayor. The library grew to become one of the largest and most valuable in Asia, housing some 97,000 books and other documents, including many historic and unique Tamil palm-leaf and other manuscripts.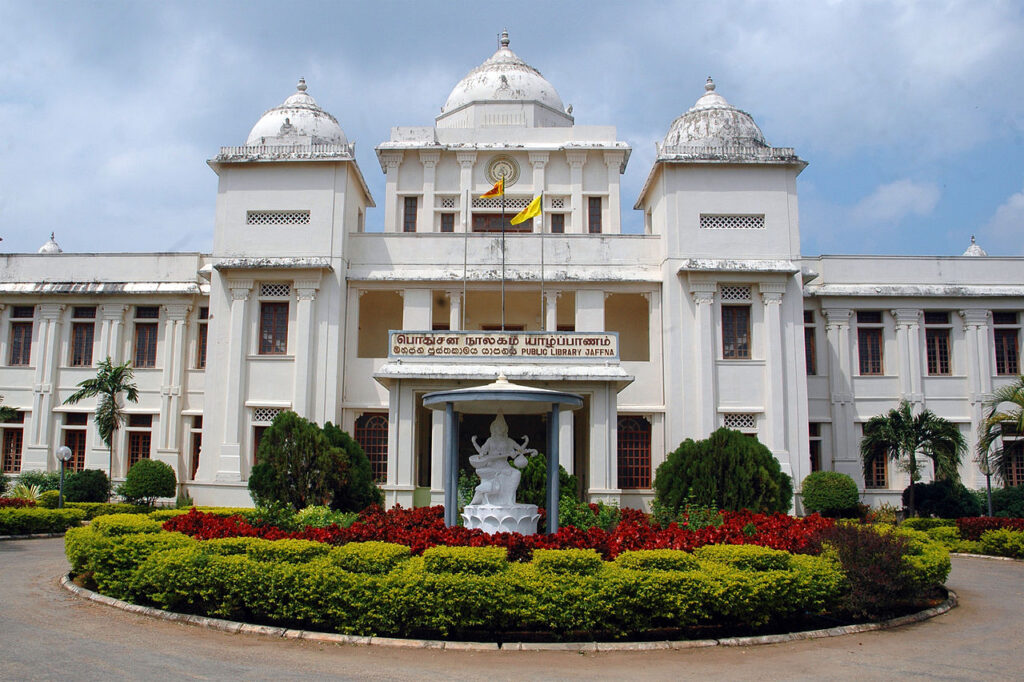 In June 1981, the entire collection went up in smoke when the library was burnt down by Sinhalese rioters, an act of mob violence perceived by aggrieved Tamils to be an indirect government attack not only on their academic traditions but on their very place in modern Sri Lanka. The partially restored building was set on fire again in 1985, this time by LTTE soldiers, after which it stood as a burnt-out shell for almost two decades prior to being restored to its former architectural glory and reopening in 2004. The library's irreplaceable contents are lost forever, but more than US$1 million has been spent on assembling a new collection of mostly Tamil literature.
Jaffna Fishing Harbour
Follow the waterfront east of the fort for 700m, and you'll arrive at Jaffna Fishing Harbour, which runs along Reclamation Road for more than 3km. With hundreds of colourfully painted wooden fishing boats bobbing offshore, the friendly harbour forms a surprisingly rustic appendage to central Jaffna, and it's very photogenic too, especially towards dusk with the sun setting in the background over the Velanai Causeway.
Small Passaiyoor market near the end of Beach Road is one of the most exciting fish markets in the country, with boisterous morning auctions; get there by 07.00 to experience the frenzied calls, and the neighbouring buildings or trees draped with brilliant blue fishing nets.
Nallur
Nallur Kandaswamy Temple
The built-up suburb of Nallur served as the capital of Jaffna for several centuries prior to the arrival of the Portuguese and relocation of the administration to the modern city centre 2km to the southwest. Its principal site, Nallur Kandaswamy Temple is the city's most important and spectacular Hindu shrine, dedicated to Skanda (Kataragama).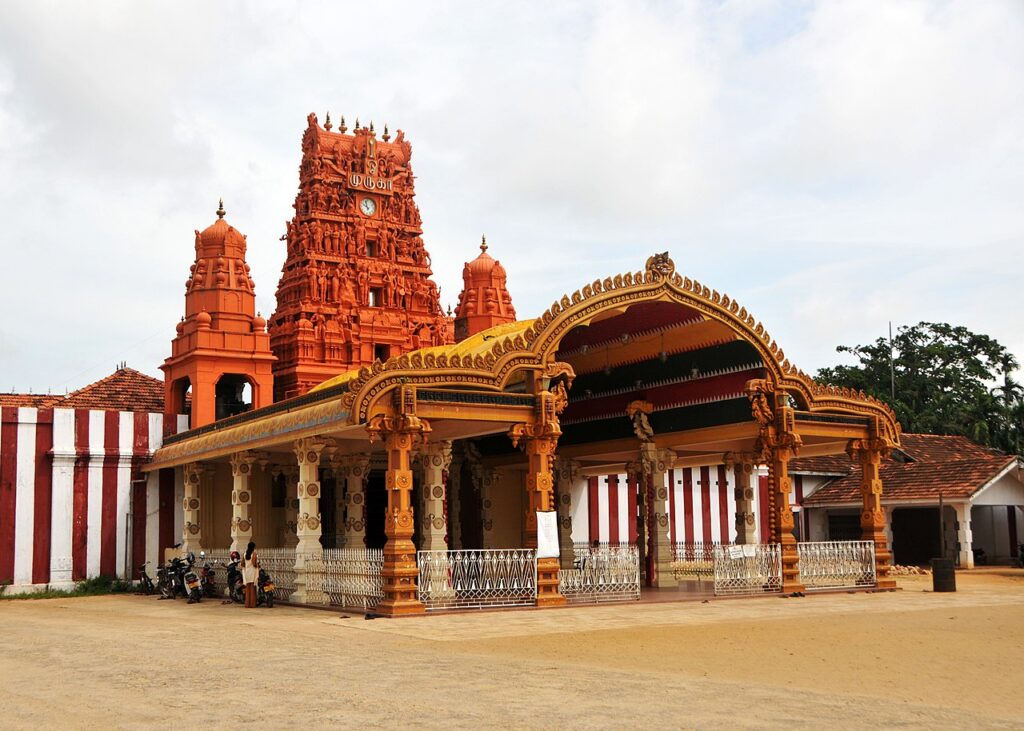 The present-day structure started life in the mid 18th century as a small stone shrine with a palm-leaf roof, and has undergone several expansions over the centuries, most recently with the unveiling of two new nine-storey gopurams – reputedly the tallest and second-tallest in Sri Lanka – in 2011 and 2015. The most interesting time to visit is during the one of the daily pujas, all the better should your time in Jaffna coincide with the latter part of the 25-day annual Nallur Festival, which ends on the last poya weekend in late August or early September.
Jaffna Archaeological Museum
Hidden away behind the Navalar Cultural Hall 1km south of Nallur Temple, the Jaffna Archaeological Museum might initially come across as musty and disorganised, but an eclectic selection of displays justifies the effort of locating it.
Of particular interest is a superb collection of Medieval brass statues and granite carvings excavated at the ancient Hindu temple sites of Nallur and Keerimalai, an intricately carved 17th-century wood temple door frame, a good example of an old palmyrah-leaf manuscript, also dating to the 17th century, and – more macabrely – kavadi skewers, spiked wooden sandals and other items associated with Hindu self-mutilation rituals.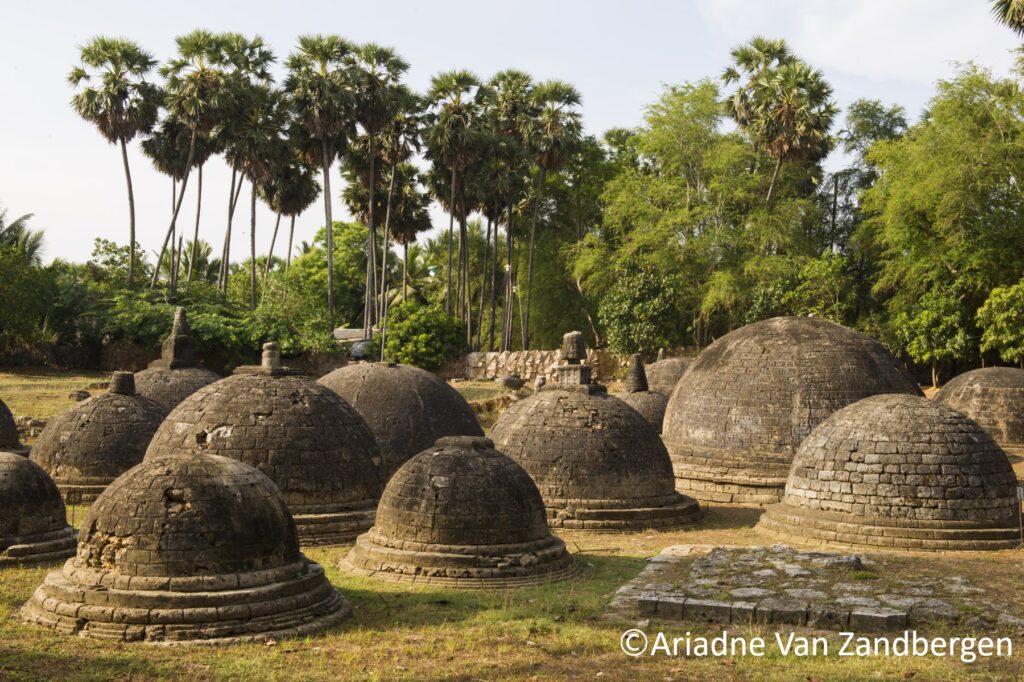 Items that found their way here from Jaffna Fort include a Dutch gravestone complete with skull-and-crossbones, a brass sundial, and a war-scarred 1853 portrait of a 34-year-old Queen Victoria said, rather fancifully, to smile at the viewer at certain angles. The museum reputedly once housed several 2,000-plus-year-old items unearthed during early 20th-century excavations at Kantharodai, but these no longer seem to be on display.
Velanai
The second largest of the eight main islands that comprise the Jaffna Archipelago, Velanai is a 35km² expanse of flat sandy soil, dotted with seasonal pans and palmyrah plantations and separated from the mainland by a gorgeous shallow lagoon. The island is thinly populated by comparison with the built-up Jaffna Peninsula, and far more rustic in feel, though this is partly an aftermath of the civil war, which left the countryside scarred with ruined and abandoned homesteads.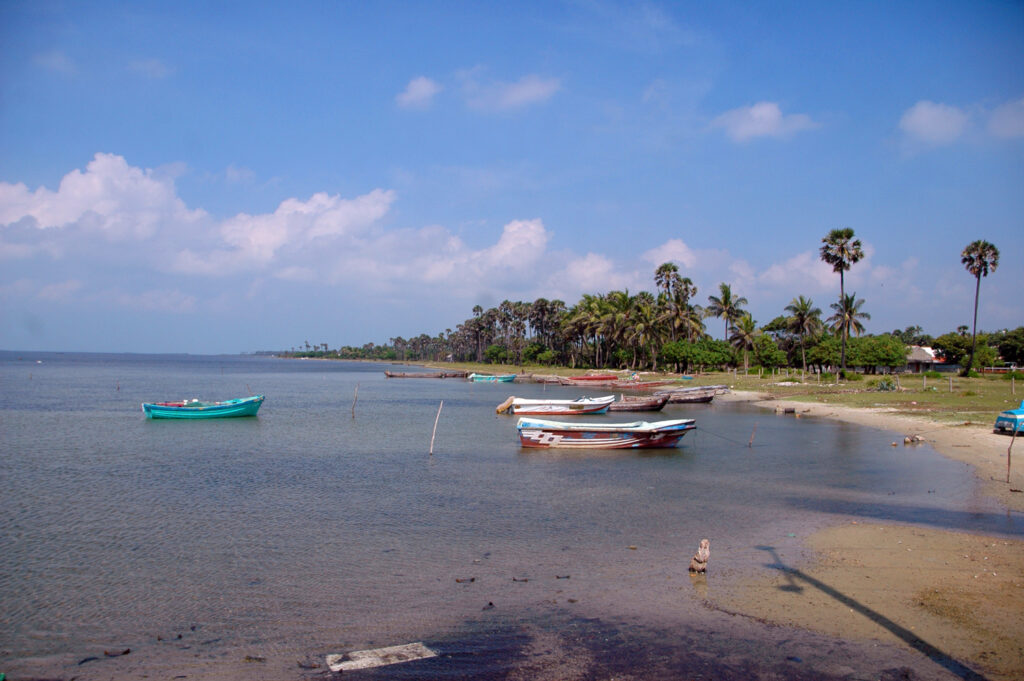 Situated on Velanai's northern shore, the intriguing and unexpectedly substantial town of Kayts (pronounced 'Kites') is separated from Karaitivu Island by a 500m-wide channel serviced by regular ferries. Decidedly backwaterish today, Kayts was an important port during the Portuguese occupation of Jaffna (1619–58) thanks to its good and easily defended harbour and strategic location in terms of maritime access to the mainland peninsula.
It was then that it acquired the name Kayts (a derivative of Caes dos Elefantes, meaning 'Elephants' Quay', in reference to the main item of export) and that a pair of Portuguese forts were built to guard the channel entrance 1km to its west. Kayts retained its strategic significance into the
Kandy
As sweet and ripe for exploration as its irresistible name suggests, Kandy finds its way on to the itinerary of pretty much every visitor to Sri Lanka, and it seldom disappoints. Also known as the Maha Nuwara (literally 'Great City') or by the ancient name Senkandagala, Kandy served as the last capital of the Sinhala monarchy from the 1590s until it was signed over to Britain in 1815.
The sacred old city – lapped by the ornamental Lake Kandy, and overlooked by the verdant slopes of the Udawatte Kele Sanctuary – is a UNESCO World Heritage Site, whose spiritual focal point Sri Dalada Maligawa (Temple of the Tooth) ranks high among the world's most venerated Buddhist shrines. Enclosed on three sides by the jungle-fringed Mahaweli River, the greater city is studded with other historic landmarks, ranging from a quartet of ancient shrines dedicated to the city's four guardian deities, to imperious colonial edifices such as the Hotel Suisse and Queen's Hotel, to the vast and well-maintained Royal Botanical Garden, which celebrated its bicentennial in 2021.
What to see and do in Kandy
Kandyan cultural shows
One of the most popular activities in Kandy is the late afternoon cultural show staged daily at several venues around the city. The shows include displays of typical Kandyan dances by men and women, in which the participants wear elaborate costumes with an extravagance of silver ornaments on ears and chests, as well as a juggling performance involving intricate twirling of lacquered wooden plates, some energetic somersaulting, daredevil displays of fire-eating and fire-walking, and a mask dance representative of low-country dancing.
The authenticity, if these things bother you, is open to question, but there is no denying that the frenetically percussive music – provided by a dervish-style drum troupe whose polyrhythms are adorned with occasional horn- and flute-like melodic flourishes – is utterly compelling. All the shows cost around US$7 per person, start at 17.00 and last for about 1 hour, an arrangement that allows audience members to move on to Sri Dalada Maligawa in time for the 18.30 puja.
Sri Dalada Maligawa (Temple of the Tooth)
Sri Lanka's holiest Buddhist shrine, Sri Dalada Maligawa houses the venerated top right canine of the Buddha, which was smuggled to Sri Lanka in the hair of a princess from Orissa in the 4th century AD, and secured as a symbol of nationhood in a succession of custom-built temples countrywide until it came to rest in Kandy in 1592.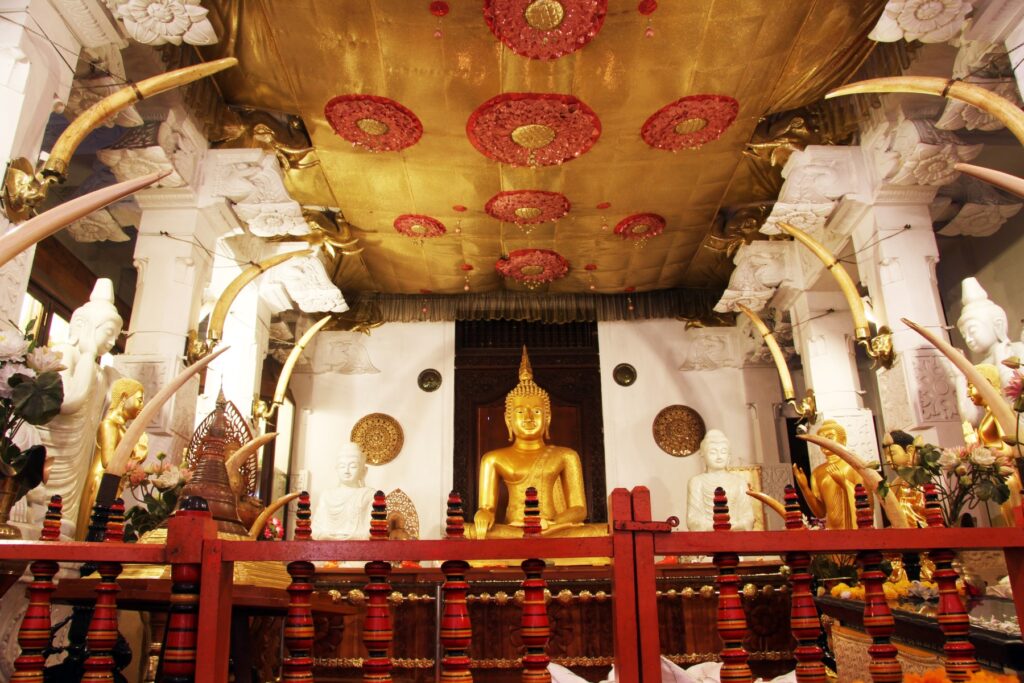 The original two-storey temple completed in 1595 by King Vimaladharmasuriya I now forms the core of an inner temple enclosed in a grander and more expansive three-storey structure built a century later by King Vimaladharmasuriya II and further expanded under King Kirti Sri Rajasinha, while the moat and other adornments were added by King Vikrama Rajasinha, the last Kandyan monarch. The tall golden canopy that shades the central relic chamber was donated by President Premadasa in the 1980s, and extensive restoration work had to be undertaken in the aftermath of the 1998 bombing.
The temple's plain but attractive white façade, set below layered Kandyan tiled roofs, is seen to best advantage from a distance (try the sloping Royal Palace Park or one of several viewpoints along Rajapihilla Road), with Lake Kandy in the foreground and a verdant backdrop provided by Udawatte Kele. Up close, the most prominent frontal feature is the Pittirippuva, an extruding octagonal belvedere that was originally built as an audience platform by King Vikrama Rajasinha and now houses a library in its base.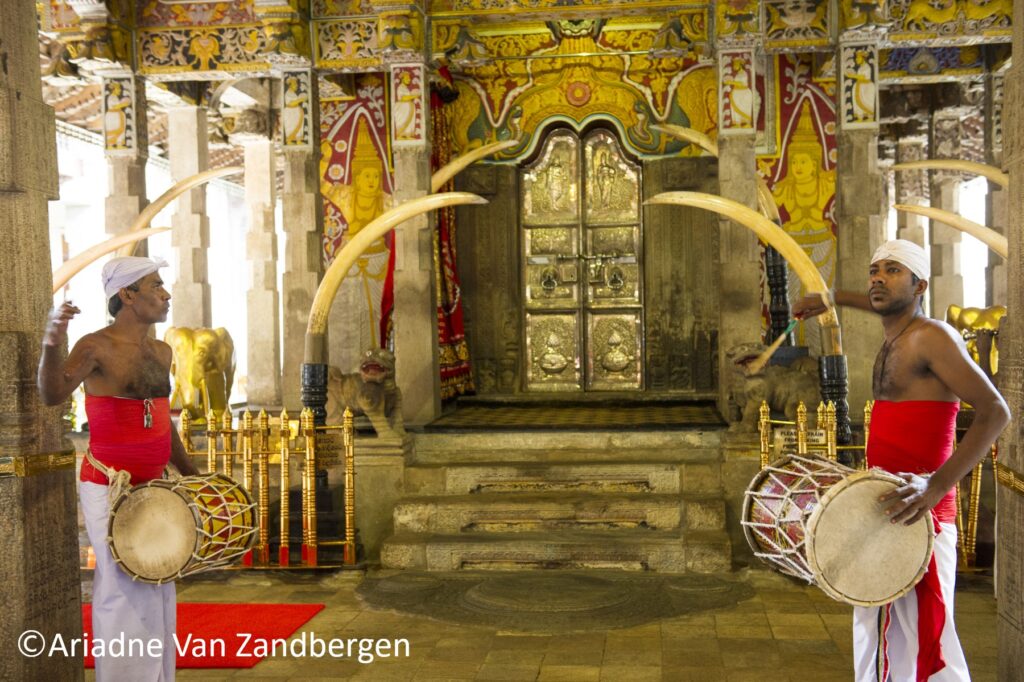 The main entrance leads across the moat and up a flight of stairs into the surprisingly small drumming courtyard, which is dominated by the inner shrine. Standing two storeys high, this handsome small building, the oldest part of the temple, is supported by engraved wooden pillars and its walls are adorned with a fantastically chaotic melange of intricate paintings and engravings (those at the rear are easier to inspect closely than the ones at the front).
Hatara Devale and Temple Square
Revered by Buddhist and Hindu residents alike, the Hatara Devale (four shrines) are each dedicated to one of Kandy's four guardian deities, namely Natha, Pattini, Vishnu and Kataragama. Three of the shrines stand clustered close together in Temple Square, the large leafy block immediately west of Sri Dalada Maligawa. The fourth, dedicated to Kataragama, stands two blocks further west, at the southern end of Kotugodella Street. Entrance to all four shrines is free.
Kandy National Museum
Renovated in 2014–17, Kandy's National Museum, which stands immediately east of the Sri Dalada Maligawa compound, is housed in the Palle Vahala (Lower Palace) built in the late 18th century as a royal harem (or, if you prefer, Queens' Palace) for the consorts of King Sri Vikrama Rajasinha. A museum since 1942, it contains more than 5,000 artefacts relating to the Kandyan period, including the original Kandyan Convention signed by the British and the Chiefs of the Kandy on 10 March 1815.
Asgiri Monastery
Founded during the 14th-century reign of King Parakramabahu IV of Kurunegala, this historic and influential Buddhist monastery once extended all the way from the hills west of the town centre to the more easterly site of present-day Trinity College. The core monastery now stands about 5 minutes' walk west of the town centre and incorporates several small temples with painted interiors.
During the Kandyan era, Asgiri served as a royal crematorium and burial ground, a tradition that started in the late 14th century when Queen Chandravati, the mother of King Sena Sammatha Vikramabahu, was cremated and buried here. The old royal burial ground and its funerary dagobas were cleared to make way for the construction of the railway line to Matale in 1880.
However, the monastery's most intriguing structure, tucked away in a leafy compound 100m north of Hill Street, is the beautiful Adhanamaluwa Gedige, which reputedly stands on the exact spot where Queen Chandravati was cremated and was built as a memorial by her son. This robust and intricately carved stone temple, set below a striking two-tiered Kandyan tiled roof, is almost certainly Kandy's second-oldest building and, as with the older Natha Devale, its architecture displays a strong Hindu influence.
Lake Kandy
It might come as a surprise to learn that the tranquil ornamental lake so integral to the modern-day Kandyan landscape was in fact completed in controversial and bloody circumstances a mere three years before the city's Sinhalese monarchy was evicted by the British. Also known as Lake Bogambara or Kiri Muhuda (Sea of Milk), it was constructed over 1810–12 at the command of King Sri Vikrama Rajasinha, who used slave labour to dam the marshes and paddy fields that skirted his capital, and was delighted when they filled up not only with water but with fish, which he fed with boiled rice from a small island (reputedly connected to the palace by a subterranean tunnel so secret its existence has yet to be corroborated).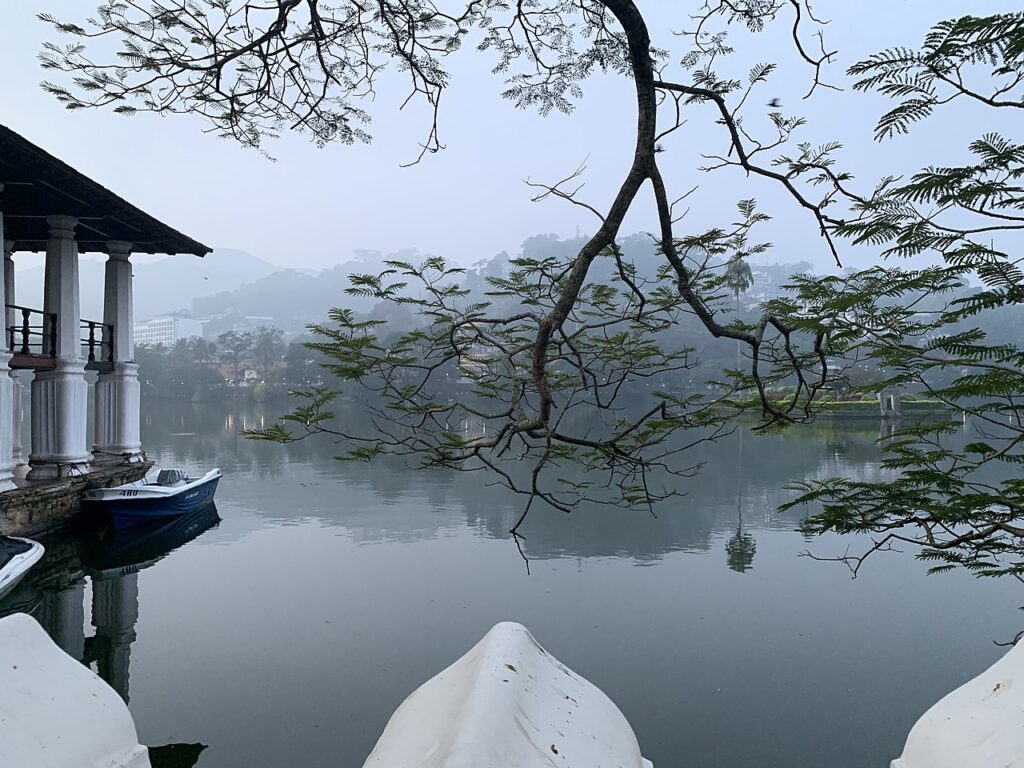 Today, the tadpole-shaped lake extends over 19ha and can be circumnavigated on foot along a shady 3.5km footpath. You'll pass several impressive Indian flying fox roosts, and should also look out for waterbirds such as spot-billed pelican, Indian pond heron, black-crowned night heron, white-breasted waterhen and various cormorants and egrets. The walk could be extended with diversions to the Royal Palace Park, Malwatta Monastery and historic Hotel Suisse, all on the south side of the lake. Unfortunately, the handsome colonnaded Ulpenge (royal bathing house) built for the wives of King Sri Vikrama Rajasinha, on a platform immediately south of Sri Dalada Maligawa, is now a police checkpoint and closed to the public.
Royal Palace Park
Busier with courting teenagers than with tourists, this 2ha park slopes upward from the southwest lakeshore to offer splendid views across the water to the old town centre and Sri Dalada Maligawa. Its official name refers to it having been the site of a palace built for King Vimaladharmasuriya I, who famously repelled two attempted Portuguese invasions of Kandy during a 12-year reign that started in 1592.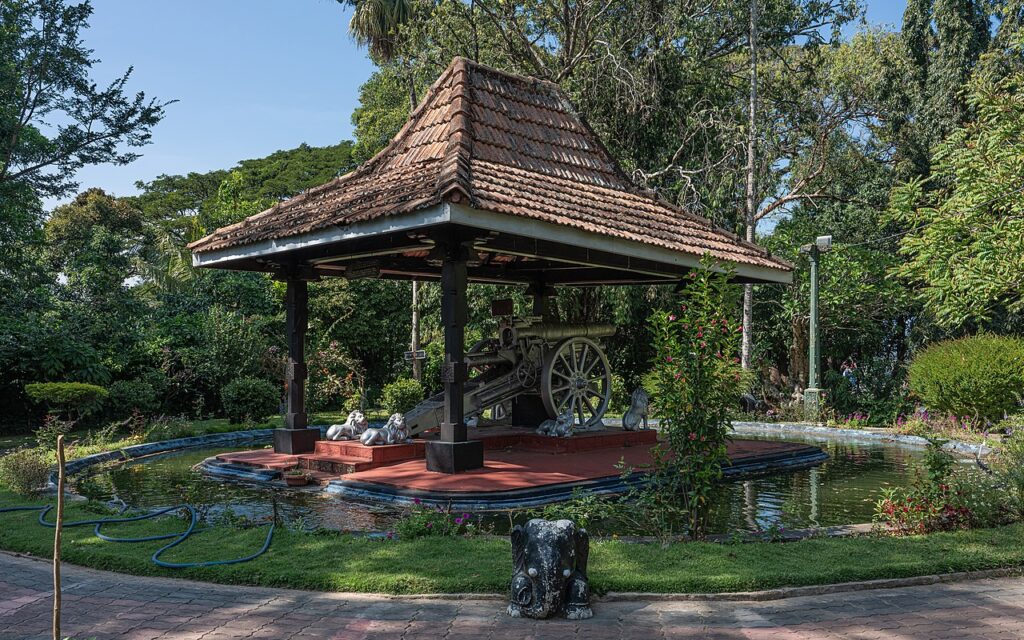 Later a lakeside terrace built by King Sri Vikrama Rajasinha, it was remodelled as a park in 1880 under the acting Colonial Secretary Herbert Wace, and is still sometimes referred to as Wace Park (or, rather confusingly, as Wales Park, reputedly also its official name for a period, in honour of the Prince of Wales). Today, pride of place goes to a Japanese artillery gun captured in Burma during World War II and now housed under a small Kandyan-style pagoda.
Malwatta Monastery
Older than Lake Kandy, whose southern shore it overlooks, this attractive monastery was established in 1753 by Sri Saranankara Sangaraja and it contains two separate temples embellished with 18th-century architectural features, as well as a venerable Chapter House and tall octagonal library. A small museum exhibits several artefacts owned by the temple's founder or dating back to that time.
Sinharaja Forest
Sri Lanka's most important biodiversity hotspot and number-one birdwatching destination is the 88km² Sinharaja Forest Reserve, which protects the largest remaining tract of rainforest in the island's southwestern wet zone.
An important watershed, it swathes a rugged mountain range that extends for 21km from east to west, but is classified as lowland rainforest owing to its relatively modest altitudes, which rise from below 100m to 1,171m at the summit of Hiti Pitigala.
In zoological terms, Sinharaja's most remarkable feature is a quite extraordinary level of endemism, which embraces at least 830 plant and animal species unique to Sri Lanka, and more than a dozen plant genera whose range is confined to this one forest. The forest reserve is of particular interest to birdwatchers, since all but two of the 33 species endemic to Sri Lanka have been recorded here, and it is the easiest place to see many of them.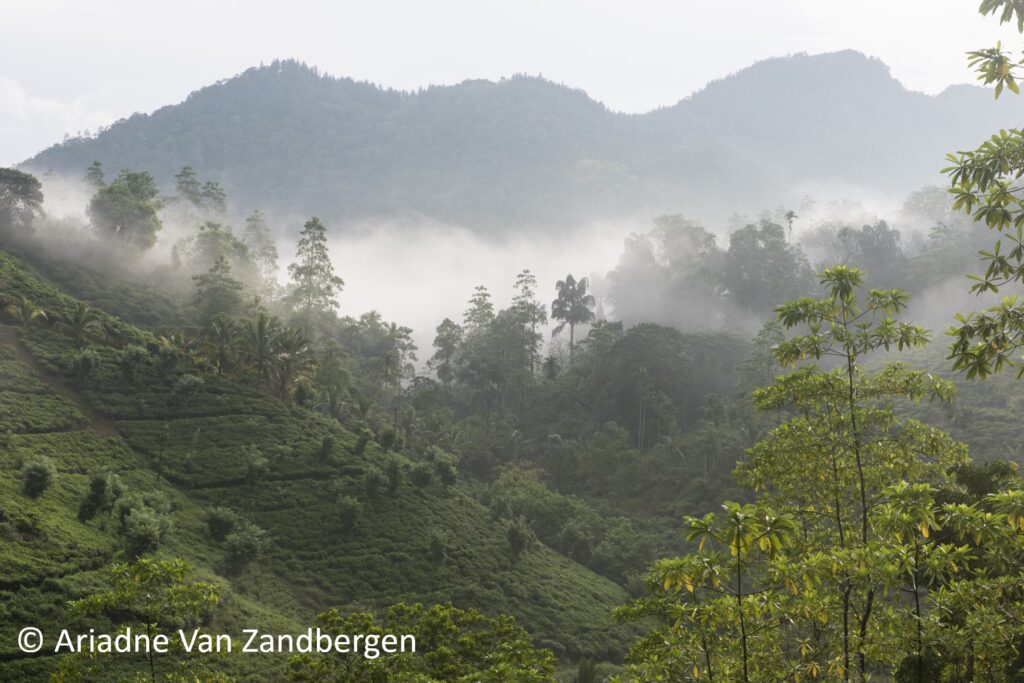 For all its biodiversity, Sinharaja ranks as one of Sri Lanka's most undersubscribed major attractions. In part, this can be attributed to the relatively basic nature of accommodation in the area, and to it lying on something of a limb off the country's main tourist circuits. Equally, it seems fair to say that a ramble through Sinharaja wouldn't conform to everyone's idea of a fun day out.
The lush rainforest interior can realistically be explored only by keen walkers prepared to brave an army of creepy-crawlies, and embrace the likelihood of being drenched in one of the all-but-daily tropical downpours. Of course, especially in the company of a (mandatory) guide, Sinharaja is actually a very safe place – far more so, it has to be said, than the country's recklessly driven roads – and rough-'n'-ready travellers seeking a little outdoor adventure are likely to look back on a rainforest hike as a highlight of their time in Sri Lanka.
Frankly, tourists would be well-advised to embark on a forest adventure as soon as possible: the forest is under continual encroachment from agriculture, hunting and logging, as well as large developments that threaten to remove its UNESCO designation – such as roadworks and the 2021 government proposal to construct two 2ha reservoirs, which would displace thousands of families.
Yala National Park
Sri Lanka's best and most popular safari destination, Yala National Park protects a vast tract of low-lying dry-zone wilderness which once formed part of the Ruhuna Kingdom, but was populated only by a thin spread of nomadic Vedda hunter-gatherers for centuries prior to being accorded official protection in 1900. Today, the park is renowned for its dense populations of elephant, leopard, water buffalo and to a lesser extent sloth bear, and it also hosts an exceptionally varied avifauna comprising more than 200 bird species.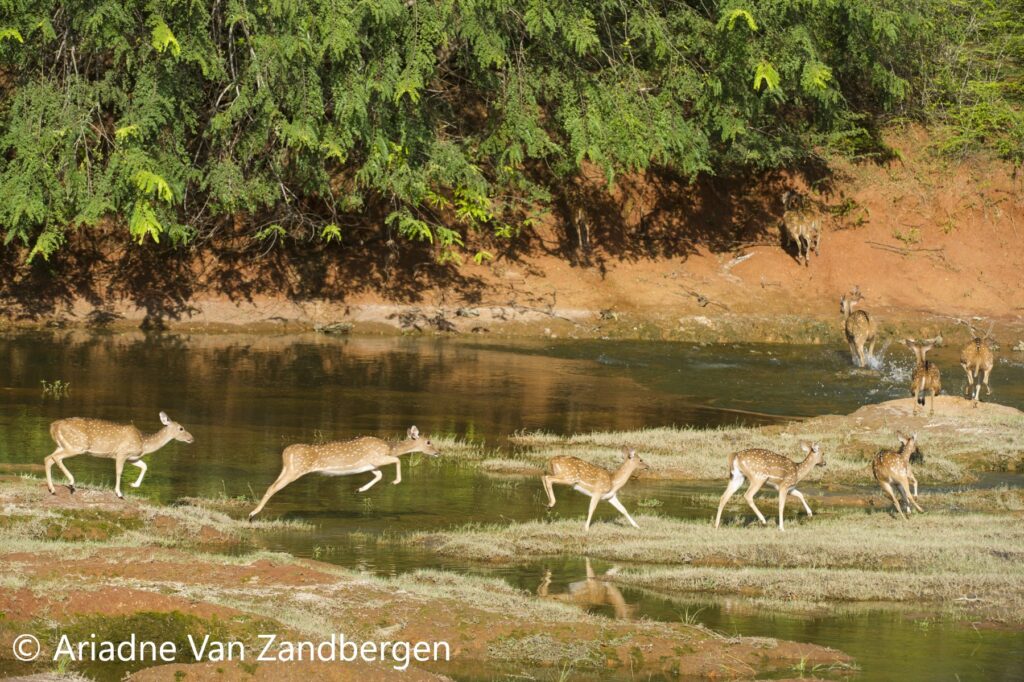 Divided into five blocks, the 978km² national park, though smaller than Wilpattu, forms the centrepiece of the island's largest conglomeration of protected areas, a 1,750km² tract of wilderness that also includes the contiguous Kumana National Park, the Yala Strict Nature Reserve (off limits to the public), Lunugamwehera National Park (gazetted in 1995 and essentially merged with Yala Block V) and three small buffer sanctuaries.
What to see and do in Yala National Park
Game drives
The main activity in and around Yala is game drives, which can be arranged through any hotel or lodge in the area, as well as through a plethora of safari operators and one-man-and-his-jeep operations in Tissamaharama. Morning drives tend to be most rewarding for birds but afternoon drives come with a better chance of spotting an elusive leopard or sloth bear. If your budget (and tolerance of the sticky climate) runs to it, best to opt for an all-day drive, taking a packed breakfast and lunch, since elephants are most often seen at watering holes in the heat of the day.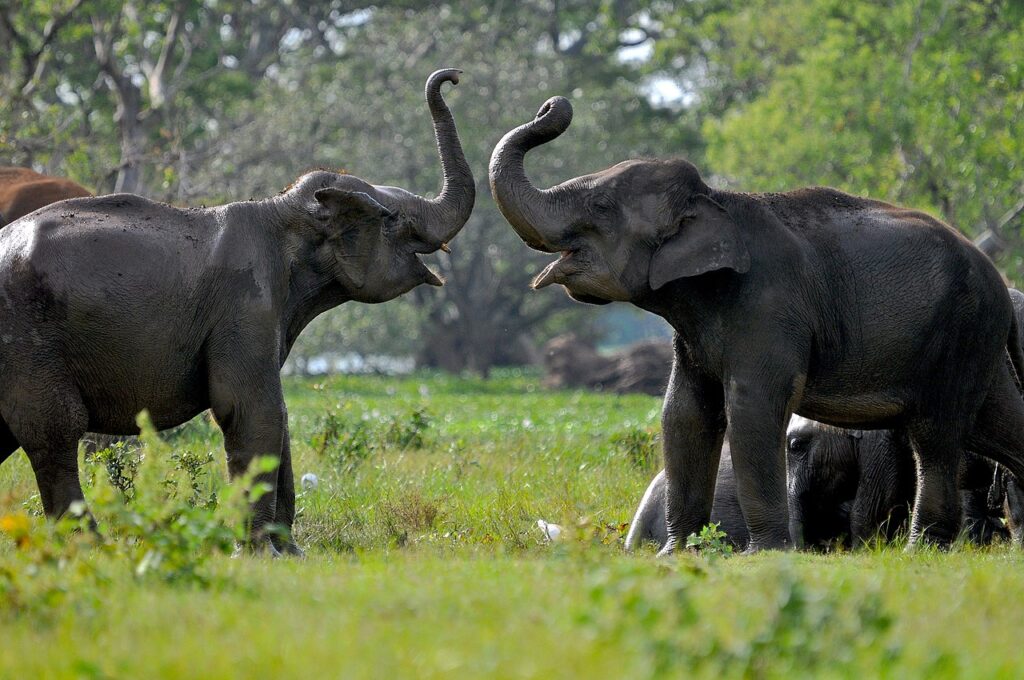 A full-day drive in Block I also gives you time to explore the relatively untrammelled area around the Menik River, and ensures you will be out and about when most safari-goers are lunching outside the park. Almost all safaris take place in Block I, which supports high densities of game and a generous scattering of natural waterholes and artificial reservoirs, some originally constructed by the ancient kings of Ruhuna.
For those seeking a more off-the-beaten track experience, Block V, though relatively small at 26km², is highly recommended for scenery, waterbirds and relatively regular leopard sightings. Block V is usually combined with the contiguous and even less-visited Lunugamwehera National Park, a 245km² tract of disturbed woodland centred on the eponymous reservoir and known for its seasonal concentrations of elephants and varied birdlife (185 species, with aquatic species particularly well represented).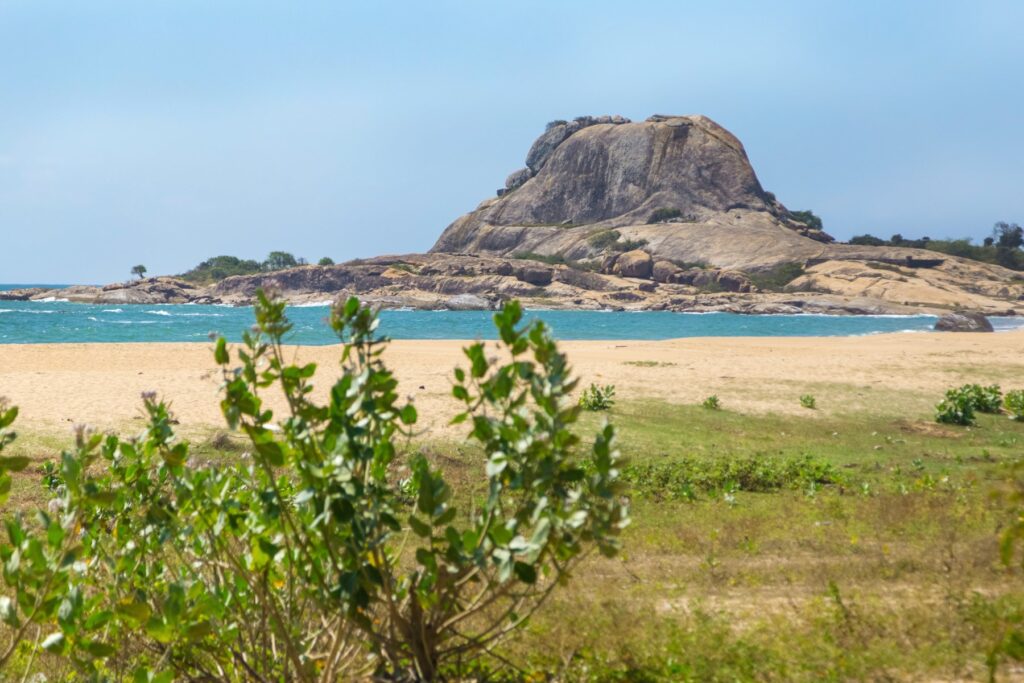 Blocks III and IV are also now open to the public but the dense vegetation may make for disappointing animal spotting (conversely, it is excellent for woodland and forest birds, and you'll most likely not see another jeep). Back with Block I, it is also possible to obtain advance permission to take the bridge across the Menik River into the little-visited Block II, whose 35km-long Indian Ocean shoreline is studded with streams, lagoons and restored Ruhuna-era reservoirs.
Sithulpawwa Monastery
Enclaved within the northwest of Block I, this ancient and extensive Buddhist monastery – goal of an annual pilgrimage of tens of thousands of worshippers on the Poson (June) Poya – consists of more than a hundred caves with drip ledges centred on a massive whaleback outcrop surrounded by jungle and topped by a modern dagoba. It was founded in the 2nd century BC by Kavan Tissa, and legend holds that it housed more than 10,000 Arahant monks in its heyday, when it was surrounded by a productive agricultural area irrigated by a system of reservoirs.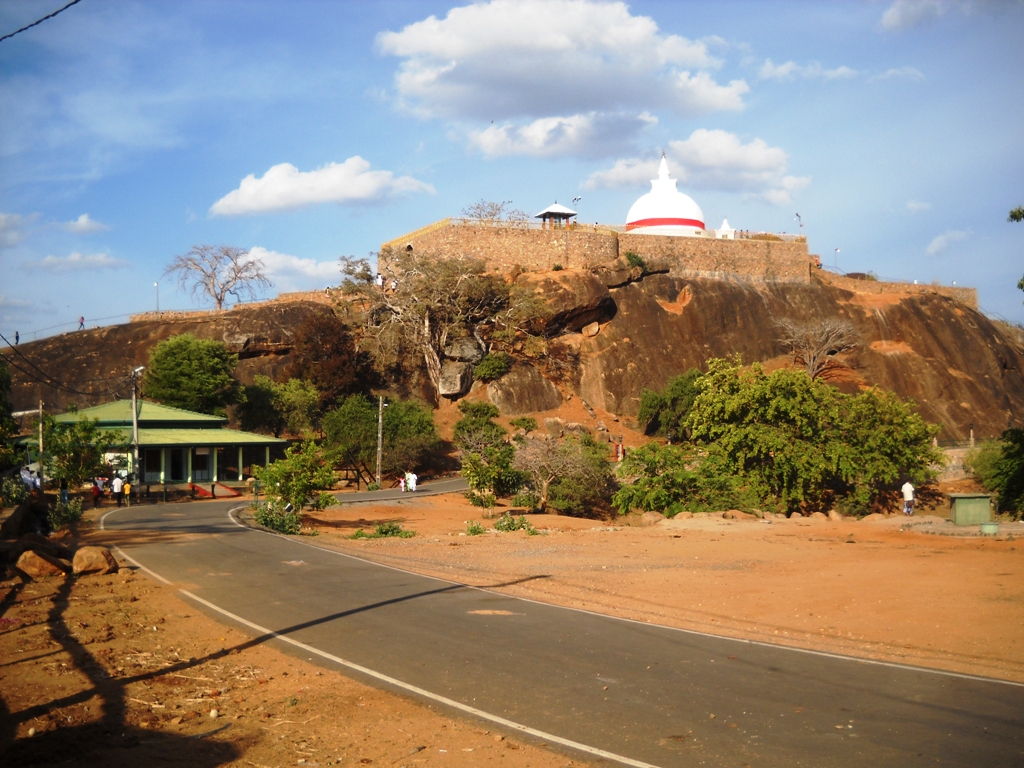 This system gradually deteriorated over the centuries and the monastery and surrounding land were abandoned around 700 years ago following a prolonged and devastating drought that caused many of the monks to starve to death. A few very faded Anuradhapura-era paintings are preserved in one of the caves, and the views from the hilltop to the ocean are spectacular. The monastery is about 5km and signposted from Katagamuwa Gate, and the ascent of the taller hill takes about 15 minutes on foot. Although it is surrounded by the national park, it stands outside and no entrance fee need be paid to visit.
---
Related books
Related articles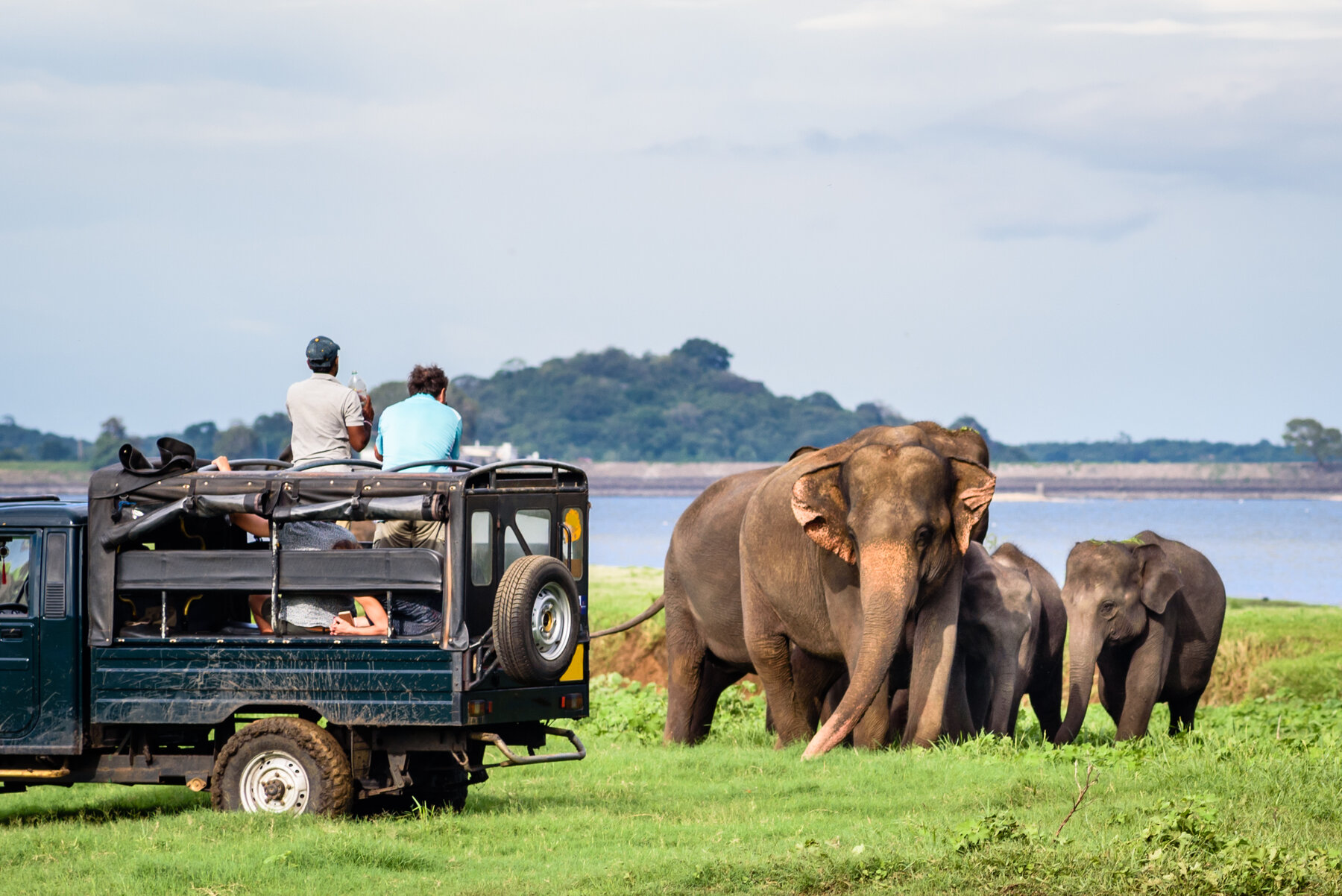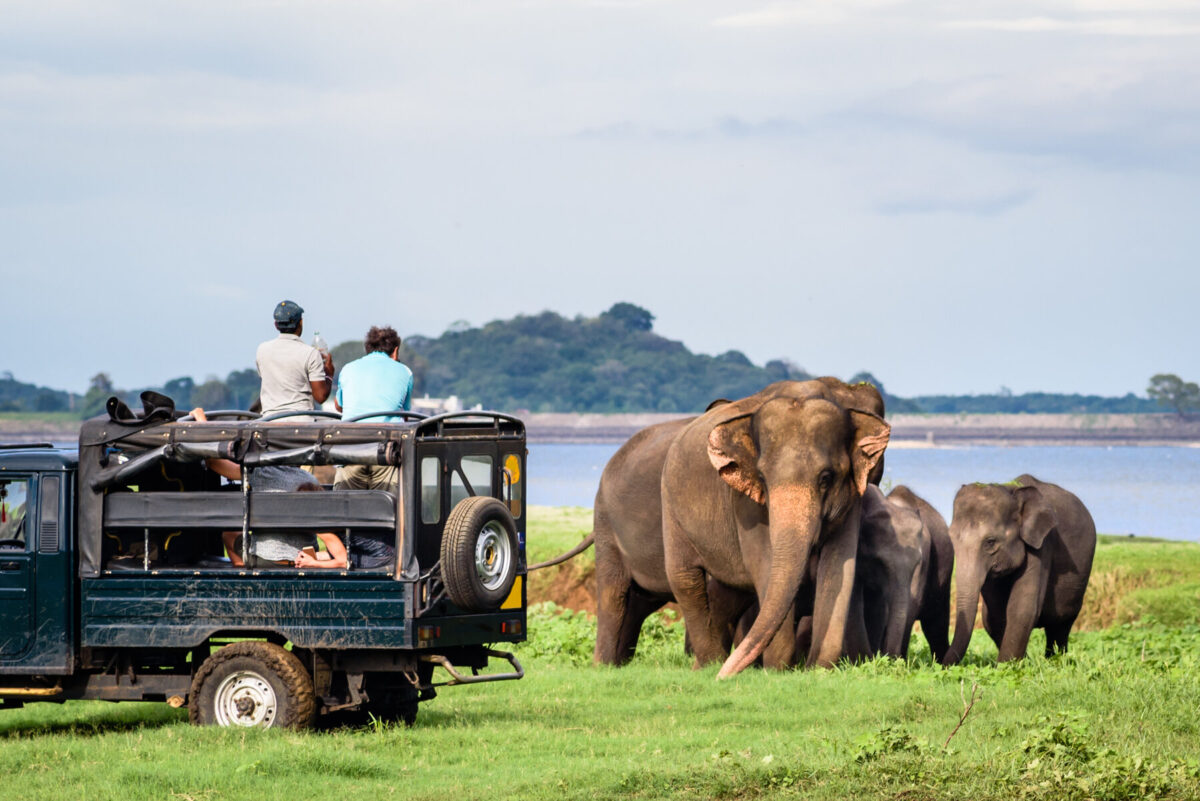 From sloth bears to sperm whales, Sri Lanka is home to some of the most remarkable wildlife on the planet.