Whether you want to learn more about a destination's history, admire some spectacular architecture, or simply want a great day out, a castle have so much to offer their visitors.
Vianden Castle, Luxembourg
This is a 'can't miss' sight on several levels. For one thing it's visible for miles and you'll spot it long before you arrive in Vianden. More importantly, however, you shouldn't miss it as it's one of northern Europe's largest and most impressive medieval monuments.
It also rates among Luxembourg's most popular attractions, with some 200,000 visitors annually, and currently has a pending application for UNESCO World Heritage listing. Building work began in the 11th century and continued for more than 300 years – by the 15th century the castle rivalled almost any in Europe.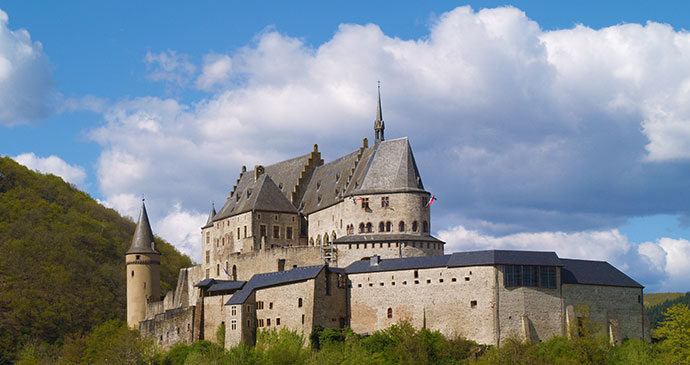 Unfortunately the Nassau family, who inherited Vianden at this time, didn't really care much for it. They never lived here and governed from afar. But at least it remained intact for 400 years. A bigger slap in the grand old building's face came in 1820. William I of Orange Nassau was handed Vianden by the Congress of Vienna in 1815. He promptly cashed in by selling his prize to the highest bidder: a local merchant named Wenceslas Coster.
Coster dismantled the castle and sold it, window by door by brick. Too late, William I was forced by public outrage to buy it back – or what remained of it. He reconstructed the chapel in 1851, but most remained a desolate wreck for over a century. Fortunately, a ten-year restoration programme carried out by the government when it acquired the property in 1977 has returned it to something akin to its former glory.
Bran Castle, Transylvania
Saxons built Bran Castle on a cliff above the plains in 1377 to protect the gateway to Transylvania at the Bran Pass. The imposing construction with its solid, squared-off walls and reddish-brown roofs looks like a typical Transylvanian castle and it attracts a huge number of tourists who often come for the Dracula link.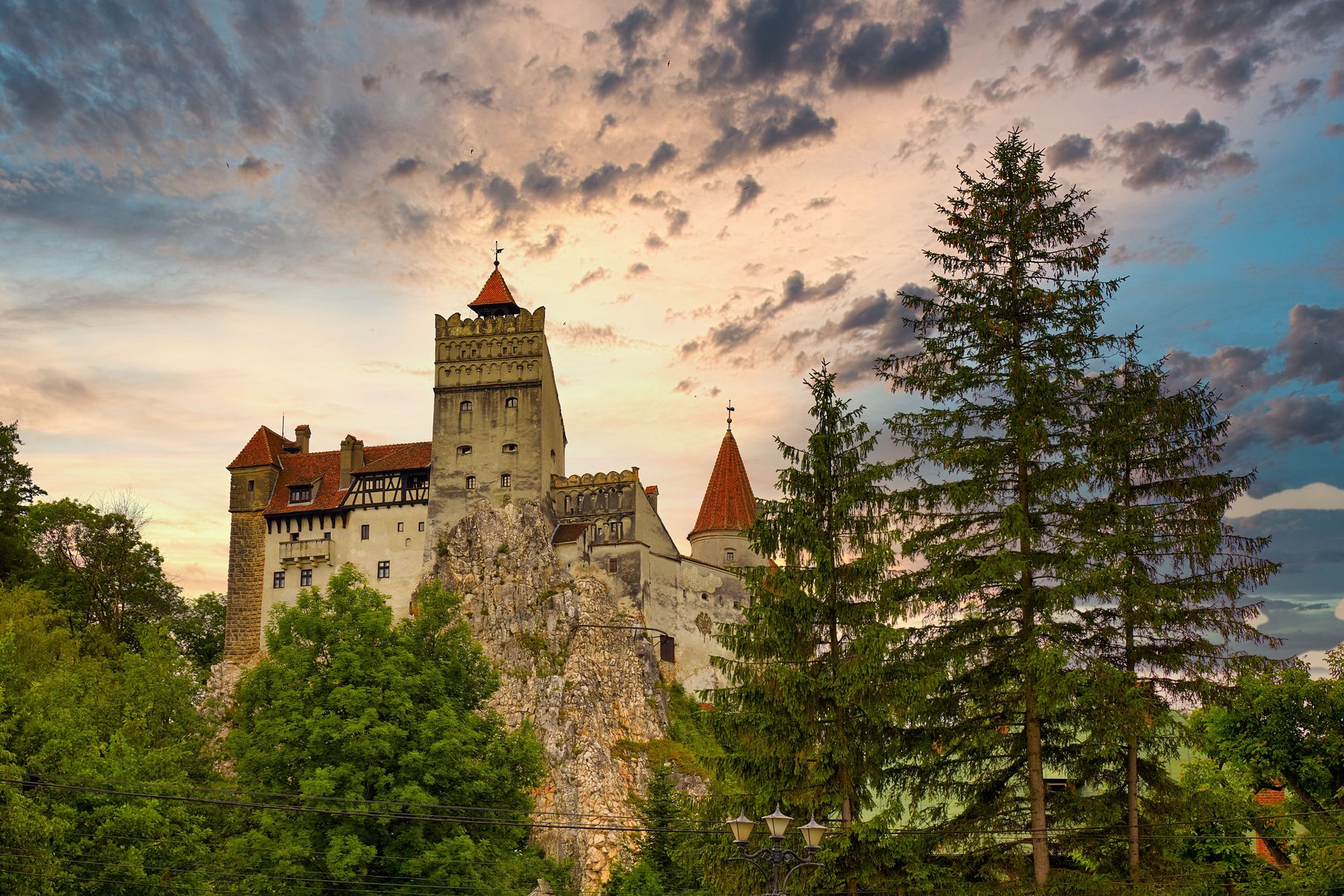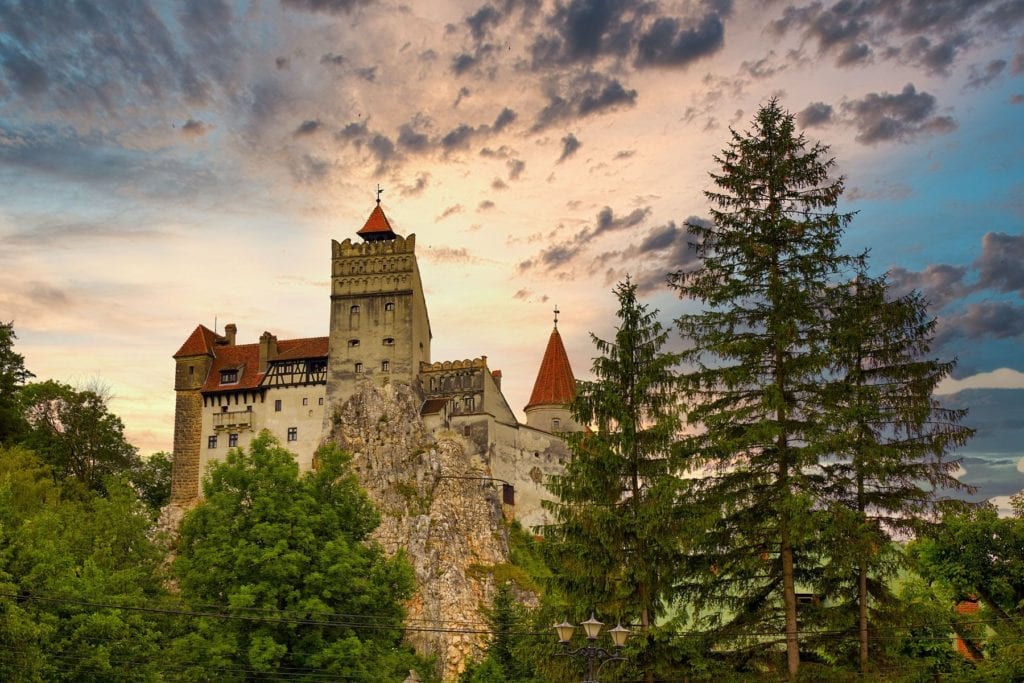 It is promoted as Dracula's Castle, but Vlad III Ţepeș, the real person behind the Dracula myth, spent only a few nights at the castle, probably when he was imprisoned by the royal Hunyadi family. The Gothic portals, narrow staircases carved into the stone, secret stairs and passageways, vaulted halls and arches make Bran an atmospheric and impressive destination. In the 1920s, Bran became home to Queen Marie of Romania (1875–1938) and she decorated the interior, importing much of the furniture from western Europe. The castle is now a museum.
Veliki Tabor, Croatia
Veliki Tabor is arguably the most picturesque authentic castle in Croatia. Originally dating from the 12th century, the distinctive defensive round towers were added in the 16th century. Following several years of ongoing renovation, the castle was finally reopened to the public in January 2012, so the lovely five-sided, three-tiered courtyard can now be visited again.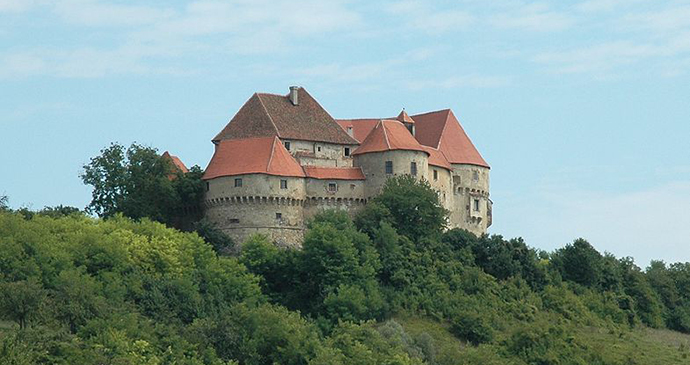 Like all good medieval castles, Veliki Tabor has its own romantic fable attached to it. In this case the local landowner's son wouldn't renounce the peasant girl of his desires, and was imprisoned in the castle until his death. The girl, for her part in the sorry story, was bricked up into the castle walls – they say the skull in the chapel here is hers. Count yourself lucky if you live in a time or country where you can choose who you marry. There are also several events held at the castle, including archery and puppet workshops.
Baba Vida, Bulgaria
This is a magnificent castle, the sort you imagine as the centrepiece in some epic film, with a dark, brooding hero and sultry heroine! It is surrounded by huge walls and a deep moat, now dry. It is perfect for scrambling about between courtyards and along ramparts; you can picture yourself peering at the Danube through gun positions trying to spot the approach of your enemies.
Construction was begun by the Bulgarians in the late 10th century on the ruins of Roman Bononia and continued over the years. It is an irregular shape, roughly rectangular, with four great corner towers. There are parts for domestic use and then the defensive area of two walls with turrets and the moat, which would have been filled with water from the river.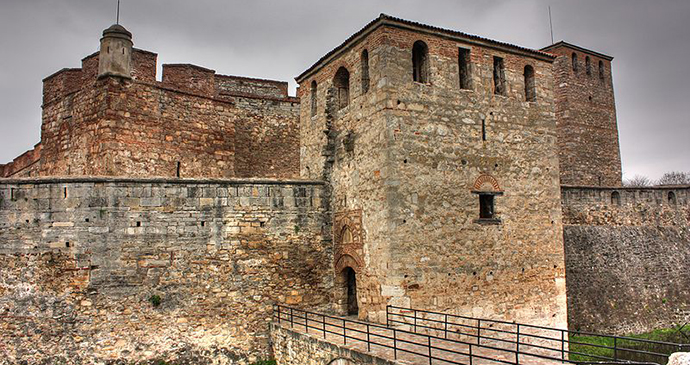 The name of the fortress translates as 'Granny Vida's', supposedly because her father, a local bolyar, had ordered it to be built. A more interesting, but unconvincing, legend tells how in ancient times a king died and left his vast kingdom between the Carpathians and the Balkans to his three daughters, Vida, Kula (which means 'tower') and Gamza (the local red wine). The younger sisters married but Vida did not; instead she ruled from this castle.
The fortress is the central feature of a whole system of defences which protected the town from attack from both the land and river sides. The fortress was impregnable and able to withstand very long sieges. Much of what is visible today was part of the 17th-century reconstruction by the Turks. It escaped damage during the Russo-Turkish war of 1877–78, and is now probably the best-preserved medieval fortress in Bulgaria.
Rocca Calascio, Abruzzo
This great castle-fortress is truly imposing and is perhaps one of the most magical sights in Abruzzo. Set at 1,500m above sea level, it's the highest fortress in Italy and one of the highest in all of Europe. The exact date of construction is not known, but the castle (particularly the central tower) was reinforced in the mid 15th century.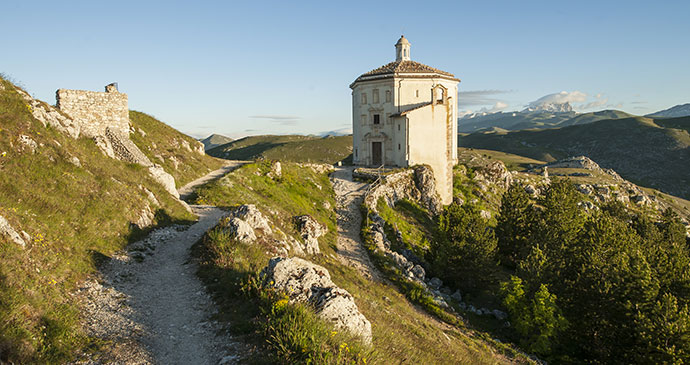 The stone fortress, a military stronghold, is notable for its symmetry and the quality of its construction, given the difficulties of building a castle in such an exposed and elevated location. The military reason for building a fort in this position was to give a sweeping view of Abruzzo, and it still has just about the best views to be had in the region, especially at dusk.
Corvin Castle, Transylvania
A truly magnificent sight and a highlight of any trip to southwest Transylvania, first impressions of the Corvin Castle are magical, or perhaps more accurately fairytale, in character, from its dramatic approach over a wooden bridge across a deep gorge to the riot of square and circular towers, battlements and precipitous walls it offers.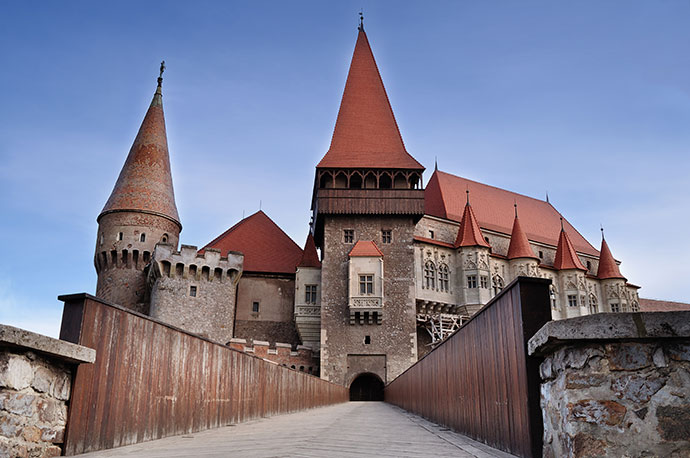 The great travel writer Patrick Leigh Fermor called it 'fantastic and theatrical' and 'at first glance, totally unreal'.
Het Steen, Belgium
Antwerp's oldest building, fortress castle Het Steen ('steen' meaning 'stone' or 'fortress') was built around 1200 to repel Viking raiders. Having served as a prison and maritime museum – its collection is now at MAS – it is currently being converted into a cruise terminal and visitor centre due to open in 2020, which doesn't sound immediately promising, but fingers crossed.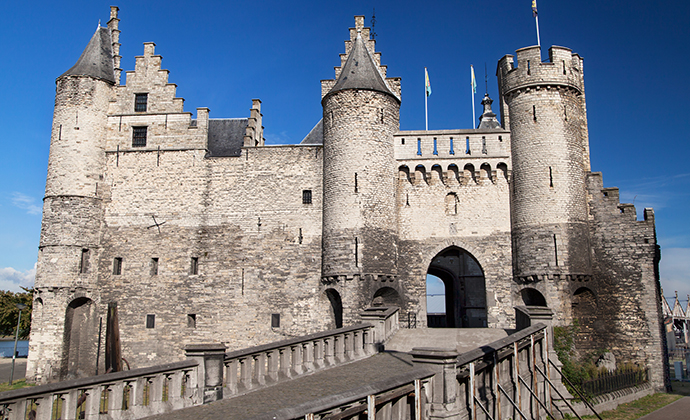 Most of the fortress was destroyed during the 19th century, when the quays were expanded, and its main draw now is a rude bas relief of Scandinavian god Semini above the entrance gate. Local mothers worshipped Semini as a fertility symbol (replete with erect phallus), though he was reviled by later clergy and his statue castrated by outraged Jesuits, so the years haven't been too kind!
Läckö Slott, West Sweden
Läckö Slott is everyone's idea of a fairy-tale castle: its turrets and towers all creamy white and splendiferous. Overlooking Lake Vänern 25km north of Lidköping in West Sweden, today's Baroque castle actually began life as a military fortress in 1298, though its glory days didn't come until the late 17th century when it was owned by one of the leading personalities of the age: Count Magnus Gabriel de la Gardie (1622–86).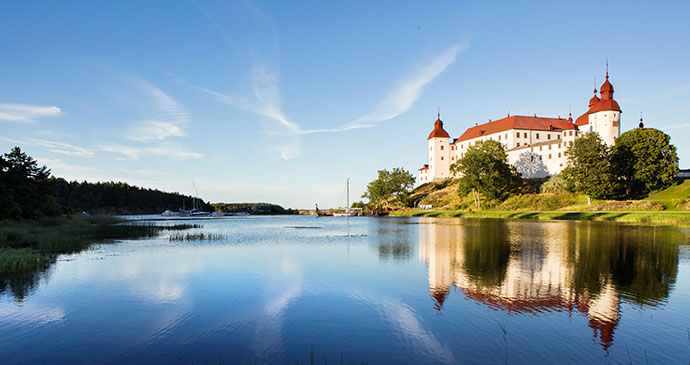 De la Gardie introduced the Baroque ideal of symmetry and regularity to his home, adding a third floor in the process; the castle's exterior is the same today as it was in de la Gardie's day as it has been thoroughly restored. Inside, there's a wealth of exquisite decoration, particularly in the apartment which belonged to his German wife, Marie Eufrosyne. English-language guided tours run several times daily.
Bratislava Castle, Bratislava
Described somewhat cruelly as an 'upside-down bedstead', Bratislava Castle as we recognise it today was constructed in a more basic fortress style in 1430 by King Sigismund of Luxembourg.
There had been previous fortifications on the site, Celts and Romans had occupied the hill, then in the 9th century the Slavs built a fort, rising 85m above the Danube. The conquering Magyars also built fortifications on the hill and there was extensive construction work in the 13th century. King Sigismund reconstructed the castle and added outer defence walls, some 11m thick, and the Habsburgs used the castle as protection when the Turks attacked Vienna.
It received its trademark four corner towers between 1635 and 1649 when the Hungarian Viceroy Pál Pálffy called in Giovanni Battista Carlone to help with a redesign. Maria Theresa called it 'her castle' and the Hungarian Crown Jewels were kept there when the capital of Hungary was moved to Bratislava in 1536; she converted it into a grand palace in 1761, and the interior was redesigned in a lavish Rococo style and a number of annexes were added on outside.
However, Maria Theresa's successors did not share her love for the castle and it fell into disrepair: it was used for a while as a priests' seminary and a barracks, and in 1811 it burnt down in a devastating fire and remained in ruin for 140 years until restoration work began in 1953. Today it houses exhibitions for the Slovak National Museum as well as state rooms of the Slovak National Council.
Palacio Real, Basque Country
Located in Olite, this national monument looks exactly like a palace should. If you spotted a damsel in distress begging from one of the towers, it would be only a minor surprise. Note that, next door, what is now known as the 'Old Castle' was built by Sancho VII ('The Strong') and is now the upmarket parador hotel, with only very few parts of the 11th–13th century construction remaining within.
As for the 'new' castle, it actually dates from the 14th and 15th centuries. Be sure to pick up the informative English-language pamphlet with your ticket, as the audio guide – with commentary by a fictitious lady-in-waiting from the era of King Carlos – may annoy some visitors.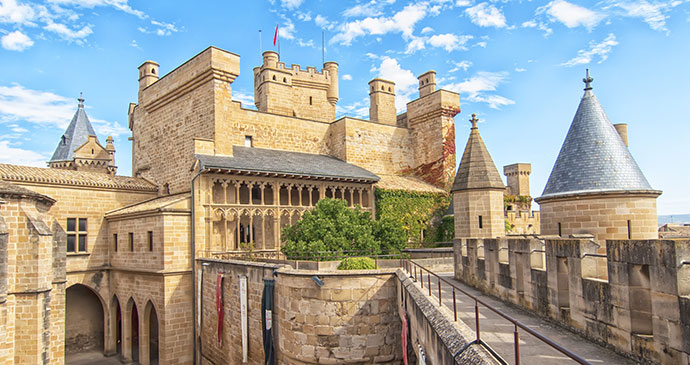 The only disappointment is that the palace is devoid of any furniture or fittings, for when Carlos III was in his pomp, not only were there beautiful tiled walls and sumptuous carpets, but also exotic birds and a small zoo with giraffes, wolves and camels. After Navarre succumbed and became part of Castile in 1512, the palace ceased to be the permanent Royal Court and all the tapestries, furniture and jewellery inside gradually disappeared.
In 1813, the palace suffered further, being torched by the Navarrese to prevent it falling into French hands during the Peninsular War, with restoration work not starting until 1937. An exhibition halfway up one of the towers shows the state of disrepair before renovation began.
Beaufort Castle, Luxembourg
For a major defensive stronghold, Beaufort Castle's location at first seems somewhat unwise, as it sits in a small hollow below the level of the town it allegedly guards. But when you see how protected it is from behind by a curtain of sheer stone cliffs, the situation doesn't seem quite so crazy.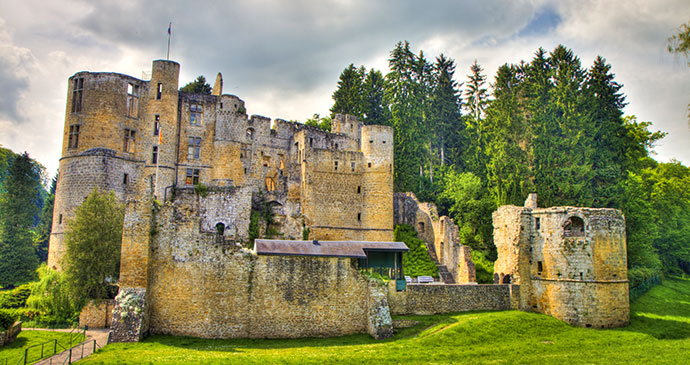 The exposed front areas were also once graced by a wide deep moat, although this has long since disappeared and been replaced by rather less daunting grass.
Rakvere Castle, Estonia
For something a little bit different, this Estonian castle is worth visiting. The castle dates originally from the 14th century but neglect and looting are more responsible for its current ruined state than any specific attack. It has in fact been a ruin since the 17th century and even basic maintenance was not undertaken before 1975.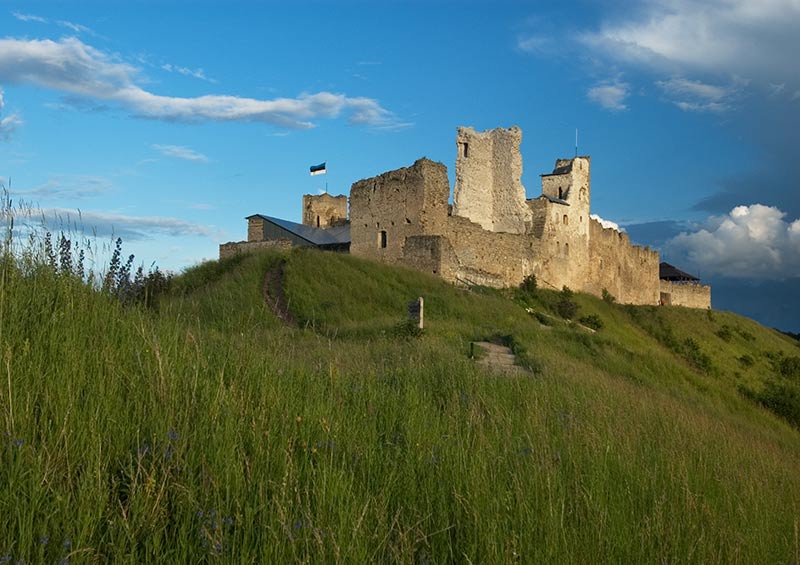 It is now beyond repair, but in 2002 an extensive renovation programme was begun and by 2004 it had more or less become a theme park, with a Livonian dining hall and a chamber of horrors. The conventional exhibits expected in a castle are few and far between. It now offers indoor and outdoor performances during the summer, and groups are welcome 24 hours a day. Details of these performances can be checked on the castle website.
Castelo de Marvão, Alentejo
Marvão is astounding – a perfectly preserved medieval fortified town still set in stone, absent of even a hint of concrete, and Castelo de Marvão is its crowning jewel. Climb the steps up to the battlements and walk the walls to the castle to see across the mountains into Spain and over Portugal for tens of kilometres.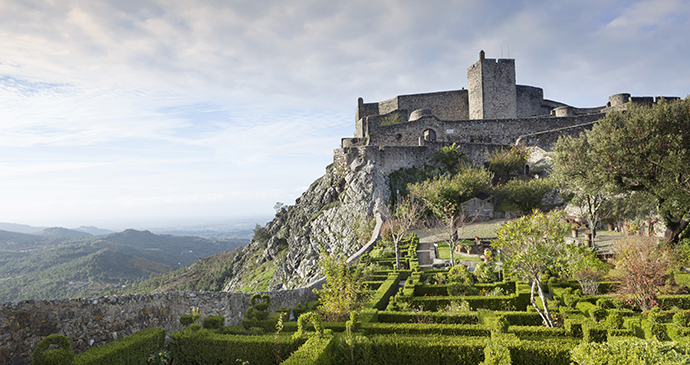 It was the Romans who first built a settlement here – a hilltop lookout for the town of Ammaia that they built at the foot of the hill. Like most Alentejo castles, Marvão's is a composite building – while some of the gates to the castle appear to be Roman in origin, the first great fort was built by Ibn Maruán, with many of the stones taken from the ruins of Ammaia.
Koroni Castle, the Peloponnese
Any wandering through the delightful village of Koroni will take you up to the castle at some point. You enter the castle, which is surrounded by water on three sides, through a tall, arched gateway, and are confronted by its decidedly unmilitary interior.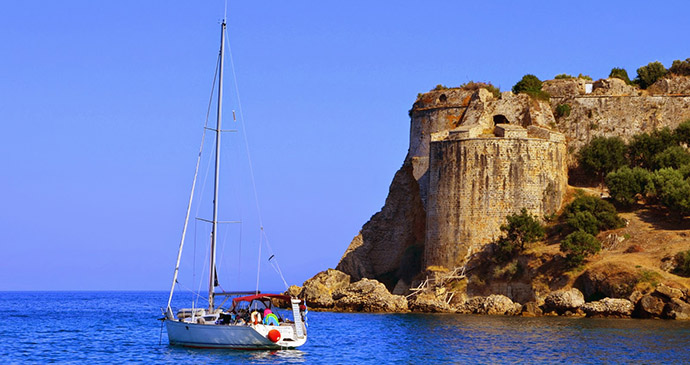 For a start, people still live within the castle walls and there are plenty of houses surrounded by well-tended vegetable patches. Carrying straight on you are next confronted by a convent, the Timiou Prodromou dedicated to John the Baptist. The friendly nuns welcome visitors (dressed appropriately) and some of the best views of the town and surrounds are from the castle walls within.
Following the walls round away from the houses and the convent, things get a bit more castle-like. It's worth a visit just to view the castle's most impressive feature, a large bastion that overlooks the last half-kilometre of land before the cliffs drop to the sea.
---
Inspired to visit one of the castles mentioned? Check out our guides for more information: