Written by Bradt Travel Guides
Socially and economically, the date is the most important fruit crop in Oman. You can fertilise around a hundred female date palms from a single male date palm (one Omani even called his male palm King Solomon in recognition of its fecundity)
Date palms are single-sex trees; the female tree produces fruit, and the male tree is simply required for pollination. It is not unusual to have a single male palm provide the pollen for 100 female palms, though this ratio can only be sustained by hand pollination; a random breeze or insect is of no benefit. In January and February a man has to climb to the crown of a female free with male flowers and pollinate the female flowers. The dates then grow from the size of a small pea to their familiar ripe form.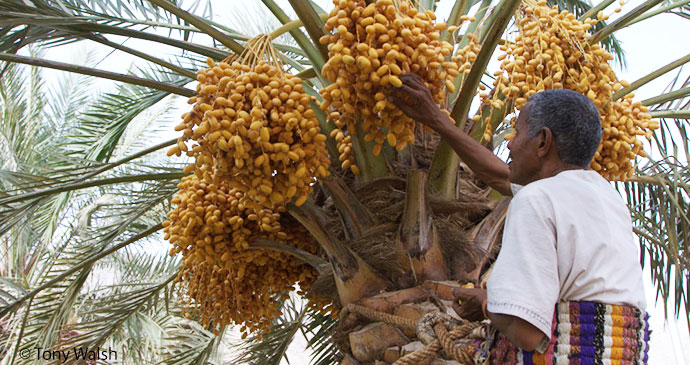 Date palms are harvested individually by hand © Tony Walsh
From mid May, the date harvest is in full swing. However, harvesting dates is an onerous task as it takes place in mid-summer and each tree needs to be climbed individually to cut down the dates. This is usually done using a harness (habl al tuluw) with a back support (quffah) made of date palm trunk fibre, leaving the hands free for picking. From the oases, the dates are taken by the truckload to be bought and sold throughout Oman. The centre of the date trade can be found in the Fanja suq, where between 3 and 3.5 tonnes of dates arrive every day to be traded to the UAE and other Gulf countries.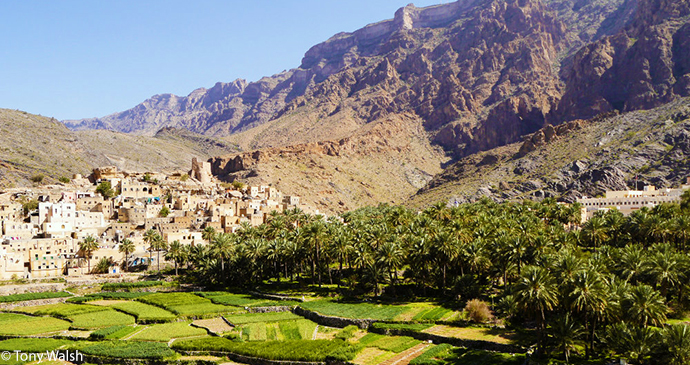 The village of Bald Sayt is surrounded by date palms © Tony Walsh
However, it is not just the fruit that makes the date palm so valuable to Oman; every part of the tree is used. Artisans braid the leaf frond into baskets, food covers, flooring, sleeping mats and fans; the fibre to ropes and scourers; and the ribs to fish traps, chicken coops and clothes fumigators. Together with timber from local acacia, homes and other shelters can be easily created from palm leaf midribs, while complete leaf fronds have been used in roofing, fencing and summer housing (barasti) especially on beaches or in open desert.
---
Tempted to visit? Get 10% off our Oman guide: