Discover the best French ski resorts tailored for beginners, where stunning landscapes meet gentle slopes to ensure an unforgettable and enjoyable initiation into the world of skiing.
Where to find the best French ski resorts for beginners
While the French Alps are renowned for their challenging terrain and world-class ski resorts, they also provide an inviting playground for those just starting their journey into the world of skiing.
In this article, we invite you to embark on a snow-filled adventure, as we explore the best ski resorts in France tailor-made for beginners.
Whether you're strapping on skis for the very first time or looking to hone your skills, these destinations offer the perfect blend of stunning natural beauty, top-notch facilities, and supportive instruction to ensure that your first skiing experience is unforgettable.
So, grab your gear and get ready to carve your way through the snowy wonderland of the French Alps, as we guide you to the finest ski resorts for beginners.
Looking for a place to stay? We've heard great things about Le Collectionist's ski chalet in the French Alps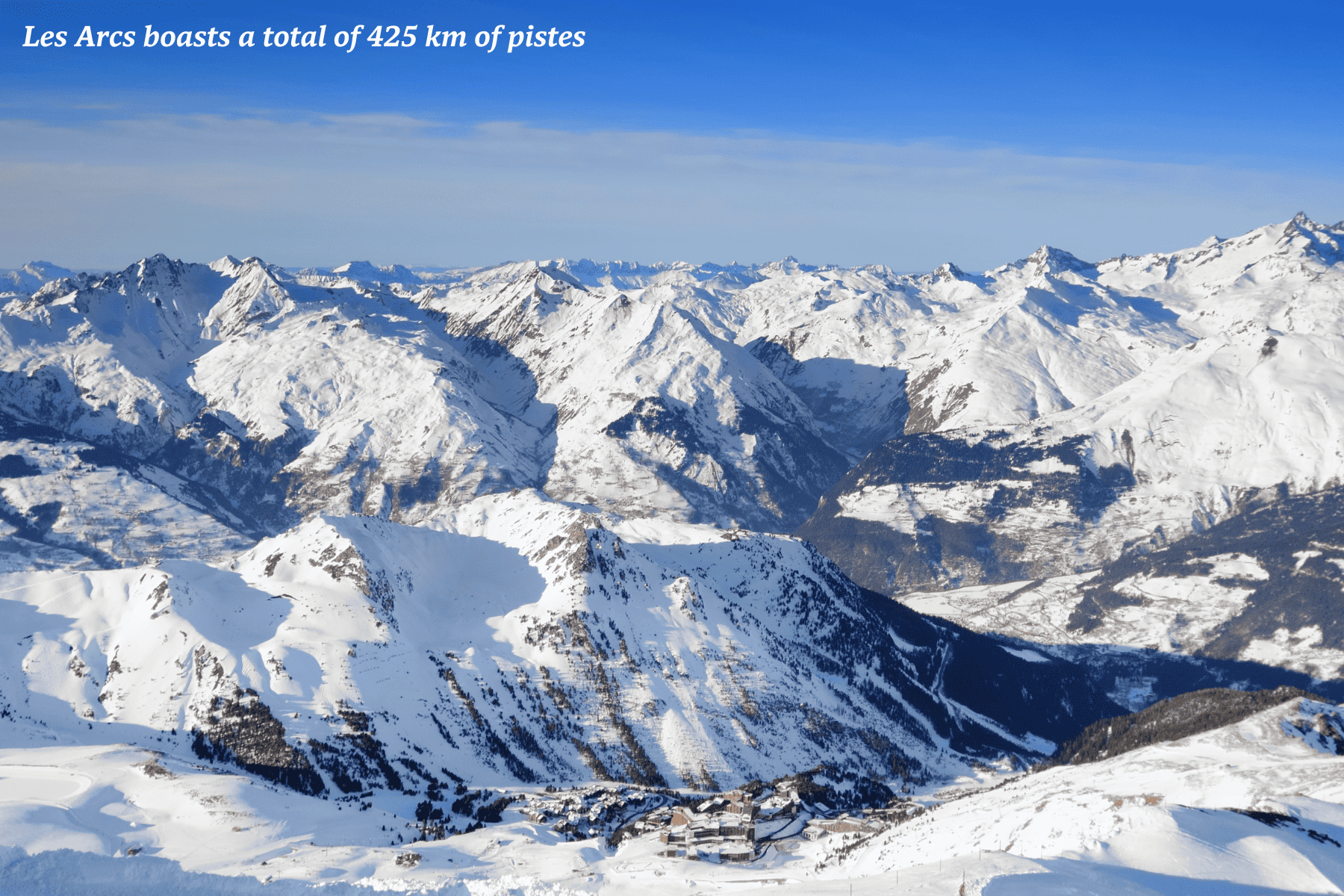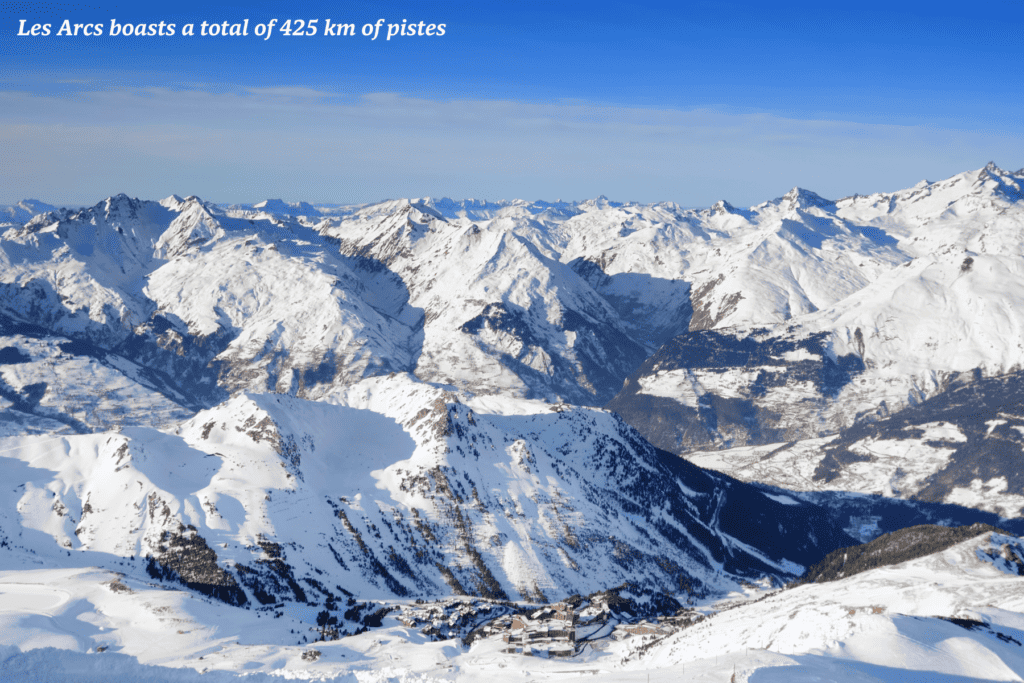 Les Arcs
Les Arcs flaunts itself in the Tarentaise region above Bourg Saint-Maurice, within the sanctified bounds of the Vanoise National Park. The altitude range extends from 1200m to a heady 3250m. Interesting fact: it's one of the few Alpine resorts you can reach entirely by train. Talk about eco-friendly travel!
On to their skiing terrain: it is characterised by a variety of slopes, including easy slopes and Zen zones to suit both beginners and expert skiers. It includes a 200 km expanse of gentle pistes and more abrupt areas – 3 green, 64 blue, 44 red, and 17 black runs – are accessible via the extensive lift system via 51 lifts.
Moreover, Les Arcs is also part of the Paradiski ski area, offering a total of 425 km of pistes, all accessible with a Paradiski lift pass. With excellent ski schools ready to take both beginner and intermediate skiers, this is the best place to practice your skidding.
Location: Tarentaise Valley, Bourg-Saint-Maurice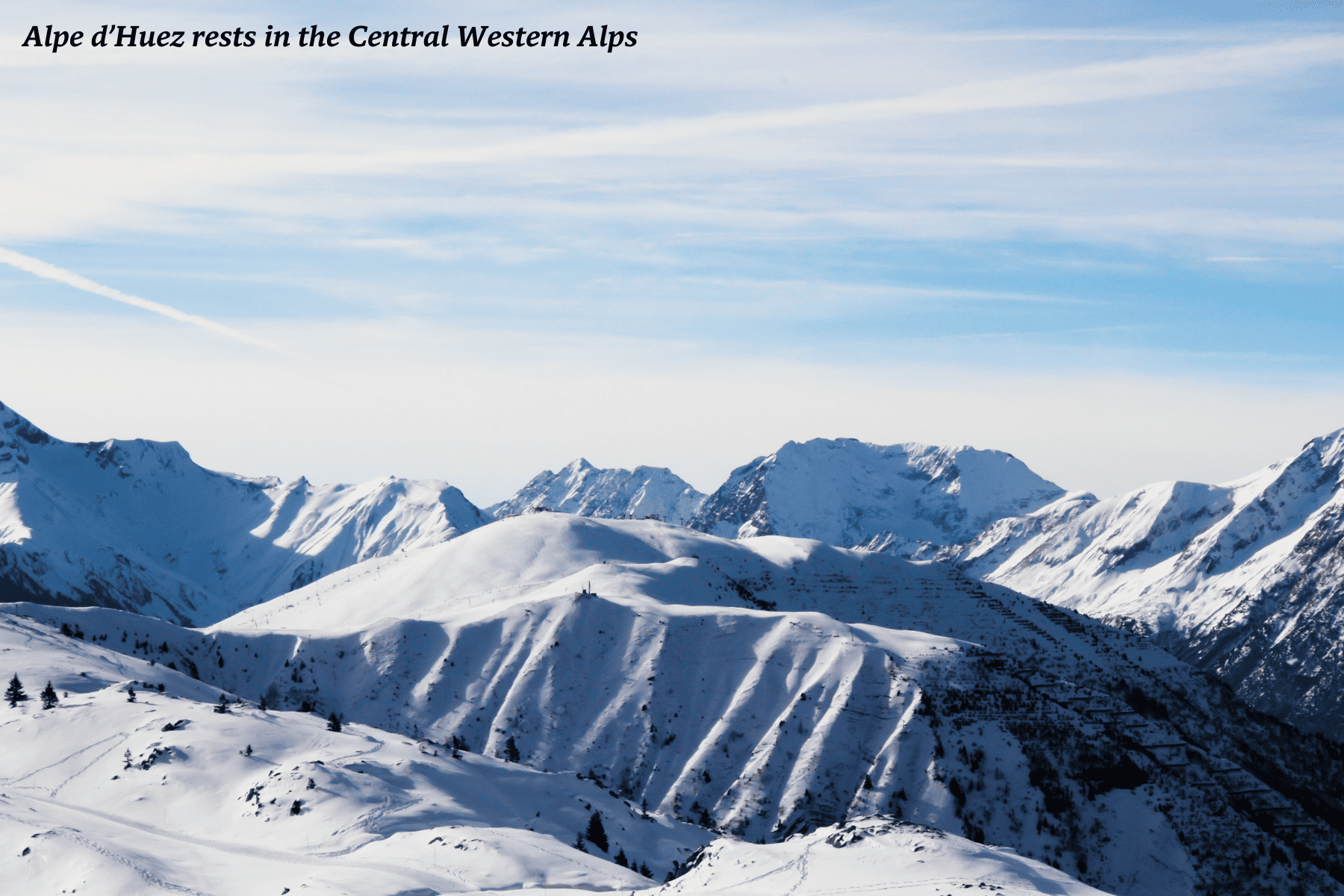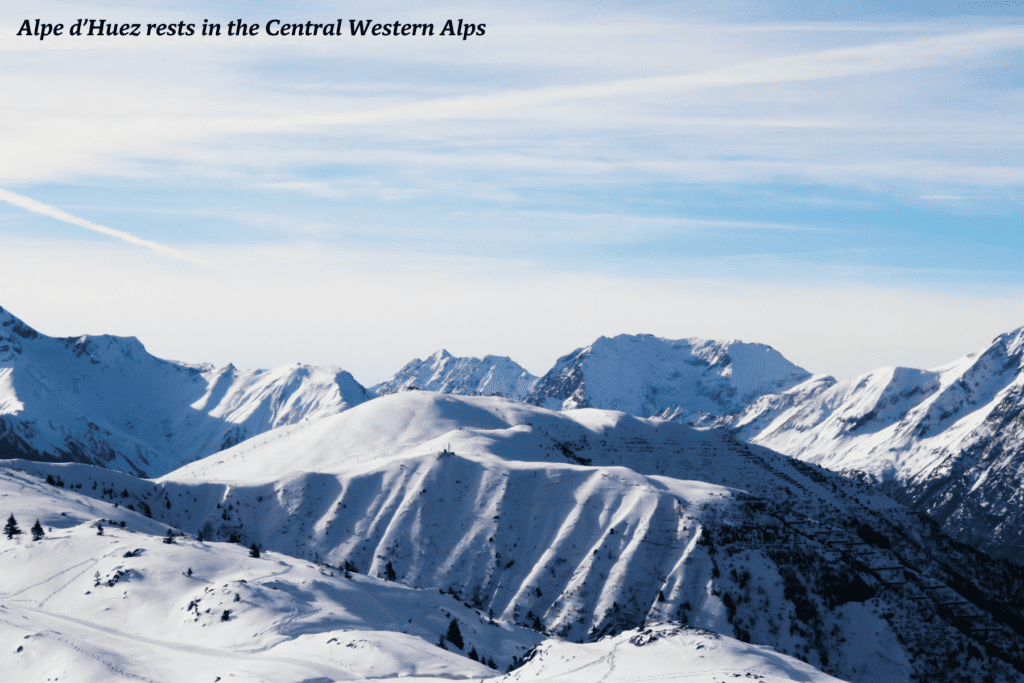 Alpe d'Huez
An embodiment of winter charm and snowy sport, Alpe d'Huez emerges as an excellent pick for beginner skiers. Resting in the Central Western Alps, this vibrant resort strikes a fantastic balance between location and scale. Scenic beauty reigns supreme, its expansive canvases dressed in soft, crowd-free, gentle slopes and peppered perfectly with beginner areas and green pistes.
However, as the ski terrain unfurls across the resort, it reveals an excellent network of trails, varying in difficulty. Nursery slopes abound, the perfect place for those taking their first ski holiday to learn at their own pace.
You can take ski lessons – both private and in groups – and hire equipment if you are not too attached to your own pair of skis.
The resort is also home to one of the largest ski areas, complete with easy access to free lifts specially designed to accommodate first-time skiers.
Location: Huez, Auvergne-Rhône-Alpes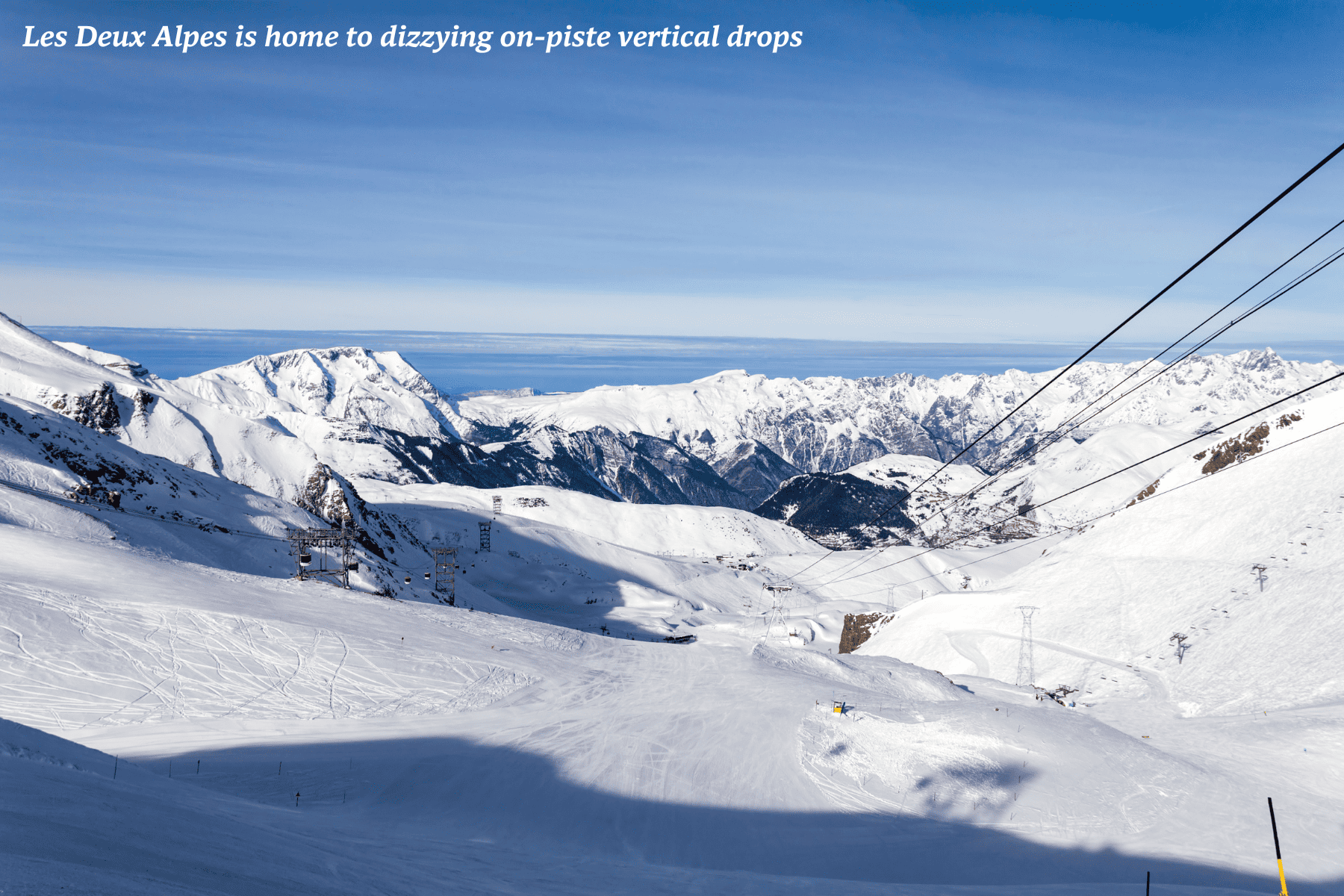 Les Deux Alpes
Host to the largest skiable glacier in Europe, Les Deux Alpes offers a dizzying 2,268m of on-piste vertical drops like no other, truly an electrifying experience for a first-time visitor or a seasoned winter sports enthusiast.
The principal uplift operated by Jandri Express Gondola reaches the foot of the glacier, opening a vista of raw glacial summits, sheltered powder-filled bowls, and further beginners' zones.
While the place has a vast snow park and a plethora of off-piste possibilities, it still maintains acres of beginner-friendly slopes, thus transforming it into a great place for mixed-ability groups. Although we're pretty sure a winter holiday won't sound the same after experiencing the ski slopes at Les Deux Alpes, you can find more suggestions for winter sun here.
Location: Isère, Auvergne-Rhône-Alpes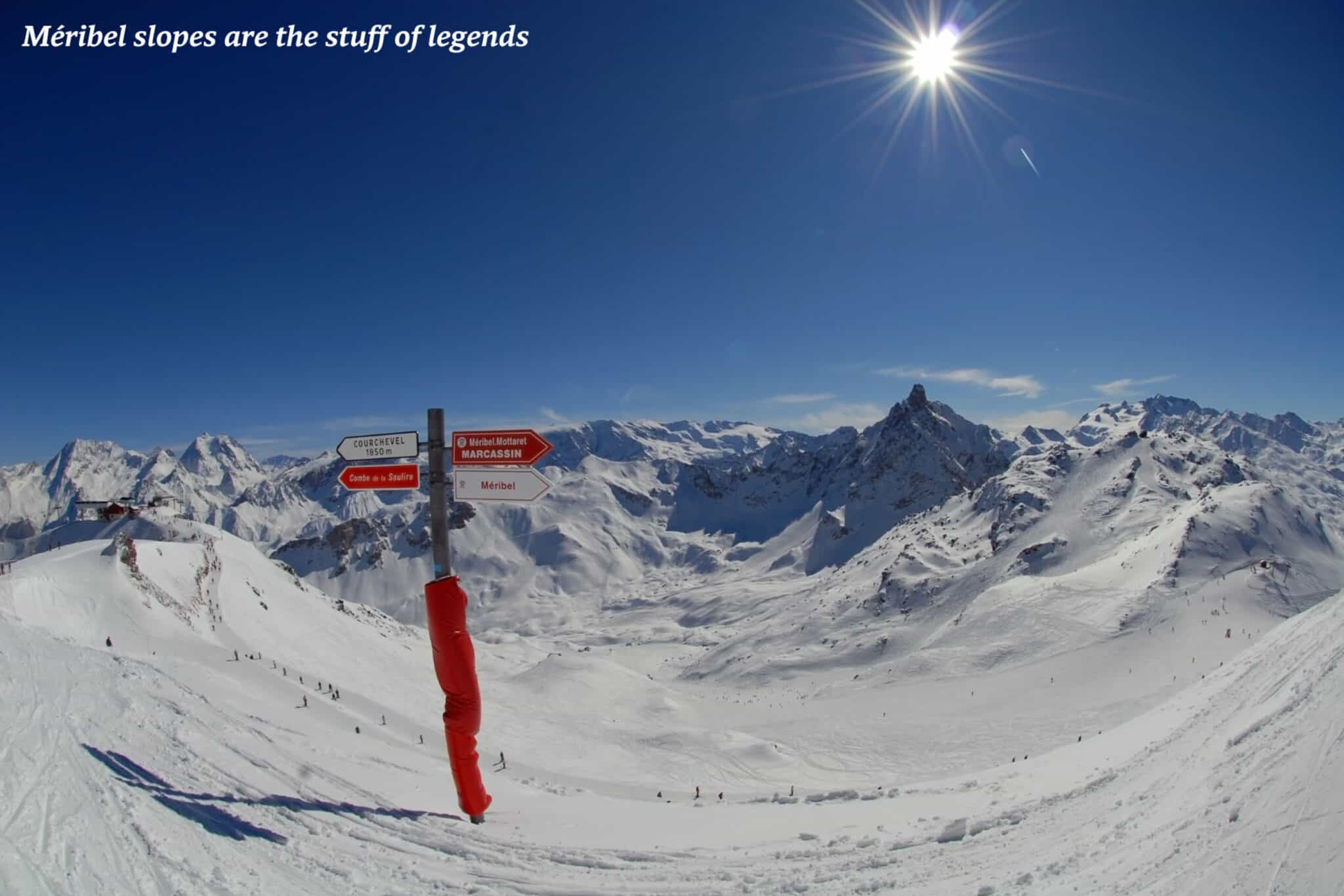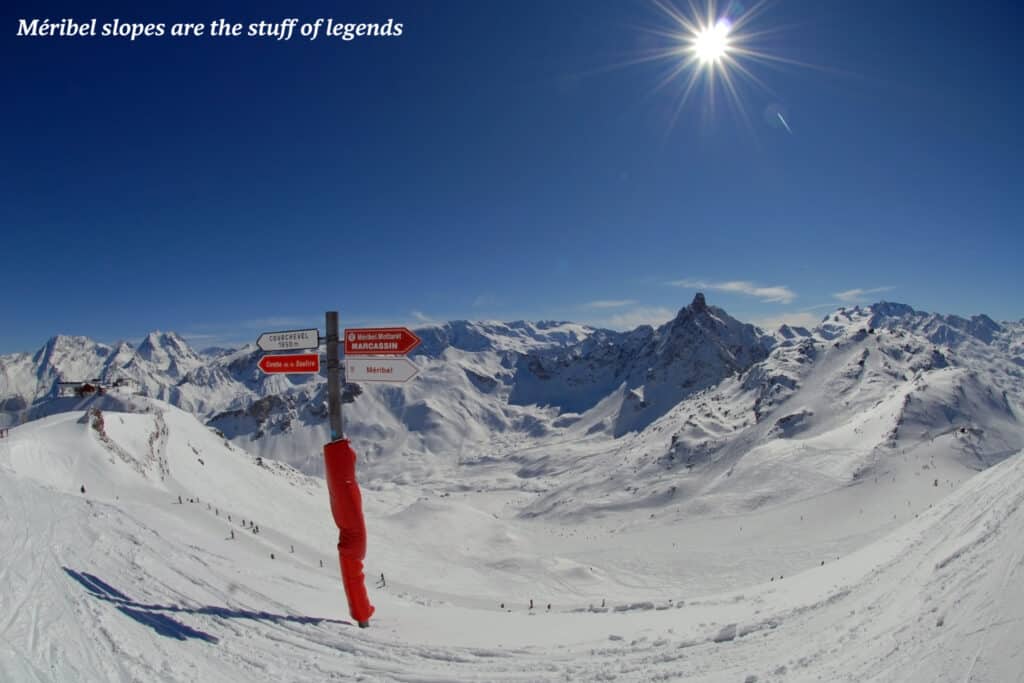 Méribel
Located in the heart of the iconic Trois Vallées in the French Alps, Méribel's myriad of neighbourhoods extends over 10km of the valley floor, rendering it an integral part of the French Alps.
The scale and pace of the Méribel slopes might appear a bit intimidating to beginners. However, the Altiport sector, offering wide pistes and a special beginners' area at Méribel-Motteret, serves as an ideal destination for novice skiers taking their first turns.
There are also multiple top ski schools, including the ESF and others like Oxygene, New Generation, The Snow School and Parallel Lines, offering both group and individual lessons, making Méribel an excellent choice for those keen to polish their skiing skills.
Location: Méribel Village, Trois Vallées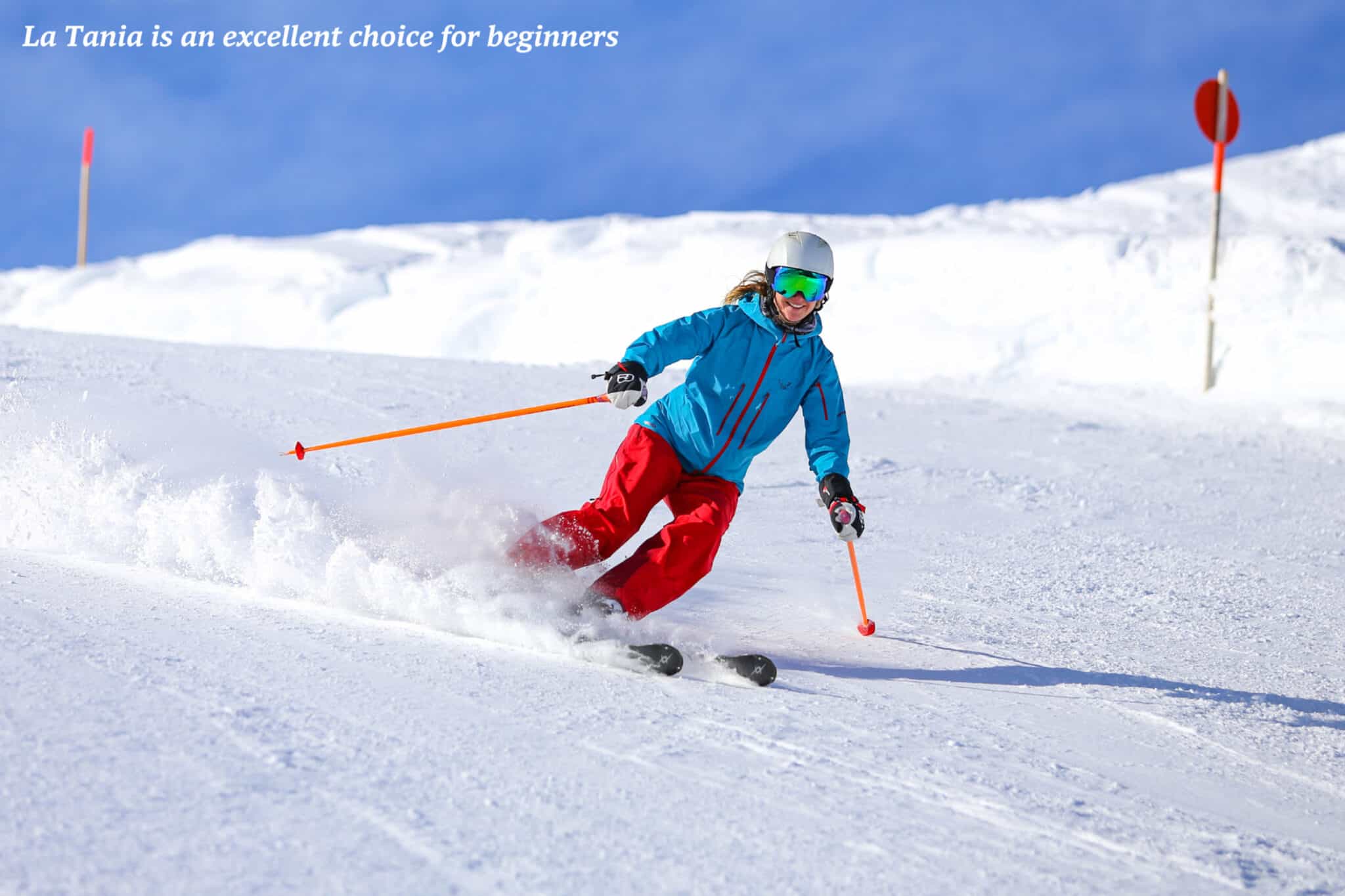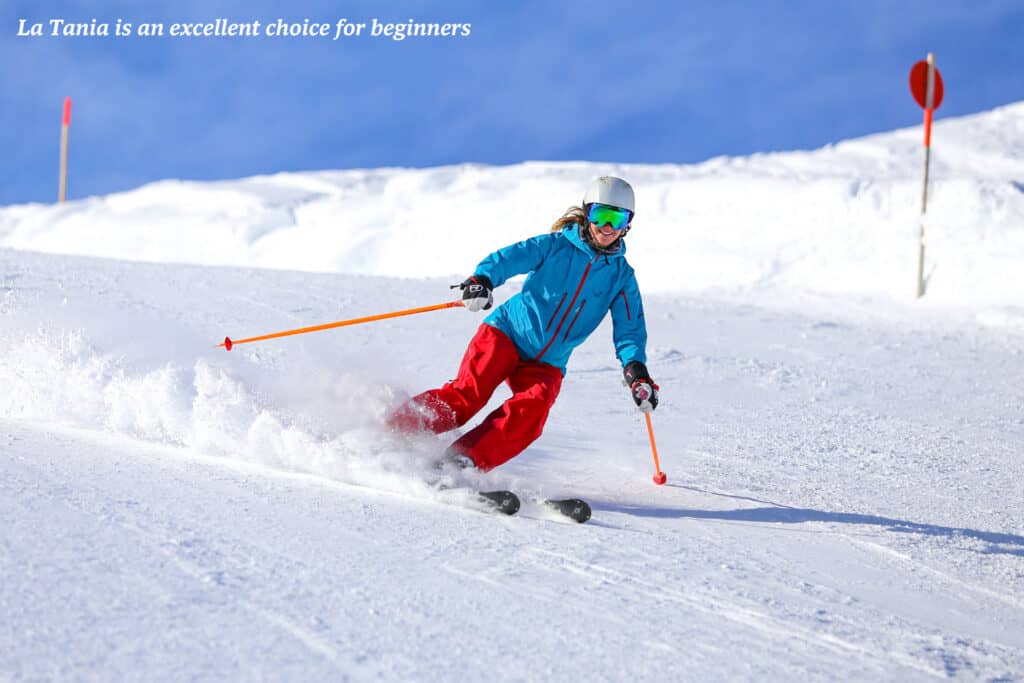 La Tania
Here, green runs spread through forest clearings, leading to the main village like arteries, making La Tania a brilliant choice for novice skiers. For first-timers completely fresh to the slopes, there's free access to La Tania's beginner slopes, with the Troika and Gros Murger equipped with stress-free drag lifts and magic carpets.
The meticulously planned trail network is a bragging right of La Tania. With an elevation of 1400m and temperatures sitting at a pleasant -3°C to 4°C in peak winters, the resort manages to combine the exhilaration of skiing with the chill serenity of nature.
Location: Courchevel, Three Valleys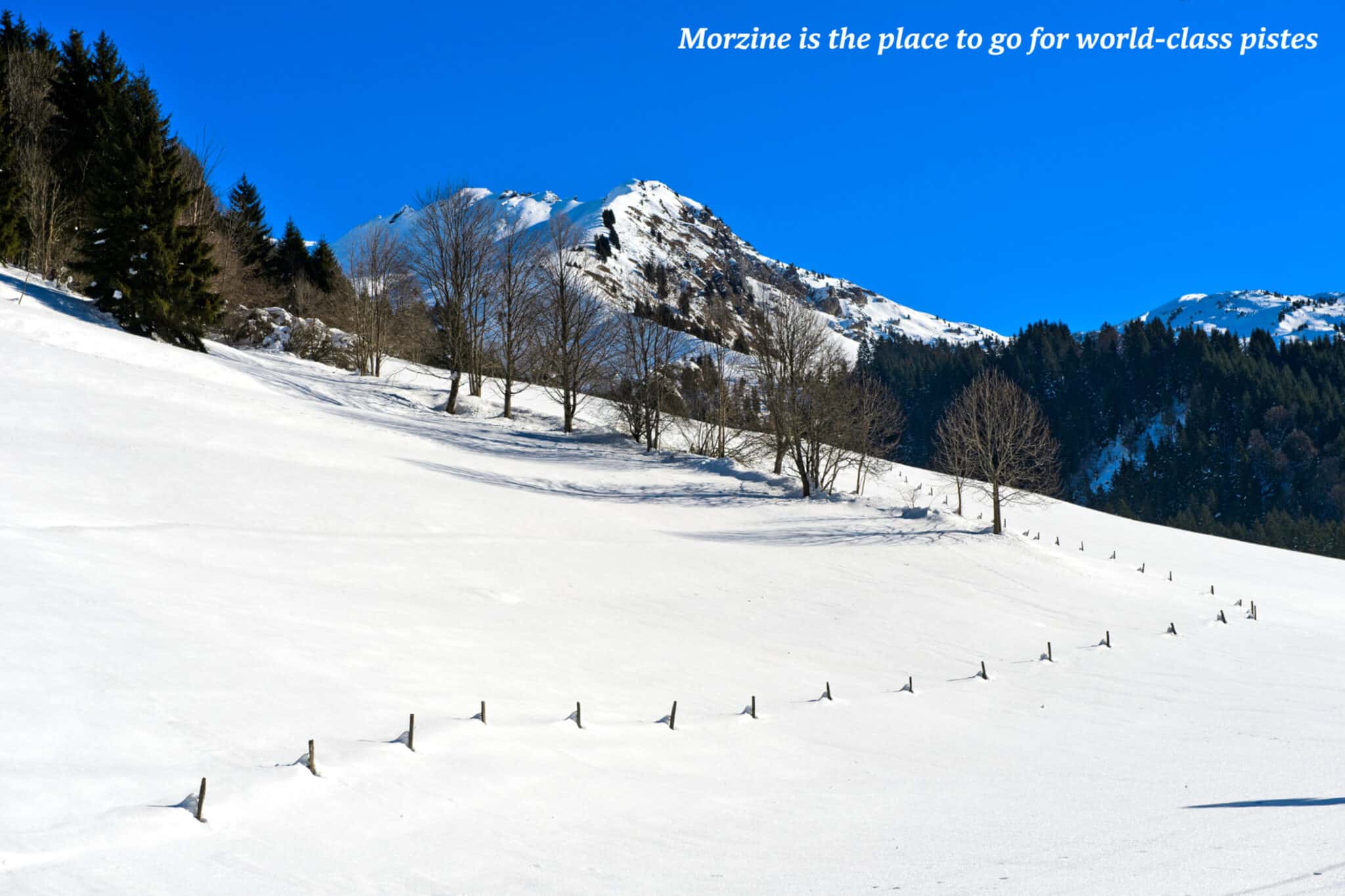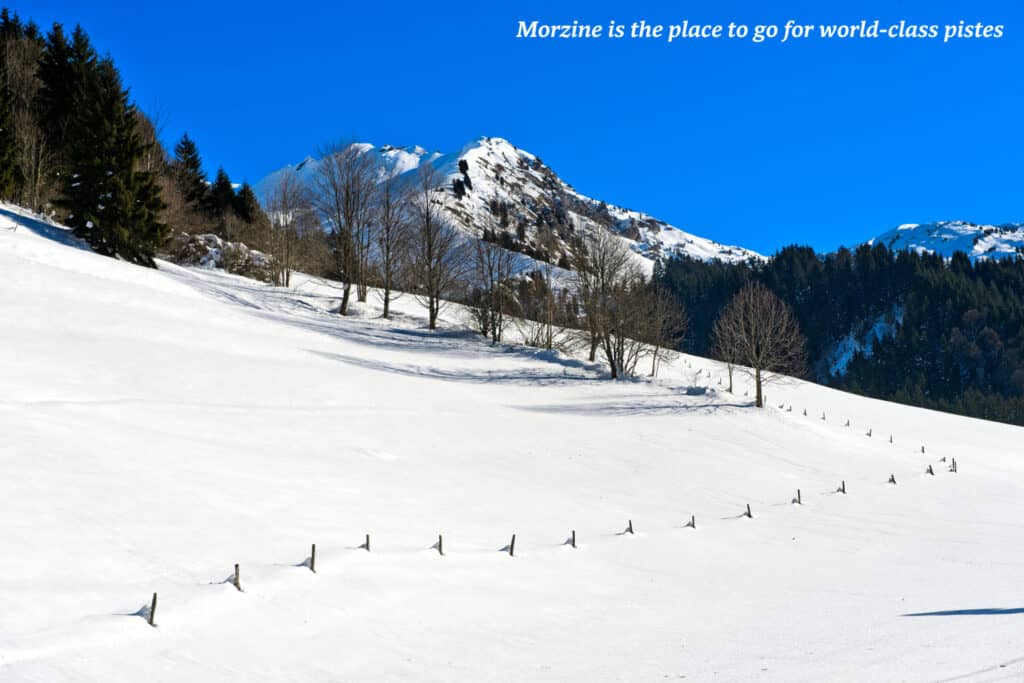 Morzine
Sitting pretty within the vast Portes du Soleil ski region, Morzine blends the charm of yesteryear with the thrills of world-class pistes. Located only an hour's swift drive from Geneva Airport, it's a sizeable gateway to over 650 km of ski runs. The town, brimming with traditional Savoyard architecture, whispers decades of stories, from its past as a slate-mining hub to its evolution into a ski resort par excellence.
Morzine has both green slopes for a first ski trip and a plethora of blue runs ideal for those warming up to the feel of skis. The resort's network of green and blue pistes, wandering through the trees, is a nirvana for beginners. Even at the peak of the school holidays, the queues are efficient, and the pistes, whilst buzzing, never feel overcrowded.
Plus, the town provides direct access to the ski slopes, so you just need to seize the magic carpet lifts, which can prove extremely useful for novice skiers or families with children.
Location: Morzine, Haute-Savoie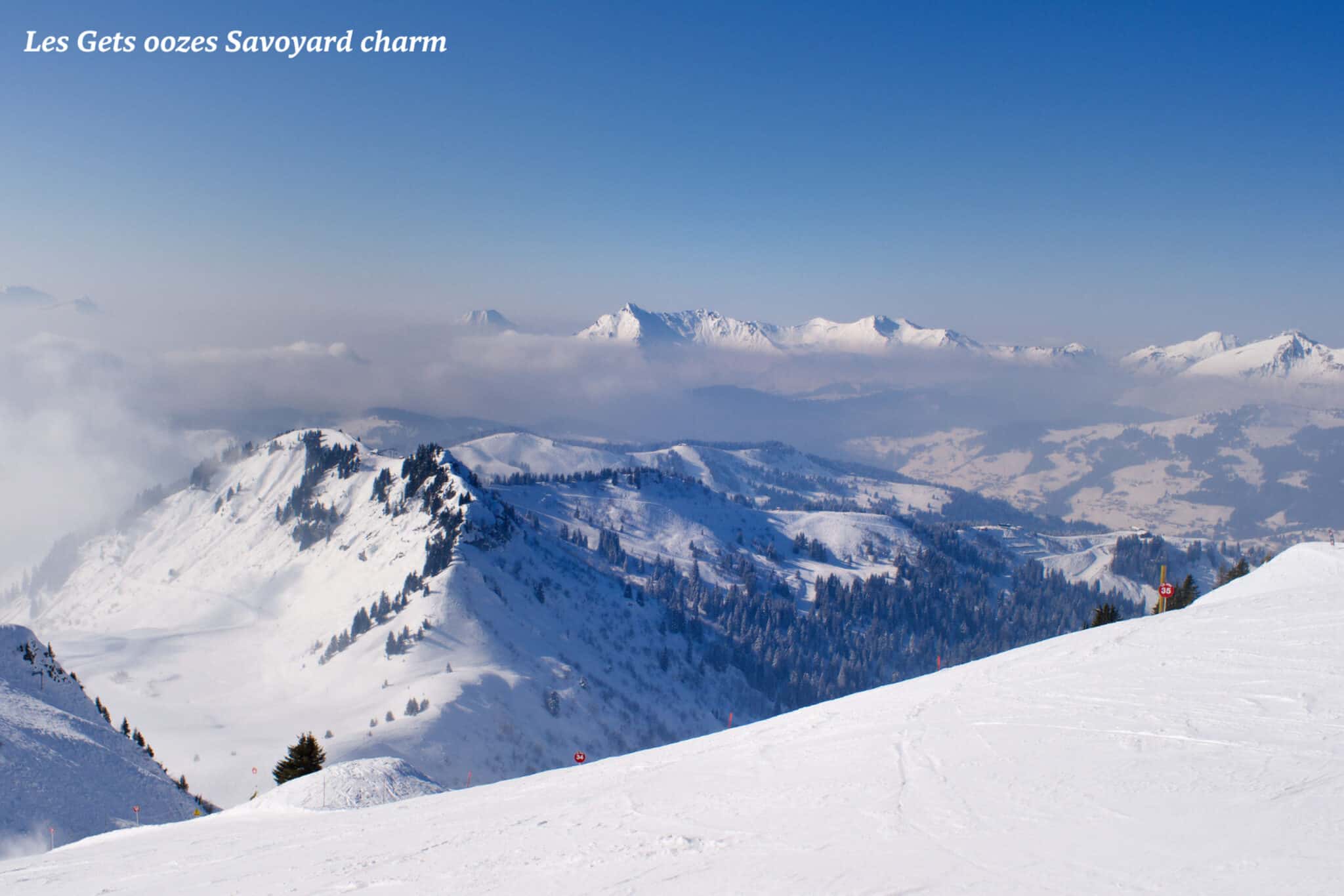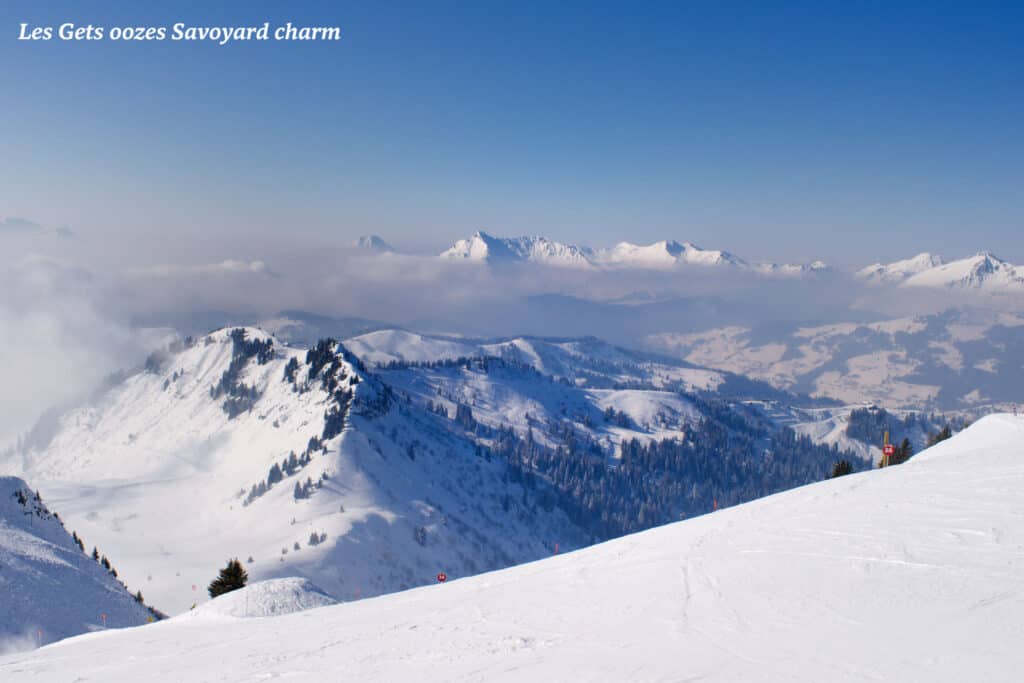 Les Gets
An emblem of the Portes du Soleil area, Les Gets oozes Savoyard charm, its lineage dating back to the 11th century. Perched in the Chablais Massif, this beautiful resort surprises with 650km of skiable terrain that caters wonderfully to beginners.
Five free lifts enhance accessibility for first-timers, with the likes of ESF Les Gets offering exceptional ski lessons.
In this snug pulse of the French Alps, gastronomic delights abound – from the savoury ecstasy at La Paika to lively evenings at Bar Bush.
Add to it the bustling town replete with ski hire services and a bowling alley, and you get a winter dreamland that's well within your grasp from Geneva's nearest airport.
Despite its moniker as a luxury ski resort, Les Gets embraces all with open arms.
Location: Haute Savoie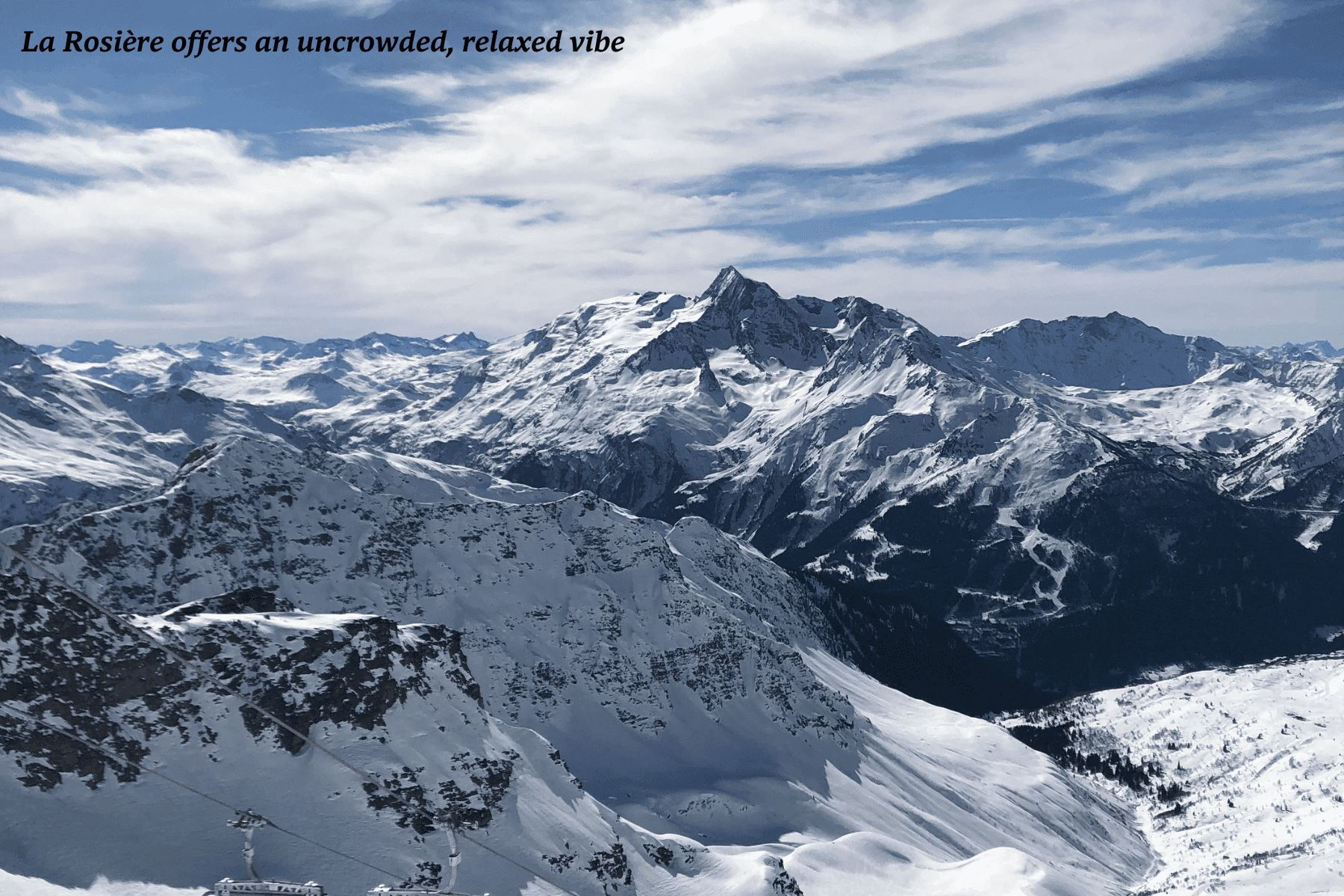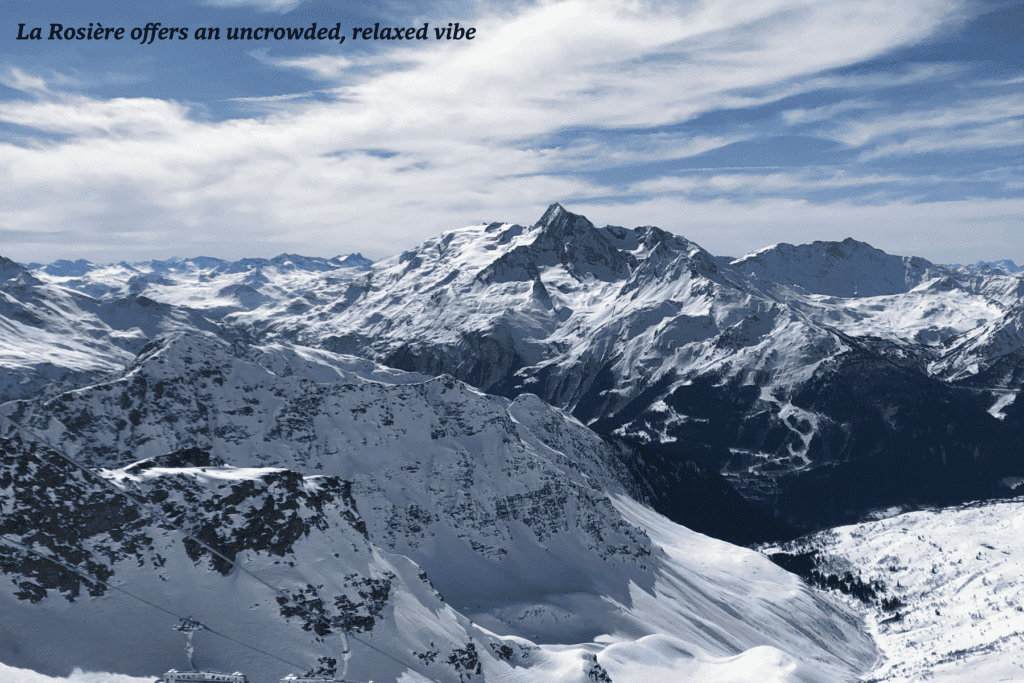 La Rosière
Straddled on a sun-kissed plateau, La Rosière oscillates between history and modernity. The resort's skiing terrain, complete with gentle nursery slopes and easy runs, creates an encouraging space for first-time skiers.
As competence builds, use the modern lift system to access higher pistes and venture towards La Thuile, Italy. The town's atmosphere is charming, with a variety of restaurants and bars overlooking the Tarentaise Valley.
Ski hire outlets are conveniently located across the resort for effortless equipment access and lessons. While somewhat remote, with the nearest airport about two hours away, La Rosière offers an uncrowded, relaxed vibe, making it worth the trip and a fantastic choice for family holidays.
Location: Montvalezan, Savoie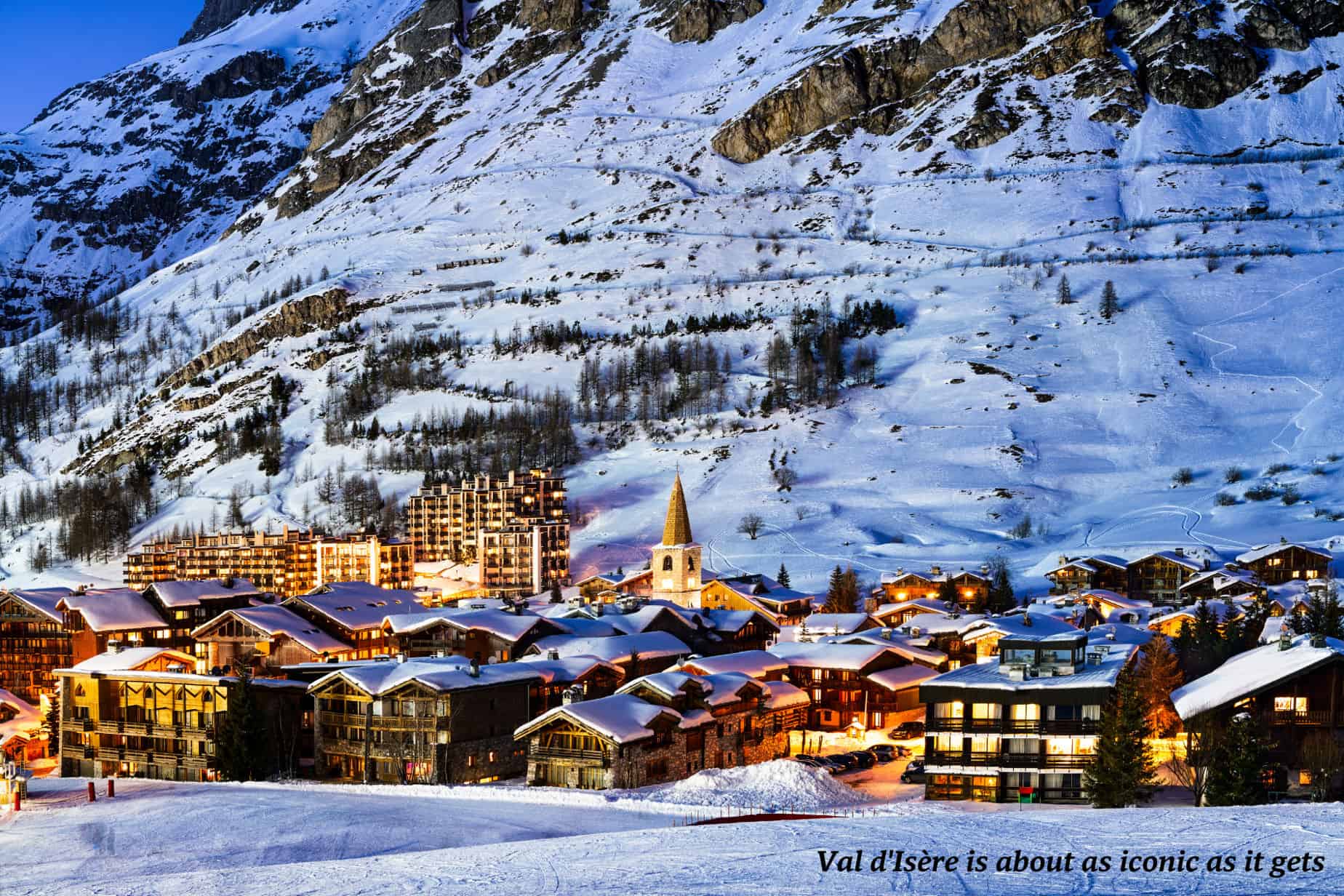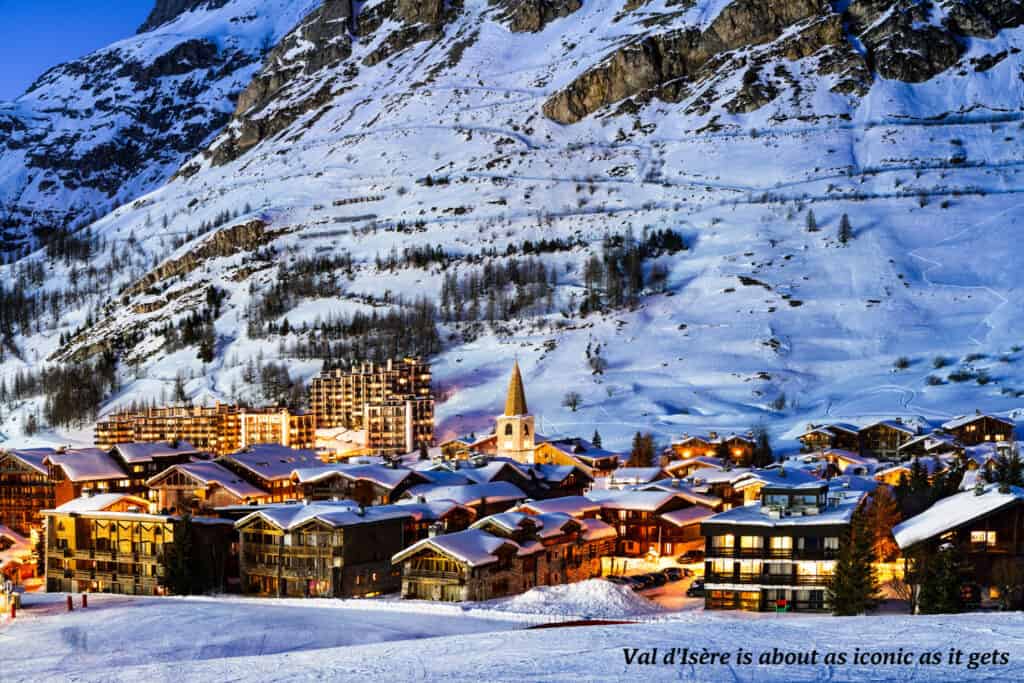 Val d'Isère
As a hub amidst the best ski resorts in France, one part pitfall, and two parts luxury—Val d'Isère could be seen as a drawback for those seeking a budget trip. Yet its status as one of the best family ski resorts indisputably designates it as a worthy visit.
At 1850m, it's capped on all sides by peaks and ridges, presenting a panorama that swings between intimidating and mesmerising. However, the presence of multiple carefully sequestered nursery areas, offering serene beginner terrains, acts as a gentle invitation.
The resort's lift system, remarkably seamless, cradles beginners, smoothly transporting them between different areas. Now, there's something you seldom find elsewhere—a funicular capable of penetrating a mountain to reach the glacier at the top. Spectacular views await those who brave the journey.
Location: Bourg-Saint-Maurice, Savoie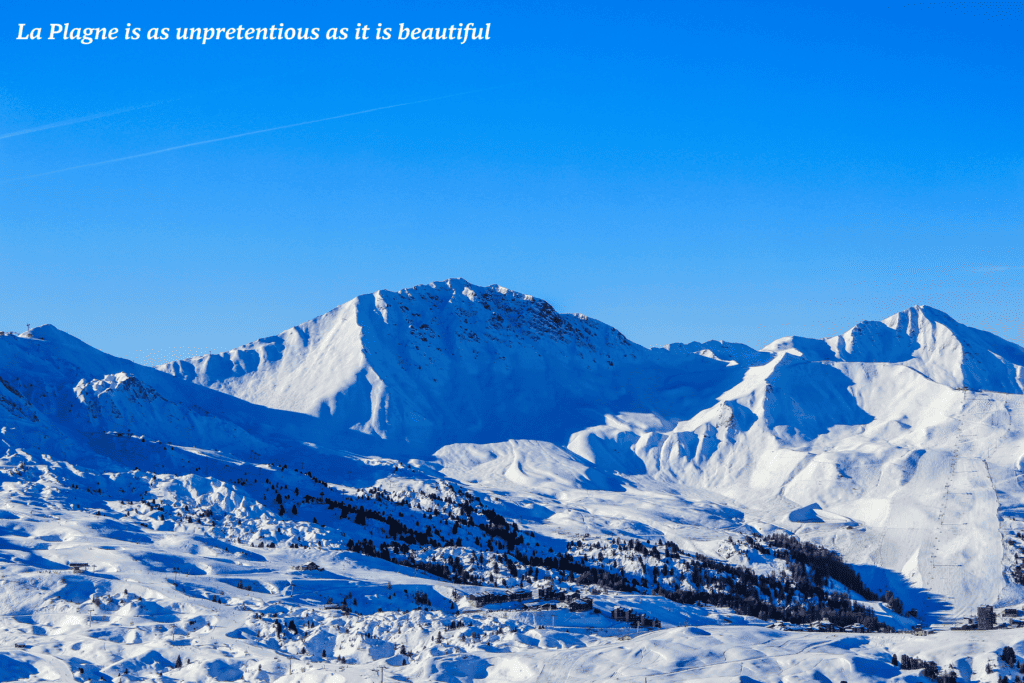 La Plagne
Strikingly beautiful, yet unpretentious, this popular destination lies amidst the terrains of a skiing Eden and is often hailed as one of the best beginner ski resorts.
Something that helps newbies feel at ease here is the scale of the place – 225 km of groomed pistes, spread between elevations of 1250m and 3250m. The trail network offers a plethora of choices for first-time visitors, with a subtle balance of the tranquillity of gentle nursery slopes and the tickle-of-thrill blue runs.
The resort doesn't falter in its après ski aspects either. Knee-deep snow adventures usually close with you tucked into a cosy corner of a plush restaurant, inhaling the aromas of Savoyard cuisine. The maze-like main town of Plagne Centre unveils diverse dining and bar experiences, while also offering engaging activities beyond slopes, from a visit to a husky farm to a relaxing dip in a swimming pool.
Location: La Plagne, Montalbert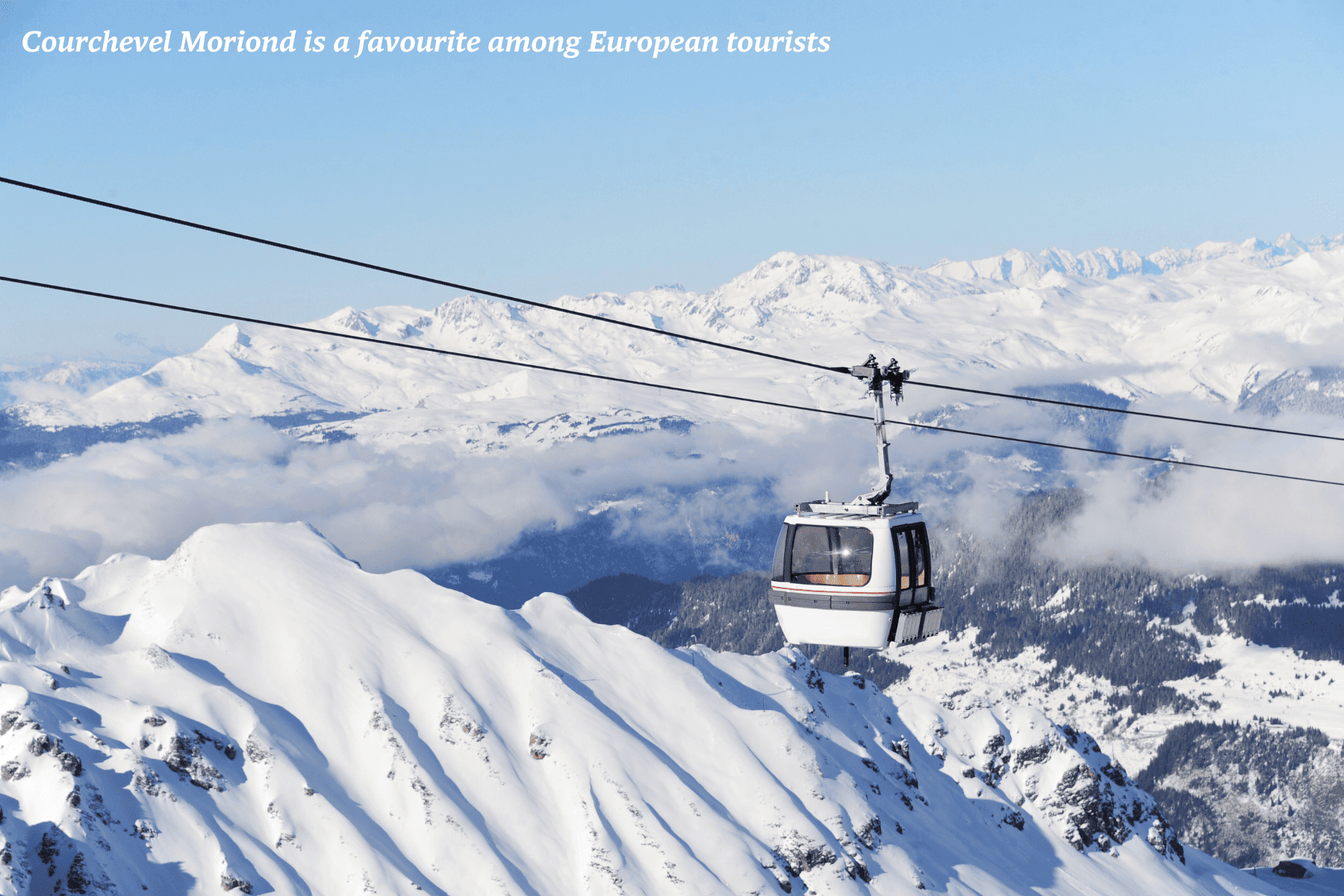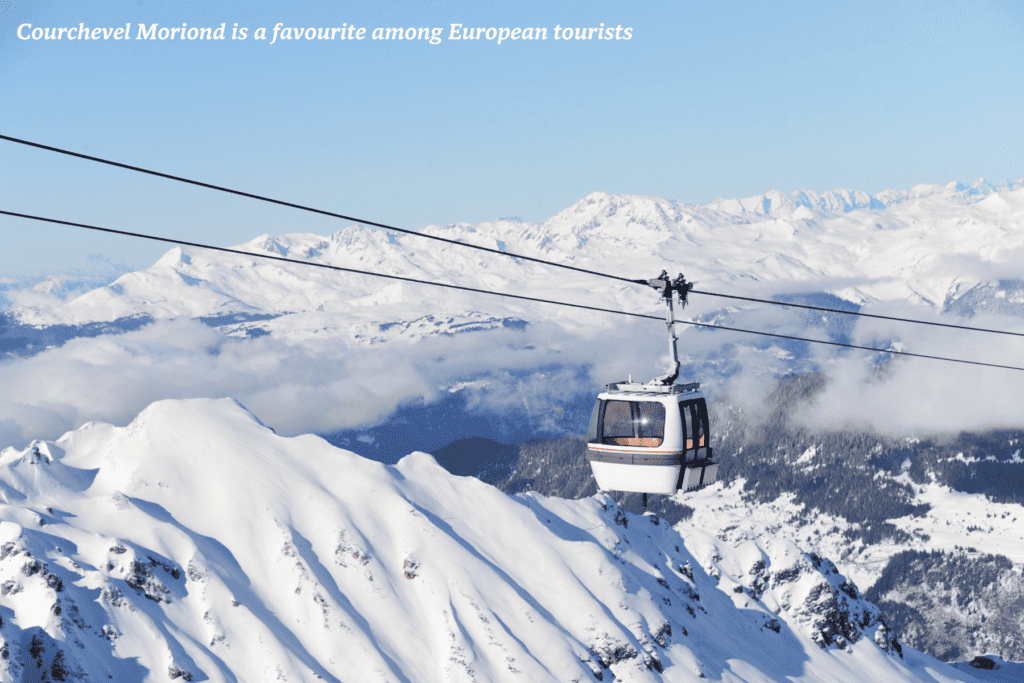 Courchevel Moriond
As a popular destination among the best French resorts, Courchevel Moriond gleefully engages its tourist influx, ensuring a well-rounded, fulfilling holiday in the comforting arms of the French Alps. Given its proximity to Val Thorens and the extensive La Plagne ski area, it is a great option for family ski holidays.
Besides its immaculate white slopes, this town also prides itself on its culinary landscape. From chic eateries to rustic bistros, Courchevel Moriond brings a delectable range of dining options to the table.
And what does après-ski involve? Bars! They are the perfect post-ski respite for weary legs.
Location: Courchevel, Three Valleys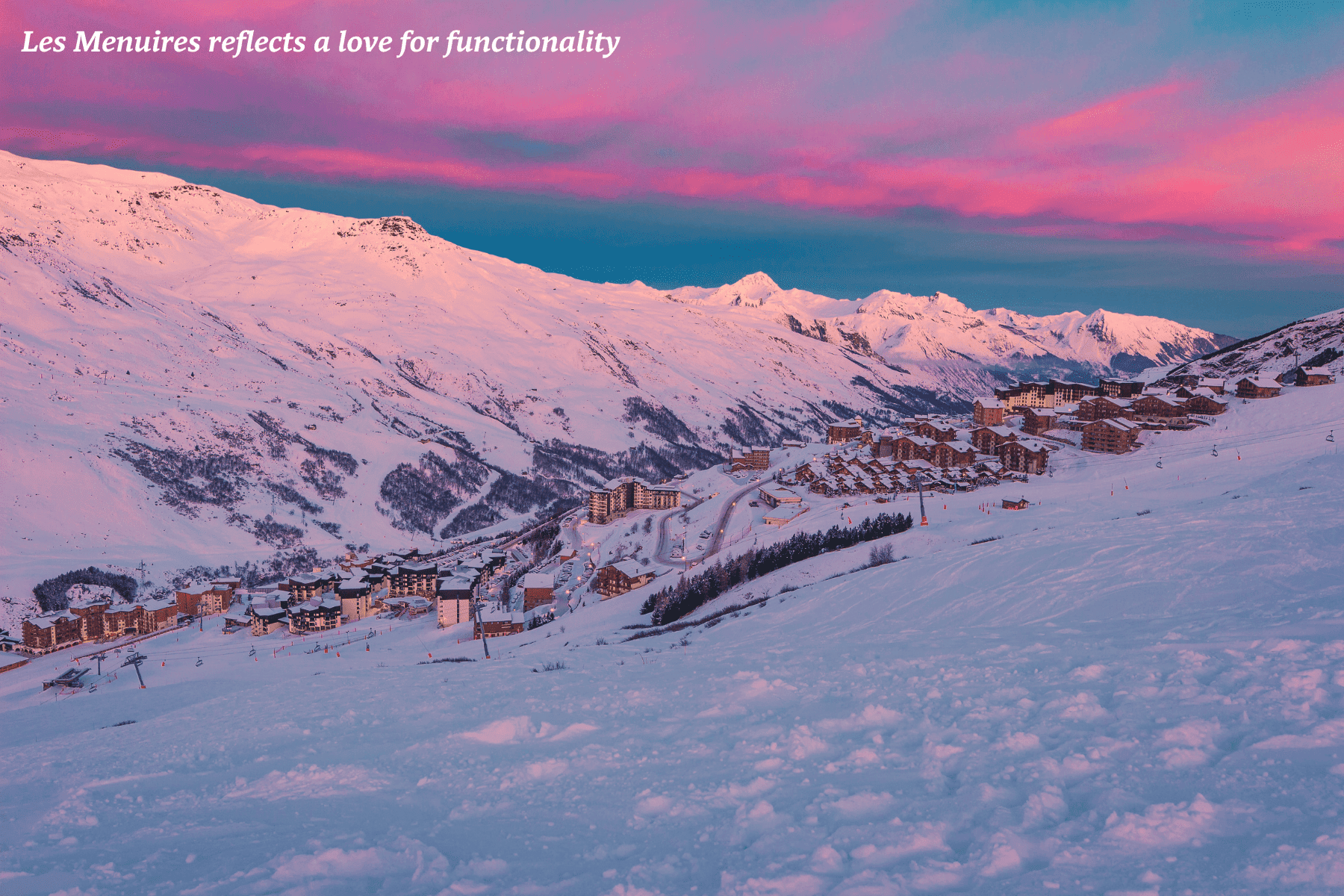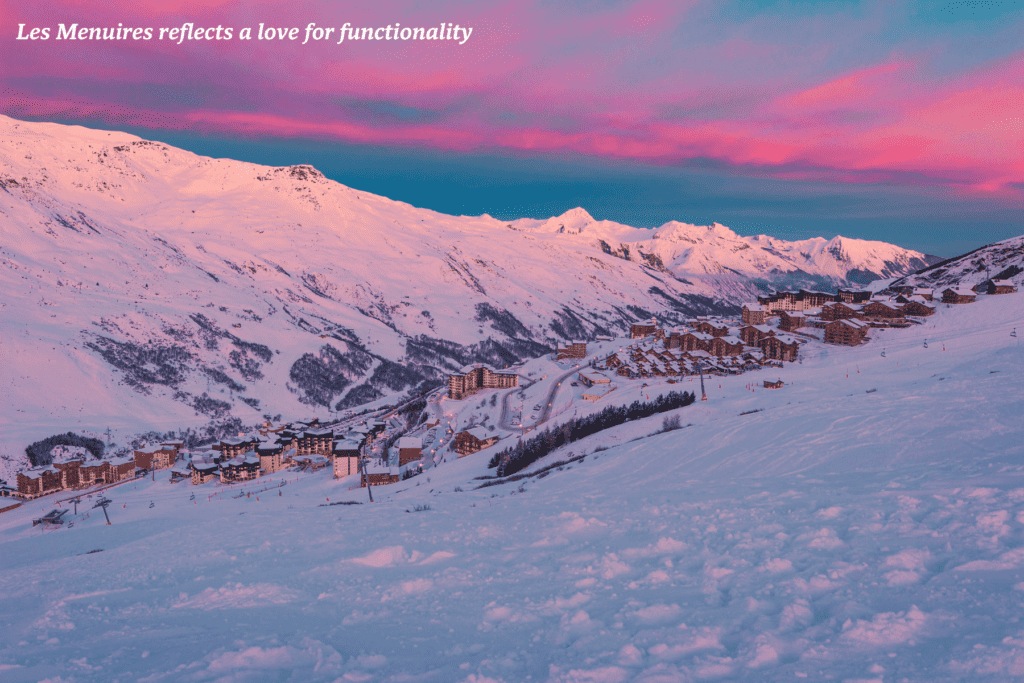 Les Menuires
A product of the rapid rise of purpose-built ski resorts during the '60s, the architecture of Les Menuires reflects a love for functionality, with the modern constructions gradually mellowing into the quintessential charms of alpine structures.
This resort takes pride in its skiable domain, sprawling across an extensive 160km. The sheer variety in piste level – 33 green, 29 blue, 34 red, and 8 black – integrates seamlessly with its efficient lift system of over 30 active free ski lifts, making it a fitting choice for beginners who struggle to get back to the top of the mountain.
Despite being a bit more isolated, with its range of skiing options, different villages, and dependable cable cars, Les Menuires stands strong as one of the best resorts for beginners yearning for that quintessential French Alps experience.
Location: Les Menuires village, Three Valleys
Want to venture further afield? Check out our guide to skiing in Almaty.
---
More information
For more information about France, see our guides: