Switzerland is home to some of the best and more impressive railway journeys in the world and, in a country known for its efficiency, travelling round only by public transport is unsurprisingly very simple. Considered by many to have the best national public transport system in the world, Switzerland makes hiring a car an unnecessary burden, since much of its finest scenery is inaccessible by road. 
But on such an impressive system, route-planning can be a daunting task. Well fear not, whether you're looking for old-fashioned luxury, to relax on the slowest express train in the world, or a route that includes cheese-tasting and trips to a chocolate factory – there's a Swiss train for you.
Glacier Express: Zermatt–St Moritz
The Glacier Express is the slowest express in the world, averaging 36km/h (22mph), but it is such a remarkably scenic and varied journey that few passengers would want to lose a minute of the 7½-hour trip.
It is the most popular of the tourist trains and has become one of the 'must do' experiences in Europe. A headphone commentary in six languages is provided, and an at-seat lunch is served in first class.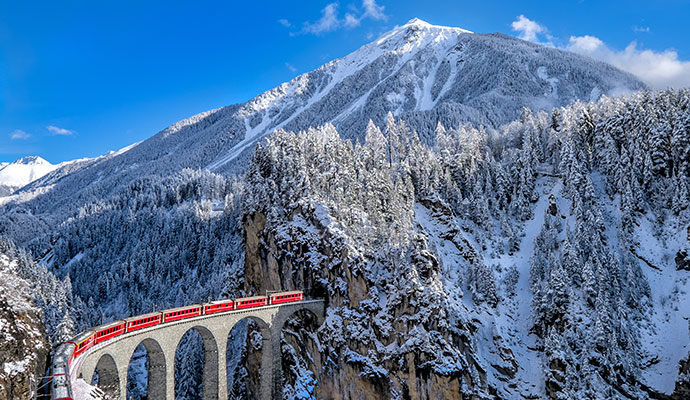 There are three trains a day in each direction from early May to late October and a single train at other times, made up of special coaches with panoramic windows and a restaurant car. Introduced in 2019, the premium Excellence-class coach offers lounge seating for 20 passengers and a five-course meal.
Gotthard Panorama Express: Luzern–Lugano
One of the best-known tourist services, this express combines a paddle steamer for the length of Lake Luzern with a reserved first-class coach on the train from Fluelen to Lugano (Locarno can be reached by changing at Bellinzona) via the original Gotthard Tunnel and the route's spectacular spirals.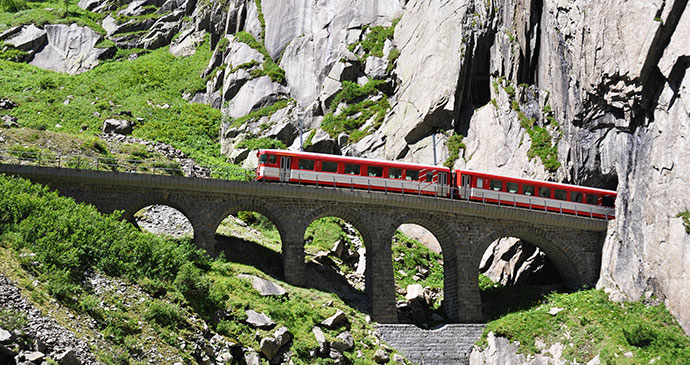 Lunch can be bought on the steamer as you glide past the famous Rütli Meadow (the founding site of Switzerland) and Schiller monument, and refreshments can be served at your seat on the train. A photo coach with large opening windows allows photographers to take unobstructed pictures. There is one departure a day in each direction between mid-April and late October, and the journey takes 5–6 hours to either destination. 
Golden Pass Line: Luzern–Montreux
One of the main promotions by Switzerland Tourism is the Golden Pass Line linking Lac Léman and central Switzerland.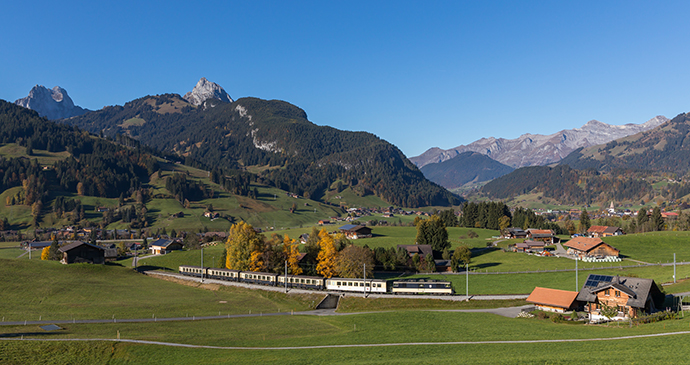 The train operates between Luzern, Interlaken and Montreux ver the lines of Montreux–Oberland Bernois railway, BLS and Zentralbahn. Until December 2022, it was necessary to change trains at Zweisimmen and Interlaken Ost, but new carriages which can change both the gauge and the height in a few seconds allow through-running between Montreux and Interlaken.
Bernina Express: Chur/Davos–Tirano
This train takes in the final part of the Glacier Express route (travelling from Zermatt) and continues over the Bernina Pass, the highest rail crossing of the Alps, to Tirano in Italy.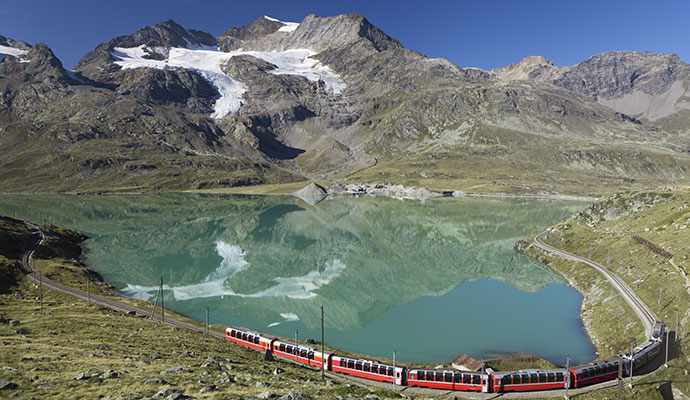 The journey takes 4½ hours, so the return trip can be made in a day with over 2 hours in Tirano for lunch. In summer, the train includes an open carriage. From mid-April to late October, the Bernina Express Bus links Tirano with Lugano station and town centre, which takes a further 3 hours. 
Chocolate Train: Montreux–Gruyère–Broc–Montreux
Operated by the Montreux–Oberland Bernois Railway (MOB), the Chocolate Train is a perfect day out for families, taking 7½ hours. The train travels from Montreux to the Gruyère region to visit the delightful eponymous town and factories making Cailler chocolate and Gruyère cheese.
Travel is in first-class 'Belle Epoque Pullman' carriages of 1914–15 or in modern panoramic coaches. A change from train to bus is made at Montbovon. The Gruyère tour shows how the cheese is made, and includes a film and tasting at Broc chocolate factory – it's astonishing how few of the tempting chocolates most people can manage.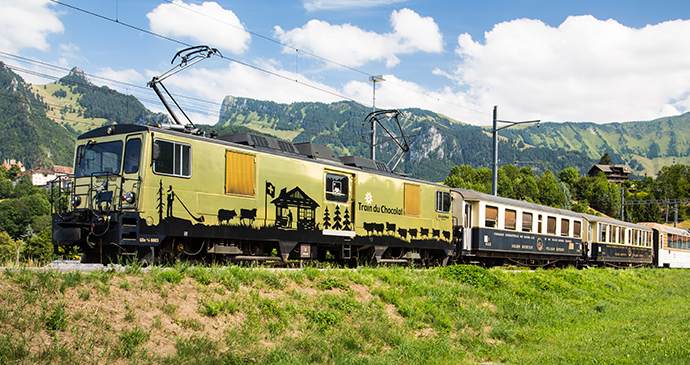 The Chocolate Train runs Monday to Thursday from May to June, daily in July and August, and on Monday, Wednesday and Thursday in September and October. Reservations are mandatory and can be made at Montreux station, through Switzerland Travel Centre or online.
Cheese Train: Montreux–Château d'Oex–Montreux
Operated by the Montreux–Oberland Bernois Railway, the Cheese Train uses the MOB's beautiful Belle Epoque carriages to take passengers to Restaurant Le Chalet in Château d'Oex to watch a  demonstration of wood-fired cheese-making using organic milk, followed by an organic fondue.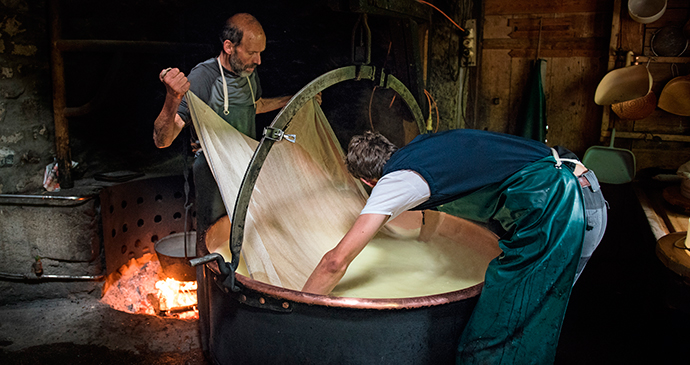 The excursion ends with a visit to the Museum of Vieux Pays-d'Enhaut (the name of the region) with paintings, crafts and recreations of old interiors. The train runs from early January to late April on Friday, Saturday and Sunday and takes 5½ hours.
Palm Express: St Moritz–Lugano
Special in that it's not actually a train but a 4-hour journey covered by postbus. The route goes southwest from St Moritz through the lovely Bregaglia Valley and over the Maloja Pass.
Winding down into the Bergeli Valley with its lovely chestnut woods, the bus reaches Italy and the market town of Chiavenna, where a stop is made. The bus follows the shores of Lake Como and then Lake Lugano, completing your journey from icy glacier to palm-lined lake.
---
More information
For more information, see Anthony Lambert's guide: