Owing to their mountainous terrain, trekking in Ladakh and Zanskar promises to be an unforgettable experience. Check out our handy guide to some of the most rewarding routes the region has to offer, and start planning your trip to the Indian Himalayas today.
Chadar Winter Trek
Avid hikers and climbers need not miss out if they are trekking in Ladakh and Zanskar during winter. The arduous Chadar Winter Trek follows the frozen Zanskar River from appropriately named Chilling to Zangla, and is a fantastic, and indeed the only, way to see the beautiful Zanskar Valley when it is covered with a blanket of snow and ice.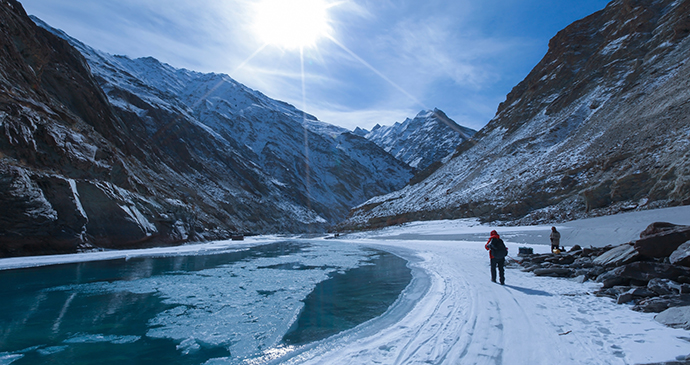 From the very start of the trek you are out on the ice, waddling like a penguin at first and then slowly gaining confidence and learning how to get your boots to grip. Note that in 2018 there were rumours that tourists would be forbidden from doing the Chadar Winter Trek after the 2019 season. Ladakh- and Zanskar-based trekking agencies should be able to give you the latest.
The Nubra Valley
The Nubra Valley is one of the most popular destinations for trekkers and adventure seekers, and quite rightly so: the views are splendid, there's an endless array of interesting gompas, mosques and other sights, the trekking routes are varied and the tourist infrastructure is reasonably well developed.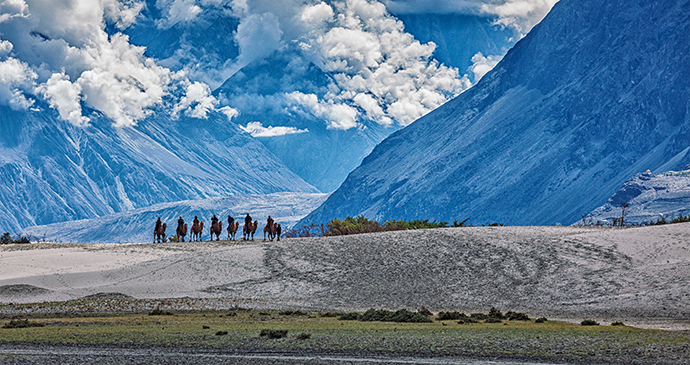 In particular there's a wonderful four- to six-day (depending on your route) trek from Phyang to Hunder of moderate difficulty. Starting at Phyang village, you climb first to Phyang Phu (4,621m) and then on to Lasermo La, which at 5,438m is the physical high point of the hike and offers superb views down along the Shyok Valley. The trek continues through fragrant meadows where nomads graze their flocks to the Hunder Dok villages before descending through the Hunder Gorge to Hunder itself.
Alchi to Lamayuru via Stakspi La
One of the best short treks in Ladakh is the five-day hike between Alchi and Lamayuru via the cloud-scraping Stakspi La pass (5,153m). The route takes the lucky walker through picturesque farmland and over barren mountain slopes via remote monasteries and interesting villages, as well as over Kongskil La (4,948m). The panorama from the two passes is exceptional, with close-up mountain views.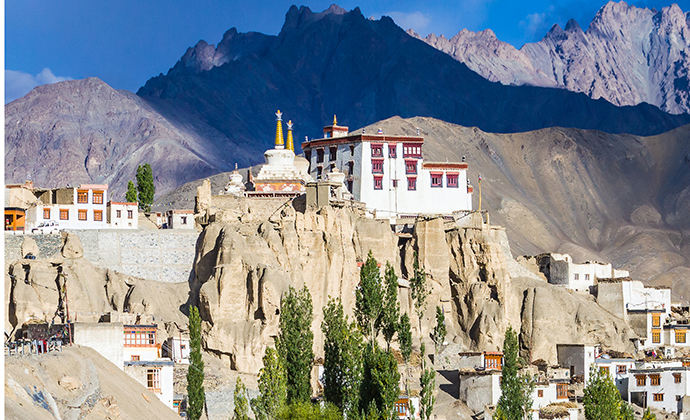 Perhaps the most rewarding aspect of the trek, however, is the village homestays dotted along the route, which adds a fascinating cultural dimension to an already fantastic trek. A guide is required and can be organised through most of the better accommodation options in Alchi or through agencies in Leh.
Climbing Nun and Kun
The Nun-Kun Massif encompasses a number of peaks, the three highest of which are Nun (7,135m), Kun (7,077m) and Pinnacle (6,930m). British and Dutch mountaineers first explored the area at the turn of the 20th century. The Indian Mountaineering Foundation allots climbers with ascent routes, and all mountaineers must obtain a permit from them.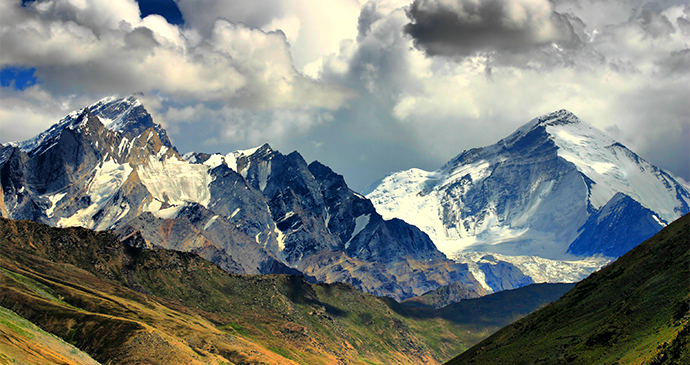 Base camp can be reached in a day's trekking from Tangole (midway between Panikhar and Parkachik), Gulmatongo (midway between Parkachik and Rangdum) or via the Parkachik Glacier. Climbing is possible from June to October, though July and August are most popular. You will need to allow a minimum of 14 days to acclimatise at each level and complete an ascent.
Rumtse–Tso Moriri trek
The trek from Rumtse to Tso Moriri traverses spectacular, wild scenery where a smattering of nomadic settlements will be your sole human encounter.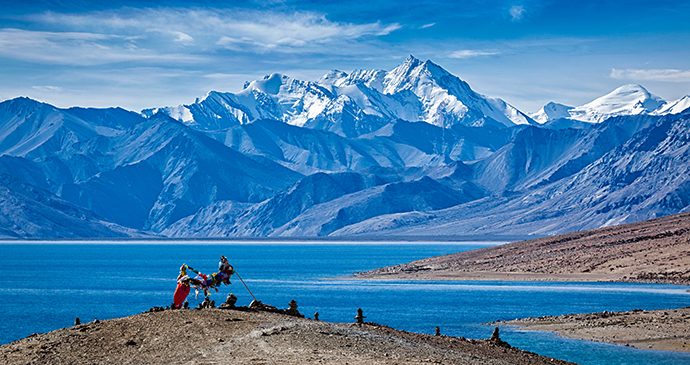 In our opinion, it's easily one of the best treks in Ladakh, though you should note that it's more about wide-open Tibetan-style vistas than close-up views of soaring mountain giants. Best completed between June and mid-October, it's a challenging trek that climbs to a maximum elevation of 5,435m and takes seven days.
Climbing Stok Kangri
Stok Kangri (6,120m) has India's highest trekkable summit, so it should come as no surprise that it's a firm favourite with tourists during the summer months and base camp can get quite crowded. It is possible to climb the peak any time from July to November, though due to the deteriorating weather conditions, July to September is the optimum period. Even then, temperatures at base camp fall to below freezing at night, so you'll need to have suitable clothing and equipment.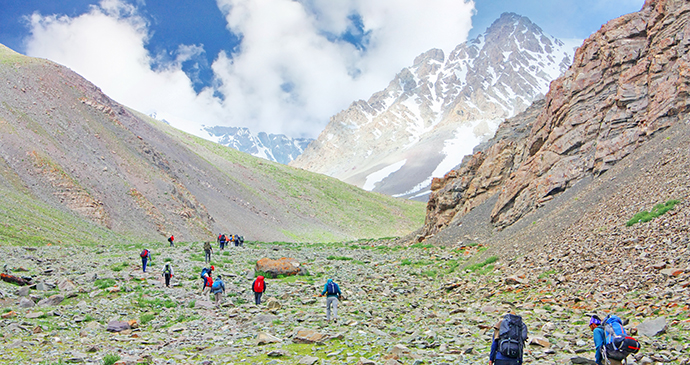 The trek takes six or seven days and starts from the village of Shang (3,657m), which is reached by taxi from Leh (from Rs2,027 one-way), and where enterprising locals sell biscuits and other small snacks to the trekkers.
---
More information
For more information, check out our guide to Ladakh: