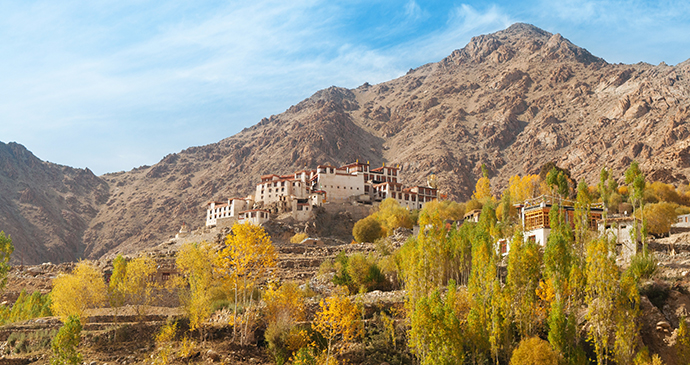 The temples at Alchi are best known for their finely preserved medieval frescoes © szefei, Shutterstock
Admire the ancient wall paintings in the temple at Alchi, one of Ladakh's cultural treasures.
Alchi is one of Ladakh's foremost cultural attractions on account of its superbly preserved frescoes, many of which date from the early medieval period. However, as the monks are no longer in residence, and it's a key stop on package tours in the summer months, it can feel overly touristy: try to get here early or late in the day when it is not crowded, and appreciate it as you would a museum rather than as a living monastic community
The monastery complex of Alchi Chhoskhor is composed of six temples, stupas, Mani stones and monks' cells. Tradition has it that Alchi was founded by Rinchen Zangpo during his visit to Ladakh in the early 11th century, though the earliest surviving buildings date from around 200 years later. Although it remains a holy place first and a tourist attraction second, the monks no longer live here: it is cared for by Gelugpa monks from Likir.
The oldest of the temples at Alchi, and indeed one of the oldest in Ladakh, is the Sumtsek Lhakhang, which dates from 1217. This three-storey structure is built in a traditional Tibetan style but decorated with delicate woodcarvings and fine, tapered columns more typically associated with the artisans of Kashmir. Inside, the wall by the door is covered with 1,028 blue Buddhas, and some of the statues set into niches are as much as 5m tall. The quality of the frescoes is unrivalled, though in places modern restoration work has been poorly executed.