The incredible beauty of the natural landscapes, the richness of the history and the warmth and diversity of the people get deep under your skin and linger in your mind long after you have had to leave.

Sophie Ibbotson, author of Ladakh, Jammu & the Kashmir Valley: the Bradt Guide
It may be a cliché, but there's something in Jammu and Kashmir for everyone. You can marvel at the views from the roof of the world at Khardung La, staring down on mountain peaks and glaciers; stroll through the Eden-like Shalimar Gardens, inspired by the Qu'ranic image of paradise; take a shikara ride with your own Kashmiri gondolier through the lotus-bedecked lakes of Srinagar; and join the Buddhist monks at Thiksey Monastery for early morning prayers or meditation by candlelight.
Adrenalin junkies can scale unclimbed peaks, trek along frozen rivers, heli ski at Gulmarg, raft on the mighty Indus River or paraglide above the forests and slopes of Pahalgam; holiday makers looking for a more relaxing time can read and watch the world go by from the veranda of a cedar-wood houseboat, learn yoga, shop for carpets and pashminas and indulge in all manner of culinary delights.
Encompassing a vast stretch of land from the lush Kashmir Valley in the west, to the striking mountains and epic wilderness of Ladakh and Zanskar, the area now covered by the Indian state of Jammu and Kashmir has long astounded visitors with its beauty. It was the favourite destination of Mughal kings, British bureaucrats and tourists overlanding along on the hippie trail: they proclaimed it heaven on earth, and we're rather inclined to agree.
Food and drink in India (Ladakh)
Food and drink varies between districts. In Ladakh and Zanskar the local diet is heavily influenced by Tibet, and Tibetan thukpa (soup with noodles) and momos (steamed dumplings filled with vegetables, yak meat or cheese) are common. Although in Leh your options are diverse and there are many restaurants serving international dishes, in smaller towns and villages you will be limited to what is produced locally.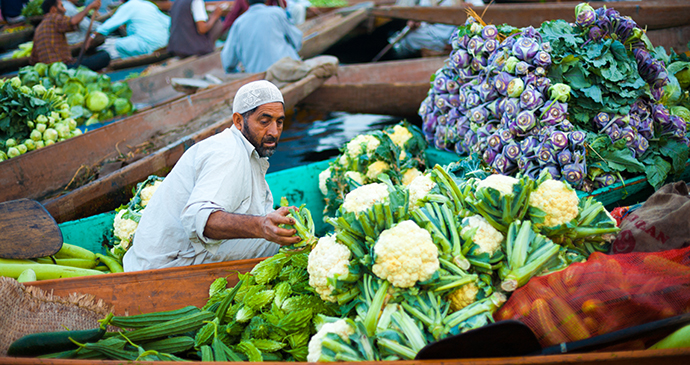 Business at the floating vegetable market on Dal Lake starts even before the sun comes up © Pius Lee, Shutterstock
Moving west to Kargil and Kashmir, the Muslim population eats a far richer diet with plenty of lamb and chicken. Indian take-away favourites such as rogan josh (braised lamb cooked in a gravy of shallots, yoghurt, garlic, ginger and flavoured with spices) is a Kashmiri signature dish, and Kashmiri naan (flatbread stuffed with raisins and nuts) will also be familiar to curry fans.
Eating out
Leh and Srinagar, and to a lesser extent Jammu, have a wide range of restaurants serving all manner of international and Indian cuisines. Many of these restaurants are targeted at tourists and business travellers, although there is an increasing trend for middle-class locals to eat out on special occasions too.
The smartest restaurants tend to be in the top-end hotels and they are open to non-residents as well as hotel guests. You may need to book a table at weekends but can expect well-presented, tasty food and good service. You may also be able to drink alcohol with your meal.
In other restaurants you'll find a huge range in quality, from the sublime to the horrific. The restaurants listed here were reasonable or good when we visited, but do still take up-to-date recommendations from other travellers and look out for places that are packed with diners, as that tends to be an accurate sign.
Even where the food is delicious, service may be slow. Be patient initially, but if things are getting ridiculous, do prompt the manager or kitchen staff as it's not uncommon for orders to be forgotten or for customers to be queue-jumped by later but more pushy arrivals. Service is rarely included, except in the more expensive establishments. If you have received good service and want to leave a tip, 10% or rounding up the bill to the nearest Rs100 is standard.
Drinking
Alcohol is not widely available in J&K. Drinking isn't forbidden by law, but neither the Buddhist populations of Ladakh and Zanskar nor the Muslim majority of Kashmir drink heavily. You are unlikely to see much alcohol for sale in the shops but some of the tourist-orientated restaurants do serve bottled beers and the larger hotels have bars with a range of wines and spirits. Being drunk in public is culturally unacceptable and in any case makes you vulnerable to accidents, mugging and other misfortunes. Driving under the influence of alcohol is illegal.
Do not drink the tap water anywhere in the region without filtering or treating it first. The full range of soft drinks that you'd be used to at home are available pretty much everywhere.
Many Indians have an almost reverential approach to tea. The two most popular local types are noon chai or sheer chai, which is green tea with milk and salt, and
kahwah, a delicious and light green tea made with saffron and almonds. In Ladakh and Zanskar you might come across Tibetan tea (also known as butter tea) made from yak butter, tea leaves, water and salt – be warned, it's an acquired but not wholly unpleasant taste.
Health and safety in India (Ladakh)
Health
Comprehensive travel insurance should be the first thing on your shopping list when you contemplate visiting Kashmir. Choose a policy that includes medical evacuation (MedEvac) and make sure that you explicitly state your destination when getting quotes: many policies will not cover you for travel to places about which the FCO advises against all, or all but essential, travel. Even if the insurance policy covers India in general, it may not include all of J&K.
Diarrhoeal diseases and other gastrointestinal infections are incredibly common in all parts of the Indian subcontinent. Travellers' diarrhoea and more serious conditions such as typhoid (of which there are not infrequent outbreaks in J&K) come from getting bacteria in your mouth. To minimise the risk, you should ensure that you observe good hygiene practices, such as regular hand washing, using bottled water (including for cleaning teeth), and avoiding foods of doubtful provenance.
All parts of J&K, including mountainous areas such as Ladakh, can become exceptionally hot in summer: temperatures well above 40°C are not unknown. Sunstroke and dehydration are serious risks. Wearing a hat, long loose sleeves and sunscreen helps to avoid sunburn. Prolonged unprotected exposure can result in heatstroke, which is potentially fatal. Try to stay out of the sun between noon and 15.00 when the rays are at their strongest. In the heat you sweat more, so dehydration is likely.
Acute mountain sickness (AMS or altitude sickness) can occur at any altitude above 3,000m, so visitors to almost any part of Ladakh and Zanskar, as well as the higher peaks in Kashmir, are at risk. Symptoms include headache, nausea and confusion and can herald the onset of high-altitude cerebral edema (HACE) and high-altitude pulmonary edema (HAPE), both of which can result in death. Further information on AMS is available from the Academic Unit of Respiratory Medicine, the British Mountaineering Council and Medex.
Travel clinics and health information
A full list of current travel clinic websites worldwide is available on www.istm.org. For other journey preparation information, consult www.travelhealthpro.org.uk (UK) or http://wwwnc.cdc.gov/travel/ (US). Information about various medications may be found on www.netdoctor.co.uk/travel. All advice found online should be used in conjunction with expert advice received prior to or during travel.
Safety
Ladakh, Zanskar and Jammu city are all safe areas in which to travel (altitude issues aside), but Kashmir and the rest of Jammu can be a different matter. The security situation in this part of India is fluid, and it is particularly important to check the situation before venturing to Srinagar. Due to a recent upsurge in violence at the time of the guide going to print, most Western governments were advising against all but essential travel to Srinagar, Gulmarg and other areas within the Kashmir Valley. Ignoring this advice could make your travel insurance invalid. Note, too, that some Western governments were also warning about travelling to areas outside the city in Jammu.
When violence does occur in the state it is not targeted at foreign tourists, though two British nationals were killed during a grenade attack on a minibus in Bijbehara, a village in Anantnag district, in July 2012. The three greatest threats to the safety of tourists in J&K are natural disasters, being caught up in local protests and road accidents.
Female travellers
Women usually travel in India trouble-free: people are typically conservative but are used to seeing both local and foreign women travelling independently, working in all occupations and taking prominent roles in both politics and the media. It is often possible for females to get a seat in women-only compartments on trains, join women-only queues and, where the latter are not available, queue-jump straight to the front to avoid waiting among unfamiliar men.
Privately, however, attitudes towards women are more old-fashioned: many families expect their daughters-in-law to give up working after marriage and to look after elderly relatives. Dowry payments are still often required when a girl gets married, despite the practice being illegal, and violence against women, particularly in the home, is high. Friendships between men and women are not encouraged and thanks to years of damaging stereotypes in the Indian media, foreign women who are open and friendly towards Indian men, even in a solely platonic way, are seen to be 'easy'.
Some foreign women do report verbal and occasionally physical harassment, particularly when wearing clothing that shows their shoulders or legs, or when visiting bars and clubs. This kind of abuse is more common in larger cities such as Delhi.
In recent years there have been a number of more high-profile attacks on women in India, including serious sexual attacks on tourists. If you are attacked, the police number to call is 100 (112 from mobile phones). You should also contact your embassy for consular assistance and support.
LGBTQ+ travellers
India decriminalised homosexuality in 2009 and Delhi's first Pride Parade (now an annual event) took place the same year. However, in December 2013 the Supreme Court overturned the legislation, re-criminalising gay sex, leading to protests around the world and a backlash in the Indian media. After five years of debate and legal challenges, in September 2018 the country's Supreme Court unanimously ruled to decriminalise homosexuality.
There is a burgeoning gay scene in many of India's larger cities (Mumbai is the undisputed gay capital) and there are now a number of LGBT travel agents in India that are part of the International Gay & Lesbian Travel Association. That said, regardless of the law, most of India's LGBT community continue to keep their sexuality very private. Most people remain deeply conservative on the issue and coming out is generally considered to bring shame on a family. While two men holding hands or sharing a room will not raise eyebrows, open displays of affection most certainly will. Verbal harassment is common (though more likely to be suffered by locals) and police harassment is also a possibility. Kashmir in particular is more intolerant of LGBTQ+ travellers than many other parts of J&K and the rest of India in general.
Travelling with a disability
While it is possible to travel in India if you are disabled, it certainly isn't easy. Poor infrastructure and health-care facilities pose difficulties for all visitors, and the challenges are undoubtedly magnified if you have a physical disability. Hotels, tourist sites and public places are rarely wheelchair accessible and little if any assistance is provided for those with hearing or sight problems. There is widespread discrimination against the disabled, with many people believing that a disability is the result of wrongdoing in a previous life. India has no welfare support for those with disabilities and consequently many disabled people resort to begging on the streets.
If you do travel to Kashmir, you will need to plan ahead and make sure all transport and accommodation providers are briefed about your needs well in advance. Airlines and upper-end hotels are generally helpful provided you give them time to prepare and are explicit about what you need. For tips about travelling with a wheelchair, and for details of wheelchair-accessible hotels, contact Accessible Journeys. The UK's gov.uk website also provides general advice and practical information for travellers with disabilities preparing for overseas travel.
Travelling with children
Because of the dangers of altitude mountain sickness (AMS), this destination is not recommended for babies or children too young to communicate symptoms (really anyone under the age of about nine or ten). For older children and teenagers, it is a dream destination.
There are abundant homestays, allowing families to gain unprecedented access to the local culture. Accommodation is cheap, the food is child-friendly and activities abound: cycling, river rafting, camping, trekking, sightseeing, shopping in markets.
There has been little research into the effects on children of the popular drug Diamox, which counters the effects of AMS. Better to do a gradual, drug-free ascent if possible, or if you fly in, be sure to block off at least three days on arrival to do nothing but acclimatise.
Teenagers are said to suffer more from AMS than younger children or adults. Try to be clear of any international jet lag before travelling to the region as it can muddle symptoms. AMS can sound frightening and should be taken seriously, but it's the only health hurdle you have to deal with in order to access one of the most beautiful and welcoming areas in the world. (And some children don't suffer at all.)
High-altitude desert in summertime is a good climate for travelling with children as long as you're equipped properly. Travel light and efficiently, but be warned: appropriate clothing might not be a teenager's idea of fashion. The sun is extreme, so pack good sunglasses and wide-brimmed hats, and the very highest factor suncreams and lipsalve. Take any children's medicines with you. Dehydration is a challenge. Children are particularly vulnerable and need to be reminded constantly to drink water.
Travel and Visas in India (Ladakh)
Visas
All foreign nationals (excluding Nepalese and Bhutanese) need a visa for entering India. For tourist visas there are two different options: the easiest and cheapest to get is the e-visa, while the longer, more versatile one is the standard 180-day tourist visa.
E-visas are by far the quickest and cheapest to get (UK and US passport holders pay US$102.50; most EU passport holders and Australian passport holders pay US$82.50). The application is made completely online and on average takes two days to process (though in our experience they're frequently ready by the following morning). You can apply for three e-visas per year, which are valid for 60 days and allow two entries into India. You will need a PDF of your passport photo page, plus a scanned photo of the correct size (this can be a bit of a pain to get right!).
However, there are two problems of note to keep in mind when applying for an e-visa. The first is that the website is quite difficult to use, and numerous people report problems when it comes to the online payment. Secondly, and far more importantly in the case of J&K, is that technically you are not allowed to travel anywhere in J&K including Ladakh with an e-visa. In reality, many people do travel on such a visa (especially to Ladakh) but it's entirely possible that airlines could refuse you boarding, or police could send you back to Delhi with a stern telling off. Whether you choose to risk it is up to you.
If you're going to be in India for more than two months, you want to make multiple entries or – sensibly – don't want to risk trying to visit J&K on an e-visa, then you'll have no choice but venture down the headache-inducing 180-day tourist visa path. The price of the visa depends on both your nationality and where you apply: UK passport holders applying in London currently pay £113 plus £7.44 service charge. Visa fees are payable at the time of submitting your application and are non-refundable, even if your visa is refused.
Permits
For those travelling from Leh to the Nubra Valley, Dha Hanu or the southern lakes, it is necessary to get an Inner Line Permit. You can either try to get this yourself once on the ground in Leh or you can apply online at w lahdclehpermit.in (though the system can be a bit temperamental!). If you decide to apply for the relevant permit yourself, you will need to find at least two other people to apply with you.
Getting there and away
India is well connected to the rest of the world, particularly in terms of flights, and onward transport connections from the main hubs to Jammu, Srinagar and Leh are affordable. Bear in mind, however, that in the winter months Leh is only accessible by air, and that Jammu is currently the only major city in the state to have a rail connection to the rest of India.
As there are no international connections to J&K, this section is arranged as follows: international flights to Delhi and travel information on that city; domestic flights connecting J&K to other parts of India; train connections to Jammu (currently the only major city in J&K with an operational railway line); and road connections to J&K via Himachal Pradesh and the Punjab.
By air
India has superb flight connections around the world, and you'll generally be able to choose from a range of departures from your place of origin. If the primary focus of your trip is J&K, opt to fly into Delhi to maximise your onward travel options.
Other major international airports in the country include Bangalore, Kolkata and Mumbai. Note that you are usually required to have both a print-out of your ticket (even for e-tickets) and your passport in order to gain access to the departure terminal.
By train
The only major city in J&K to have a railway station is Jammu, and though the line is being extended to Srinagar, this part of the route is unlikely to be operational for some years to come.
Travelling by train in India is a memorable experience, and if you buy a first- or second-class ticket it's a pleasurable one. Don't underestimate the value of travelling in an air-conditioned compartment. Trains run more or less on time and when you buy a ticket (which must be done in advance), you automatically get a seat reservation.Train timetables and fares are available from the Indian Rail website, though you might find private sites such as http://erail.in easier to use.
By road
The journey from Delhi to J&K by road is long but perfectly feasible. Very few foreign tourists drive their own vehicles in India and it's impossible to hire a self-drive car to venture all the way to J&K. Cars always come with a driver.
While the roads themselves are generally in good condition and ever more expressways are opening across the north Indian plains, the same compliments cannot be applied to Indian drivers. Road travel in India can be a hair-raising experience and at times is positively dangerous. The worst roads are the busy main roads linking the big cities of north India, and the road from Delhi to Jammu can be very scary. Quiet country roads are much more relaxing.
Getting around
J&K is a large state and transport infrastructure is relatively poor. Journeys by road are often long and uncomfortable, regardless of your means of transport, as even the national highways are narrow and badly maintained. Accidents and road closures are frequent. Take local advice on the latest journey times, depart early in the morning if you have a long way to travel and make sure you've got a really good book (other than this one, obviously) to help pass the hours.
By air
Jammu, Leh and Srinagar all have civilian airports and domestic flights link them together, as well as with other parts of India. Flights are most regular in the summer months when customer demand is highest (and prices also increase), so you may need to book well in advance to guarantee a seat.
By road
The best roads in J&K are the national highways: NH1A in the west between Jammu and Srinagar, and NH1 from Srinagar to Leh via Kargil. These roads carry a mixture of trucks, taxis and private vehicles, as well as frequent military convoys driving between the different military bases. Though mostly covered with tarmac, the surfaces are far from smooth, with pot-holes a common hazard. In the narrowest sections there is not space for a vehicle to overtake, and high passes are forced to close when it snows.
Away from these highways, the road conditions deteriorate further. Many roads are unmade, making for very slow progress, and some quite important routes, including the main road from Kargil to Zanskar, are closed completely throughout the winter months, reopening again only in late spring.
By bus
The JKSRTC operates a reasonable network of buses between J&K's main towns, and they typically stop in the larger villages en route too. Public buses are the cheapest way to travel and depending on the type of bus (standard, deluxe, coach, etc) you might even get your own seat. Larger items of luggage (and occasionally additional passengers) travel on the roof, so buy a small padlock for your rucksack or case and keep valuables inside the bus with you.
By taxi
Leh, Kargil and Zanskar all have their own taxi unions, which set rates and other taxi-related regulations, including which taxis can go where. The regulations are designed to protect local drivers from outsiders stealing their business, but can be infuriating for visitors forced to change taxis to continue their journey or prevented from using their original car and driver for both outward and return journeys.
That said, you quickly get used to the system and the fixed rates remove the usual hassle of haggling over price. Taxis can be either cars or minivans and drivers have to be registered. The drivers frequently speak a few words of English and some are knowledgeable about local sites and culture, acting as informal guides for their passengers. They know where to stay and where to eat and, on the whole, we consider the standard of driving to be high by regional standards.
If you have a car and driver for several days, it is appropriate to tip the driver at the end of your trip, even if you've prepaid an agent for a package. We work on the basis of Rs200 tip per day and it's always gratefully received.
When to visit India (Ladakh)
The state of J&K is a year-round destination: there are major attractions in every season, though if you want to visit a specific place or undertake a particular activity you will need to take the extremes of weather into consideration.
In winter Ladakh is only accessible by air, as the roads are closed by snow. Be warned: getting around at this time can be very difficult and most accommodation is closed. Nevertheless, this is the best time to spot snow leopards on one of the growing band of snow leopard safaris, as well as undertake the Chadar Winter Trek along the frozen Zanskar River, accompanying local teachers returning to Zanskar's remote villages after their winter break. Ladakhi Losar, the New Year, is celebrated in late December or early January, (although the exact date is set by the lunar calendar), and the cold weather means that few other tourists will be around. The snow itself is an attraction at this time of year, as the wintry landscapes make for some dramatic scenery. Srinagar in the snow is a postcard-perfect scene. You can keep warm with a kanger (an earthen pot filled with hot embers, which is kept close to the body in order to keep warm in winter) beneath your phiren (a long cloak or robe worn in Kashmir), tucked up toasty warm on a houseboat, or use the city as a springboard for the ski resort at Gulmarg. The most developed resort in the Himalayas; ski passes, kit hire and lessons are exceptionally cheap and you can even try your hand at heli-skiing.
Spring is when the snows begin to melt and the alpine meadows erupt into rainbows of colour, with wild flowers everywhere you look. In Srinagar the magnificent tulip fields also come into bloom, and though the domestic tourists have begun to arrive, there are relatively few foreigners to be seen. Everything is lush, green and fresh, and the lower trekking routes start to beckon.
In the summer months, it's time for trekking. The snow has retreated to the uppermost peaks, and the roads are clear enough to drive to Leh and even down to Zanskar. While Leh itself is busy, there are plenty of quiet retreats in the surrounding valleys where you can explore walking trails or biking and bridal routes (you can even ride a camel if you wish), and few things are more beautiful than sitting out around a campfire beneath the stars. Even the rivers and lakes look enticing in July and August. There are plenty of opportunities for kayaking and white-water rafting on the rivers of Ladakh, while to the west the lakes of Kashmir offer a variety of watersports, leisurely boat trips and trout fishing.
The greatest draw in autumn is the Ladakh Festival, which runs for two weeks at the start of September. It's a wonderful celebration of Ladakhi culture and a prime opportunity to see traditional costumes and masked dance, archery competitions and polo. Come November the saffron fields of Kashmir are riotous purple; the crocuses are harvested and the saffron is dried.
Climate
J&K has a varied climate due to the state's size and its variation in altitude and topography. Jammu has a humid, subtropical climate with summer temperatures well into the 40s (°C); a substantial drop in winter sees lows just above freezing. The area receives monsoon rains between June and September, and annual rainfall averages 693mm for Srinagar, 102mm for Leh and 1,238mm for Jammu (which gets hit by the bulk of the Indian monsoon). Srinagar is also subtropical and humid, though due to its increased altitude (1,585m), temperatures are generally lower. Summer days touch a pleasant 30°C, but in winter there can be deep snow, and temperatures hover around freezing during January and February. There is less rainfall here than in Jammu, though the spring can still be wet, and we've been caught in storms and hail in September.
The climate up in Leh is dramatically different: it's a desert. Winters are long and harsh with months of deep snowfall and the bitter temperatures can get as low as –28°C. There's little rainfall here – just a few millimetres each month – and for much of the year the days are warm and bright, albeit cooler at night.
Over the last decade or so, however, Ladakh has experienced a marked shift in its weather, most likely due to climate change. Much less snow is falling, leading to concerns about the availability of water (though saying that, when we updated this edition of the book we experienced unseasonably heavy snowfall in mid-September). In the same timeframe, however, there have also been huge and unanticipated cloudbursts: in August 2010 four inches of rain fell in just 30 minutes. Floods washed away villages, as well as homes in Leh, and more than 250 people were killed. Further heavy floods (but without the loss of life) occurred in July and August 2015.
What to see and do in India (Ladakh)
Alchi
Alchi is one of Ladakh's foremost cultural attractions on account of its superbly preserved frescoes, many of which date from the early medieval period. However, as the monks are no longer in residence, and it's a key stop on package tours in the summer months, it can feel overly touristy: try to get here early or late in the day when it is not crowded, and appreciate it as you would a museum rather than as a living monastic community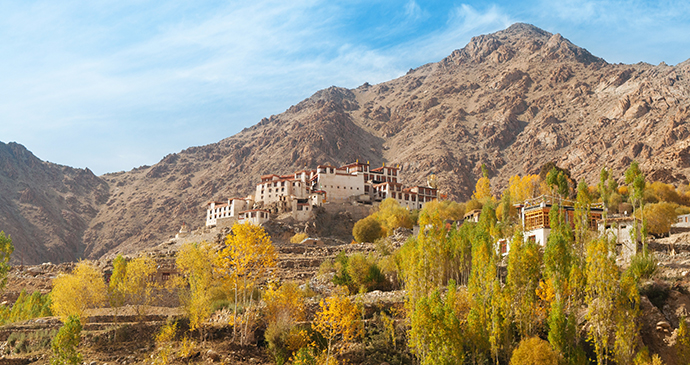 The temples at Alchi are best known for their finely preserved medieval frescoes © szefei, Shutterstock
The monastery complex of Alchi Chhoskhor is composed of six temples, stupas, Mani stones and monks' cells. Tradition has it that Alchi was founded by Rinchen Zangpo during his visit to Ladakh in the early 11th century, though the earliest surviving buildings date from around 200 years later. Although it remains a holy place first and a tourist attraction second, the monks no longer live here: it is cared for by Gelugpa monks from Likir.
The oldest of the temples at Alchi, and indeed one of the oldest in Ladakh, is the Sumtsek Lhakhang, which dates from 1217. This three-storey structure is built in a traditional Tibetan style but decorated with delicate woodcarvings and fine, tapered columns more typically associated with the artisans of Kashmir. Inside, the wall by the door is covered with 1,028 blue Buddhas, and some of the statues set into niches are as much as 5m tall. The quality of the frescoes is unrivalled, though in places modern restoration work has been poorly executed.
Amarnath yatra
The Amarnath yatra, or pilgrimage, is the principal draw for domestic tourists coming to this part of J&K: Baltal, not far from Sonamarg, is a popular starting point for the two-day trek (15km each way) through the mountains to the holy Amarnath Cave. The other possible departure point is Pahalgam, which is a longer three-day route (36 48km depending on exactly where you start and end).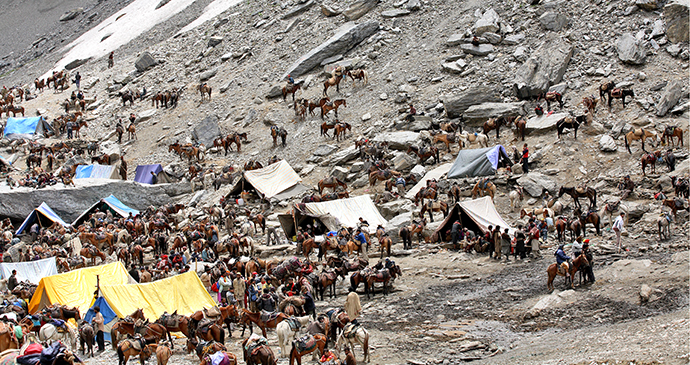 Join Hindu pilgrims making the annual journey to the Amarnath Cave, one of their religion's most sacred shrines © Vladimir Melnik, Shutterstock
According to the Hindu texts, the Himalayas are the home of Lord Shiva, and it was inside the Amarnath Cave that he recounted the story of creation to his wife, the goddess Parvati. Inside the cave is a large ice lingam – a phallic structure that is associated with Shiva – as well as two smaller lingams that are said to represent Parvati and Ganesh, the elephant-headed son of Shiva and Parvati. Without a doubt, this is one of the holiest shrines of Hinduism, and it is possible that the cave has been a place of worship since as early as 300BC.
Pilgrimage to Amarnath is only possible from late June until mid-August due to the inclement weather in the mountains. Even so, the route is frequently closed for several days during this period for safety reasons, and people do die each year on the way. All would-be yatris (pilgrims) must register with the Shri Amarnathji Shrine Board prior to starting their pilgrimage. Non-Hindus are welcome to complete the pilgrimage route too, but still have to register and provide a medical certificate confirming they are in good health. Huts and tents are erected along the route to provide shelter, and ponies and porters can be hired to carry your baggage. You must trek with a group, not alone, and due to the physical challenges, children under 13, adults over 75 and women who are more than six weeks pregnant are not permitted to participate.
Finally, even though the scenery is often spectacular, keep in mind that the huge majority of people are here for religious rather than scenic reasons and they can come in huge numbers. At especially auspicious times, there can be thousands of people on the trail and the trek becomes less of a walk and more of a queue. If you want to commune quietly with nature, then go elsewhere.
Gulmarg
In the 1500s, Gaurimarg ('the fair one') was renamed Gulmarg ('meadow of flowers') by Sultan Yusuf Shah. Both names are equally apt; set among rolling hills and thickly carpeted with flowers throughout spring and into summer, it's an idyllic place to walk and picnic when the weather is warm. It's in winter, however, that Gulmarg comes into its own, as India's winter sports capital and the centre of the country's fledgling ski industry.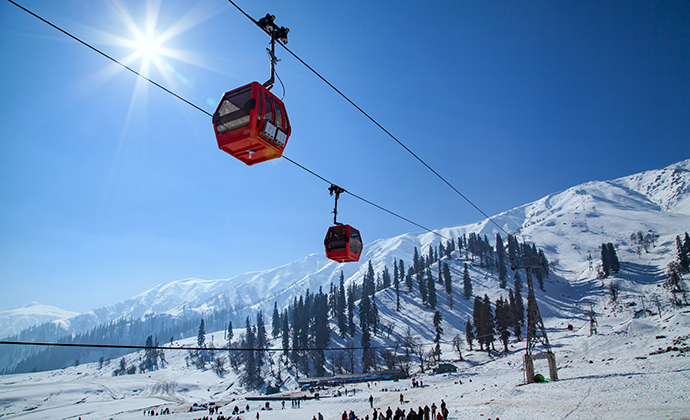 Gulmarg is India's winter sports capital; its gondola transports skiers and snowboarders up to a height of 4,267m © ImagesofIndia, Shutterstock
The gondola is open year-round and from November to March transports skiers and snowboarders 5km  up the mountainside to a height of 4,267m (so proceed with care if you've just come straight from the plains of India), and you can ski all the way down to Tangmarg. There are some excellent accommodation options (albeit all at the more expensive end of the spectrum) to choose from, and a lively crowd of youthful skiers (both Indians and foreigners) means you'll have plenty of playmates with whom you can enjoy the après ski.
Indus River
Northwest of Leh, National Highway 1 (NH1) runs parallel to the River Indus, sharing the valley that the mighty river has carved out for itself. The northern part of Ladakh is a natural adventure playground.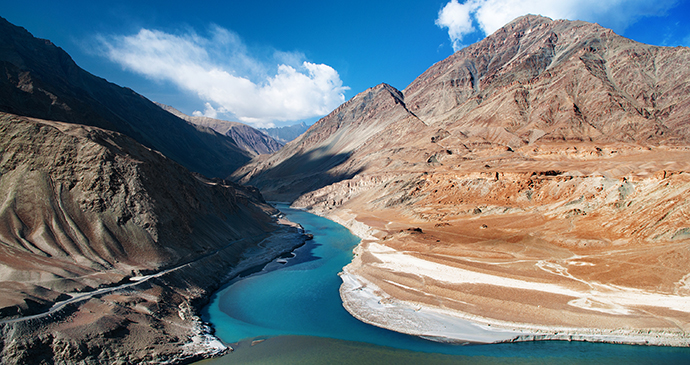 The mighty Indus River snakes through Ladakh and its rapids are ideal for white-water rafting © szefei, Shutterstock
Visiting adrenaline junkies can pit their strength and skills against the rivers while white-water rafting and kayaking, or explore yet more of the trekking routes linking the Ladakh and Zanskar ranges. Driving on the main roads is straightforward enough, but get away from NH1 and you'll be testing your off-road skills, fording rivers and traversing rocky ground.
White-water rafting on one of Ladakh's many rivers is a popular attraction and easily arranged from Leh. Although many of the regular travel agents do offer rafting packages, you'll have a better experience if you arrange it through a specialist operator.
Khardung La
Khardung La is the top of the world, at least if you believe the signposts. Locally touted as the highest motorable road on earth (in reality it's more like the 10th or 11th highest – but we can forgive some calculation errors at this altitude!), it climbs to 5,602m, so it's not only the views that will leave you breathless. It's a hugely popular destination for domestic tourists, the majority of whom come here on a day trip from Leh in order to snap innumerable selfies, but it's also the principal route via which people access the Nubra Valley.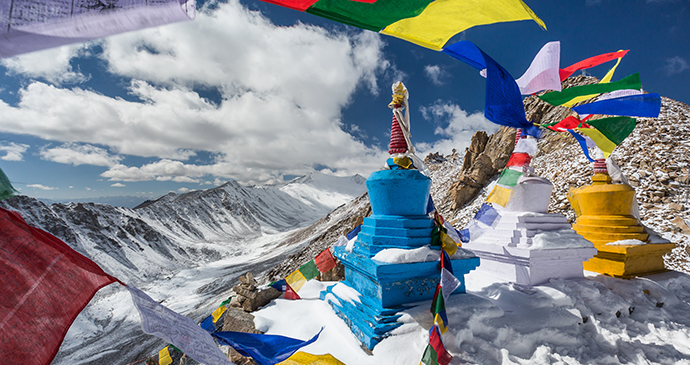 Stand (almost) on top of the world at this pass along one of the earth's highest motorable roads © Zoltan Szabo Photography, Shutterstock
The principal attraction of Khardung La is the pass itself and the views from either side, either looking back towards Leh or down into the Nubra Valley. Glaciers are currently visible in two places (though given the rate at which they are melting they might not be here for too much longer) and on a clear day you have a fine view of the peak of Stok Kangri too. If there's still air in your lungs you can scramble up to the small prayer-flag-strewn shrine overlooking the road, or browse the souvenir stand. Music and chanting blares out of the loudspeakers, creating a party atmosphere, and of course you need to stop and pose for a picture in front of one of the two road signs declaring the height of the pass.
Ladakh's southern lakes
Running up towards the Chinese border, the vast open plateau of southeastern Ladakh is sprayed with lakes that glint in multi-hued blues. This is a landscape guaranteed to make you feel small, where wolves streak over the horizon and nomads set up yak-hair tents among barren plains. If you've had your fill of monasteries, retreating into this grand wilderness and dipping your toes in icy waters or staring up into a seemingly endless star-filled sky is the perfect remedy.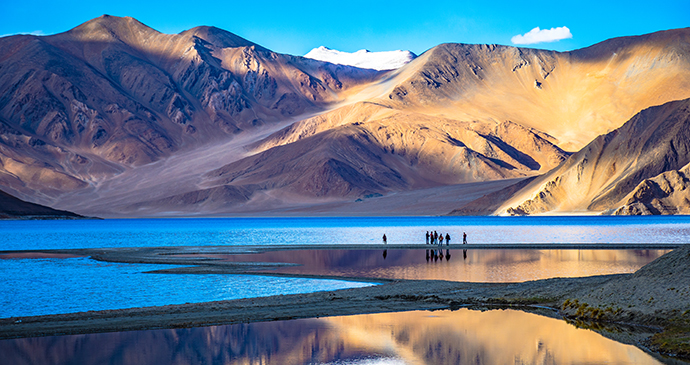 The ever-changing colours of Pangong Tso entrance visitors, and its beautiful scenery has provided the backdrop to many a Bollywood movie © Chris Piason, Shutterstock
Unless you have a lot of time available, you'll probably need to choose either to visit Pangong Tso or to go to Tso Moriri and Tso Kar lakes. Both require a long and uncomfortable car journey, and as getting there and back from Leh is expensive, your decision may well be shaped by whom you can share a car with. The road south from Leh to the lakes is the main Leh–Manali road, National Highway 3 (NH3). It splits at Upshi, an army base that also hosts a small line of shops and cafés. From here it is 110km to Pangong Tso, 115km to Tso Kar and 175km to Tso Moriri.
Due to the proximity of the lakes to the Indo-Chinese border, you are required to have an Inner Line Permit to travel there. If you do not have a permit (and the requisite number of photocopies), you will not be allowed to travel past the police checkpoints.
Leh
Life in Ladakh centres on the mountain town of Leh. The regional capital is a bustling hub with the rare combination of reasonably developed tourism infrastructure and a number of well-preserved tourist sites, but with the sensation that great wilderness adventures await just beyond the horizon. Most visitors to Ladakh start or finish their journey here, and the seasonal influx of both foreign and domestic tourists gives the area a cosmopolitan air.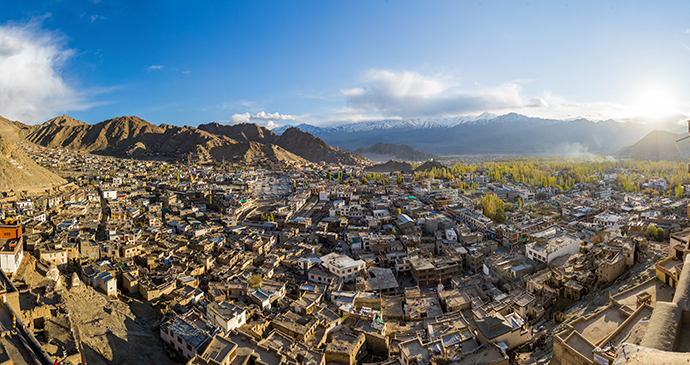 Originally a trading post on the Silk Road, today Leh is the capital of Ladakh, home to a bustling bazaar and remarkable historical sites such as Tsemo Fort and Leh Palace © THONGCHAI S, Shutterstock
If you arrive by air you'll need a few days to acclimatise to the altitude, but it's an easy place to spend time, especially during the summer months, and there are plenty of options for accommodation, food and entertainment. The best way to get a feel for the city is to start out in the bustling bazaar and then climb the spaghetti-like tangle of streets between there and Leh Palace. The alleys are far too narrow for a car to traverse (though that doesn't seem to stop some trying …), which means visitors can get a glimpse into times gone by: men struggling uphill with handcarts laden high with vegetables; women baking flatbreads in ovens open to the street; and crowds of schoolchildren racing and shrieking along, excitable but good-natured street dogs in pursuit.
Mubarak Mandi
The Mubarak Mandi complex was the royal seat of Jammu's Dogra rulers from 1824 to 1925, when Hari Singh relocated to the new Hari Niwas Palace. The vast site, which includes the Darbar Hall, Sheesh Mahal, Hawa Mahal, Pink Palace and Royal Courts, is a smorgasbord of European Baroque, Mughal and Mewari styles. Sadly, however, the buildings are in extreme danger, already the victims of two earthquakes, more than 30 fires and decades of unforgivable neglect. A conservation programme is under way, but as large sections of the palace have already been gutted or collapsed, conservators are limited in what they can do. The monkeys have taken over, along with the birds.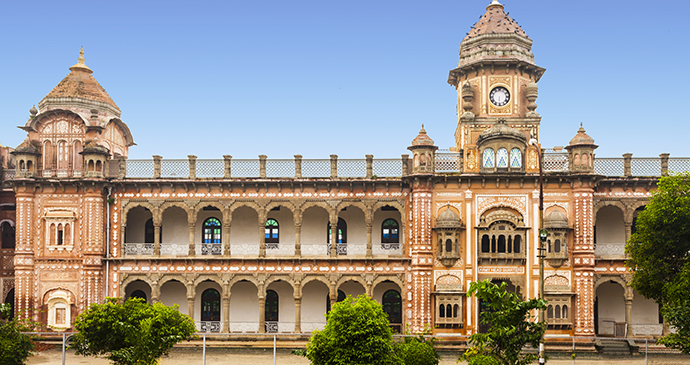 Jammu's Mubarak Mandi complex was once the royal seat of the region's rulers, and its architecture is a riot of European Baroque, Mughal and Mewari styles © saiko3p, Shutterstock
One of the few operational buildings in the complex is the Dogra Art Museum, though this too is in need of damp-proofing, a clean and a lick of paint. The highlights of the collection are displayed in the Main Hall, a double-height room with internal balconies. We were particularly taken by the beautiful mural fragments removed from Reasi Fort, four 4th-century terracotta heads excavated at Ambaran near Akhnoor, and the large Kushan coin hoard. Look out also for the 107 12th-century coins found recently by prisoners gardening within the confines of Kot Bhalwal Jail. The rest of the museum is a bit disappointing, and the tour staff do little to bring it to life.
The Long Gallery on the first floor has an attractive carved wooden ceiling that is original to the building and a glass cabinet containing what is apparently a piece of elephant fossil, though you'll have to use your imagination. The adjoining room has a display of 19th-century paintings, unremarkable individually but pleasant enough as a group, and two sets of colourful doors salvaged from somewhere else in the Mubarak Mandi complex. The contemporary art gallery is best avoided unless you like your art either banal or hideous. A dozen or so pieces of sculpture on plinths are arranged around a sunken bath alongside two truly monstrous larger works and a few unremarkable paintings.
Srinagar and Dal Lake
If J&K is the crown of India, then Srinagar is the jewel in that crown. Breathtakingly beautiful as it rises from the mist that hovers in the early morning across the surface of the water in the lakes, the summer capital of J&K is a city rich in history, where the past is worn lightly on the sleeve. Artistic traditions, from carpet making to woodcarving, are still practised in backstreet workshops; architectural masterpieces displaying an array of influences dot the skyline; and the houseboats, where British memsahibs played games of bridge, hippies smoked and The Beatles strummed away the hours under the watchful eye of Ravi Shankar, still float timelessly on the water.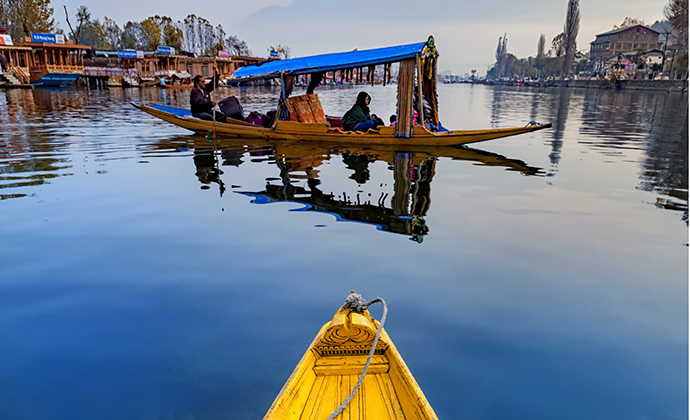 Relax for hours in one of India's floating palaces on Dal Lake © ImagesofIndia, Shutterstock
Srinagar is not trapped in the past, however: it is a city moving forward apace. A short tourist boom between 2012 and 2016 meant much new development had started to take place to cope with the expected rush of tourists. The last few years had seen the opening of a cable car to transport visitors to the Makhdoom Sahib Shrine, and the hill atop which the Hari Parbat fort is perched had been turned into an eco-reserve, a haven for local wildlife in an otherwise busy city. However, mid-2016 onwards saw a return to the old ways, with an increase in protests, violence and tit-for-tat killings causing tourism to plummet once again.
A note on security
At the time that the guide went to print in late 2019, the security situation in the Kashmir Valley had become extremely tense thanks to increased militant violence, protests and rioting – not to mention a very strained stand-off with Pakistan. and the decision by the Indian government to revoke Article 370 (see the health and safety page for more information). As we're yet unsure how this will play out, we strongly advise that you check with your country's state department on the current situation before travelling to any part of the Kashmir Valley.
Thiksey Gompa
It's easy to overdose on gompas in Ladakh, but if you only visit one, make sure that it is Thiksey. Not only does it have a striking position and staggering views, but you get the sense that you are visiting a living, working monastery: it is much less commercialised than Hemis and although there are other tourists here, you'll feel part of the monastic community.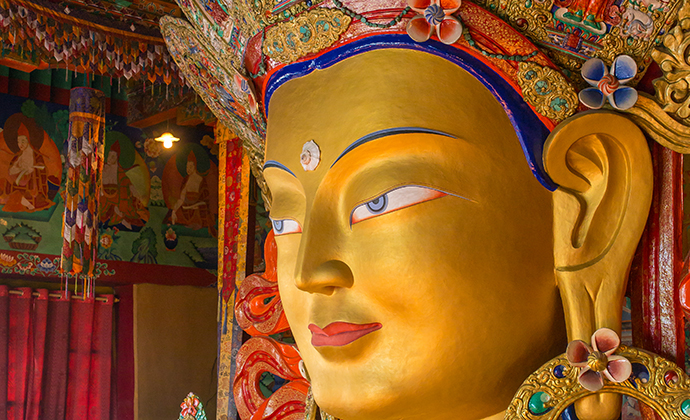 One of the finest Maitreya Buddha statues in Ladakh stands inside Thiksey Gompa © Mazur Travel, Shutterstock
Thiksey Gompa is certainly one of the most architecturally impressive buildings in Ladakh. If you are approaching by road, it suddenly rises up out of the high desert plateau and looks for all the world like a miniature version of the famed Potala Palace in Lhasa (Tibet). Having left the main road to drive through Thiksey village, the road doubles back on itself and climbs to the foot of the gompa where there is a large and well-ordered parking area, from where you must proceed on foot. You enter the site through a red gateway painted with colourful mandalas. Looking left you have unobstructed views across to Stakna Gompa, then a line of buildings that include public toilets, and the gompa's restaurant and souvenir shop.
Zanskar Valley
If you want an easy-to-organise trek in the Indian Himalayas, but are frustrated by the overly popular routes in Ladakh, then Zanskar is the perfect antidote. A subdistrict of Kargil, right in the heart of J&K, it is sufficiently inaccessible that first-time visitors to the region rarely make the effort to get here, preferring the quicker routes into and out of the Markha and Nubra valleys, but providing you are not in a rush, it is well worth the challenging journey.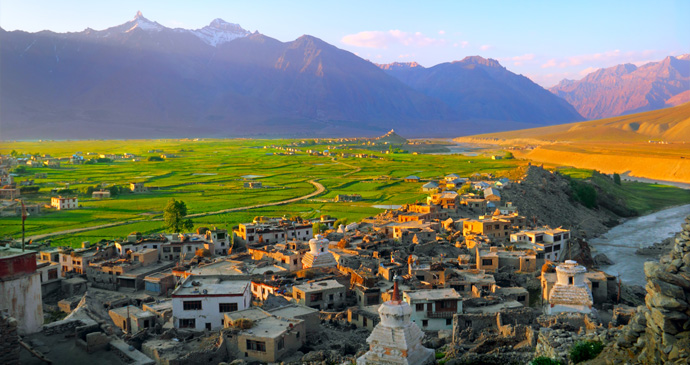 With its perfect location nestled against the mountains, Padum is the main base for treks through the spectacular Zanskar Valley © Natalia Davidovich, Shutterstock
Treks in the valley vary from easy day hikes, such as the route across the valley floor from Zanskar's administrative centre, Padum, to Karsha, to numerous opportunities to blaze out along remote routes that see no more than a handful of trekkers each year. There are still places where even the trekking guides haven't been, and a single monk may be the only source of information that can supplement your map. In winter when the road is often closed due to snow, the only way in and out of Zanskar is by doing the arduous Chadar Winter Trek along the frozen Zanskar River, providing insight not only into the challenges of living in this landscape but the lengths that local people will go to in order to ensure that the local children receive an education.
Related books
Related articles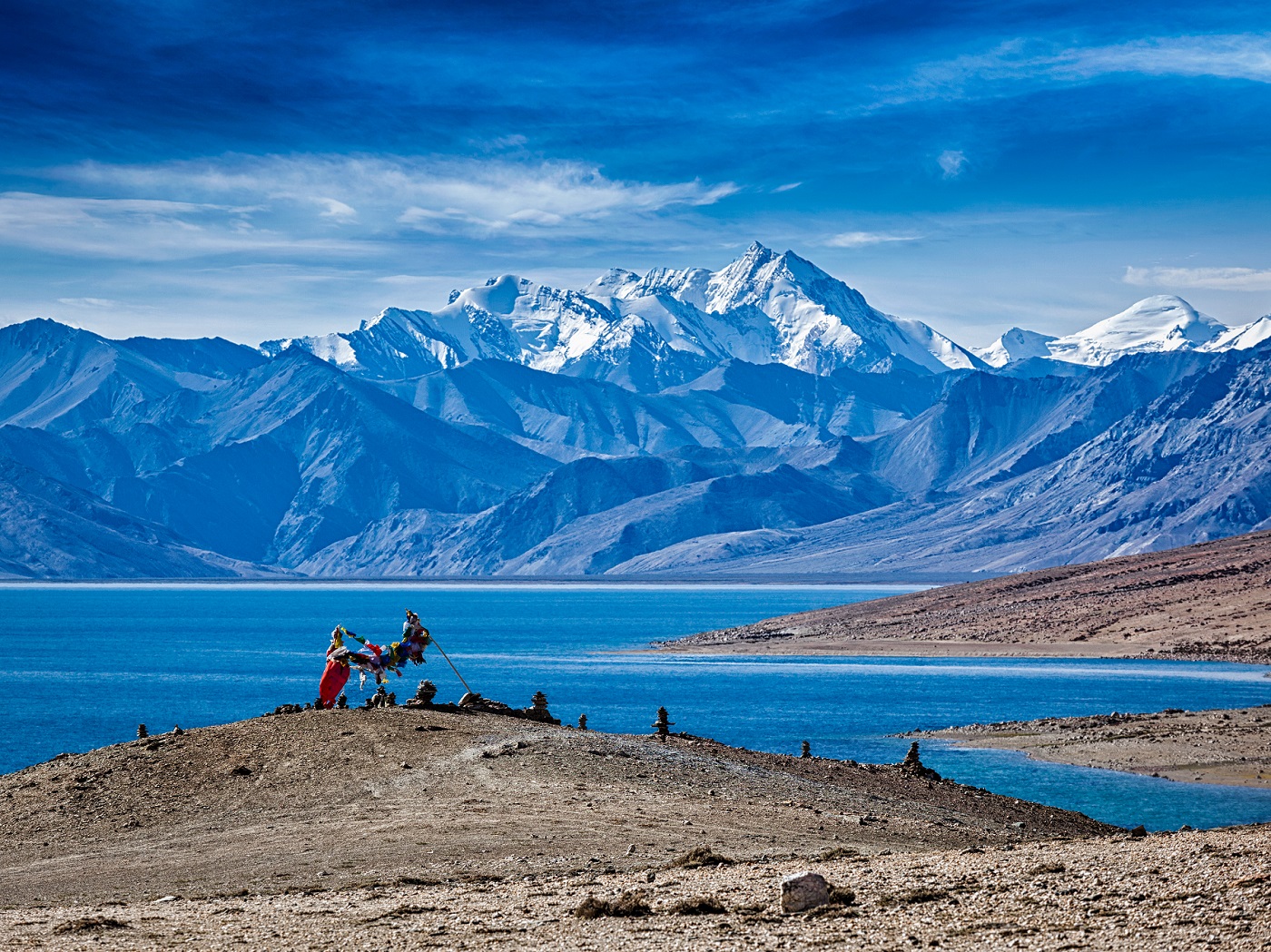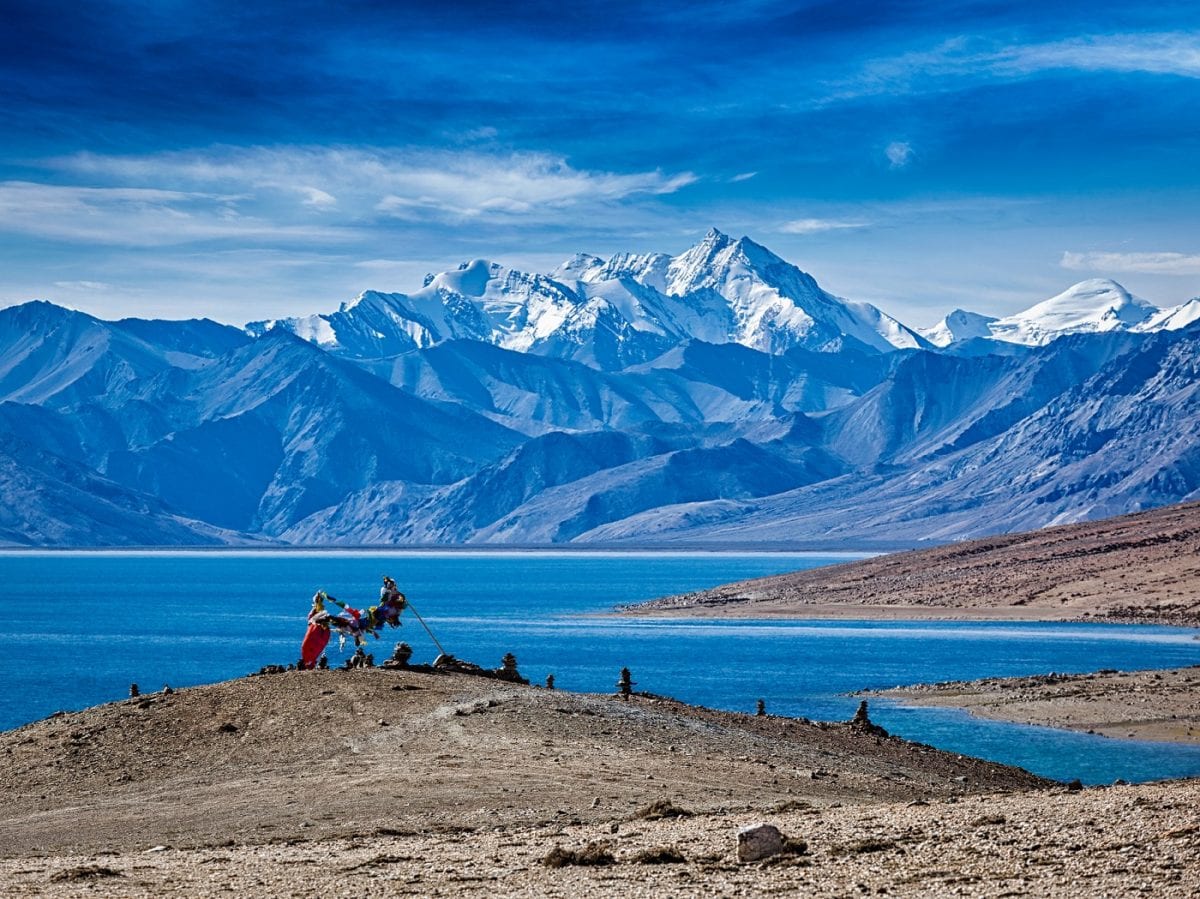 From boiling lakes to vast alpine bodies of water, these are our favourite lakes from around the world.