Our holiday in Mauritius started with a torrential downpour. Standing at the counter of Pingouin Car Hire, we bought a Rs500 (£8) SIM card for our mobile phone and then made a dash through inch-deep rain water to collect our little Suzuki. The tiny windscreen wipers struggled to keep up with the deluge, but it was the huge number of motorcyclists that you really felt sorry for – many gave up riding their small-engine machines and attempted to shelter under road-side palm trees.
We headed north on the main motorway (which has recently been much improved), admiring the constant view of rocky, volcanic mountains rising sharply from the fertile plains. After Port Louis, we left the rain behind and took the coast road to Trou aux Biches, a popular little town with one of the most beautiful beaches on the island. Pop-up vendors selling slices of melons and bunches of lychees dotted our route. With a population that is 52% Hindu, there is also a multitude of colourful temples to catch your eye as you drive by, never mind the white-sand beaches fringed with pine trees and coconut palms.
Although the time difference is only +4 hours, an indirect flight of 14 hours from London via Paris left us with little energy for the first two days. Staying with my aunt and uncle, we relaxed and recovered in their swimming pool and took a short walk to explore the local beach.
The public beaches in Mauritius are well-maintained. Generally, there is ample parking underneath tall pines. There are often staffed bathroom and shower facilities, and there is usually a small team of staff sweeping the public areas and keeping them tidy. Under current government guidance, picnics are banned on the beaches, but there is nearly always at least one food stall selling freshly carved pineapple, spicy samosas or other taste sensations including smoked marlin.
Exploring Port Louis
Port Louis is a busy town, and not somewhere to be if you are in a hurry. Parking near the stylish Caudan Waterfront with its casino, shops, and restaurants, we wandered into the market area by the bus station where frustrated motorists honked their horns as they tried to navigate the near-static traffic. The open-air market is a labyrinth protected by a large canvas covering and sells everything from shoes to spices, whilst the nearby shops sell a range of fragrant street-food and colourful clothing.
We made our way through the narrow streets, many of which are just suitable for one-way traffic, towards the central Place des Armes. On the way we passed the Central Market – a more formal, licenced market experience situated on a pleasant courtyard. The north side is flanked with a selection of local craft and art vendors, and the south is an open-plan building where traders display their fresh produce in immaculate pyramids of fruit and vegetables. There is a friendly atmosphere, and you are invited to browse among the spices and have a haggle to hopefully take home a bargain.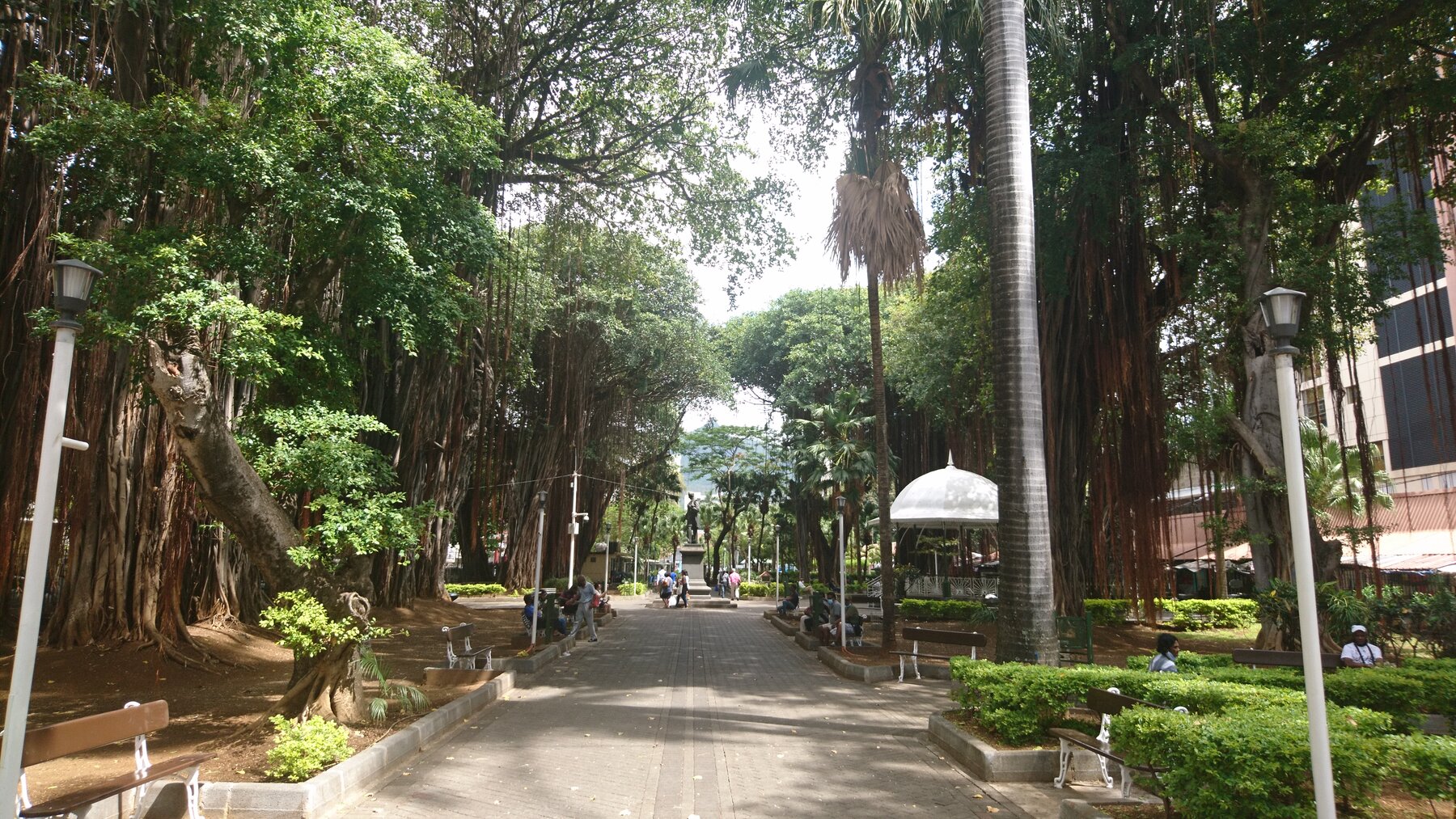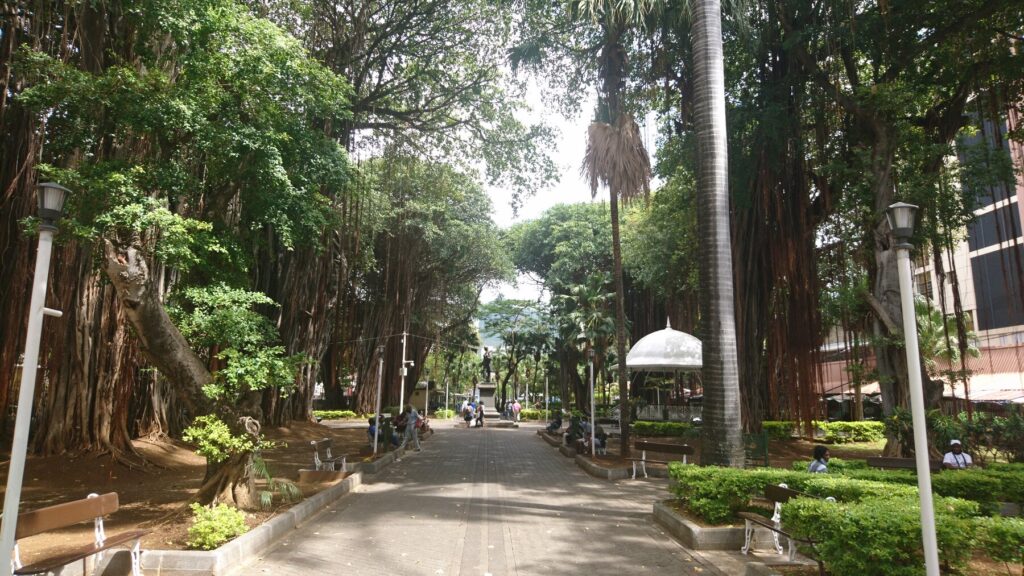 Place des Armes is an oasis of calm in the city centre. We took a moment to enjoy the peace in the nearby Jardins de la Compagnie where huge banyan trees line the walkway. The Natural History Museum is next to the gardens, and we visited this free attraction, learning about the local flora and fauna, and the work that is being done on various neighbouring conservation islands to boost the numbers of indigenous animals.
Beach-hopping in the north
Determined to have a relaxing holiday, our next trip was further north with the intention of exploring a couple of beaches. The tourist road to Gran Baie was a visual delight. Even when we didn't have the pleasure of sea views, the roadside was planted with bougainvillea trees in full flower with cerise and orange blooms bursting from the branches. Driving past Mont Choisy beach, it seemed a shame not to stop for a photo – if you stopped at every beautiful beach in Mauritius, it would take some time to get anywhere. But we were on holiday, and didn't have anywhere to be, so we paused to take some pictures and enjoyed gazing out at the Indian Ocean on this long expanse of white beach, fringed by a pine forest.
We drove on through the affluent marina resort of Grand Baie and on to the popular beach at Pereybere. We settled in for a swim, and some relaxation on the sand, but soon realised that it was going to be too hot to relax.
Driving further north, we arrived at the iconic, red-roofed wooden church of Notre-Dame Auxiliatrice de Cap Malheureux. This little Catholic church appears on many of the island's picture postcards. The church itself was locked, but we took a walk around the little bay. On the beach, a local fisherman was gutting some fish on a small table and washing his catch in the sea. It seems that he is a regular feature here, as a customer made their way along the sand to make a purchase from him.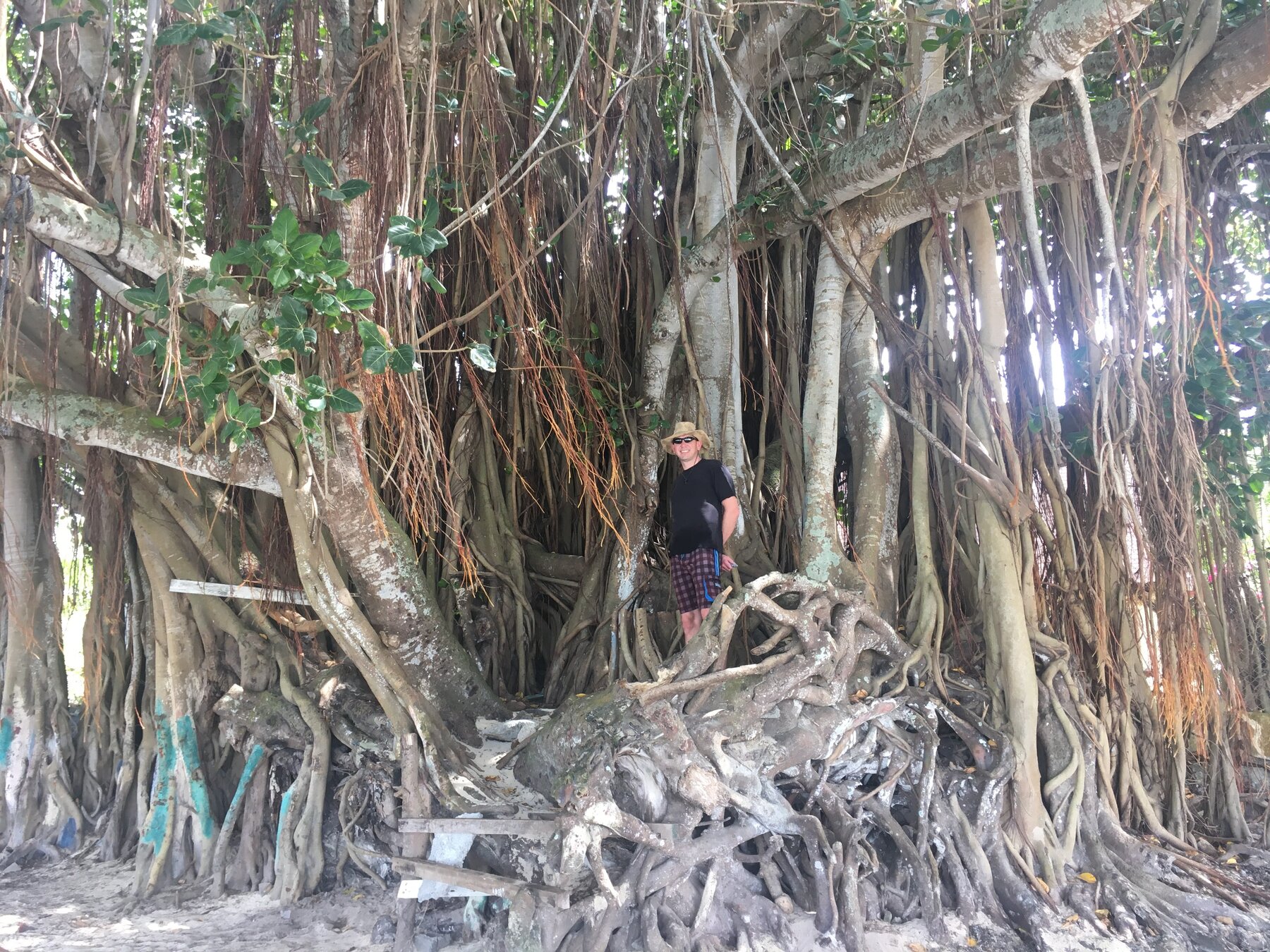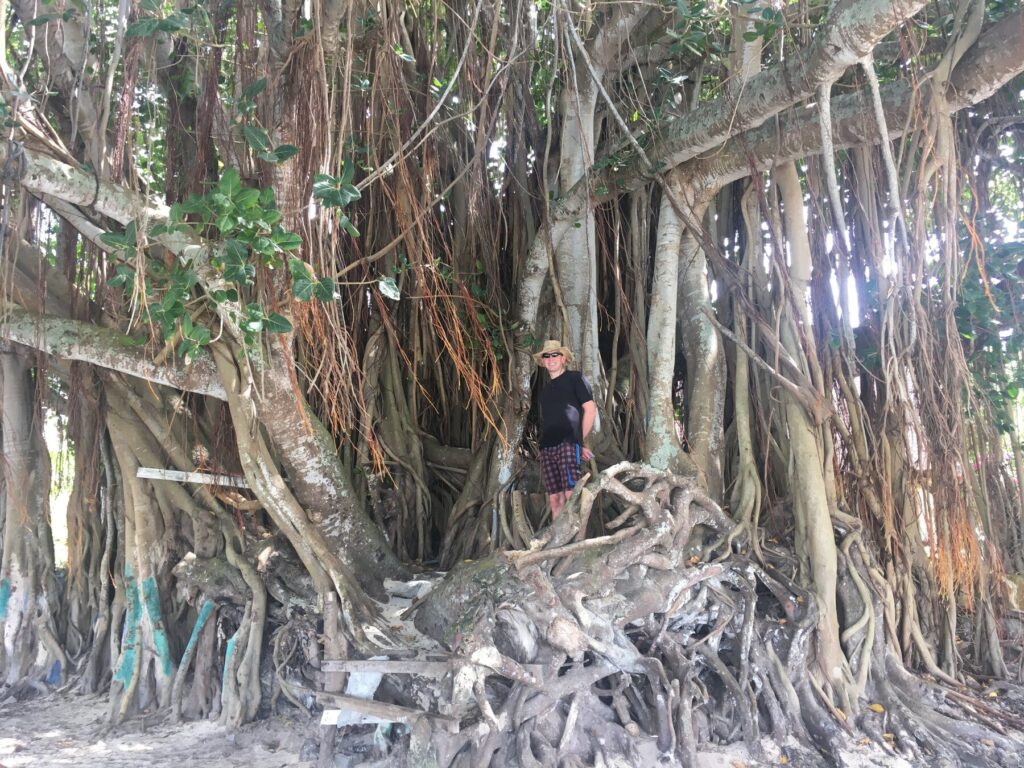 On the other side of the church, we spotted a a banyan tree – offering a recess among its hanging tendrils. A makeshift ladder has been nailed to the lower roots so you can climb into the heart of the tree and admire its structure.
Now the heat of the day has passed we are able to relax for a few hours on the beach at Grand Baie. In the evening, we head to the Beach House at my cousin's recommendation for some amazing cocktails and an octopus curry, served with a sea view.
Tea and rum
Determined to explore further afield, I booked a few days accommodation in Flic en Flac – a tourist town in the south of the island. The climate here is wetter and cooler. We arranged to visit some plantations on the Tea Route, but it rained almost all day. At Saint Aubin there are beautiful gardens, where we learned about the propagation, harvesting and processing of vanilla.
There is also a small distillery, where a staff member demonstrated just how easily the juice is extracted from sugar cane with a piece of small-scale industrial machinery, and then invited us to sample some rums. A gift of flavoured rums will no doubt go down very well with our friends back home.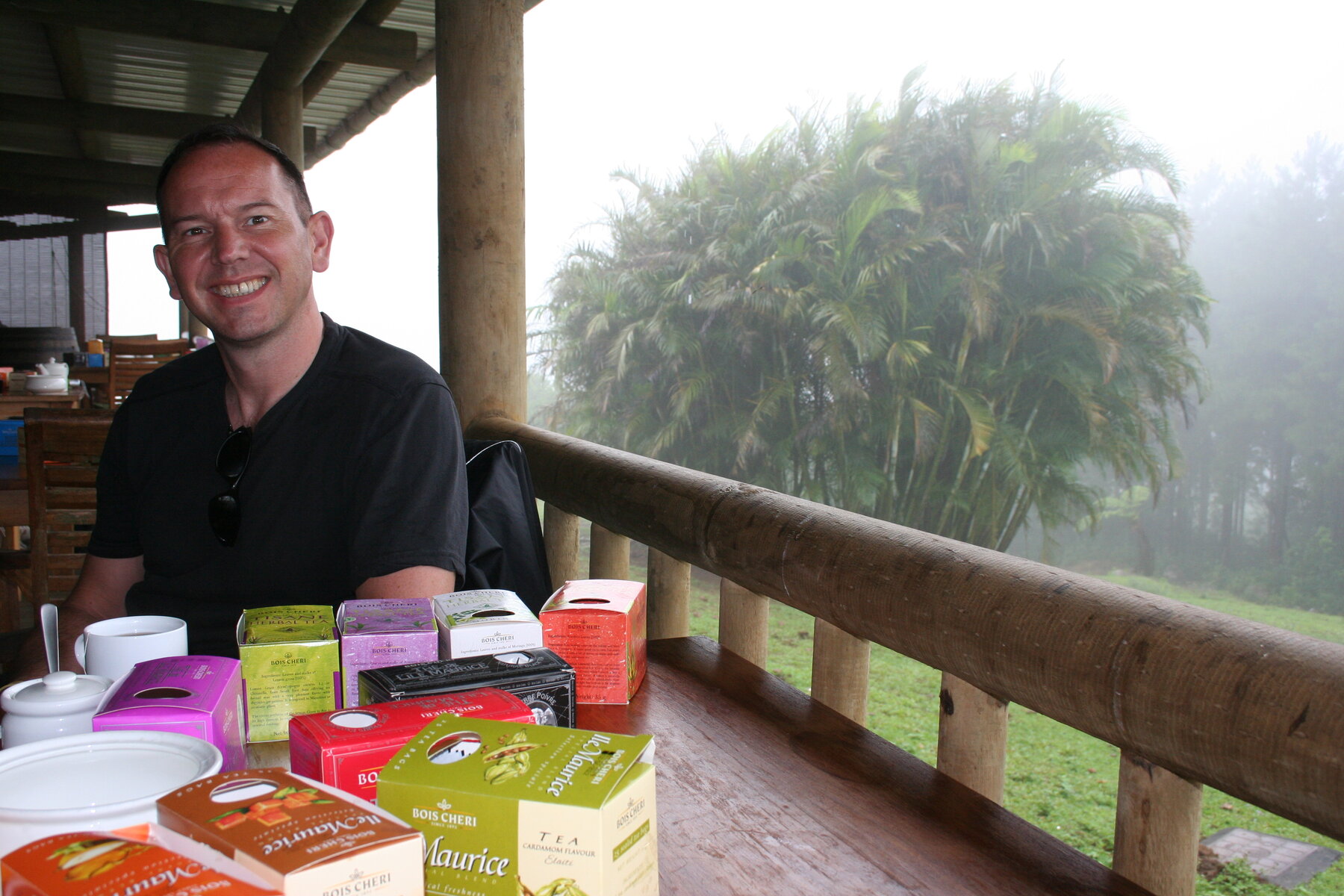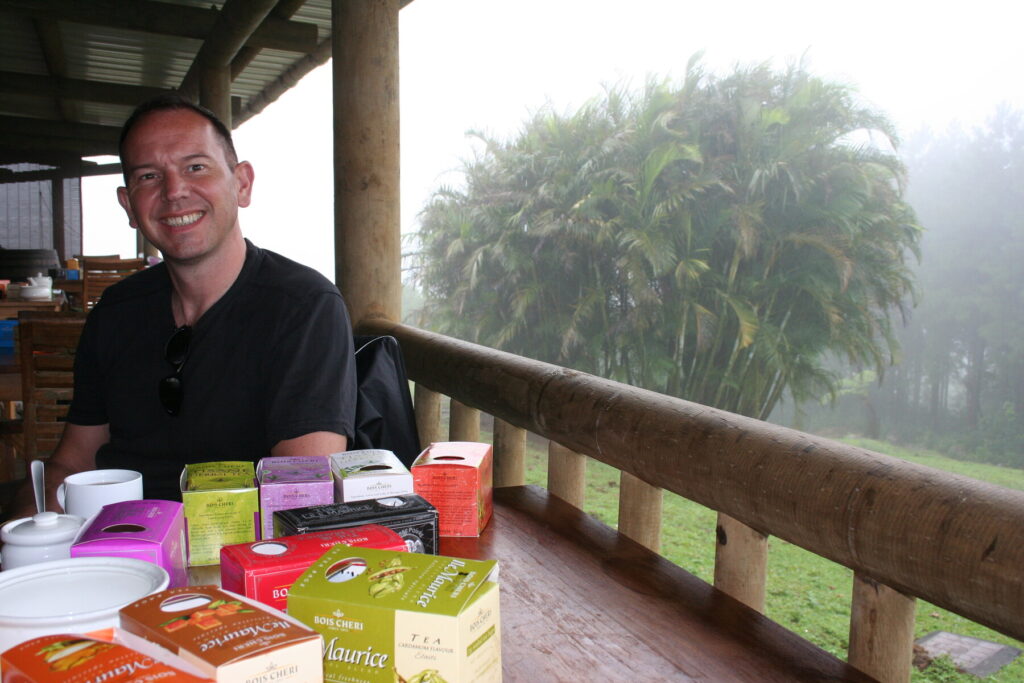 At Bois Cheri, we stopped for a tea-tasting. There is an interesting museum here, full of photos and machinery which backs on to part of the tea factory. No-one was picking tea on the plantation in this rain, so we drove the pot-holed track around the lake to the plantation buildings at the top of a small hill. The views across the misty valley were pleasing – the presence of a few small boar and some deer in the immediate vicinity probably responsible for the number of flies on the veranda.
The tables were set with boxes of tea which look like oversized, colourful Lego bricks. We were invited to take a seat whilst a lady brought us cups and a pot of hot water. Coconut, caramel and vanilla feature alongside lemongrass, cardamom and moringa. After a quick trip to the gift shop, I returned with some vanilla tea biscuits. Unexpectedly, they contain actual tea: small dark flakes of leaf speckle the biscuits. We tried various teas with our biscuits and agreed that black is the best – the refreshing drink doesn't require any fancy flavourings. We stocked up on supplies before leaving our mist-shrouded tea plantation for the next destination.
Statue-spotting near Des Abineaux
Our final destination was the Des Abineaux plantation. On the veranda, we were treated to a lunch of a smoked marlin starter with palm hearts, and a vanilla chicken main course. The old plantation house retains its period fittings and furnishings; a friendly guide explained the history of the family and their home before leaving us alone to explore the house and gardens. The outbuildings now house a small business which extracts essential oils from plants in the garden and uses them in the production of fragrant soaps.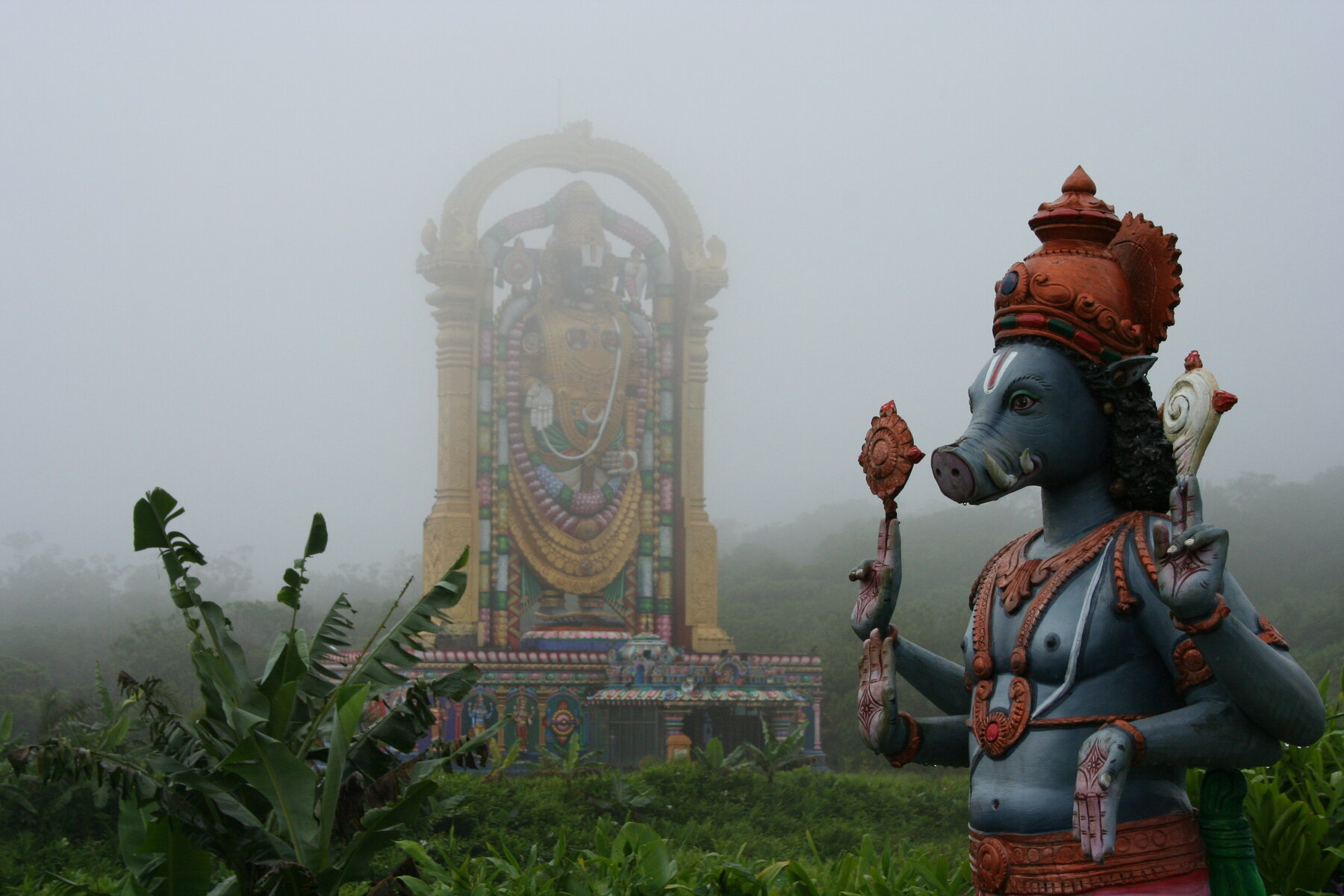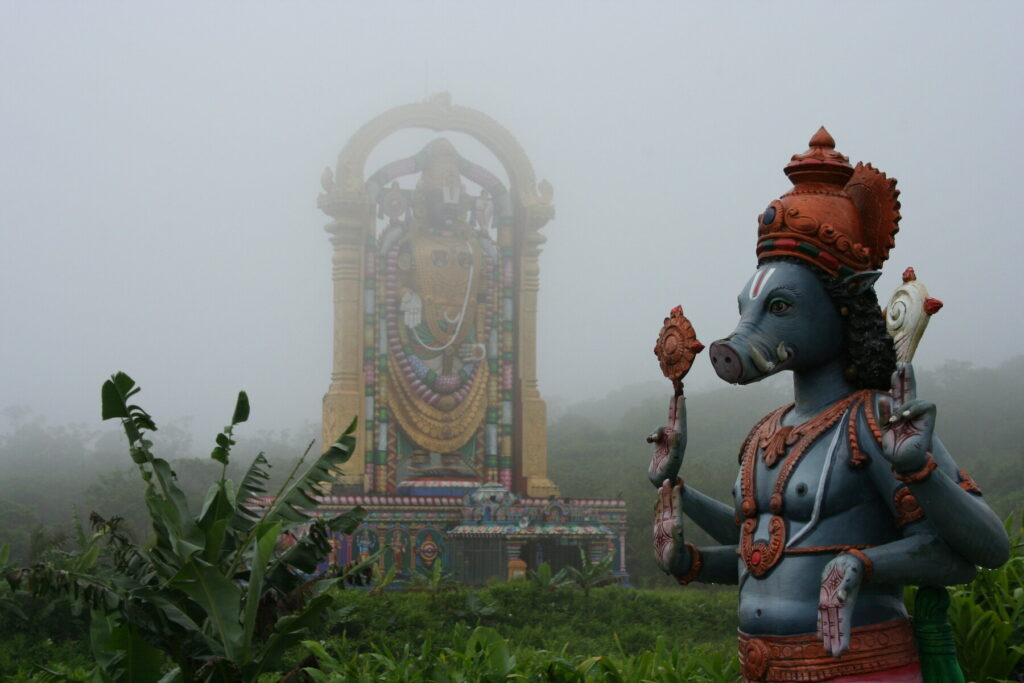 En route to Des Abineaux, we passed two tall Hindu sculptures that we made note of to visit after the plantation tour. The first was the 22ft-tall Panchamukhi Hanuman, while in the distance is 108ft Lord Venkateswara – the path to him lined with various incarnations of Vishnu. It was a beautiful, colourful site on an otherwise grey day.
Views for days at the Chamarel Falls
Our next day of touring took us to the Chamarel Seven Coloured Earth Geopark. Road works put us on a diversion past the 18th-century salt pans at Tamarin, and as far south as Baie du Cap. A winding mountainous road took us away from the coast to the geopark.
Our first stop was a viewpoint for the Chamarel Waterfall, which sees three distinct streams converging to fall down an 80ft sheer drop. It is possible to hike to the bottom, but we chose not to. Deeper in the park is the location of the Seven Coloured Earths, formed by the reaction of different minerals in the rock. They are framed by lush green mountains in the background. Six giant tortoises live in a nearby enclosure and make for an interesting distraction.
Our last day in the south should have been an exciting day of rappelling down the Seven Cascades waterfalls at Tamarin, but due to ongoing communications suffered by our tour provider we were unable to organise this in time. So instead, we decided to head out to a viewpoint and see what we were missing. At Henrietta bus station, a friendly young Mauritian man waved us down and enquired if we wanted a tour guide to hike to the falls. With temperatures at about 30°C such a hike was out of our comfort zone, but he kindly gave us directions to a viewpoint, and we were able to make out the bright-orange life jackets of other tourists as they abseiled down the falls.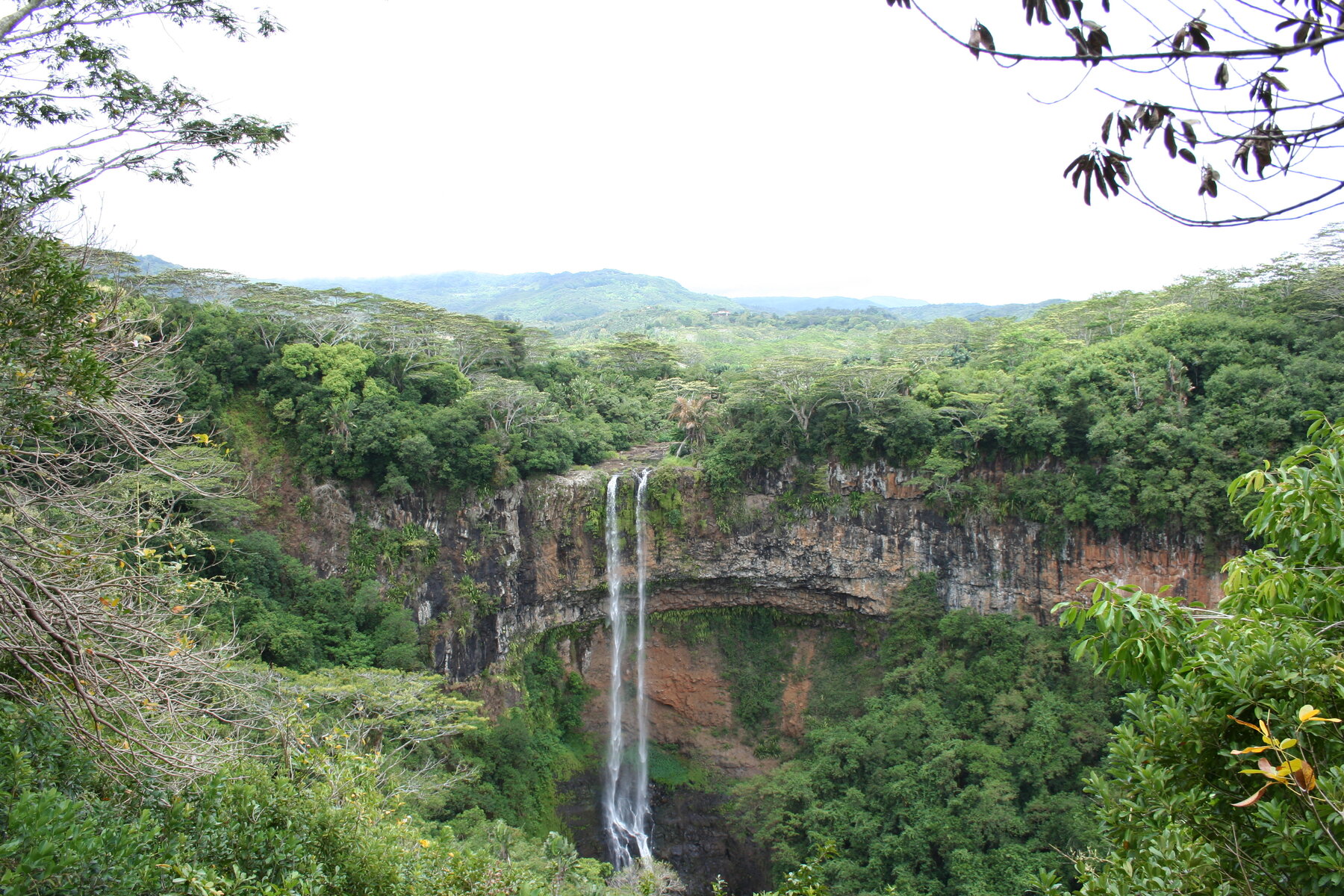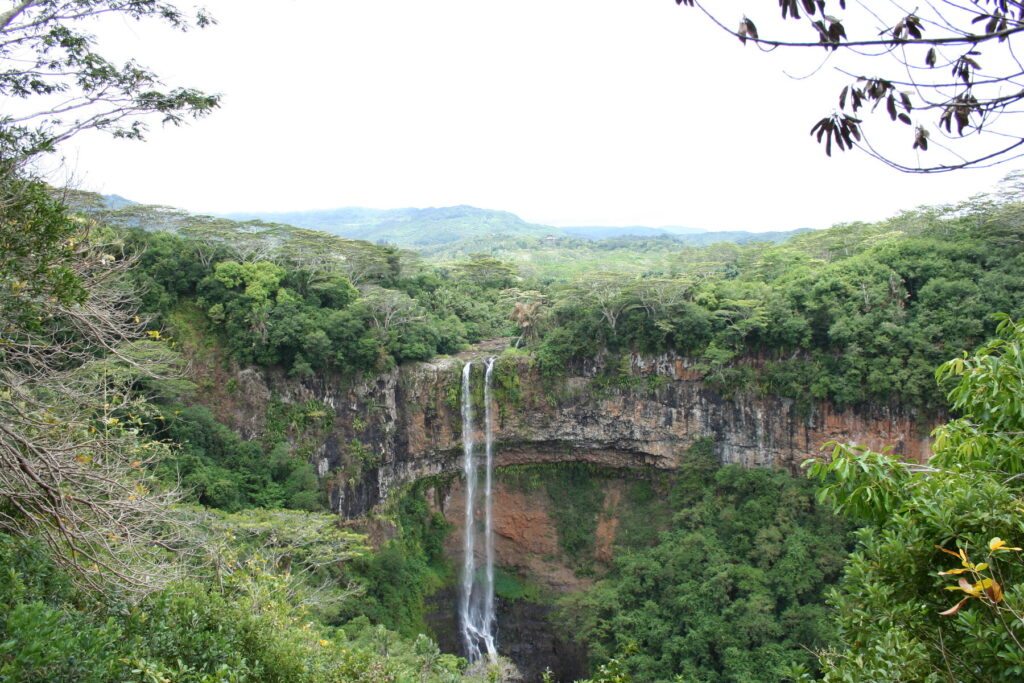 There is a discernible difference between the climate in the north and the south of the island and we were happy to return to the hotter temperatures of Trou aux Biches and spend the last few days of our holiday relaxing in the sunshine.
We did more activities in our two-week holiday than I have space to mention here, but even so I could have done with another week at least as there was still more to fit in. I had my fingers crossed that all flights from Mauritius to the UK would be banned and we would be forced to stay on the island for a good while longer, but it was not to be, so we bid goodbye to my family, and au revoir to Ile Maurice.
---
About the author
Iona Grant is the author of Moray Speyside: A Travel Guide.
Find her on Twitter: @IonaTweeted

More information
For more information on Mauritius, check out the guide by Alexandra Richards: