This working Mauritius tea factory turns 40 tonnes of tea leaves into ten tonnes of tea per day. Guided tours (which start at 09.30) take you through the whole process, from the drying of the leaves when they are first received through to the flavouring of the tea and finally the packaging. Much of the machinery is wonderfully basic and old-fashioned but still does the job. It is certainly worth taking the factory tour when it is operating, but be warned that the machinery is noisy.
Tours take place every 30 minutes in the mornings and in winter the factory usually operates only on a Wednesday, due to the reduced harvest. The main harvest season is October to March, and 80% of the picking is done by hand because only the young leaves are suitable. To see the tea pickers at work you will need to come early in the morning and on a weekday; they finish work by lunchtime to avoid the sun.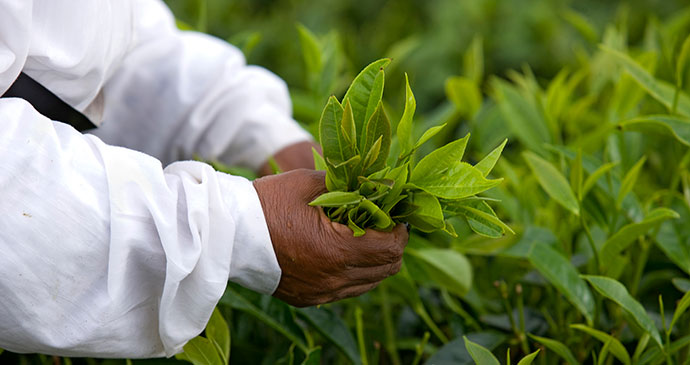 Tea is produced locally on the island and comes in a variety of locally inspired flavours, such as vanilla and coconut © Mauritius Tourism Promotion Authority
To the right of reception is a museum which charts the history of tea and exhibits various machines which have become obsolete over the 120 years that the factory has been in production. A short drive brings you to a wooden building overlooking a lake and tea bushes, where you can taste a number of the teas produced in the factory, such as vanilla, coconut and mint flavours. There is also a good restaurant here with views to the coast. Packets of tea are on sale in the shop and make a good souvenir or gift, starting from just Rs55 for a small pack of loose-leaf tea.
Tour buses seem to arrive around 11.00 and it can get busy at this time. The factory is closed on Sundays and public holidays but the restaurant, museum and tea tasting are open daily.