The island's capital is known for its museums, shops and lively market.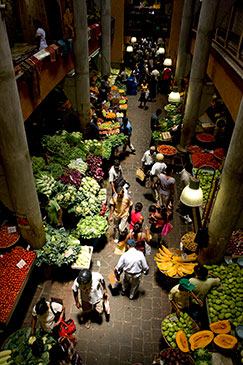 Port Louis looks best from the sea. It is a chaotic but charming city that combines new buildings with old, contrasting with the spires and peaks of the threadbare mountain range behind. In the centre is Pouce, poking 812m into the sky like Jack Horner's thumb. On its left is Pieter Both, a peak named after a Dutch notable who drowned in the bay, distinguished by the boulder balanced precariously on its tip. To the right the city's boundary extends along a switchback of daunting crags: Snail Rock, Goat Rock, Spear Grass Peak and Quoin Bluff. The sheer sides of Signal Mountain (323m) dominate the western flank of the town.
Solid Victorian warehouses and modern concrete towers, like sawn-off skyscrapers, crowd the flat expanse of the city. Houses claim the land right up to the foothills of Pouce Valley, leaving open spaces only on the plain of the Champ de Mars and the isolated 86m-high hill in the middle of the city, on which perches the battered vulture of a fort called the Citadel. Tall royal palms have somehow survived the city's growth to form an avenue of greenery leading from the waterfront up the centre of the Place S Bissoondoyal (formerly Place d'Armes) to Government House.
(Photo: Port Louis hosts a fantastically colourful fruit and vegetable market, which contains two intriguing tisane (herbal remedy) stalls © Mauritius Tourism Promotion Authority)