Since the pandemic, popular national parks and previously untouched pockets of wilderness across the UK have been flooded by first-time visitors, all looking to escape the anxiety, loneliness and uncertainty of the pandemic, if only for a little while.
Here in Wales, interest in our beauty spots has soared since Covid restriction restrictions began in 2020. In the last two years, there have been numerous reports of national parks, beaches and popular hiking trails being overrun with crowds, litter and queues. There was even a fight on the top of Snowdon in North Wales, as people queue-jumped for a coveted summit selfie.
Local police forces had been forced to increase patrols and issue penalty notices during lockdowns, as crowds from both Wales and England descended on favoured beauty spots, despite lockdown rules stating that people should stay within their local area.
The loneliest mountain in Wales
Over in the wilds of the Cambrian Mountains, however, one remote mountain has managed to escape the attention of day-trippers – that of Pumlumon Fawr (known as Plynlimon in English). Located in Ceredigion near Ponterwyd, at 2,468ft it is the highest point in Central Wales, though you won't see any road signs or any marked trails. You really have to be in the know for this isolated hike.
Summiting from the northern side involves trekking through deep valleys, boggy patches and boulder-strewn slopes to the copa (Welsh for summit). It takes around 4 hours to complete, but the views are absolutely worth the trek – you can see as far as Cadair Idris, Snowdon and Aran Fawddwy to the north, and the full sweep of Cardigan Bay is also visible, from Pen Llŷn in the north right down to Pembrokeshire in the south.
I grew up in Wales but had never heard of Pumlumon Fawr until speaking to Dafydd Wyn Morgan, a local guide who leads hikes in the Cambrian Mountains. So, during a brief window between lockdowns I decided to tackle the summit with him, and discovered first-hand what a wild and scenic beauty it is.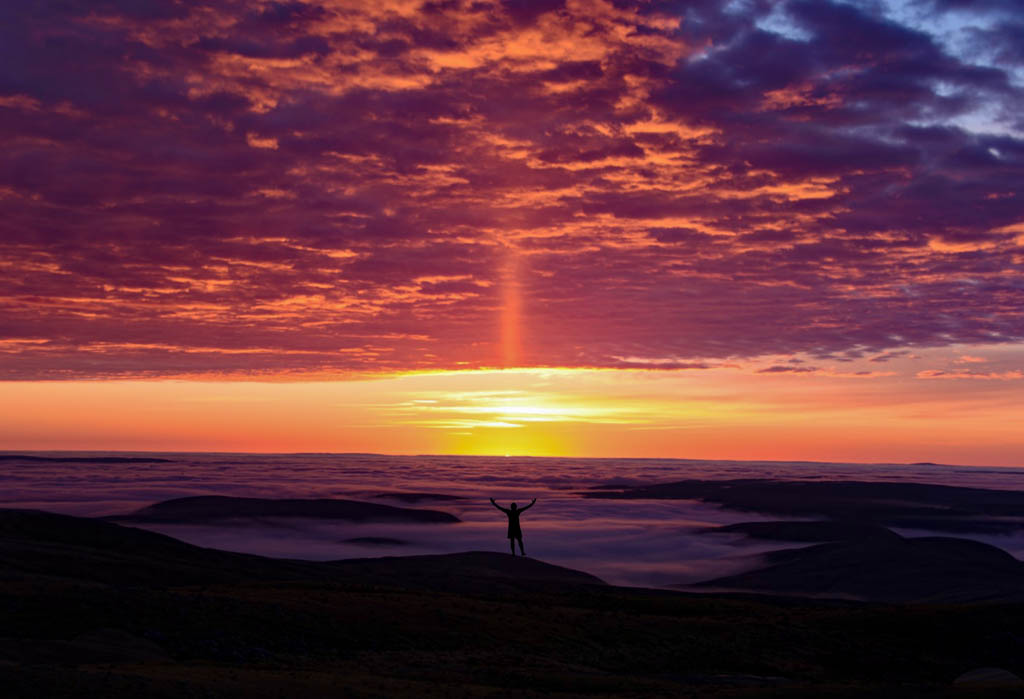 'Pumlumon Fawr has great sunrises and sunsets,' enthused Dafydd, who has been climbing the mountain since 1979. 'A 360-degree view of Wales is possible from the Bronze Age cairn on the summit, as it is near the geographical centre of the country.'
It's a rather remote trek to the summit that rivals Snowdon and Pen y Fan in terms of scenery, but there is one major difference: you're very likely to have this route entirely to yourself.
One reason for this might be because it's definitely not a 'have-a-go' kind of mountain. There are no marked trails, cafés, toilets or gift shops here. It's truly one of the last wildernesses in Wales.
This solitude is both awe-inspiring and eerie. If you're a hiker that finds comfort in crowds, then this is not the trek for you. But if you enjoy unspoilt scenery and almost-perfect tranquility, Pumlumon Fawr ticks both those boxes.
Sparking a debate
As a travel writer, I was eager to share this rare hiking find on social media so that others could experience the 'secret' mountain. I shared my photos to Instagram and earnestly documented my wild adventure on my website, eager to encourage others to make the trip safely.
In hindsight, though, I should have known that highlighting a hidden place was bound to be divisive.
Although many keen hikers were delighted to be informed of a new trekking challenge, others accused me of contributing to its inevitable demise. For a good five internet minutes, I was either a champion of the outdoors or a hiking pariah, depending on who you follow. Needless to say, I went through a considerable amount of wine that day.
But it got me thinking about accessibility outdoors, especially in the midst of a pandemic. Should people be hiking in well-known areas or off-the-radar locations? As reports grew of queues in beauty hotspots, I imagined that calling attention to lesser-known places like Pumlumon Fawr was the responsible thing to do.
Nia Lloyd Knott, mountain leader and owner of Wild Trails Wales, believes that it's not that straightforward: 'On the one hand, it's absolutely fantastic that more people are getting outside and connecting with nature. On the other, there is a delicate balancing act required.
Locations can get completely overwhelmed and, if there isn't sufficient infrastructure, visitor management or environmental education, these areas face huge pressure from erosion, littering and a loss of the tranquillity they are so treasured for.'
Nia believes that spreading out to lesser-known areas is acceptable to a certain extent: 'As long as people can safely and responsibly look after themselves and the more remote places they're visiting. Otherwise, it just spreads the problem wider.'
Another question I asked myself was, if lesser-known mountains like Pumlumon Fawr should remain exclusive, who should they be exclusive to? Access to the outdoors should be for all, not just to those in the know.
Brân Devey, Engagement and Communications Manager at Ramblers Cymru is keen to note the positives of people discovering new walking locations. He said: 'We've been really pleased to see the Welsh public embracing the rights of way network and our outdoor environment through what has been another difficult year.
'People experience huge benefits to both their physical and mental wellbeing when they get outside, so we really would encourage people to get out there and enjoy the outdoors responsibly.'

Brân advocates a responsible approach to outdoor adventure, especially at popular hiking spots. 'There are a lot of great places to walk all across Wales, unfortunately, some of the honeypot sites like Pen​ ​y Fan and Snowdon have experienced huge numbers of visitors and problems with parking and littering.
'Please remember to 'leave no trace' and follow the countryside code as well as the Adventure Smart guidance as mountain rescue teams have been busier than ever. If you are heading out plan an alternative option or two, so that if the weather changes or it's too busy, you can still have a great day out. If we want to enjoy these outdoor experiences, then we also have to be responsible for minimising our impact on nature and the local communities nearby.'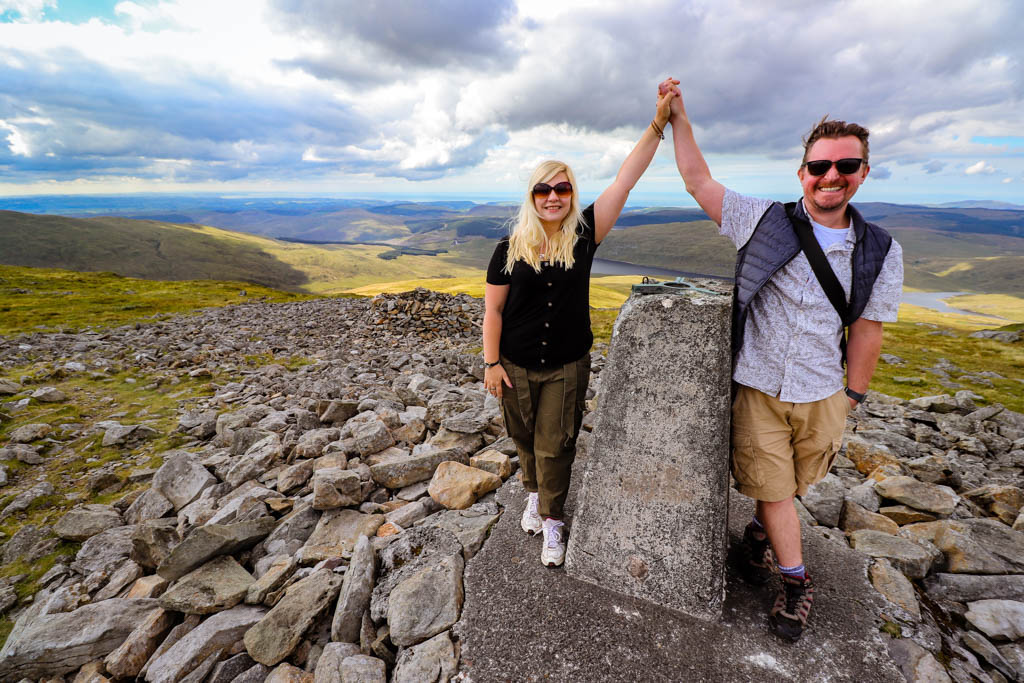 Another problem with inexperienced hikers rushing to secret and secluded spots is that many ill-prepared hikers have become stranded on mountains.
Mountain rescue teams have been urging people to prepare properly before walking in Snowdonia after a rise of call-outs in 2021.
Ogwen Valley Mountain Rescue calls have risen by about 205 last year, with neighbouring Llanberis Mountain Rescue Team "getting calls all the time" to help people.
Volunteer Chris Lloyd said that some walkers are 'dressed as if they're going across the supermarket car park'. He told BBC Radio Wales: 'So many are totally ill-equipped and haven't really thought about where they are going.'
Outdoor leader and Mountain Rescue volunteer Emily Woodhouse thinks that planning and preparation are key for experienced and aspiring hikers. She said: 'No-one wants their hike to go wrong but it's always worth preparing as if it might.
'You never know when you'll be glad of the extra kit you've carried. It gets dark early in winter, so pack a head torch in case you're out later than intended. The weather is less predictable this time of year, so always take a waterproof coat and trousers – even if it's sunny when you set out.'
With many novice hikers keen to explore 'Instagram' lesser-known beauty spots in 2022, balancing access with respect for the outdoors is more vital than ever.
Thanks to social media, geo-tagging and travel guides, clandestine paradises can no longer be sustained. Instead, we must look towards better managing resources, crowds and problematic visitor behaviour, rather than discouraging outdoor access and exploration.
Guide Dafydd believes it might be a while yet before Pumlumon becomes a popular day trip in Wales though, 'A lot of work and investment would be needed to make it more accessible. More and more people are discovering it, but 75% of the time I'm up and down having not seen a soul.'
For now, at least, the secret of Pumlumon Fawr remains with a select few, who have conquered the loneliest mountain in Wales.
---
About Portia Jones
Portia Jones is a UK-based travel writer and host of the Travel Goals podcast. Check out her two websites, Pip and the City and Wales Bucket List, for more of her adventures.
This piece was originally published in The Travel Club, a monthly members-only e-zine from Bradt Guides. To sign up from just £5 a month, which includes access to the magazine and 50% off all Bradt guides, click here.