You don't need to be an archaeology buff to be halted in your tracks by Orkney's stunning Neolithic legacy. While the headline acts are centred on the Neolithic Orkney UNESCO World Heritage Site, on the Mainland you will find burial chambers (known as cairns), standing stones and houses from pre-history right across the islands. Usually, they are located in astonishing settings, on headlands or by the sea. From sprawling Neolithic villages that date back 5000 years to imposing stone monoliths, these are the best archaeological sites in Orkney. 
For more information, see our guide to Orkney.
Skara Brae
This is Orkney's premier archaeological attraction. Britain's earliest known Neolithic village, this sprawling site dates back from 5,000 years and is a truly enigmatic vision. In all, there are eight houses of similar design, with a single room entered from a roofed passageway that, like a street, linked each dwelling. Each house had the same internal layout, with stone beds to the side, a central hearth and a dresser opposite the entrance.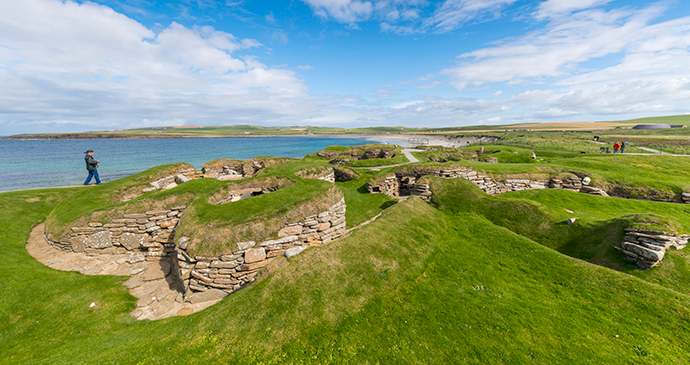 While this uniformity brings to mind a modern building development of identikit houses, it also provides a possible insight into the psychology of those who built them and lived there: harmony may well have been essential to the functioning of the village. This sense is reinforced by the fact that no single house is obviously larger or more ostentatious than any other: this was a community where, most likely, people treated each other more or less as equals.
Maeshowe
Maeshowe derives from 'howe' (Old Norse for 'hill') though the meaning of 'maes' is less certain (the Norse called it Orkahaugr, the Ork Mound). The site lies within a circular ditch that may originally have been much deeper and contained water, thereby perhaps physically and symbolically separating the world of the dead from that of the living.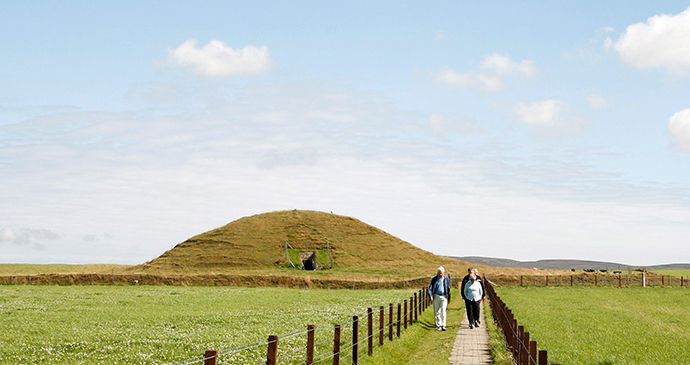 The mound contains a large stone passage leading to an elaborate stone-skinned chamber with side cells. A singular feature is that the passageway and main chamber were constructed to align with the setting sun for the winter solstice as well as for the three weeks either side. At these times, the light of the sun shines down the passageway, steadily moving towards the back of the main chamber and illuminating the side cell at the rear.
Ring of Brodgar
Orkney's answer to Stonehenge, the Ring of Brodgar consists of 27 stone monoliths that vary considerably in size: some are oblong, others thin and slender, still more resemble stumpy incisors. Brodgar's exact age is uncertain as it has never been fully excavated, but it was probably erected 4,000–4,500 years ago.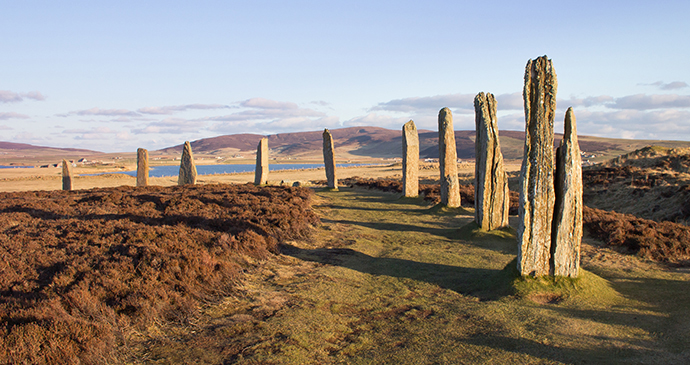 It is thought to have been a convening place for ceremonies, feats and for commemorations of the dead. There is no clear evidence that Brodgar is particularly aligned with the solstices, but it may well have charted the cycles of the moon or sun.
Standing Stones of Stenness
Located half a mile east of the Ness of Brodgar, the Standing Stones of Stenness is one of the earliest stone circles in Britain, comprising four stones rising to 13ft in height and dating to at least 3100BC. The circle would have been an important focal point and, like the Ring of Brodgar, may have enjoyed a ceremonial and ritual purpose.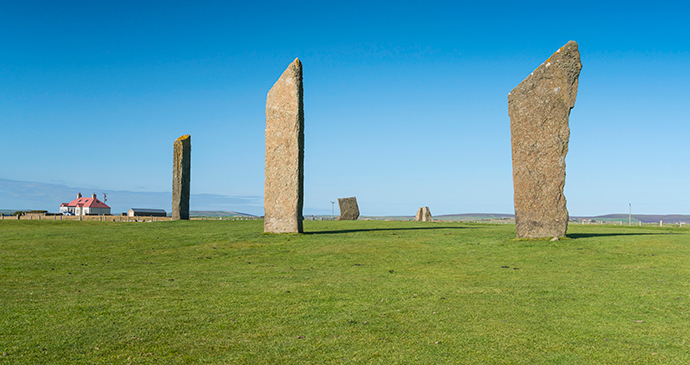 The effort to put the stones in place would have been monumental: it has been estimated that it may have taken 50 people six months working flat out to move and erect the stones, using driftwood ramps to lever them into place. As with Brodgar, this would have represented a major enterprise and social commitment.
The Ness of Brodgar
The strip of land that runs between lochs Harray and Stenness is known as the Ness of Brodgar, and archaeologists are uncovering new and significant archaeological finds here all the time. About half a mile east of Brodgar, the Ness of Brodgar is an unfolding site whose importance increases with every annual dig.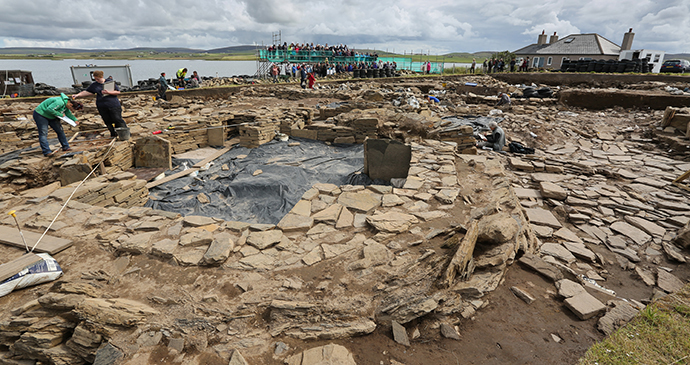 The Ness was completely unknown until 2002 when a geophysical survey revealed evidence of a huge complex at least 5,000 years old and comprising huge stone buildings up to 75ft in length with walls 14ft thick. Excavations began the following year, and finds so far include Neolithic art scratched or etched into stone, painted stonework, polished mace heads and axes, and huge amounts of animal bone.
Knap of Howar
This is Papa Westray's prime attraction, the oldest preserved stone house in northern Europe and consequently the earliest example of a Neolithic settlement in Orkney, predating Skara Brae.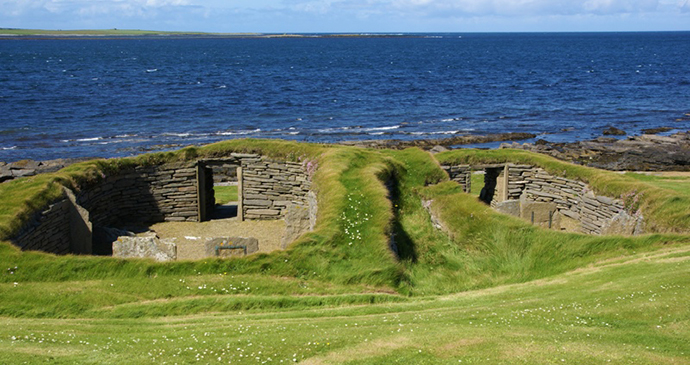 The Knap, which has origins as far back as 3600BC, is a prehistoric two-roomed farmhouse, its walls standing to their original height. This reason alone makes it one of Orkney's must-sees. Combined with its superb setting, right on the west coast, it is simply spectacular; only its distance from Kirkwall keeps the Knap from being deluged by visitors.
Midhowe chamebered cairn
About 5,000 years old, this huge communal burial chamber is known as the Great Ship of Death, on account of the 25 human bodies that were found when the site was excavated in the 1930s. The site was subsequently fortified by the stone-and-corrugated-iron building that now encases it; you walk above the site along a walkway and gantry. Archaeologists still cannot say for certain why the cairn is so big, nor why so many such cairns were built in Orkney.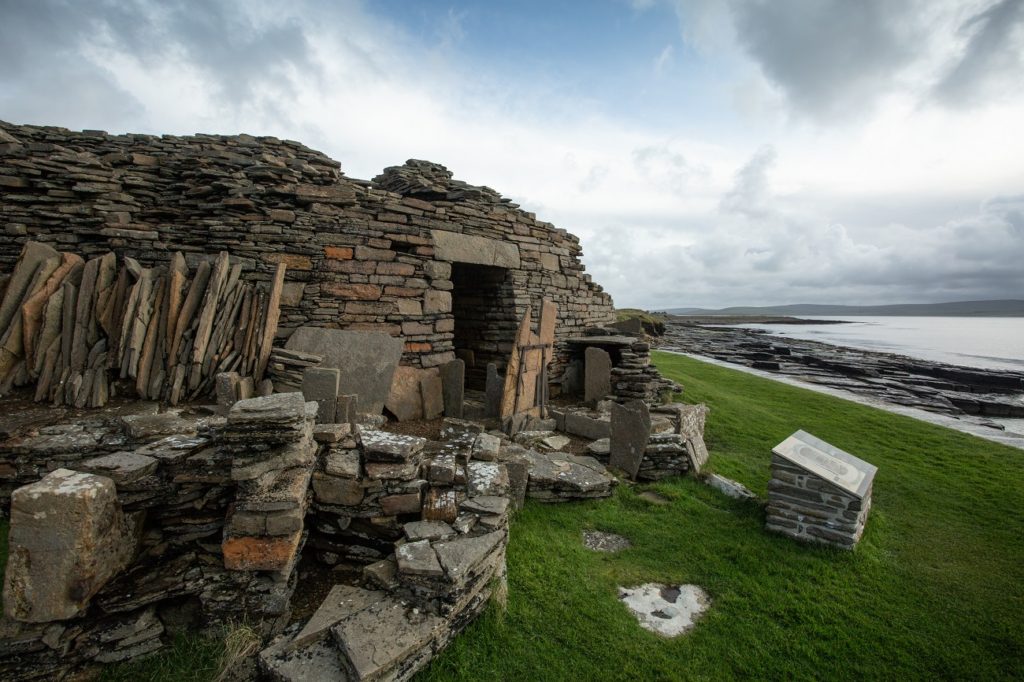 The Midhowe cairn would have been an imposing sight – visible from the Orkney mainland – so might have had special significance. Alternatively, it could just be that every family or community had such tombs and that this is simply how all of Orkney once looked.
Broch of Gurness
This substantial broch, 65ft in diameter and 25ft in height, is rare in Scotland in that it is surrounded both by defences and a village of 14 houses; a good deal of all three elements remain. The site was only uncovered in 1929 and then by accident: Robert Rendall, the poet and antiquarian, was sketching while sitting atop a stool on a grassy mound; a stool leg sank into the ground, and a quick rummage revealed a staircase leading down into the broch.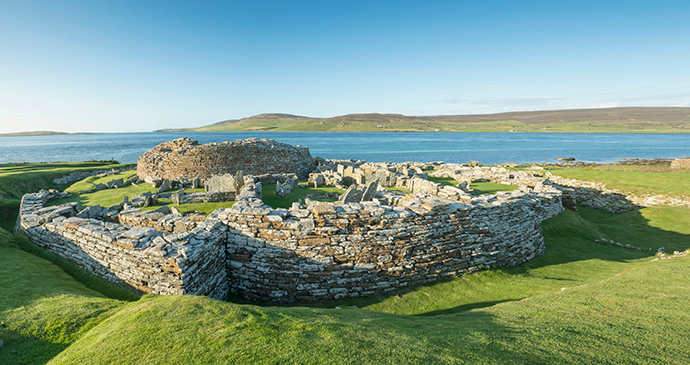 The site is 2,000 years old and, unlike Skara Brae, you can make your way into the heart of the broch and walk among the stone slabs that made up the sleeping quarters. On the east side of the site a line of rocks protruding from the greensward marks the site of a Viking cemetery that subsequently occupied the site. A shamrock-shaped dwelling on the west edge of the site suggests that the Picts also had a farmstead here. Rangers on site are helpful, informative and interesting to chat to.
---