Written by Richard Foster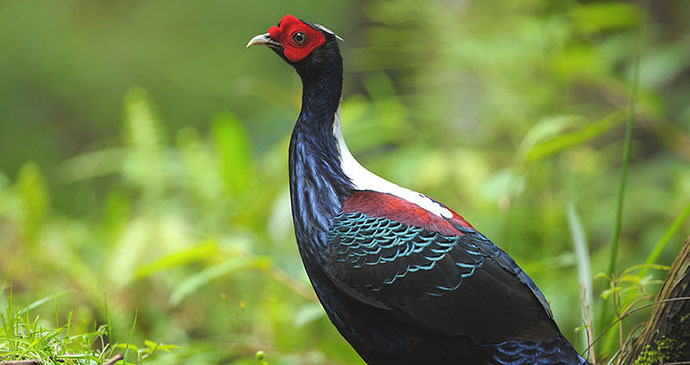 The striking Swinhoe's pheasant is common in Dasyueshan © Robert tdc, Wikimedia Commons
As well as having a thriving local birdwatching scene, Taiwan has emerged as a key stop on the global birdwatcher's journey. Birders come with lists of species they hope to see, but leave impressed by much more than the island's avifauna. Taiwan's advantages include a hospitable population, good infrastructure, well-protected forests, no malaria or leeches, diverse habitats, great flora and butterflies – and all in a fairly compact area. It's possible to see most of Taiwan's 80-plus endemics and endemic subspecies, plus other outstanding birds, in just a few days.
The best places to see birds found only in Taiwan are the national forest recreation areas. For birding, the best-known of these is Dasyueshan where Swinhoe's pheasants (Lophura swinhoii) are often spotted right next to the road. For wintering wetland birds I suggest Yilan County, Jincheng Lake (part of Hsinchu City's 17km Coastline Scenic Area) and Aogu Wetland in Chiayi County.
There's good birding to be had even for visitors unable to get out of the lowland cities and into the high mountains. My favourite sites in central Taipei include the Botanical Garden – probably the easiest place in the world to spot the Malayan Night Heron (Gorsachius melanolophus) – and Daan Forest Park, where you should follow the bird photographers who are always there. At Chiang Kai-shek Memorial Hall, check the ponds and trees on the north, west, and south edges of the grounds. Huajiang Wild Duck Nature Park is less than 1km from the bustle of Longshan Temple in Wanhua. Further out, Guandu Nature Park, further out but within walking distance of Guandu Station on the MRT's Red Line, has excellent facilities managed by the Wild Bird Society of Taipei.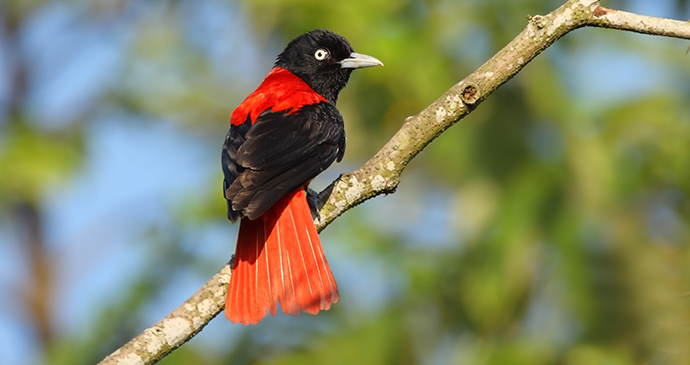 There is a good chance of spotting Maroon Oriole among the mountains around Wulai © old apple, Shutterstock
My favourite site near Taipei is Wulai. Lots of good birds can be spotted amid the mid-elevation mountains here, among them the Taiwan Blue Magpie (Urocissa caerulea), and the Maroon Oriole (Oriolus traillii). From the main village follow either of the two rivers east or south. Further afield, the main lower part of Taroko Gorge can be good in winter, especially the side road to Buluowan and the hiking trail to Lianhua Pond. If possible drive the road westwards and upwards from Taroko towards Hehuanshan as both the scenery and the birding are incredible.
Good birding can be done throughout the year. That said, spring is best with autumn and winter being almost as good. Summer is a bit tougher – not only is the weather hotter, but most migrant species are absent. Don't miss Kenting around 10 October for the raptor migration – birders should go to Sheding Nature Park in the morning, then Manzhou around dusk. Taiwan's minor islands offer numerous opportunities. Matsu National Scenic Area, especially Dongyin Island, is excellent for spotting migrants between mid-April and mid-May and again from mid-September to mid-October. For a change of scene and good winter birding (which even non-birders will enjoy) check out Kinmen County.
Richard Foster, who has seen more than 400 of the 657 bird species recorded in Taiwan, is founder and chief guide of Taiwan EcoTours.
---
Want to find out more about wildlife-spotting opportunities in Taiwan? Check out our comprehensive guide: