From gorge jumping and sandboarding to wadi bashing and white-water rafting, these are the best experiences in the world for adrenaline junkies.
Bungee jumping and gorge swinging at Victoria Falls
Don't forget your passport if you plan to bungee jump at Victoria Falls – you'll need it to be allowed on the bridge, which marks the border between Zambia and Zimbabwe. Solo or tandem, you jump from the middle of the bridge, with the mighty Zambezi thundering along 111m below you.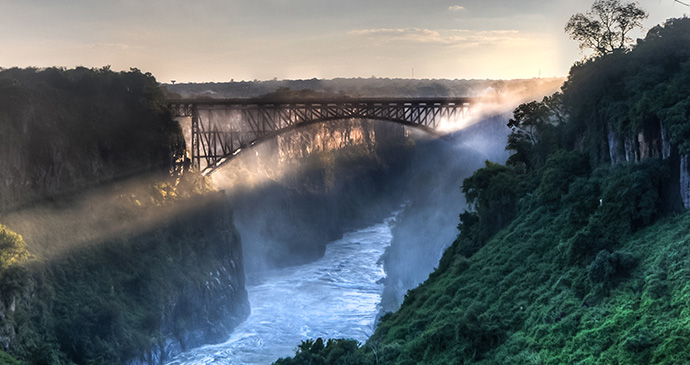 It is among the highest commercial bungee jumps in the world, and not for the nervous. You can book in advance, either direct or through a tour operator, or simply turn up at the bridge and pay there. There's a bar on site, and digital photos and videos of your jump are available.
A popular addition to the adventure menu at Vic Falls is the Zambezi swing, a cable swing set across the gorge which, together with a 90m-high cable slide (flying fox), abseiling (rappelling) and 'rap' jumps (rappelling forwards) down the side of the gorge, offers daring fun for all ages.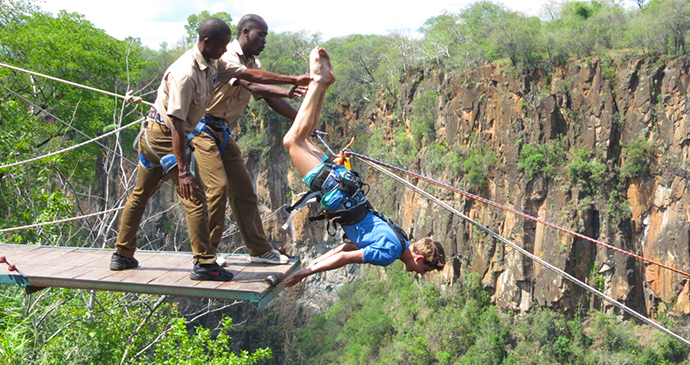 Participants are harnessed to ropes attached to the cable's sliding pulley and, after stepping off the cliff face, experience a heart-stopping 53m, three-second free-fall, followed by an exhilarating pendulum-like swing across the gorge, accelerating up to 140km/h (with a pull of roughly 2.5 times gravity) for some two minutes before being lowered to the ground. It's definitely not for the faint-hearted, though participants as young as eight and as old as 76 have braved it. It's even possible to try it out in tandem.
White-water rafting and tandem kayaking in Uganda
The stretch of the Victoria Nile immediately downriver of its source at Jinja blossomed as one of the world's top white-water rafting venues in the late 1990s, and it has since been developed as the most important centre of adventure and adrenalin activities in East Africa.
The local rafting companies offer full-day itineraries starting on the West Bank of the river above the rapid known as Jaws and finishing near Kalagala Falls. Rafting also offers visitors an opportunity to see a lot of different birds, and to swim in calm stretches of water.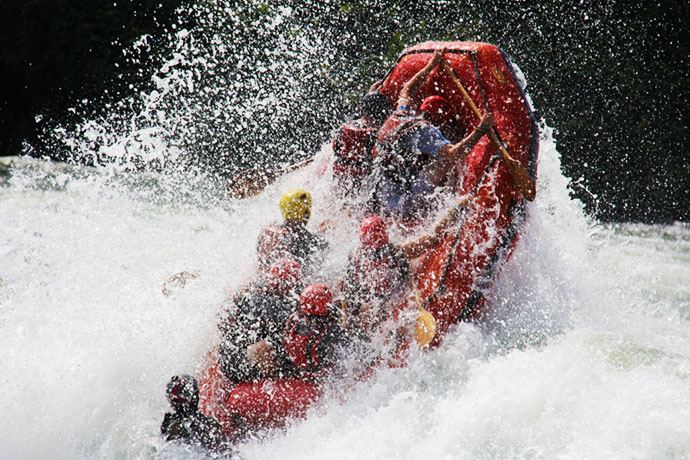 The Upper Nile is also a top spot for adventure kayaking, attracting experienced enthusiasts from across the world. Kayaking is a more testing activity than rafting, since it offers the opportunity to develop your own skills, rather than just bouncing along in a raft controlled by the professionals.
Options start with a half-/full-day introductory course and progress to longer and more testing two-, three- or five-day courses. Full-on Grade V tandem kayaking is also offered.
Overnighting in a ger in Mongolia
In Mongolia, the ger (nomad's tent) is the focus of the herdsman's world and their nomadic lifestyle over the centuries has principally depended on this classic, collapsible, round tent. It is more than just a tent – it is a 'home', since Mongols live in their ger throughout the year and tend to prefer them to other forms of housing.
The ger is a unique model of engineering – an ingenious prefabricated home. The design of this compact tent is ideally suited to nomadic lifestyle, combining coolness in summer and warmth in winter. Made mostly of wood and other locally available materials, it can be quickly assembled or taken to pieces, and is easily transported from place to place on camelback or, more often than not these days, by truck.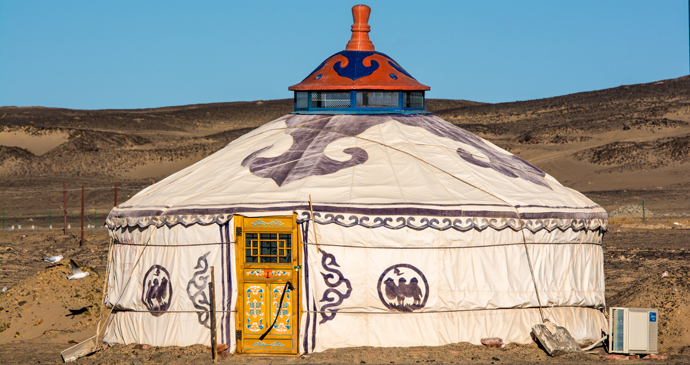 Ger camps have been set up in the most popular areas to cater for travellers, with most of the camps running only during the summer; in some camps gers are taken down in October until the following spring. However, there are ger camps near Ulaanbaatar which are open all year round and are used by hikers or cross-country skiers during the winter.
These traditional gers have brightly coloured furniture and a wood-burning stove in the centre (if it's cold they provide wood). Each ger has two, three or four beds. Most camps have a toilet and shower block nearby with hot water some or all of the time. Nearly all camps have a restaurant (often itself a large ger) where they serve Mongolian and European food. Vegetarians have to give the cook plenty of notice or they'll end up with the same as everyone else but minus the meat.
Sandboarding in Namibia
The old German town of Swakopmund is used to tourists, having established a name for itself as the centre for adventure travel in Namibia. It attracts swathes of adventurous visitors seeking 'adrenalin' trips, with numerous new and highly original options on offer, from freefall parachuting to dune-bike riding.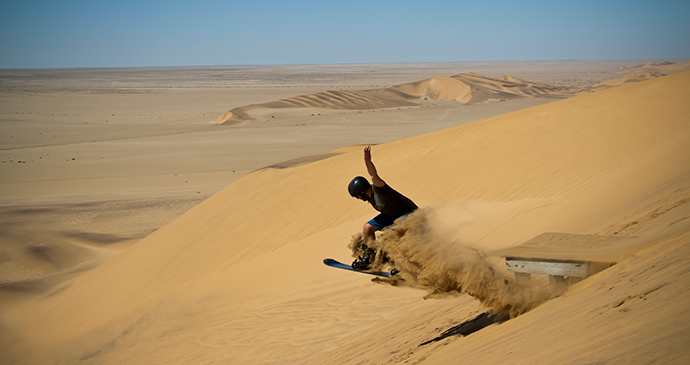 The most popular activity in this area is sandboarding, where you lie on a board and shoot face first down the dunes of the Namib Desert. Speeds easily reach 70km/h or more, though at first you'll do a few training rides on lower dunes, where you won't go much faster than 40km/h. Typically, trips leave from Swakopmund in the morning around 09.30, collecting you from your accommodation and returning around 13.30.
After some practice runs, they take you to a couple of the larger dunes, for longer, faster runs, before lunch in the desert, and the return drive to Swakopmund. As a spin-off from sandboarding, offered by all operators, stand-up boarding, also known as dune-boarding, uses a modified snowboard. Participants stand on a small surfboard which shoots down the side of dunes – rather like skiing, only on sand. It may have more finesse, and certainly requires more skill.
Swimming with whale sharks in St Helena
Diving in St Helena is extraordinary on many counts – not least the remote location and clear, unpolluted waters. Visibility regularly tops out at around 60ft (20m) and not far offshore, the rocks plunge almost straight down into the abyss, so that only 15m or so from the coast you'll be diving in water that's up to 3,280ft (1,000m) deep.
There is no shortage of marine life to be seen in these waters (pages 45–6), including butterflyfish, parrotfish, scorpionfish, puffers and morays, several of them not seen anywhere else in the world. The creature everyone wants to see, though, is the whale shark.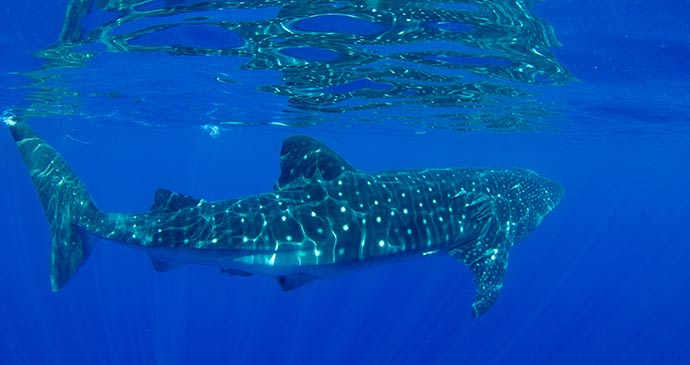 In season, roughly between January and early March (though the best time to see them is in January), most boat trips off er the opportunity to swim with whale sharks – so even if you're on a fi shing trip, do take your swimming things (including a mask and snorkel), just in case.
Tidal-bore rafting in Nova Scotia
For those seeking soaking thrills and spills, Nova Scotia offers its own unique version of white-water rafting. Things usually start with a gentle boat trip on the Shubenacadie River on which you may see bald eagles.
Near its mouth, rather than a rocky bottom, the river has several sandbars. As the incoming tide rushes up the river, big – but temporary – tidal rapid waves are created over each sandbar. These rapids dissipate after ten to 15 minutes.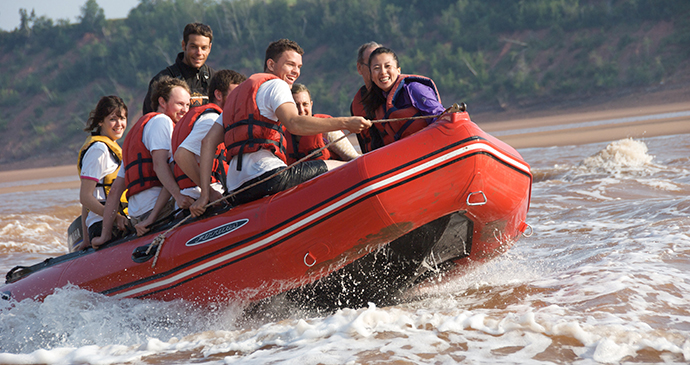 Skilled and experienced guides are out to thrill, and pilot motorised inflatable (zodiac-type) boats to hit the waves head-on, lifting the craft and its occupants into the air and crashing them back onto the water.
Apart from the splashing and rushing water, expect shrieks and screams of laughter from your fellow passengers. The boats ride the rapid and have time to turn and do it again two or three times at each sandbar.
Canyoning in Mauritius and Réunion
There are very few things that can compare to canyoning for the true outdoor adventurer, and it is becoming increasingly popular amongst thrill-seekers in Mauritius and Réunion. The islands, with their innumerable waterfalls and spectacular gorges, boast the ideal landscape.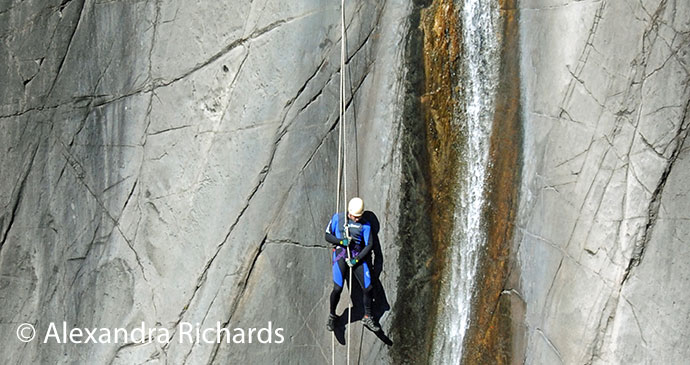 The combination of waterfalls, scenic views, fast ziplines, abseils, water jumps, lush green environment and the excitement of doing something different is what makes canyoning trips a unique experience with unforgettable memories.
Diving in Iceland
Iceland is fast becoming an adventure destination, where adrenalin junkies can throw themselves into rushing rivers or snowmobile off the edge of a glacier. A more unique experience is diving in Thingvellir.
Exploring the underwater splendours of Thingvallavatn is an extraordinary adventure unlike any other. For starters, such pure, cool, and naturally filtered water offers incredible visibility – up to 150m. The view is far more lucid than any tropical sea and taking in the submerged scenery through such sunny blue water seems clearer than on land.
Blocks of basalt walls and untouched sandy bottoms are decorated with the strangest algae growths in pink, purple and neon green. It is beautiful, if not slightly frigid, but where else can you pull your regulator out of your mouth and take such a refreshing drink at the bottom of a lake?
River tubing in Dominica
River tubing has become a very popular activity in Dominica, particularly as a shore excursion for people visiting by cruise ship.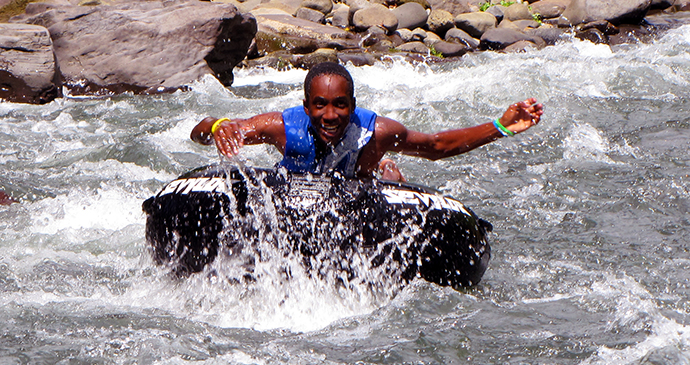 Sit yourself in a large inflatable tube, shoot rapids, and drift along a river through the island's beautiful forest. Suitable for all ages, life jackets are provided and trained guides are on hand to tell you about the area and to assist in case of difficulties.
Maasai camel safari in Tanzania
The most successful of the cultural tourism programmes around Arusha in northern Tanzania is based at Mkuru at the northern base of Mount Meru. It's a very well-organised set-up, offering a selection of facilities and activities that seems to increase with every passing year, although these days it's pitched more at the mid-range market than budget travellers.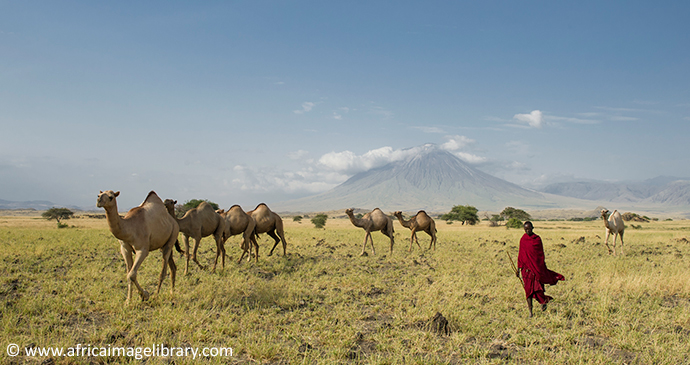 The main attraction here is organised camelback trips, which range in duration from day outings and overnight trips into the wildlife-rich plains towards Longido to a week-long trek to the fiery Ol Doinyo Lengai volcano and Lake Natron. In addition to camel treks, it offers a variety of day walks – a bird walk on the plain, a hike to the top of Ol Doinyo Landare, cultural visits to local healers and women's craft groups.
Wadi bashing in Oman
A wadi is a dried natural watercourse that has been formed over millennia by rains washing down from the mountains. Wadi bashing is the popular name for taking a 4×4 through these dried mountain riverbeds. Although the name sounds quite severe, you might be relieved to hear that the 'bashing' can be done gently or exhilaratingly, depending on your personal preference.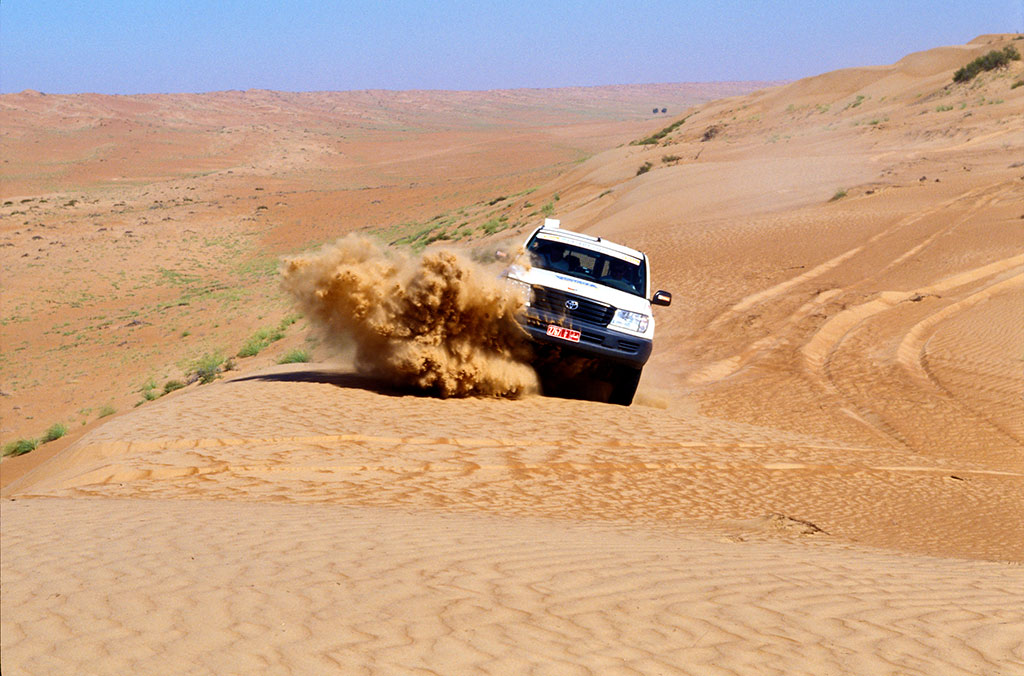 Locals, tourists and expats alike enjoy this off-road adventure, which can be done as a half-day or full-day trip, or an overnighter (if you are keen on camping), taking along a picnic or barbecue and plenty of drinking water (filling up a cool box with ice and bottled drinks is recommended). In the same way, a 4×4 can be taken through the sand deserts of the country – known as dune bashing – and these deserts can be quite breathtaking. These trips provide an opportunity to savour the vast wilderness, which Oman has in abundance.
More information
Eager to start planning your next adventure? Take a look at our guides: