Written by Murray Stewart
We've been in the minibus for 45 minutes and have circled the tiny town square five or six times, looking for passengers. My driver, Xoko, can see I am on the point of getting out. An exit would be all too easy, as we are no more than 100 metres from where I jumped in and nodded when he told me we would be leaving 'soon.'
'Soon' is a flexible concept, of course, one that is capable of cultural manipulation. In Cape Verde, it is interpreted at its very outer limits. But it's all part of the fun here, a chance to re-learn the meanings of 'patience' and 'flexibility.' If you want your holiday to run like the Swiss railways, then take a train holiday. In Switzerland.
Cape Verde – or the Republica de Cabo Verde as it has recently become – is an archipelago of nine diverse inhabited and one uninhabited islands west of Senegal. So far west of Senegal, in fact, that its gaze is set firmly over the ocean towards the United States and Brazil. At times, an eastern seaboard drawl emerging from under a Boston Celtics' baseball cap could fool you into thinking you're in Massachusetts; at others, the preponderance of French speakers might place you in the French West Indies. Although a Portuguese imperial outpost for four centuries, the Iberian influence persists mainly in the elegant sobrado architecture and the official language. But on the streets you'll hear only kriolu, the shouty, rather expressive melding of West African dialects and just a dash of Portuguese. In Cape Verde, you're in a truly tasty melting-pot.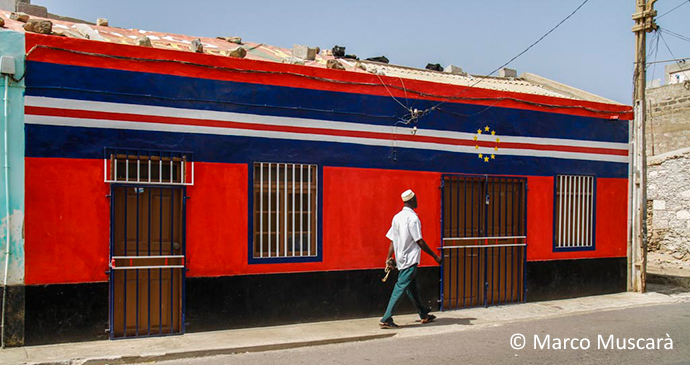 Experience a more laidback way of life in Cape Verde © Marco Muscarà
A stable democracy since peacefully gaining its independence in 1975, Cape Verde's splendid mid-Atlantic isolation guarantees its immunity from those pesky neighbourhood disputes that seem to blight the rest of the Dark Continent. Freed from any such tensions, smiling and engaging Cape Verdeans welcome their visitors as warmly as their year-round sunshine does.
For the curious, a diversity of landscapes awaits, resulting from the vast differences in the age of the constituent volcanic islands. Sal, Boavista and Maio are the oldest, and the centuries of wind and waves have worn down the former peaks, creating flat, barren landscapes. Crucially for the package-holiday market, the result of being weather-beaten is also a succession of dazzling white-sand beaches – a sort of mid-ocean extension of the Sahara desert. Over 95% of British visitors to Cape Verde stay on either Sal or Boavista, almost invariably in all-inclusive hotels largely under the control of big tour operators. Adrenalin-freaks can wind- and kite-surf in world-class conditions here; watching nesting and hatchling turtles provides a gentler alternative.
Elsewhere, away from those three island 'old boys', the adventurous tourist could be in a different country – a true taste of Africa. On the very youngest of the islands, volcanic activity is anything other than a relic of history. Fogo, the 'Fire' island, saw an eruption as recently as 2014, a slow-moving, arcing lava-flow destroying nearly all of the buildings in the crater villages. Thankfully, there were no casualties: shaken, not stirred, the residents have returned and rebuilt. You can still climb the mighty volcanic peak, topping out at nearly 3,000m. A spectacular hike, you then slide back down again knee-deep in volcanic dust. Surely the ultimate white-knuckle ride? And, thanks to that same dust, the ultimate black-leg and dirty sock ride, too.
Pico de Fogo last erupted in 2014 © Martin Haigh
Hiking on Santiago, Santo Antão or São Nicolau islands will bring you close to the locals, eager to greet you as they chop their sugar cane or tend their goats halfway-up improbably lush ribeiras. Take a fishing trip off tiny Brava to see how the resilient islanders eke out a subsistence, or join the party in Mindelo to understand how Cape Verdean music is the glue that seems to hold the whole wonderful archipelago together.
So, be one of the adventurous minority, rise from your sunbed and engage with the locals. Be curious as to how the locals live their lives. Enjoy their music, dance with them, hike their valleys, swim their oceans. Go now, get close, be curious, and get rewarded by Cape Verde and its beautiful people. And when you're there, be patient: that minibus will be leaving anytime soon. Perhaps.
---
Ready to plan a trip? Here's 10% off our Cape Verde guide: