Without a doubt, the Bohuslän coast is one of Sweden's most enchanting and alluring regions. As you'd expect, the landscape is dominated by the sea: this is a region of rocky bluffs, cliffs, islands and skerries which stretches for 160km from Gothenburg to the Norwegian border.
Yet what makes this deeply indented coastline, punctuated with no fewer than 8,000 islands, so special is the unusual colouring of the rock – pink. Known as Bohus granite, the rock bears a distinctly pink hue and is found extensively between Fjällbacka and Lysekil, often running in linear formation a little off the coast. Naturally, small fishing communities grew up around the numerous natural harbours and herring, in particular, remained the region's lifeblood until the early 1900s.
Today, though, Bohuslän is known for its succulent seafood: mussels, oysters, lobsters, langoustines, crabs and prawns all thrive in the deep, cold and exceptionally clean waters off the Swedish west coast. The cold waters cause the crustaceans to grow more slowly than in warmer climates, which consequently produces an exceptional taste.
A trip up the coast offers the opportunity to see and sample mussels and oysters in their natural habitat on board a 'seafood safari'; alternatively, take to the water in a sea kayak and explore the coast's uninhabited islets and islands at your own pace; go walking; or head out to any of the larger islands for a spot of island hopping, or simply cycle along quiet country lanes out to the beach and laze in the sunshine.
The highlights
Marstrand
A delightful holiday island with no cars, more yachts than you can ever imagine and the imposing stone fortress Carlsten to top it all off: this is Marstrand, a firm west coast favourite and sailing centre, about 50km northwest of Gothenburg and linked to the mainland by a 5-minute ferry ride.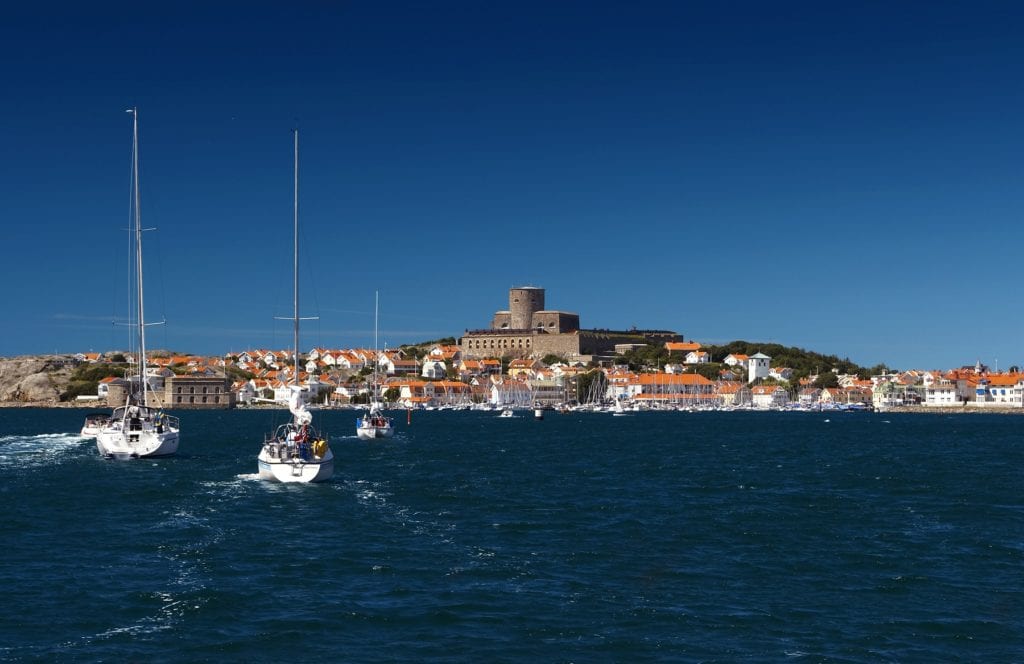 Life moves at a relaxed pace here, and while there is no ticklist of sights, there is plenty to occupy a leisurely morning or afternoon: wander around the cobbled streets and alleyways, pop into the many handicraft and clothing shops, admire the pretty wooden houses and stop for a cup of coffee and a cinnamon bun on the quayside.
Orust
A centre for boatbuilding since Viking times, the island of Orust is bare on its windward coasts, yet has forest right up to its eastern shores. Cycling is a popular activity on the island and bikes can be hired from the waterside Slussens Pensionat in the village of Slussen, where there's often live musical performances and a great place to spend the night.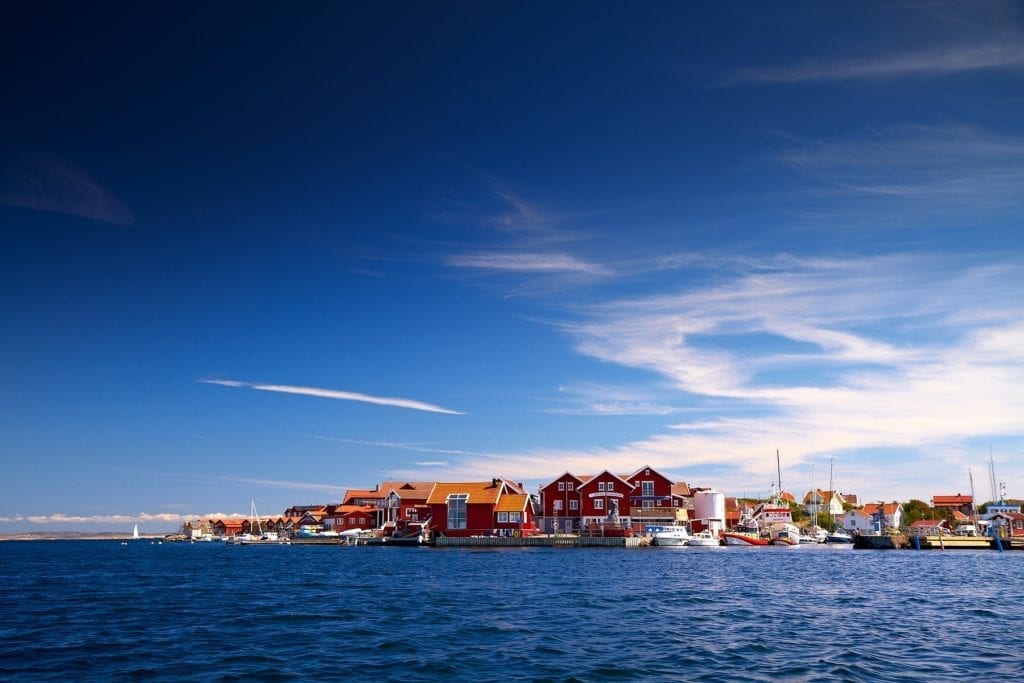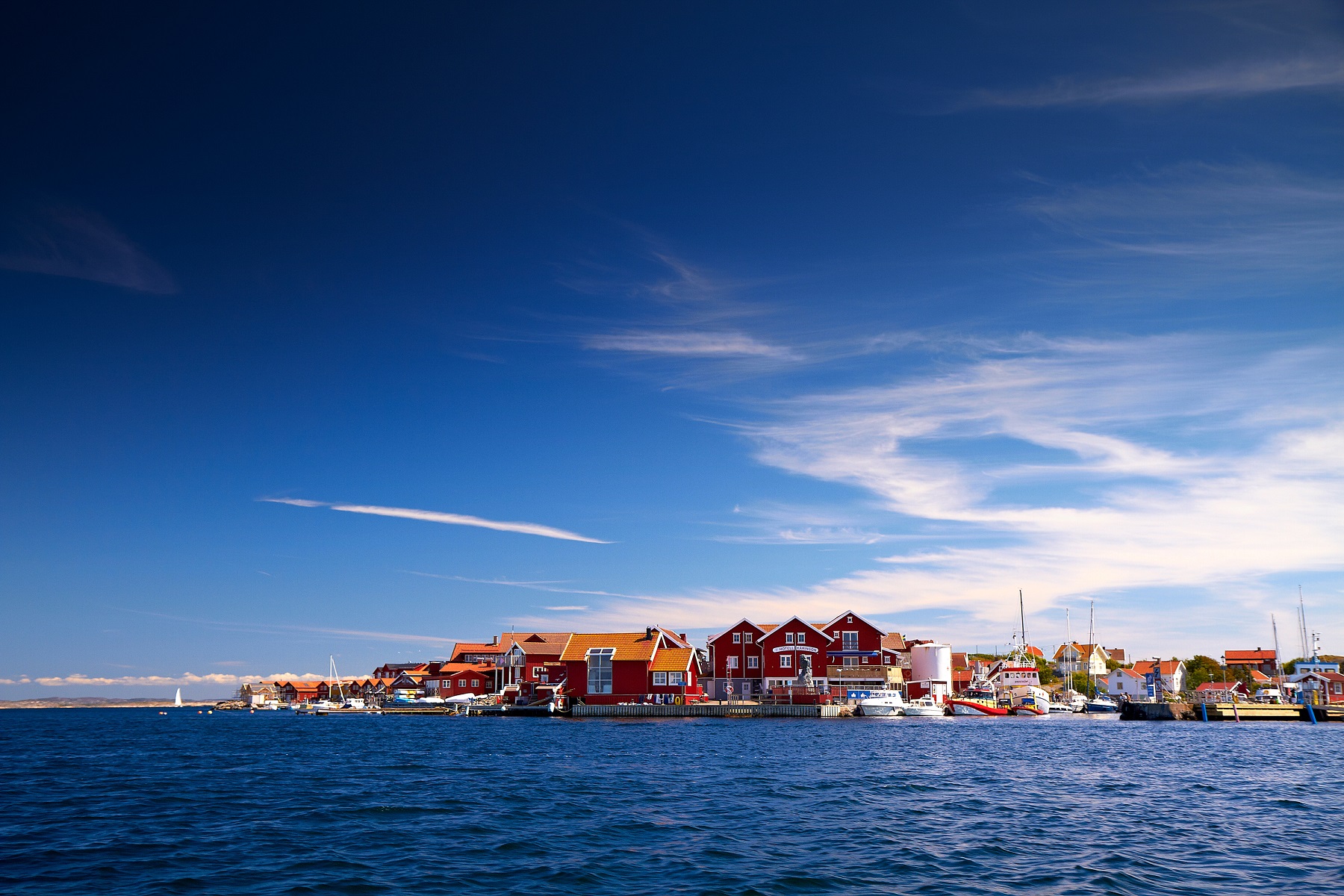 Orust is pretty enough but there are other attractions just offshore, too: the tiny islet of Gullholmen is one of Sweden's oldest fishing villages, whereas Käringön island is quite simply the most beguiling place on the whole Swedish west coast and is not to be missed.
Lysekil
Lysekil (roughly pronounced loo-suh-sheel) is quite simply the largest place for miles around and, accordingly, is a good place to stock up on supplies and sample some of the cafés and restaurants in town. However, what makes Lysekil really worth a visit is the chance to take a seafood safari out to the mussel and oyster beds offshore and then sample the seafood yourself.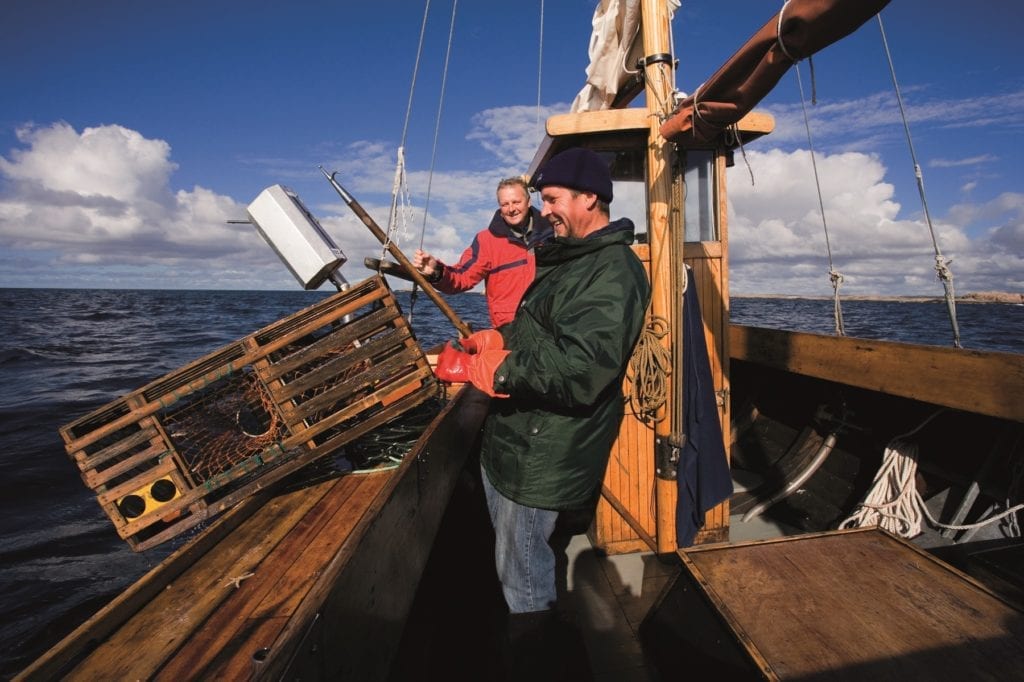 As you enter Lysekil, heading down the gentle hill which leads towards the town centre, you will probably spot the imposing church which dominates the entire skyline and is regularly used by seafarers as a guiding landmark. It's built from pink Bohus granite in neo-Gothic style, dates from between 1899 and 1901 and, most significantly, contains a pulpit carved in 1670 in Stralsund, Germany.
Smögen
From Lysekil it's an easy drive of around 50km out to one of the west coast's classic destinations: Smögen. This tiny fishing village, linked to the mainland by an arching bridge, has been attracting tourists since the early 1900s when it established itself as a well-to-do bathing resort. Today (or before Covid, at least) it's one of the liveliest places on the west coast.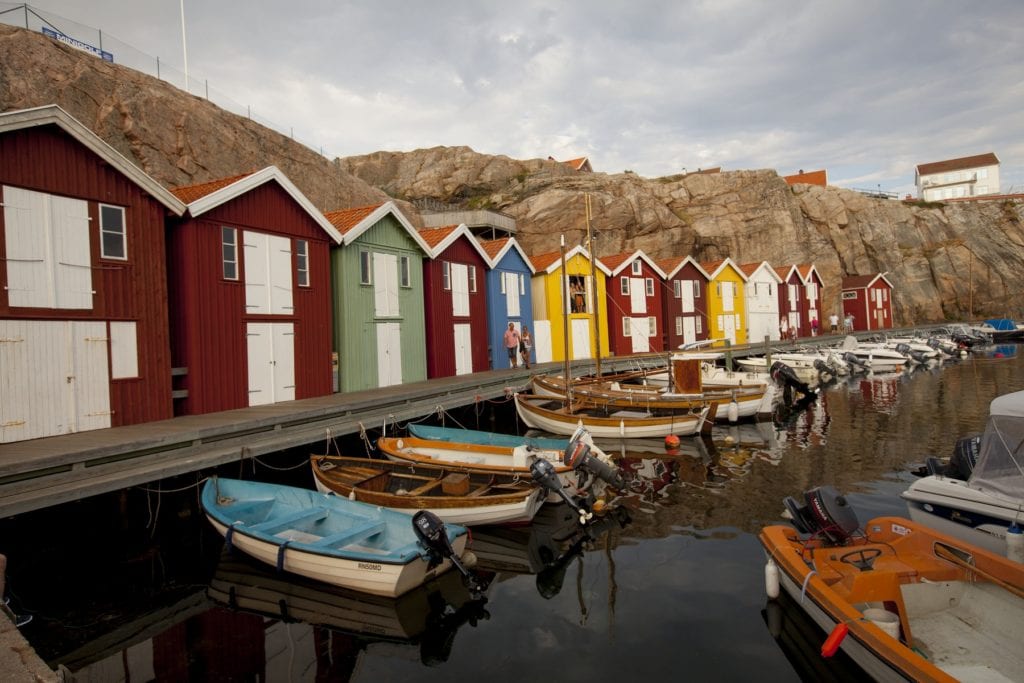 Smögen is best known for its 600m-long wooden jetty, known as Smögenbryggan. A stroll along its length will take you past any number of chi-chi boutiques selling fashionable clothes, artwork, handicrafts and other knick-knacks, which now occupy the former boathouses and fishing huts. Yachts also tie up here for a day or two and there's often quite a party atmosphere down on the jetty as yachties and tourists fill the plentiful restaurants and cafés which line the waterside.
Fjällbacka
Located at the foot of an imposing 74m-high granite cliff known as Vetteberget, Fjällbacka is a picture-perfect little village whose houses are painted in fondant shades and decorated with a wealth of intricate gingerbread designs known as snickarglädje (carpenter's joy). Indeed, the cliff and its accompanying ravine, Kungsklyftan, form the village's main sight; the ravine was named after King Oscar II who visited the town in 1886. At 20m deep and 5m wide, the ravine is dominated by four massive boulders, deposited by the inland ice and now wedged between the rock walls of the gorge.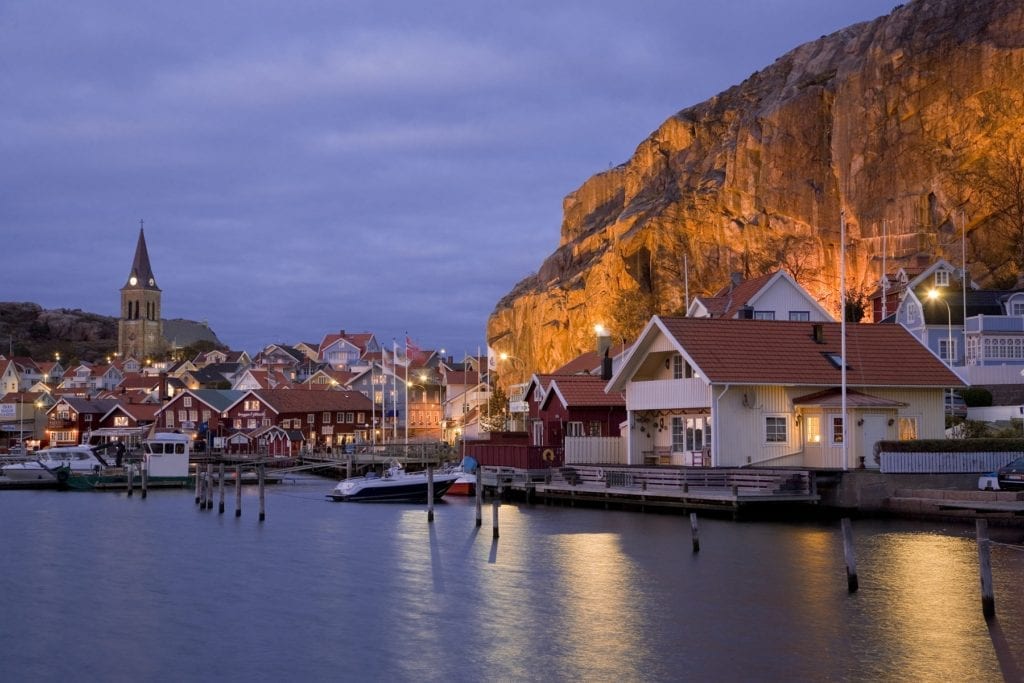 From the top of Vetteberget there are sweeping views of the islands which make up the Fjällbacka archipelago. In the central main square, down at the harbour, you'll find a statue of the Swedish-born Hollywood actress, Ingrid Bergman, who spent many a summer on the island of Dannholmen, just offshore.
Kosteröarna
Sweden's westernmost inhabited islands, Kosteröarna, or the Koster islands, 10km off Strömstad, are a real highlight of any trip along the Bohuslän coast. Not only do the islands enjoy more hours of sunshine than virtually anywhere else in the country but they are ideally suited to leisurely exploration by bike or on foot – a haven of peace and quiet, Kosteröarna are generally car-free.
Rural Sydkoster boasts one of the best and biggest sandy beaches on the entire west coast, and rugged Nordkoster has dramatic scenery aplenty.
Bedding down
One of the most agreeable places to stay on the entire Bohuslän coast,
Väderöarnas Värdshus is an extraordinary guesthouse. With just 15 snug little rooms, some with private facilities, this remote island getaway is the ideal place to come to experience peace and quiet and wake up to some stunning sea views – and a hearty breakfast. There's a restaurant here too, and the guesthouse, which is open all year, also boasts a sauna and two hot tubs right by the water's edge.
It's here, too, that you'll find Sweden's first floating hotel and restaurant: Salt och Sill. The hotel offers compact rooms decked out in maritime colours and styles right on the water (you can swim from right outside your room), and the restaurant serves the best herring for miles around and comes highly recommended.
Stylish to a T, one of the most glorious places to savour the sweeping vistas of the west coast is Lådfabriken at Edshultshall; this former fish factory boasts picture windows just above the shoreline.
In Ekenäs, where the ferry docks from Strömstad, you'll find the best place to stay on the island: Hotel Ekenäs Koster. The hotel sits on a rocky bluff offering superb sea views from both its rooms and the outdoor deck, where you can savour some of the most succulent seafood you'll ever taste while breathing in the fresh sea air perfumed with the scent of honeysuckle, lady's bedstraw and tangy seaweed.
More information
Discover more of west Sweden's highlights in our guide:
Bradt Guides Collections
Enjoy huge discounts on a series of our books – up to 40% off!