One of the most striking things about Orkney is the strong sense of culture that you encounter everywhere. The festival calendar is a colourful affair, and craft-making is something of a high art, with all that sheep's wool is put to good use by some exceptionally talented designers.
Perhaps this is because Orcadians have always had to be self-sufficient: if you couldn't grow wheat properly, or build a boat with which to catch fish, you starved. Or perhaps it's just all those dark nights where the human spirit needs something to wile away the winter.
A rich heritage
Orkney's rich history is markedly visible across the islands in its well-preserved Neolithic villages and chambered cairns, but there is no better place to learn more about its fascinating past than at the Orkney Museum in Kirkwall. Accompanying you all the way from prehistory through to the 20th century, this charming museum is a treasure trove.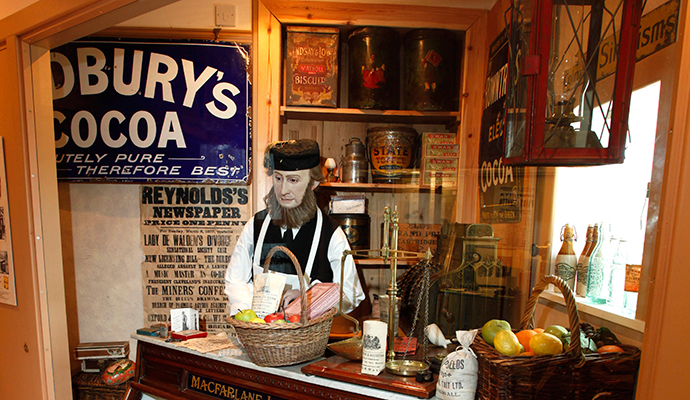 You may well be surprised by the quality of artefacts on display; the sort of items that might easily have been snaffled by a UK mainland museum include Pictish symbol stones adorned with eagles and hippocamps (a hybrid horse with a fish tail), a carved whale bone plaque and burial cists with human skeletons buried in a crouched position.
The best whisky in Scotland?
Island whisky is one of Orkney's greatest exports, and the islands are home to a handful of worthwhile distilleries. The world's northernmost distillery (by a mile or so), Highland Park is also the sixth-oldest in Scotland, dating to 1788. In the best traditions of such enterprises, it began as an illegal still-on-a-hill (High Park) outside Kirkwall run by Magnus Eunson, part-time bootlegger, part-time clergyman.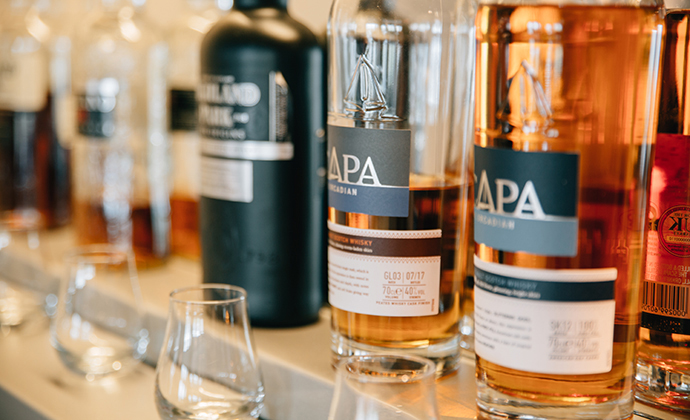 Tours are good value and much more entertaining than many such experiences, mainly on account of the traditional methods, equipment deployed and your proximity to the machinery.  It is also something of a pilgrimage site for whisky lovers; 30,000 visitors from as far away as Yukon and Japan take the tour each year.
Just a touch south of Highland Park is Scapa Whisky; founded in 1885 and restored in 2004, it produces a less peaty single malt than most.
Orcadian chairs
Chair-making is a distinctively Orcadian craft, rooted – to some extent literally – in the earth of the island. A visit to the Kirkwall workshop of Jackie and Marlene Miller, who have been making bespoke chairs from driftwood, straw and oak for nearly 30 years, shows why this is the case.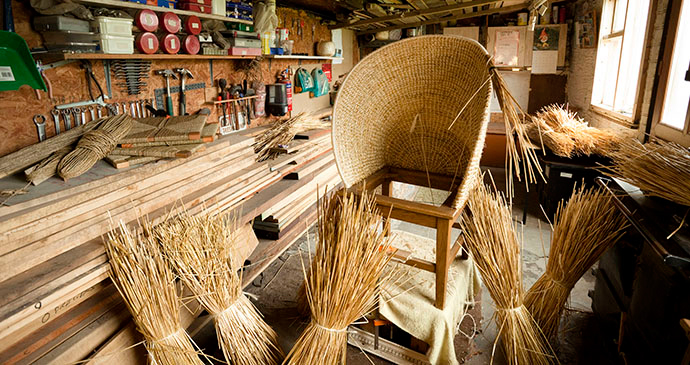 Each Orkney chair is bespoke and easy on the eye, thanks to wooden legs and arms and knitted-straw backing. There are three basic designs: a low rounded stool; the low-backed chair, which rises to the shoulder; and the hooded chair, or Heided-Steul (from 'heid', the local word for 'head', and 'steul', from the Old Norse for stool).
The reality is that Orkney chairs were nothing special to 19th-century Orcadians; they were simply the logical thing to make from materials to hand. Today they are made from imported oak or walnut and finished with linseed oil. Nothing is wasted. The discarded chaff from the straw is given to a farmer for bedding, the oats for the hens; in return the Millers get eggs.
A chair takes up to three weeks to make and orders come from all over the world. With prices starting at £1,100, they are not cheap but when you factor in the labour and skill involved, it's clear why costs are higher than at your local furniture centre. 'It just takes time,' says Jackie. 'It's very hands on, it's delicate work, you can't rush it. It matters, there is a history to it.' 
Jewellery making
Along with chairs, jewellery making is another craft that has evolved on Orkney to extremely high standards. The modern-day tradition dates from the 1960s when Ola Gorie set up the first jewellery and silver workshop on Orkney. Today, several jewellers and silversmiths of local, national and international renown either hail from Orkney or now call the islands home.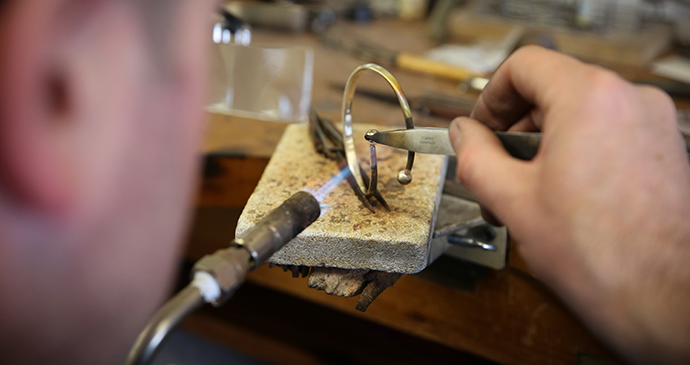 Names to look out for include Burray-based Karen Duncan, who was the first Orcadian to be accepted into the Guild of Master Craftsmen.
Fiona Mitchell, who runs Castaway Crafts in Dounby on the Mainland, is almost evangelical about the quality of Orcadian craftsmanship: 'It is extremely good. We do not accept anything less than excellence. Some people have made poor things here but they don't last long in the business. They get known and they get told. There is a long history on the islands of people spinning their own wool, making their own things. If you make it for yourself then you make it to last, so you make it good.'
---
Discover more about Orkney's fascinating culture and traditions in our comprehensive guide: