I first heard about the island of Socotra in a browning copy of a newspaper I found at my grandparents' house. They hadn't kept it for this reason, but it featured a piece on British explorer Douglas Botting and his 1956 expedition to a 'rare and rough island' lying off the Horn of Africa. Then a young, adventure-hungry Oxford undergrad, Botting was searching to give the Oxford Exploration Club a reason to send him anywhere. So, he drew a circle around an island that neither he nor his encyclopaedia had heard of and pitched the idea.
They approved, and his team of six – including a professor of botany and the Director of Antiquities from Sudan – led the first expedition to Socotra since the 1800s, and subsequently opened the gates for a slow but steady stream of pioneering enterprises.
Two decades after reading that article, I find myself running through dragon's blood trees in Firmihin Forest on the edge of the Diksam Plateau, the heart of central Socotra. Noah yells 'Yalla yalla!' ('Hurry, hurry!') from up ahead. It is almost impossible to keep up with the energetic Socotri who, more than twice my age, leaps upwards from rocks on to python-thick tree roots, wearing a tattered pair of sandals and a fotha, the traditional Socotri robe.
Noah lives in a small Bedouin community named Haira on the edge of the forest. I had passed through Haira an hour before, where the locals insisted that I join them for some freshly brewed tea. I quickly learned that tea – black and sweetened with the island's famous mountain-bee honey – is a staple of the Socotri diet, a part of their daily routine and something that I would become quite addicted to.
'Communities like this are the true people of Socotra island,' Noah tells me as we drink, explaining that Haira is home to fewer than 20 people. 'We still live like our ancestors with very little modern influence.' Haira's huts are made from wood gathered nearby.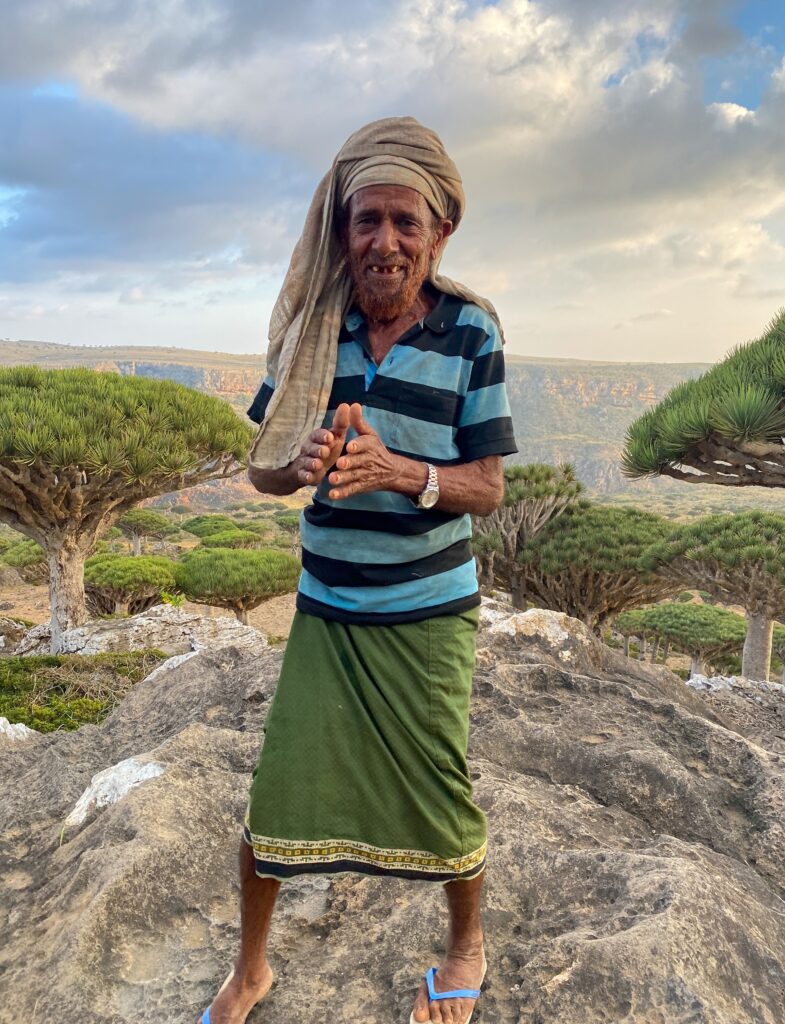 A typical day for the people that live here revolves around herding goats and cattle, and harvesting nearby fruit such as bananas and dates. As we reach the forest edge, Noah gestures proudly towards the dragon's blood trees: 'This is my back garden, and where I spend most of my time.'
A unique island
The Yemeni island of Socotra broke away from the supercontinent of Gondwana some 18 million years ago. It lies as the gateway to the Arabian Sea, some 200km to the east of Somalia's Cape Guardafui and 380km from the Yemeni mainland. From June to September, the island is almost completely inaccessible as forceful monsoons prevent planes from landing and make the seas too rough for vessels to cross.
Although the monsoon brings problems for the people of Socotra, who rely heavily on fishing to support their livelihoods, the isolation it creates has allowed the island to flourish as a biodiversity hotspot. Currently, it is estimated that 39% of Socotra's flora is endemic (ie: found nowhere else on earth), as are 90% of the reptiles; the island is also a haven for bird and marine life. Egyptian vultures were such common spectators to our various al fresco dining locations, that it wasn't until I was back in the UK that I realised they are classified as endangered.
Firmihin Forest is a wonderland thriving with the most unusual life. Noah laughs as he points out various Adenium obesum, a bottle tree that grows into all sorts of shapes and sizes. 'What do
you think this one looks like? And this one?' he asks.
Some as tall as me are shaped like dinosaurs while others are small and slump over the ground resembling lazy, plump fairies. I'm here in the wrong season to capture their real beauty, but in February and March, the smooth, bulbous, water-storing plants bloom beautiful, light-pink flowers, living up to their nickname – the desert rose.
As we walk, Noah looks under rocks and finds 20cm-long millipedes, and spots a chameleon on a bottle tree. Eventually we scramble to the top of a large limestone boulder, which breaks above the canopy to reveal a view that can be described, quite simply, as overwhelming. Surrounding us in every direction, until the forest reaches the granite mountains in the far distance to the east and the valleys to the west, is a sea of breath-taking dragon's blood trees.
An army of trees
These fantastically named trees are rare biological oddities. Their upward-facing leaves grow from thin, spindly, knotted branches. From below the canopy, the complex network of branches resembles an intricate spider's web, which grows from trunks whose bark transitions between shiny and smooth in one area to coarse and uneven in others. It reminds me of scarred skin. From my higher vantage point, the forest looks like an army – the even spacing between each tree seems intentionally strategic, allowing each one maximum exposure to the sun.
Dragon's blood trees are so named because of the deep red resin they produce. Noah uses a sharp stone to cut gently into the flesh of a trunk, from which the resin immediately starts to bleed. 'According to legend, this is the blood of a dragon that was slain millions of years ago,' he explains. For thousands of years, the resin has been exported throughout the Middle East and the Mediterranean for its medicinal properties and its red pigment was used in dyes and varnish.
It is used on the island today for a range of purposes. Noah explains: 'It is our natural medicine. We use it regularly for stomach ailments and women use it to promote healing after childbirth. I have heard the ancient gladiators once used it to speed up the healing of their wounds too.'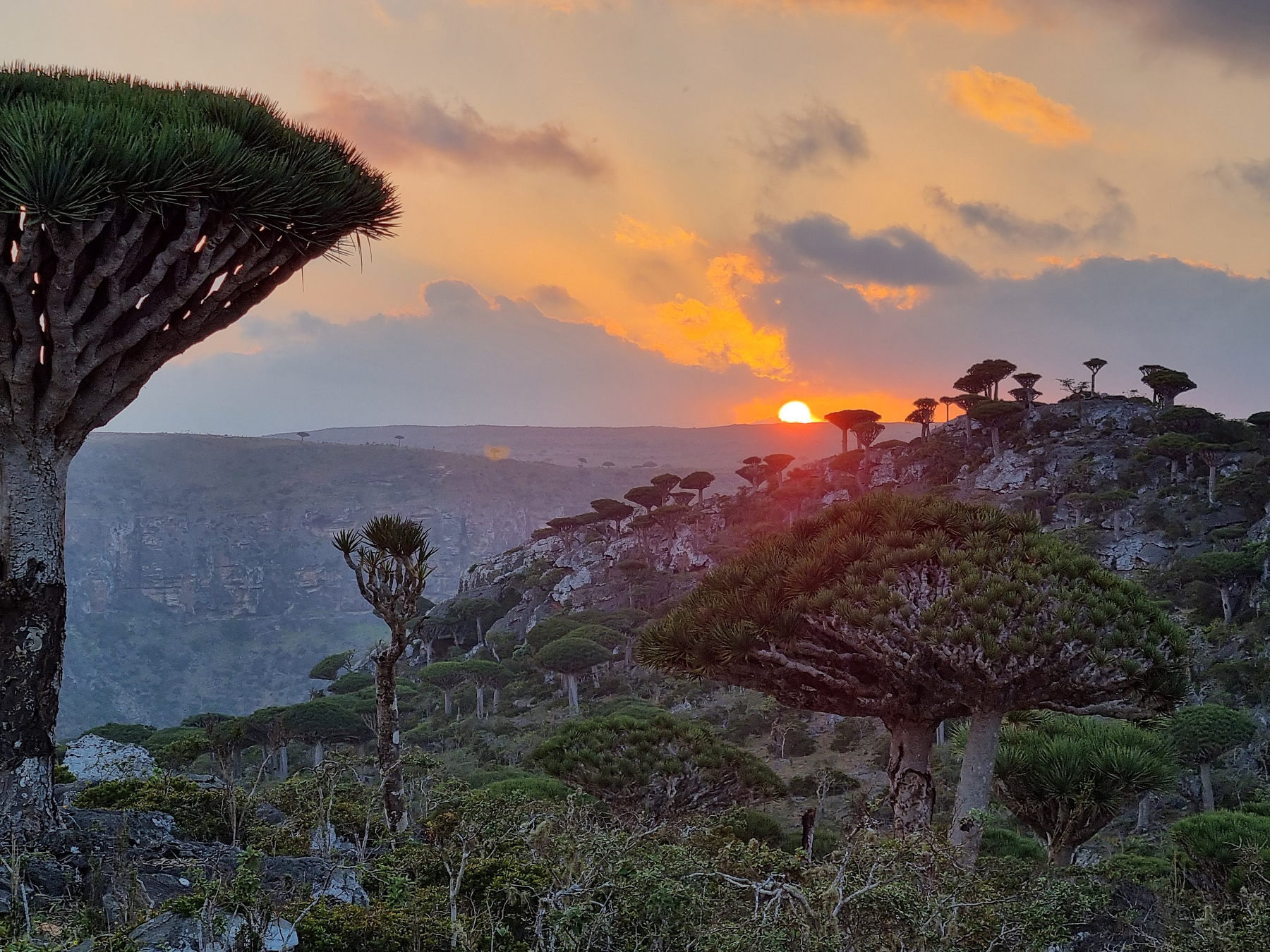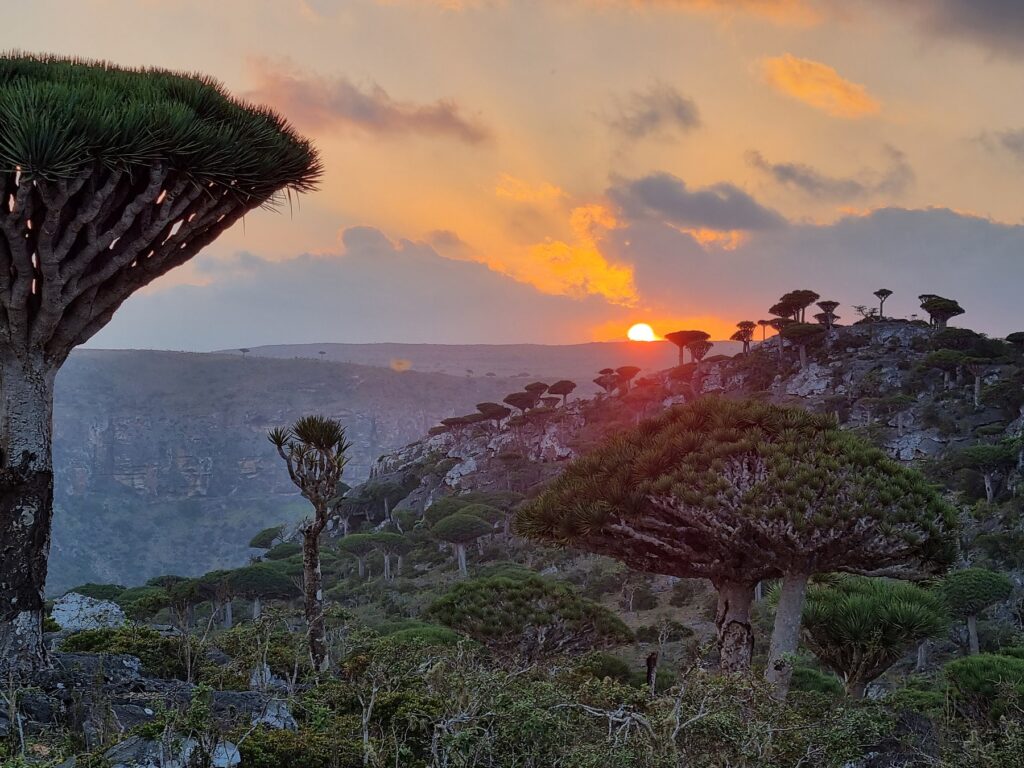 I ask Noah why I can't see any saplings. He tells me they can take up to a thousand years to reach full size and recent cyclones have destroyed hundreds on the island. I had seen evidence of this earlier in my trip – lone trees lying uprooted in the most random locations. But they also seem to have the ability to grow anywhere.
While hiking towards Homhil Nature Sanctuary in the east, whose 'natural infinity pool' has exceptional views of the Arabian Sea, I saw a dragon's blood tree on the side of the cliff. Apparently, it had been blown up there by a cyclone a few years ago, and had managed a remarkable recovery in its new resting place. Noah says there are a handful of saplings in the forest that he watches over and he considers it a duty to look after them when he finds more. He is hopeful that his forest will remain resilient to the increasing extreme weather patterns, as it has done for millions of years.
Mixed fortunes
As the sun sets, I ask Noah if I can take a photo of him. He was mortified by the first one, blushing. 'Where have all my teeth gone?!' Perhaps a consequence of a lifetime of sweet tea, I suggest. Immersed in this fantasy world and gazing at the stillness of Noah's mystical face, it was easy to forget where I actually was.
The UK Foreign Office advises everyone against all travel to any part of Yemen, with the UN Humanitarian Office classifying the humanitarian crisis in the country as the 'worst ever recorded'. But Socotra's remoteness has left it untouched by the violence on the mainland. Political conversations here revolve more around the presence of the UAE on the island than the civil war.
For years I had debated whether it was wise to travel to Socotra, especially as the region is often portrayed in the media as dangerous for women. However, as each day passed on this island, I felt safer. The cultural traditions of the Socotri ensured that, as a guest, I was always looked after, and their warmth, love of dancing, music and telling stories was pure joy to experience. The characters I met seemed to be from a time long ago, without the problems and complexities associated with modern life. The most dangerous part of the trip was the realisation that no other place on the planet would compare.
It takes many more yallas from Noah to convince me to leave the forest, but a blanket of pitch-black darkness was settling and we had one huge off-road valley to pass through to reach our camp for the night. I take one last glance back at the Haggeher Mountains, whose silhouette stands out prominently under the light of the full moon, emphasising just how infinitely unique this island is. I was already planning my return.
---
More information
Geri Moore is an airline pilot and avid traveller, who regularly contributes to various travel publications focusing on remote travel. For more information on Socotra, check out our guide.
This piece was originally published in The Travel Club, a monthly members-only e-zine from Bradt Guides. To sign up from just £5 a month, which includes access to the magazine and 50% off all Bradt guides, click here.