Greece's delights stretch from ancient history to fun-packed party islands. But in these uncertain times, some simple downtime in Sithonia, Halkidiki, can perfectly restore you – and through the kindness of its inhabitants – your faith in human nature.
Halkidiki, or Chalkidiki, consists of three very different peninsulas, situated east of Greece's second city, Thessaloniki. Aside from those three 'prongs,' its inland is less known, and without a coastline, less visited.
Taken together, these peninsulas seem to reach out into the silky Aegean Sea. Individually, however, each has their own charm: the Kassandra prong lies closest to Thessaloniki and so draws the summer and weekend crowds of city dwellers; Sithonia is the central peninsula and has over 100 beaches to choose from; while easternmost Akté is home to Mount Athos, the curious, male-only theocracy dotted liberally with monasteries and only visitable with a permit.
Beaches, beaches and more beaches
Beach-hopping is a favourite activity in Sithonia, our 'prong of choice' this summer. According to our hotel barmaid, the charming and charmingly named Aphrodite, it is 'a great place to be lazy' and beneath the summer sun, few visitors would bother to summon up the energy to disagree with her. As she sits on a stool on the customer side of the bar, I feel guilty interrupting her to ask for a drink. Eventually, the desire for an ice-cold beer takes precedence. And well, I suppose it is her job.
With that century of beaches to take your pick from, there's something for everyone on Sithonia, from orderly rows of sunbeds and welcoming beach bars to an utterly deserted piece of sand, devoid of facilities and exclusively yours for as long as you can stand the sun. A lazy day of swimming and snorkelling should be interrupted only by a lengthy, relaxing lunch in a taverna, or maybe a snooze, before returning to the beach or searching out another one.
Just north of Neo Marmaris, on Sithonia's west coast, it is easy to pass Koviou beach by, perhaps on the way to the sands of the more-visited Kalogria. But outside August, this perfect little arc of sand has calm waters, minimal development and great snorkelling at its southern end. The fish may not be wearing Caribbean colours, or be particular large, but you will float in an aquarium of thousands of fishy companions.
Further south, Azapiko Beach is less sheltered, but has a bar with ultracool music to help you relax. It's a favourite for youngsters in love, or so it seemed on our visit.
'Beware of Greeks bearing gifts'
In between visiting these two, we take our lunch at the modest Taverna Akrogiali. Located right on the beach, in days gone by the owner fished all night to create a stripped-down menu of whatever he caught, plus Greek salad and potatoes, nothing more. Now the choice is wider, but the authenticity has not diminished.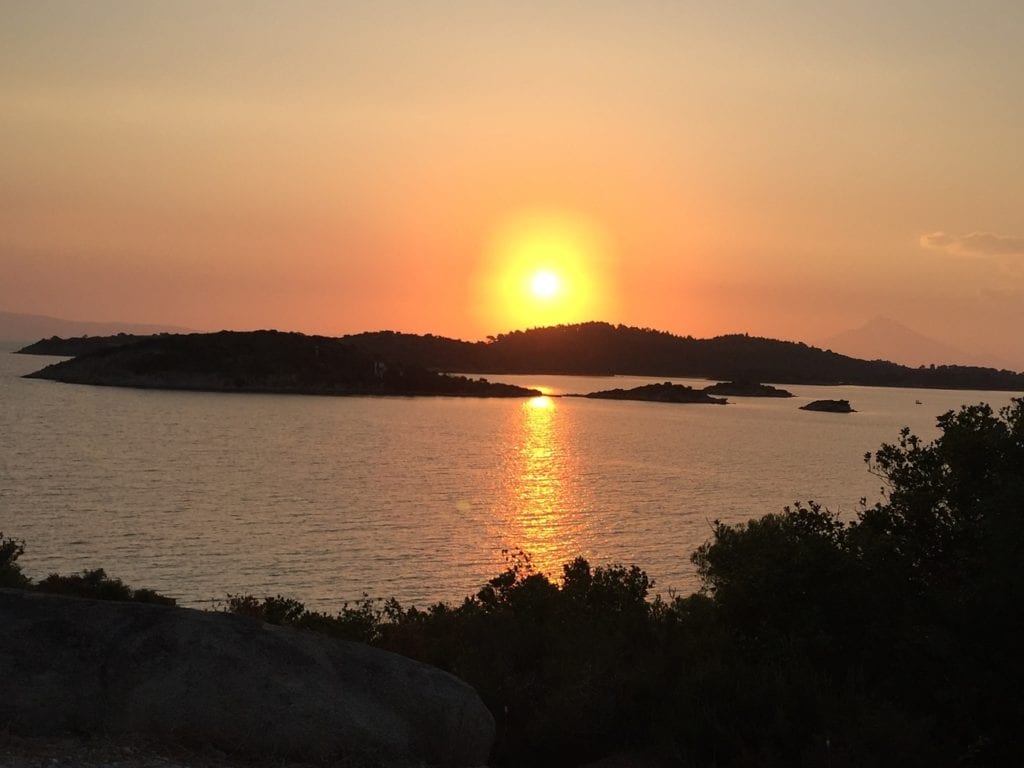 The small party of Greeks at the next table are joined by a portly middle-aged man who literally swims in to lunch with a bag of shellfish caught en route, which he proceeds to gut, douse in lemon juice and share with his friends. Our enquiry of the waiter as to what they are eating is rewarded when the shellfish-fisherman-cum-diner insists on presenting us with a taste. To this day, I have no idea what we ate, only that we were once more the recipients of overwhelming Greek hospitality.
These little outpourings from the heart are replicated frequently over our 12 days here. One evening, a restaurant owner brings us an unsolicited, complimentary extra drink each. 'Because today I am happy,' he announces, when I ask him why.
And as in other parts of Greece, the concept of a dessert menu barely exists. Instead, each meal is brought to a close with a free piece of succulent watermelon, or a sticky baklava, or ice cream. Once, it was all three. 'Beware of Greeks bearing gifts' may be the old saying, but I will take my chances and accept them gratefully.
Battling the pandemic
Greece's record on COVID-19 has been good in comparison with much of western Europe, with a low death toll. I ask a friendly restaurant owner in Ormos Panagias harbour what she thinks of her government's response to the pandemic, and she laughs: 'Yes, we have done well. We Greeks say that it is the first time that the Greeks have acted like Europeans… and the Europeans have acted like Greeks!'
We certainly felt safe here, and the ubiquitous bottles of hand sanitiser and warnings to wear masks show that the pandemic are taken seriously on the mainland in Greece. Of course, not everyone acts responsibly, and not everything is perfect… but nor is it back home, wherever you come from.
Some visitors may obsess with 'must-sees', and a tick-box holiday in Greece might demand a visit to the Acropolis, Meteora and the Parthenon. But for me, travelling is as much about people as it is about places. Whatever historic treasures Greece can offer to its visitors will, for me, always be outshone by the spontaneous, unscripted interactions with the Greeks themselves. The little vignettes in this Land of the Gods are what will stay in my memory forever.
No bucket list can be written to include them, but you can be certain that they'll happen during your stay. To me, it is as if the Greeks have been genetically programmed to be the most hospitable people on Planet Earth.
Nobody, surely, can object to that.
More information
Eager to start planning your trip to northern Greece? Take a look at our guide: