England is now firmly on the map when it comes to producing wines of internationally recognised quality, but most of the commercially viable vineyards tend to hug the southeast regions of the country (Sussex and Kent) where the climate is more temperate and the soils are limestone-rich. We've selected some of our favourite of the more unlikely alternatives.
Holmfirth Vineyard
The farmland around Holmbridge in the Peak District is traditionally home to sheep, but look up at the vertiginous slopes above the settlement and you will see fields of vines. Holmfirth Vineyard isn't an obvious location for wine growing: the sun rarely shines here and the slope isn't south facing.
The Pennine winds can whip up an unwelcoming force -across the northwest-facing hillside, prompting visitors to zip up their coats. You'd be forgiven for wondering why the owners, Ian and Becky Scheveling, thought it was a good idea to plant a seven-acre vineyard here.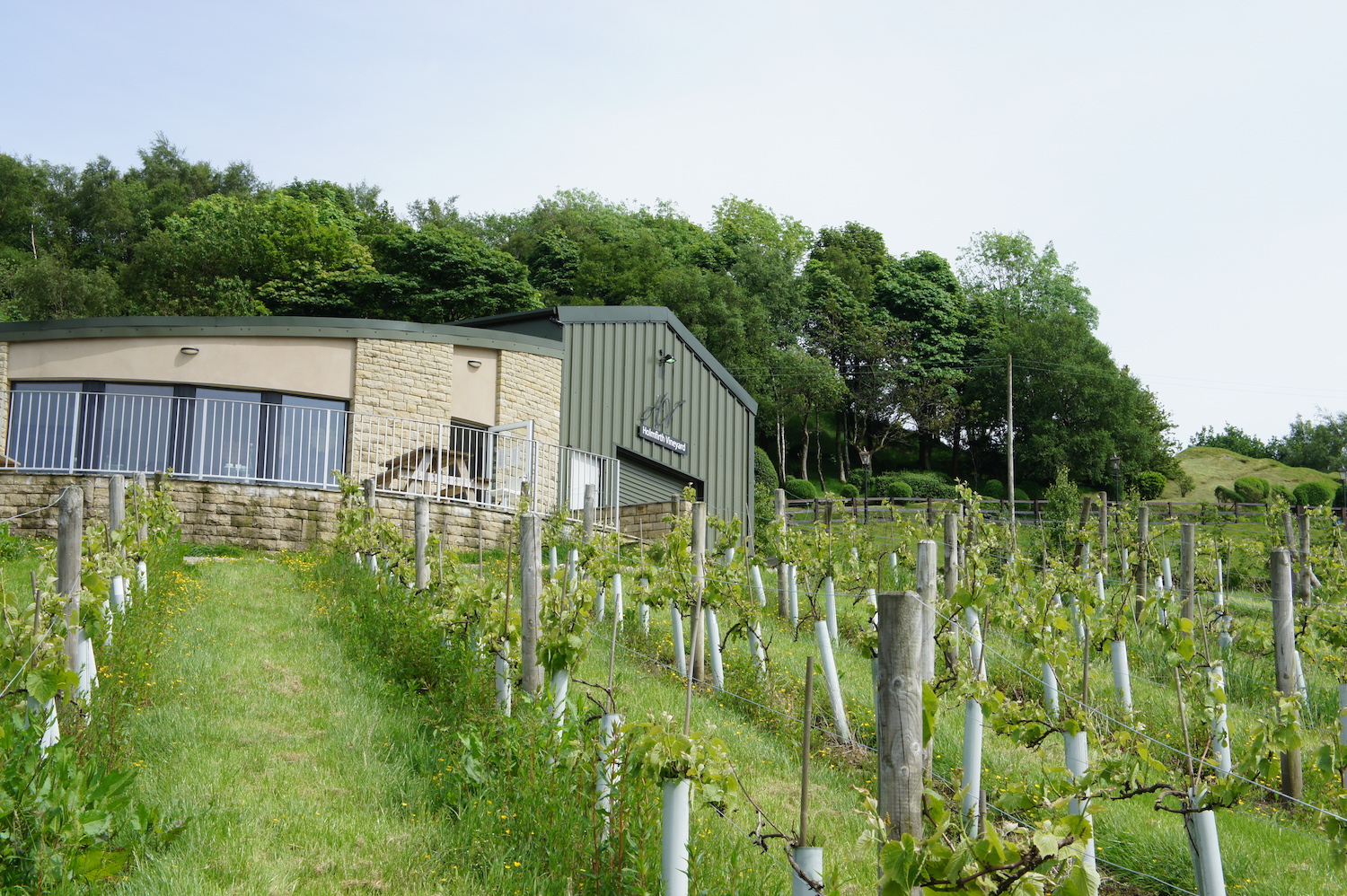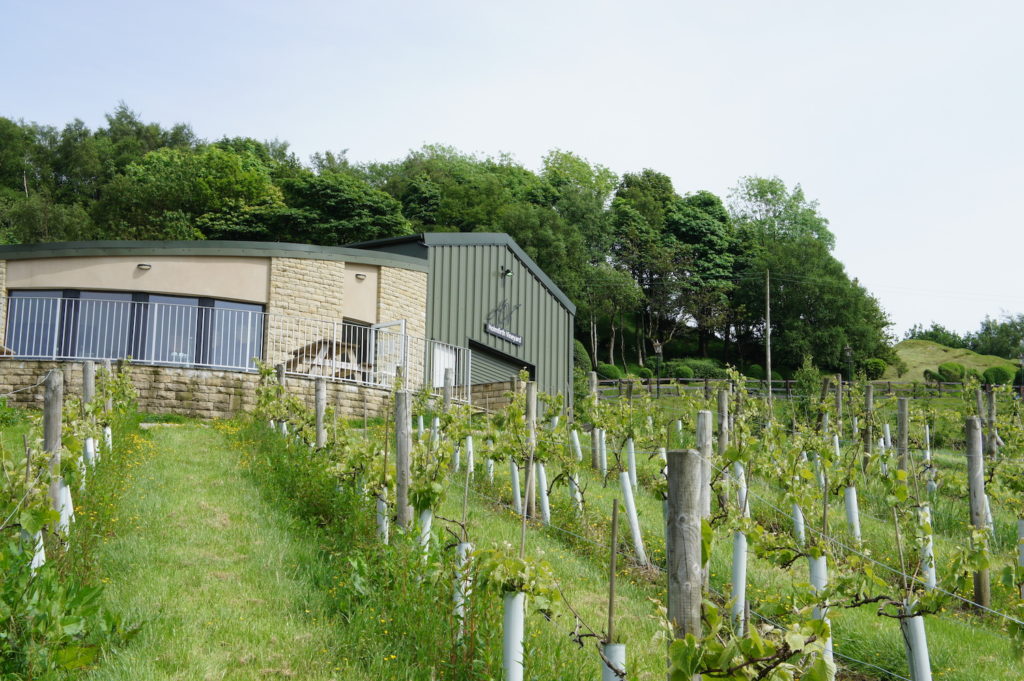 'Someone asked me what's been a good year,' the vineyard manager and tour guide laughed when I visited. 'I told him, we haven't had one yet.' In truth the weather doesn't matter too much. The grapes used are hybrids, produced to withstand northern climes.
Across the valley, the criss-cross of dry stone wall stretches up to the moors. The vineyard seems incongruous in this landscape, but it works. Inside, Luke offers a couple of roses and a red to sample after explaining how the wine is produced. The wine is light and fruity – and slips down the throat surprisingly easily. It transpires that the Schevelings' vision for a winery on the edge of the Peak District wasn't such a daft idea after all.
Camel Valley Vineyard
Back in the days when English wine was not something you mentioned in polite conversation, Bob Lindo and his wife Annie were rethinking their lives. Bob, a pilot with the RAF, had just emerged barely in one piece from a spectacular crash with no option but to look for another career.
'We were doing a bit of sheep farming in Cornwall already, but it was while trying to repair a fence – lying on my side because of my injuries – that I realised how right this hillside would be for vines,' says Bob. 'Much more appropriate than sheep.' Two decades on, Camel Valley Vineyard is very much established at the top of the English wine-makers league table, a strong Cornish presence in a niche industry so far dominated by producers in Sussex and Kent.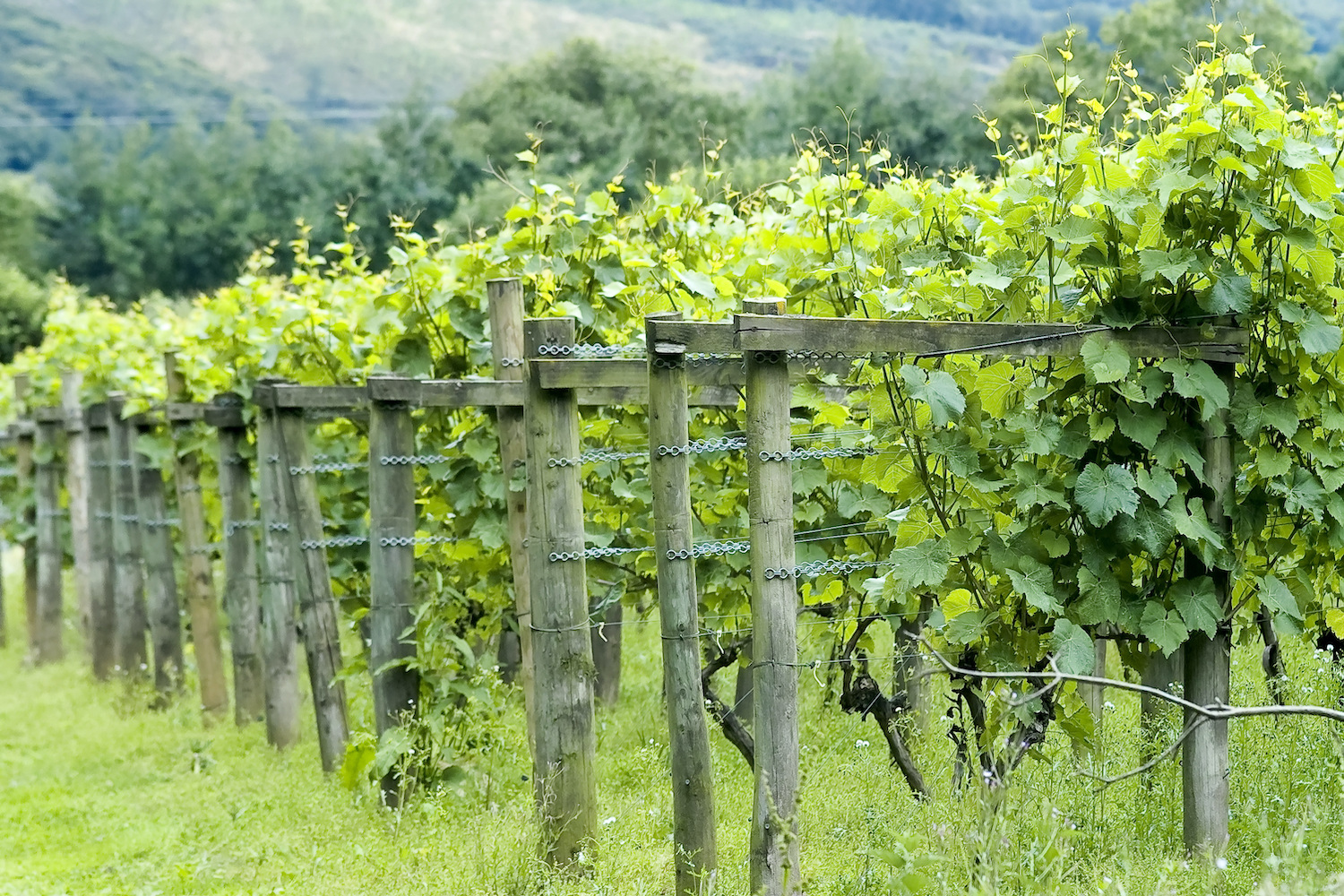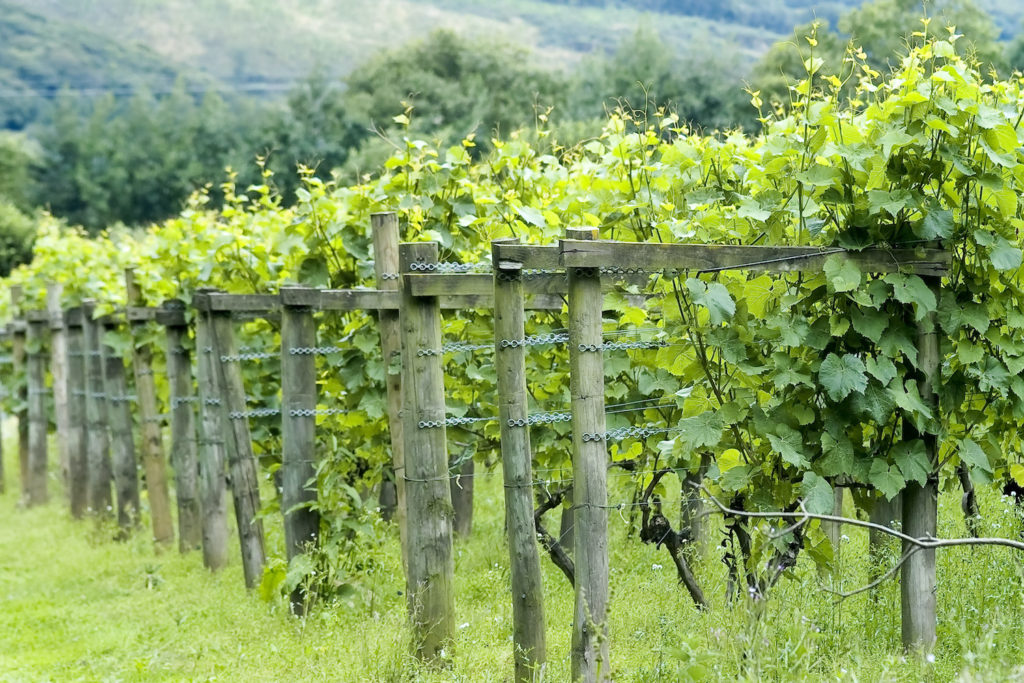 Although the Lindos started with still red and white wines, their runaway success has been the sparkling white 'Cornwall Brut', made by the méthode champenoise, but with three grapes particularly suited to the English climate – Seyval Blanc, Reichensteiner and Bacchus.
'It's not champagne; that's what the French make,' says Bob. 'We make Cornish sparkling wine that should be judged on its own merits.' Those in a position to judge have heaped awards and accolades on the product and the Lindos' son, Sam, has now won the Best British Winemaker award no less than three times. On my last visit, Sam was proud to display the new Royal Warrant, issued by the Prince of Wales in 2018.
Tours run daily with Bob or Sam – visit the website for more info.
Chiltern Valley Winery
The Chiltern Valley Winery & Brewery, situated near Skirmett in the central Chilterns, makes wines, beers and liqueurs. A lawyer bought the place in the 1980s when it was a pig farm, and quickly decided to move the pigs on. By 2007 the business had received a royal warrant, as Prince Philip enjoyed its 5.4% Barn Ale so much.
To find out more, book a place on one of the regular tours with the genial Steve, who'll take you round the traditional farmhouses to explain the production, bottling and labelling process. The tour concludes with a guided tasting of a selection of wines, ales and liqueurs. Spoilers: you're allowed to dislike some of the selection, as they have widely varying qualities.
If you don't have a designated driver or taxi waiting, or if you just want to linger longer, bed and breakfast facilities are available.
Ryedale Vineyards
Ryedale Vineyards in North Yorkshire have crossed that north–south divide by becoming the most northerly commercial vineyards in Britain.
Close to the village of Westow, the vineyards were owned and run by Stuart and Elizabeth Smith up until 2016, an established name in the commercial world of grape growing, as the Smiths have been running a vine-supply business for over 20 years. The vineyards began in 2006 when seven acres of a gently sloping hillside were planted to vines.
With such a lovely rural spot, the Smiths are keen to enhance the wildlife and are working with the RSPB to ensure that bird species such as tree sparrows and barn owls are protected by their activities.
A selection of modern, disease-resistant red and white grape varieties are grown at the vineyard in addition to some small test plantings of the more familiar French Pinot Noir and Chardonnay grapes, in the hope of producing some delicious sparkling wine in the future.
Their first commercial vintage was produced in 2008, most of which sold out instantly. 'We were really thrilled to win several awards with our first vintage,' said Elizabeth. 'Our rosé, "Yorkshire Sunset" won a national award and our aromatic white, "Wolds View", won a trophy as the best dry white wine in a regional competition.'
The public are invited to help out with the harvest – a very sociable occasion with a privileged opportunity to witness a lesser-known aspect of North Yorkshire. For those who prefer to sit back and hold a glass of wine, there are vineyard tours. Wine tastings are also available to guests staying in the adjacent farmhouse B&B that Elizabeth runs.
Kerry Vale Vineyard
As if growing a vineyard from scratch didn't feel enough like hard work, June and Geoff Ferguson unwittingly chose part of the Roman site of Pentreheyling Fort in Shropshire to nurture their grapes. Since the 1950s the land – overlooked by the moody hill of Corndon to the east and the flat-backed Kerry Ridgeway to the west – had been used as a smithy and smallholding, but the buildings were so dilapidated by the time it came into the Fergusons' hands in 2009, they had no choice but to start again.
That was when they realised the ancient history they'd acquired. 'It's a scheduled ancient monument so any work we carried out was subjected to a Watching Brief and supervised by archaeologists,' June explained.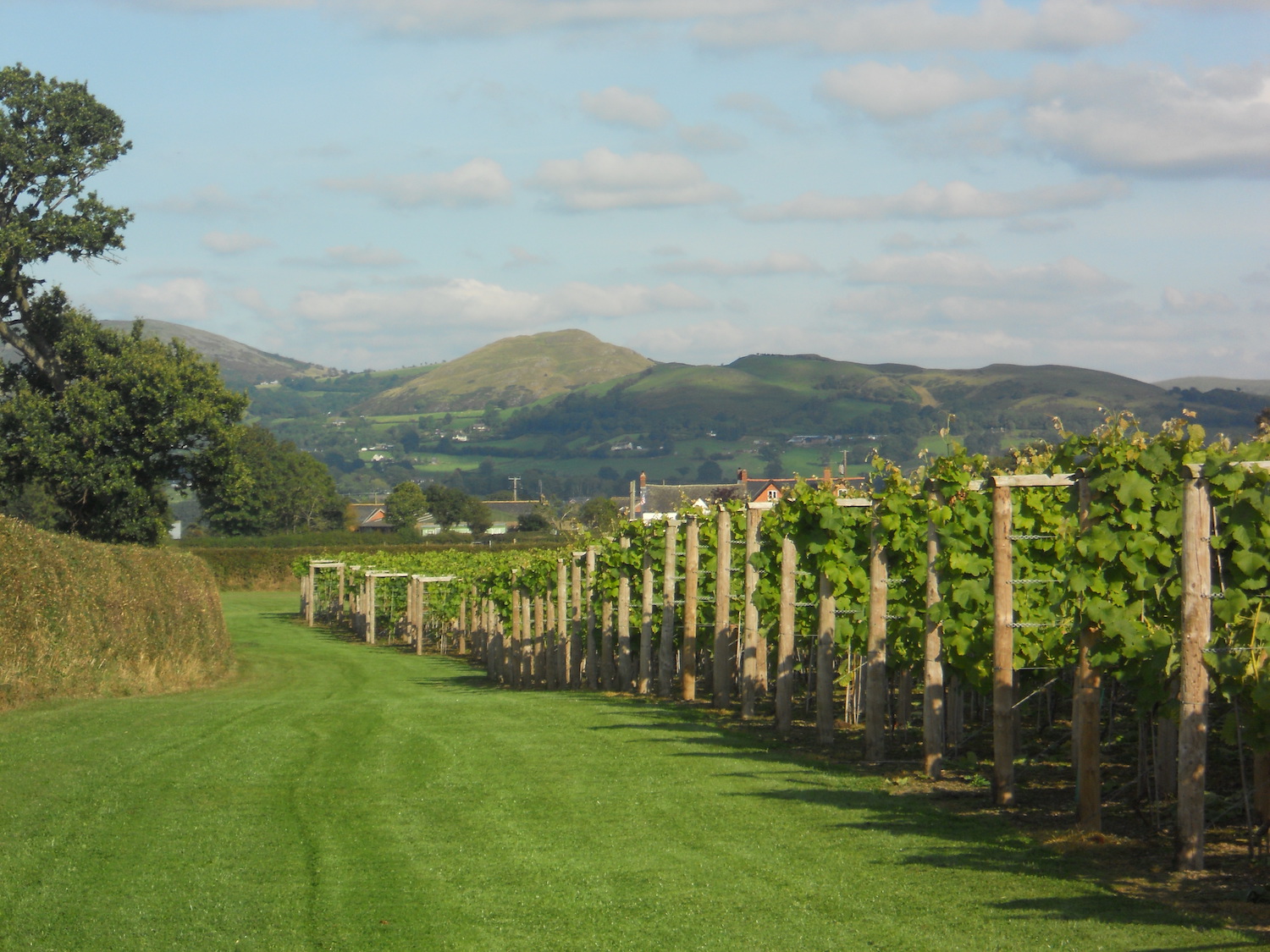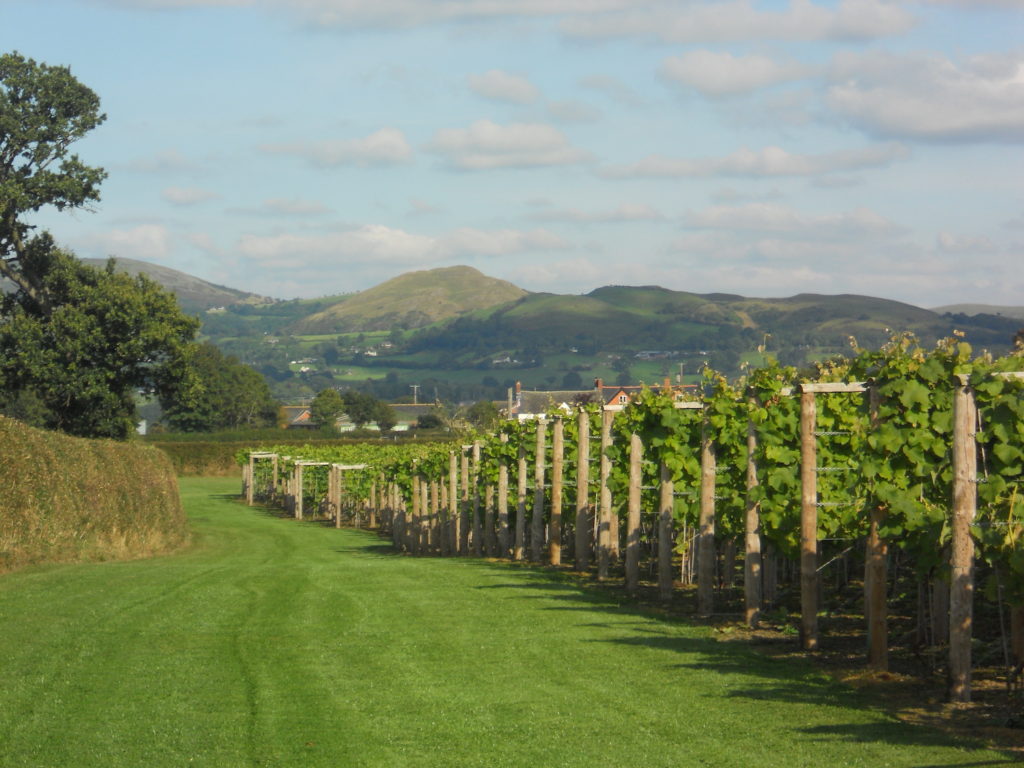 Aside from the well-known link between Romans and wine, the past and present are woven together beautifully at Kerry Vale thanks to stories told by the Ferguson family. Hares (thought to have been introduced to Britain by the Romans) are often found gambolling on the site and, during excavations the overseeing archaeologist discovered a fragment of Roman samian ware depicting a symbol of a hare. And so Kerry Vale has called its UK Vineyard Association bronze award-winning rosé The Rare Hare.
You'll find the hare pottery and other unearthed objects upstairs in Kerry Vale's tasting room and art gallery, where vineyard tours end with a light-hearted presentation and the all-important tasting session. For a vineyard that only yielded its first proper harvest in 2013, Kerry Vale is amazingly successful. Summer Days, the medium-dry white wine created from Solaris vines, also has a bronze award from the UKVA, while the dry white, Shropshire Lady, earned silver. All are made at Halfpenny Green Vineyards and all are vegetarian.
Froginwell Estate Vineyard
This vineyard in East Devon is something different. Kate Jenkins took over the family sheep farm and decided to diversify into wine and cider. The vineyard is new, since 2005, but they are already making their own wine, a dry white Seyval blanc, and have been making a variety of ciders for several years.
Both wine and cider are available to accompany their very good lunches or teas which can be eaten in either a lovely sunny and quiet outdoor area with a view of the vineyard, or in the oak-beamed barn.
Sharpham Vineyard
This vineyard based on the opposite side of the River Dart near Stoke Gabriel produces top-quality wine and their own cheeses and offers a variety of tours in addition to a café and shop selling their produce. The estate is not generally open to the public so this is one way of taking a proper look at the glorious landscape.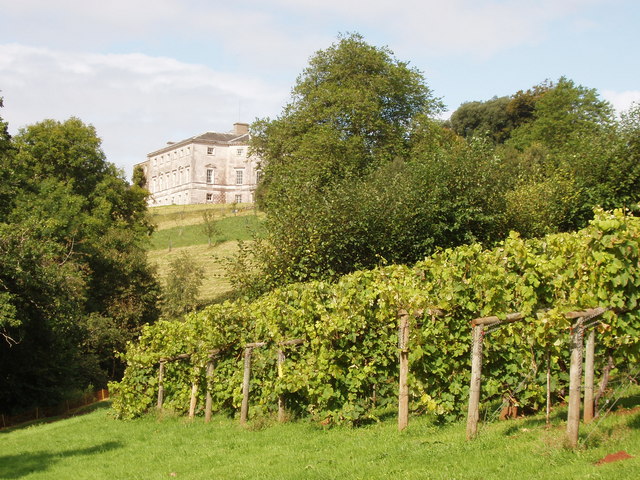 Tours range from a self-guided walk round the vineyards followed by an 'instructed' wine tasting to a full-blown halfday Sharpham Wine Experience. You can also partake in a cheese flight (three cheeses) or a wine flight (four wines) to get your taste buds going. Particularly popular is the 'Trek & Taste' which gives you entrance to the vineyard, plus a tasting of three wines and two cheeses.
Smith and Evans Wine
Somerset may be a relatively minor player when it comes to England's wine counties, but this part of the country does boast a coterie of excellent wineries, of which Smith and Evans is one.
A long-established wine trader, Guy Smith and his wife Laura Evans (a film editor) spent five years looking for a suitable wine-growing site, which culminated in them finding this sunny, steeply sloping terrace overlooking the southernmost reaches of the Levels, and with it, providing stunning views across to the Blackdown Hills, the Mendips and Exmoor.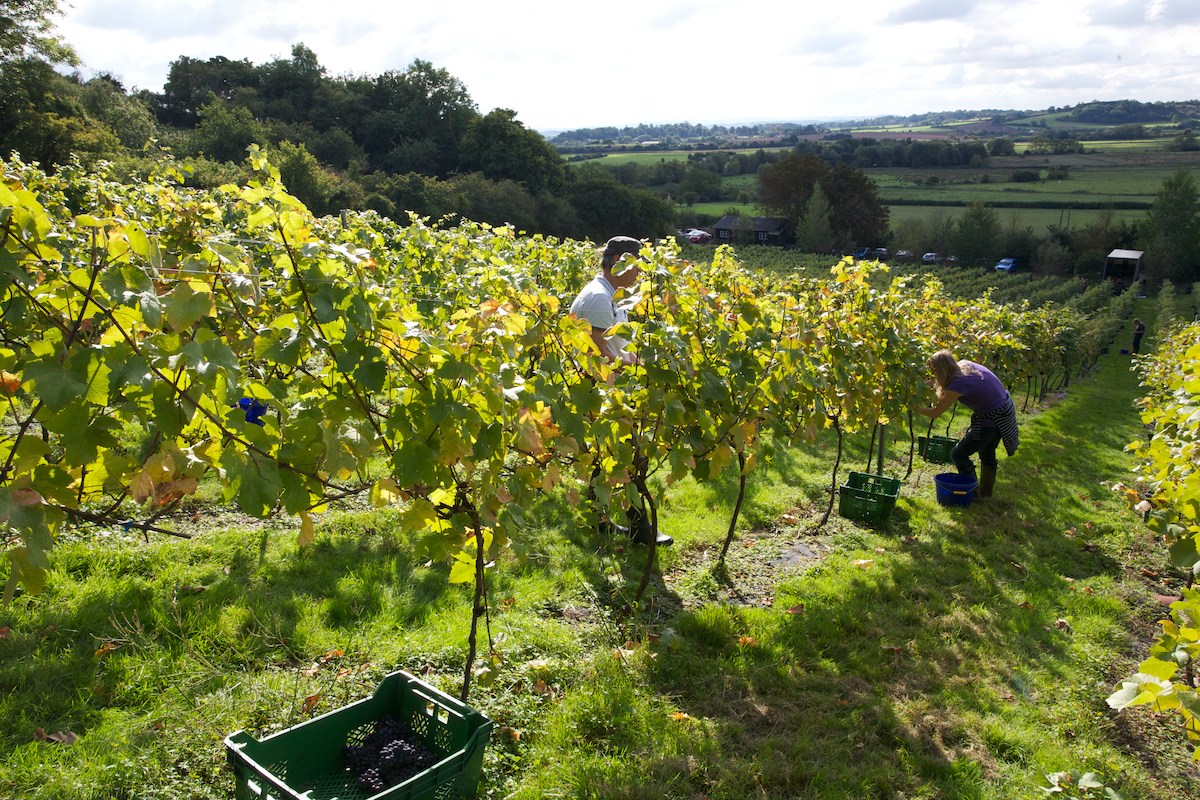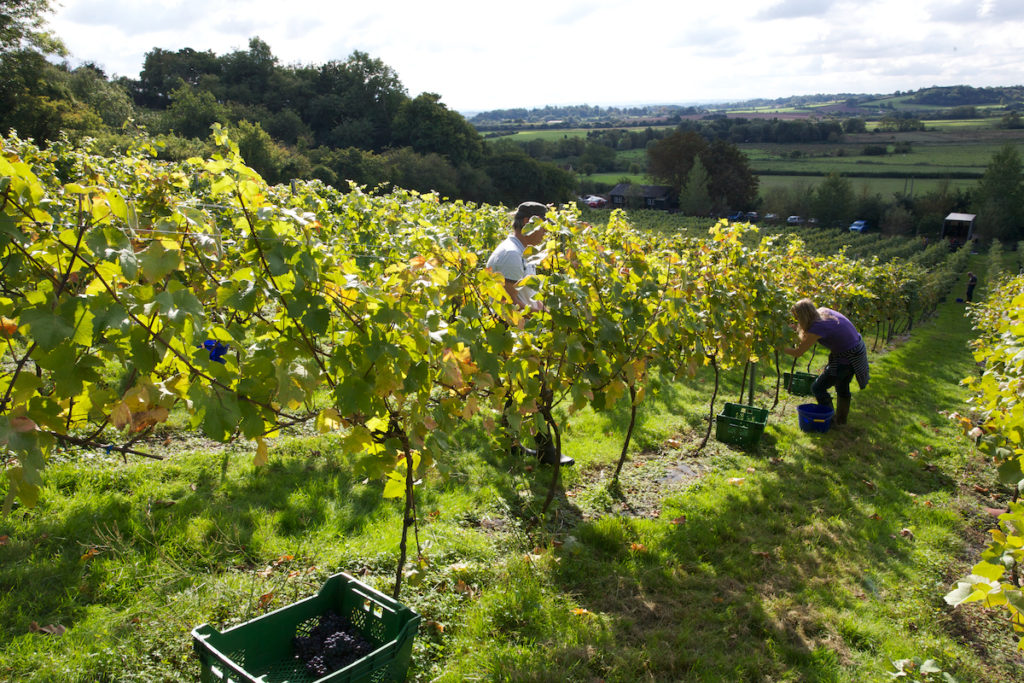 Both the white lias limestone (a soil common to both the Burgundy and Champagne regions of France) and the unique macroclimate (it's very dry here) combine to make this the ideal spot for harvesting their two excellent wines: a dry white (Pinot/Chardonnay) and a sparkling wine.
Visits are generally by appointment only but the shop is usually open if you fancy a little tipple and/or wish to purchase a bottle or two.
Denbies Wine Estate
Denbies Wine Estate on the edge of Dorking is a place of superlatives. It wasn't among the pioneers of the English wine revival, as the first vines were planted in 1986, by which time there were more than 300 working vineyards in England and Wales. But it was certainly among the most ambitious: that first planting totalled 30 acres, which was ten times more than a lot of established operations.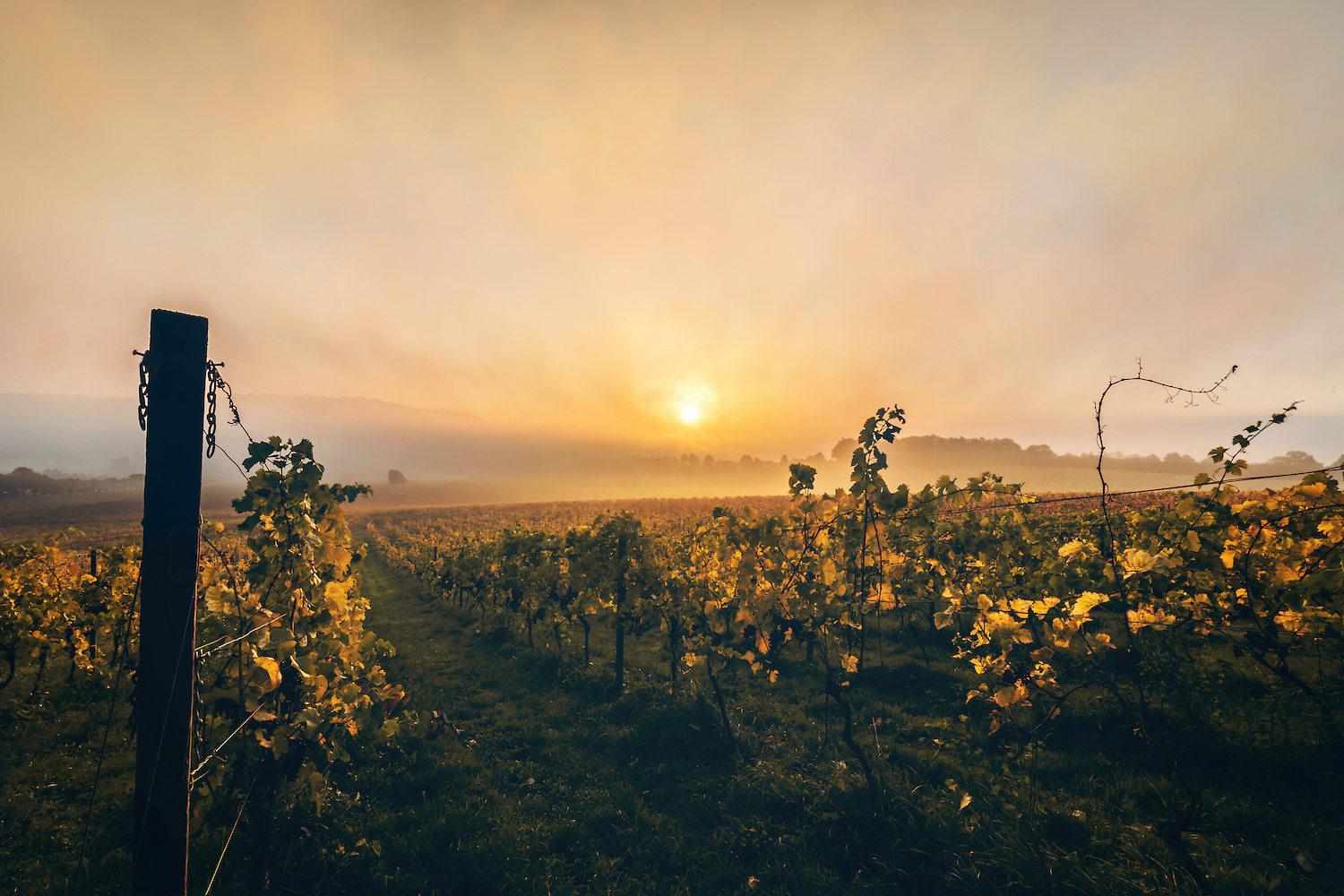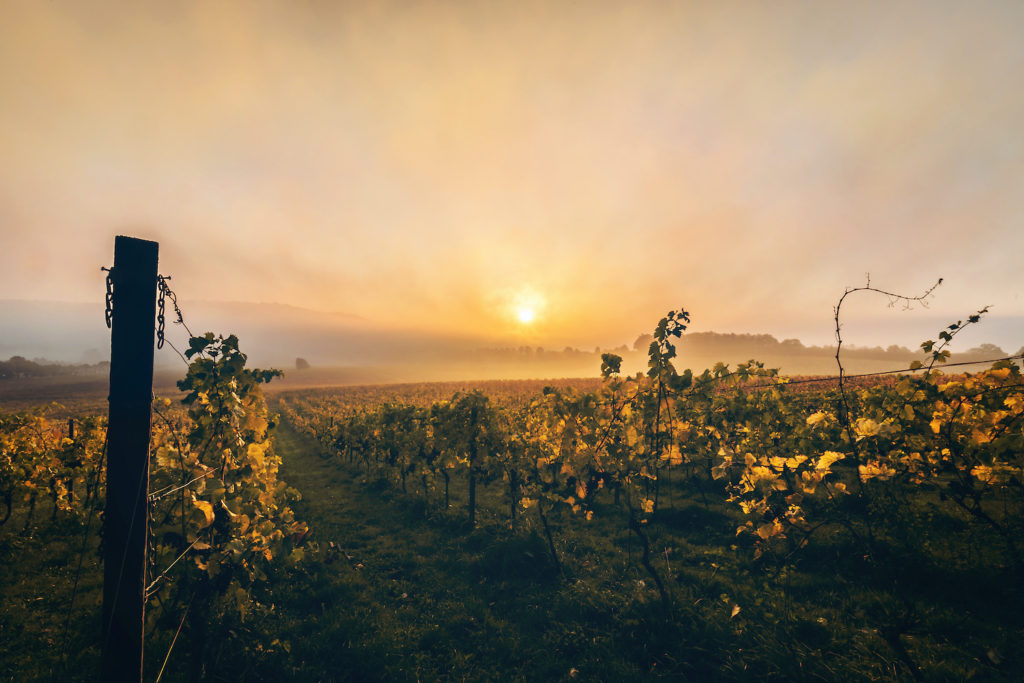 And now it's far and away the largest in the UK, with 265 acres of vines on the estate's total of 627 acres. And it must be one of the most beautiful as well. Set in the dramatic landscape of the Surrey Hills, classified as an Area of Outstanding Natural Beauty, the Denbies Estate includes 200 acres of woodland criss-crossed by seven miles of public footpaths. The vineyards themselves are mostly set on south-facing chalky slopes enjoying pretty much the same aspect, soil and climate as their opposite numbers in the Champagne region of France.
Denbies takes its name from the 100-room Italianate mansion designed and built in 1854 by the great developer Thomas Cubitt, but demolished a century later after successive rounds of death duties reduced the 6,000-acre estate to its present dimensions. What the visitor sees is entirely modern and is a testament to the vision of the wine estate's founder, water treatment entrepreneur Keith White, who from the moment he bought it in 1984, understood that a place like this has to be shared.
Adgestone Vineyard
Settled into the chalky south-facing slopes of Brading Down, Adgestone Vineyard is just a few hundred yards east of an impressive Roman villa. It is highly likely that owner Russ Broughton is following in the footsteps of Romans, who were thought to produce wine on the Isle of Wight 2,000 years ago. The grapes grown on the Island produce a wide range of wines, including a full-bodied red with hints of caramel, a vanilla-tinted oaked white, a rosé mixing pinot noir and shönburger, and a fruit wine combining blueberries with lavender.
Each year, the vineyard grows around 20 tons of grapes that produce 27,000 bottles of wine. You can take a tour of the estate with an audioguide before finishing off with an inspection of the cellars and, the reason anyone really comes to a vineyard, the opportunity for tasting. The experience is much the same as you would find in Italy or France, as is the process of making the wine. As Russ points out, the Island is largely frost-free. 'Many English counties don't have the sunshine we do on the Island and that really helps bring down the acidity.'
More information
Discover more of England's best vineyards with our guides: