This following information on the Warkworth West Loop was taken from Huw Hennessy's guide to Cycling in Northumbria.
This short but diverse loop meanders through the undulating Coquet Valley, flanked by the coastal dunes and sandy beaches between Warkworth and Alnmouth. If this is your first visit to the area, it should make the perfect introduction to the Northumberland coast's breath-taking natural beauty.
Starting from Warkworth, on a bend in the River Coquet just inland from Amble, we head west into the valley, along country lanes between sleepy hamlets, before looping northwards and zigzagging on bridleways and farm tracks across arable farmland. As we approach the Aln estuary, we head eastwards and down to the coast. Here, we join the Coast Path and the Coast & Castles Cycle Route (NCN1) to return southwards down the coast to Warkworth.
There are a few moderate hills including some fun ups and downs through the dunes, with one or two short but steep climbs where you might need to dismount and push your bike up the hill. Overall, the route should be easily accessible for most cyclists, including families with older children.
The details
START/FINISH – Warkworth
DISTANCE/TIME – 18.8km/1½-2 hours
DIFFICULTY/TERRAIN – Mostly on level or undulating terrain, with a few steep climbs over the sand dunes; mainly on quiet country lanes, with some off-road tracks (but not hair-raising or needing MTB skills)
SCENIC RATING – A tranquil mix of rural countryside and unspoilt coastline, with stunning views of the sea, sand and dunes, and Coquet Island on the horizon
SUITABLE FOR – Gravel bike, robust hybrid or MTB (all with knobbly tyres)
NCN ROUTE – Partly on NCN1
MAPS – OS Explorer 332 (1:25 000)
KOMOOT REF – 937728780
The route
Start from Dial Place, at the bottom end of Warkworth's main street, with its massive medieval castle towering over the town. Turn left onto Bridge Street, and left again after around 100m to cross the old medieval bridge over the River Coquet, now a shared footbridge (it's cobblestoned, so it's probably easier to dismount and walk across the bridge).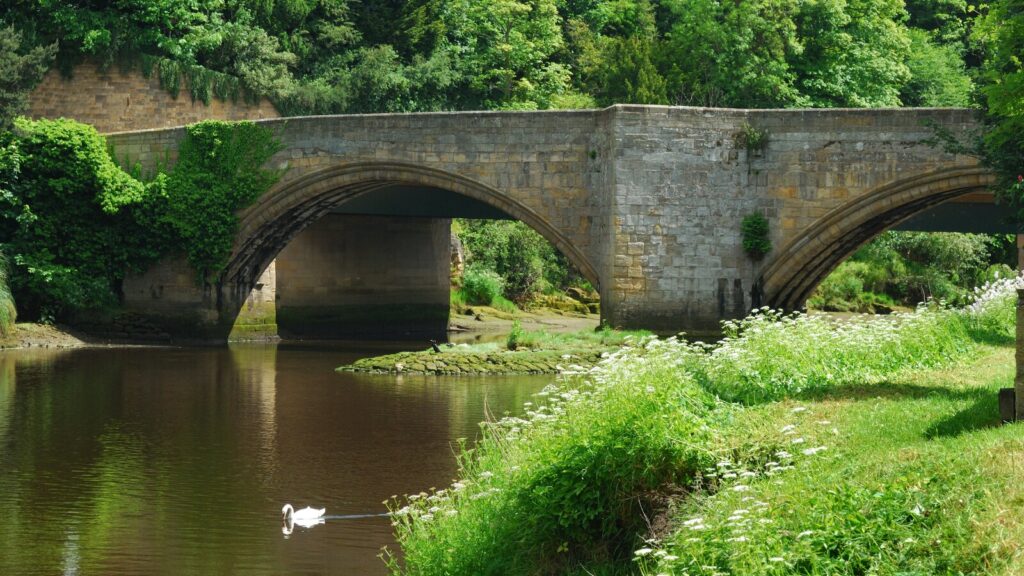 Turn left to join the A1068, briefly, then first left again up Station Road. The suburban road is lined by some of Warkworth's grander houses, and it winds uphill out of the town and soon we're into the countryside. After about 1km, pass the ivy-clad Hermitage Farm on your right; the road then starts to level off and bear left, heading southwards towards the railway line, about another 1km beyond the farm.
Go over the level crossing (the East Coast Main Line) and, after another 300m, take the first left, signposted Brotherwick and Guyzance, continuing southwards for just under 2km. This is quiet rural countryside, the road gently undulating through broad arable fields, fringed by hedgerows; the few houses mostly either farms or farm cottages. At the next junction, follow the main road as it bears right, still signposted Guyzance, a hamlet nearby to the south.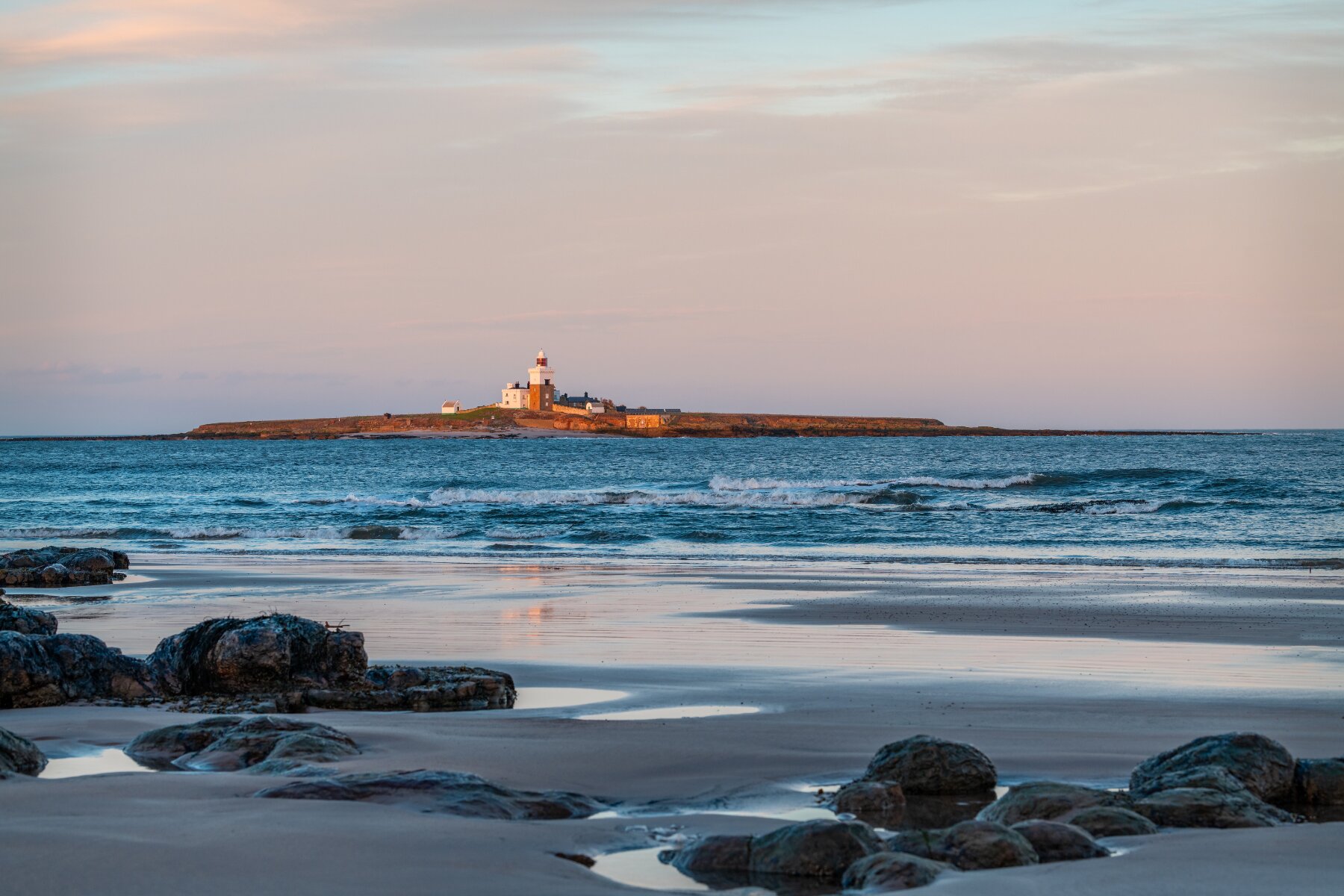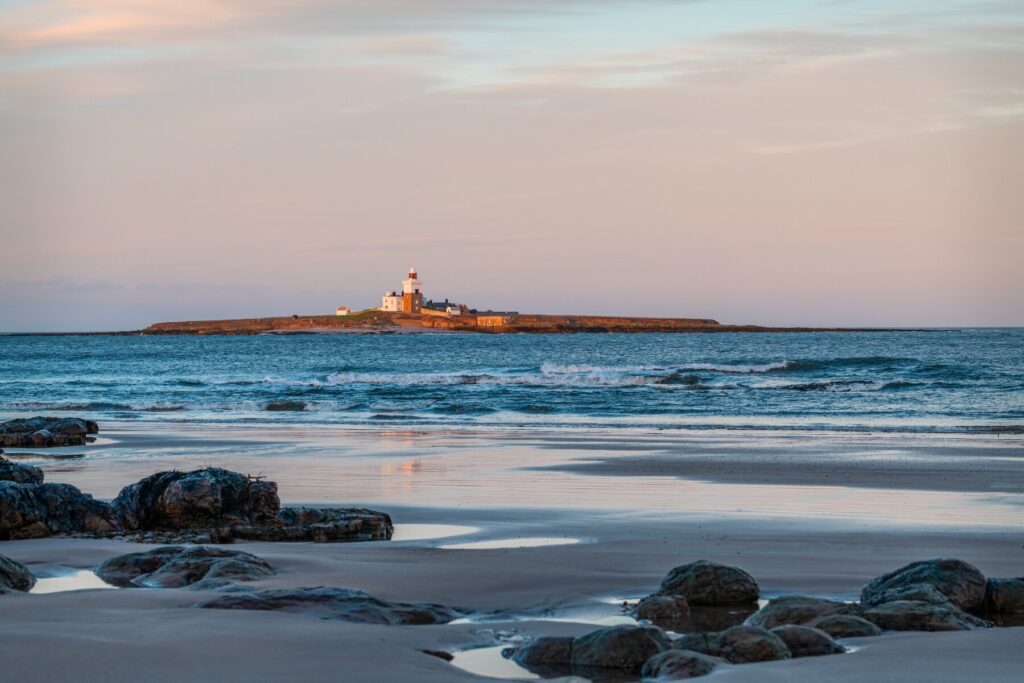 After about 2km, climbing gently, turn right on to a public bridleway, just as the road bears left and climbs more steeply uphill, towards Hartlaw Manor. Go through a gate on to a grassy and gravelly farm track. This winds gradually uphill for around 500m, before starting to descend again as it heads east towards the coast. If it's a clear day, you should be able to glimpse the sea from here, and perhaps Coquet Island and Lighthouse, further south, off shore from Amble.
After around another 700m, still descending down the rough track, pass Southside Farm on the right to come to a T-junction. Turn left here, back on to a paved road and now heading north again, towards Low Buston. After about 200m, we come to another T-junction; no signpost here but there's a cluster of cottages across the road, including Grange House, tucked behind the hedgerow and trees. Turn right here, towards the sea again, and going under a line of tall electricity pylons straddling the fields.
This straight road dips down over Grange Burn and then climbs for about 700m to another T-junction where we turn left , signposted Alnwick, Shilbottle and Low Buston. Just after crossing another stream, Tyelaw Burn, turn right on to a smaller lane at the bottom of the hill, looking out for oncoming traffic around the blind turn to the left. After about 400m, passing Low Buston Farm on your left , you come to a junction with a smaller road, signposted High Buston and Alnwick, while the main road bears right. Go straight on here on the smaller road.
Carry straight on along this level road through the fields for around 1km, coming to a T-junction, signposted High Buston and Alnmouth, where we turn right. Coming to High Buston, another farm hamlet, after about 700m, pass High Buston Farm on your right, then in front of Old Orchard House turn right (through a gate) on to an unpaved track. After around 400m, this leads through another gate, and left on to a narrow grassy path across fields and between hedgerows of gorse and brambles. This is a permissive path, so give way to walkers and other users (and be prepared for possible diversions around sown arable fields).
After around 800m we come to the railway line again. Turn left here and follow the path next to the line, protected by a stone wall, and then alongside a grove of silver birch trees (look out for colourful toadstools speckling the shady moss below). After about 200m the path comes to a small car park, where we turn right on to a paved road going immediately under a railway bridge.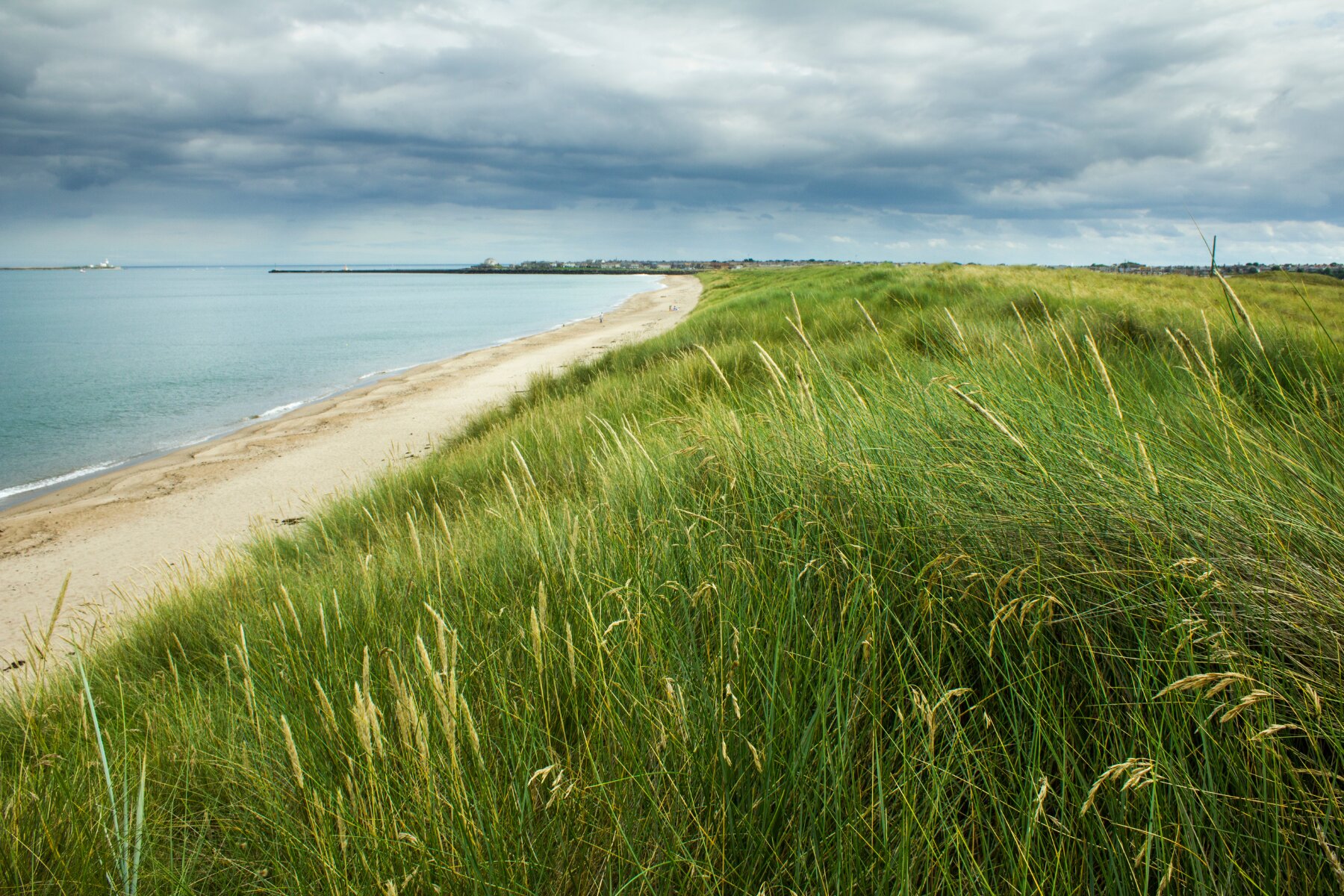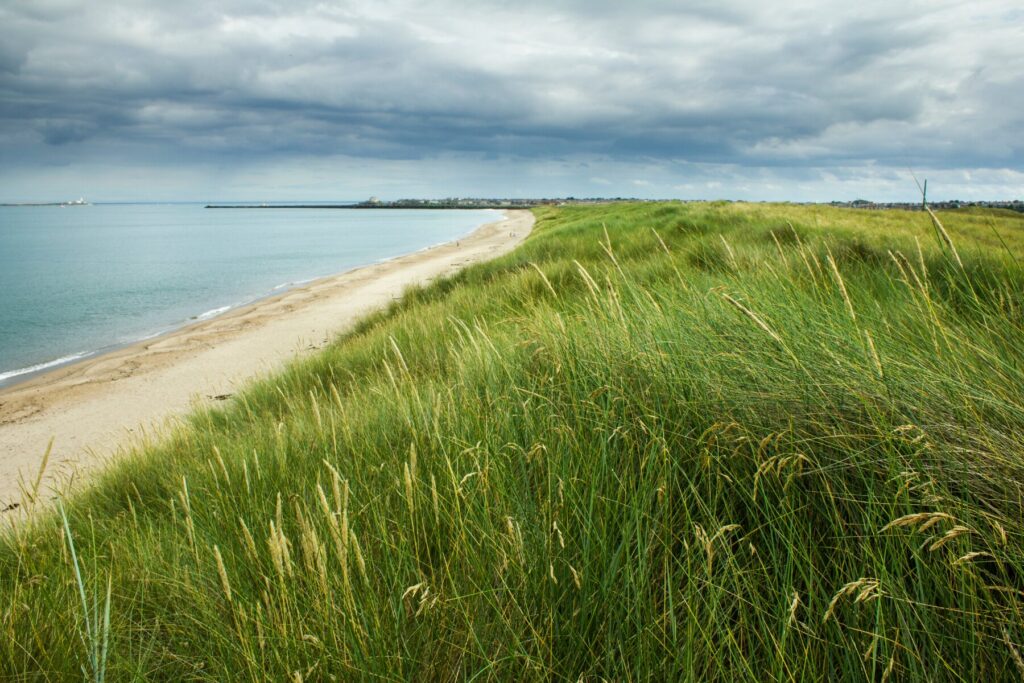 Coming shortly to a T-junction, turn left briefly on to the A1068 before taking the next right after about 100m – look out for oncoming traffic – on to a public bridleway signposted St Oswald's Way and Buston Links, a popular stretch of secluded beach and dunes at the end of the road ahead. This is a rough and rubbly path but, if you can ignore your teeth jangling in your head, there are gorgeous views from here to the sea sparkling not far away now, beyond the bank of sand dunes ahead.
Follow the path downhill towards the sea until, after a few hundred metres, we reach the dunes and turn right on to a bridleway signposted Birling Carrs, a rocky headland just to the south. We're on a rough gravel track here, but starting to open up stunning views over the dunes to the wide sandy beach and south down the coast towards Warkworth.
Follow the path southwards through the dunes. The way is rolling up and down now and narrower in places so go carefully, especially on downhill stretches where it's easy to skid on loose sand. After around 1.6km, at Birling Carrs, the path diverts inland through a static caravan site; as you enter the site, follow the bridleway signpost at the fork where you turn right. Go carefully between the caravans, looking out for children and dogs in particular.
Continuing beyond the caravan site, the bridleway winds across the fairway of Warkworth Golf Club (look out for low-flying balls!). After about 200m turn left on to the NCN1, which heads south alongside the A1068, running parallel behind a hedgerow. After around 200m, the cycle path comes to a junction, where we take the left fork on to a rubbly road leading through Birling, with another static caravan site on the right.
The road comes to a T-junction after another 700m, by Warkworth Beach car park on your right. Turn right here, signposted NCN1. After 300m we come a T-junction with the A1068, as we reach Warkworth. Cross over the A-road and turn left, back across the medieval bridge over the River Coquet. Continue up Bridge Street through the town and first right back into Dial Place.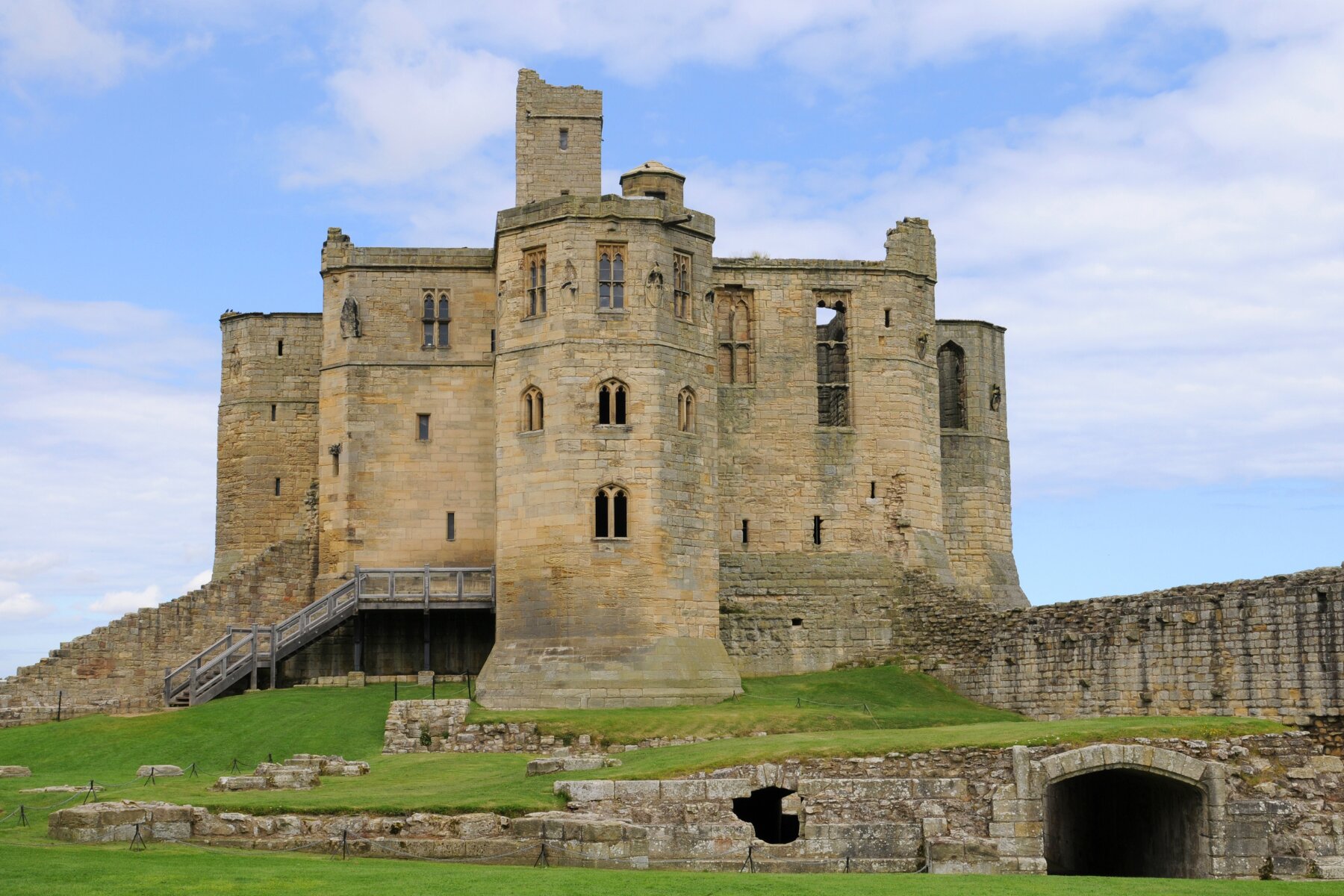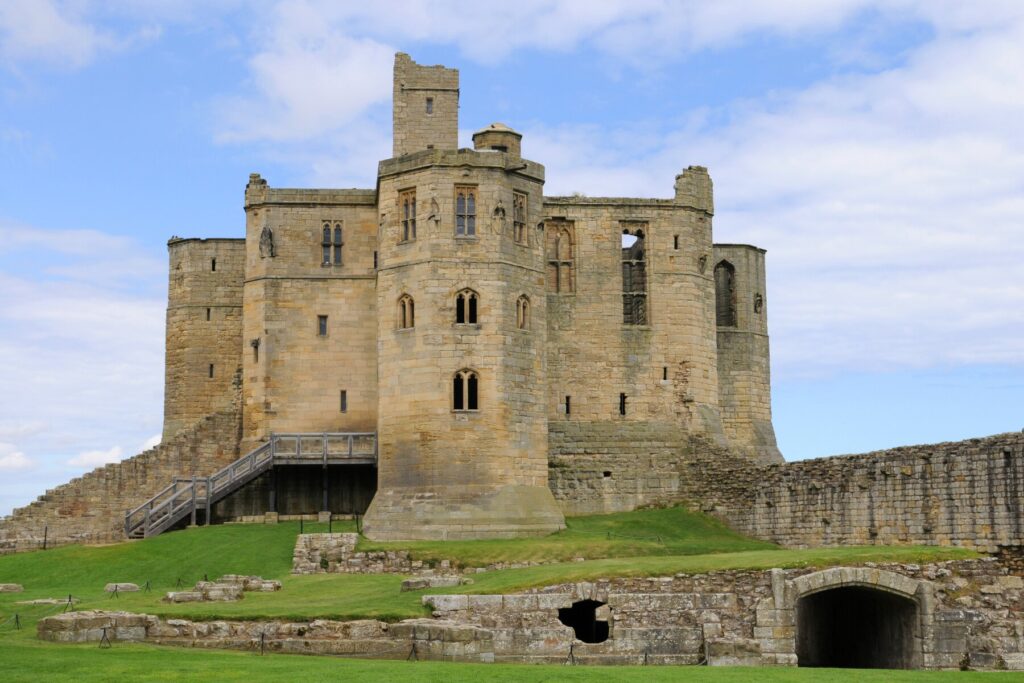 There are railings by the lamp posts here in the little square where you can lock up your bike, as well as a couple of pubs and a convenience store. And it's definitely worth visiting Warkworth Castle, just up the hill, perhaps after some refreshment and giving your legs a rest before one last climb!
---