This following information on the Haydon Bridge to Vindolanda Loop was taken from Huw Hennessy's guide to Cycling in Northumbria.
This loop, from Haydon Bridge and back, winds through a peaceful stretch of the Tyne Valley in a designated Area of Outstanding Natural Beauty (AONB) between the North Pennines and Northumbria National Park.
Climbing uphill from Haydon Bridge, we cross moorland and fell, past the Roman fort of Vindolanda guarding nearby Hadrian's Wall, before returning along a high ridge overlooking the rolling valley. Apart from one stretch along a rubbly farm track, the route is all on quiet back lanes, with no busy junctions.
Although most of this route is hilly, it's good to know that the return half is largely downhill. As such though, it's quite a challenging ride, suitable for fit and reasonably experienced cyclists.
The details
START/FINISH – Haydon Bridge
DISTANCE/TIME – 25km/3 hours
DIFFICULTY/TERRAIN – Not a long route; climbing for much of the first half uphill, but downhill for most of the return half to Haydon Bridge; mostly on quiet country roads and farm track
SCENIC RATING – Open moorland of the North Pennines; plus Vindolanda, a historic Roman fort in the shadow of Hadrian's Wall
SUITABLE FOR – Hybrid or gravel bike
NCN ROUTE – NCN72 and NCN68
MAPS – OS Explorer 43 (1:25 000)
KOMOOT REF – 926173138
The route
Start from The Bridge Visitor Information Centre, next to Haydon Bridge station. Turn right on to Church Street, over the railway crossing and up North Bank past Haydon Bridge High School on your left. Steep hill warning! Plan ahead and change down a gear or two, as we wind steeply uphill for a few hundred metres. As we rise rapidly above the town, impressive views open up, looking over the rooftops of the honey-coloured stone cottages to the sweeping Tyne Valley beyond.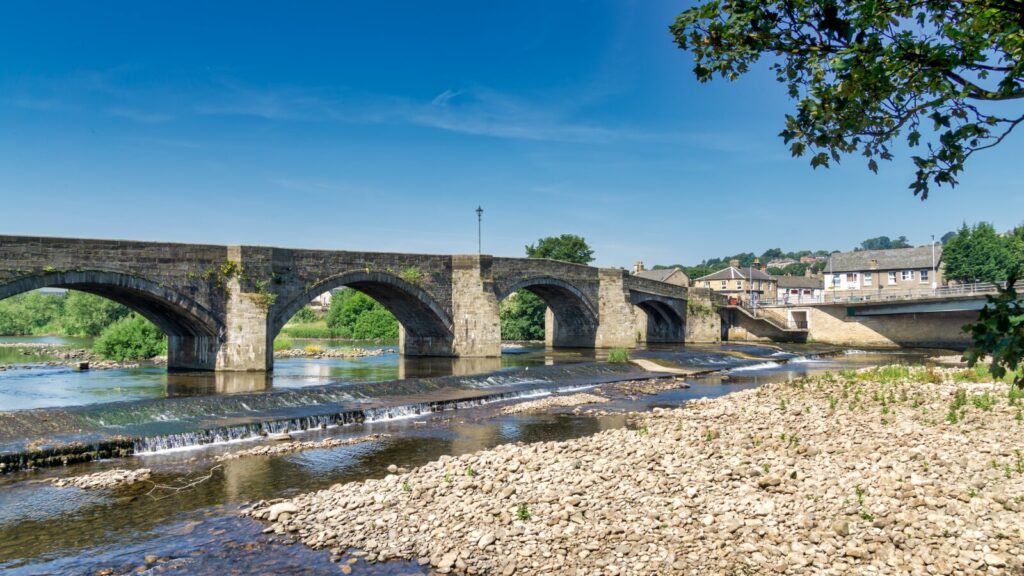 While you get your breath back after this tough start, it may be some comfort to know that most of the return journey, soon after Vindolanda, is downhill, freewheeling back into Haydon Bridge. Turn left at the junction near the crest of the hill, signposted Chesterwood. Carry on up this narrow country lane, with increasingly broad, open views over dry-stone walls to the valley beyond.
Winding uphill to the right, finally we reach the brow of the hill, where we turn left at a T-junction on to Heugh House Lane. About 100m after the T-junction we come to a fork, where we turn left, signposted Prior House and Winnerley. We're coming to a nice
downhill run now, gentle at first then steep and with a sharp right-hand bend halfway down (take care not to overshoot and go straight on). The road may be a bit pot-holey here too, so go carefully; at the bottom of the hill, cross an old stone bridge across Honeycrook Burn, still signposted Prior House and Winnerley.
Wind left, then turn sharp right a few hundred metres further on (not straight on, which is a no-through road), climbing again steadily through this peaceful countryside, with a few grazing sheep and pecking crows for company. Before I come over all bucolic and poetic though, we go under a line of tall electricity pylons straddling the road. A noisy crowd of starlings were perched halfway up one pylon when I passed by here recently; their cheerful chatter seemed to echo through the high wires.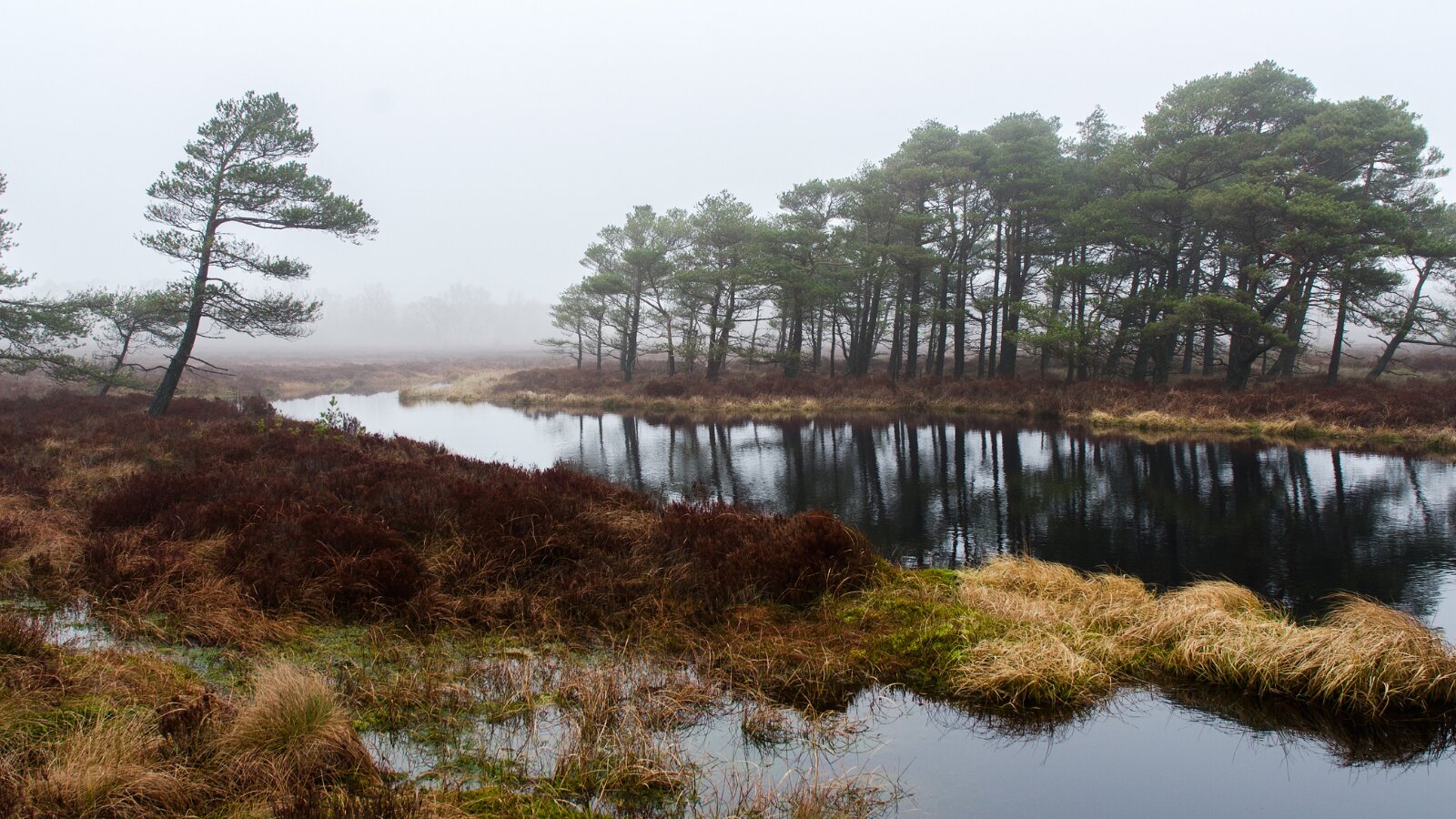 After continuing up this straight stretch for about 1km, we come to another T-junction: turn left here on to an unpaved farm track, which runs straight on, westwards between the fields. It's mostly downhill, though quite rough and bumpy in parts, so go carefully. Eventually, after several kilometres, we reach a T-junction with a paved road, and on our right is Muckle Moss National Nature Reserve, a heathland area of shrubs and protected peat bog (which attracts hen harriers and golden plovers, in case you're on the lookout). Turn left here and follow the road downhill, bending sharp right at the bottom and continuing straight ahead for a few hundred metres, winding through Thorngrafton, a tiny farming hamlet
Hold on tight after Thorngrafton, as the road bends right and sweeps downhill for a nice long run, ending up almost at the valley floor again, with the faint hiss of traffic from the A69 just ahead. Not quite though, as we come to a T-junction after around 500m, where we turn right and back uphill again (joining the NCN72 and NCN68). Eventually though, the hill levels out and we wind left on to a straight road, undulating between rows of stone cottages at Westwood.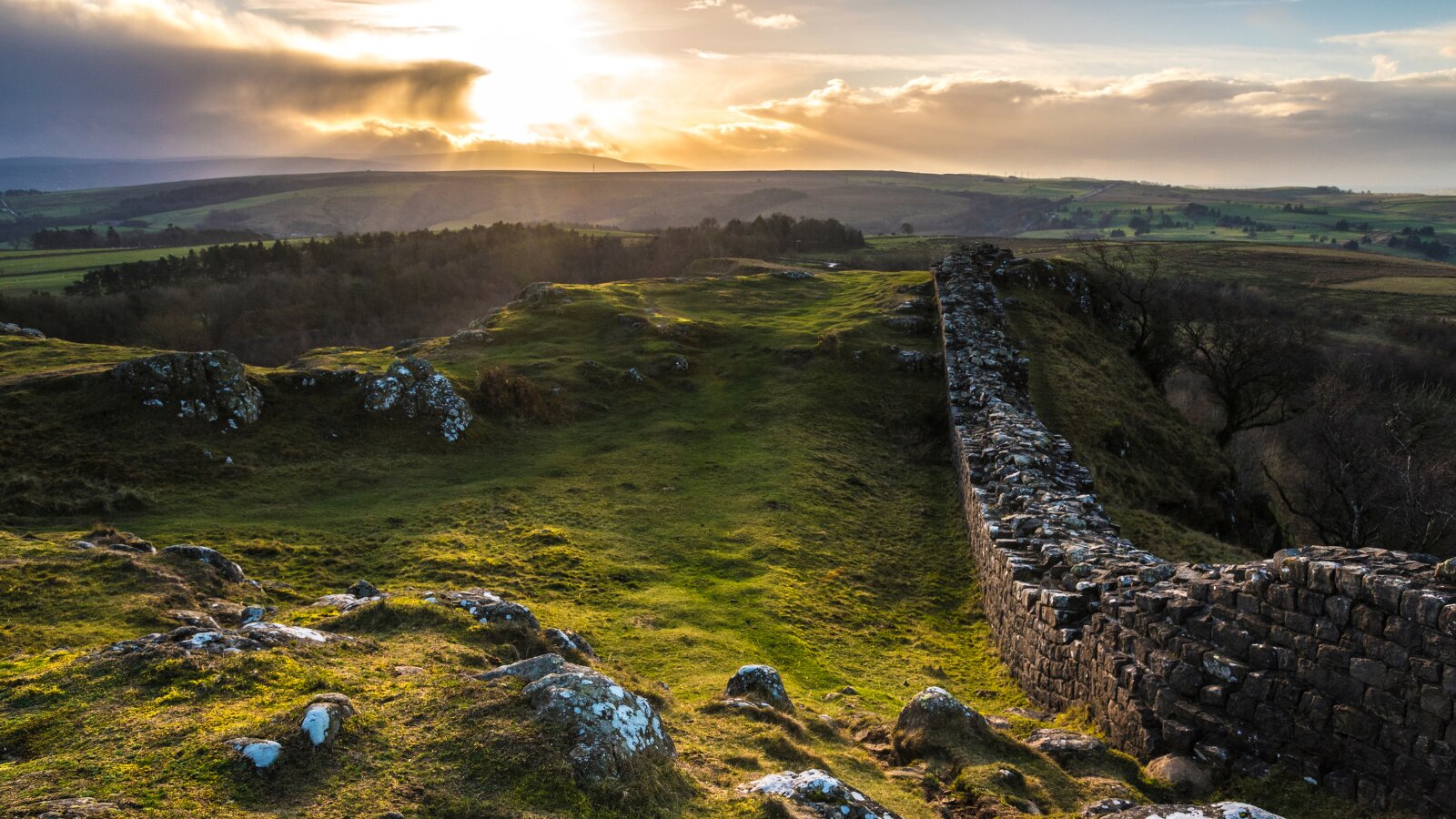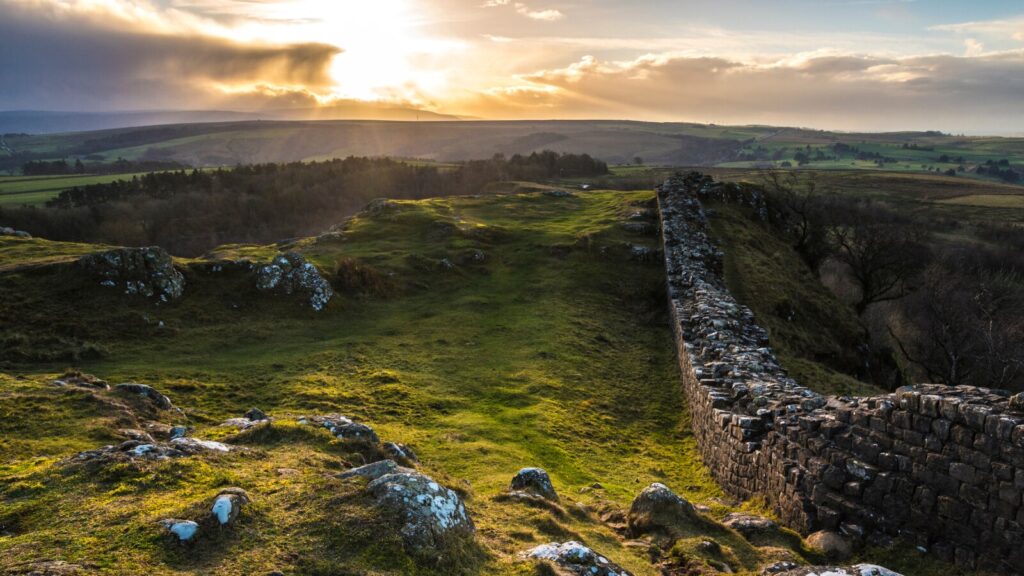 At the next crossroads, turn left towards Bardon Mill then, after around 200m, right on to Park Lane, heading westwards again along the side of the valley. Follow Park Lane for around 1km until we come to another T-junction, where we turn right, now heading northwards, signposted Vindolanda and the wonderfully named Once Brewed, just to the north on Hadrian's Wall.
About 800m up the road is the turning on the right to Vindolanda. First though, a short detour further on leads to The Sill. The National Landscape Discovery Centre is run by Northumberland National Park, and its array of attractions include a grass rooftop walk, and geology displays about the Carboniferous rocky ridge after which the Sill is named and on top of which the Romans built nearby Hadrian's Wall. To get there, continue for around another 800m, and the entrance is on the left.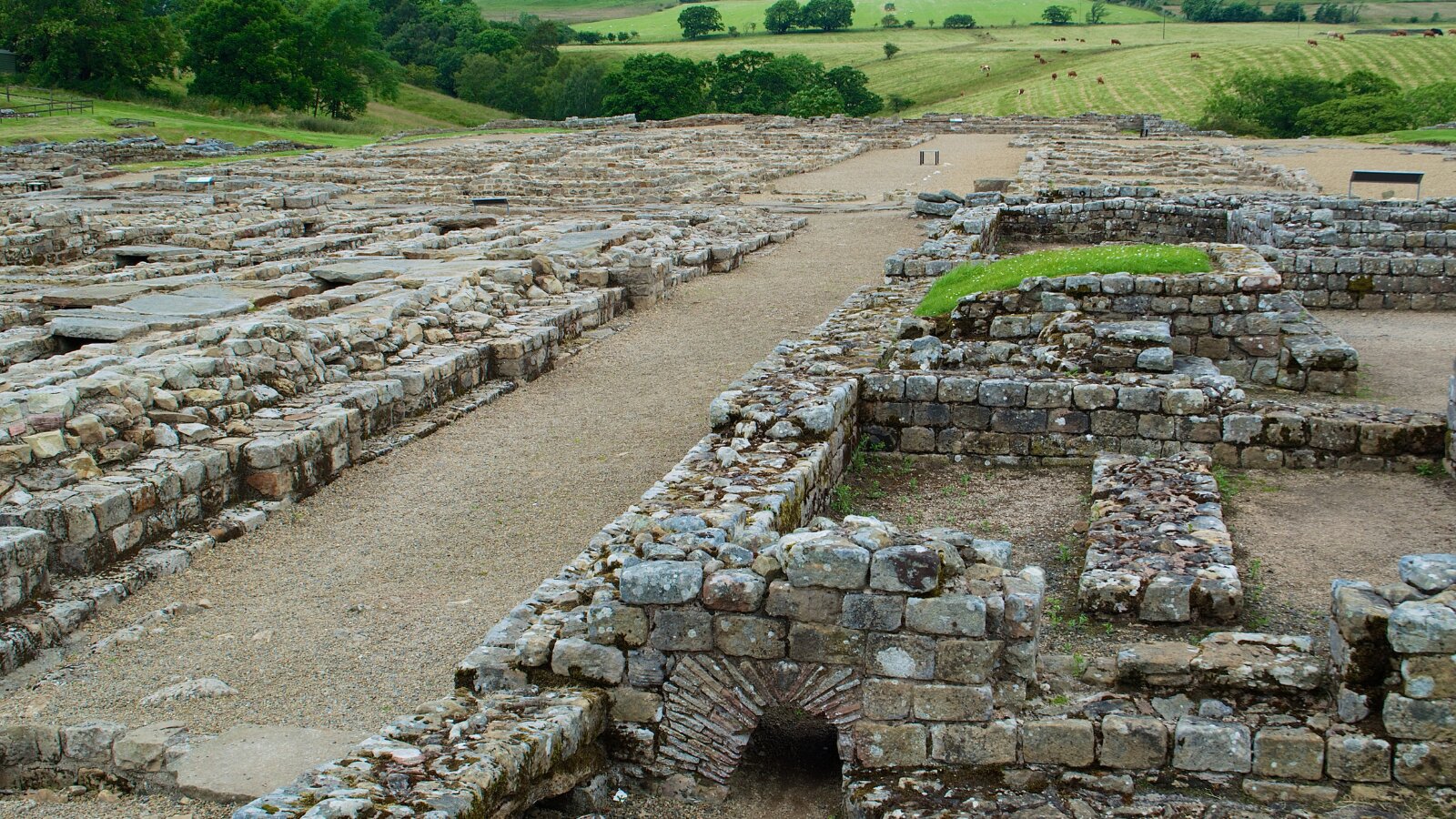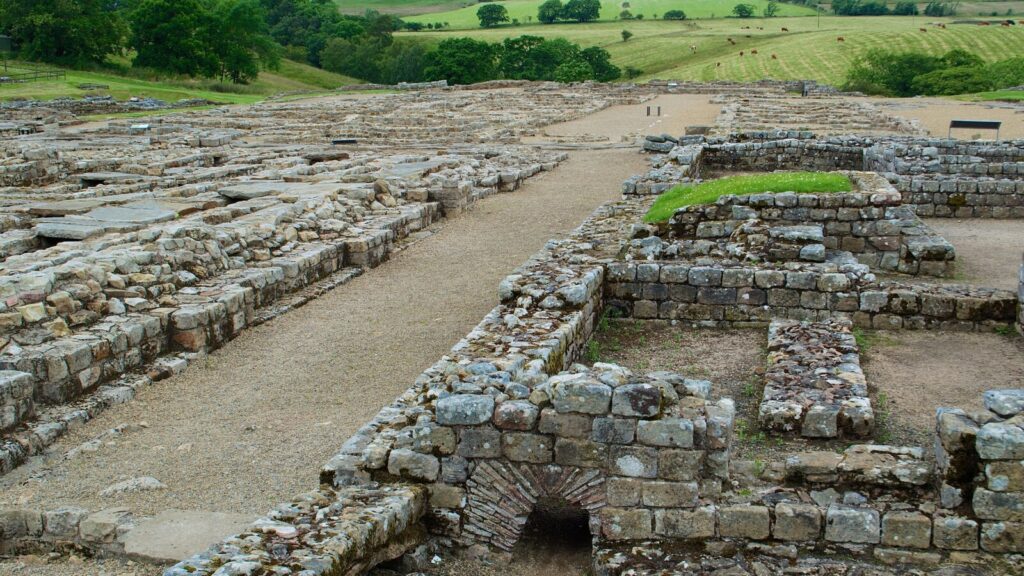 Returning to the turn-off to Vindolanda, by a long row of conifers, after 1km we come to the entrance to Vindolanda on the right. The fortified complex is one of the best-preserved Roman sites on the British northern frontier. There's a museum here as well as lectures and tours of the site, which is still being excavated.
Leaving Vindolanda, continue to the right and start descending steeply, with the hillsides rising dramatically up either side of the valley. After some 300m we cross Bradley Burn through a ford (usually dry in the summer), after which we climb steeply upwards again. If you pause in a lay-by on the left near the brow of the hill to get your breath back, there are superb views over Vindolanda below. Carry on to the top of the hill, and turn left at the T-junction.
Winding right at the top of the hill, signposted Newbrough, the road leads on to an east–west ridge, with stunning views over the valleys to north and south. As we pass a small lake, Grindon Lough, on our left, you may also spot Housesteads Roman fort, on Hadrian's Wall itself, on the horizon beyond. We also revisit Muckle Moss again, on our right, the nature reserve we passed earlier on, near Thorngrafton.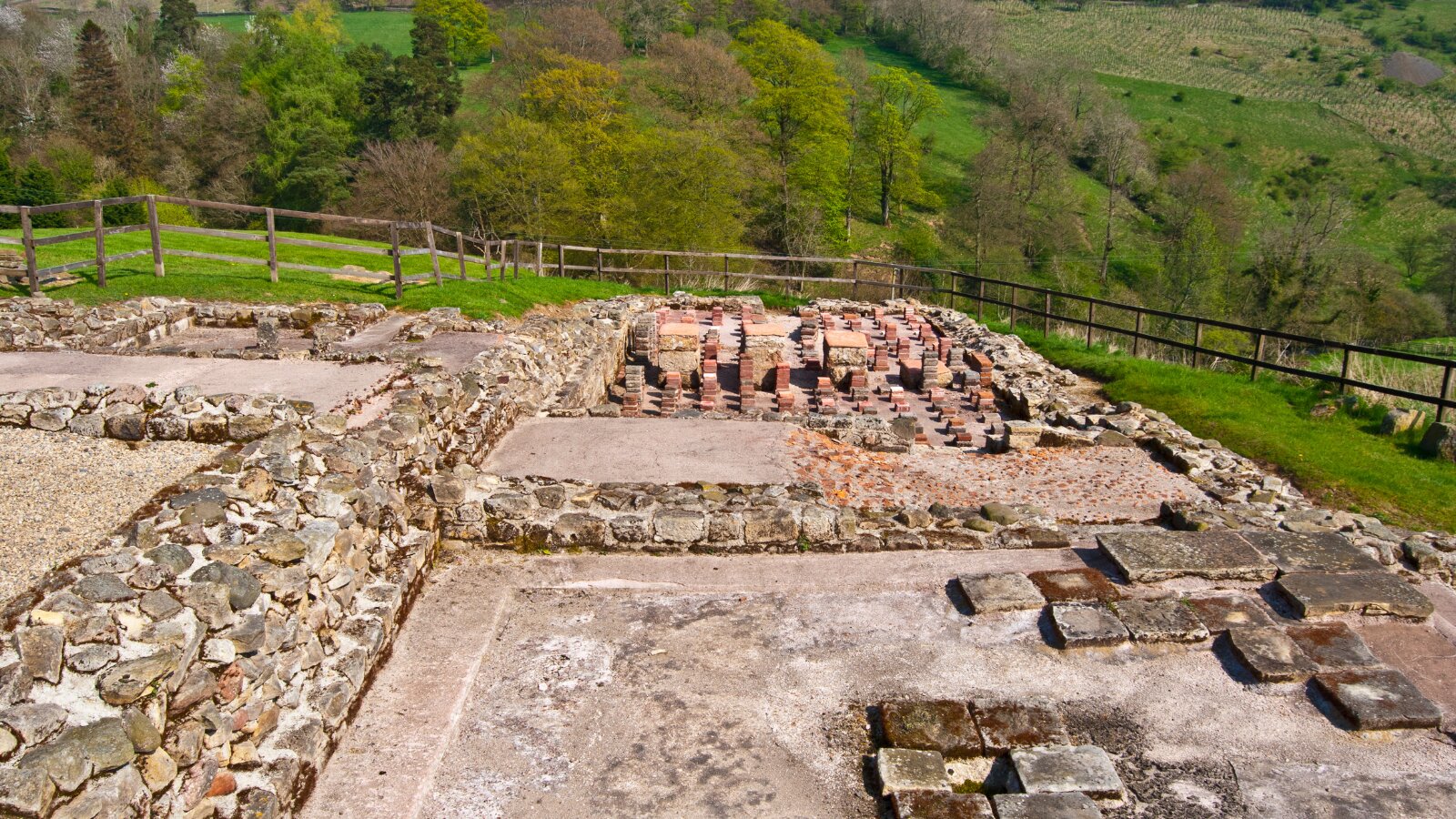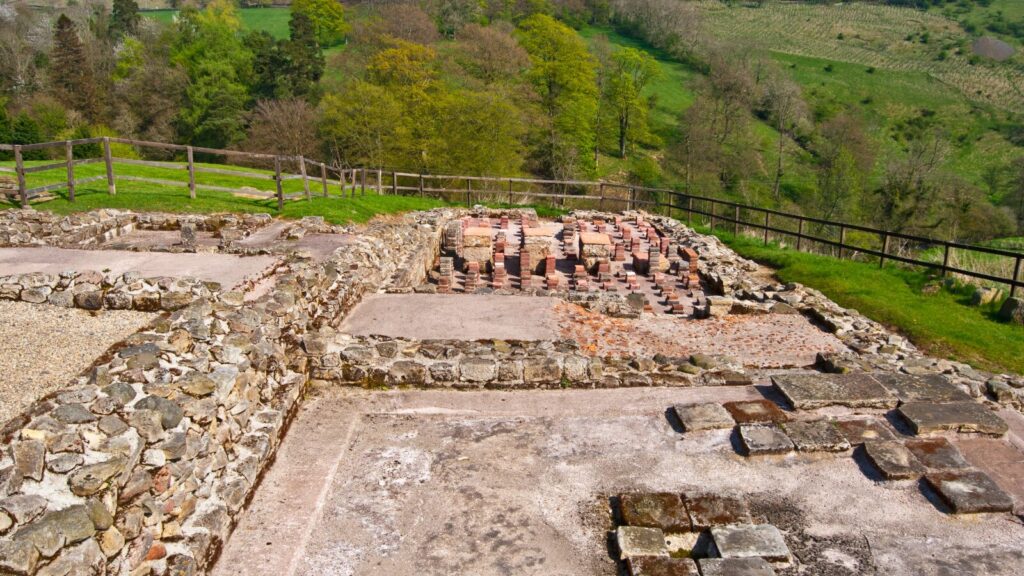 After around 7km of a glorious downhill spree along the ridge, we come to a crossroads where we turn right, finally leaving the NCN72. For these final few kilometres, carry on straight ahead and southwards back to Haydon Bridge – still downhill, apart from one short sharp climb in the middle. Eventually, as we glimpse the rooftops of the town below, we reach the fork in the road where we turned left towards Chesterwood. Here we wind left and descend – steeply for the last few hundred metres – back over the level crossing and turn left into the station car park.
---