Tracking gorillas ranks among the absolute highlights of African travel. The exhilaration attached to first setting eyes on a wild mountain or western lowland gorilla is difficult to describe. These are enormous animals up to three times as bulky as the average man, their size exaggerated by a shaggily luxuriant coat.
Yet despite their fearsome appearance, gorillas are remarkably peaceable creatures and their unfathomable attitude to people differs greatly from that of any other wild animal I've encountered. Anthropomorphic as it might sound, almost everybody who visits gorillas experiences an almost mystical sense of recognition.
Gorilla tracking: the experience
My experience has largely been in Rwanda and Uganda tracking mountain gorillas. Whilst the details below should be applicable to the majority of gorilla tracking opportunities, please do check with your guide should there be any other protocols in place.
Gorilla tracking should not present a serious physical challenge to any reasonably fit adult whatever their age, but the hike can be tough going. Exactly how tough varies greatly, and the main determining factor is basically down to luck, specifically how close the gorillas are to the trailhead on the day you trek (1-2 hours is typical, anything from 15 minutes to 6 hours is possible).
The effects of altitude should not be underestimated. For instance, tracking in the Virunga Mountains usually takes place around 3,000m above sea level – sufficient to knock the breath out of anybody who just flew in from low altitude. For this reason, travellers might want to leave gorilla tracking until they've been in the region for a week and are reasonably acclimatised.
Before you depart into the forest you will likely be given a short briefing about what to expect. Take advantage when the guides offer you a walking staff before the walk; this will be invaluable to help you keep your balance on steep hillsides.
Once on the trail, don't be afraid to ask to stop for a few minutes whenever you feel tired, or to ask the guides to create a makeshift walking stick from a branch. The good news is that in 99% of cases, whatever exhaustion you might feel will vanish with the adrenalin charge that follows the first sighting of a gorilla!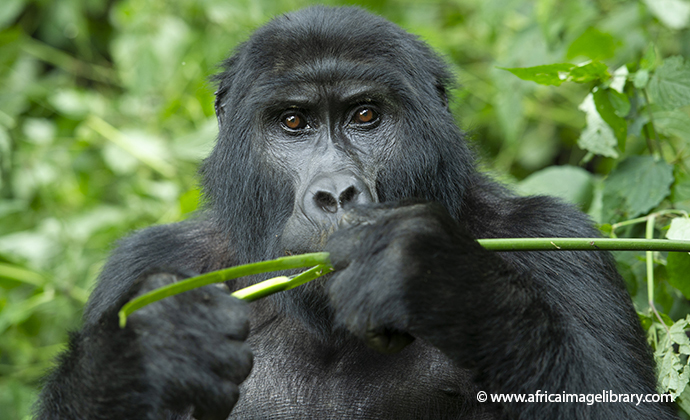 Put on your sturdiest walking shoes for the trek, and wear thick trousers and long sleeves as protection against vicious nettles. The gorillas are used to people, and it makes no difference whether you wear bright or muted colours. Whatever clothes you wear are likely to get very dirty, so if us have pre-muddied clothes, use them!
In all reserves, ordinary trackers are permitted to spend no longer than 1 hour with the gorillas. Trackers should not approach the gorillas more closely than 7m. You should also turn your head away if you need to sneeze. Gorillas are susceptible to many human diseases, and it has long been feared by researchers that one ill tourist might infect a gorilla, resulting in a possible death of the whole troop should no immunity exist.
As for photography, our advice, unless you're a professional or serious amateur, is to run off a few quick snapshots (flash photography is forbidden), then put the camera away, enjoy the moment, and buy a postcard or coffee-table book later.
Above all, bear in mind that gorillas are still wild animals, despite the 'gentle giant' reputation. An adult gorilla is much stronger than a person and will act in accordance with its own social codes when provoked or surprised. Accidents are rare, but sill it is important to listen to your guide at all times regarding the correct protocol.
Survival of the species
Concern about the fate of a few gorillas might seem excessive to some. But it is these self-same gorillas which have allowed several African nations to build, or rather rebuild, lucrative tourist industries. Mostly, it's the gorillas that bring tourists to Rwanda, Uganda, Congo and the like, but once there they will usually spend money in other parts of the country, providing foreign revenue and creating employment.
There are those who query the wisdom of habituating gorillas for tourist visits. One area of concern is health, with humans and gorillas being sufficiently close genetically for there to be a real risk of passing a viral or bacterial infection to a habituated gorilla (something that has been exacerbated with Covid-19). Watch the video below to hear more about how gorillas (and the park rangers) have been impacted by the global pandemic.
Another concern is that habituating gorillas to humans increases their vulnerability to poachers. This theory is backed up by the fact that most mountain gorillas poached since the mid 1990s belonged to habituated troops.
Given the above, a reasonable response might be to query the wisdom of habituating gorillas in the first place. The problem facing conservationists is that gorillas cannot be conserved in a vacuum.
Put crudely, while tourism is probably integral to the survival of the mountain and western lowland gorilla, the survival of these gorillas is certainly integral to the growth of each country's tourist industry. Ultimately, it's a symbiotic situation that motivates a far greater number of people to take an active interest in the fate of the gorillas than would be the case if gorilla tourism were to be curtailed.
The best places to see gorillas
Uganda
The global population of mountain gorillas stands at slightly more than 1,000, 45% of which can be found in Bwindi Impenetrable National Park. It is for this reason that Bwindi is, unsurprisingly, Uganda's most important tourist hotspot. Operating out of four trailheads – Buhoma, Ruhija, Nkuringo and Rushaga – a total of 18 habituated gorilla groups can be tracked here.
Mgahinga Gorilla National Park tends to be overlooked as a gorilla-tracking venue. This is somewhat understandable, given that it hosts just one habituated group by comparison with Bwindi's tally of 18. However, this scenic park is notable for its four fraternal silverbacks that seem significantly heftier than their counterparts in Bwindi.
Rwanda
Widely considered to be the world's premier gorilla-tracking destination, the Volcanoes National Park protects the Rwandan sector of the Virunga Mountains. This range of six extinct and three active volcanoes also straddles the Ugandan and Congolese borders and protects more than half the global population of mountain gorilla.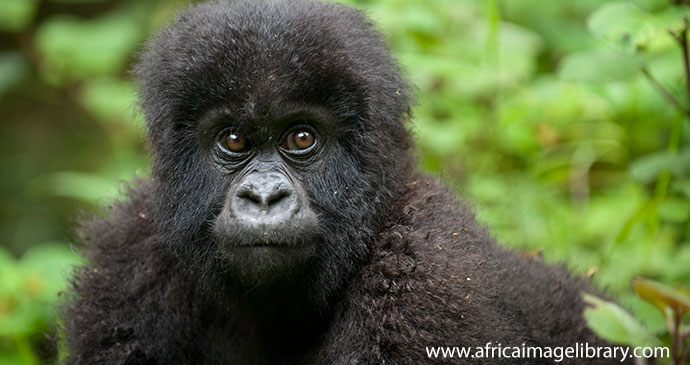 The 12 habituated groups in the Volcanoes Park stay within tracking range on a more-or-less permanent basis. However, gorillas are not governed by international boundaries and it is always possible that groups which originated in Uganda or the DR Congo might cross there again. The best time for gorilla tracking is the long dry season – from June to September.
Congo
While mountain gorillas do make their homes near the borders of Rwanda and Uganda, it is on the DR Congo side of the Virunga Mountains that they reside in larger populations. Usually, you will only need to hike for a few hours to find a mountain gorilla group. It is the region's best-kept secret for this kind of trekking and your presence will help anti-poaching efforts in the country.
Additionally, Kahuzi-Biega National Park is not one to be missed. The majestic eastern lowland silverback gorillas (also known as Grauer's gorilla) are only available here. Protection against poaching, in addition to UN patrols, has ensured that the world's last remaining natural habitat for this subspecies is reasonably intact. Please do check the latest security situation before travelling to the Congo.
Gabon
The vast majority of Gabon's tourists to date have come to see the wildlife, specifically western lowland gorillas, of which there are an estimated 100,000. If you're itching to get up close and personal with these primates, the most accessible opportunity can be found in Loango National Park.
Visits are as enchanting and thrilling as those on offer anywhere else in the world. But unlike almost anywhere else, here you're more than likely to have the place to yourself.
Equatorial Guinea
Although a relatively small country, Equatorial Guinea contains an incredible wealth of biodiversity. Indeed, it has the fourth-highest primate species richness in all of Africa, including the critically endangered western lowland gorilla. Monte Alen National Park and the forests of Río Muni are home to this small population.
Finding them, however, will not be easy – due to the lack of infrastructure within the parks. For those serious about gorilla tracking, you will need to find an experienced guide and be prepared to spend days hiking around looking for them.
How you can help
Below are the details of several international conservation organisations whose important work aims to ensure the protection of these charismatic creatures for years to come.
Dian Fossey Gorilla Fund International
Founded in 1978, the Atlanta-based DFGFI funds and operates the Karisoke Research Centre, originally established by Dian Fossey in 1967. DFGFI aims to strengthen research and protection efforts through education, local capacity building, and support to a Geographic Information Systems unit based with Rwanda's national university.
Gorilla Doctors
Gorilla Doctors provides veterinary care to the mountain gorillas in Rwanda, Uganda and the DR Congo. The project vets monitor the health of individual gorillas in both the research and tourist groups.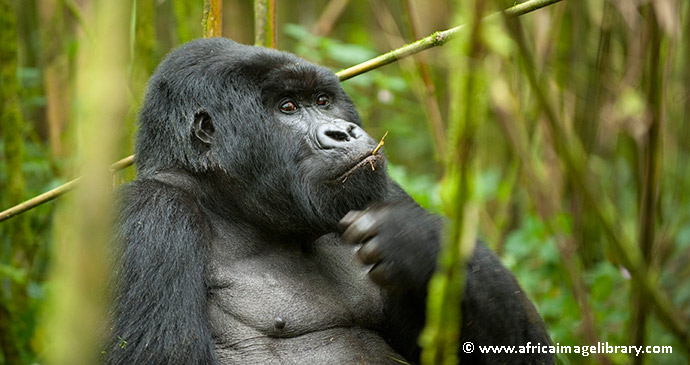 Since disease transmission from humans is serious threat to the gorillas' survival, they also monitor the health of government and project staff.
The Gorilla Organization
Founded in 1992, this London-based organisation, an advocate of community-led conservation, manages several projects designed to integrate traditional conservation and research with economic development and education in Rwanda, Uganda, DR Congo, Cameroon and Gabon.
International Gorilla Conservation Programme
IGCP is a joint initiative of three organisations: the African Wildlife Foundation, Fauna and Flora International and the World Wide Fund for Nature. Their goal is the sustainable conservation of the world's remaining mountain gorillas and their habitat.
Wildlife Conservation Society
With strong historic links to the mountain gorillas, WCS's major programme is in Rwanda – the Nyungwe Forest Conservation Project. The objective of this programme is to improve conservation by providing information for Rwanda's park managers, better management of these areas, and collaboration across national boundaries.
More information
Start planning your gorilla-tracking adventure with our guides: