Written by Laurence Mitchell and Dragan Simić
Over 356 different species of bird have been recorded in Serbia, a large number of which pass through on passage to their breeding grounds in northern Europe. Many others (239 species) find suitable habitat for summer breeding in the country, while some species migrate from the north to winter in Serbia. Here are some of Serbia's birding hotspots:
Kompezacioni bazen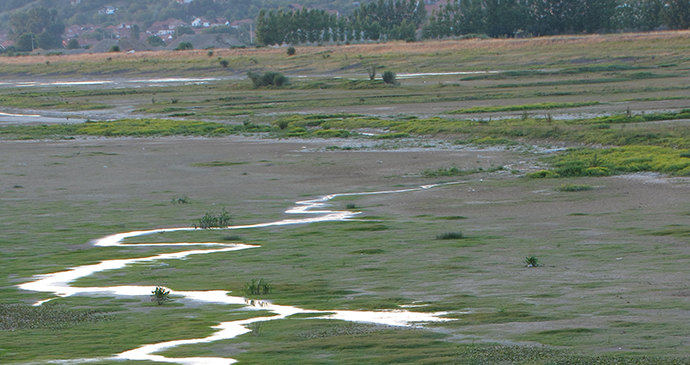 Kompezacioni bazen makes an easy day trip for birders visiting Niš © Ivan Medenica, Wikimedia Commons
Located in the town of Pirot, close to the Bulgarian border where the valley forms a significant migration corridor, the bird fauna here has a distinct Mediterranean flavour. Local birds include citrine wagtail, tawny pipit, in some years rosy starling, barred and eastern olivaceous warbler, red-rumped swallow, lesser grey shrike, alpine swift, Mediterranean gull, rough-legged buzzard, glossy ibis, and even Dalmatian pelican and Slavonian grebe.
Danube in Belgrade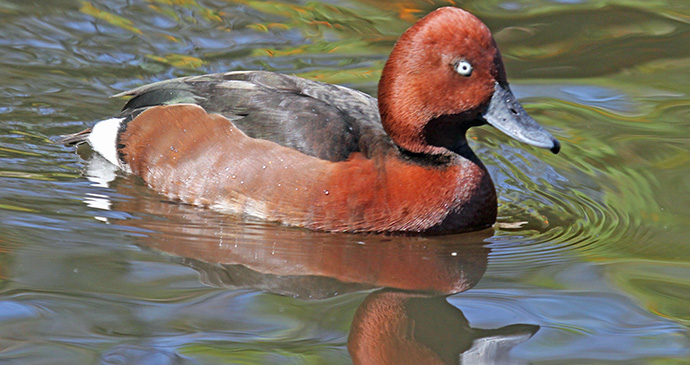 The ferugginous duck is a treat for birders staying in the Serbian capital © Dick Daniels Wikimedia Commons
The main season is winter and local specialities include ferruginous duck, greater scaup, velvet scoter, long-tailed duck, common merganser, red-breasted merganser, smew, red-throated diver, black-throated diver, as well as the year-round birds such as pygmy cormorant and the white-tailed eagle (breeding on Veliko Ratno Island).
Baranda fish farm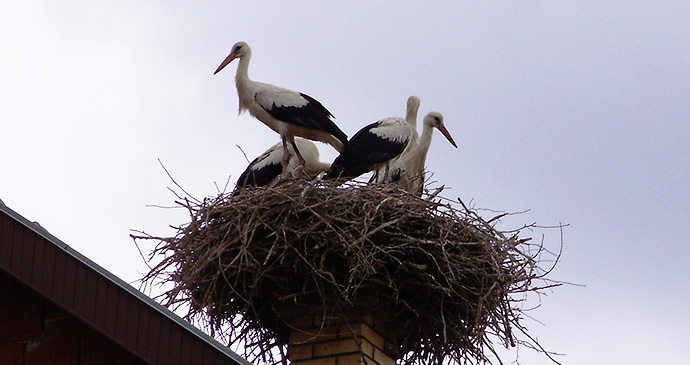 Nesting storks are a common sight in Baranda and neighbouring villages © Micki, Wikimedia Commons
Baranda is the centrepiece of a fish-farm triangle that offers probably the best wetland birding near Belgrade. In some years, Spanish sparrows were reported breeding inside white storks' nests in Sakule. Other birds of the triangle are reed bunting, bluethroat, Savi's and common grasshopper warbler, Eurasian penduline tit, bearded reedling, red-backed and lesser grey shrikes (in winter replaced by great grey shrike), Eurasian hoopoe, European bee-eater, little owl, breeding whiskered tern (plus black- and white-winged terns on migration), waders, common crane on migration (mostly in March and November), black-crowned night heron, glossy ibis, Eurasian spoonbill, wintering greater-spotted eagle and, in some years, irruptions of rosy starlings.
Labudovno okno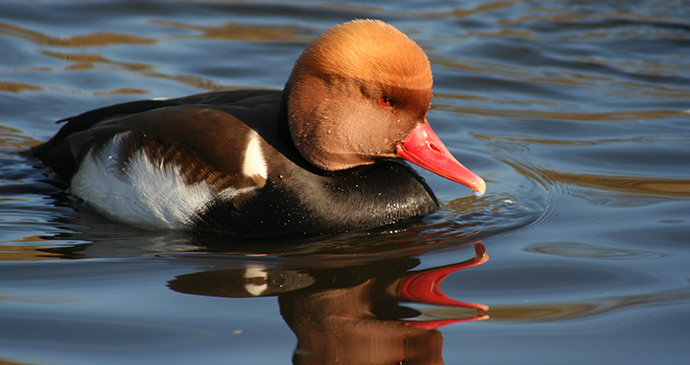 The red-crested pochard is one of the species that can be seen on this stretch of the Danube east of Belgrade © Duncan Wright, Wikimedia Commons
A section of the Danube, Labudovo okno is an important stopover site and wintering area that attracts the largest congregations of waterbirds anywhere in the country. In winter, local specialities include huge flocks of greater whitefronted and greylag geese, with a few taiga bean geese among them, red-crested pochard, ferruginous duck, common goldeneye, smew, common merganser, black-throated diver and greater-spotted eagle; in spring joined by spotted crake, Caspian, black- and white-winged terns (on migration only), breeding whiskered tern, European turtle dove and colourful European bee-eater; while year-round species include white-tailed eagle and long-legged buzzard.
Rusanda Nature Park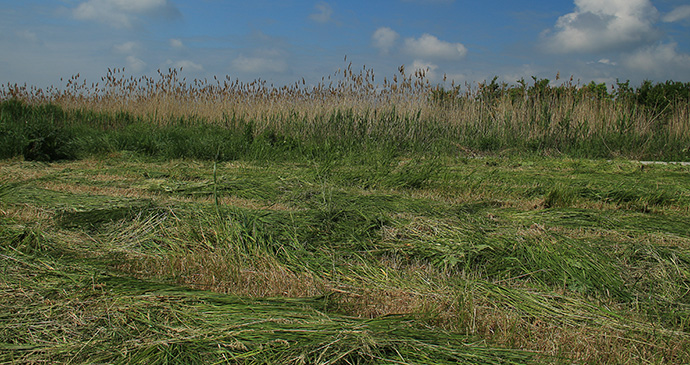 Rusanda is a particularly good destination for those looking to spot waders © PHotoDIvan, Wikimedia Commons
Rusanda is the name of a salt lake by the village and spa of Melenci, a protected area of special importance for migrating waders, including red-necked phalarope, sanderling, dunlin, etc. Other birds of Rusanda are meadow and rare red-throated pipit, icterine warbler, Eurasian penduline tit, lesser grey shrike, breeding red-footed falcon and little and long-eared owls.
Novi Kneževac fish farm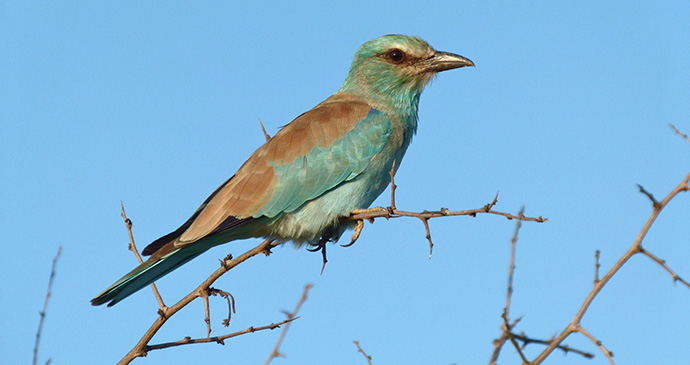 Birders in Vojvodina are treated to European rollers at Novi Kneževac fish farm © Bernard DUPONT, Wikimedia Commons
This is a private property and permission to enter is necessary. Species to look out for are water rail and little crake, European bee-eater, breeding European rollers and red-footed falcons, sedge, marsh and Savi's warblers, Eurasian reed warbler, great reed warbler and bluethroat.
Slano Kopovo Nature Reserve and Ramsar Site
Migrating cranes at Slano Kopovo © Laurence Mitchell
This is a saline marsh near the town of Novi Bečej. It is of special importance for migrating common cranes (up to 20,000 birds) and wintering geese (taiga bean goose, greater and lesser white-fronted goose, greylag goose and red-breasted goose). Other species to look for include short-eared owl and red-footed falcon.
Koljivsko-petrovaradinski Rit Nature Reserve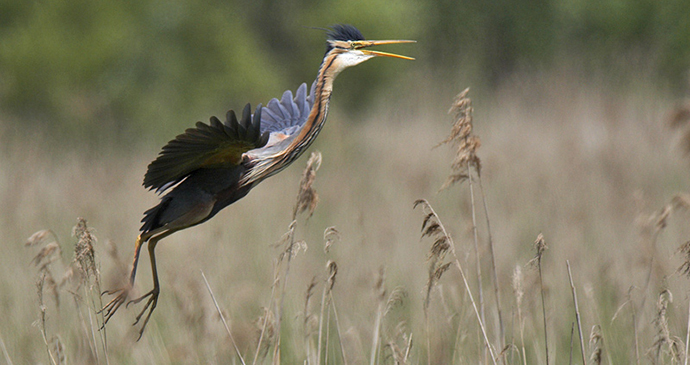 Koljivsko-petrovaradinski Rit is easily accessible for birders based in Novi Sad and offers the chance to see species such as the purple heron © Marcus Antonius Braun, Wikimedia Commons
This reserve stretches along both banks of the Danube between Petrovaradin and Kovilj. It is a seasonally inundated floodplain area with ponds, reedbeds and forest – a place to look for ferruginous duck, black and white storks, purple heron, black-crowned night heron, white-tailed eagle, little crake, whiskered tern and European bee-eater; also middle-spotted, Syrian, black- and greyheaded woodpeckers.
Temerin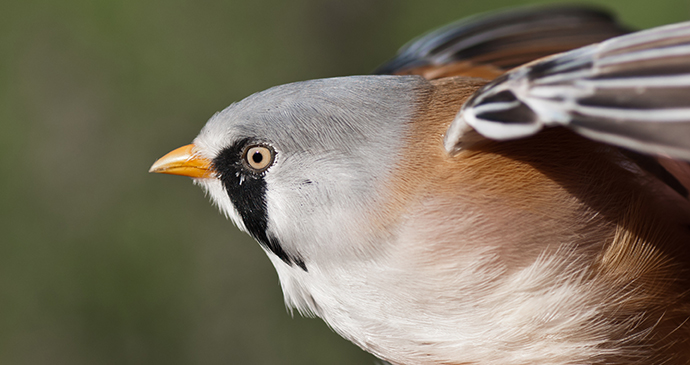 The bearded reedling is one of the species that can be seen around Termin's sewage ponds © Mathias Krumbholz, Wikimedia Commons
Sewage ponds in the town of Temerin have species such as common quail, grey partridge, spotted crake, Eurasian stone curlew, great snipe, red-necked phalarope, bearded reedling, Eurasian penduline tit, willow and wood warblers, common chiffchaff, sedge warbler, Eurasian and great reed warblers, Savi's warbler, meadow and tree pipits and reed and corn buntings.
Karajukića Bunari peat bog and Ramsar site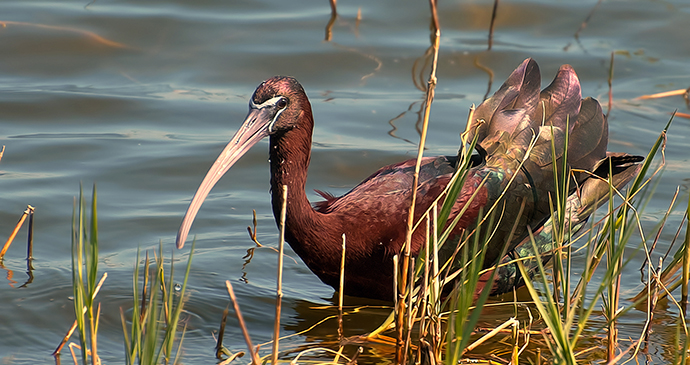 The glossy ibis is one of the species found at the remote Karajukića Bunari peat bog © Cassandra Thomas, Wikimedia Commons
Karajukića Bunari peat bog and Ramsar site, together with surrounding steppe pasture in the Pešter plateau – the largest karst area of Serbia that straddles the border with Montenegro has mouth-watering species here include common merganser, glossy ibis, Eurasian griffon, short-toed eagle, Montagu's harrier, long-legged buzzard, water rail, spotted and little crakes, waders, lesser grey and woodchat shrikes, horned lark, common rock thrush, tawny, meadow and red-throated pipits and ortolan and corn buntings.
---
Ready to tick off some of the species that we've mentioned here? Pick up a copy of out new guide to Serbia with a 10% discount and start planning today: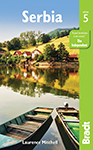 Bradt Guides Collections
Enjoy huge discounts on a series of our books – up to 40% off!