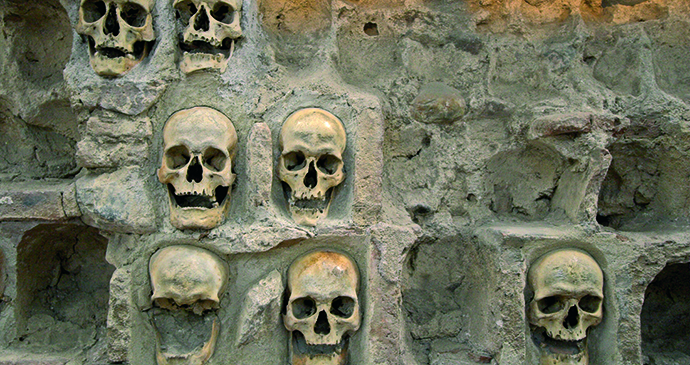 Ćele kula today stands as a reminder of the bloody struggle for Serbian freedom against the Ottomans © Tourism Organisation of Niš

This city's number one tourist 'attraction' is probably the grisly Skull Tower.
Niš, with an estimated population of over 260,000, is Serbia's third-largest city. Authors of long-defunct guidebooks to the former Yugoslavia talk of a large 'dull and dirty town' and an air of 'grey, grim abandonment', but this is misleading as these days Niš is no longer an industrial wasteland but a lively university city with a handful of interesting sights. Its manufacturing pedigree has meant that it is not the prettiest of places but, then again, neither is Belgrade. In industrial terms, the city has certainly seen better days: its manufacturing base has largely been decimated over the past 20 years, thanks to economic sanctions, poor planning and NATO bombing.
Like Belgrade, Niš seems to make the most of what it does have – the Turkish fort by the river has been developed into a pleasant park, and some of the original buildings have been converted to galleries and smart café-restaurants; the main shopping street, Obrenovićeva, like its counterpart Kneza Mihaila in the capital, has been pedestrianised to become the route for a crowded korso every evening. At the end of this is Kopitareva (Kazandžijsko sokače – 'Tinkers' Alley'), a narrow alleyway filled with bars, cafés and restaurants. Aside from the Turkish fort, the city's number one tourist 'attraction' is probably the grisly Ćele kula (the Skull Tower), which has been protected from the elements by having a small chapel built around it.
As well as a few interesting historical sites, the city has quite a lot else to offer: a number of excellent but inexpensive restaurants, a relaxed atmosphere, good places to stay and a nearby spa resort.
Travel inspiration from booking.com